It's an established fact that browned butter makes everything taste better. Especially when we're talking about a tart smothered in delicious cranberries.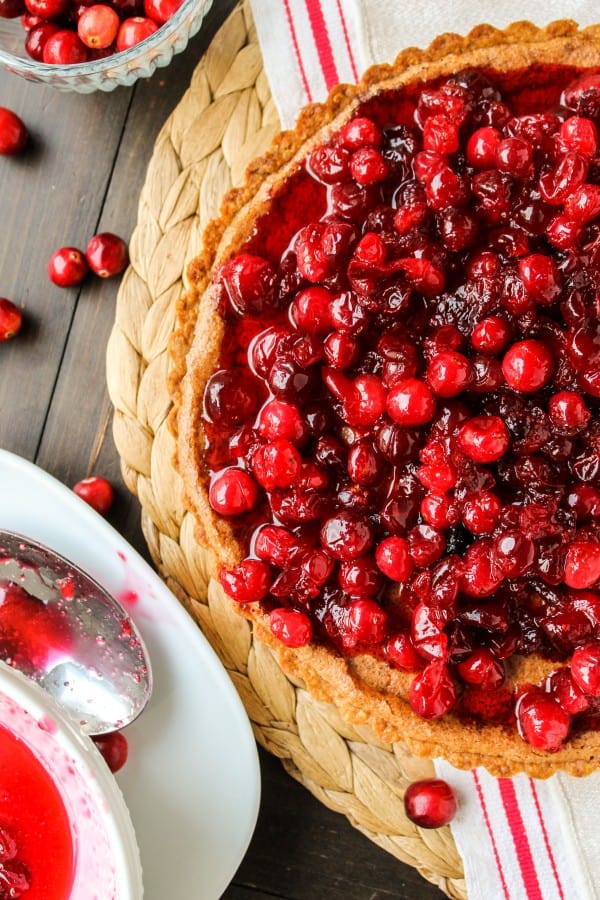 I got out a puzzle last night and put together all the interesting parts: The edges, corners, then the people, the letters, you know the drill. Then I abandoned it like yesterday's jam. Who wants to spend 2 hours putting together 250 pieces of monotonous blue sky? Eric does, that's who. And I still get the satisfaction of a finished puzzle. I married up, people.
When I was a kid we had the same desserts for every single Thanksgiving meal: 2 lemon meringue pies, 2 blackberry pies, some mint brownies, and a token pumpkin pie that nobody wanted (I think my dad ate it single-handedly every year.) I thought that's what Thanksgiving was: the same pies, over and over.
Now, don't get me wrong, I love pie, and the 2 I listed above are indeed 2 of my favorite pies ("All 9 kinds of pie that Harold liked best"…name that children's book!!)
But check this out people. I think it's time we expanded.
This here tart was the best part of my day. (Well. Besides my kids being awesome. I actually forgot about my 8 month old son today. I was busy taking pictures of this tart when suddenly I panicked. Where is he?? Oh, right there on the floor where I left him, silently smiling at the ceiling. Don't hate me. I will get my comeuppance one day when he turns into a rampaging toddler or a rebellious teenager.)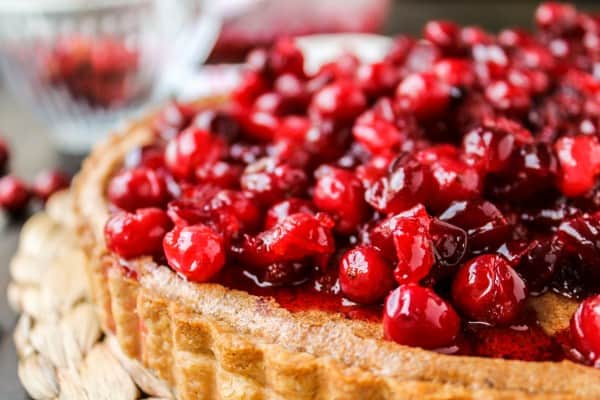 You need to eat this tart after your Thanksgiving meal because it will perfectly balance out all that sage and thyme. You need to make this tart for Thanksgiving because you can make it 24 hours in advance. You need to make this tart for Thanksgiving because this thing called fresh cranberries only happens once a year.
You need to make this tart because there is a copious amount of browned butter in it. Copious, I say! I've never met anyone who didn't like butter, and I've never met anyone who didn't think browned butter was better.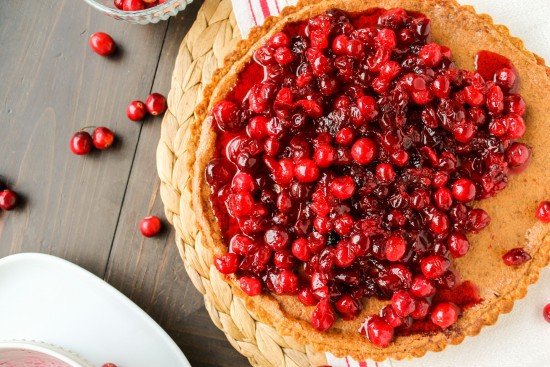 The tart itself is less like a tart and more like an extremely moist cake. It reminds me of a Gooey Butter Cake, especially because of the intense vanilla flavor. The lemon zest does not make it taste lemony, but adds brightness. And the browned butter…oh, the browned butter. Make sure you use real vanilla beans, or vanilla bean paste, otherwise you will be missing out.
What desserts do you guys make for Thanksgiving every year? Do you stick to the tried and true or do you like to branch out?
Here are some process photos!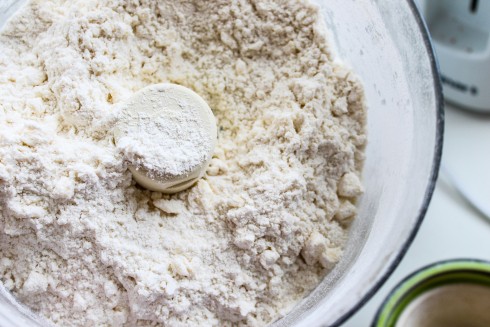 After you pulse the cold butter into the flour mixture (for the tart shell), you want chunks of butter about the size of peas.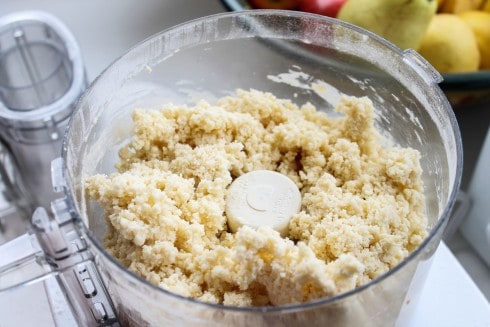 Once you have added the egg/cream mixture, you want to make sure you don't over-pulse the mixture. Four or five 1-second bursts should make it look like this. You should still see little bits of butter.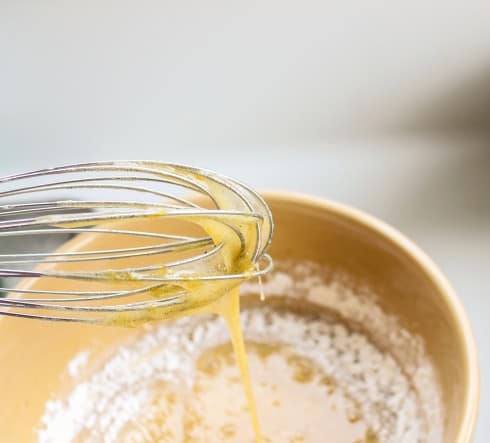 This is the filling. It is not very thick at all.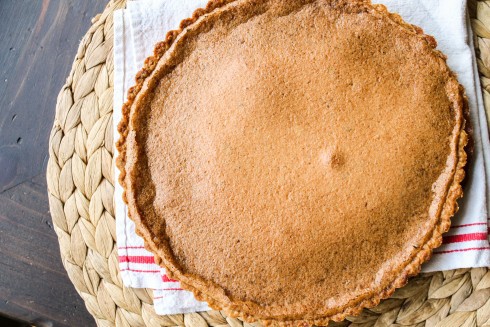 Here is the finished tart. Nice and brown on top.
Here is the finished cranberry sauce. You want them just barely split and the sugar dissolved. Try not to eat the whole thing with a spoon at this point. Or with your turkey!! It's so good.
P.P.S. Do you guys follow me on Pinterest? There are lots of amazing things going on over on my boards recently…

Brown-Butter Cranberry Tart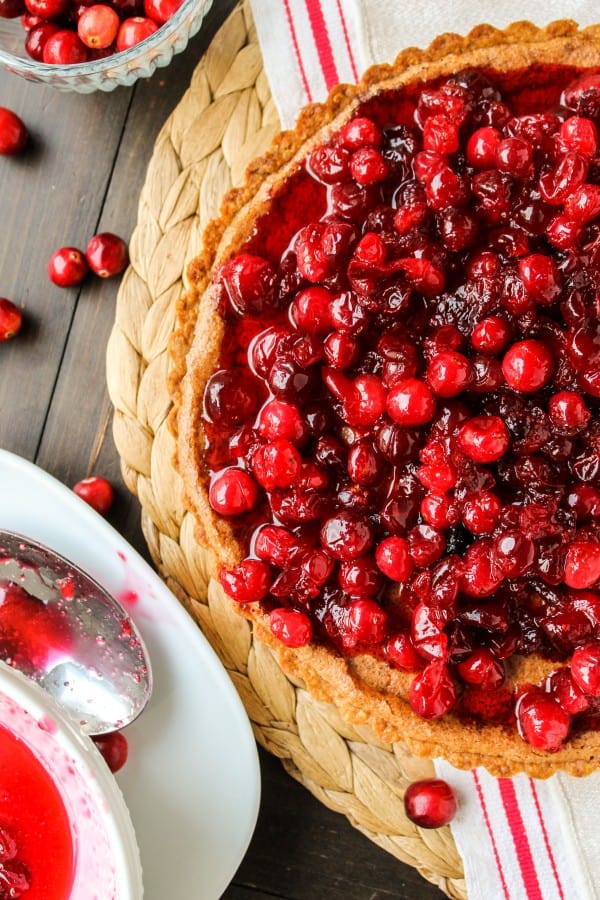 It's an established fact that browned butter makes everything taste better. Especially when we're talking about a tart smothered in delicious cranberries.
Ingredients
For the tart shell:
1 & 1/2

cups

all-purpose flour

,

spooned and leveled

2

tablespoons

sugar

1/2

teaspoon

salt

1

stick

unsalted butter

,

cold, cut into 1/2-inch pieces

1/4

cup

heavy cream

1

large

egg yolk
For the filling:
3/4

cup

unsalted butter

,

(1 and 1/2 sticks)

1

vanilla bean

,

split, seeds scraped (or 1 tablespoon vanilla bean paste )

3

large

eggs

1

cup

sugar

,

+ 1 tablespoon

1

teaspoon

finely grated lemon zest

1/4

cup

all-purpose flour

1/4

teaspoon

salt
For the Cranberry Sauce:
1

cup

sugar

1

12-oz package

cranberries

,

(3 & 1/2 cups) fresh or frozen

1/4

cup

water
Instructions
Make the tart shell first: Add the flour, sugar and salt to a food processor and pulse to combine. (Or whisk it together in a bowl.) Add the butter and pulse about 4 or 5 one-second bursts until it is the size of small peas. (Use a pastry cutter if you don't have a food processor.)

In a small bowl, whisk the cream with the egg yolk. Pour the cream mixture into the food processor all at once, and pulse in short bursts (again, about 4 or 5 one-second bursts) until moist crumbs form. (Or just use a spoon)

Turn the pastry out onto a work surface and pat into a disk. Do not knead, just get it into the disk and stop messing with it. There should be visible chunks of butter. Wrap in plastic and refrigerate for about 30 minutes, or until chilled.

On a floured countertop, a floured silpat, or floured parchment paper, roll out the tart shell 1/8 inch thick. Fit the pastry into a 10-inch fluted tart pan with a removable bottom; trim the overhanging pastry. I highly recommend parchment paper; then you can just flip the whole thing over onto the tart pan.

Patch any cracks with the pastry trimmings. Refrigerate the tart shell for about 30 minutes, or until it is chilled.

Preheat your oven to 375. Line the tart shell with foil and fill with pie weights or dried beans, making sure that the crust is not covered. Bake for about 22-25 minutes, until the rim is just barely turning golden. Take it out of the oven, remove the foil and weights. Bake for about 10 minutes longer, until lightly golden all over, or until it no longer looks doughy on top. Set the tart pan on a baking sheet.

Meanwhile, in a small skillet, melt the butter with the vanilla bean and seeds (or vanilla bean paste). Cook over medium heat until the butter starts to turn golden and smells nutty, about 4 minutes. Remove from the heat and let cool for 5 minutes.

Here

is a great tutorial if you've never browned butter before.

In a medium bowl, whisk the eggs with 1 cup plus 1 tablespoon of sugar, as well as the lemon zest. Pour the brown butter into the egg mixture and whisk until incorporated. Whisk in the flour and salt. Pour the filling into the tart shell and bake for about 25-30 minutes, until golden and set. Err on the side of undercooking. If your tart crust looks like it's going to start burning a few minutes after the suggested bake time, just take it out. Transfer to a rack to cool, about 2 hours.

In a medium pot, stir together 1 cup of sugar with the cranberries and water. Bring to a simmer over medium-high heat and cook until the cranberries have just split and the sugar is dissolved, about 4 minutes. Scrape the cranberries into a bowl and refrigerate until cool, about 1 hour.

Using a slotted spoon, arrange the cranberries on the tart. (Save the liquid and put it on ice cream!) Cut and serve!
Notes
Make ahead: You can make this tart the day before you serve it. Keep it out on the counter, covered. The cranberries can be refrigerated for up to 3 days; bring to room temperature before using. Also, this tart is made in a 10-inch pan, but I used a 9 1/2 inch. It worked fine, I just had to discard a little bit of the filling so that it didn't overflow.
Source: Food and Wine
Nutrition
Serving:
1
slice
|
Calories:
618
kcal
|
Carbohydrates:
74
g
|
Protein:
6
g
|
Fat:
34
g
|
Saturated Fat:
21
g
|
Polyunsaturated Fat:
2
g
|
Monounsaturated Fat:
9
g
|
Trans Fat:
1
g
|
Cholesterol:
179
mg
|
Sodium:
254
mg
|
Potassium:
73
mg
|
Fiber:
1
g
|
Sugar:
53
g
|
Vitamin A:
1126
IU
|
Vitamin C:
1
mg
|
Calcium:
32
mg
|
Iron:
2
mg