Grilled Squash, Red Pepper, and Feta Sandwich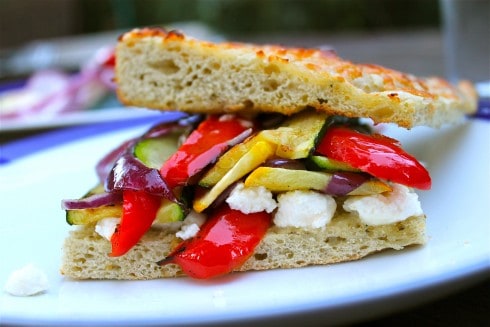 My brother took a bite out of this sandwich and said, "For a sandwich that has no soul, it's pretty good."
This is high praise coming from the guy who used to hold regular Meat Nights in high school. Seriously. He and his friends would get together and just cook meat on the grill. No sides. No vegetables. No bread. Just meat.
I never had meat nights, but I'm no vegetarian either. I'm telling you people though, this sandwich is amazing. I feel like you guys think I'm getting all wussy, posting two meatless meals in a row, but I promise I'm not. I just recognize vegetables done well.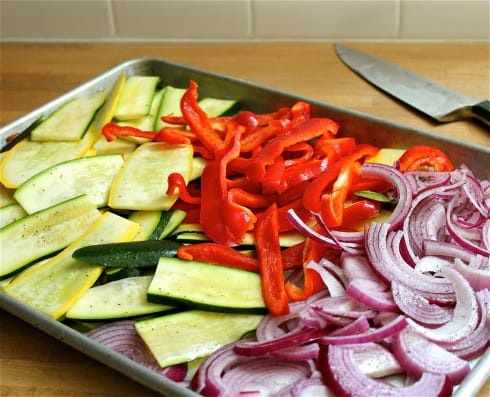 That and I'm living with two men who are both on low carb diets. Which should not translate into "meatless" AT ALL but for some reason when I think "healthy food" I think of this sandwich. And it's totally healthy. If you leave out all the oil and the bread and the cheese. But come on. Live a little folks. Have your veggie sandwich and eat it too.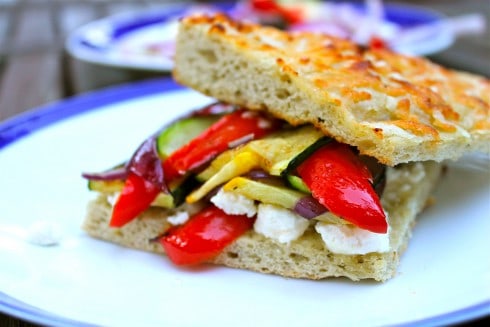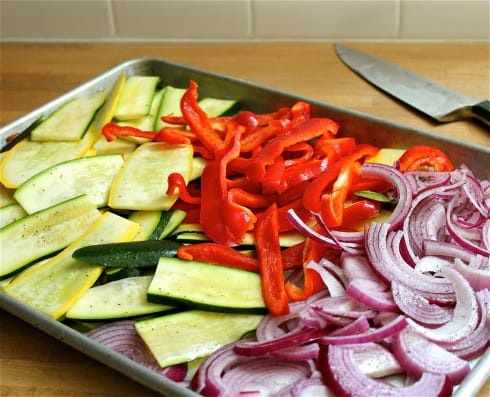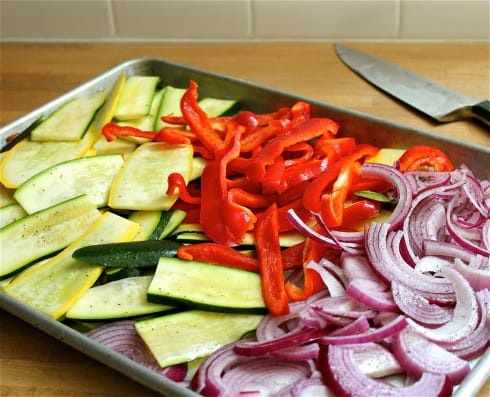 print
Did you make this recipe?
Leave a review »
Grilled Squash, Red Pepper, and Feta Sandwich
Serves 3-4
adjust servings
Ingredients
1/4

cup mayonnaise

3

cloves garlic, minced

1

tablespoon lemon juice

1/8

cup olive oil, plus more

1

cup sliced red bell peppers

1

small zucchini, sliced

1

red onion, sliced

1

small yellow squash, sliced

2

(4-x6-inch) focaccia bread pieces, split horizontally

1/2

cup crumbled feta cheese
Instructions
In a bowl, combine the mayonnaise, minced garlic, and lemon juice. Set aside in the refrigerator.
Preheat the grill for high heat.
Spread some of the mayonnaise mixture on the cut sides of the bread, and sprinkle each one with feta cheese.
Brush vegetables with olive oil on each side. Add salt and pepper to taste, if you want. Place a large sheet of tin foil on the grill and brush with olive oil. (Or brush the grill itself.) Place bell peppers and zucchini closest to the middle of the grill, and set onion and squash pieces around them. Place the bread on the grill, cheese side up, on the upper rack if you have one. Cook for about 2-3 minutes and remove the bread; you just want to get the cheese melty. Check it often to make sure it doesn't burn.
Flip the veggies and cook for another 3 minutes. The peppers may take a bit longer. Remove from grill.
Layer the veggies on the bread. You can eat these open faced or top them with the other half of bread. (I feel like I just don't have enough carbs in my life, so I like to top it off.)
by The Food Charlatan

If you make this recipe,
share it on Instagram
 using the hashtag
#TheFoodCharlatan
so I can see it!
Source:
Allrecipes.com
We are a participant in the Amazon Services LLC Associates Program, an affiliate advertising program designed to provide a means for us to earn fees by linking to Amazon.com and affiliated sites.