California, here we come, right back where we started from…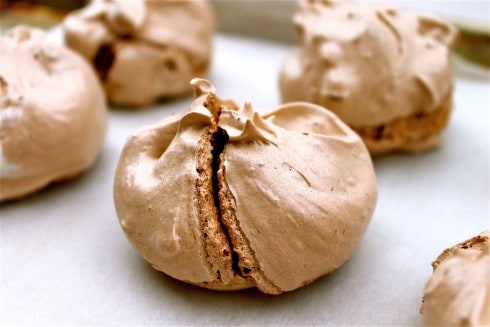 We are moving to California!! For real. I still can hardly believe it. Eric accepted a job in the Sacramento area, so we are headed west. I grew up about an hour south of Sacramento so it's kind of like going home, except not really, because I haven't lived there in 8 years. And what's more, I never lived there as an adult, so "real life" hadn't happened yet.
And by real life I mean paying bills and registering cars and researching schools for our kids. You know, mature stuff. When I lived in California as a kid my biggest concerns were how far I could lob the rotten plums in my backyard over the fence toward passing vehicles, or later how thick my eyeliner should be in order to attract a certain someone in my Biology class.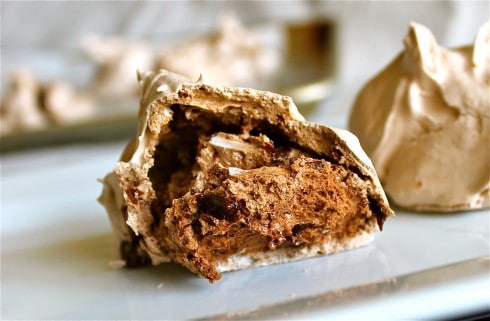 We are super excited! And not just about the fact that we will be living closer to my parents, who have the referenced plum tree, as well as a peach tree, a cherry tree, blackberries, lemons, limes, grapefruits, apricots, grapes…I am so ready for some mooching. We have other family in the area too, so really a big move like this couldn't get any easier. We are lucky. It will be such an adventure!
We are so sad about leaving Utah though. We are so happy here that sometimes we step back and are like what the heck are we doing?? We have so many great friends, not to mention family. But we feel right about it. My sister was telling me today that she read some study that found that people who won the lottery were statistically just as happy a year after winning as paraplegics were a year after they were paralyzed. In other words, life is what you make of it.
So here goes! I'm going to be packing up my kitchen before I know it, so forgive me if my posts slow down.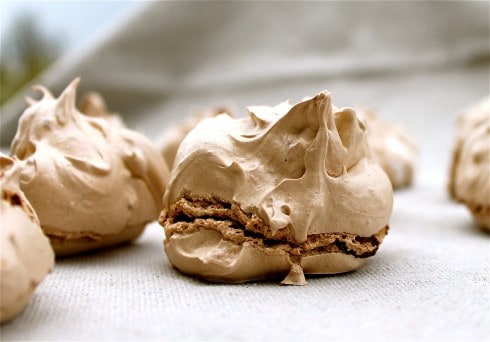 Wait! I almost forgot to tell you about these amazing meringues!! I've never even made meringues before but I've been wanting to ever since I made the best lemon meringue pie ever a while back. To me meringue was always just the white stuff that got in the way of the delicious lemon curd. Not so anymore. That pie changed my life, and here I am making straight up meringues and pleading for forgiveness from the food gods for ever questioning them. They are sooooooo good. I made them twice within a couple days.
Eric asked me what I put in the centers. The outside is crackly and crunchy, and the inside is so rich and gooey that he actually thought it was made from something else. Nope, just awesome meringue. They melt in our mouth and are really light and airy. So it's easy to throw down like 12 before you know what's happened. I'm not even going to tell you how many of these I had. Whatever number you're imagining, add 5.

Chewy Chocolate Meringues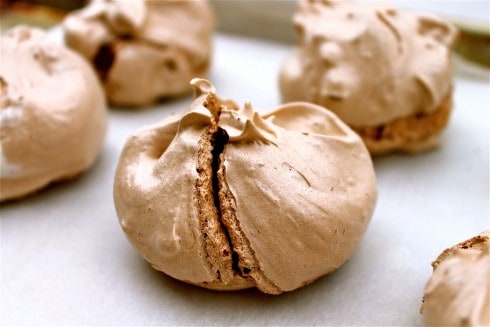 These chewy chocolate meringue cookies are amazing! The outside is crackly and crunchy, and the inside is so rich and gooey.
Ingredients
1

cup

egg whites

,

about 7

2

cups

sugar

5

tablespoons

natural cocoa powder

4

ounces

bittersweet chocolate

,

finely chopped
Instructions
Space 2 racks evenly in the middle of an oven and preheat to 350°F. Line 2 baking sheets with parchment paper or with a silpat.

In a clean, dry, heatproof bowl, such as a glass Pyrex bowl, whisk together the egg whites and sugar. Set over but not touching simmering water in a small saucepan. Whisk constantly until the sugar is completely dissolved, about 5 minutes. Remove from the heat.

Pour the egg whites into a stand mixer (or use an electric mixer) fitted with the whisk attachment. Beat the egg mixture on high speed until stiff and glossy. Sift the cocoa powder over the meringue. Add the chocolate, then fold together gently with a rubber spatula until combined.

Drop the meringue by heaping tablespoons, spaced slightly apart, onto the prepared baking sheets. You can pipe them if you like. Bake for 9 minutes. Rotate the pans. (I turned the pans 180 degrees, and I also put the top pan on the bottom and vise versa.) Bake until the cookies are fluffy, full of cracks and spring back when touched, about 9 minutes more. Carefully pick up the parchment sheets and transfer the cookies, still on the parchment, to wire racks to cool. Makes about 28 meringues.
Nutrition
Serving:
1
meringue
|
Calories:
85
kcal
|
Carbohydrates:
17
g
|
Protein:
1
g
|
Fat:
2
g
|
Saturated Fat:
1
g
|
Polyunsaturated Fat:
1
g
|
Monounsaturated Fat:
1
g
|
Trans Fat:
1
g
|
Cholesterol:
1
mg
|
Sodium:
15
mg
|
Potassium:
51
mg
|
Fiber:
1
g
|
Sugar:
16
g
|
Vitamin A:
2
IU
|
Calcium:
4
mg
|
Iron:
1
mg