This No Bake Maple Cheesecake with Roasted Pears is one of my favorite cheesecakes! It is so easy to make but feels super fancy. It is the perfect fall dessert for Thanksgiving, Christmas, or New Year's Eve! The maple and pear flavors were made for each other.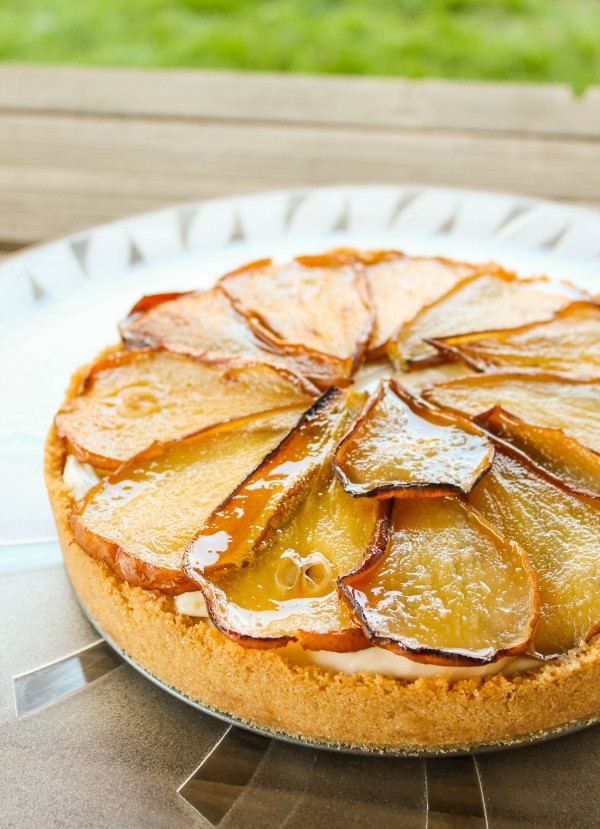 Don't you just love those days when you have every intention of getting dressed and looking like an actual human being, but instead you go on a cleaning rampage and after hours of work, including scrubbing the baseboards behind the couch (why? why??), you catch sight of yourself in the mirror and pray to all that is holy that no one knocks on the door?
Yeah. Sorry Jehovah's Witnesses, I really would have loved to have heard your message about ending suffering, but I was afraid the grease in my hair would actually contaminate your pamphlets.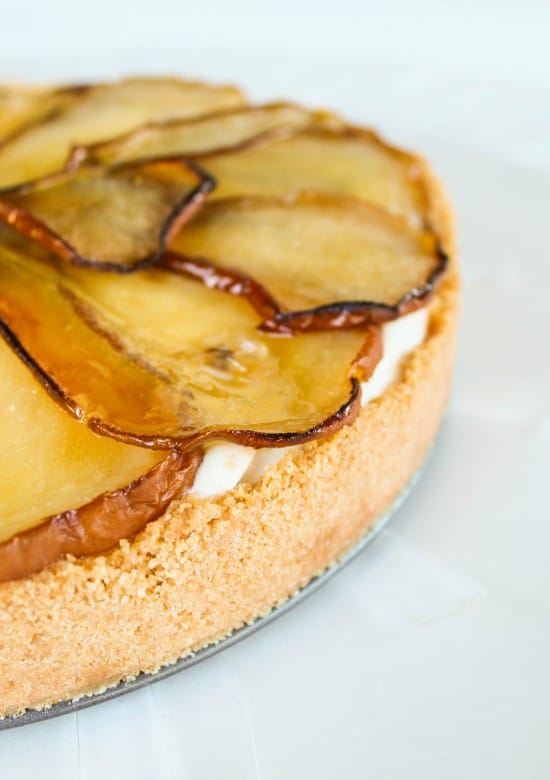 Maple is the new pumpkin around here. Fall seems to be the time of year when I get into weird food obsessions. Two years ago when I started this blog, pumpkin was my thing, and I posted 6 pumpkin recipes in a one month period. That's a lot of freaking pumpkin.
Don't worry, I will spare you an entire month of maple recipes. This Maple Cheesecake and this Maple Cinnamon Quick Bread will do me for this year.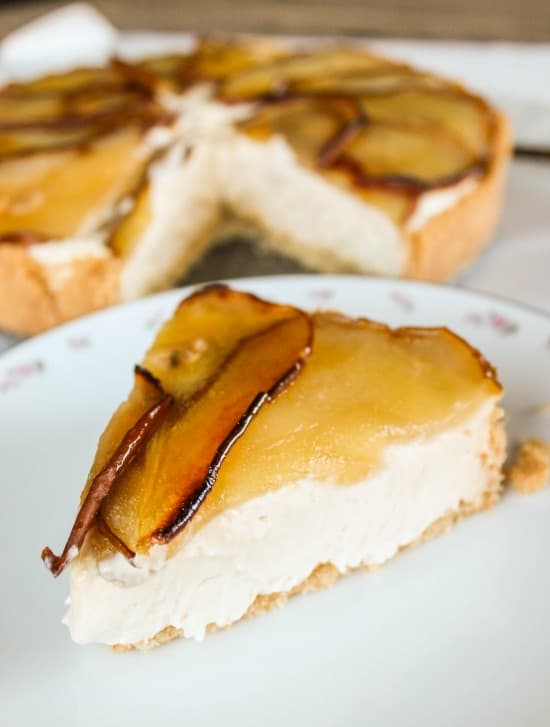 I'm so glad this cheesecake turned out awesome. I had tried another recipe a few weeks ago with disastrous results. (Read: cheesecake overflowing in my oven. It wasn't pretty.) But good ol' Martha, she's so reliable when it comes to recipes. She may make you want to stick your middle finger up her nose sometimes, but you can't deny that the woman's got some good ideas. Like Maple Cheesecake with Roasted Pears on top.
I was dubious about the pears at first, I admit it. But they were ah-maze-ing. The star of the show. The maple flavor is just a hint, not overpowering. Also, this is a no-bake cheesecake, and you fold in whipped cream, so it's not the cheesecake-iest of cheesecakes. It's light and delicate and different. Also, I know it looks kind of intimidating, but I swear it was super easy. I put it together in like 15 minutes.
It didn't last more than 6 hours in my house. Not kidding.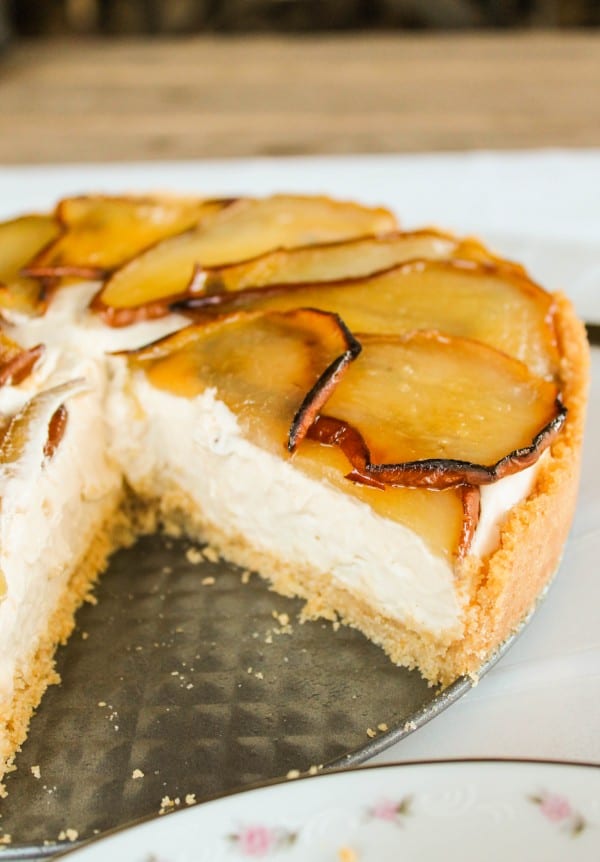 Maple Cheesecake with Roasted Pears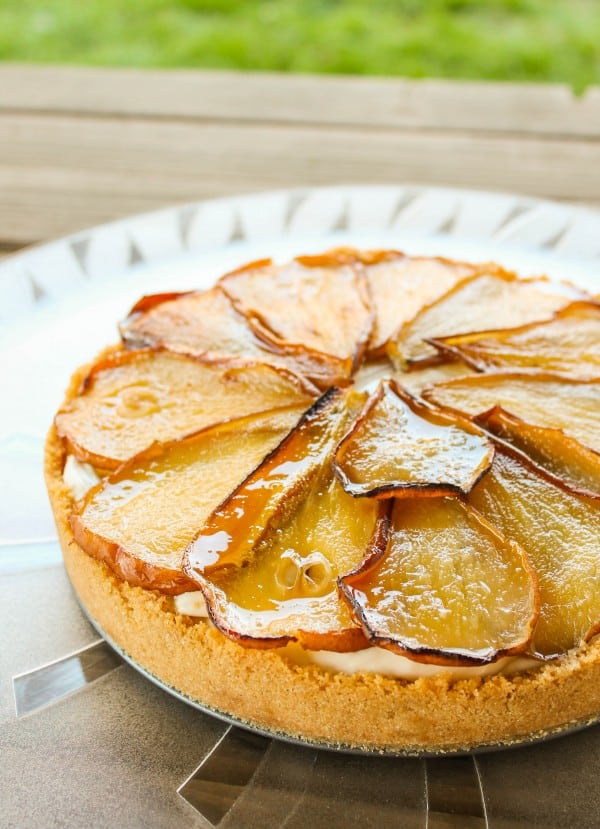 I was dubious about the pears on this maple cheesecake at first, I admit it. But they were ah-maze-ing. The maple flavor is just a hint, not overpowering.
Ingredients
For the crust:
46

vanilla wafers

,

about 6 ounces

3

tablespoons

sugar

1/4

teaspoon

salt

5

tablespoons

butter

,

melted
For the cheesecake:
2

8-oz packages

cream cheese

,

room temperature

3/4

cup

pure maple syrup

,

divided

1/2

teaspoon

maple extract

,

or up to 1 teaspoon

1

cup

cold heavy cream

2

tablespoons

powdered sugar

Nonstick cooking spray

2

medium

pears

,

such as Bosc or Bartlett, sliced lengthwise 1/8 inch thick
Instructions
Make the crust first. Preheat oven to 350 degrees. In a food processor, pulse cookies until finely ground (you should have about 1 1/2 cups). Add sugar, salt, and butter and pulse until combined.

Firmly press crumb mixture into bottom and halfway up the sides of a 9 1/2 inch springform pan. My new favorite trick is to use a measuring cup to press it into the corners, works great. Bake until crust is dry and set, about 10-12 minutes. Let cool completely. Stick it in the freezer or the fridge.

In a large bowl or stand mixer, beat cream cheese on high until fluffy, about 3 minutes. Add 1/2 cup maple syrup and the 1/2 teaspoon maple extract; beat until smooth.

In a medium bowl, beat cream and powdered sugar on high until soft peaks form, about 3 minutes. With a rubber spatula, stir about one-third the whipped cream into cream cheese mixture, then fold in remainder. Transfer to crust and refrigerate until firm, 3 hours (or up to 1 day).

Preheat oven to 450 degrees. Coat a parchment-lined rimmed baking sheet with cooking spray, or use a silpat. Arrange pear slices in a single layer on sheet and brush with 2 tablespoons maple syrup. Roast until pears are soft, about 20 minutes.

Remove from oven and turn on the broiler. Brush pears with 2 tablespoons maple syrup and broil until browned in spots, about 4 minutes, rotating sheet frequently. Keep an eye on it! Never walk away from your broiler! Let cool. To serve, arrange pear slices, overlapping slightly, on cheesecake.
Notes
I added 1/2 teaspoon maple extract, and might even add more next time ( I wouldn't go much over a teaspoon). I was going for a stronger maple flavor, and even with the added extract it wasn't over-the-top at all.
Nutrition
Serving:
1
slice
|
Calories:
458
kcal
|
Carbohydrates:
60
g
|
Protein:
2
g
|
Fat:
24
g
|
Saturated Fat:
13
g
|
Polyunsaturated Fat:
3
g
|
Monounsaturated Fat:
6
g
|
Trans Fat:
1
g
|
Cholesterol:
60
mg
|
Sodium:
289
mg
|
Potassium:
173
mg
|
Fiber:
2
g
|
Sugar:
40
g
|
Vitamin A:
670
IU
|
Vitamin C:
2
mg
|
Calcium:
59
mg
|
Iron:
1
mg