Make these delicious barbeque pork wraps for quick please-everyone meal! I couldn't believe this pork tenderloin was so tender after only 30 minutes in the oven. This is a great weeknight get-it-done meal.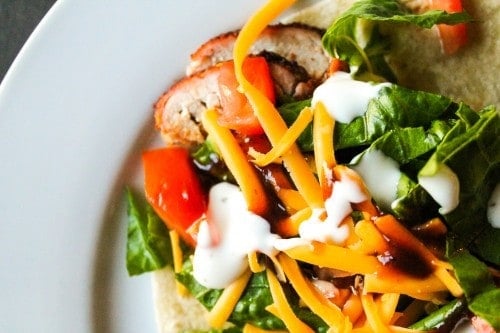 Originally posted September 23, 2013
Eric and I went to our church's Service Scavenger Hunt this weekend. You take a list of outdoor chores house to house (sweep the porch, wash the car, etc.) and whichever team finishes the most wins. It was awesome. People were just so surprised that we weren't charging anything.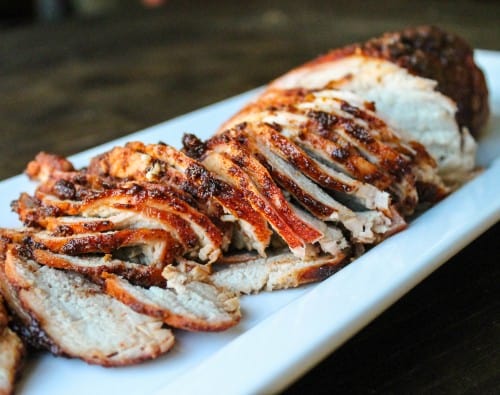 My favorite was this little old lady named Doris. She was just so cute. I loved everything about her, from her nylons pinned neatly to the clothes line out back, to the 3 wheel bike (with a basket!) that she rides around town, to her repeated exclamations about how she's lived here a hundred years and no one's ever done anything so nice for her.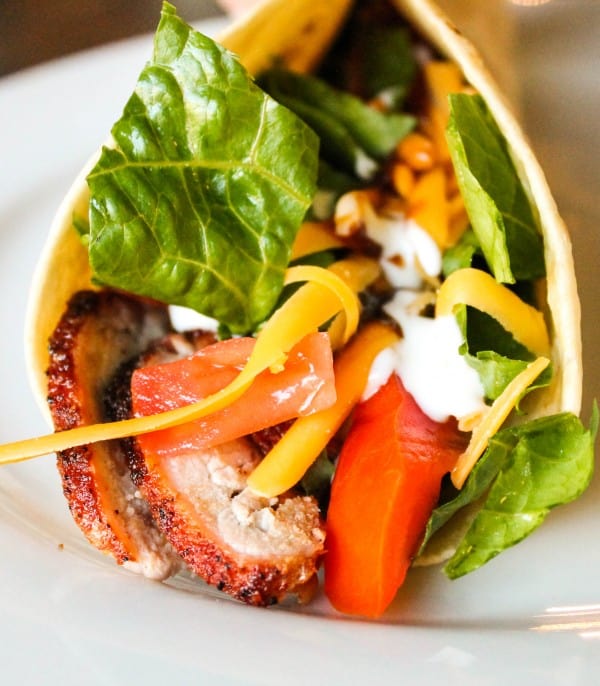 Every time I think of scavenger hunts I can't help but think of my brother Eric and his teenage escapades. One time he and his friends took their dates on a scavenger hunt where they crossed off everything on the list right from the start except "a quarter" and "a Barbie doll leg." Not too many people have severed Barbie doll legs lying around (although they did acquire a few) but most everyone has a quarter. They kept going house to house until they had enough quarters to buy Carl's Jr. for everyone. Attention teenage boys: if you need to take a girl out on the cheap, you're welcome.
How to make Barbecue Pork Wraps
Now let's talk pork. I thought this recipe looked good enough to try, but since barbeque is not my favorite-est flavor, I wasn't expecting this recipe to bring down the house. I was totally wrong. This was the best thing I've eaten in a long time. The pork was awesome all on it's own, perfectly flavorful without being too spicy. But then throw it in a tortilla with some lettuce cheese and tomato…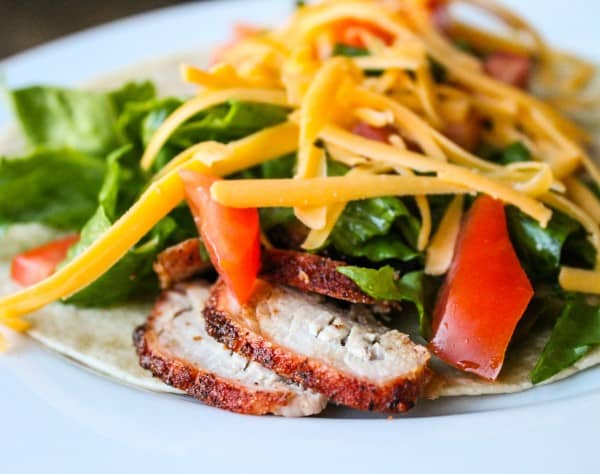 Then add barbeque sauce….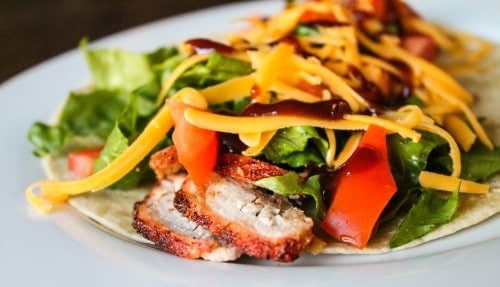 And ranch…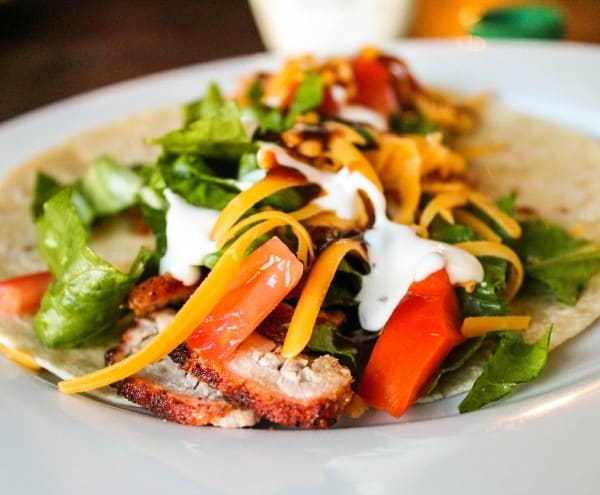 Now we're talkin. Don't hate on the barbeque-ranch combo. I was dubious at first but now I'm a believer. I used a light yogurt-based ranch and it was delicious. Really, don't skip this part. Oh, and this was super quick. Getting the spices together for the rub is the most time-consuming part. I couldn't believe it was so tender after only 30 minutes in the oven. I was tempted to throw this in the slow cooker but was glad I didn't. This is a great weeknight get-it-done meal.
More easy and quick dinner ideas:
20 Minute Lemon Broccoli Pasta Skillet << An all-time reader favorite!
Oven Baked Greek Chicken with Veggies << I love the flavors in this
Easy Baked Mexican Meatballs << What can I say? Kids love meatballs. EVERYONE loves meatballs.
Mini Chicken Pot Pies << Comfort food done quick & easy!
How to Cook Flank Steak << This actually comes together quickly and can be paired with a salad
Skillet Pork Chops & Apples < < This one-pot meal is warm and fruity and nothing pairs better with pork than apples.
Easy Cheesy Cheeseburger Sliders << Use Hawaiian rolls to throw this together
Easy Parmesan Crusted Chicken from Simply Delicious
Sticky Sweet and Spicy Meatballs from Our Happy Mess

Barbeque Pork Tenderloin Wraps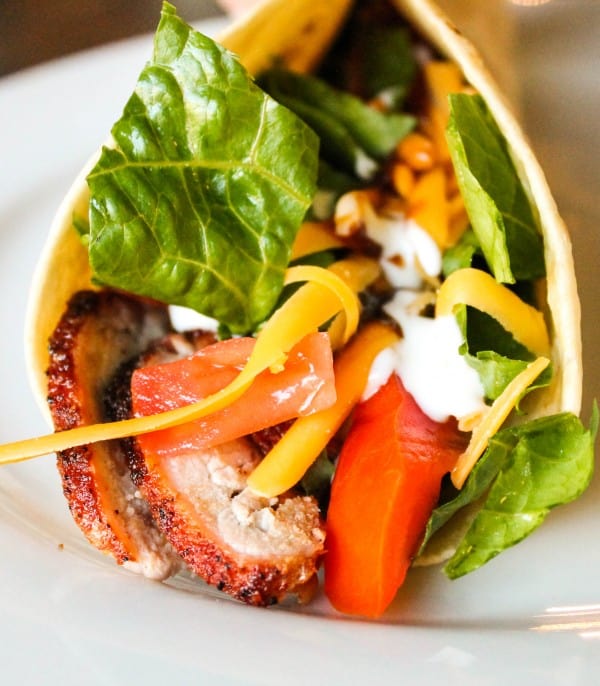 Make these delicious barbeque pork wraps for quick please-everyone meal! This pork tenderloin was so tender after only 30 minutes in the oven.
Ingredients
1

pound

pork tenderloin

,

dry rubbed, cooked, sliced on the diagonal

1

tablespoon

brown sugar

1

teaspoon

kosher salt

1/8

teaspoon

black pepper

1/2

teaspoon

paprika

1/2

teaspoon

smoked paprika

1/2

teaspoon

chili powder

1

dash

cayenne pepper

1/4

teaspoon

garlic powder

1/2

teaspoon

dry onion flakes

chopped lettuce

diced tomatoes

diced onions

,

optional

shredded cheddar cheese

barbeque sauce

ranch dressing

flour tortillas

,

warmed
Instructions
Preheat oven to 375 degrees. Put some aluminum foil down on a lined baking sheet, then spray it with nonstick spray.

Combine all rub ingredients in a small dish (brown sugar through the dry onion flakes.) Pat your pork with a paper towel if it is wet. Rub the spices generously all over the pork tenderloin and let sit for about 10 minutes.

Cook for 30-35 minutes or until an instant read thermometer reads 145 degrees. Cover with foil and let rest for 10 minutes before slicing very thinly on a diagonal. You could grill the pork tenderloin too if you wanted.

Take a warm tortilla and fill it with meat and whatever fixings you want. Just don't forget the barbeque sauce and ranch! It totally makes it!
Nutrition
Serving:
1
wrap
|
Calories:
152
kcal
|
Carbohydrates:
4
g
|
Protein:
24
g
|
Fat:
4
g
|
Saturated Fat:
1
g
|
Polyunsaturated Fat:
1
g
|
Monounsaturated Fat:
2
g
|
Trans Fat:
1
g
|
Cholesterol:
74
mg
|
Sodium:
695
mg
|
Potassium:
470
mg
|
Fiber:
1
g
|
Sugar:
3
g
|
Vitamin A:
230
IU
|
Vitamin C:
1
mg
|
Calcium:
12
mg
|
Iron:
1
mg