Liege Waffles with Pearl Sugar
Liege waffles are yeast waffles that are studded with pearl sugar. Pearl sugar is basically a small chunk of sugar that holds its shape as the waffles cooks, leaving you with gloriously crunchy bites of sugar. They are a seriously delicious treat!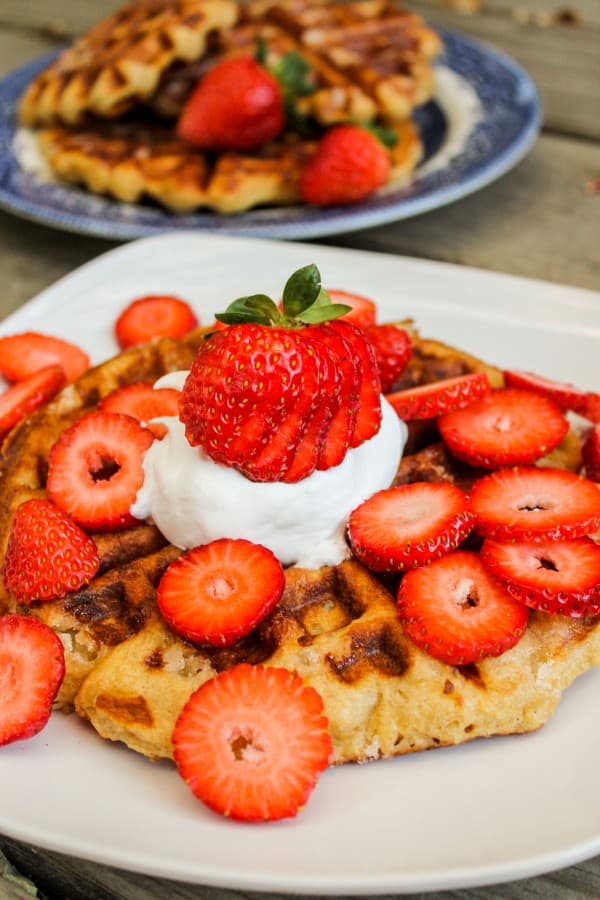 Are you guys still freaking out about daylight savings time like I am? It's been 3 days now and I still feel like going to bed by 7pm every night. It starts getting dark at like 4 in the afternoon. Okay not really, but by the way I have been cranking up the Christmas music, chugging the apple cider, and snuggling with cozy blankets like a boss, you would think I was about to enter hibernation.
Have any of you been to Belgium? I haven't, but it has made one flying leap almost to the top of my "places I want to go in Europe" list. Here's why: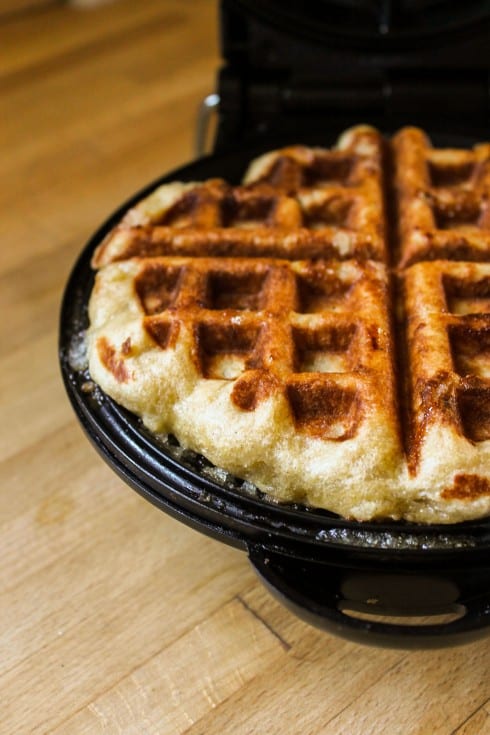 I honestly don't know much else about Belgium, but I don't need to. These waffles are alllllll I need to know.
I've always been more of a pancake girl. Maybe that's because our waffle iron is so pitiful. One side of the heating element doesn't work, so halfway through cooking them you have to slide it 180 degrees to cook the other half. It's kind of pathetic.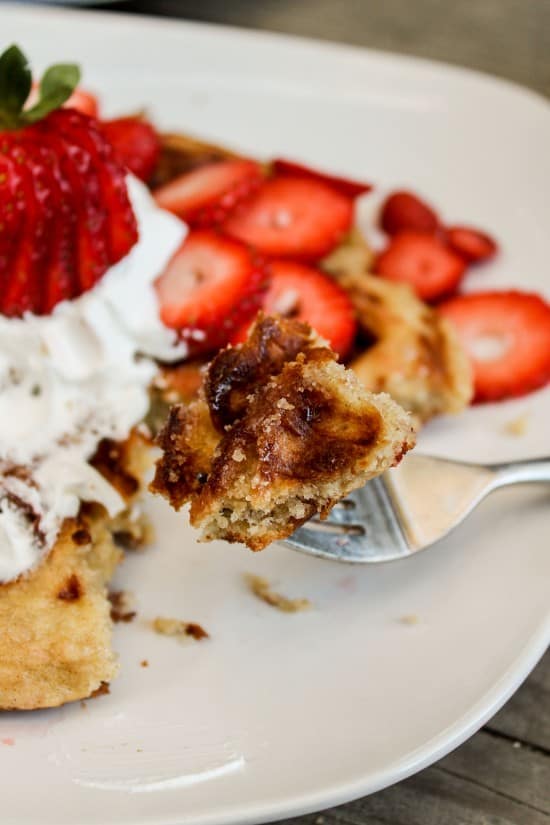 But these Liege Waffles have changed everything. Everything! No other waffle stands a chance now. Because no other waffles have giant chunks of crunchy, delicious sugar in them.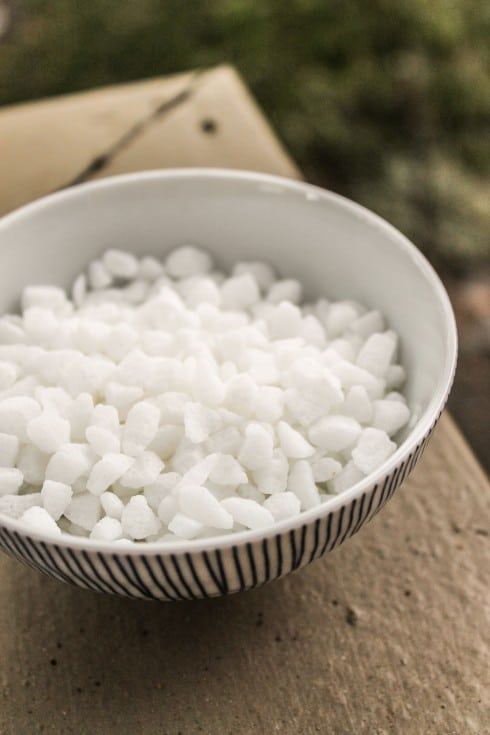 That's what sets these waffles apart. Pearl sugar is the secret. Each sugar is a little smaller than a pea, and instead of melting into the waffle, they stay crunchy, so when you bite in, you get these delicious little nuggets of awesomeness. Like I said, every other waffle is now ruined.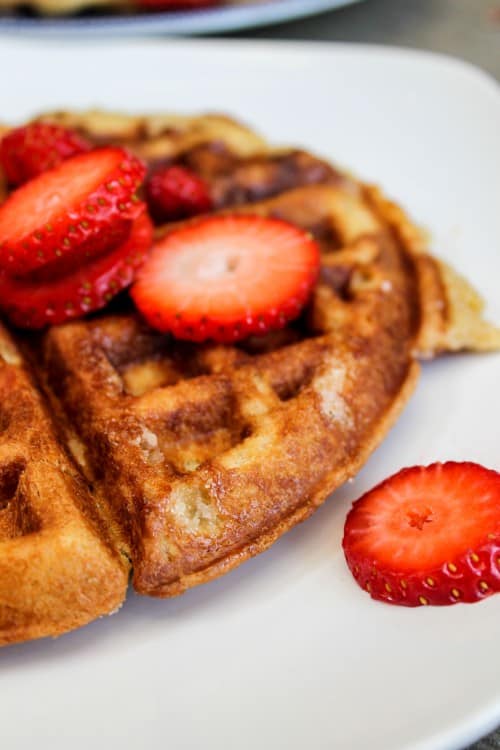 Can you see the two little spots of sugar? Here's another look.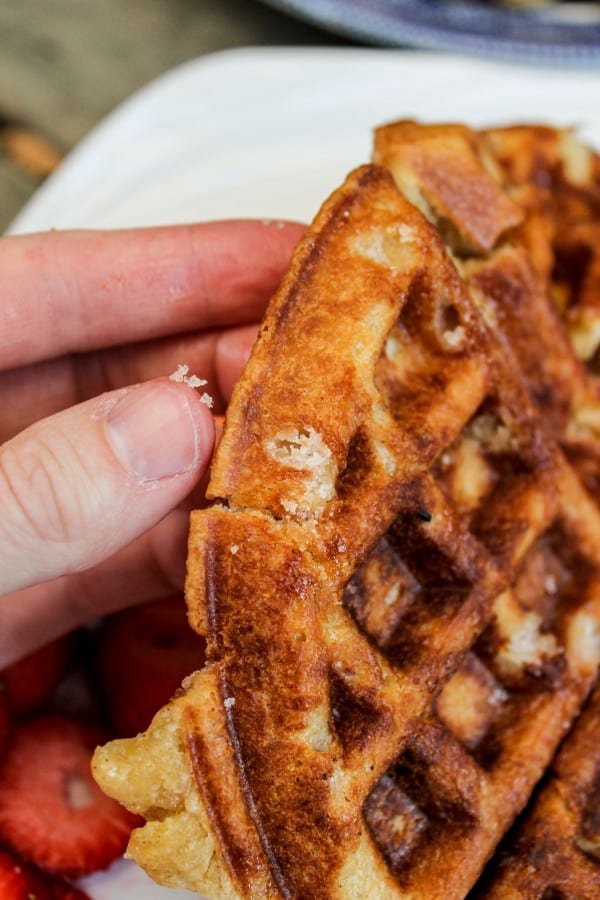 Mmmmmmm sugar. Try not to hate my thumb too much. Focus on the waffle.
They sell these famous little pastries on the street corners over in Belgium. My brother wanted to recreate them at home, and the first time we made them we had people over so he made a triple batch. One recipe calls for a cup of butter, so that means he used 6 sticks of butter. 6 sticks of butter. Can you tell why I love these waffles yet?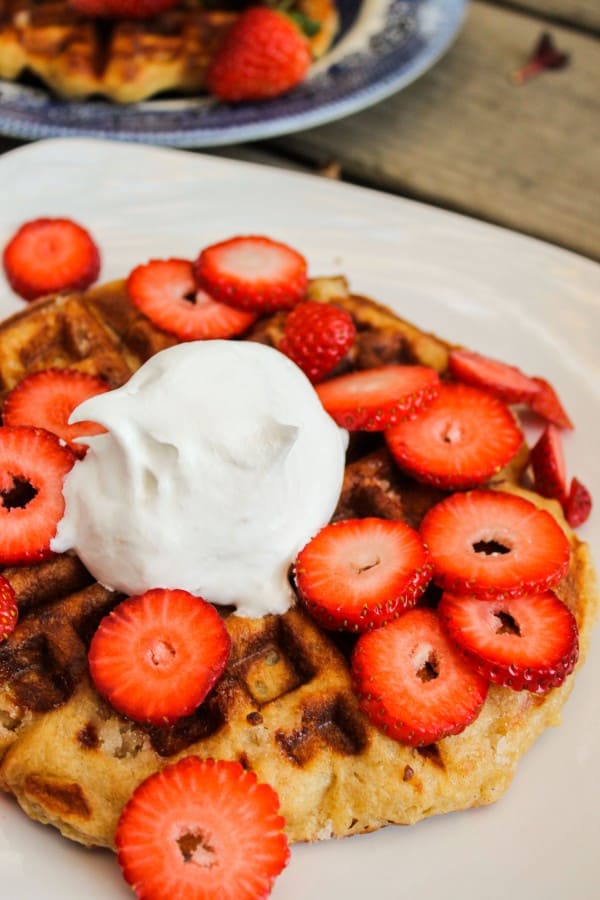 These would be a perfect Christmas morning breakfast…or dessert. Top with strawberries and whipped cream, or ice cream, or melted chocolate. I actually prefer them without maple syrup, I feel like it competes with the flavor of the waffle too much.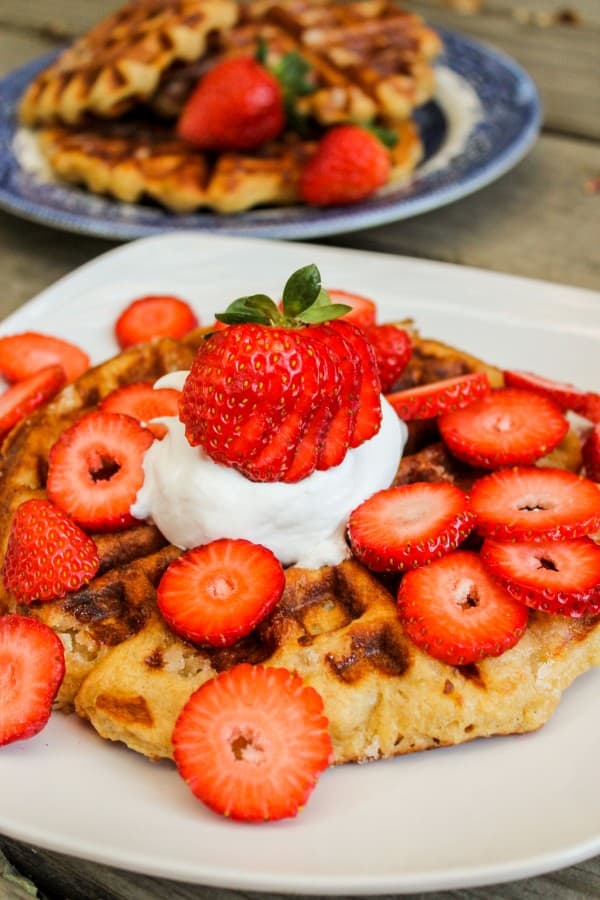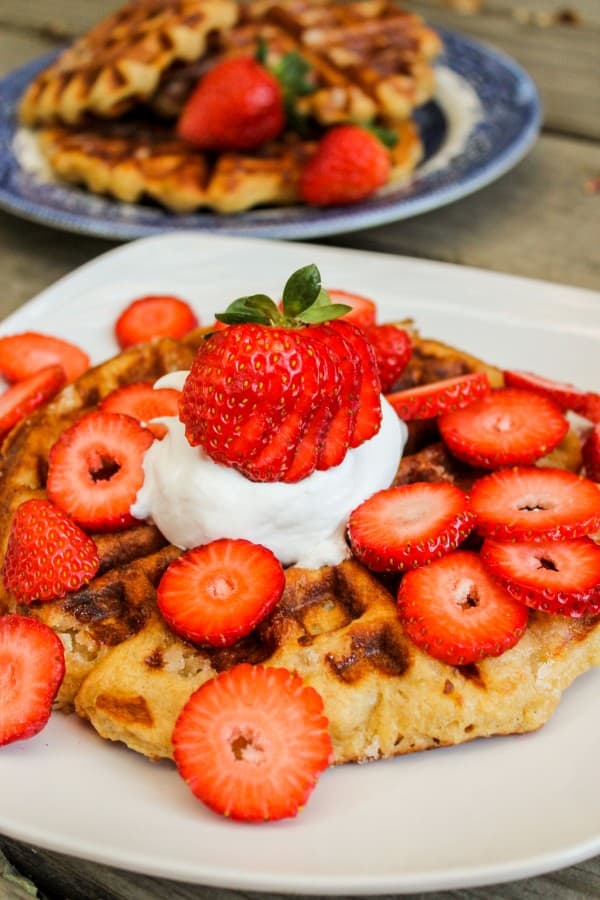 print
Did you make this recipe?
Leave a review »
Liege Sugar Waffles with Pearl Sugar
Makes about 4 7-inch round waffles
adjust servings
Liege waffles are yeast waffles that are studded with pearl sugar. Pearl sugar is basically a small sugar cube that holds its shape as the waffles cooks, leaving you with gloriously crunchy bites of sugar. They are a seriously delicious treat!
Ingredients
1

(1/4 ounce) package yeast (1 tablespoon)

1/3

cup lukewarm water (105 F)

1 1/2

tablespoons granulated white sugar

1/8

teaspoon salt

2

cups flour, spooned and leveled

3

eggs

1

cup melted butter

1

teaspoon vanilla extract

3/4

teaspoon ground cinnamon (optional)

1

cup pearl sugar *
Instructions
In a small bowl, add 1 tablespoon of yeast. Turn on your faucet and let the water get nice and warm, but not hot to the touch. Add the 1 1/2 tablespoons sugar and the salt. Stir and then set aside for about 10 minutes.
Pour the spooned and leveled flour into the bowl of a stand mixer or large bowl. Make a well in the center of the flour.
Once the yeast mixture is frothy, pour into the well and mix with the paddle. (Or a sturdy spoon). Add the eggs one at a time, mixing well after each one.
Pour in the melted butter with the mixer on, or while stirring. Add the vanilla and cinnamon and mix well. The batter should be thick and very sticky. It also is lumpy. This is not the kind of waffle where you want to barely combine everything--you want to beat it up pretty good, but there will still be some lumps, which is great.
Let the dough rise in the mixing bowl until it doubles in size, about 1 hour. Gently fold in the pearl sugar and let the dough rest for 15 more minutes. Fire up the waffle iron. (Use a Belgian waffle maker. The pearl sugar won't have as much of a chance to shine in a regular waffle iron.)
Spoon a 2-inch ball of dough into each segment of your waffle iron. Spread it out a bit, the dough is so thick that it needs some help. Waffles will take about 3 to 5 minutes to bake. They are pretty forgiving. Just make sure you don't burn them. They should be a caramely brown on top. Serve with strawberries and whipped cream!
by The Food Charlatan

If you make this recipe,
share it on Instagram
 using the hashtag
#TheFoodCharlatan
so I can see it!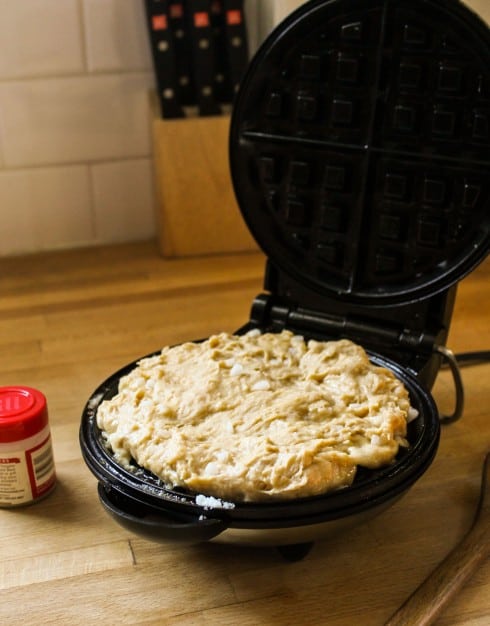 The batter is really thick, so you kind of need to spread it out a little bit.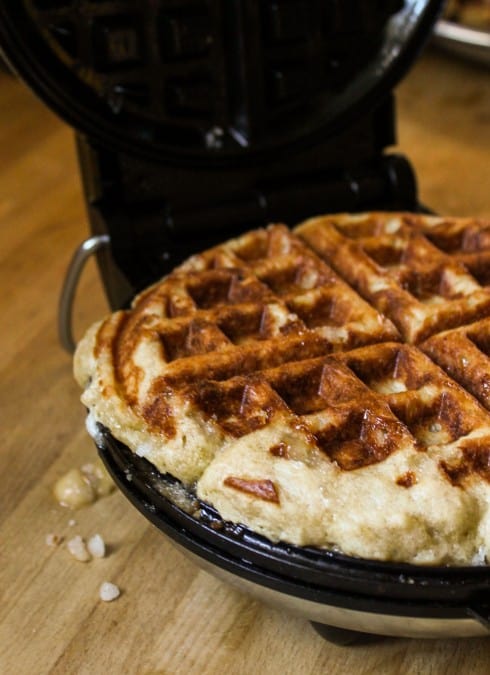 This is the spillage I got from spreading it out that much. If you don't care about making a perfect circle, then just don't fill it as much.
Source: Whipped

We are a participant in the Amazon Services LLC Associates Program, an affiliate advertising program designed to provide a means for us to earn fees by linking to Amazon.com and affiliated sites.