My 8-year-old nephew Ryan is a little biologist. He loves animals, particularly reptiles, amphibians, bugs, and anything else that I would identify as "creepy." He's pretty legit actually. He has a large walk-in closet where he stores his "collection." A cork board pinned with bird feathers, specimen collectors with dozens and dozens of insects, a preserved shark, a bat, a reindeer antler…you get the idea.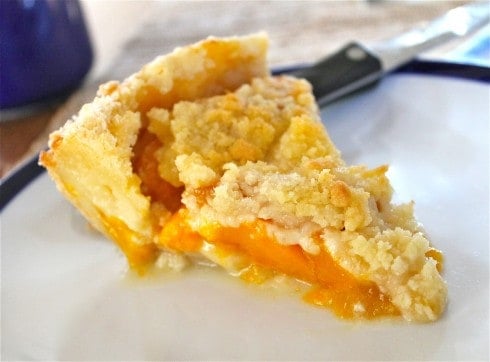 He has mini mesh cages, butterfly nets, and even a throw net that he brings with him on hikes so that he can capture whatever he sees. When we were camping last week, he caught a large beetle. My mom asked him if he was going to keep that one as a specimen or let it go. "Keep it, of course. I don't have this one yet." I wonder if he knows how many species of insects there are. Who am I kidding, of course he does.
The other day I found a bug in my room. Instead of squealing and yelling at Eric to come squash it, I found a plastic bag, captured it, and asked Ryan what it was. "Oh! I think this is a Silverfish!" I looked it up. He was totally right. I haven't seen the bag since. I'm guessing it's a specimen now.
Another time a few weeks ago we were standing around in the kitchen when Ryan's mom Sandi saw a giant spider on the wall. She dashed to the cupboard, grabbed a mason jar, and expertly captured it. I assumed that since she hadn't destroyed it on sight, (like I would have done) she was going to let it go outside. She called Ryan over, unceremoniously handed him the jar, and without looking up said, "Feed this to the frogs."
All in a days work around here. Sandi decided yesterday that it was time to release said frogs back into their natural habitat (the backyard). Their family left for another weekend camping trip, and a while after they left I got a text from Sandi: "Ryan spent so much time saying goodbye to his favorite frog Tiger Eye that he forgot to release the others. Can you let them go in the backyard?"
Well of course. No problem. I release frogs into the wild all the time. No biggie.
I have never heard Charlotte scream so loud in her life. She was all excited about seeing the froggies, but I guess she drew the line when they used her arm as a landing pad in their efforts to escape from me. This was after it had squeezed its tiny little body out the side of the green mesh strawberry basket I was trying to hold it in. I literally couldn't stop the chills that came over me as I tried to scoop up the frog again (who had by then made his way halfway up the bathroom wall), while the other two took off in the opposite direction. It's like they had it planned out. Okay, Warts-o, you be the decoy while Hopps-alot and I make our getaway!
It was a good experience. Now I know that I would actually prefer to feed a dog every day than have to crawl around in my bathroom chasing a squirmy little frog.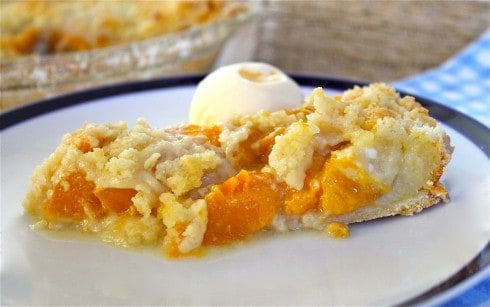 Well, nothing whets your appetite for Peach Custard Pie like frog-releasing escapades, right? My parents have a peach tree, so a few weeks ago we were bombarded with hundreds of delicious amazing golden peaches. I decided to make a peach pie…and realized that peach pie must not be my favorite, because it was rather ho-hum in my opinion. But then Sandi showed me this custard recipe. Eric and I ate literally half of the entire pie in one sitting. And then we made it again…and again…and again. For real. It may not be pretty, but dang. Custard bringin down the house over here.

Peach Custard Pie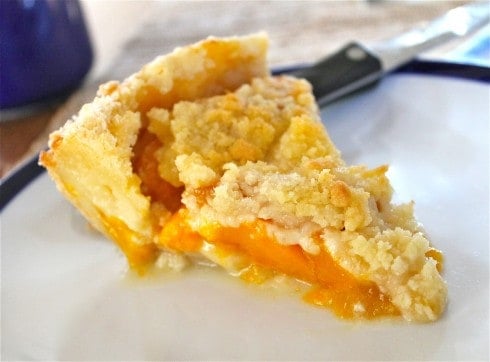 Eric and I ate literally half of the entire pie in one sitting. And then we made it again...and again...and again.
Ingredients
1

9 inch

pie crust

5

medium peaches

,

about 5 cups

8

oz

sour cream

3

large egg yolks

1

cup

sugar

1/4

cup

flour

1

teaspoon

vanilla
Streusel topping:
1/2

cup

flour

1/4

cup

sugar

4

tablespoons

cold butter
Instructions
Preheat oven to 425.

Arrange pie crust in pan. Peel and slice* peaches and "arrange in a concentric manner" on crust. Or you could just dump them, like I did...

Whisk sour cream, egg yolks, sugar, flour, and vanilla until just blended, and pour over the peaches.

Place the pie pan on a baking sheet if you think it might overflow. Bake for 30 minutes or until custard begins to set.

Meanwhile, make the streusel. Combine the flour and sugar, then cut in the butter using a pastry blender or fork until it resembles coarse crumbs.

After 30 minutes, sprinkle the streusel on top of pie and cook for an additional 15 minutes, or until streusel is golden and a toothpick comes out clean. Let sit at room temperature for at least an hour before serving.
Notes
*An easy way to get the skins off peaches: Bring a large pot of water to a rolling boil. Add whole peaches all at once. Boil for no more than one minute. Remove with a slotted spoon and immediately plunge them into ice water. If your peaches are ripe, the skins will just fall off.
Source: my friend Wendy
Nutrition
Serving:
1
slice
|
Calories:
442
kcal
|
Carbohydrates:
62
g
|
Protein:
5
g
|
Fat:
20
g
|
Saturated Fat:
10
g
|
Polyunsaturated Fat:
2
g
|
Monounsaturated Fat:
7
g
|
Trans Fat:
1
g
|
Cholesterol:
103
mg
|
Sodium:
179
mg
|
Potassium:
265
mg
|
Fiber:
2
g
|
Sugar:
40
g
|
Vitamin A:
755
IU
|
Vitamin C:
6
mg
|
Calcium:
54
mg
|
Iron:
2
mg