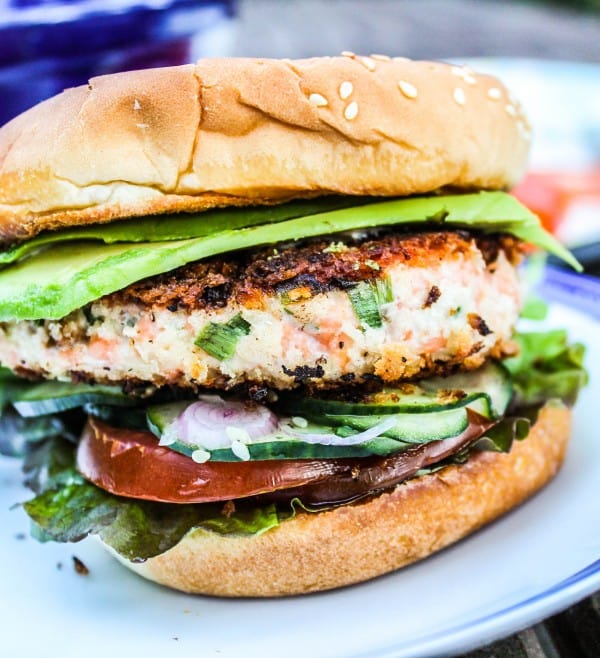 Truman, my almost 6-month-old son, is finally starting to settle on an eye color. I was afraid he was going to be a Murky. Nobody likes Murkies.
His eyes are officially greenish gray, or grayn, as Eric calls it. And who knows, they could be a totally different color in a few months, but I'll take this for now.
We take multicolored eyes for granted in this country. Some of my family members went on a trip to Thailand a few summers ago. My sister-in-law Sandi told me that one day they were at the zoo and started chatting with a couple locals. The two women were just dumbfounded by Sandi's eyes, which are a hazel-y brown. "Look at all the colors!" They were appreciative, but not quite so dazzled, by her husband Eric's extremely light blue eyes.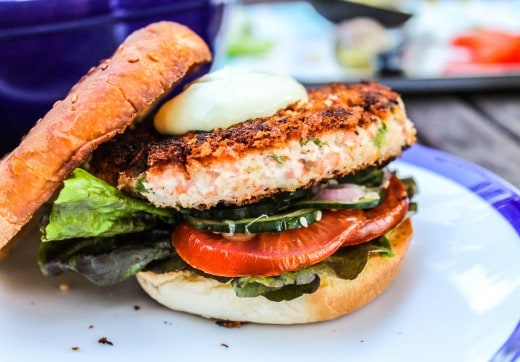 The funniest part was that they couldn't grasp that Eric and Sandi were from the same country. They told the ladies that they were both from California, in the United States. But they couldn't make sense of the fact that they had different eye colors. They thought that Eric must be from another country to have a completely different eye color than his wife.
Isn't that crazy? But I imagine if I grew up in a place where everyone had the exact same eye color as me, I might assume the same thing. All Thai people have brown eyes, so Norwegians must all have blue eyes, etc.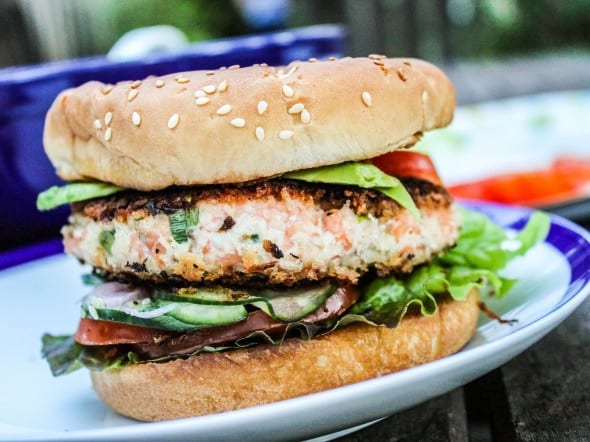 I shared this awesome Asian Marinated Cucumber Salad a couple days ago, and it is great as a stand-alone side. But pair it with these salmon burgers…oh boy. I'd never even had a salmon burger before these, and I honestly don't even see a need to try any others…ever.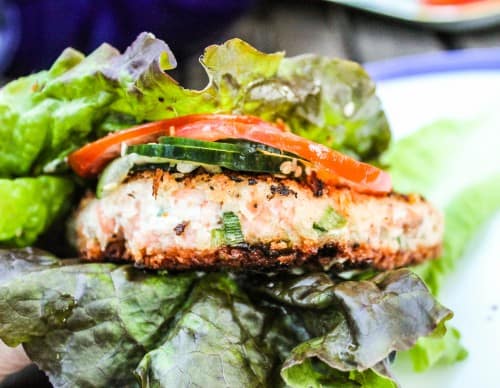 These are amazing on buns, but they are also really delicious as lettuce wraps. But please, even if you are watching your carbs, do not skimp on the wasabi mayonnaise.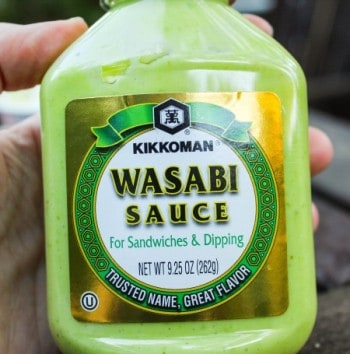 Why does mayonnaise make everything so amazing?

Asian Salmon Burgers with Wasabi Mayonnaise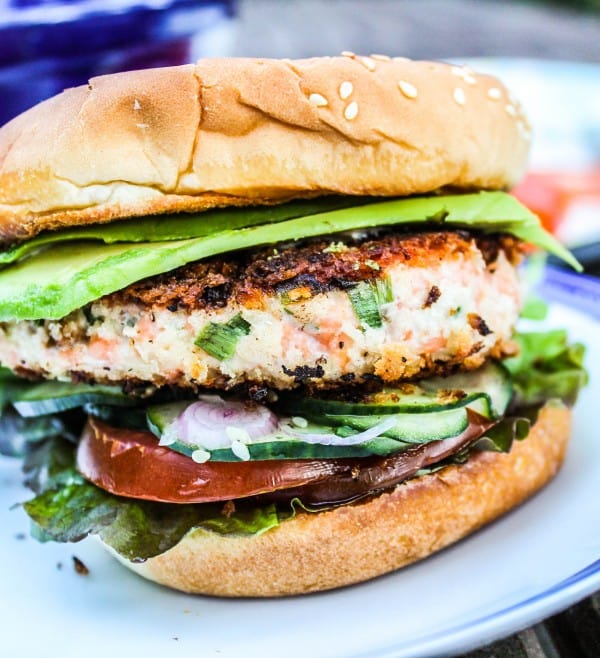 I'd never even had a salmon burger before these, and I honestly don't even see a need to try any others...ever.
Ingredients
For the Salmon Burgers:

2

pounds

salmon fillets

,

skin and bones removed carefully, (frozen filets work great)

1 & 3/4

cups

panko breadcrumbs

,

(whole wheat if you want), plus more if needed, divided

1

bunch

green onions

,

washed

¼

cup

mayonnaise

1

tablespoon

pickling liquid from a jar of pickled ginger

,

Gari*

Oil

,

canola, peanut, or vegetable for pan frying

For the Wasabi Mayonnaise:

1/2

cup

mayonnaise

1-3

tablespoons

wasabi sauce

,

according to taste

Optional garnishes you might want to serve:

Whole wheat or white buns

,

toasted

Asian Marinated Cucumber Salad (don't skip this! You will regret it!

red lettuce leaves

,

or butter lettuce

avocado

tomato
Instructions
For the Burgers: Cut the salmon into 2-inch chunks and throw it into the bowl of a food processor. Pulse until it has broken down a little bit but is not smooth. It should still have about ¼-inch pieces in it. Scrape it into a bowl.

Cut off the white part of the green onions and save for another use. Slice the green parts in half lengthwise, then chop them very thinly. Put this into the bowl with the salmon, ½ cup of the panko bread crumbs, 1/4 cup mayonnaise, and pickled liquid. Mix until combined, but don't overdo it.

Line a baking sheet with plastic wrap or parchment paper. Divide the salmon mixture into 8 mounds and form those mounds into patties that are ¾-inch thick. Try to make the edges just as thick as the centers. Cover with plastic wrap and chill for 1 hour (up to 8) before cooking.

Pour the remaining panko bread crumbs onto a plate. Using a large spatula, gently lift and place each salmon patty on the bread crumbs, press down lightly to help the panko stick, flip the patties over and repeat.

Heat a large, heavy-bottomed skillet over medium-high heat. When it is hot, add about 1 tablespoon of oil to the pan and swirl it to coat.

Gently slide the salmon burgers into the pan. A 12-inch pan should hold 4 patties at a time. Cook for 3-5 minutes, or until the first side is golden brown. Carefully flip the patties using a wide spatula. Use a splatter shield so that your arms don't suffer Death By Hot Oil.

Fry the second side for an additional 3 to 5 minutes, or until golden brown and firm around the outer edges. Transfer to a paper towel lined platter. Add another tablespoon of oil to the pan and repeat until all of the salmon burgers are done.

For the Wasabi Mayonnaise: put the mayonnaise in a small bowl and use a fork or spoon to stir in the wasabi sauce, starting with 1 tablespoon. Taste the mayonnaise and add more mayonnaise or wasabi to taste.

To serve: top toasted buns with salmon burgers, Wasabi Mayonnaise, and any other toppings that sound good to you. These work great as lettuce wraps. Enjoy!
Notes
*Um, I've never even heard of pickled ginger. (I'm kind of jealous about that actually) But anyway I didn't have any so I used pickling liquid from a jar of regular old pickles. It worked great. But this does mean that there was no ginger flavor in the burgers, so next time I may add some fresh ginger or maybe just a dash of ginger powder.
Source: Foodie with Family
Nutrition
Serving:
1
burger
|
Calories:
359
kcal
|
Carbohydrates:
10
g
|
Protein:
25
g
|
Fat:
24
g
|
Saturated Fat:
4
g
|
Polyunsaturated Fat:
13
g
|
Monounsaturated Fat:
6
g
|
Trans Fat:
1
g
|
Cholesterol:
71
mg
|
Sodium:
280
mg
|
Potassium:
606
mg
|
Fiber:
1
g
|
Sugar:
1
g
|
Vitamin A:
89
IU
|
Vitamin C:
1
mg
|
Calcium:
43
mg
|
Iron:
2
mg