Marinated Asian Cucumber Salad with Rice Vinegar
This Asian cucumber salad recipe is a perfect way to add a light, healthy dish to your spring and summer meals. The marinated cucumbers with just a little heat add interest without extra work. It's easy and perfect for summer barbecues! Originally published September 11, 2013.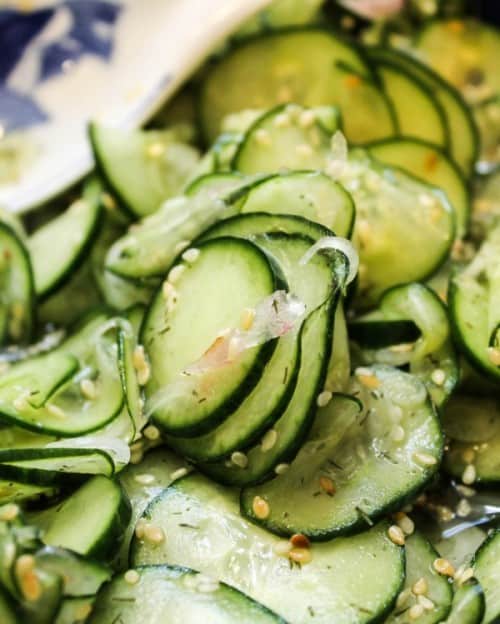 Today I spent more money at the grocery store than I have ever spent in my life. I actually got the shakes when I was checking out and saw the number go up and up and up. Sweaty, tremble-y hands, discombobulated, everything. I'm like the antithesis of a shopaholic.
It's not that I can't spend money.
It's just that usually when I spend that much money on something, I've thought about it for a while, and of course talked to Eric about it. I can't handle the fact that I just randomly went and spent hundreds of dollars on a Monday afternoon.
When Eric interviewed for his job, they talked to him about "sticker shock." It's something we were expecting. You don't move to California and expect your grocery bill to be the same. Plus, whenever you move into a new place you have to stock up on everything that is usually just already in your fridge: mayonnaise, salad dressing, ice cream. What, ice cream isn't a staple in your freezer? You will probably live longer than me.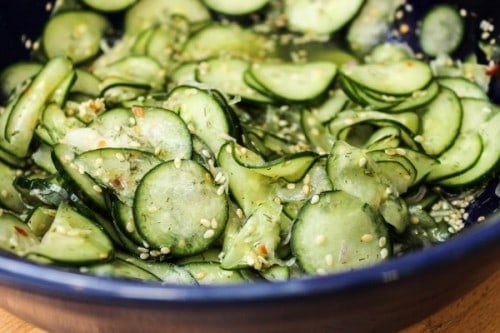 Well, I'm just glad I'm so cheap that I took the time to pack up my entire pantry before we moved. When all the kitchen boxes were finally emptied, I had 4 pounds of powdered sugar, 30 or 40 cans of beans and tomatoes and fruit, 4 containers of cocoa powder, tons of pasta, Crisco, chocolate chips…you get the idea. I think I had more food packed in those boxes than my brother had in his entire kitchen (before I started cooking for them, of course.)
How to Make Asian Marinated Cucumbers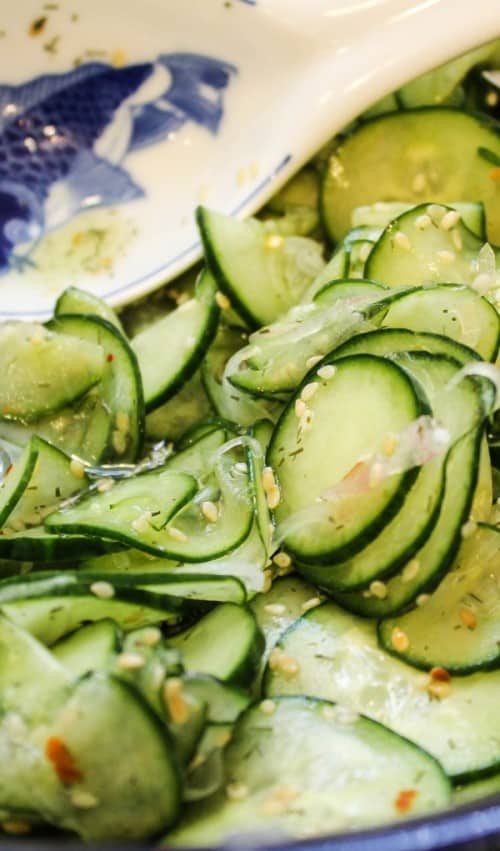 We loved this salad. It is a perfectly light side dish. And I mean it when I say light, don't expect the flavor to kick you in the mouth. It's delicate. If you have a mandoline, use it. If not, then you will have to slice by hand, but other than that part, this is a really easy and fast recipe.
I made this salad to go with these Asian Salmon Burgers with Wasabi Mayonnaise. DO IT! Seriously. You won't regret it. Both of these recipes are from my friend Rebecca over at Foodie with Family. She's an amazing blogger with tons of awesome recipes! She even just came out with her first cookbook, Not Your Mama's Canning Book. It's so fun! Check it out!
Facebook | Pinterest | Instagram | Twitter
Six Months Ago: Homemade Pretzel Dogs
One year ago: Mini Cinnamon Rolls with Maple Icing
Two years ago: Pumpkin Oatmeal White Chocolate Chip Cookies
Asian Cucumber Salad
This Asian cucumber salad is a perfect way to add a light, healthy dish to your spring and summer meals. The marinated cucumbers with just a little heat add interest without extra work. It's easy and perfect for summer barbecues!
Ingredients
1

large

Cucumber

,

seedless English variety, very thinly sliced

¼

sweet onion

,

very thinly sliced

1/3

cup

rice vinegar

1

tablespoon

sesame seeds

,

toasted

1

tablespoon

dill

,

minced & fresh dill or ½ teaspoon dried dill weed

¾

teaspoon

salt

¾

teaspoon

sugar

¼

teaspoon

red pepper flakes

,

crushed
Instructions
Slice the cucumbers as thinly as you can without slicing your hand. Or go buy a mandoline.

Throw your tablespoon of sesame seeds into a small dry frying pan. Set over medium heat and stir occasionally until the seeds just begin to brown. You don't want to overdo it.

Gently toss together all of the ingredients until everything is evenly coated. Put in a container with a tight fitting lid and refrigerate for at least an hour before serving. Marinated salads like this always improve with time, so feel free to make this ahead of time. Refrigerate for up to 5 days. Gently toss again before serving.
Nutrition
Serving:
1
cup
,
Calories:
22
kcal
,
Carbohydrates:
3
g
,
Protein:
1
g
,
Fat:
1
g
,
Saturated Fat:
1
g
,
Polyunsaturated Fat:
1
g
,
Monounsaturated Fat:
1
g
,
Sodium:
295
mg
,
Potassium:
89
mg
,
Fiber:
1
g
,
Sugar:
2
g
,
Vitamin A:
64
IU
,
Vitamin C:
2
mg
,
Calcium:
24
mg
,
Iron:
1
mg
You will probably like these cucumber salads too!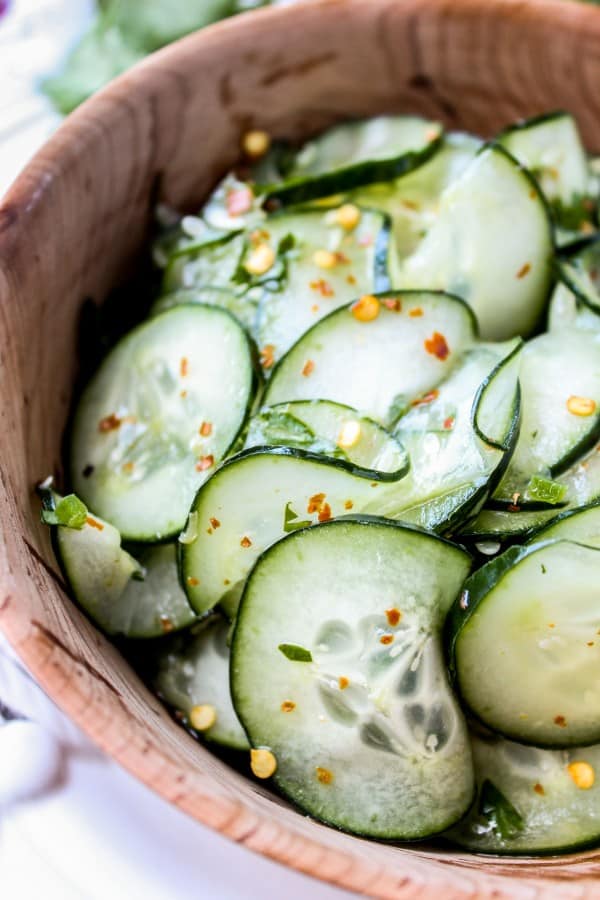 Pistachio-Pear Cucumber Salad: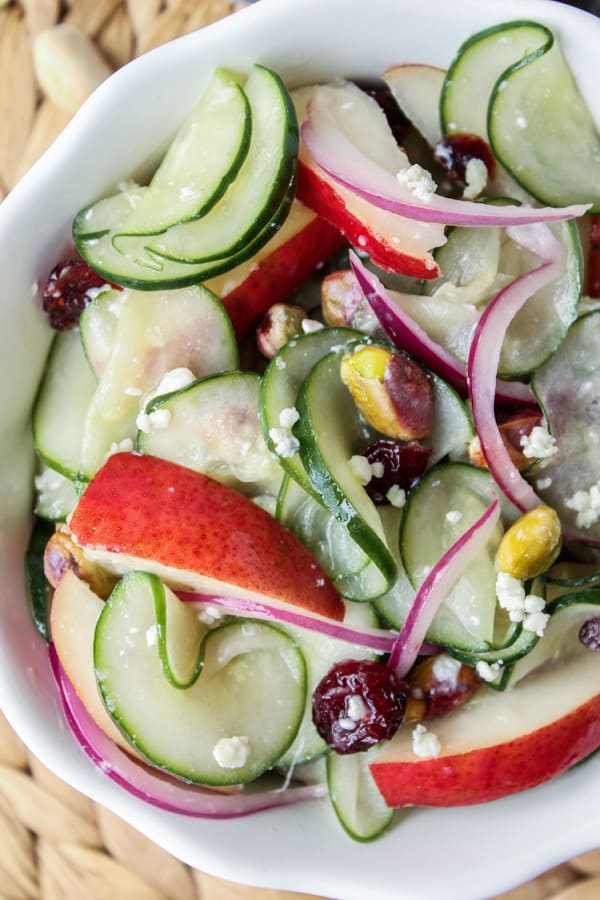 Strawberry Cucumber Salad with Honey Balsamic Dressing << this is such a unique dish! I love it!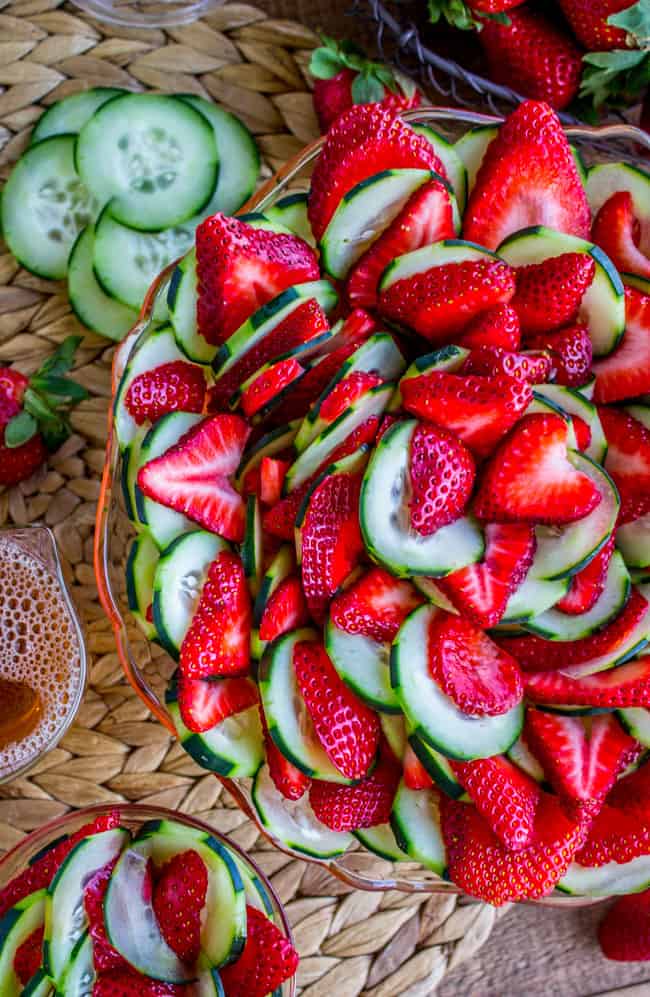 More cucumber salads you will love!
Korean Cucumber Salad from Taste and Tell
Kicked Up Cucumber Salad from Aggie's Kitchen
Cucumber Salad with Grapes and Poppyseed Dressing from Oh Sweet Basil
Thai Cucumber Salad from All Day I Dream About Food
We are a participant in the Amazon Services LLC Associates Program, an affiliate advertising program designed to provide a means for us to earn fees by linking to Amazon.com and affiliated sites.