This Asian cucumber salad recipe is a perfect way to add a light, healthy dish to your spring and summer meals. The marinated cucumbers with just a little heat add interest without extra work. It's easy and perfect for summer barbecues! Originally published September 11, 2013.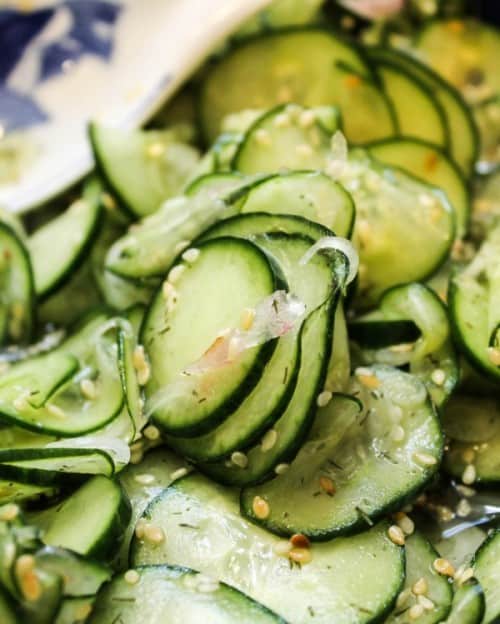 Today I spent more money at the grocery store than I have ever spent in my life. I actually got the shakes when I was checking out and saw the number go up and up and up. Sweaty, tremble-y hands, discombobulated, everything. I'm like the antithesis of a shopaholic.
It's not that I can't spend money.
It's just that usually when I spend that much money on something, I've thought about it for a while, and of course talked to Eric about it. I can't handle the fact that I just randomly went and spent hundreds of dollars on a Monday afternoon.
When Eric interviewed for his job, they talked to him about "sticker shock." It's something we were expecting. You don't move to California and expect your grocery bill to be the same. Plus, whenever you move into a new place you have to stock up on everything that is usually just already in your fridge: mayonnaise, salad dressing, ice cream. What, ice cream isn't a staple in your freezer? You will probably live longer than me.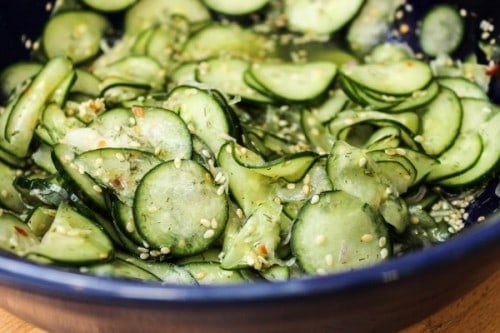 Well, I'm just glad I'm so cheap that I took the time to pack up my entire pantry before we moved. When all the kitchen boxes were finally emptied, I had 4 pounds of powdered sugar, 30 or 40 cans of beans and tomatoes and fruit, 4 containers of cocoa powder, tons of pasta, Crisco, chocolate chips…you get the idea. I think I had more food packed in those boxes than my brother had in his entire kitchen (before I started cooking for them, of course.)
How to Make Asian Marinated Cucumbers
Here's a quick overview of how to make this salad; for complete instructions, scroll down to the recipe card below.
Thinly slice cucumbers with a chef's knife or mandoline.
Toast your sesame seeds.
Toss dressing ingredients together and mix with cucumbers and sesame seeds.
Cover and chill for at least an hour before serving.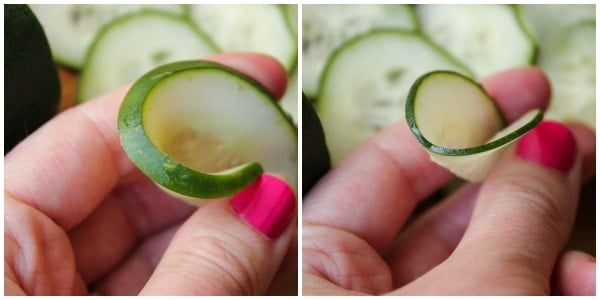 We loved this salad. It is a perfectly light side dish. And I mean it when I say light, don't expect the flavor to kick you in the mouth. It's delicate. If you have a mandoline, use it. If not, then you will have to slice by hand, but other than that part, this is a really easy and fast recipe.
Asian Cucumber Salad Recipe Ingredients
Here's a quick shopping list to help you gather your ingredients. See the recipe card below for the full ingredients and instructions!
Cucumber
Sweet onion
Rice vinegar
Sesame seeds
Dill, fresh or dried
Salt
Sugar
Red pepper flakes
Which Cucumbers to Use for Cucumber Asian Salad
If you go to the grocery store, you'll probably see two kinds of cucumbers: a regular cucumber, and a long, thin English cucumber. Regular cucumbers have noticeable seeds, which can sometimes be bitter (they don't bother me, personally). English cucumbers are a bit sweeter and have only tiny seeds. Either one works great for this salad, but if you'd like to avoid needing to seed your cucumber, buy the English ones.
Cucumber Salad (Asian) Variations
Here are a few ideas to switch up the flavors in your Asian Cucumber Salad.
Use brown sugar instead of white for a deeper, caramel sweetness.
Try a dab of Korean gochujang paste instead of the red pepper flakes.
Mix in a little miso paste for Japanese umami flavors.
Add some minced garlic in addition to the onion.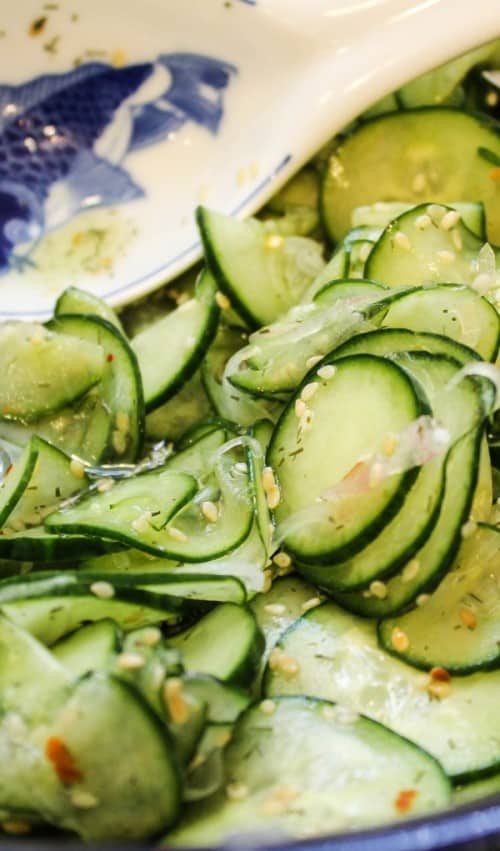 What to Serve Asian Cucumber Salad with:
I made this salad to go with these Asian Salmon Burgers with Wasabi Mayonnaise. DO IT! Seriously. You won't regret it. Both of these recipes are from my friend Rebecca over at Foodie with Family. She's an amazing blogger with tons of awesome recipes! She even just came out with her first cookbook, Not Your Mama's Canning Book. It's so fun! Check it out!
This salad is also perfect for serving with these Asian-inspired recipes:
How Long Will Cucumber Salad with Rice Vinegar Last?
You can refrigerate this salad for up to five days, which makes it perfect for meal prepping easy work lunches. Just toss gently before eating.
Cucumber Salad Recipe (Asian) FAQ
How do you keep cucumber salad from getting watery?
Cucumbers naturally release liquid when they're sliced. If you don't like the cucumber water (and any extra dressing), then serve your cucumber salad with a slotted spoon so you're just getting the lightly dressed cucumbers and leaving the liquid behind. 
If you're willing to take the extra time, you can also salt the sliced cucumbers and place in a colander to drain before mixing them with the dressing. After 20-30 minutes, just pat them dry and then dress them. This will allow them to release liquid before you put them in your salad.

How do you keep cucumber salad from getting soggy?
Cucumbers will naturally get a little softer and more pliable over a few days. If you'd like to avoid the sogginess, you can release their liquid ahead of time by salting the sliced cucumbers, draining them in a colander for 20-30 minutes, patting them dry, and then dressing them. It's not necessary for a tasty salad, but if you love crispy, crunchy cucumbers, it helps keep them that way a bit longer. 
How do you make Asian spicy cucumbers?
The delicious flavors from the rice vinegar and sesame seeds combine with crushed red pepper flakes to make this delicious spicy, Asian-inspired cucumber salad. It's such an easy side for whatever stir-fry, curry, rice, or noodle dish you're serving.
You will like these cucumber salads too!
Facebook | Pinterest | Instagram

Asian Cucumber Salad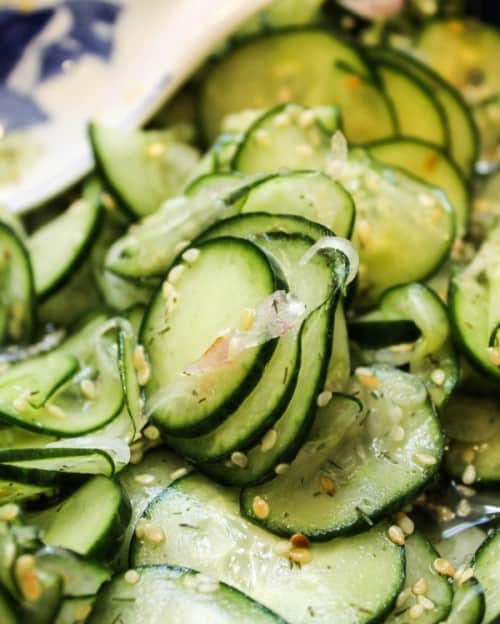 This Asian cucumber salad is a perfect way to add a light, healthy dish to your spring and summer meals. The marinated cucumbers with just a little heat add interest without extra work. It's easy and perfect for summer barbecues!
Ingredients
1

large

Cucumber

,

seedless English variety, very thinly sliced

¼

sweet onion

,

very thinly sliced

1/3

cup

rice vinegar

1

tablespoon

sesame seeds

,

toasted

1

tablespoon

dill

,

minced & fresh dill or ½ teaspoon dried dill weed

¾

teaspoon

salt

¾

teaspoon

sugar

¼

teaspoon

red pepper flakes

,

crushed
Instructions
Slice the cucumbers as thinly as you can without slicing your hand. Or go buy a mandoline.

Throw your tablespoon of sesame seeds into a small dry frying pan. Set over medium heat and stir occasionally until the seeds just begin to brown. You don't want to overdo it.

Gently toss together all of the ingredients until everything is evenly coated. Put in a container with a tight fitting lid and refrigerate for at least an hour before serving. Marinated salads like this always improve with time, so feel free to make this ahead of time. Refrigerate for up to 5 days. Gently toss again before serving.
Nutrition
Serving:
1
cup
|
Calories:
22
kcal
|
Carbohydrates:
3
g
|
Protein:
1
g
|
Fat:
1
g
|
Saturated Fat:
1
g
|
Polyunsaturated Fat:
1
g
|
Monounsaturated Fat:
1
g
|
Sodium:
295
mg
|
Potassium:
89
mg
|
Fiber:
1
g
|
Sugar:
2
g
|
Vitamin A:
64
IU
|
Vitamin C:
2
mg
|
Calcium:
24
mg
|
Iron:
1
mg