Honey Salmon with Browned Butter Lime Sauce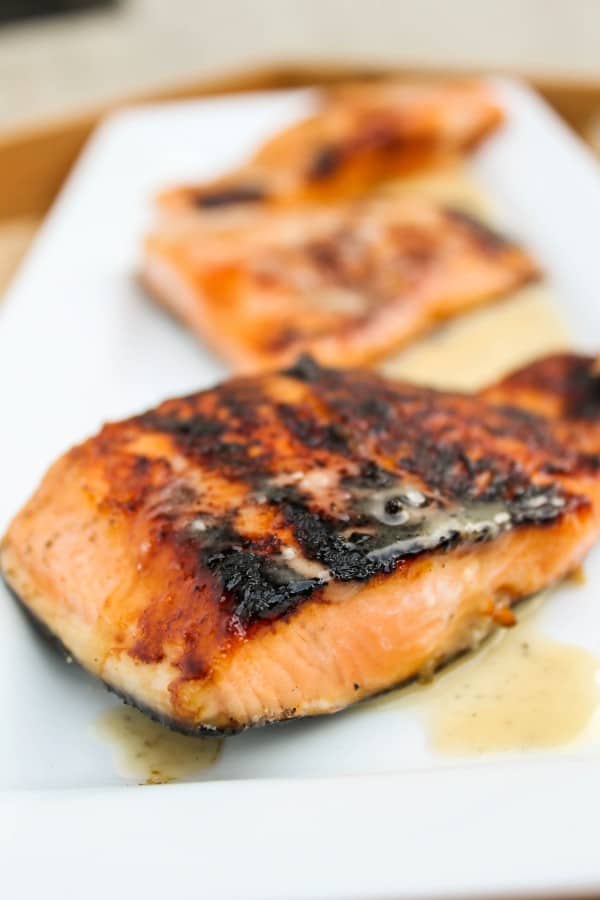 I can't believe I used to think I didn't like salmon. Sometimes you look back at how you used to be and are like really? You were that lame? I wonder what I'm doing now that my future Karen-self is going to scoff at. I went through a phase when I was 12 or 13 where I wore the same fisherman's hat. All day. Every day. I also used to wear a scrunchie on my upper arm during that same period. Why, why? And I used to hate it when people touched my neck. What? And let's not even get me started on some of the bands I liked in high school.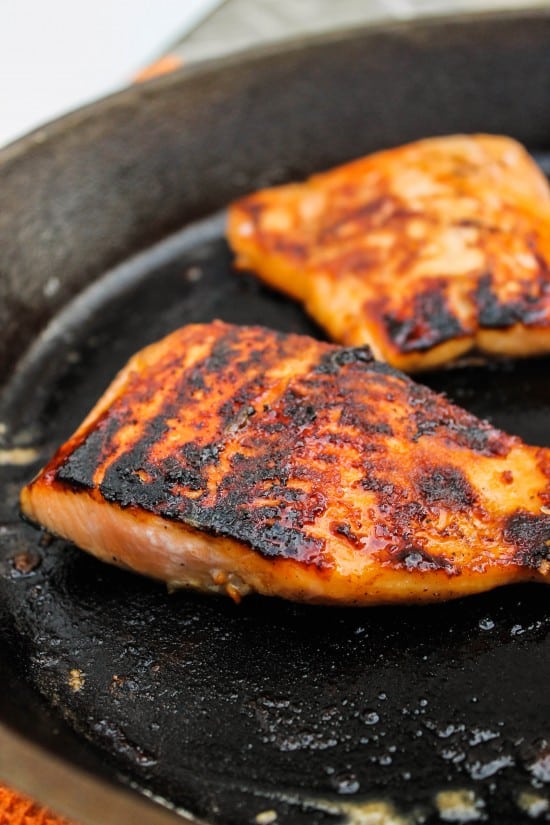 And to top it all off, I hated all things seafood. Now, I'm still not super into clams and oysters and lobster and alien-spiny-looking seafood, but fish? Fish and I are friends.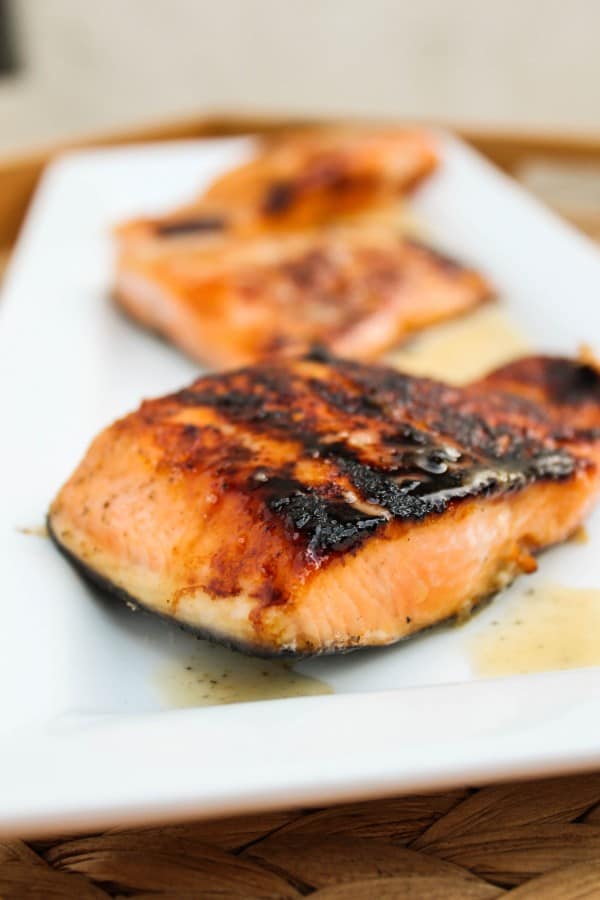 Just look at this beauty. It's such a shame that I forgot to sprinkle the lime zest on for these photos. Not only does it look pretty, but the zest really adds flavor. Not that the Browned Butter Lime Sauce needs any more flavor. It's already so beautiful. I just want to sing you a browned butter lime song. (But I won't, because I think that's something future, way-cooler-than-me-Karen would think was lame. (This is where you all chime, "Dang Karen. Thinkin ahead. Check you out.")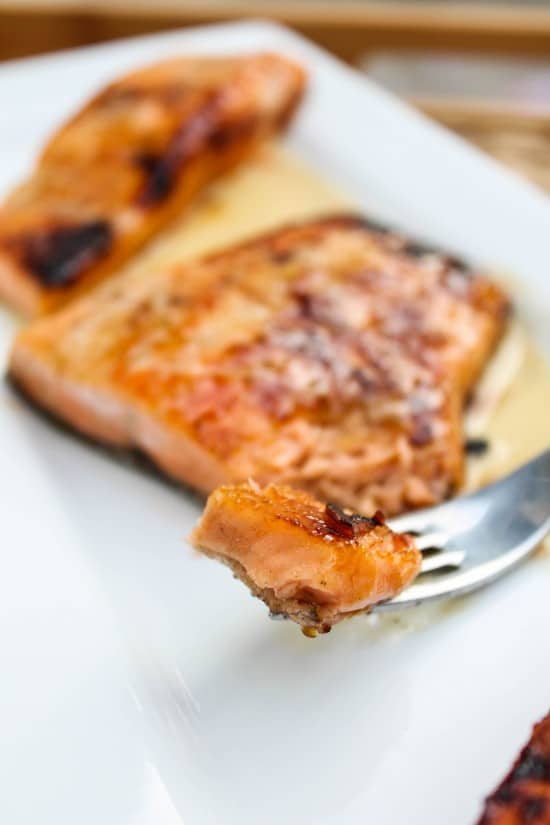 Eric licked his plate after he ate this. That's how freaking good this sauce is. I made the whole meal in less than a half hour. If you want to feel like you are eating fancy restaurant food on a weeknight, this is the recipe for you!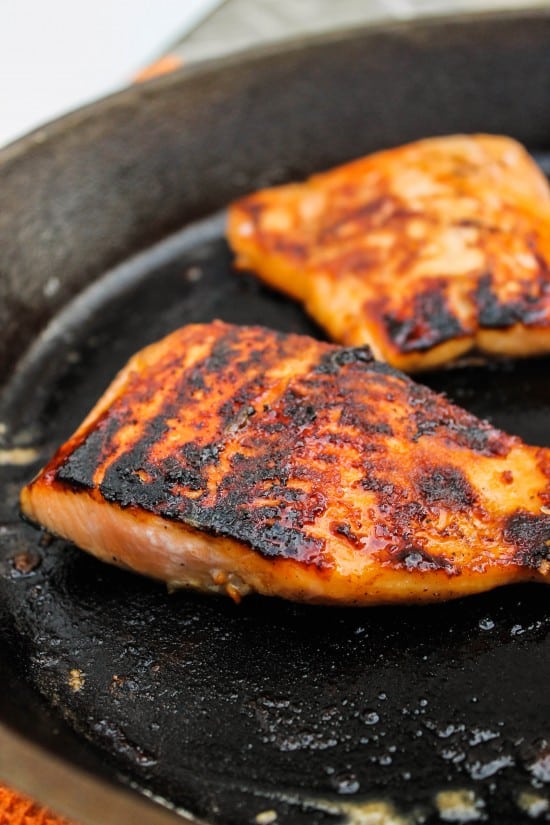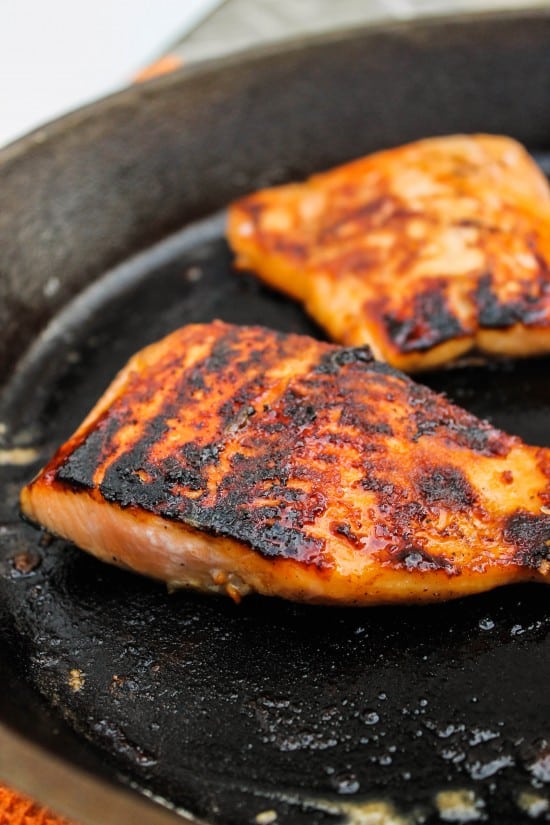 print
Did you make this recipe?
Leave a review »
Honey Salmon with Browned Butter Lime Sauce
Serves 4
adjust servings
Ingredients
4

(6 oz) salmon fillets, rested at room temperature 20 minutes

salt and pepper to taste

8

teaspoons flour, divided

2

tablespoons honey, divided

zest of 2 limes

2

tablespoons extra virgin olive oil
Browned Butter Lime Sauce
6

tablespoons salted butter

3

tablespoons fresh lime juice

1

clove garlic

1/2

tsp salt

1/2

tsp freshly ground black pepper
Instructions
Make the sauce first: Place butter in a small (light colored) saucepan. Cook over medium heat, swirling pan occasionally, until butter is fragrant and has turned nice and brown. Get out your blender. Remove butter from heat and pour it immediately into the blender (you want it to stop cooking). Add the lime juice, garlic, and salt and pepper to a blender. Blend on low speed for 30 seconds to 1 minute until well combined. Set aside.
Pat both sides of the salmon dry. Line the fillets up on a large cutting board and salt and pepper the top sides. Sprinkle the tops with flour, about 1 teaspoon per fillet, or just eyeball it. Then drizzle with honey, about 3/4 teaspoon per fillet (again, just eyeball it).
Heat 1 tablespoon of olive oil over medium heat in the largest skillet that you have, and swirl to coat. When the oil shimmers, add the fillets, flour side down. Don't crowd them! You don't want them to steam each other. If you don't have a big enough pan, do it in batches or use two pans.
Set a timer for about 3 minutes. Meanwhile, treat the other side of the salmon that is now facing up: salt and pepper, flour, then honey. Flip the salmon when it is nice and brown. It should take 3-5 minutes per side, depending on the thickness of your salmon.
Plate salmon immediately. Blend the browned butter sauce one more time, since it has probably separated by now, and drizzle each fillet with 1 or 2 tablespoons sauce. Sprinkle with lime zest. Enjoy!
by The Food Charlatan

If you make this recipe,
share it on Instagram
 using the hashtag
#TheFoodCharlatan
so I can see it!
Source:
Cooking Classy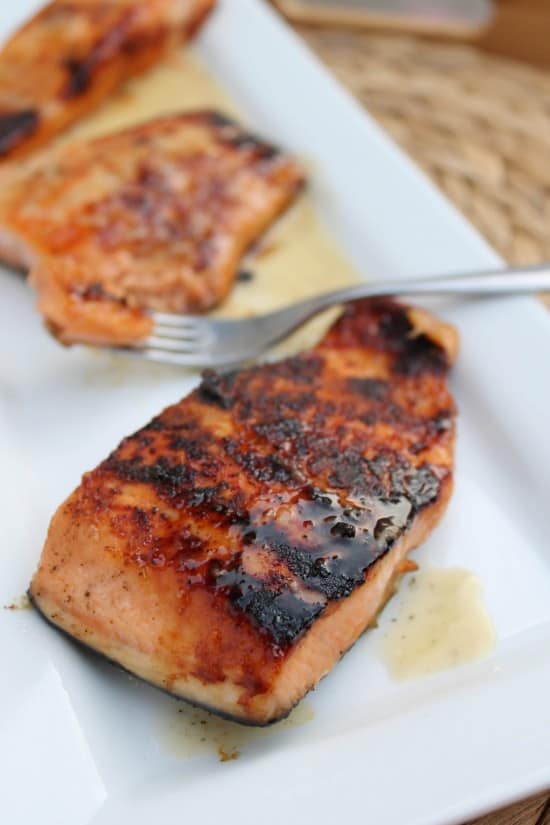 We are a participant in the Amazon Services LLC Associates Program, an affiliate advertising program designed to provide a means for us to earn fees by linking to Amazon.com and affiliated sites.