We are the kind of people who go to block parties now. I thought this would be the kind of lifestyle we would ease into; I don't know if we are trendy enough for all this idyllic socializing. I mean, a block party? Who does that? My neighborhood, that's who. Or what, I guess. That's what. Whatever.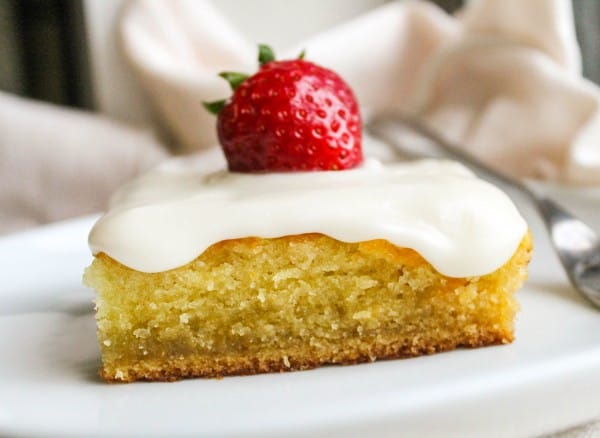 It's awesome. I feel like I'm in a movie. Oh wait, is that my 2-year-old having an emotional breakdown over a tricycle that isn't even hers? Never mind.
Happy birthday to me! We celebrated this weekend by having some family over at our house, even though there are still boxes everywhere. I figure if they see my house in it's ugliest state their opinion can only go up. It was so nice to have people over and be able to send the kids outside to eat cake and ice cream (instead of them smearing it into my carpet).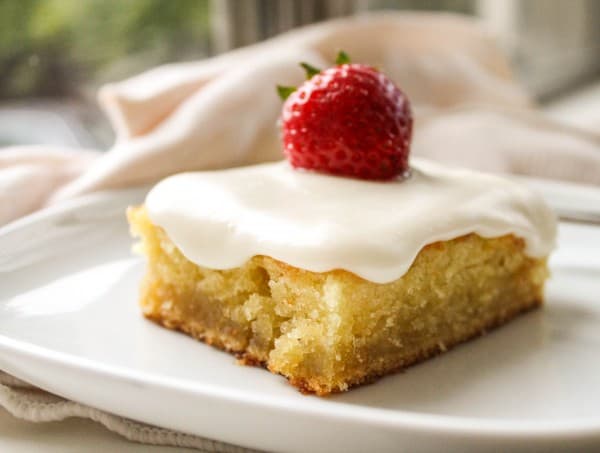 Look at this beauty. This isn't even the cake we ate. That's right, I made myself 2 cakes this weekend, and I'm making another one tomorrow. I don't mess around when it comes to birthdays.
And I'll probably make yet another one in a couple weeks for my 2 year blog anniversary. That's right, The Food Charlatan is almost 2 years old! Isn't that crazy? I just don't feel like I've been blogging that long. It's kind of like a kid. I love it. Sometimes it's drives me crazy, but I couldn't imagine my life without it, and at the end of the day I don't want to let it go. And I have a hard time remembering what life was like before I had it.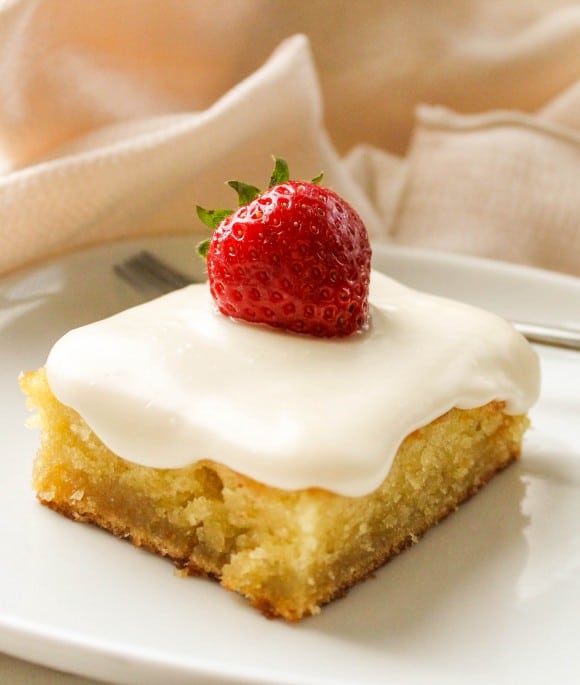 But why are we still not talking about this cake? I love almond flavor. It's so nostalgic for me, all because of these Almond Roca Bars and Eric's family's obsession with them. I'm adding this cake to the list. It is so moist and amazing. The frosting is the best part. I'll admit that I tried the cake before I put the frosting on and thought, "Meh," but when you add frosting on top, I'm telling you this cake is killer. It is made in a 9×13 but is not as tall as a regular box cake, just fyi. It is so rich though that you do not need more than a little square. Serve this with fresh strawberries, it totally makes it.

Almond Sheet Cake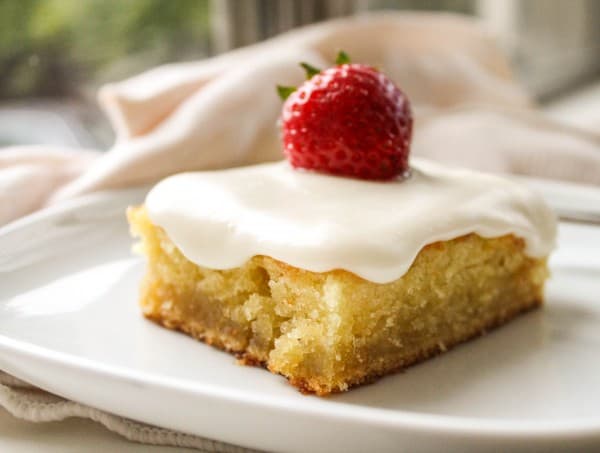 I love this almond sheet cake. It is so moist and amazing. The frosting is the best part.
Ingredients
Cake:
1

cup

butter

,

2 sticks

1

cup

water

2

cups

flour

2

cups

sugar

1

teaspoon

baking soda

1/2

cup

sour cream

2

eggs

1 & 1/2

teaspoons

almond extract
Frosting:
1/2

cup

butter

1/4

cup

milk

3 & 1/2 - 4

cups

powdered sugar

1

teaspoon

almond extract

To garnish: strawberries

,

blueberries, raspberries, etc., ice cream
Instructions
For the Cake: Preheat oven to 375 degrees. Grease and flour a 9x13 inch pan.

In a small pot, add the water and butter and set over high heat to bring to a boil.

Meanwhile, add the dry ingredients to a mixing bowl: flour, sugar, and baking soda. Combine. When the butter-water mixture starts to boil, take it off the heat and pout it into the dry ingredients. Turn the mixer on and beat for at least one minute. (Don't bother washing that pot. You're going to use it again for the frosting).

Add the sour cream, 2 eggs, and almond extract. Beat again for a couple minutes, scraping down the sides. Don't be afraid to let it mix awhile; you need to whip in a bunch of air so that your cake is fluffy.

Pour the batter into the prepared pan and bake at 375 for 20-25 minutes, or until center is set. Let the cake cool for 20-30 minutes before you start making the frosting.

For the frosting, use the same pot from earlier to bring a stick of butter and 1/4 cup of milk to a boil.

While you wait, measure out 3 1/2 cups of powdered sugar into your mixing bowl. When the milk-butter mixture is boiling, pour it over the sugar and beat well. Add the almond extract. You may want to let your hand slip and add something closer to 2 teaspoons, if you are like me. Add more powdered sugar as necessary until it is the consistency you like. Pour immediately over the warm cake and spread. Serve warm or room temperature. Don't skip the the fresh fruit, it really adds to the flavor.
Notes
Source: Sweet and Savory by Sarah
Nutrition
Serving:
1
slice
|
Calories:
735
kcal
|
Carbohydrates:
125
g
|
Protein:
4
g
|
Fat:
26
g
|
Saturated Fat:
16
g
|
Polyunsaturated Fat:
1
g
|
Monounsaturated Fat:
7
g
|
Trans Fat:
1
g
|
Cholesterol:
94
mg
|
Sodium:
317
mg
|
Potassium:
63
mg
|
Fiber:
1
g
|
Sugar:
107
g
|
Vitamin A:
817
IU
|
Vitamin C:
1
mg
|
Calcium:
32
mg
|
Iron:
1
mg