Creamy, cheesy, buttery Mac and Cheese HEAVEN, made in the slow cooker. We are not even boiling the noodles first! You literally dump all the ingredients, including the DRY pasta, into your crock pot and forget about it. Then suddenly you are putting hot, cheesy, creamy, stuff-of-dreams mac and cheese into your mouth! Perfect make ahead dish for holidays. Originally published April 13, 2022.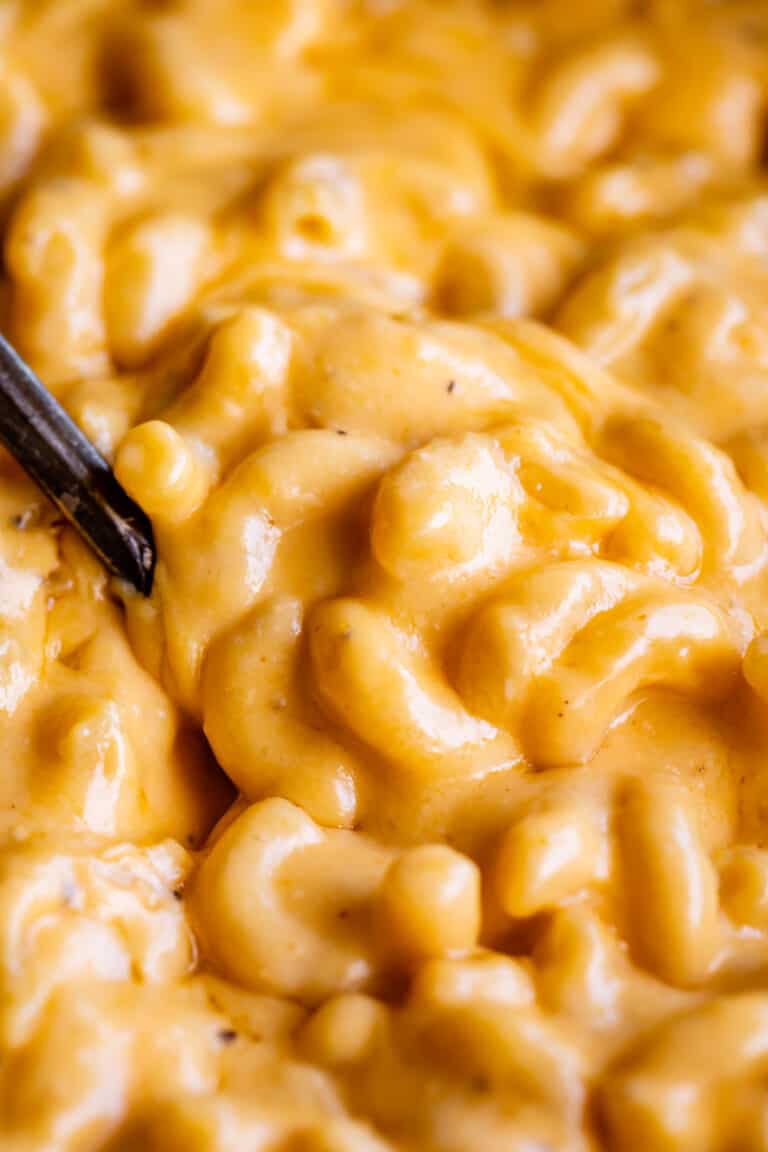 Table of Contents
My mom was complaining about Tik Tak the other day. That's what she calls TikTok. I kept telling her, Mom, it's TikTok, you know, like a clock? She wasn't having it. "Every time I hear someone talking about that app, it just makes me want a Tic Tac. Those came first, anyway. And what about Tic Tac Toe? It's all just so confusing."
Breath mints, classic kid game, burgeoning social media super power. It's all the same, right? I can't really blame her. I saw a meme the other day that said, "Used to wonder why my parents couldn't grasp technology but now anytime I see something new I'm like, 'I'm not learning that.'"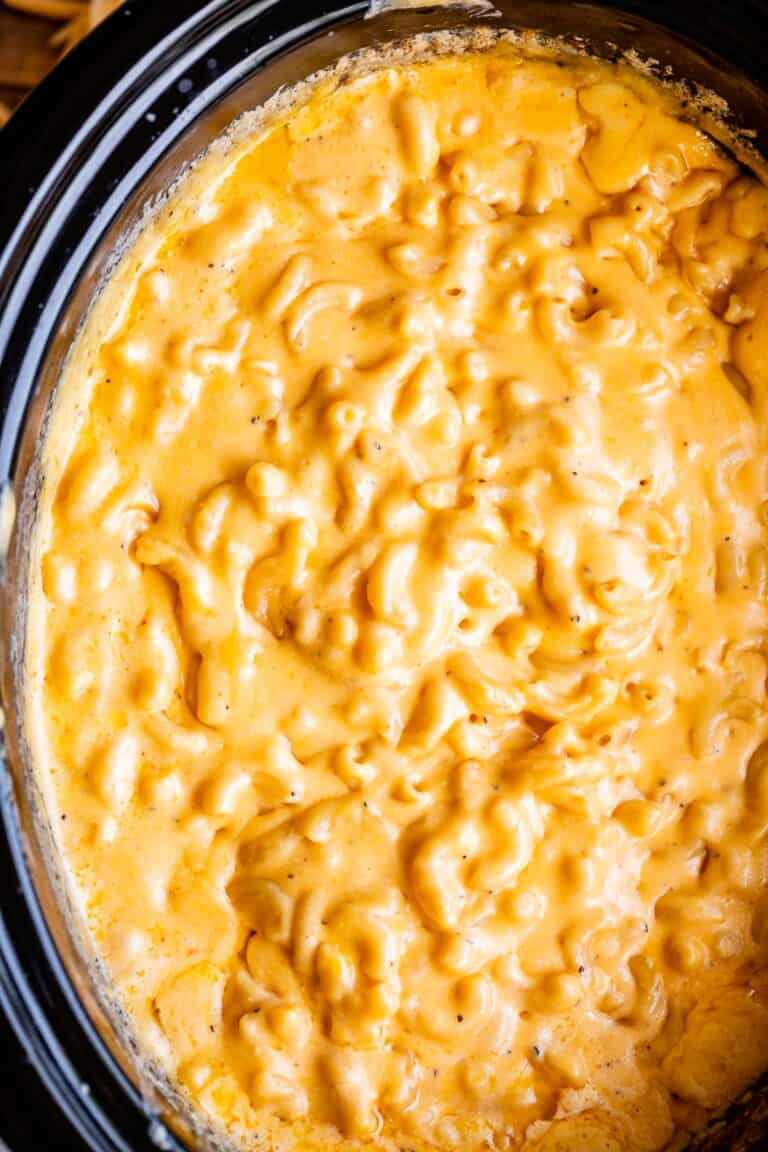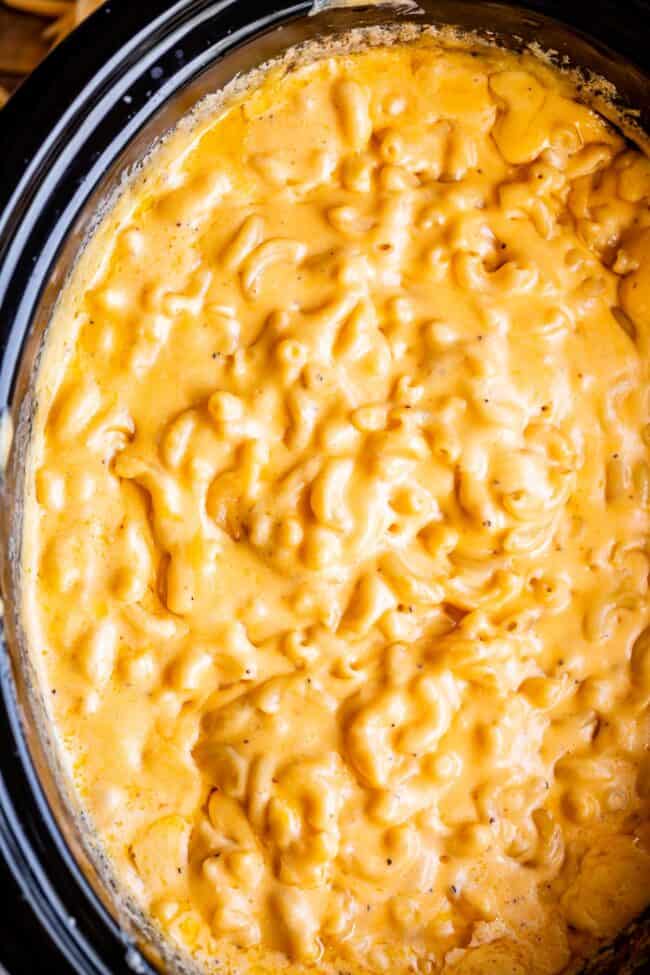 I don't have a TicTak account (do you??), but lately Eric and I have been committing ultimate simulacra by watching not TikTack itself, but YouTube videos of TikTac videos. (Kind of like Dwight Schrute's Second Life.)
It's always late at night, when we've decided it's time to turn off whatever show we're watching and go to bed. Then suddenly our TV is showing us cats doing back flips, and incredibly talented novice musicians singing about the Muffin Man. If it sounds strange, it's because TikToc is strange. I would know, because I'm not even on the app. You guys, what is this world we live in??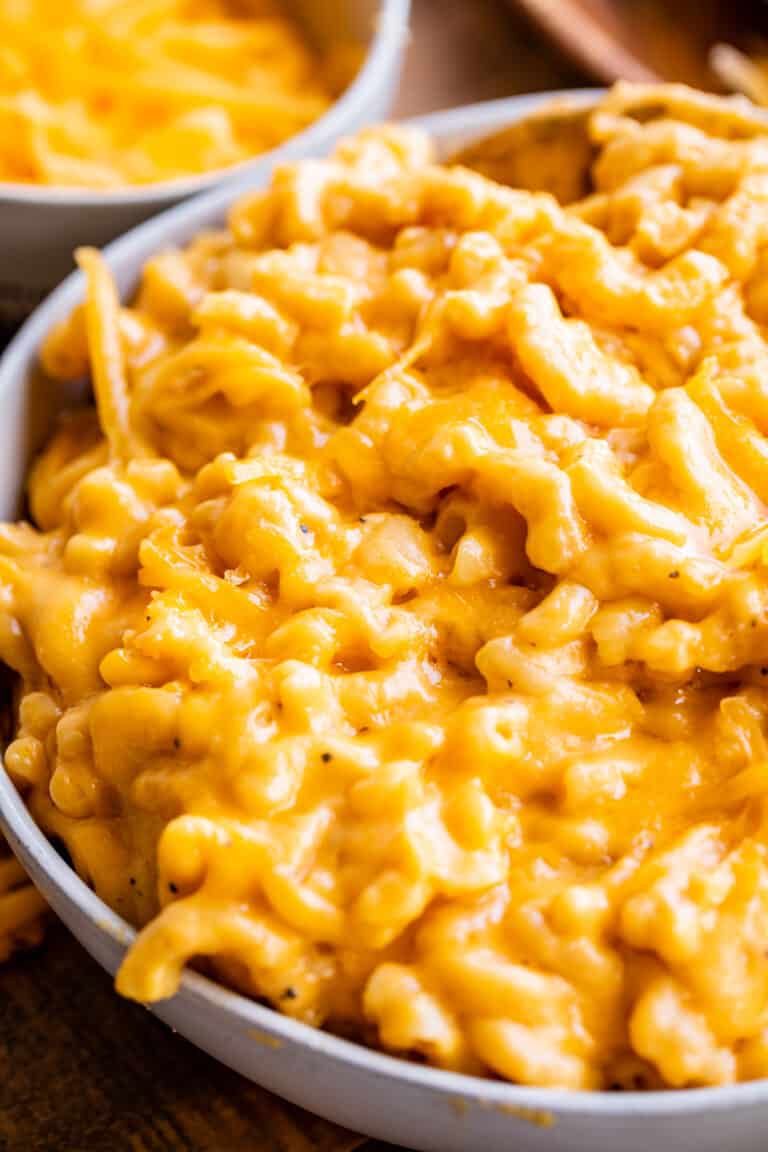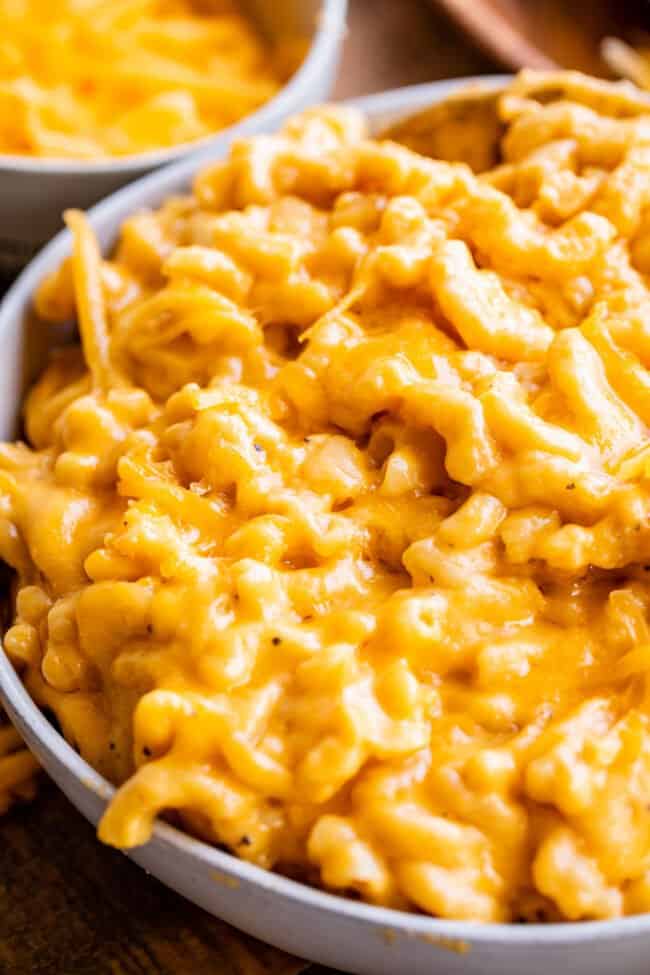 I may be an old fogey who doesn't understand technology anymore, but the good news is that the older I get, the better my food tastes by default. There is a reason all grandmas have the best kitchen reps, y'all. It's just because they've been cooking for so freaking long. I'll always be a charlatan at heart, but it turns out all you really need to be good at something is to do it all the time. And I've got 4 kids hollering at me for dinner every day, so…
Dreamy creamy Mac and Cheese
My latest obsession is mac and cheese. It's never the wrong time to obsess about mac n cheese, right?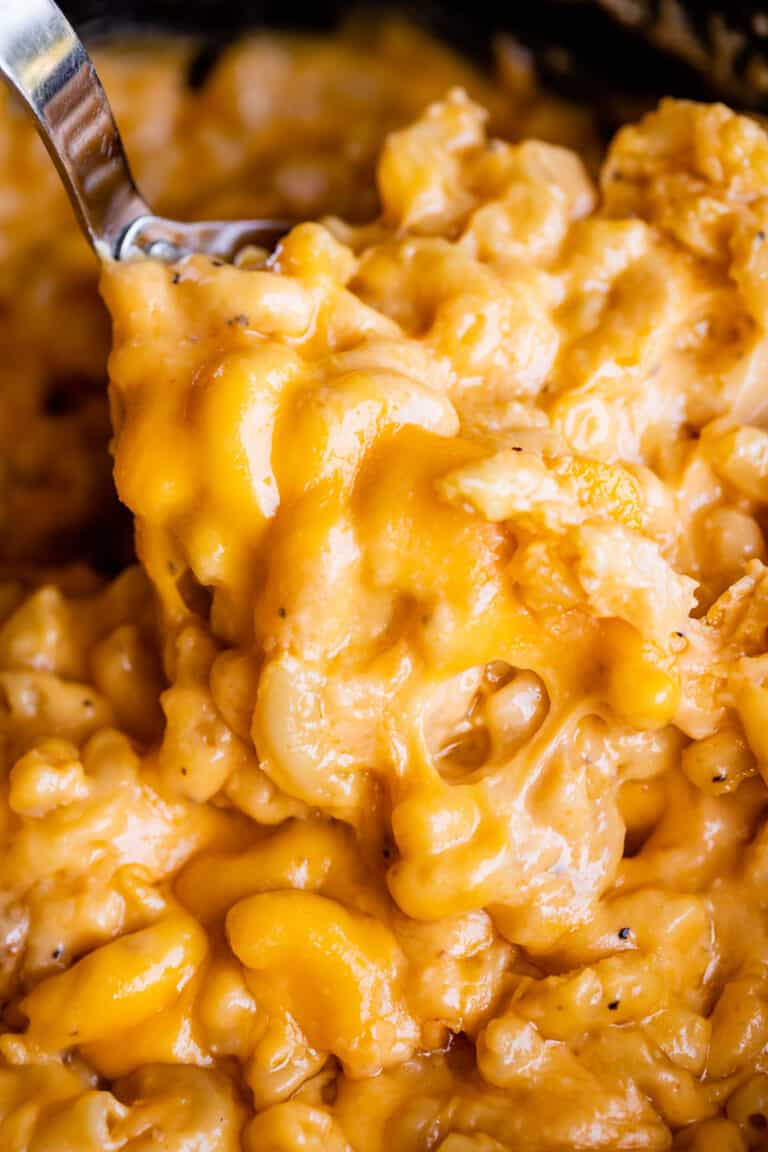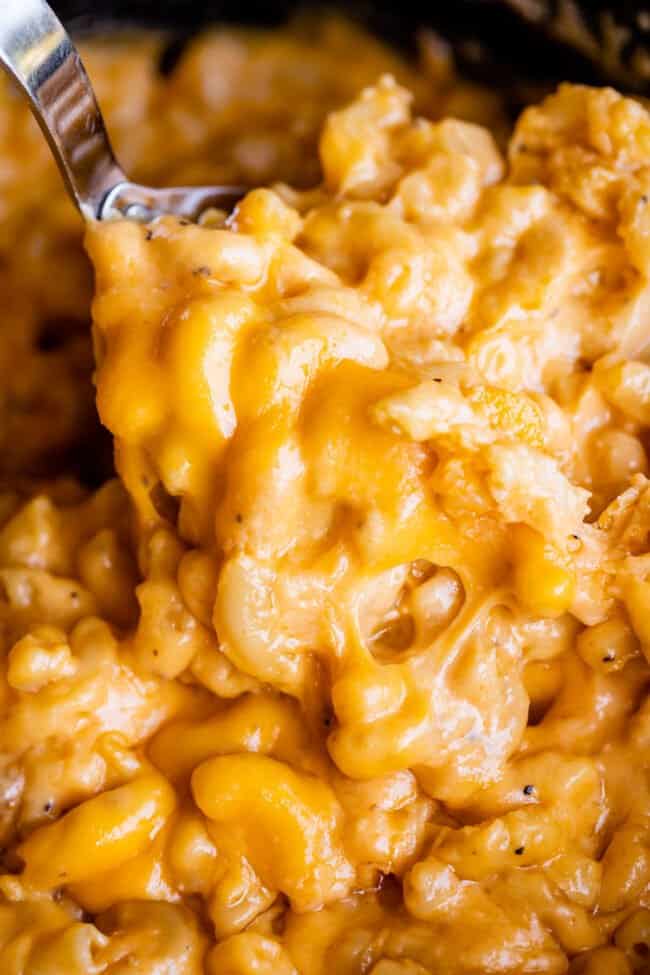 Here's what I want from my mac and cheese: It should be cheesy beyond belief. It should be sharp and incredibly flavorful. I don't want a drippy sauce with noodles in it. I want my mac and cheese to be tender noodles in ACTUAL CHEESE. Of course, there has to be some sauce involved, but I want it to have evaporated so much that it mostly feels like the texture of melted cheese. Who's with me here?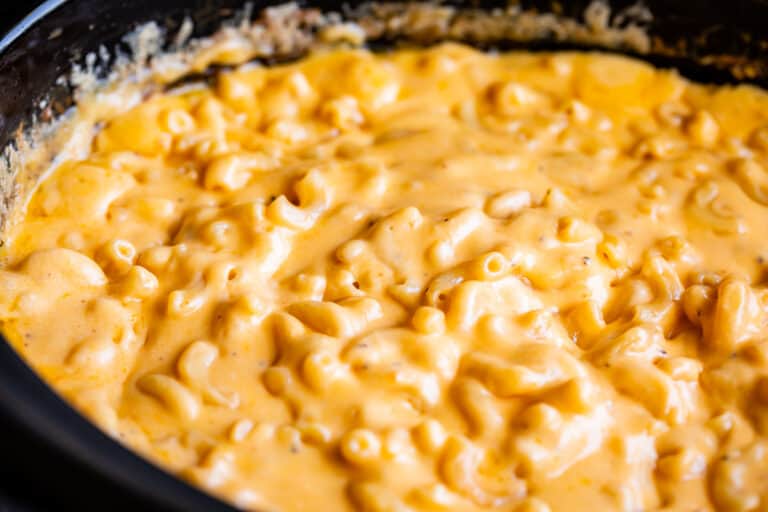 Why you'll love this Crock Pot Mac and Cheese Recipe
Most importantly: Say no to the grain. Grainy mac and cheese is the worst. Smooth and creamy all the way. This recipe makes THE BEST creamy cheesy mac and cheese. And get this:
WE'RE DOING IT IN THE SLOW COOKER.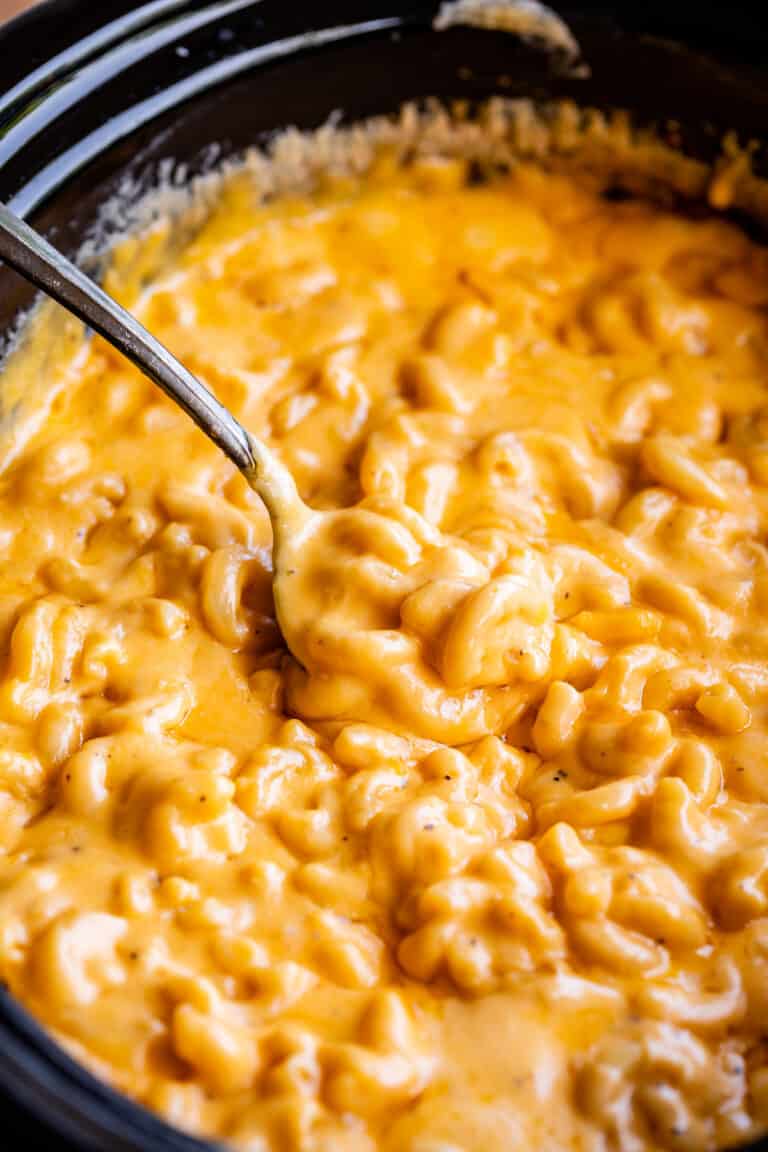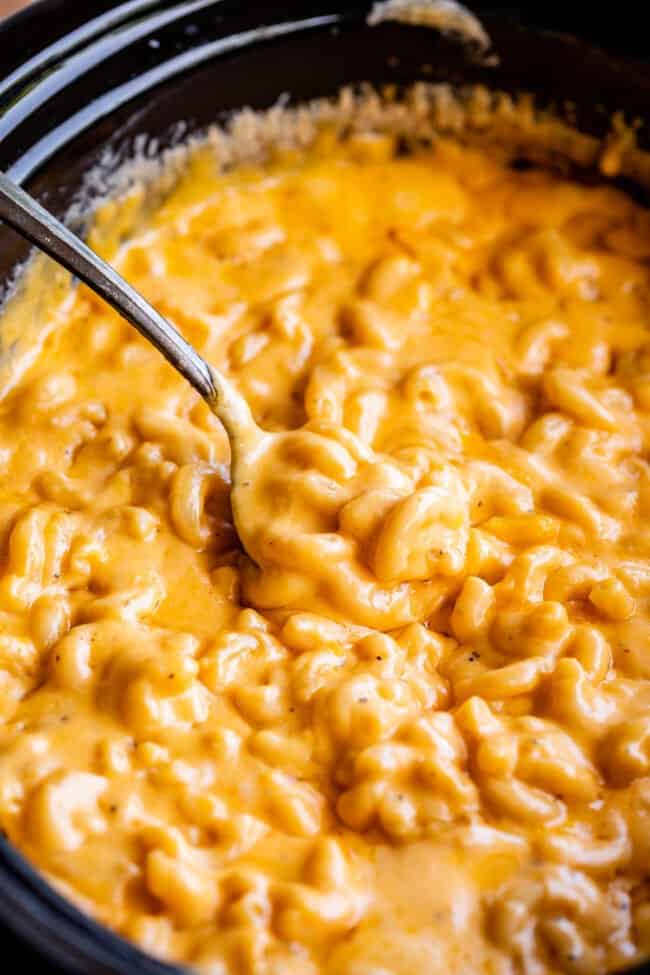 Yes, for real, it actually works! I was incredibly dubious about this idea for a long time. Readers have been asking me for a slow cooked version of mac and cheese since I posted my favorite baked recipe, Literally The Best Mac and Cheese I've Ever Had. I got one step closer when I developed this Easy Stovetop Mac and Cheese that is a magical one pot recipe, no need to boil the noodles first.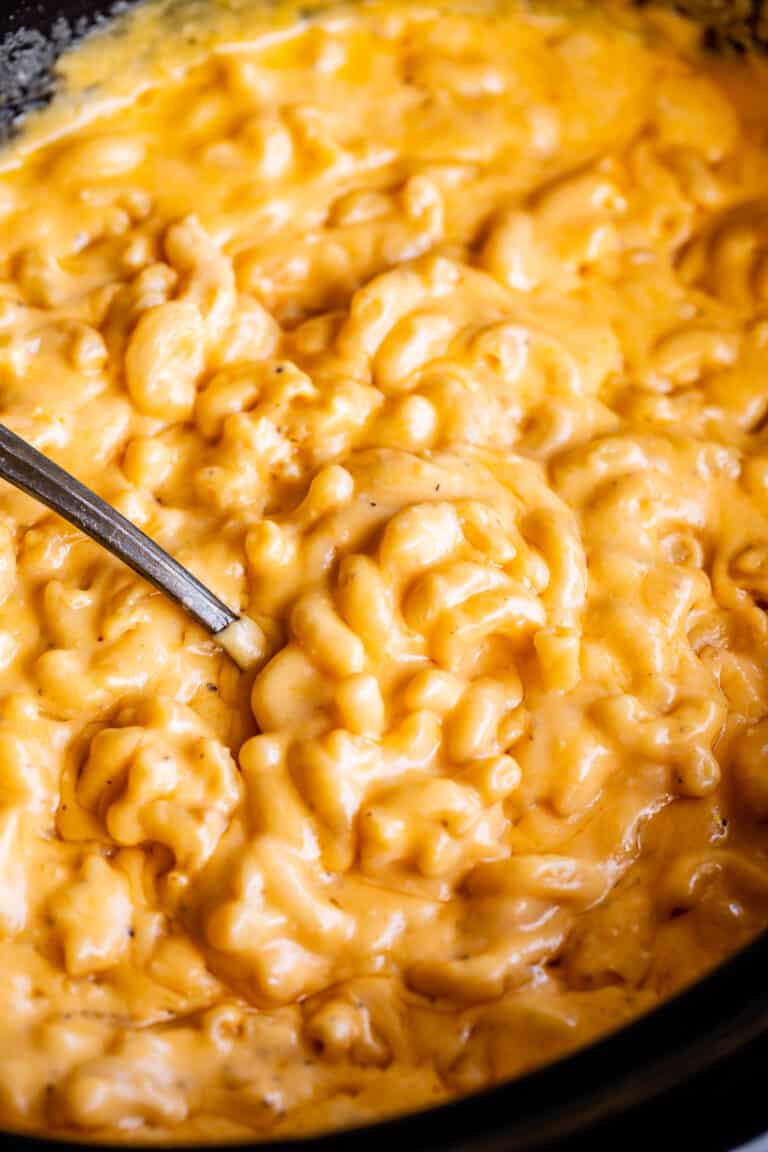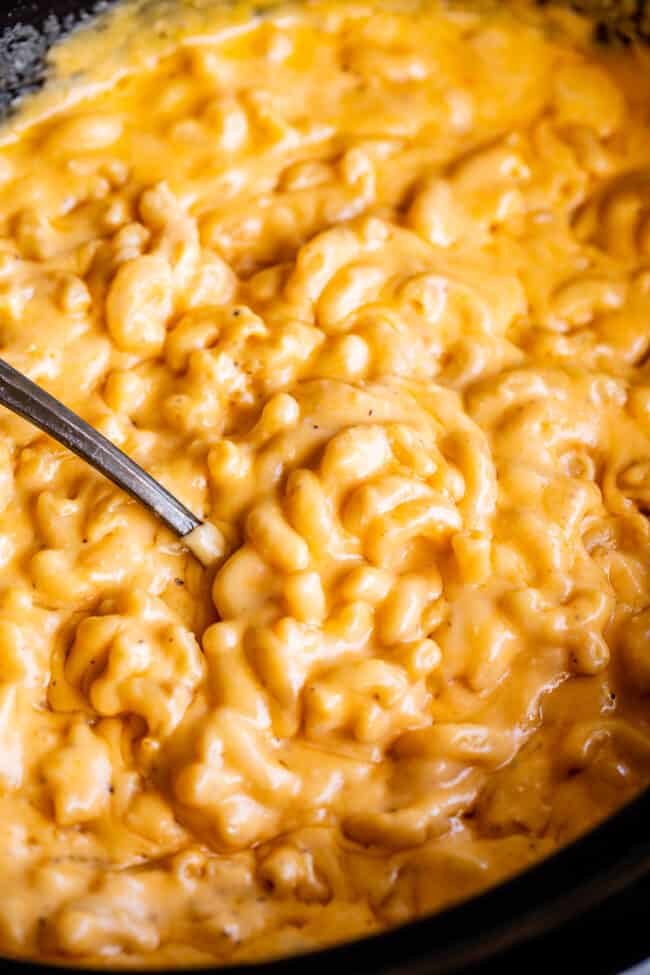 The secret to the best Crock Pot Mac and Cheese
But doing it in the slow cooker? How would that even work? Won't it just get all grainy on you? Mushy? Undercooked noodles in a broken sauce? This is what I was expecting, and indeed my first few tests went very poorly!
But I've figured out all the secrets: A combination of cheeses. Stirring often. And mayonnaise. YES MAYONNAISE SAVES THE DAY trust me on this one guys, read on!
Crockpot Mac & Cheese Ingredients
Here is everything you're going to need: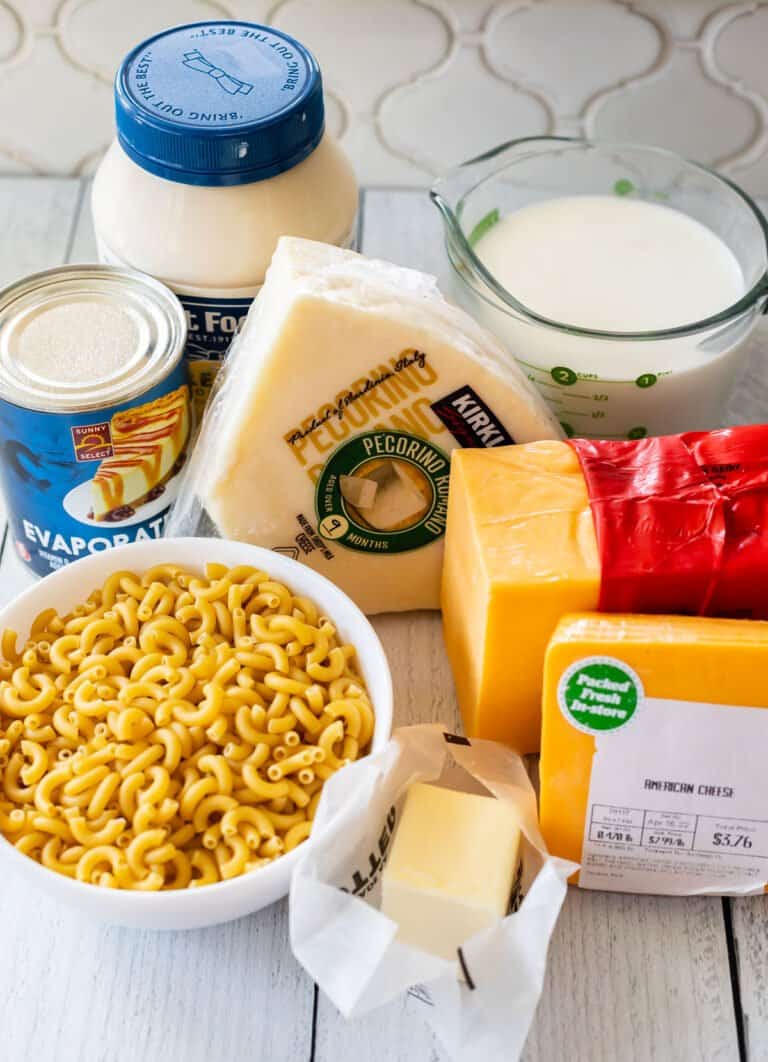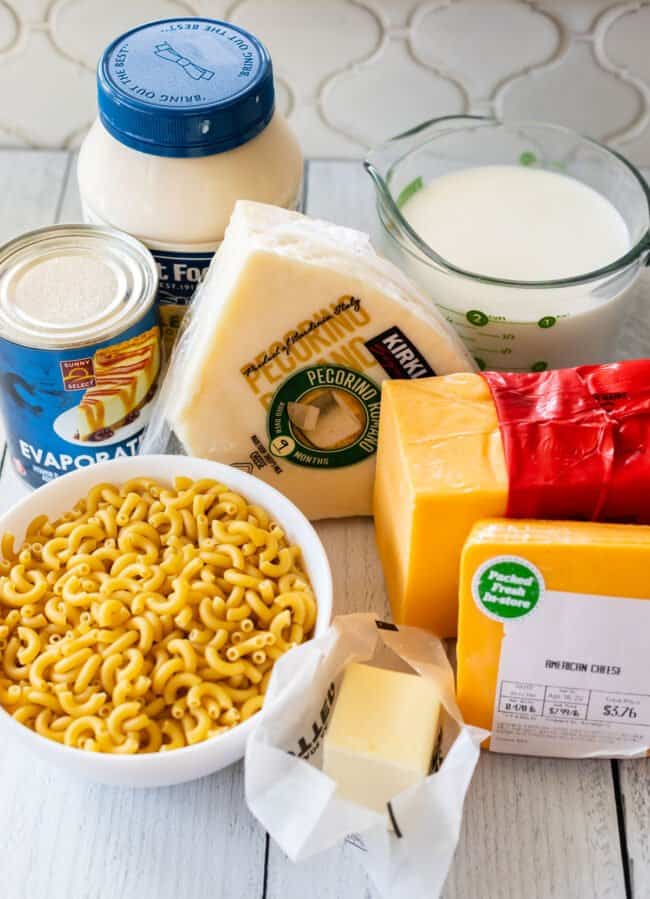 Can I use regular milk instead of evaporated milk in Crockpot Mac & Cheese?
No sir, not for this recipe. Evaporated milk has been cooked before being canned, and is much more resistant to separating and curdling. This ingredient is absolutely necessary. It holds up to the temperature of the slow cooker much better than regular milk. Don't use sweetened condensed milk, it's not the same thing!
The importance of mayo in this Crockpot Mac and Cheese Recipe
Yes, mayonnaise! Mayo is made from eggs and oil that have been emulsified. Eggs are an excellent binder in recipes, it's why we add eggs to chocolate chip cookies and meatballs: to help them stick together. The reason we want a binder in our mac and cheese is so that the sauce sticks together, or in other words, stays creamy.
How to make Crockpot Mac and Cheese
First we start out with some melted butter. Pour it into your crock (at least a 4 quart crock) and add in the DRY noodles.
You can use any kind of noodle you like for this recipe. Larger noodles are going to take longer to cook!
Next add in all your milk: whole milk, some cream to make it extra thick (and well, creamy) and a can of evaporated milk.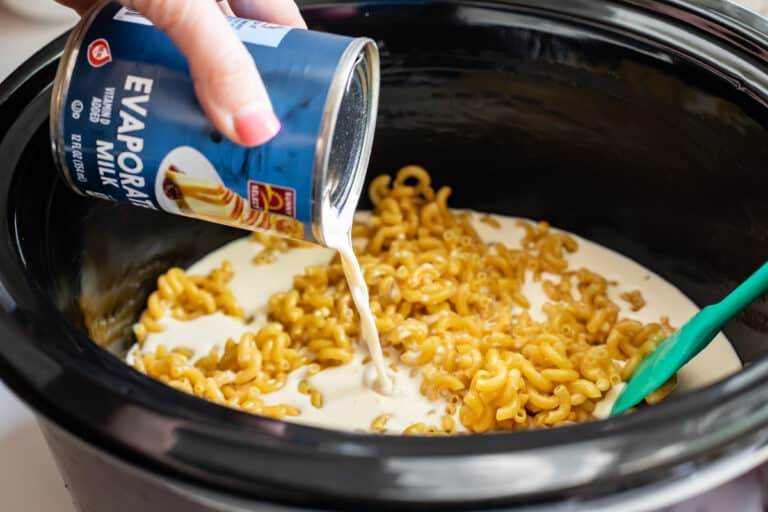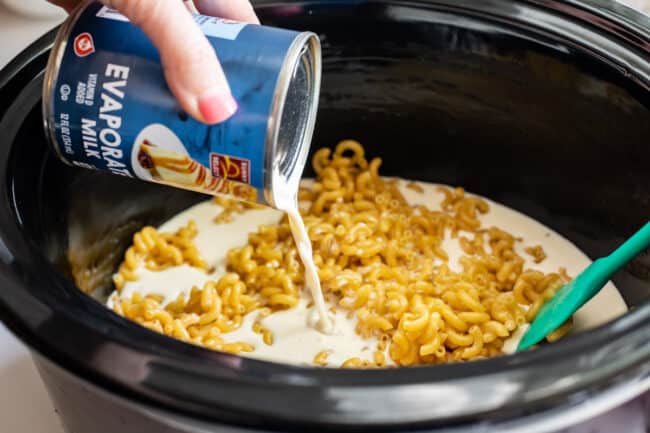 Now we're going to add in some mayonnaise.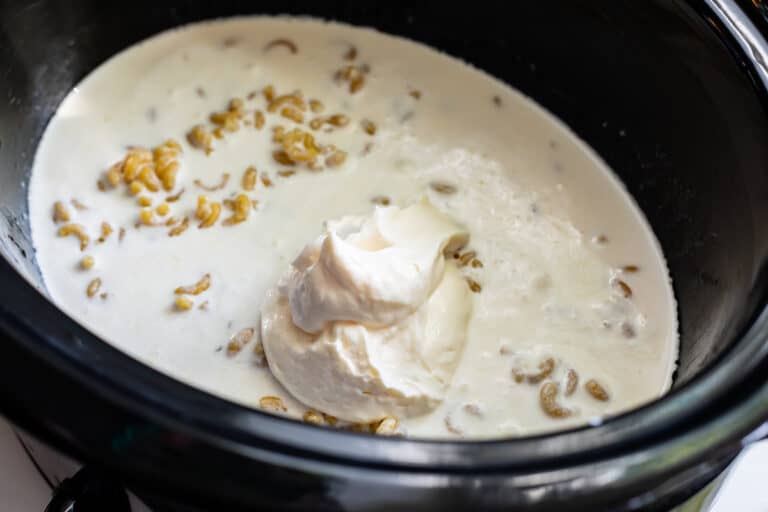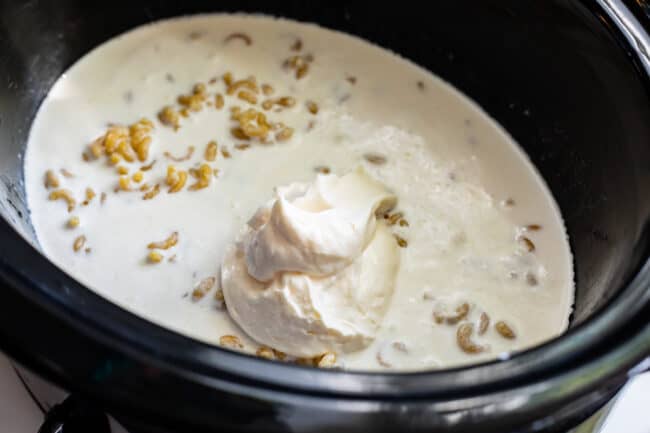 Now I know what you're going to ask: What if I hate mayonnaise? Can you taste it?
Rest assured, freak mayo-haters. (yes, you are the weird one, mayonnaise is delicious.) But even as a mayo connoisseur I can assure you that this mac n cheese doesn't taste even remotely like mayonnaise. The same way that your cake doesn't taste like eggs. The mayo just melds into the cheesy deliciousness of the mac and cheese sauce, making it creamy and smooth, and fending off cheese's natural tendency to go grainy when cooked.
Speaking of cheese. Let's get down to BIZness.
The best cheese for Slow Cooker Mac and Cheese
We are using 3 cheeses in our mac today: Sharp cheddar, Parmesan, and yellow American cheese. Yes, that's right, "FAKE" cheese!! 😱 We are using American cheese to get the perfect TEXTURE, and using Cheddar and Parmesan to get the perfect flavor.


People tend to get so upset about American cheese. "It's not real cheese" blah blah. But I am here to defend it. American cheese has the perfect goo texture, the stretchy cheesiness that we need in our mac and cheese to make it well, cheesy. It has extra binders in it (just like the eggs in our mayo) that help hold our mac together and not break down into grit.
If you use all Cheddar, or all Monterey Jack, or basically any other cheese, your mac and cheese will taste amazing, but it will be slightly grainy. You can use all cheddar in a Baked Mac and Cheese recipe, because you are delicately cooking a white sauce on the stove. But today we are throwing this whole mess into a crock pot and walking away. It needs a little help. American cheese is the answer.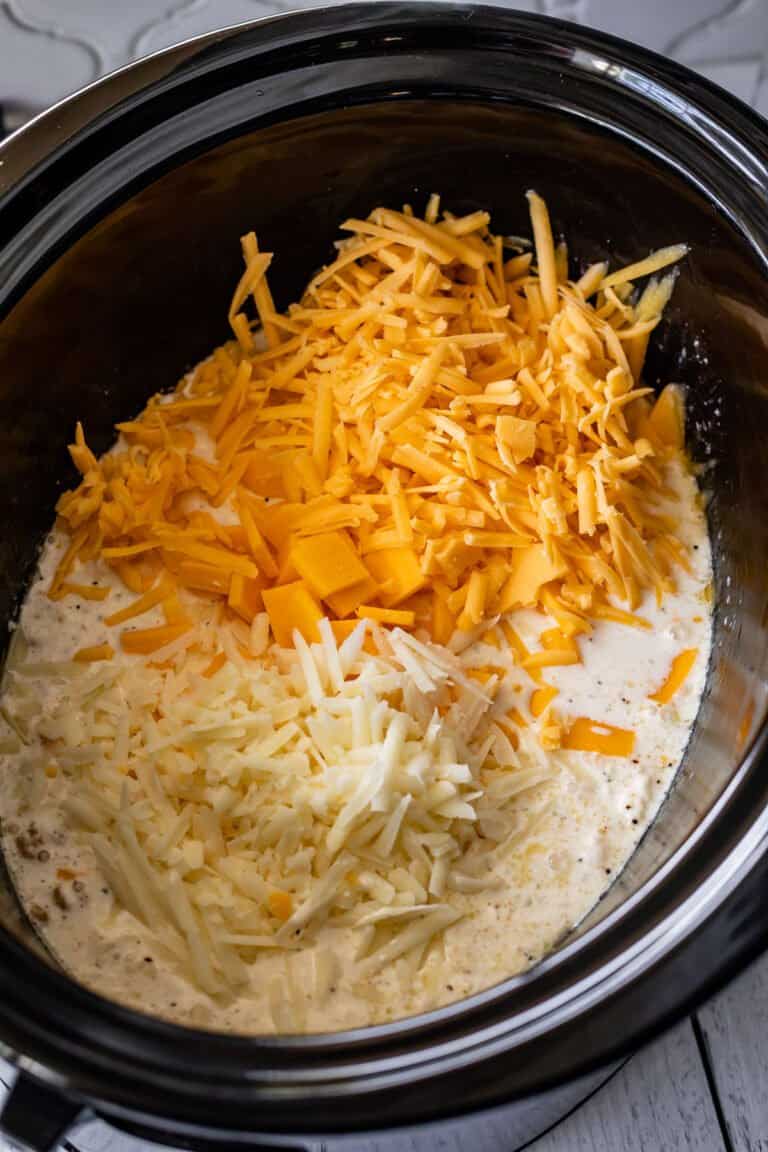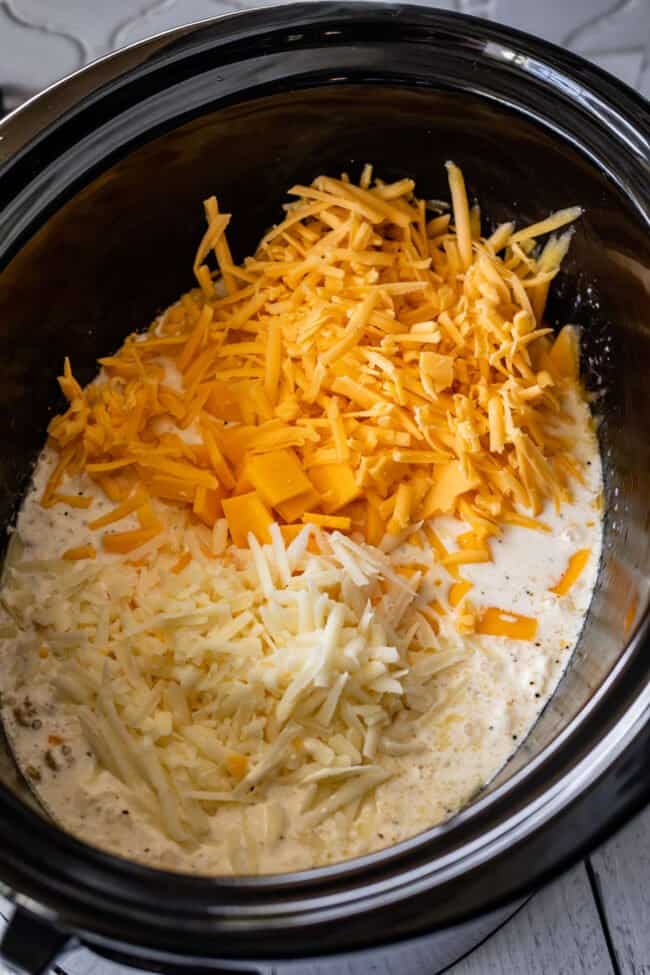 If you are still dubious about the American cheese (which is dumb, because I'm pretty sure you eat McDonalds just like everybody else 😉), check out this excellent Serious Eats article, "What is American Cheese, Anyway? Kenji explains that saying American cheese is 'not cheese' is like saying meatloaf is 'not meat.' True, but I'm definitely still eating it!
I like to buy American cheese from behind the deli counter at the grocery store. I think it has better flavor than Velveeta, but Velveeta will definitely work if that's all you have.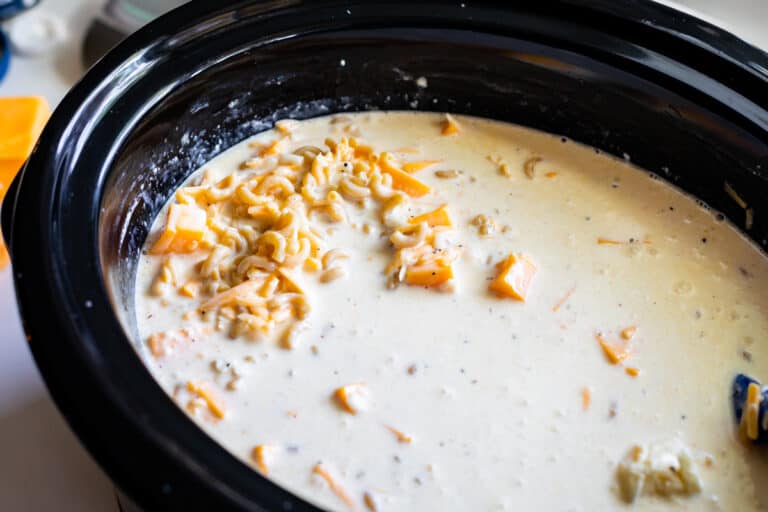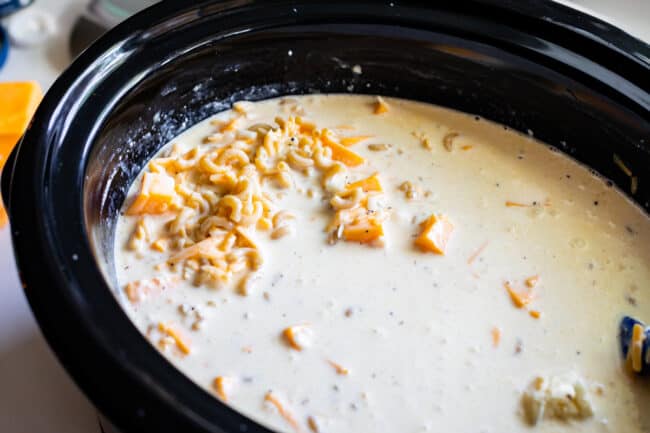 Don't forget to stir!
Once you've added all your cheeses to the pot, stir it up and walk away! But only for 1 hour, then it's time to stir again. If you don't come back to stir a few times, your mac and cheese won't get creamy.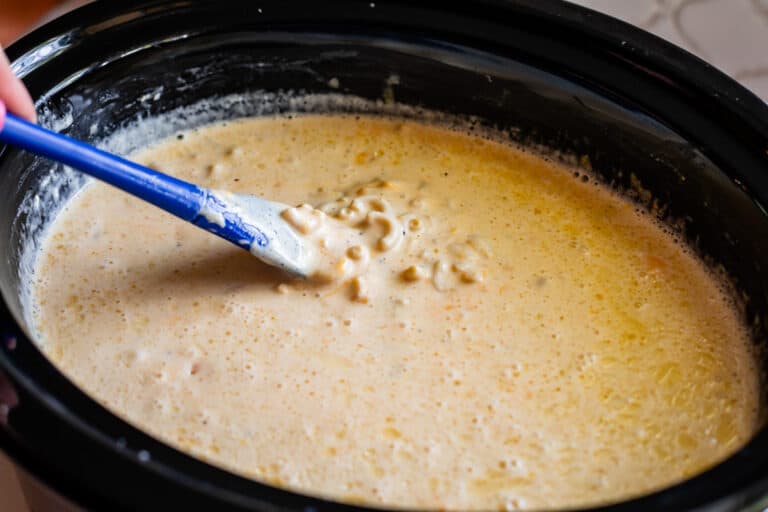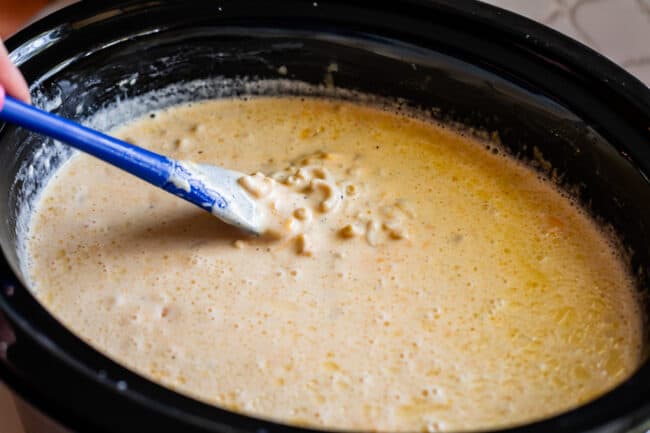 Here it is after 1 hour.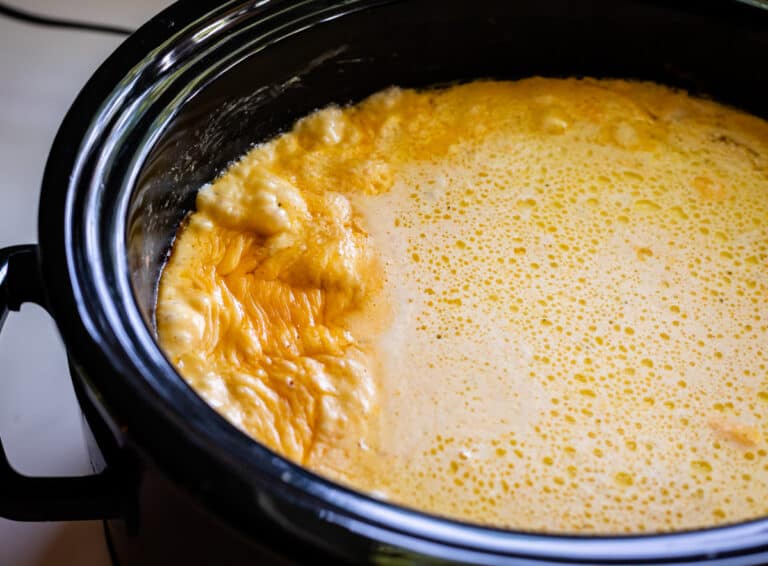 Here it is again after another 45 minutes or so. Do you see all those bubbles on the side? CHEEEEESE! It's getting thicker.
After a few more minutes and a good stir, here she is: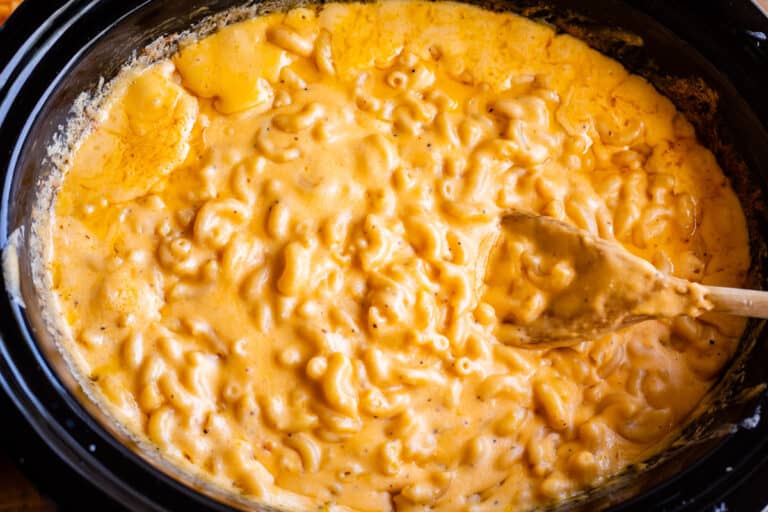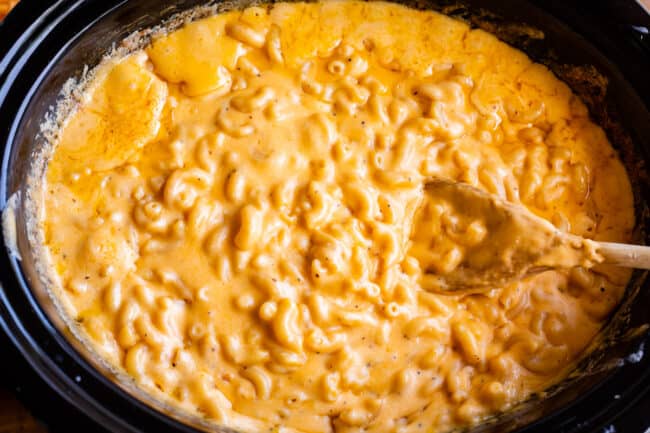 Can you even believe this?? I still am kind of just shocked at how well this works.
Crockpot Mac & Cheese: Bonus Tip
I wanted to make my mac and cheese a little extra (okay, a LOT extra) so I used my favorite method from my Baked Mac and Cheese: Layering cheese in the center just before serving.


Just push some of the mac aside, layer a few slices of whatever kind of cheese you want, cover it back up and wait a couple minutes for it to melt. Then you get this: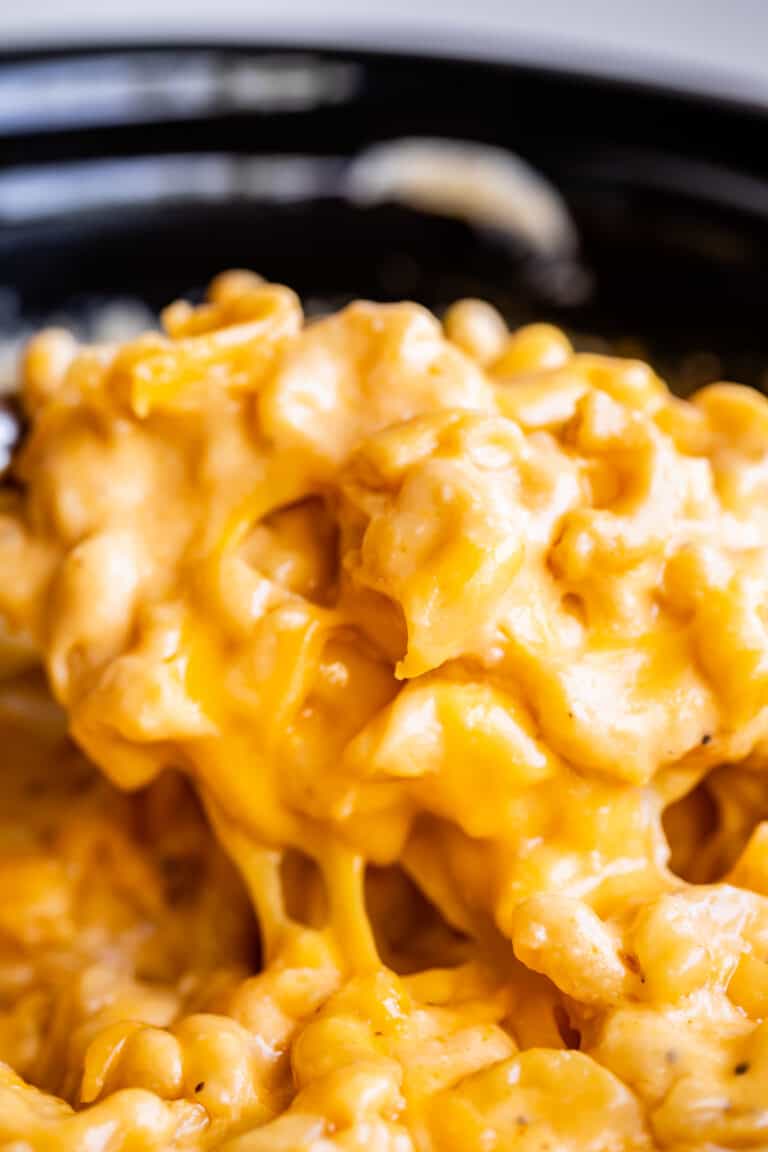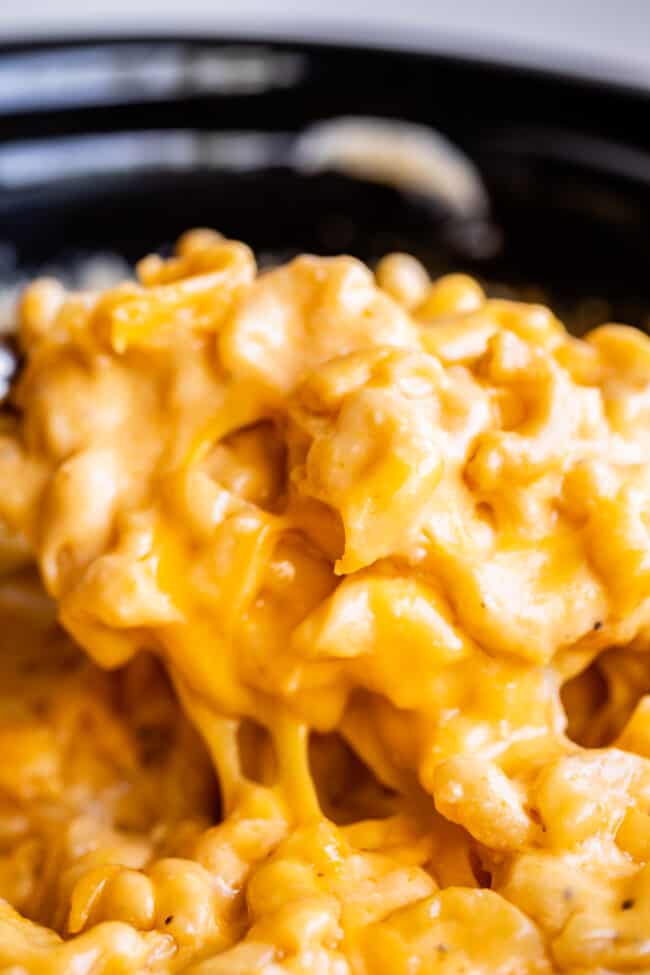 I mean, come on. LOOK AT THIS!!!
Another Very Important Thing to consider are these cheese crusties that form on the side of your crock pot.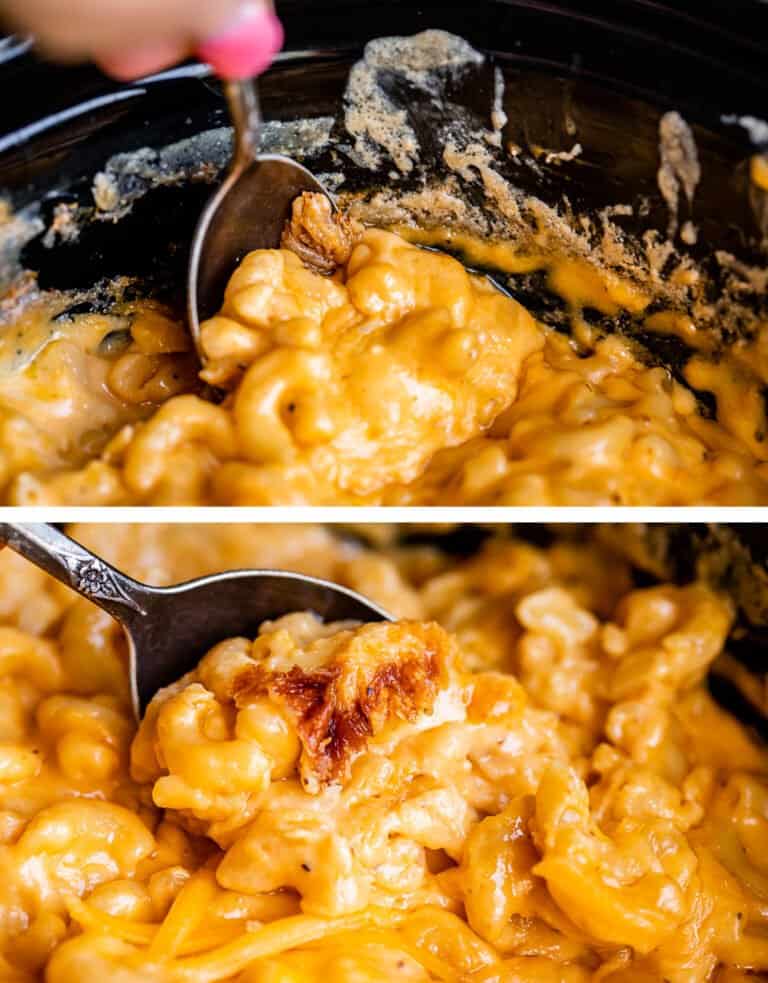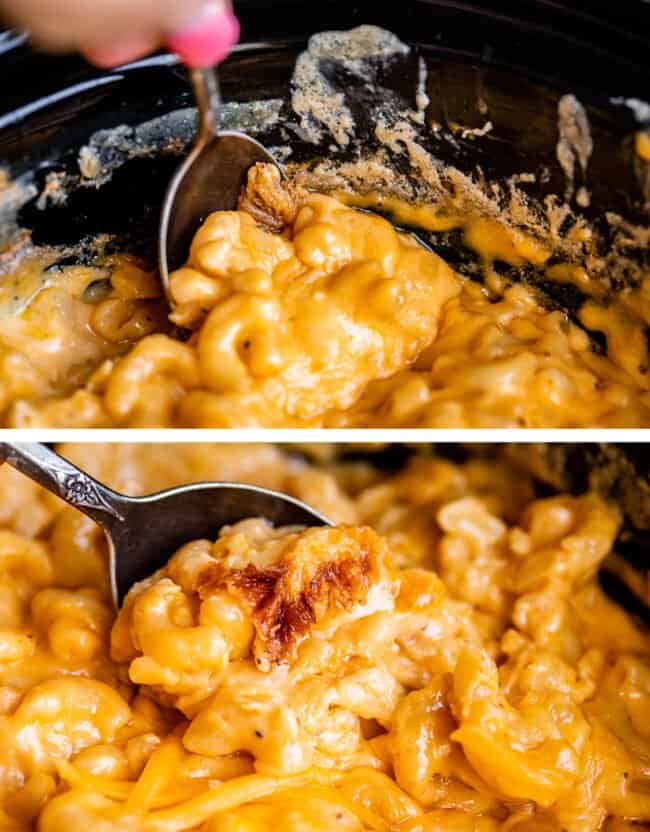 I am obsessed with these. OBSESSED. I scrape up every last bit and stir it into the mac and cheese so that everyone gets a little bit in their serving. But if you want to keep your mac super creamy, simply leave them on the edges and let your dishwasher take care of it later.
Can Slow Cooker Mac and Cheese be made ahead of time?
I don't recommend it! It won't stay creamy. A few hours ahead of your event is going to work fine though. Just keep the mac and cheese on warm setting, stir frequently, leave the lid on, and loosen with milk or cream before serving. The most important thing is to keep warm. If you let the mac & cheese sit much longer than that, or cool it and then reheat, the cheese is going to start to separate. Basically, the proteins will start to clump together, unbinding from the fats and making it greasy.
Crockpot Mac and Cheese Recipe tips
Grate your cheese by hand
Do not use pre shredded Parmesan or Cheddar cheese for this recipe. Packaged shredded cheese has anti-caking ingredients added to it, so that it doesn't stick together in the bag they sell it in. But these ingredients make your cheese melt poorly. Exactly what we are trying to avoid! Grate your cheddar cheese and your Parmesan from a block to get the smoothest texture in your mac.
Important tip! Be sure to pack your cheese into the measuring cup! Loosely packed cheese will not be enough. Pack the cheese in with your fist until you can't fit any more into the measuring cup. You need 1 and 1/2 cups (6 ounces) of Cheddar and 1/2 cup (2 ounces) of Parmesan.
Avoiding mushy Crock Pot Mac and Cheese
Mushy mac and cheese is the worst. Noodles get mushy when they are overcooked, so here are a few things to think about to make sure that doesn't happen.
Don't turn the heat to high! It will cook your noodles too quickly. They will over absorb liquid and have a terrible mushy texture. Very old crock pots don't have great low settings, and tend to have higher heat than newer models, so keep that in mind.
It's also important to check the mac & cheese after the shortest recommended time given in the recipe to test the noodles for the consistency you like. All slow cookers are a bit different, and people's tastes are different as well, so start with the minimum time and then check in 20 minute increments to get the right level of done-ness.
I haven't tried it yet, but I've read that sadly, gluten free noodles don't hold up as well in the crockpot. Be aware and watch carefully if you plan to try to convert this to gluten free.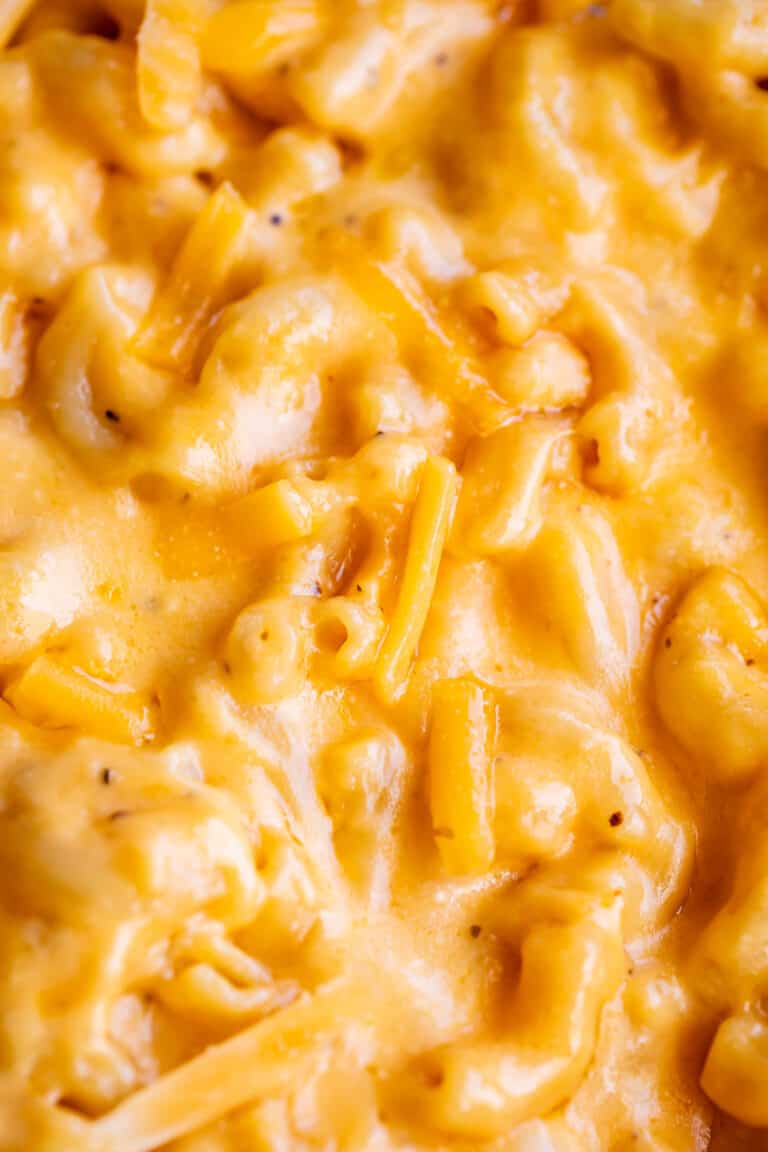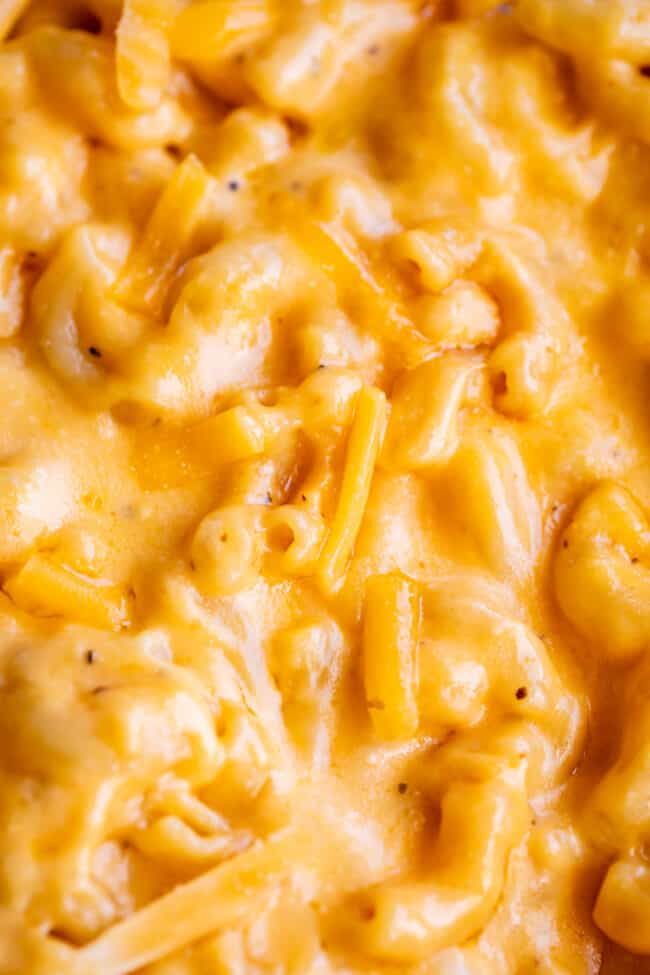 Mac and Cheese Crock Pot FAQs
How do you keep mac and cheese from drying out?
Remember all that butter and mayo and American cheese we are using? They are there for a reason! Not only for flavor and to keep the sauce smooth, but also to make sure there is nothing dry about this mac & cheese. If you try to skip ingredients or use low fat ingredients, you run the risk of making it too dry (or grainy, or lacking in flavor).
You can also make sure you keep the lid on as much as possible to keep it from getting dry. Once the noodles are cooked to your liking, be sure to switch over to the warm setting until serving, adding in cream if necessary to loosen.
Can you double this recipe?
Yes, and it will serve more like 16-20 if you do. You will need a 6 quart slow cooker. Cook it a little longer, about 30 minutes, keeping an eye on it to make sure the noodles don't get mushy. No other changes necessary!
Why did my mac and cheese turn out grainy or gritty?
Did you try to use all Cheddar, or some other hard cheese? Your flavor will be spot on, but the texture will be a little gritty. I'm telling you, American cheese is where it's at.
You must grate your own cheese. They add anti-caking agents to shredded cheese to keep it from clumping. These fibers will not dissolve fully in your creamy cheese mixture, making it taste gritty.
Use high-quality Cheddar and Parmesan, they will melt more smoothly than cheap brands.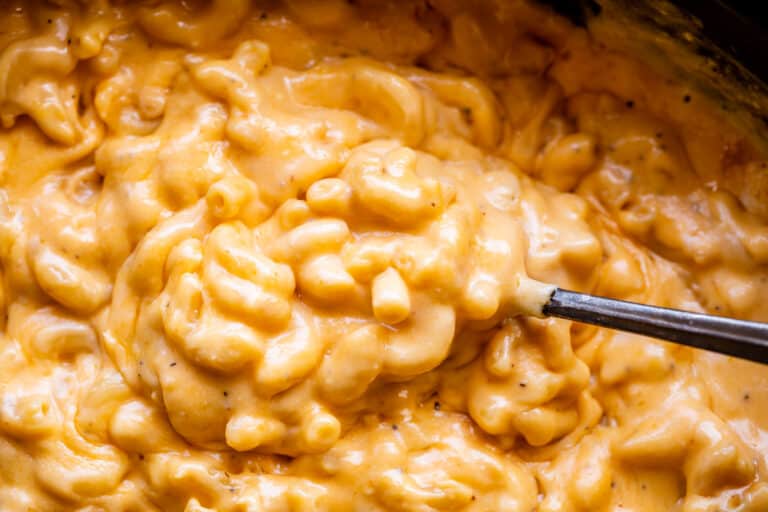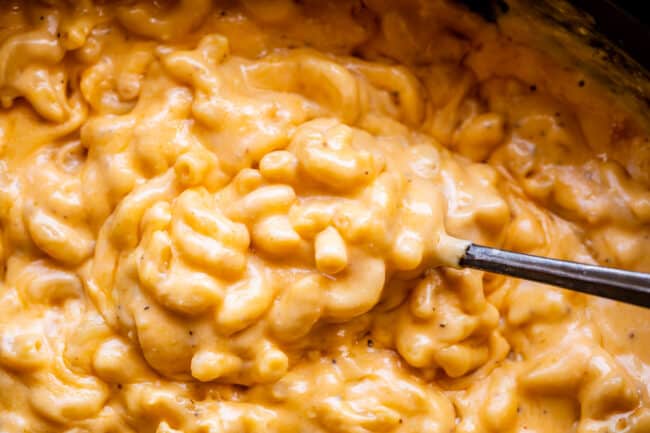 How to store Crock Pot Mac and Cheese
Honestly, slow cooker mac & cheese is best eaten same day. That disclaimer out there, it definitely can be reheated if necessary. Single servings in the microwave are best, just reheat at 50% power and stir often. If you absolutely need to reheat the whole batch, do it in the slow cooker on low, or in a sauce pan, stirring often. You will need to add a tablespoon or two of milk to get it creamy again.
Freezing also works. It will freeze well in a ziplock freezer bag or airtight container for about 2 months. When you plan to reheat it, you need to make sure to thaw it completely in the refrigerator first (overnight works great). Reheat low and slow to avoid graininess as much as possible. It WILL separate and will never reach the creaminess level of day one, but it is still super tasty and cheesy.
What to serve with Macaroni and Cheese
A serving of meat goes really well with your mac and cheese!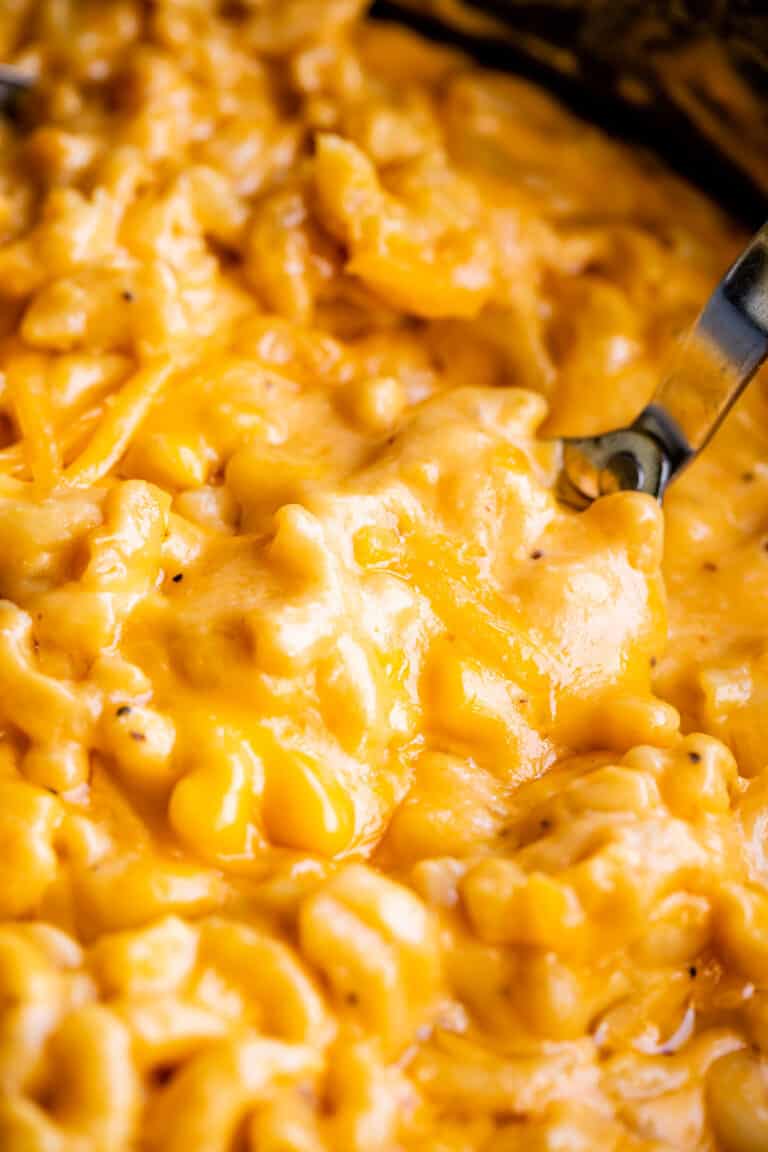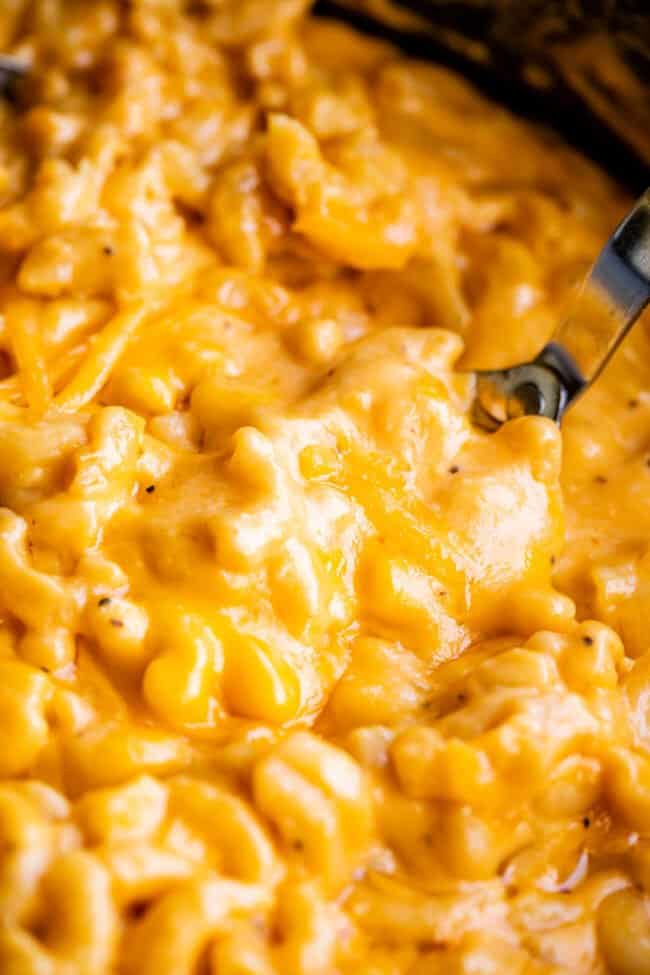 More Mac and cheese recipes!
Happy Easter everyone! Let me know if you try out this recipe, I'd love to hear how it goes for you!
Facebook | Pinterest | Instagram

Slow Cooker Mac and Cheese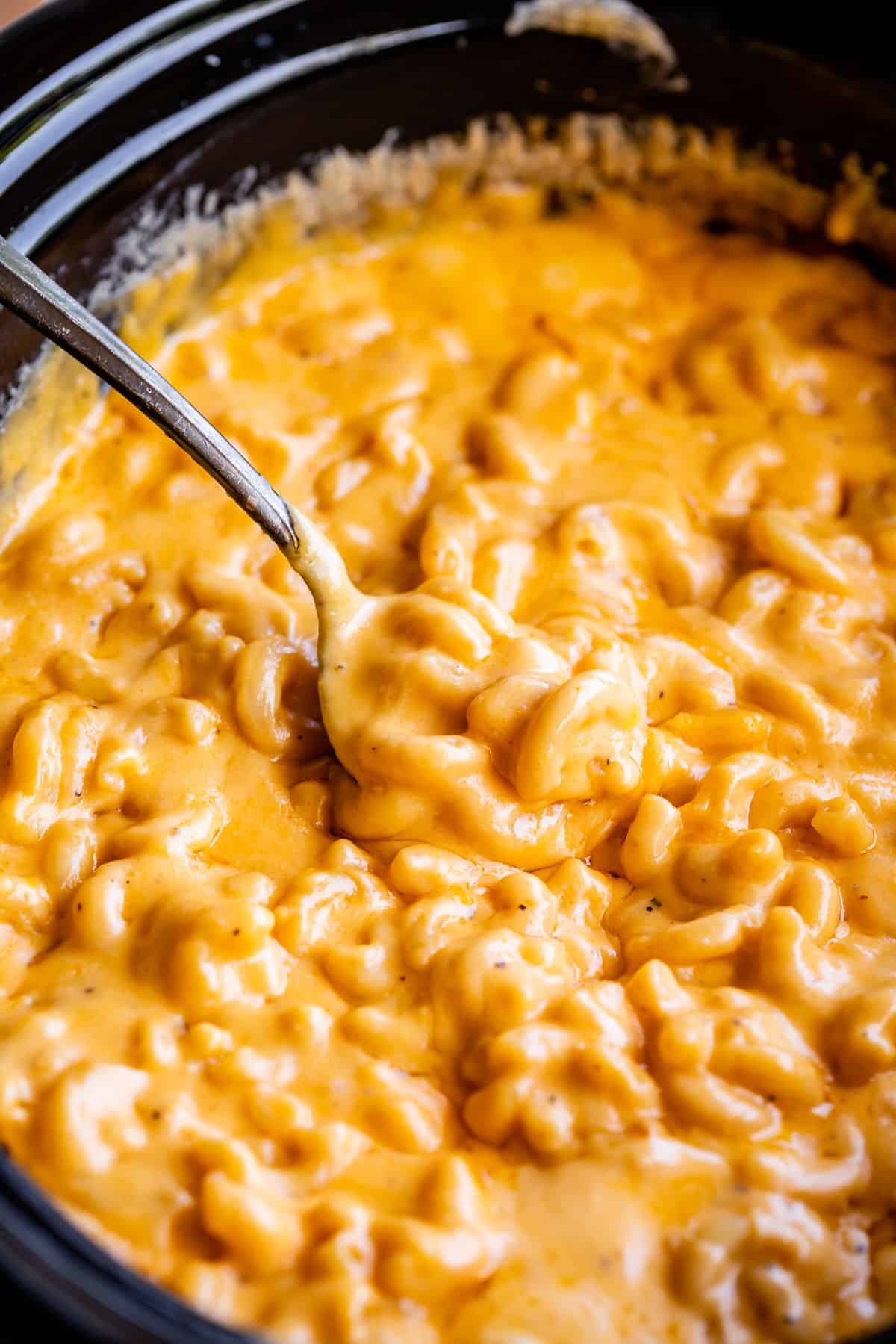 Creamy, cheesy, buttery Mac and Cheese HEAVEN, made in the slow cooker. We are not even boiling the noodles first! You literally dump all the ingredients, including the DRY pasta, into your crock pot and forget about it.
Ingredients
1/4

cup

butter

,

melted (half stick)

2

cups

dry elbow macaroni

,

9 ounces

1

12-ounce can

evaporated milk

,

no substitutions

1

cup

whole milk

1/2

cup

cream*

1/2

cup

mayonnaise

1

teaspoon

kosher salt

1/2

teaspoon

black pepper

1/8

teaspoon

cayenne pepper

,

for flavor, not heat

8

ounces

yellow American cheese

,

chopped into chunks

6

ounces

sharp cheddar cheese

,

freshly shredded (1 and 1/2 cups packed)

2

ounces

Parmesan cheese

,

freshly shredded (1/2 cup packed)

extra sliced cheese

,

optional
Instructions
Add 1/4 cup melted butter to a 4 quart slow cooker (a larger slow cooker is fine*). Use a pastry brush to coat the bottom and sides of the slow cooker with the butter.

Add 2 cups (9 oz) uncooked elbow macaroni to the butter and stir to coat.

Add a 12-ounce can evaporated milk, 1 cup whole milk, 1/2 cup cream, 1/2 cup mayonnaise, 1 teaspoon salt, 1/2 teaspoon pepper, 1/8 teaspoon cayenne, and stir the mixture well.

Chop your American cheese into 1 inch chunks. (Buy the American cheese from behind the counter of the deli at your store. You can substitute Kraft singles or Velveeta in a pinch, but it is not as good.) Add to the slow cooker.

Shred 6 ounces of sharp cheddar cheese. Do not use pre shredded cheddar cheese. It does not melt as well, and will make your mac and cheese less creamy. Shred the cheese from a block, and if you are measuring in cups, make sure you pack the cheese in the cup to get the proper measurement. Add the cheese to your cup and smash it in with your fist until you can fit any more in. 1 and 1/2 cups well-packed shredded cheese will be about 6 ounces. Add to the slow cooker.

Add 2 ounces (1/2 cup) shredded parmesan cheese to the slow cooker. Same rules apply here: Do not use pre shredded cheese. Pack the cheese into the 1/2 cup measuring cup with your fist until you can't fit anymore in.

Once all the cheese is added in, stir the mixture together. Turn the heat to the LOW setting and put on the lid.

Stir after 1 hour, moving quickly to keep as much of the heat in as you can. Focus on scraping the bottom and edges well. Eventually the cheese will start to form a crust on the outer edges. I love these cheesy crunchy bits, and stir them into my creamy mac and cheese, but if you want a very smooth mac and cheese, just avoid scraping the edges too much once the crust has formed.

Put the lid back on and cook on low for another 30-60 minutes.

If your macaroni seemed like it was close to being cooked after the first stir, you will want to check it again after 30 minutes. If it seemed like it had a long way to go, check after 60 minutes. Keep the lid on as much as possible.

The macaroni and cheese is done when the noodles are al dente and the sauce is creamy and smooth. If you like a thicker texture, simply leave it in the crock pot with the lid on for a few more minutes. The mac and cheese will continue to thicken as is cools.

Once it is cooked, turn the setting on your slow cooker to "WARM." This will keep your mac and cheese nice and creamy. Serve immediately, or leave on the warm setting for up to 2-3 hours, stirring every 30-60 minutes. Add a bit of cream and stir if the mixture starts to get too thick for your liking.

If you love EXTRA cheesy mac and cheese (me! me!) Take a few slices of cheese (any kind you like) and tuck them into the center of the crock pot. Use a spoon to shove some of the mac to one side, place a few slices down in the middles, then cover with the mac and cheese. See photos! It will melt and create an amazing cheese pull when you serve it! You could also add shredded cheese to the top, or a layer of sliced cheese. Never enough!!

Storage: This mac and cheese keeps well in the fridge for 2-3 days. It also freezes well in an airtight container. Thaw completely in the fridge before reheating.

Reheating: Leftover slow cooker mac and cheese is tasty, but it will never have the same creamy texture that it had when you first made it. The microwave is a great option for reheating; pour off any grease that forms, or absorb with paper towels (this is normal when cheese separates, and can't really be avoided.) Leftovers are best when only reheated once; heat individual servings when possible. You can also add the entire mixture back into the slow cooker and heat on low, stirring often, being prepared to absorb grease that forms.
Notes
*If you want to double this recipe, you will need a 6 quart slow cooker. It will likely take closer to 3 hours to be fully cooked (every slow cooker is different).
Make sure you hand grate the cheese for this recipe! Pre shredded cheese does not melt well, your mac and cheese will turn out grainy.
Nutrition
Serving:
1
serving
|
Calories:
502
kcal
|
Carbohydrates:
27
g
|
Protein:
17
g
|
Fat:
37
g
|
Saturated Fat:
18
g
|
Polyunsaturated Fat:
7
g
|
Monounsaturated Fat:
9
g
|
Trans Fat:
1
g
|
Cholesterol:
85
mg
|
Sodium:
1039
mg
|
Potassium:
183
mg
|
Fiber:
1
g
|
Sugar:
3
g
|
Vitamin A:
893
IU
|
Vitamin C:
1
mg
|
Calcium:
524
mg
|
Iron:
1
mg