This is not your average coleslaw! It is brightened up with some lemon juice and tons of fresh herbs (like dill, parsley, thyme, and chives). It's not overly sweet like so many recipes are. It's my absolute favorite for BBQs and potlucks!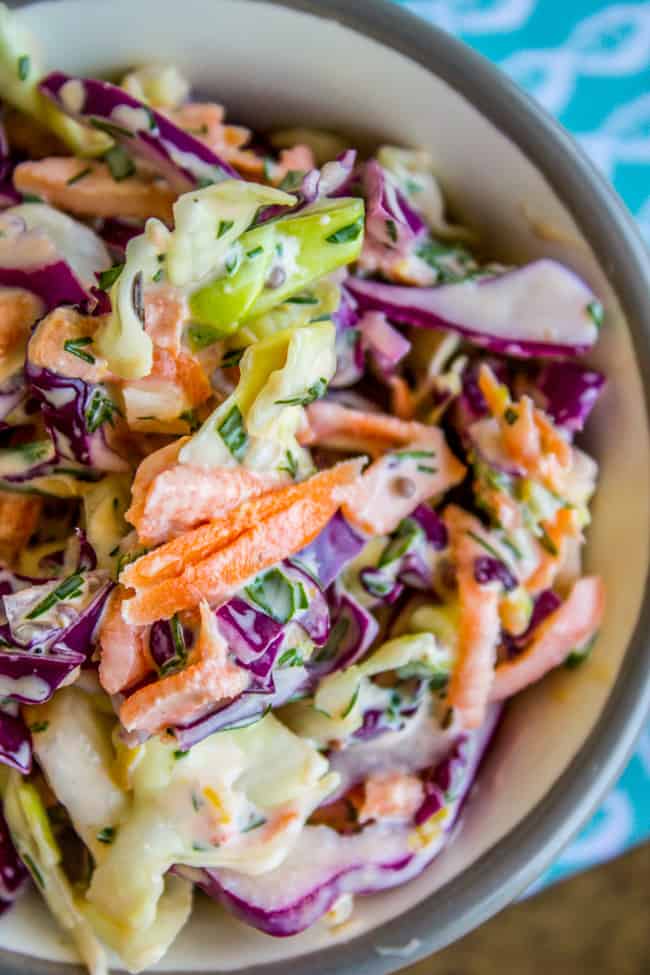 Last summer I went on a girls trip with my mom and sisters. It was super fun. One of the things on our to-do list was "go to bed early every night" (because we're all tired moms) but it never happened. Sign of a good time!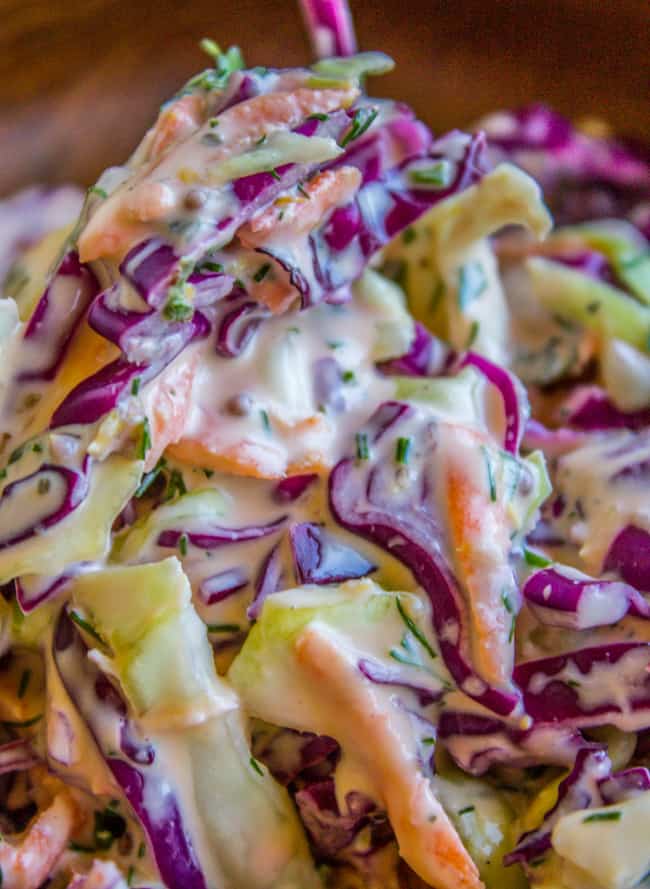 We took a cooking class together at a fancy cookware store. It was TERRIBLE! It was great hanging out together of course, because we always have fun no matter where we are, but the class itself was a total bust. We were supposed to learn how to make fried chicken, coleslaw, and biscuits. We showed up and the chef teaching the class had made the coleslaw ahead of time. (I get that coleslaw needs to sit, but that's when you pull a Martha Stewart: make it together as a class, and then pull out the one you made yesterday for us to eat.)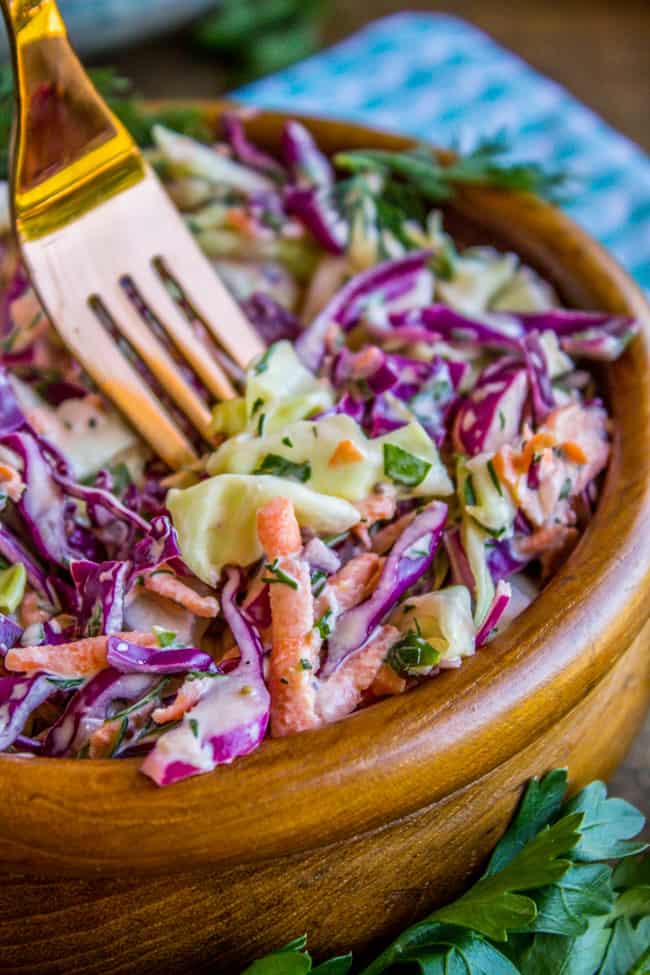 We made biscuits but the recipe didn't make enough for all the attendees. This is judging by Karen's Biscuit Standards, calculated to allot at least 3 biscuits per person. (Okay, maybe I'm being greedy, but I paid 70 bucks for this class. Seventy dollars for 1 biscuit? uh uh.)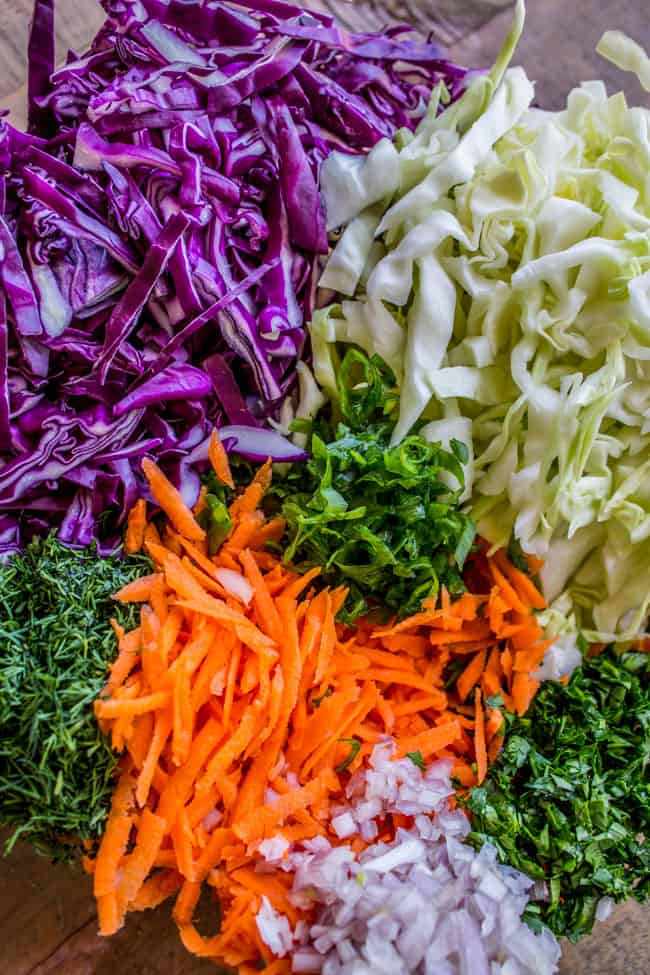 Then we fried chicken. A CHEF was teaching this class, and I was really excited to discover the secrets to not getting greasy, over-cooked on the outside, raw in the middle chicken that you have to bake after frying to get the center up to temperature. Well you guessed it, we had to bake the chicken after frying to get the center cooked.
We were feeling like we had totally wasted our money by the end of the class, so we asked if we could bring some of the (mountains) of fried chicken home with us to eat later. AND THEY SAID NO. "The store employees like to eat the leftovers from the cooking classes." Oh really? DID THEY PAY 70 BUCKS FOR THOSE LEFTOVERS??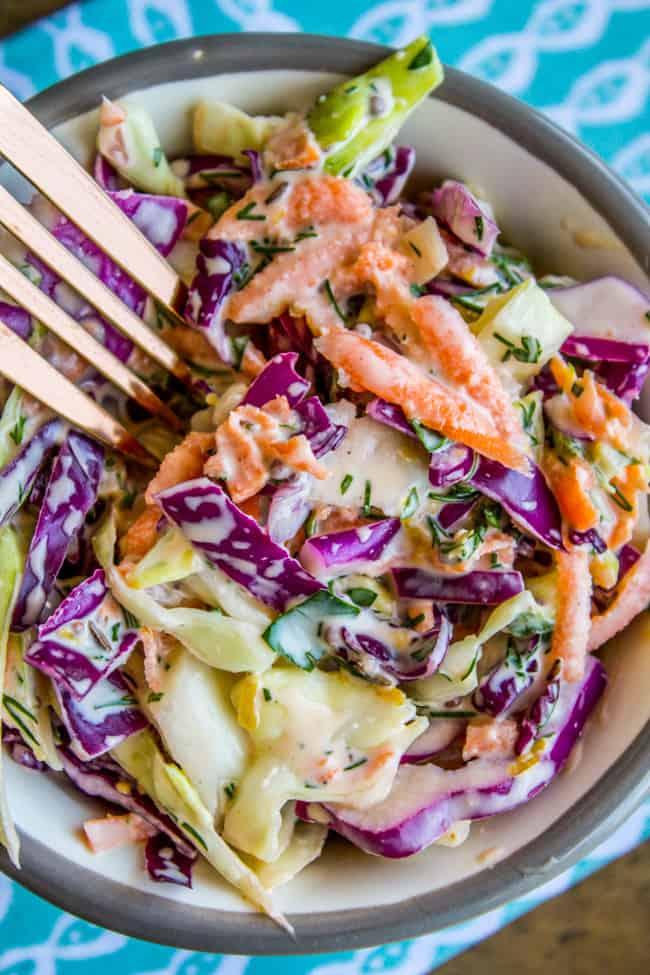 But guys. It was all worth it. I would pay $70 again for this coleslaw recipe. (okay maybe not. I'm pretty cheap. But it's so good!!) Like I said, it was already made when we got to class, so I had plenty of time to just sit over the bowl and nab forkful after forkful.
It's the lemon and the fresh herbs that makes the difference. I'm not really that into coleslaw. In fact, I just decided to give it another shot a few years ago after an entire childhood of hating it. I like it, but I won't eat bowlfuls of it. But I will with this lemony goodness.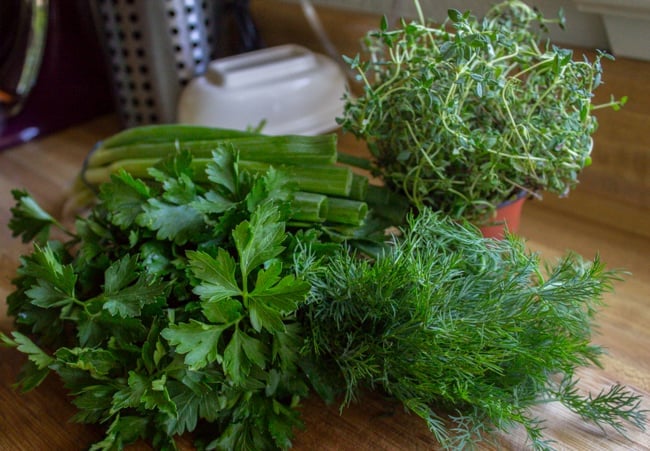 Parsley, green onions (or chives), dill, and thyme. I bought a live thyme plant because it was the same price as the cut herbs! Have you seen living herbs in stores lately? I love it. I'll plant it in my garden soon. Sweet.

See all that dill? That's how much a quarter cup minced is. Fresh dill is just the best! Throw in some extra!

The lemon makes this coleslaw so bright and fresh. Do you have a microplane grater? They makes zesting lemons SO easy. (And your palm. Don't do that. They're super sharp.) It's my favorite kitchen gadget and they're only 12 bucks.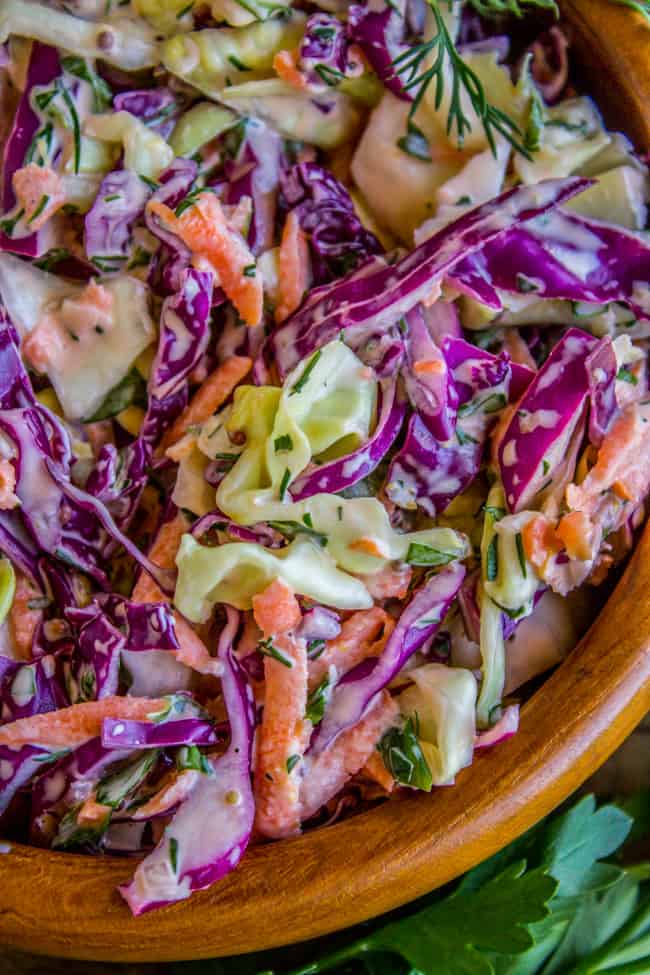 This coleslaw would make a great side to bring to BBQs, block parties, and potlucks this summer! Eric and I were snacking on it today and dreaming about putting it on burgers. Or pulled pork sandwiches. Or pairing it with grilled chicken. So many options!
If you make any of my recipes, share it on Instagram using the hashtag #TheFoodCharlatan so I can see it! I love that.
Facebook | Pinterest | Instagram | Twitter
One year ago: Garlic Roasted Artichokes with Pesto Dipping Sauce 
Two years ago: Raspberry Peanut Butter Smoothie
Three years ago: Sriracha Deviled Eggs

My Favorite Coleslaw (With Lemon and Fresh Herbs)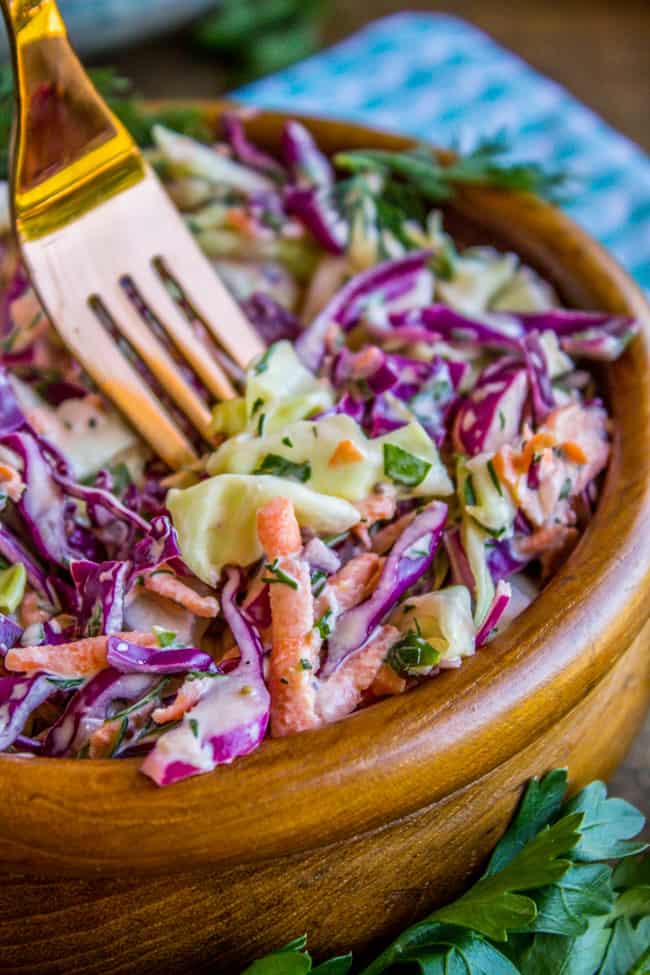 This is not your average coleslaw! It is brightened up with some lemon juice and tons of fresh herbs (like dill, parsley, thyme, and chives). It's not overly sweet like so many recipes are. It's my absolute favorite for BBQs and potlucks!
Ingredients
1

pound

cabbage

,

about 6 cups, red or green*, shredded

2

medium

carrots

,

peeled and shredded

1

small

shallot

,

minced (2 tablespoons)

1/4

cup

flat-leaf parsley

,

finely chopped

1/4

cup

fresh dill

,

finely chopped

1/4

cup

chives

,

finely chopped**

1

teaspoon

fresh thyme leaves

,

minced

1/4

cup

buttermilk

1/4

cup

mayonnaise

1/4

cup

sour cream

1

large

lemon

,

zested and juiced

1

tablespoon

white sugar

1

tablespoon

whole grain mustard

1/2

teaspoon

caraway seeds

1/4

teaspoon

celery seeds

1/2

teaspoon

salt

cracked pepper

,

to taste
Instructions
In a large bowl, toss together cabbage, carrots, shallot, parsley, dill, chives, and thyme. See photos for how to shred cabbage, and how much dill to use.

In a small bowl or liquid measuring cup, add the buttermilk, mayonnaise, sour cream, lemon zest and lemon juice, sugar, whole grain mustard, caraway, celery seeds, 1/2 teaspoon salt and black pepper to taste. (Use a

microplane grater

to zest your lemon.So much easier.)

Whisk to combine.

Pour the dressing over the tossed salad. Cover and chill for at least 30 minutes, or up to 3 days. The cabbage will release moisture and create even more dressing the longer it sits. YUM!
Notes
*I used half a red cabbage and half green.
**I couldn't find chives; green onions made a great substitute.
Source: this recipe is adapted from a cooking class I took at at Sur La Table.
Nutrition
Serving:
1
g
|
Calories:
132
kcal
|
Carbohydrates:
11
g
|
Protein:
2
g
|
Fat:
10
g
|
Saturated Fat:
2
g
|
Polyunsaturated Fat:
4
g
|
Monounsaturated Fat:
2
g
|
Trans Fat:
1
g
|
Cholesterol:
10
mg
|
Sodium:
330
mg
|
Potassium:
280
mg
|
Fiber:
3
g
|
Sugar:
7
g
|
Vitamin A:
4003
IU
|
Vitamin C:
39
mg
|
Calcium:
76
mg
|
Iron:
1
mg
You might like:
Asian Cabbage Salad << this recipe is an oldie but a goodie.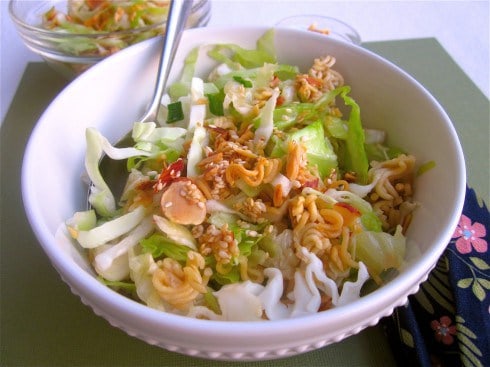 Cilantro Lime Cucumber Salad << one of the top recipes on my site!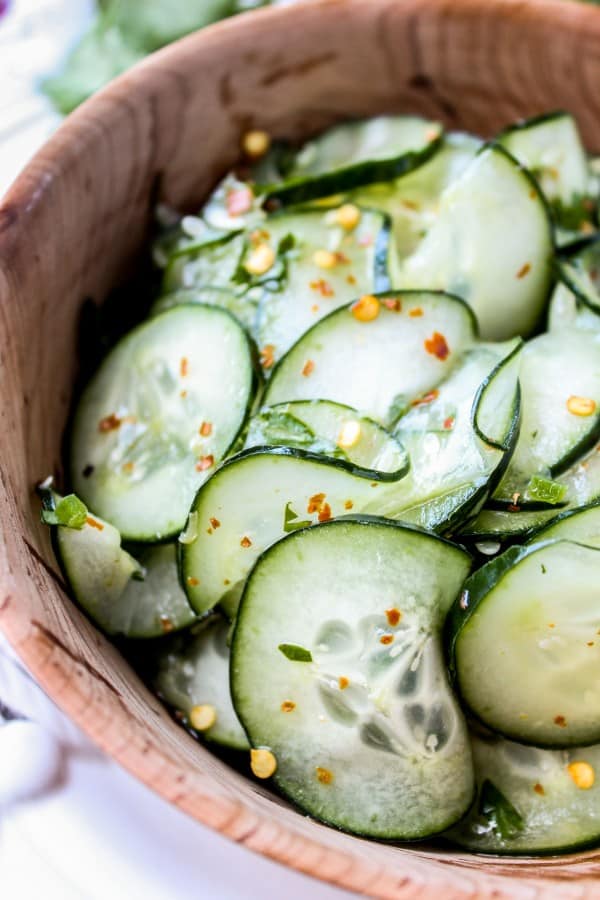 This coleslaw would be amazing with this Cuban Mojo Marinated Pork!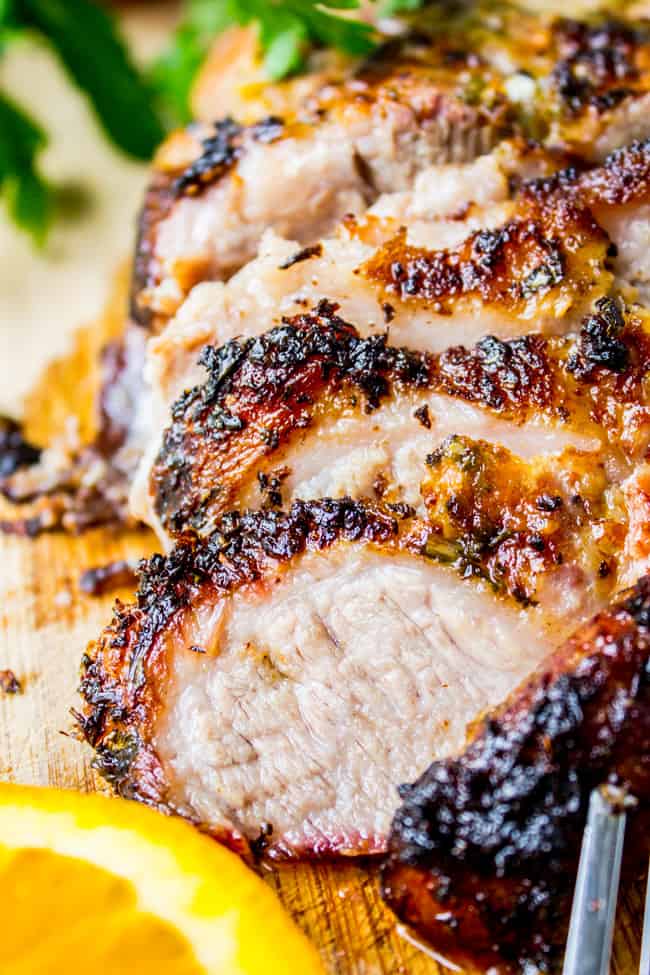 More coleslaw to love!
Mexican Coleslaw from Your Home Based Mom
Italian Style Coleslaw from Sugar Free Mom
Fancy Pant Coleslaw from Brown Eyed Baker
This post contains affiliate links. Thanks for your support!