Easy Broccoli and Bacon Salad
Everyone needs a recipe for the best Broccoli Salad! This one is stuffed with bacon, cranberry, cheese, sunflower seeds, and tangy homemade dressing. It is easy to make and is a huge crowd pleaser. The perfect side dish to bring to your summer barbecue, or even to serve at Thanksgiving!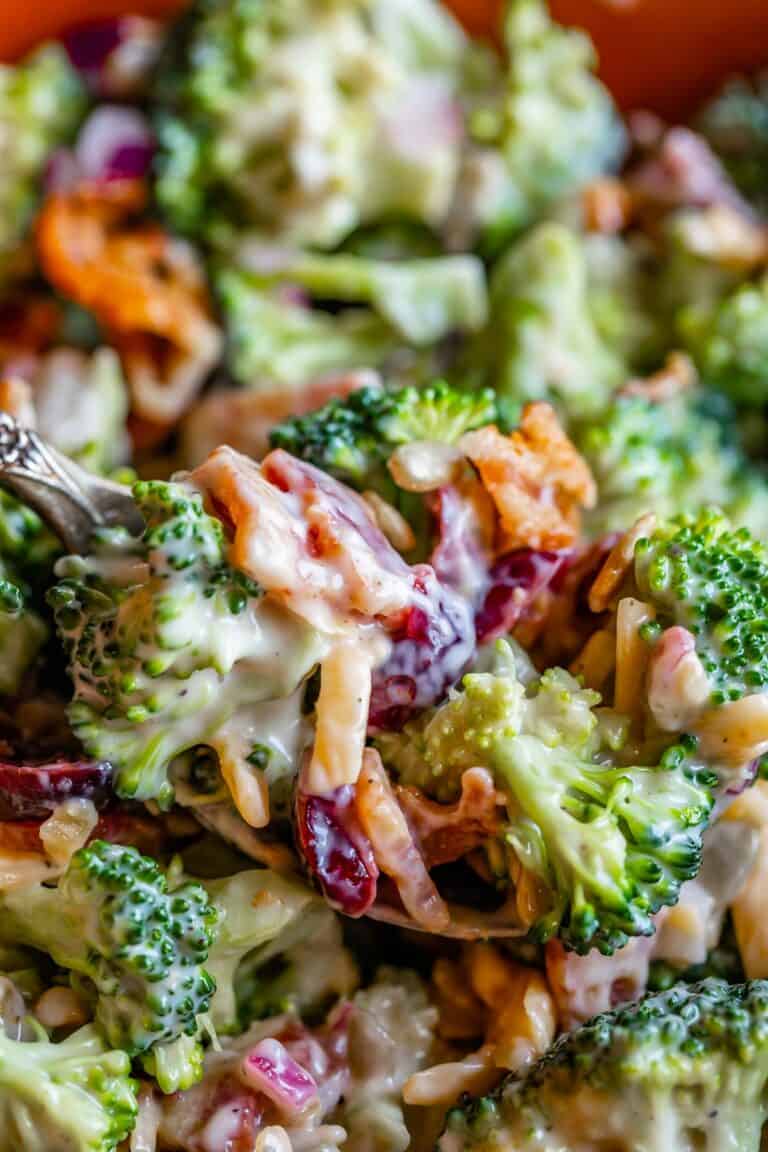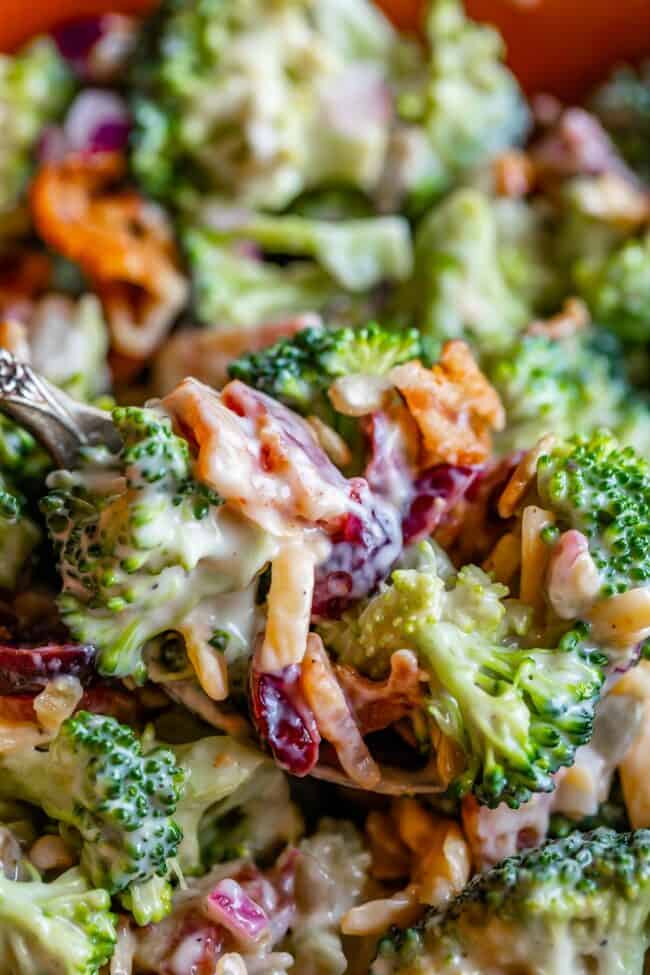 I finally broke down and bought an electric toothbrush. Maybe this doesn't sound like a big deal to you, but the sinister whir of an electric toothbrush gives me the heebie jeebies. (They sound EXACTLY like a dentist drill, doesn't this give flashbacks to anyone else??) The idea of using it twice a day makes me want to die.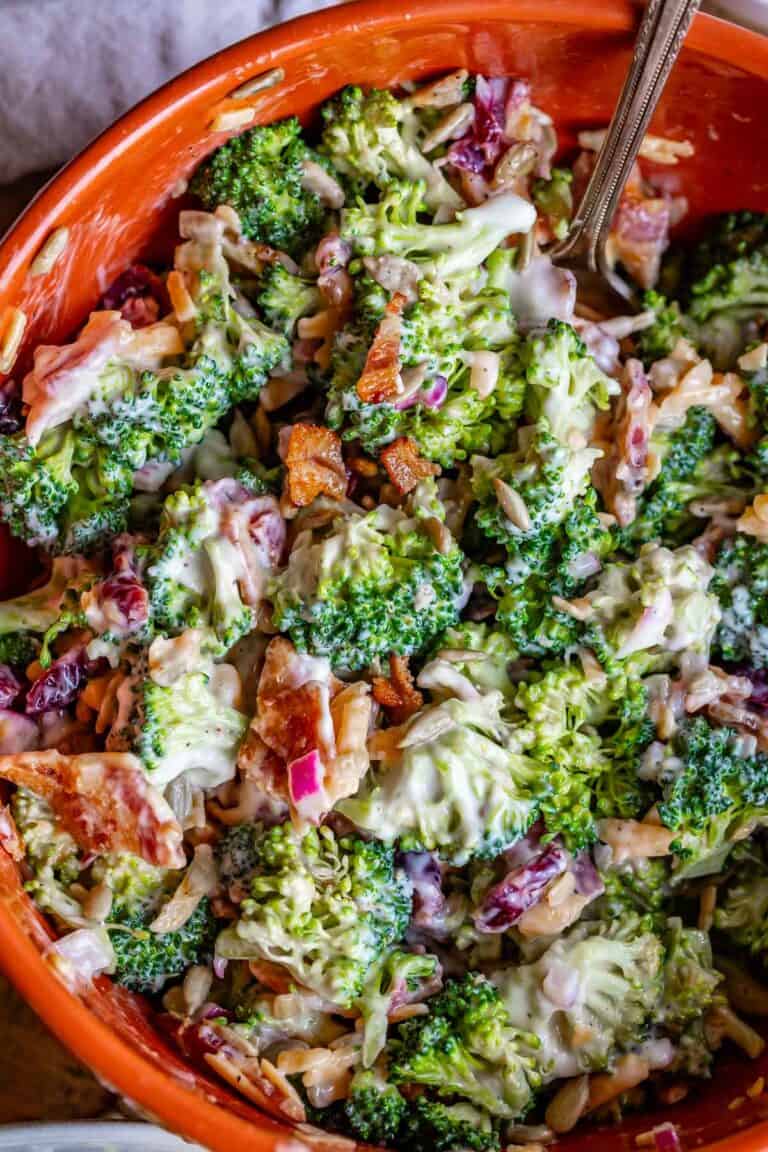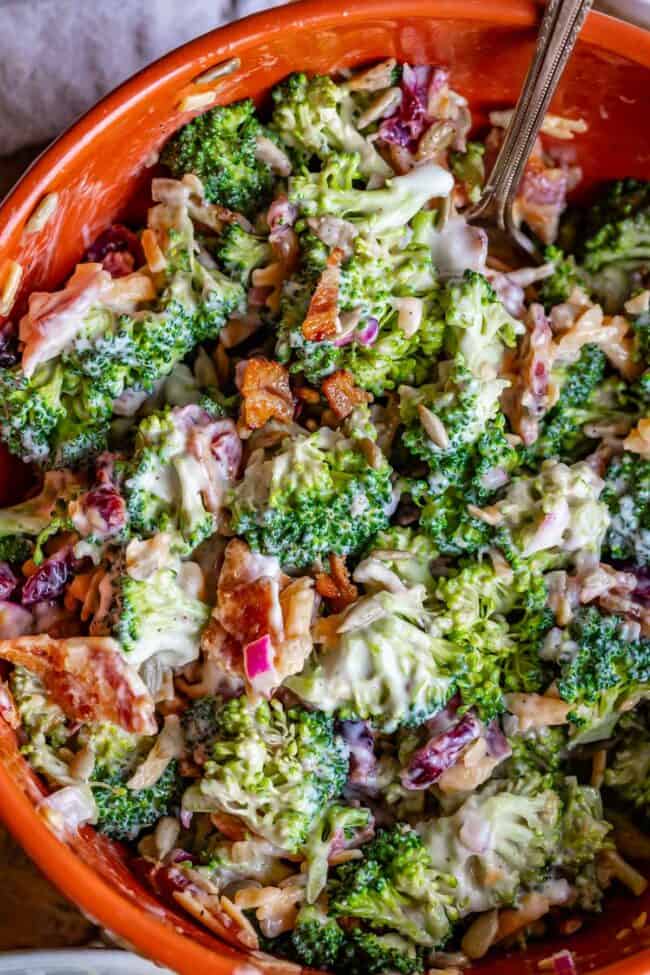 Here I am, on my maiden voyage with the blasted thing, trying not to cry about the fact that this is my life now. Eric thought I was being so ridiculous that he took a picture.
The toothbrush I bought came as a set of two, so Eric got the other one. You know, just one of those lovely gifts you get your spouse with a not-so-subtle message. "Clean your teeth, you filthy animal."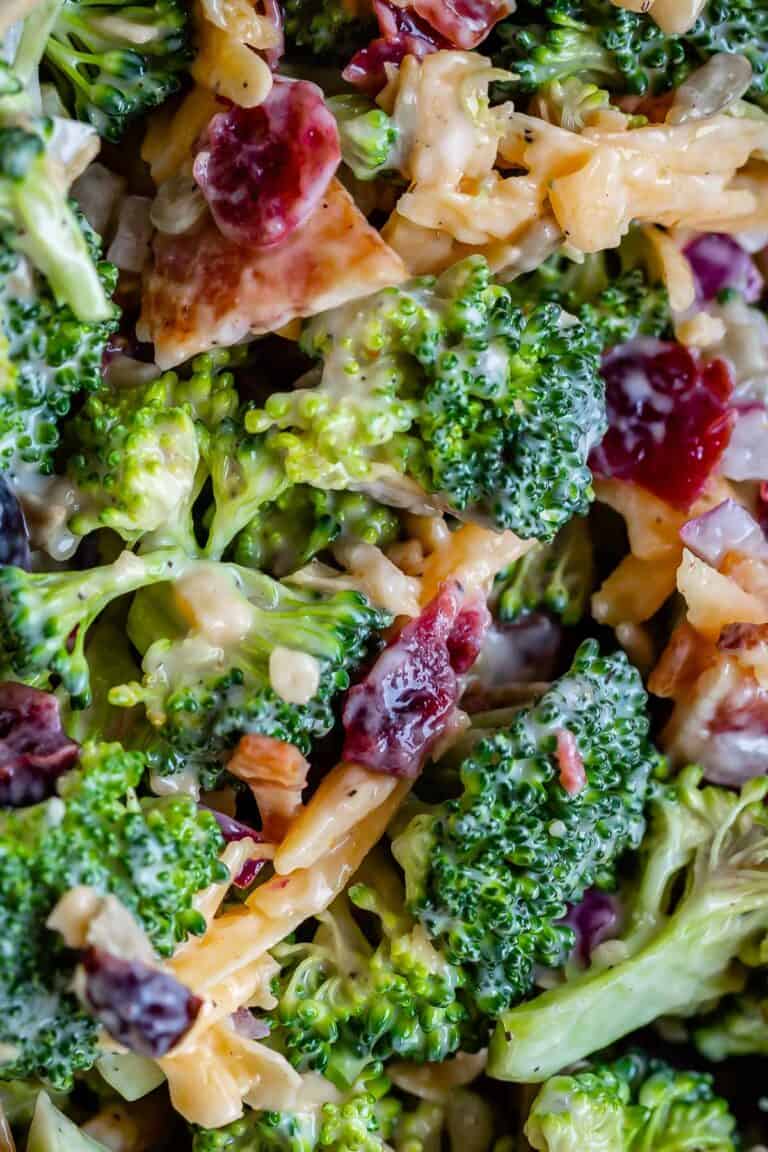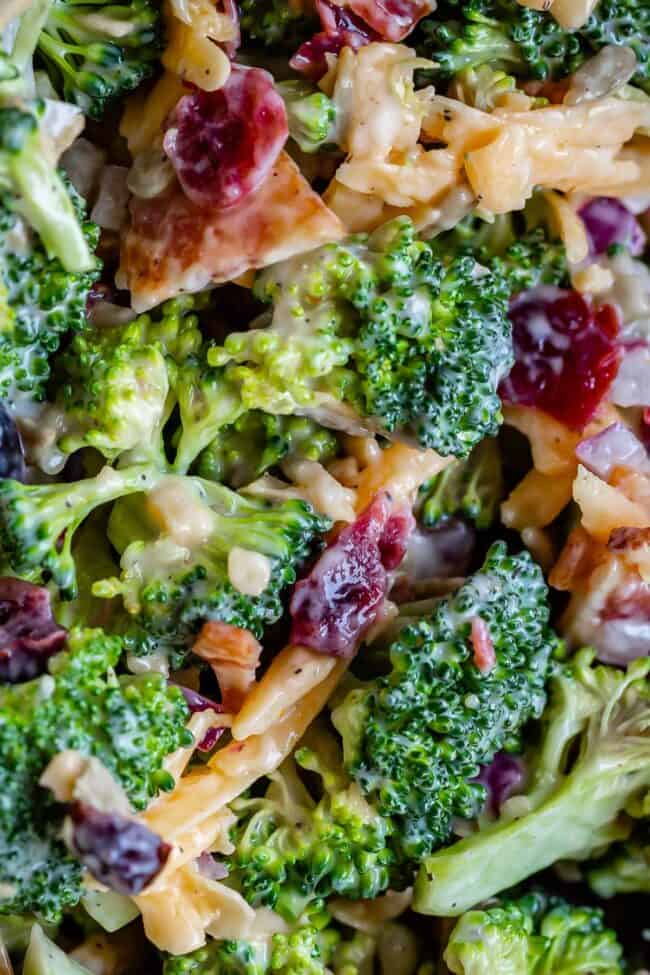 I saw him using it a couple days later, and he was done in about 30 seconds. I was outraged. "You stopped it before the cycle was even over??"
"What cycle?"
"There's a cycle. It beeps at you so that you can switch to the next quadrant of your mouth. Then it automatically turns off when you're done."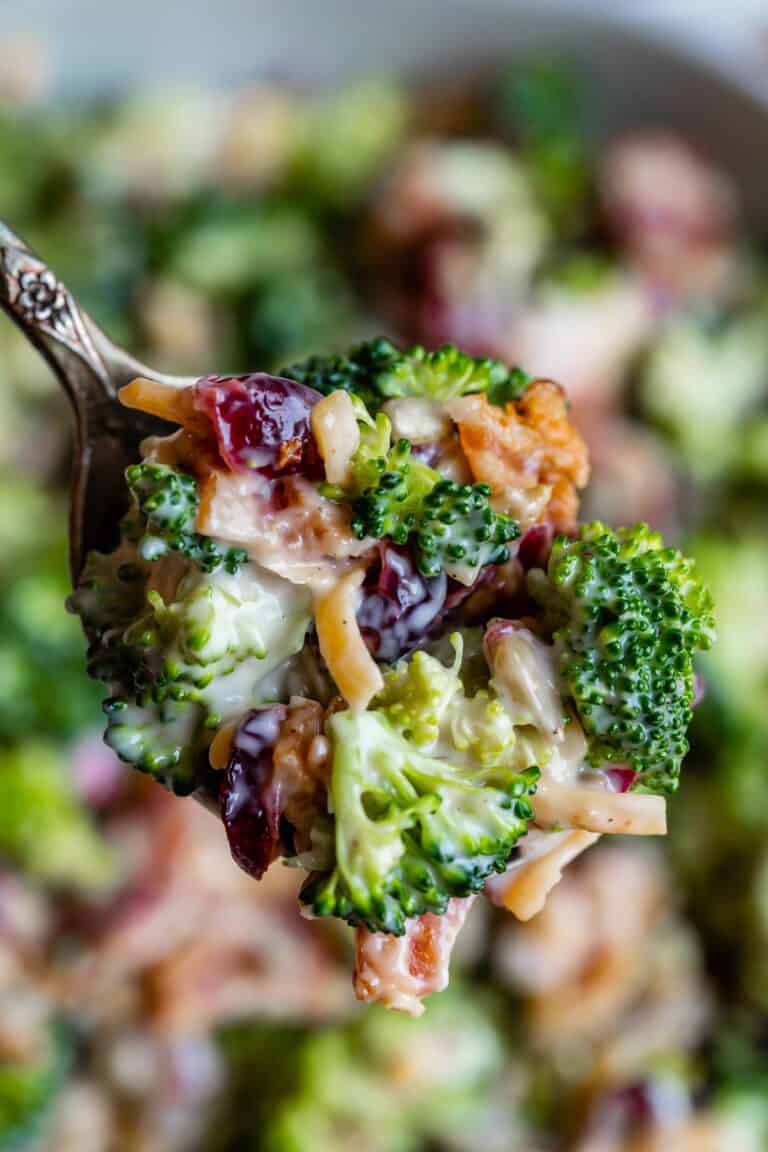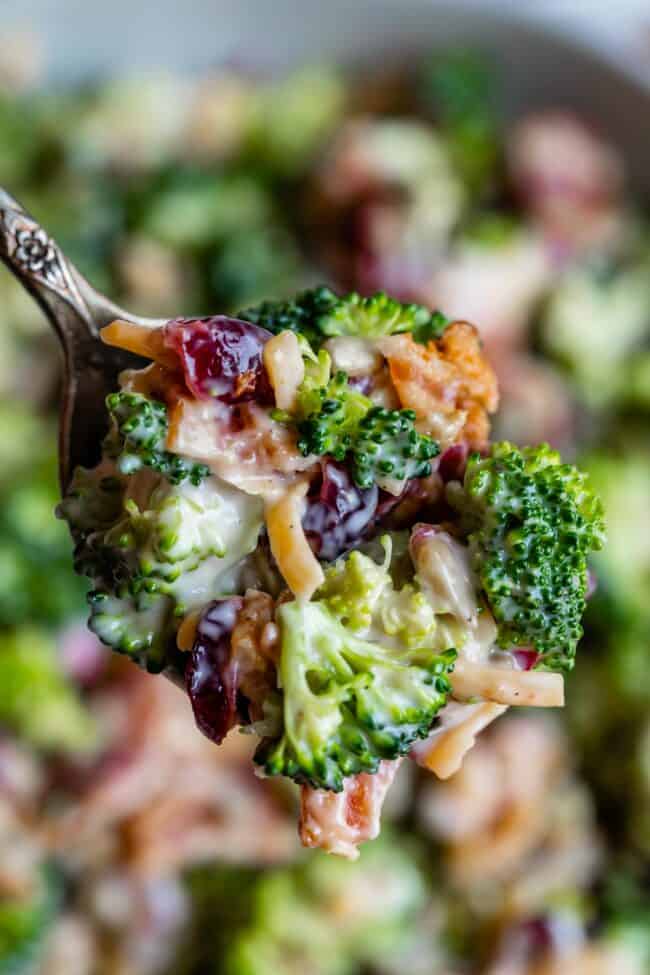 He shrugs. "Meh. I don't need a toothbrush telling me what to do."
Maybe I need to be little more zen about the toothbrush situation.
(Also, I suppose this is the response I should expect after buying him the thing in the first place. Passive aggressive, much?)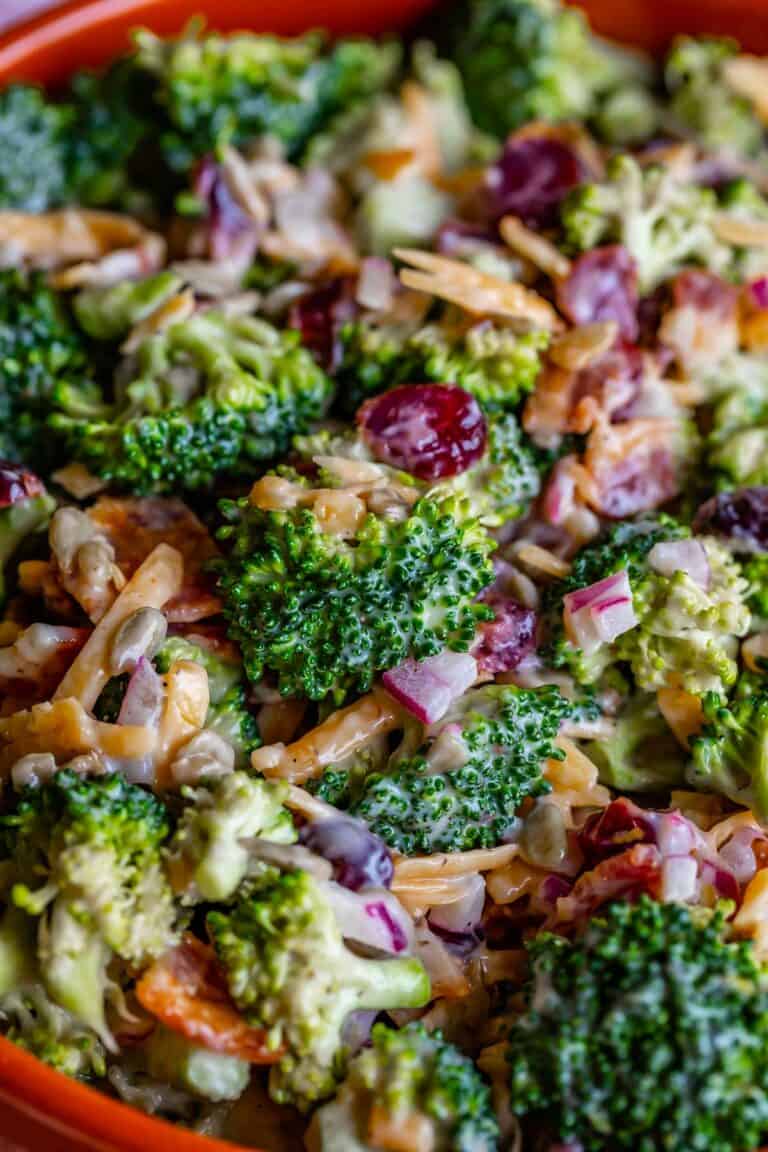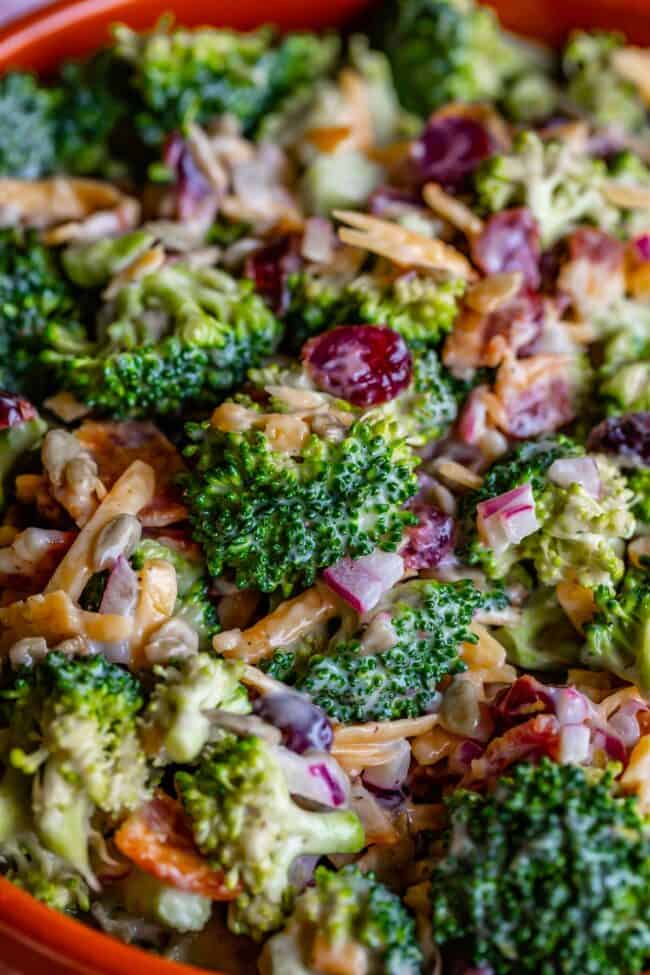 Is everybody ready for Labor Day on Monday? It is forecasted to be 109 degrees, so I'm planning to eat copious amounts of this Broccoli Salad while sitting in my cool, air conditioned house.
You'll love this Broccoli Salad recipe with Bacon
Who loves a good Broccoli Salad? Is it even a broccoli salad without the bacon? I added it to the title just so we're all on the same page here about what this salad is all about.
How to make Broccoli Bacon Salad
It's super easy to put together. First, fry up some bacon.


Except don't actually fry it, that's messy. Put it on a pan and bake it in the oven. So much easier! No lava splatters!
While your bacon is cooking, chop up your broccoli. Now, I know you've chopped some broccoli in your lifetime, and you might be thinking I'm a total weirdo for including not one, not two, but  SIX process shots (count em up) for how to cut broccoli.


But stay with me here: just like in my Macaroni Salad, I'm a firm believer that half the success of these type of salads comes from the size of the veggie chop. I like small florets of broccoli, so that I don't ever have to take a bite of just big ol broccoli. I want a bite of broccoli AND bacon AND dried cranberries. Small florets are the way to go.


And don't leave those stems behind! They are tasty…when they are chopped small. Nobody wants to gnaw on a big ol stem in the middle of their salad experience. Be kind to your guests. Small chop ftw.


Now that we've got all the chopping out of the way, mix up your dressing. It couldn't be easier. I start with Miracle Whip. Miracle Whip?? Yep. I've never been a believer before this, guys. But recently Eric made us a special snack from his childhood: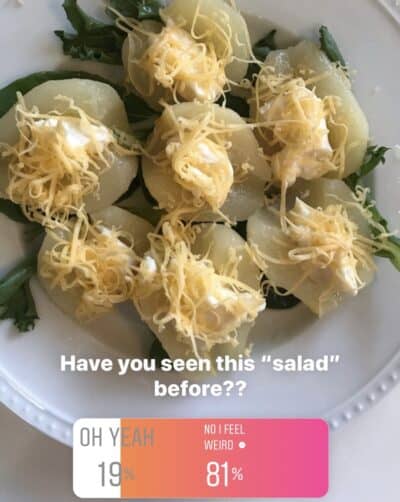 I asked my Instagram followers if they had heard of it. It's canned pear, topped with miracle whip and cheese, on a bed of lettuce. (SO. WEIRD. Have you had it before?)
Anyway. We had the Miracle Whip on hand and I decided to try it out in the broccoli bacon salad. I thought the only difference between Miracle Whip and mayo is that Miracle Whip had a lot more sugar. But it actually only has a little bit more sugar, and lots more spices. I'm A-ok with spices, so I decided to try it out. Delicious! I think I'm a convert. (A Miracle convert. NOT a Pear Cheese Salad convert.)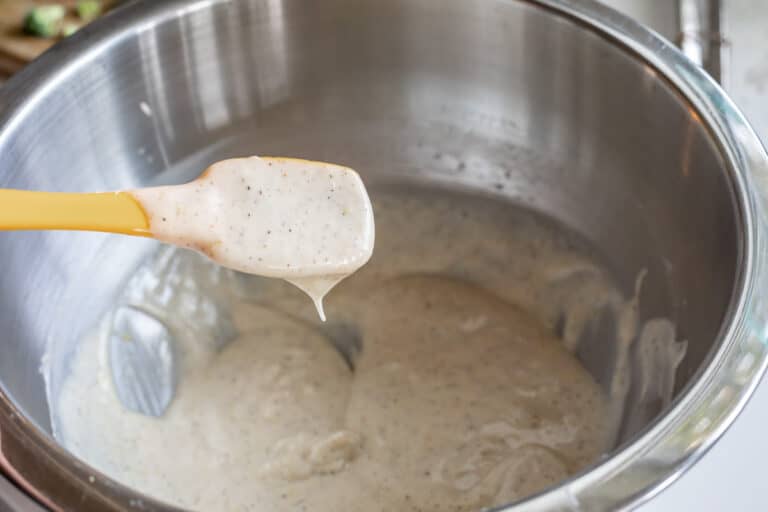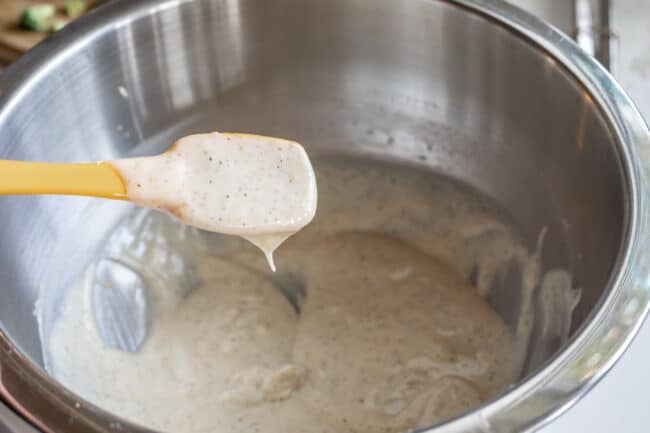 If you are not a believer, you can totally use mayo in place of Miracle Whip. I tried it both ways!
Anyway, back to the dressing for the broccoli bacon salad. Miracle OR mayo, with lemon, vinegar, sugar, and a little dry mustard and cayenne pepper.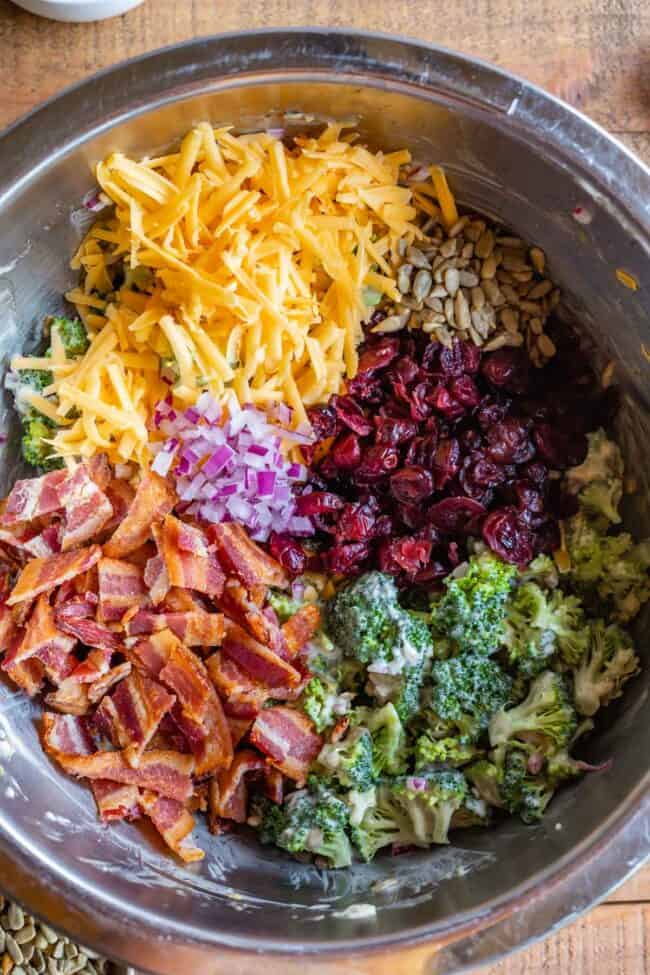 Put it all together…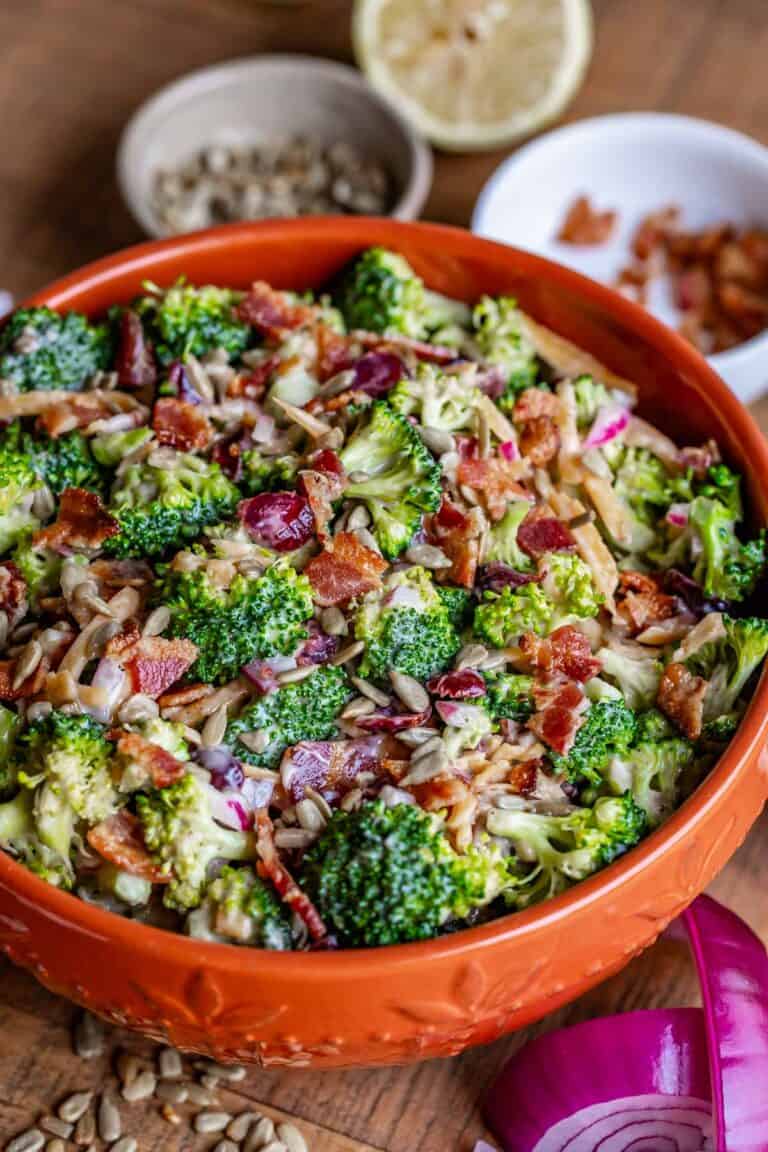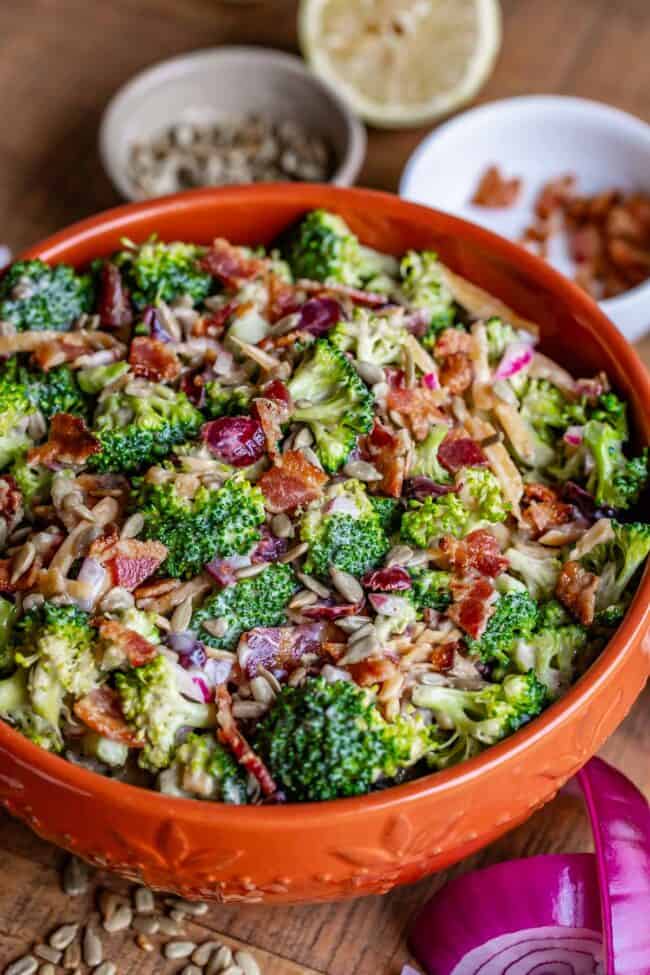 and voila. The easiest, tastiest Broccoli salad situation of your life!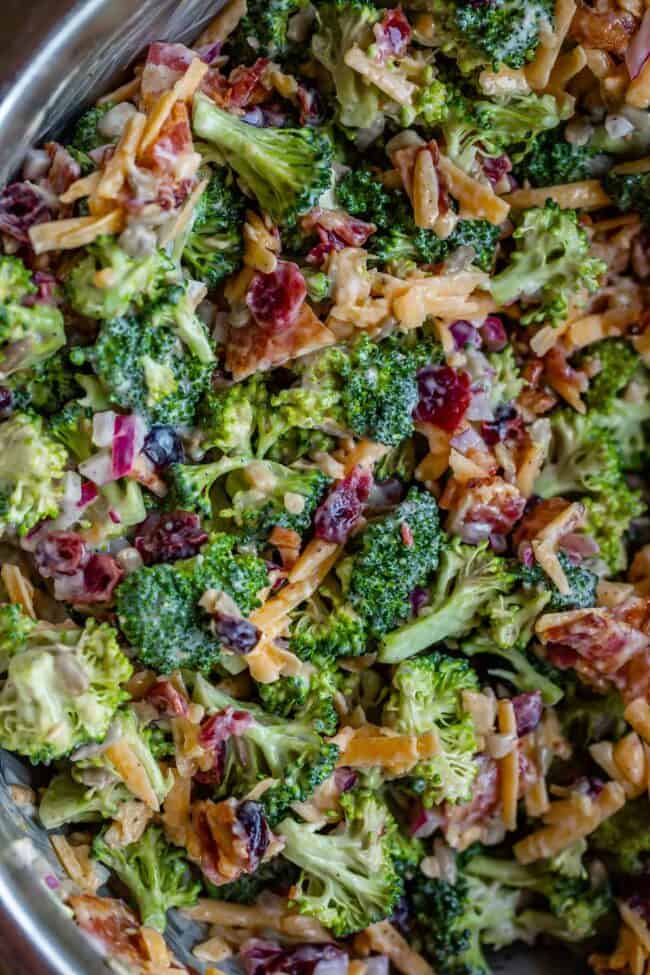 This would be so fun to bring to a Labor Day BBQ on Monday, if you're going to one! If you are still in quarantine, then make this salad and eat it as a side dish with your lunches all week. The perfect healthy side dish for any meal!
More delicious summer salads you are going to love!
Facebook | Pinterest | Instagram
Broccoli Salad with Bacon
Everyone needs a recipe for the best Broccoli Salad! This one is stuffed with bacon, cranberry, cheese, sunflower seeds, and tangy homemade dressing. It is easy to make and is a huge crowd pleaser. The perfect side dish to bring to your summer barbecue, or even to serve at Thanksgiving! 
Ingredients
For the salad
10-11

strips

bacon

,

cooked

2

heads

broccoli

,

about 1 and 1/2 pounds or 5-6 cups

1

cup

dried cranberries

1/3

cup

sunflower seeds

,

roasted and salted

1

cup

cheddar cheese

,

shredded

1/3

cup

chopped red onion

,

or more to taste
For the dressing
1 & 1/4

cups

Miracle Whip OR mayonnaise

1

lemon

zest

1

tablespoon

lemon juice

2

tablespoons

white wine vinegar

1/4

cup

sugar

1 & 1/4

teaspoons

kosher salt

1/2

teaspoon

black pepper

1/4

teaspoon

dry mustard

1/8

teaspoon

cayenne pepper
Instructions
Start by making the bacon

. I highly recommend

baking it in the oven!

So mush easier, and no splatter. However you want to do it, cook 10-11 slices of bacon to your desired level of crispness, then set aside on paper towels to cool. Once cool, chop into bite size pieces.

While the bacon cooks,

mix together the ingredients for the dressing

. In

a large bowl

add 1 and 1/4 cups Miracle Whip OR Mayonnaise, the zest from 1 lemon, 1 tablespoon lemon juice, 2 tablespoons white wine vinegar, 1/4 cup sugar, 1 and 1/4 teaspoons kosher salt, 1/2 teaspoon black pepper, 1/4 teaspoon dry mustard, and 1/8 teaspoon cayenne pepper. (the cayenne adds flavor but not heat. Don't be scared of it! Just careful :) Whisk all the dressing ingredients together.

Add the ingredients for the salad to the bowl with the dressing.

Start by chopping your broccoli using a

chef's knife

. I like really small florets, so you don't get any bites that are just giant broccoli. See photos. I also like to save the stems, chop them up, and add them into the salad, but you can leave them out if you prefer.

Add all the broccoli to the large bowl. Add 1 cup dried cranberries, 1/3 cup sunflower seeds, 1 cup cheddar cheese, and 1/3 cup chopped red onion. Add in most of the bacon, reserving some to sprinkle on top for serving.* (Actually, any of the ingredients besides broccoli would look pretty sprinkled on top right before serving.)

Stir it all together. This salad can be served room temperature or chilled. If you chill it first, let it sit on the counter for about 20 minutes before serving.

Store leftovers covered in the fridge! This salad will keep for about 5 days.
Notes
*If you are not serving your salad for a while, you can leave the bacon out and stir it in last minute so that it doesn't get soggy.
Nutrition
Serving:
1
g
,
Calories:
570
kcal
,
Carbohydrates:
32
g
,
Protein:
13
g
,
Fat:
45
g
,
Saturated Fat:
11
g
,
Polyunsaturated Fat:
19
g
,
Monounsaturated Fat:
13
g
,
Trans Fat:
1
g
,
Cholesterol:
48
mg
,
Sodium:
907
mg
,
Potassium:
615
mg
,
Fiber:
6
g
,
Sugar:
20
g
,
Vitamin A:
1139
IU
,
Vitamin C:
138
mg
,
Calcium:
187
mg
,
Iron:
2
mg
We are a participant in the Amazon Services LLC Associates Program, an affiliate advertising program designed to provide a means for us to earn fees by linking to Amazon.com and affiliated sites.