Lemon Dijon Green Beans Almondine is super easy and has tons of flavor! How can you go wrong with butter (and maybe browning it a little?) and lemon and Dijon? You can even make this ahead of time if you plan to serve it for Thanksgiving dinner.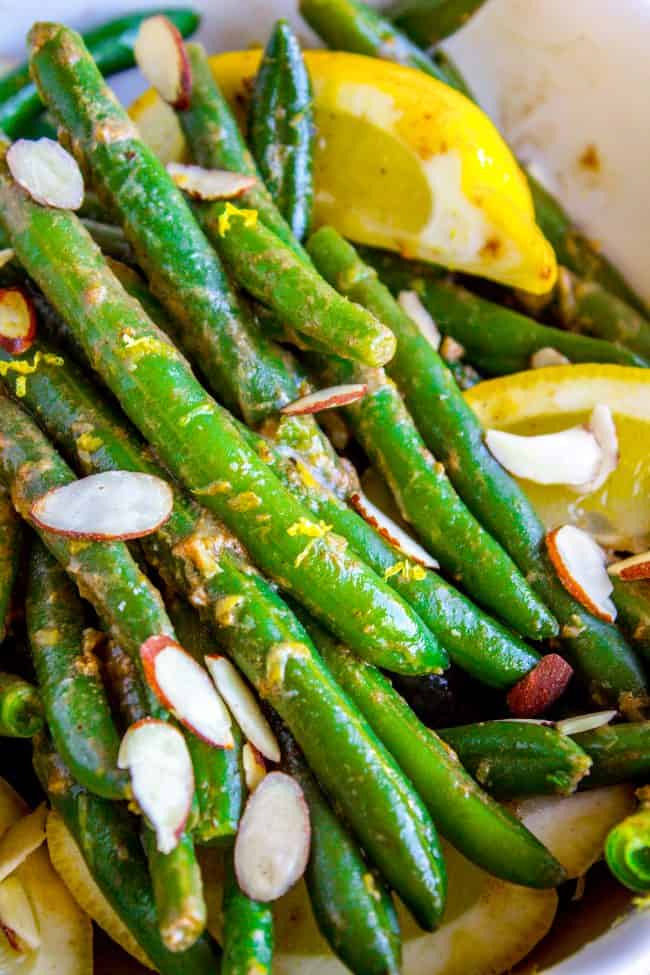 My best friend Sarah's little boy asked her yesterday, "Mom, can I ask you if something is a swear word, and then say that swear word? She's like, yeah. And then he whispers in a tiny voice, "Jiminy Crickets."
Afterward, she told me that she really missed out on an awesome opportunity to gasp and be like, "Max, where did you learn that??" Poor kid's never going to be able to look at Pinocchio the same again.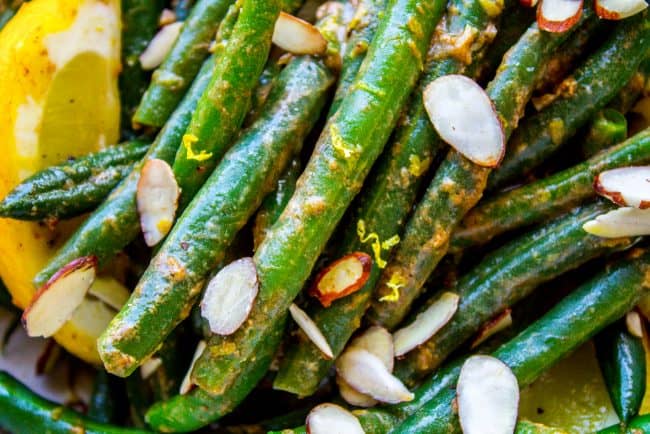 How was your weekend? We went to a couple Halloween parties, and Charlotte's Marie Antoinette costume won yet another contest. She really does look fabulous though, right? (Here's a link for the wig)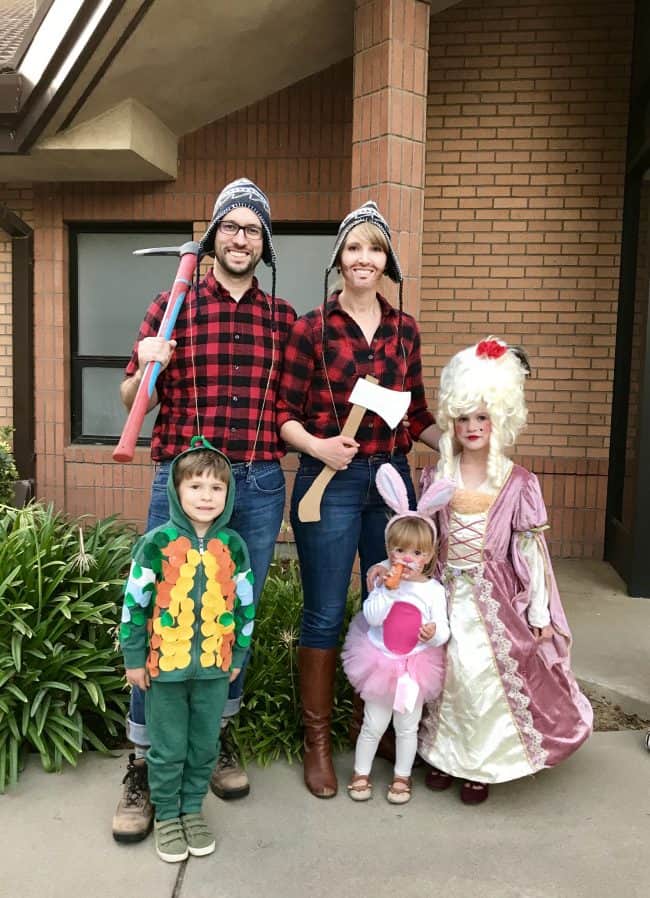 I don't know what kind of 7 year old wants to be an executed French queen for Halloween, but I think it's hilarious.
Eric and I are lumberjacks (points for zero effort??), Truman is a Chameleon (Eric made the costume!) and Valentine is a bunny eating a real carrot that we thought would just be a prop but she ate the whole thing. I guess we should have washed it first.
October is almost over, and that means it's time for all the Thanksgiving recipes!! I'm so excited. Thanksgiving is one of my favorite holidays of the year.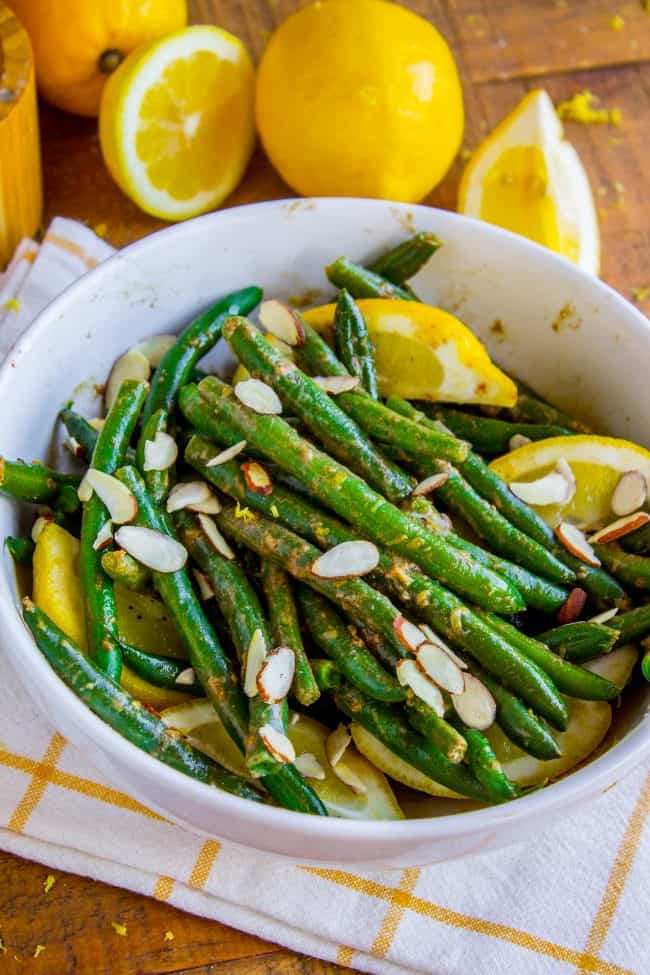 Today I've got a super easy green bean almondine recipe for you that is easy enough for a weeknight, and also easy enough for Thanksgiving dinner, because let's face it, you don't have time to spend on an elaborate side dish when you've got 100 other things going on in the kitchen. PLUS you can make it ahead of time. Win!
How to cook green beans
The best way to cook green beans is by blanching them. That means boiling them in salted water for 5-6 minutes, then plunging them in an ice bath (plunge I say!) to stop the cooking process and keep them from getting mushy. I prefer this method to any other, because it's the best way to get rid of that rubbery texture that raw green beans have. Boiling them for just a few minutes makes them perfectly tender yet still crisp.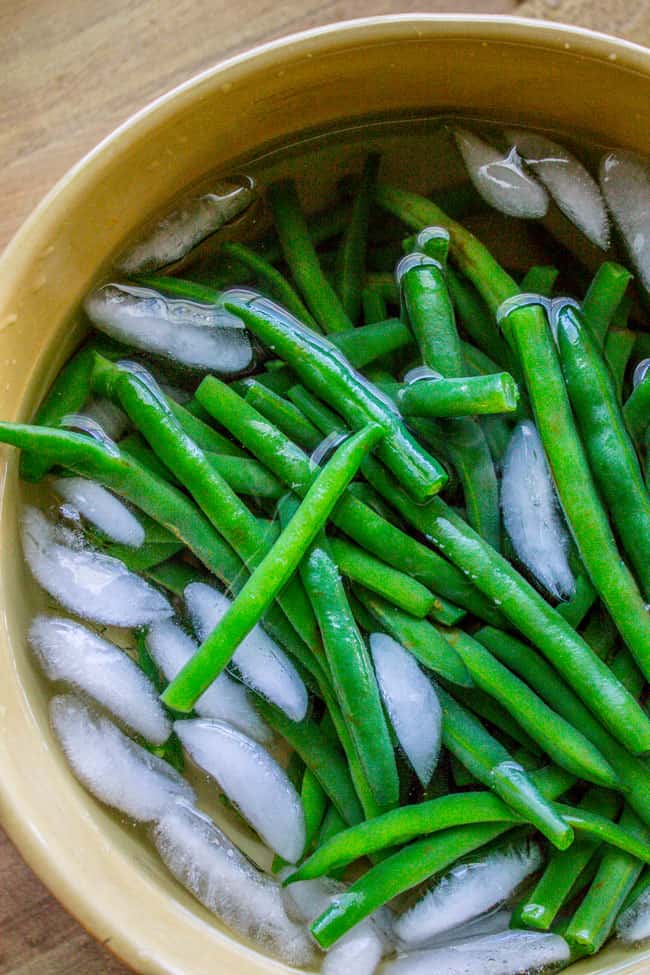 You only need about 20-30 seconds in the ice bath to stop the cooking process.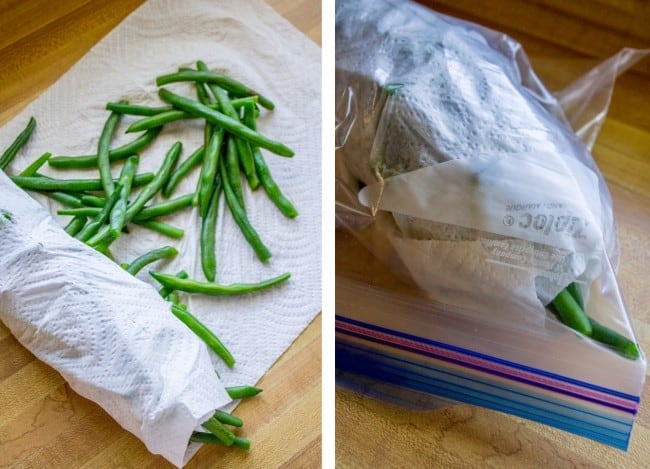 At this point, you can save the green beans in the fridge for whenever you need them. You can do it two days in advance, which is awesome for Thanksgiving. Anything that can be done ahead of time should be done, like this Make Ahead Turkey Gravy. You will enjoy your day so much more!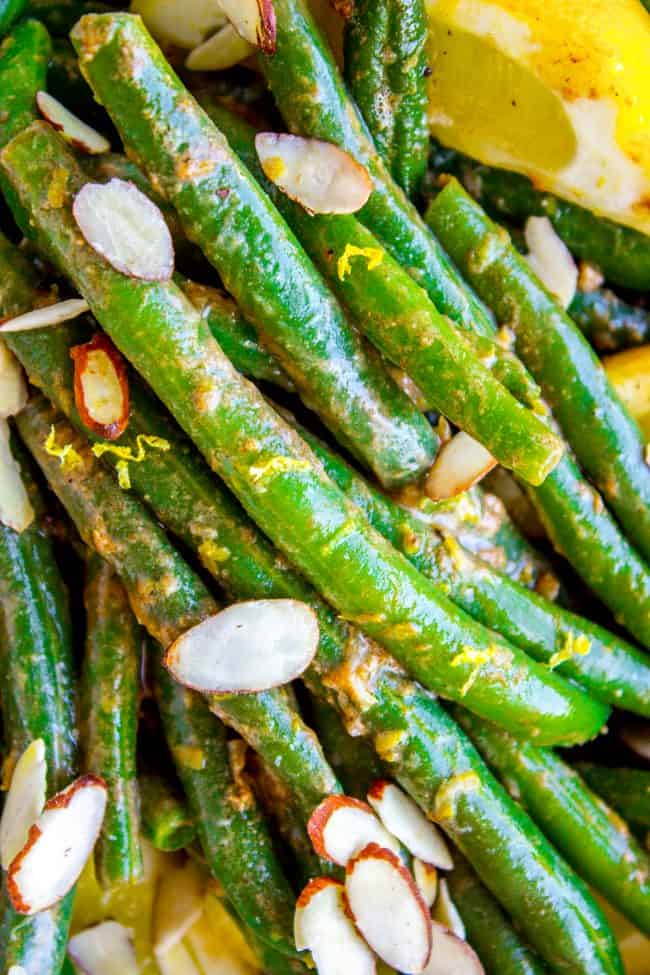 Green beans almondine
After blanching, it's just another couple steps to melt some butter (brown it if you want! Yum!), add in some garlic, dijon, lemon, and almonds, and toss it with the green beans.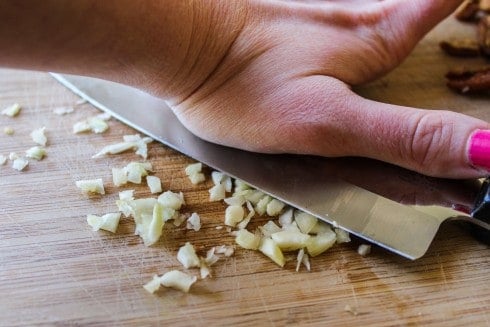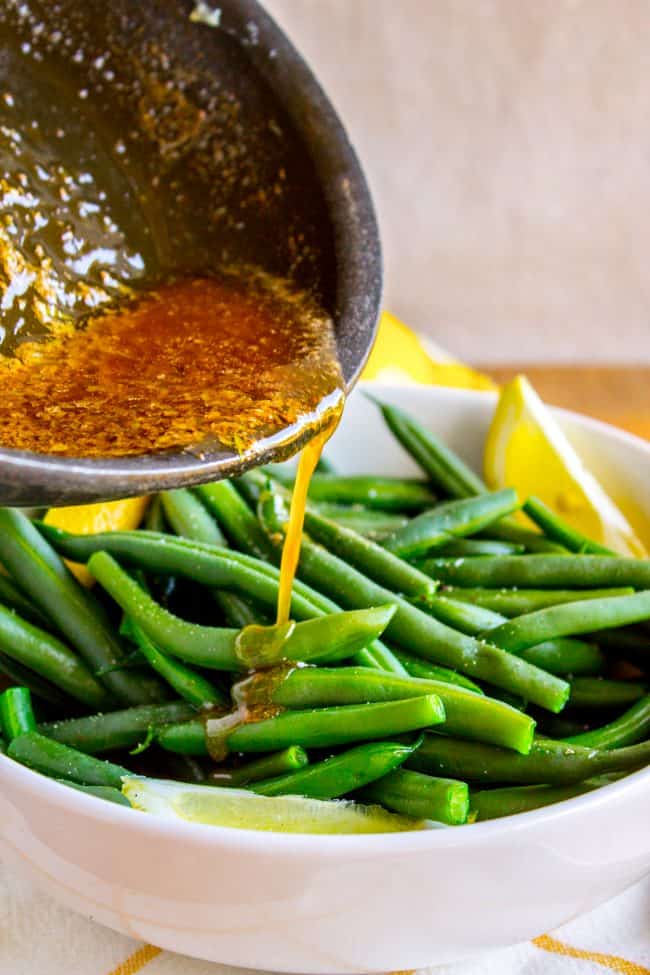 I actually forgot to add the almonds in to the butter before adding the green beans. Doh! I think I was a little to excited to get a brown-butter pour shot. Because who doesn't love that drizzle?
Facebook | Pinterest | Instagram
One year ago: Dark Chocolate Cherry Oatmeal Cookies
Three years ago: Mini Chicken Pot Pies (Quick and Easy!)
Six years ago: Chicken Gnocchi Soup

Lemon Dijon Green Beans Almondine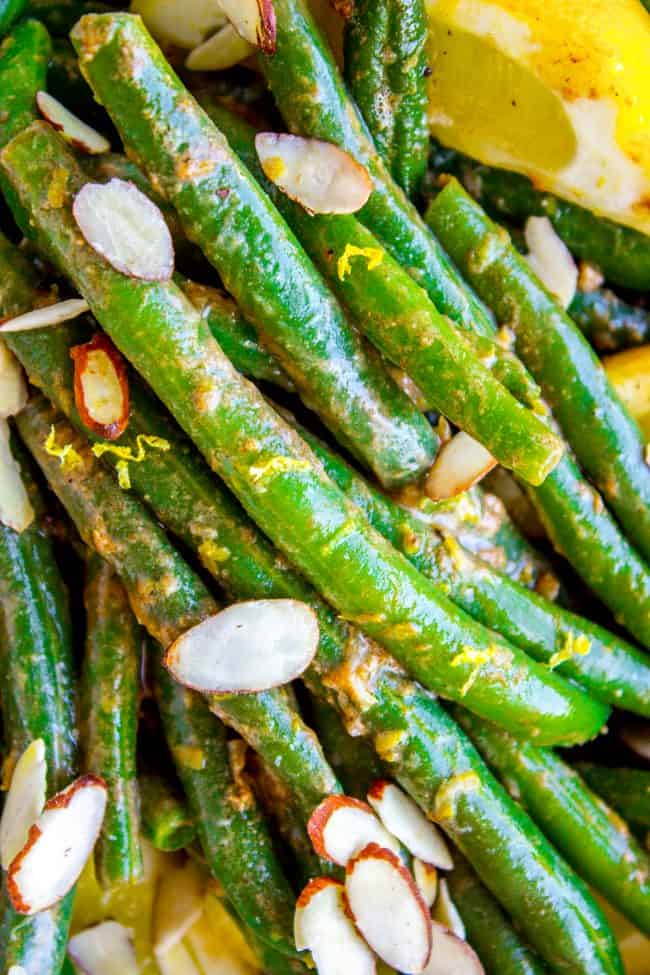 Lemon Dijon Green Beans Almondine is super easy and has tons of flavor! How can you go wrong with butter (and maybe browning it a little?) and lemon and Dijon? You can even make this ahead of time if you plan to serve it for Thanksgiving dinner.
Ingredients
1

pound

green beans

,

fresh, trimmed

water and salt

,

for blanching

ice bath

1/4

cup

salted butter

,

(half stick)

1

tablespoon

Dijon mustard

1

clove

garlic

,

smashed and minced

1

lemon

Lemon Zest

1/2

lemon

Lemon Juice

,

or more to taste

1/3

cup

sliced almonds
Instructions
Heat a large pot of at least 2 quarts of water to a boil over high heat. Add 2 teaspoons salt (Taste it. It should taste like seawater.)

Wash and trim green beans. (Cut off the ends with the little stems) When the water is at a rolling boil, add the green beans and cover with a lid.

If you are making these ahead of time: boil for 3 to 4 minutes, until crisp tender. While it boils, fill a large bowl with ice water. Drain the beans and transfer to the ice bath. When the green beans are no longer warm to the touch, drain them again. Lay out the beans on paper towels and pat dry. Wrap the beans in dry paper towels, place in a large tupperware or ziplock, and store in the fridge for up to 2 days.

If you intend to serve the beans right away: boil covered for 5-6 minutes, until crisp tender. Drain the water and add the beans to an ice bath, but only for 30 seconds or so. Drain them and put them in a serving bowl or platter. Add a little salt and pepper to taste, then keep warm (I set mine in the microwave. Not on.)

Melt the butter over medium heat. If you like, you can let the butter cook long enough for it to get brown and nutty. (That's what I did.)

Zest the lemon, then juice and set aside.

When the butter is melted and/or browned, add the Dijon mustard and garlic. Add the almonds and stir for about 1 minute. Add the lemon juice.

Turn off the heat and sprinkle with lemon zest.

If your beans have cooled, add them to the pan to warm them up, otherwise you can drizzle the butter and almond mixture over the beans on a serving platter and toss before serving.

(If you blanched the green beans ahead of time, add to the pan with the butter and toss until warmed though.)
Nutrition
Serving:
1
g
|
Calories:
182
kcal
|
Carbohydrates:
13
g
|
Protein:
3
g
|
Fat:
15
g
|
Saturated Fat:
8
g
|
Polyunsaturated Fat:
1
g
|
Monounsaturated Fat:
5
g
|
Trans Fat:
1
g
|
Cholesterol:
31
mg
|
Sodium:
127
mg
|
Potassium:
267
mg
|
Fiber:
6
g
|
Sugar:
5
g
|
Vitamin A:
937
IU
|
Vitamin C:
45
mg
|
Calcium:
84
mg
|
Iron:
1
mg
Green beans forever!! You will love these other recipes:
Roasted Garlic Green Beans with Fried Sourdough < who's going to say no to fried sourdough?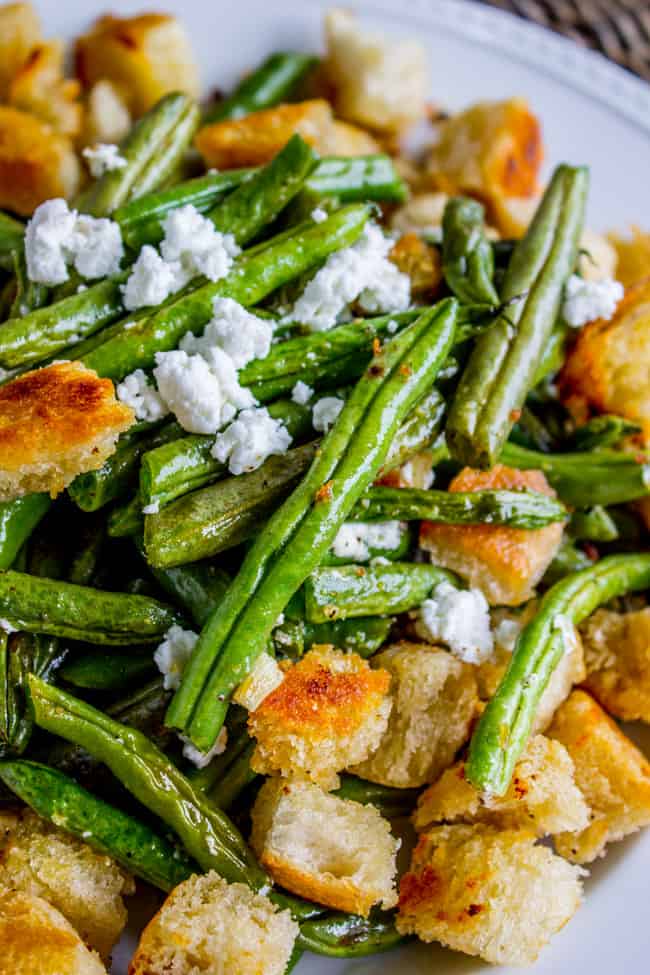 Lemon Green Beans with Feta and Fried Pecans << add cheese to your green beans you won't regret it!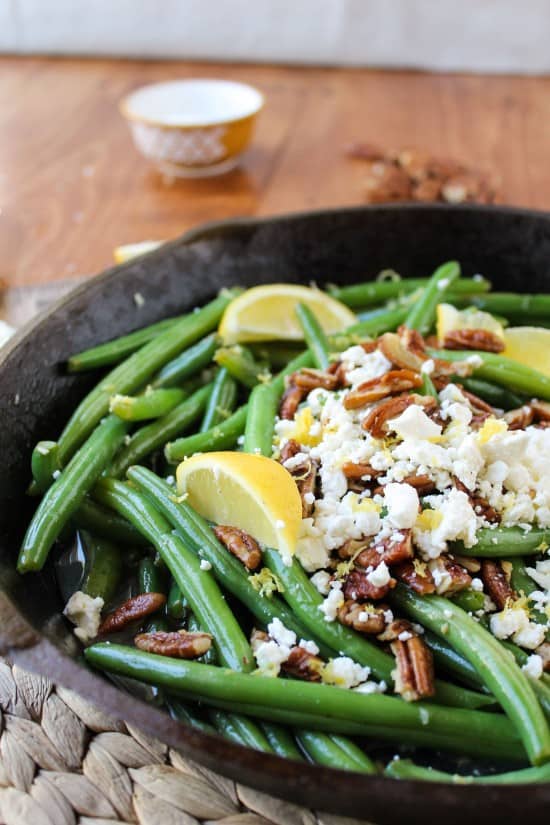 Make Ahead Green Beans with Garlic Bread Crumbs and Almonds: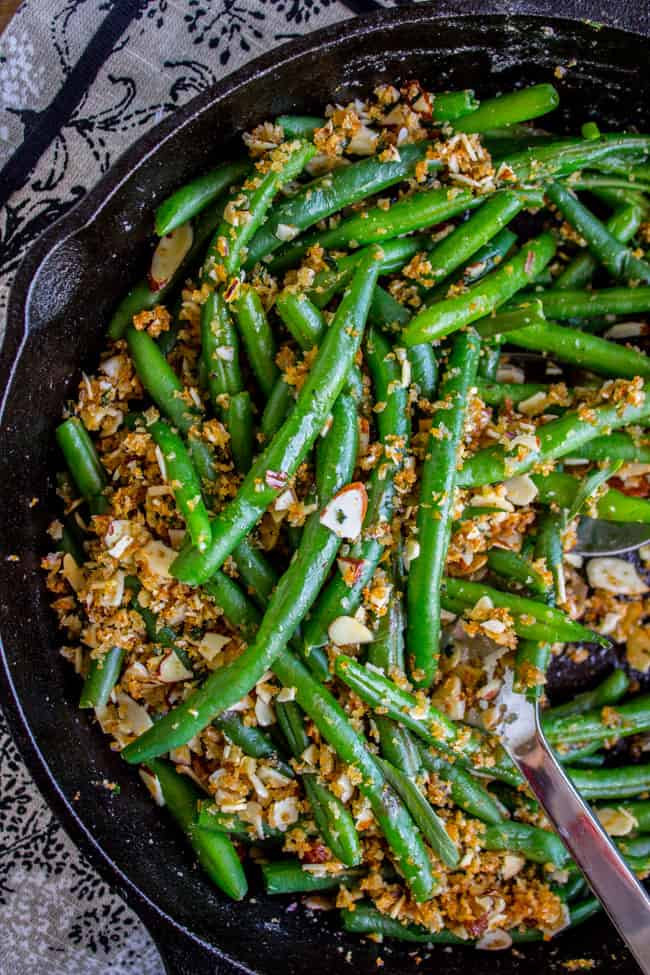 More green bean recipes from blog friends that would be great for Thanksgiving!
Sweet Sriracha Roasted Green Beans from Mama Loves Food
Sweet and Spicy Green Beans from Beyond Frosting
Green Beans with Bacon and Pecans from Savory Sweet Life