Best Roasted Brussel Sprouts and Roasted Sweet Potatoes Recipe
Roasted vegetables (like these Brussels sprouts and sweet potatoes) are superior in almost every way; it's a fact. But they take up valuable oven space on holidays. Make them ahead of time and reheat!  Save on time and stress.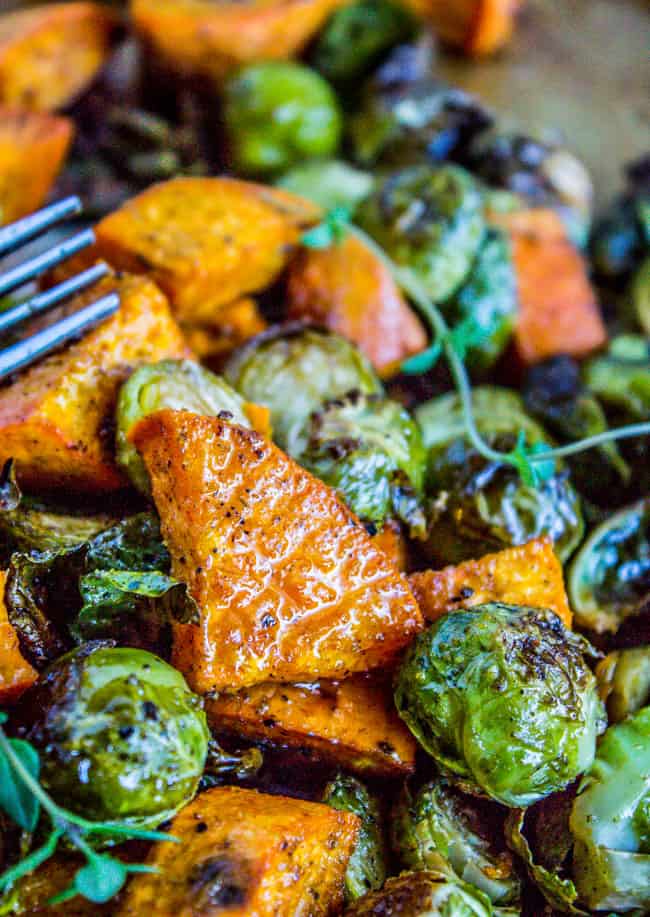 Roasted Sweet Potatoes and Roasted Brussel Sprouts Recipes
Do you like Brussels sprouts? I have to admit, they are a recently found love of mine. Probably because my family NEVER ate them growing up. I saw this on my cousin's Facebook page: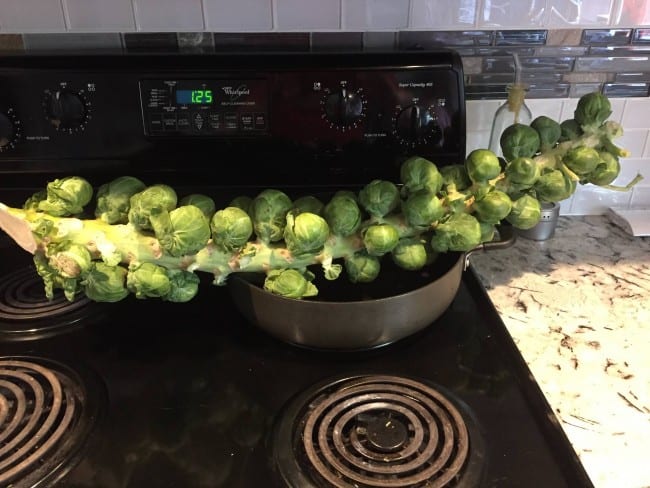 "We've never cooked Brussels Sprouts before. Do we need a special pan?"
And then there were tons of comments from my extended family with things like, "worst vegetable on earth," and "let the kids use it as a sword and then throw it in the trash!" It's no wonder I never had them growing up. The real question is, Mom, why didn't you buy me a Brussels sprout sword?? Wth.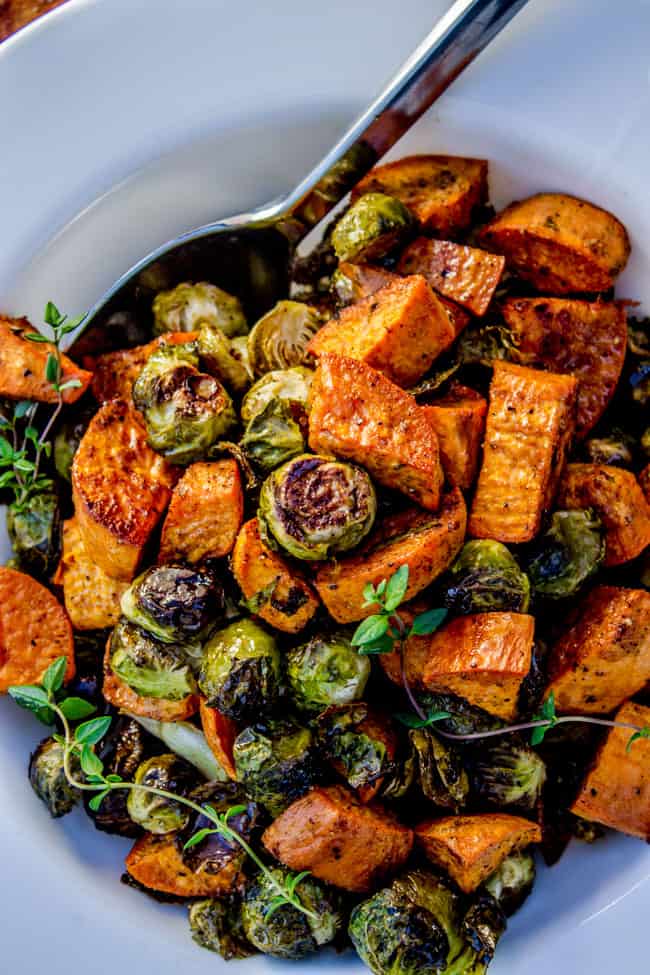 My brother Nate was the one who convinced me to try them a few years ago, and he said the only way you should be eating them is roasted. (And that is still the only way I have tried them.) Why mess with a good thing? They are delicious.
My cousin Lani made some when they had us over for dinner several weeks ago, and she sprinkled cumin all over them before roasting. Best idea ever! I love the earthy, nutty dimension it gives the sprouts. I threw some sweet potatoes on the pan as well, and loved the combination.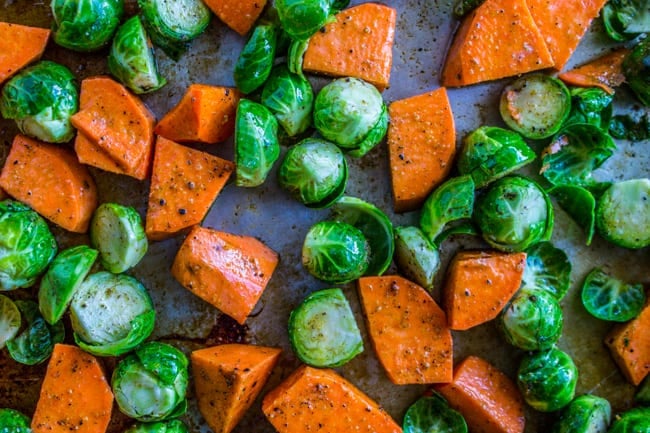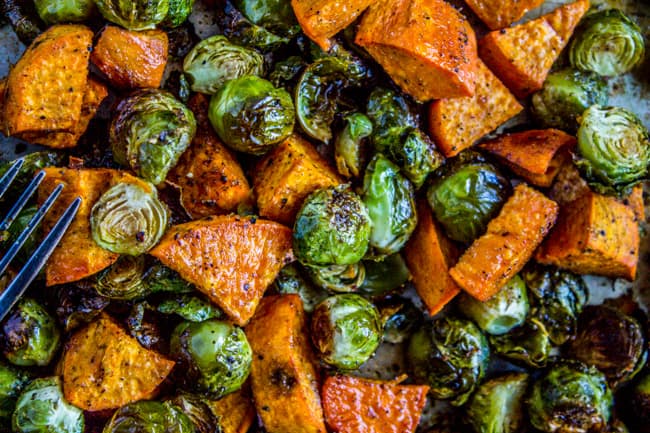 I wanted to see if I could make these ahead. That's the most annoying thing about roasted veggies–it's hard to time it right, especially when your main dish (like a turkey at Thanksgiving) is in the oven. So I roasted mine, stored them in a tupperware in the fridge (for 2 days!), and then reheated them on a pan at 400 degrees F for about 5- 10 minutes, just until sizzling and hot. It worked like a charm! This is a great way to get roasted veggies without having to worry about using your oven for 45 minutes.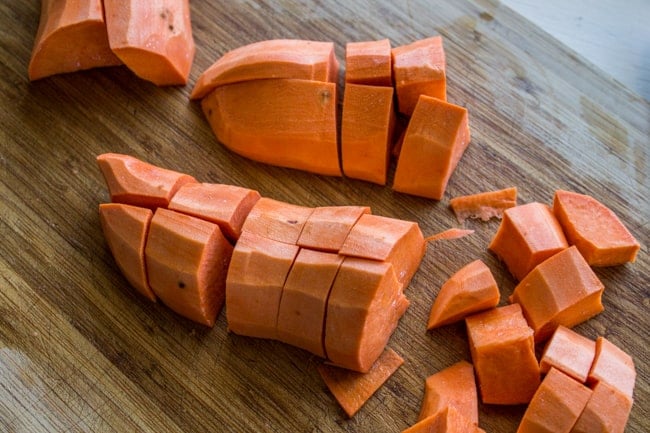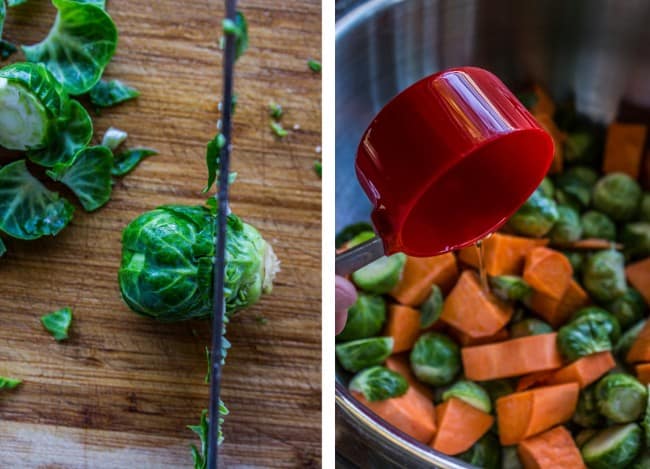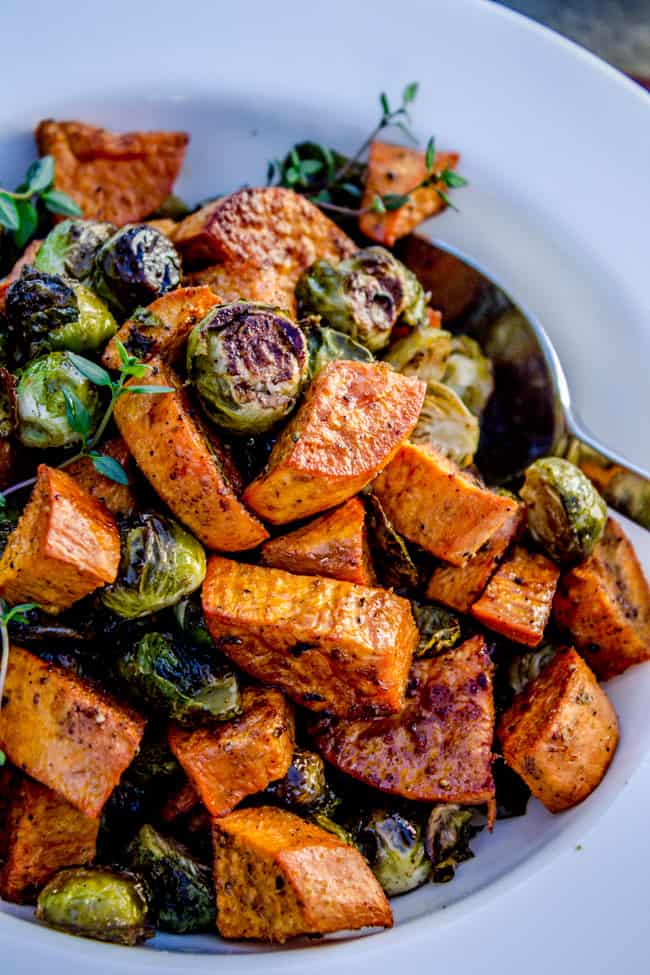 After I made these, I hand-washed the large sheet pan I used to roast them on, but I just couldn't get the oil to come off. I kept adding more soap and scrubbing my brush all over the pan, but it was still greasy. I added more, and more, and more, and finally grabbed a paper towel to soak up some of the grease on the pan. I was about to pour more soap when I realized…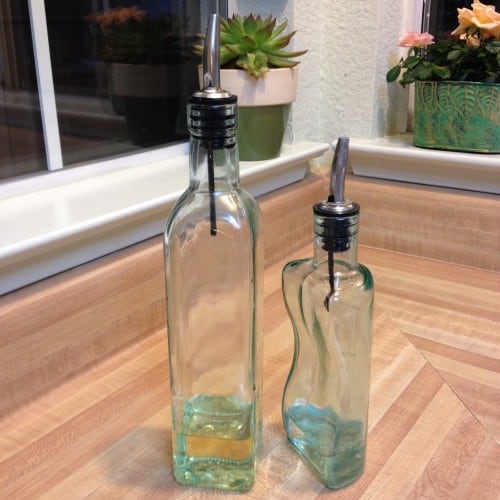 I was washing my pan with olive oil.
P.S. If you make any of my recipes for Thanksgiving this week (or ever!), snap a picture and share it on social using #thefoodcharlatan! I would LOVE to see what you are making!
More Recipes you will Love!
Oven Roasted Sweet Potatoes and Roasted Brussels Sprouts Recipe
Roasted vegetables (like these Brussels sprouts and sweet potatoes) are superior in almost every way; it's a fact. But they take up valuable oven space on holidays. Make them ahead of time and reheat!  Save on time and stress. 
Ingredients
1

pound

Brussels sprouts

,

trimmed

1

large

sweet potato

,

1 pound

2

cloves

garlic

,

smashed

1/3

cup

olive oil

1

teaspoon

cumin

1/4

teaspoon

garlic salt

1

teaspoon

salt

pepper

,

to taste

1

tablespoon

red wine vinegar

thyme

,

fresh, to garnish
Instructions
Preheat your oven to 400 degrees F.

Trim your Brussels by cutting off the little brown end. If there are any yellow leaves, pull them off. Cut any large ones in half. Add to a large bowl.

Peel your sweet potato and chop into 1-2 inch pieces. Add to the large bowl.

Smash 2 cloves of garlic and add it to the bowl.

Pour 1/3 cup olive oil over the vegetables.

Add cumin, garlic salt, salt, and pepper to taste. Stir to coat.

(Line a large sheet pan with foil if you want super easy cleanup)

Drizzle a little olive oil onto the sheet pan and rub it all over the pan (or foil) with your hand. Or you could spray it really well with nonstick spray.

Pour the veggies onto the pan.

Roast at 400 for about 40-45 minutes. The veggies are done when they are brown and a fork slides into them easily.

Place the veggies in a serving bowl and toss with 1-2 tablespoons red wine vinegar to taste. Garnish with fresh thyme if you want. Eat hot!
Notes
The garlic is there to add flavor, not necessarily to be eaten, although I do think it's quite tasty.
If you want to reheat these, take them out of the oven and let cool. (Skip adding the red wine vinegar.) Store in a tupperware in the fridge for up to 2 days. When you are ready to eat, spread the veggies on a greased pan and roast at 400 for about 5-10 minutes until you can hear them sizzling and they are hot. Remove from the oven, add a little red wine vinegar, and serve!
Nutrition
Serving:
1
cup
,
Calories:
191
kcal
,
Carbohydrates:
19
g
,
Protein:
4
g
,
Fat:
12
g
,
Saturated Fat:
2
g
,
Polyunsaturated Fat:
1
g
,
Monounsaturated Fat:
9
g
,
Sodium:
536
mg
,
Potassium:
496
mg
,
Fiber:
5
g
,
Sugar:
4
g
,
Vitamin A:
8614
IU
,
Vitamin C:
66
mg
,
Calcium:
54
mg
,
Iron:
2
mg
Here are some other veggie ideas for the holidays:
Slow Cooker Brown Butter Carrots: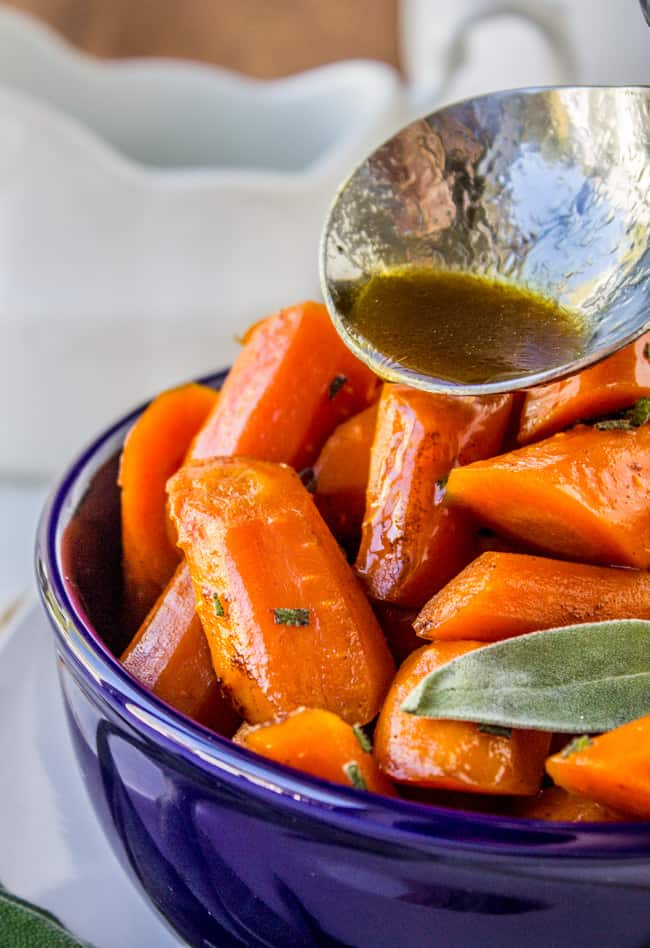 Lemon Green Beans with Feta and Fried Pecans: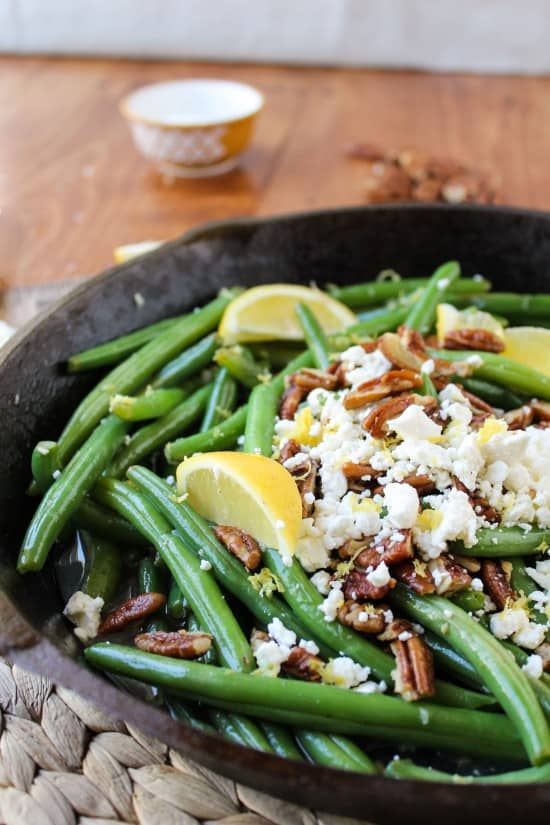 Roasted Carrots with Dill: (you could re-heat these ones too!)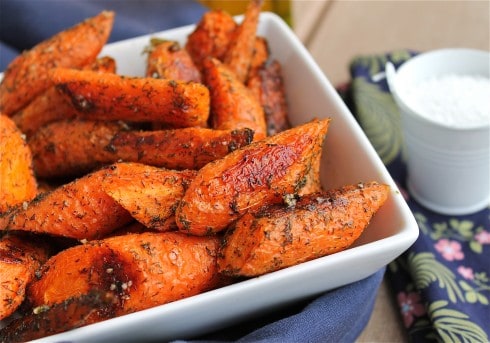 Lemon Asparagus with Pistachios: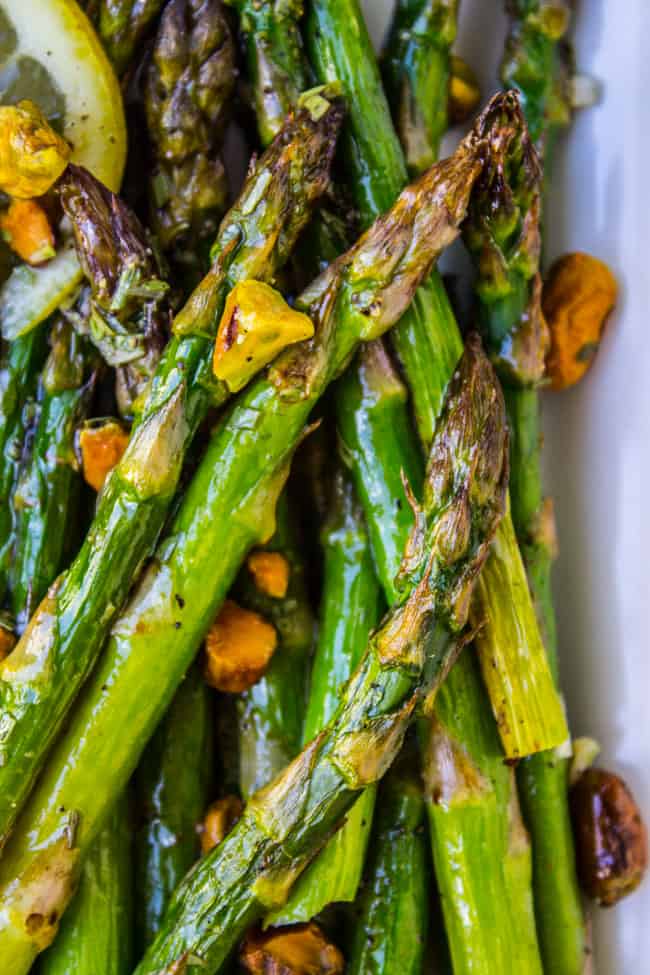 Other amazing Brussels sprouts recipes that will rock your socks!
Oven Roasted Brussels Sprouts with Bacon from Family Feast
On the Stalk Roasted Brussels Sprouts from Nutmeg Nanny << No way!!! This is actually a thing!!
Roasted Brussels Sprouts & Squash with Cranberries and Dijon from Blogging Over Thyme << this is my friend Laura's recipe, and it's one of the most popular ones on her site!
We are a participant in the Amazon Services LLC Associates Program, an affiliate advertising program designed to provide a means for us to earn fees by linking to Amazon.com and affiliated sites.