Caramelized onions add tons of flavor to this stove top mac and cheese! The sweetness from the onions paired with the tender broccoli and sharp white cheddar cheese makes it irresistible. Almond milk makes it a little healthier without sacrificing flavor!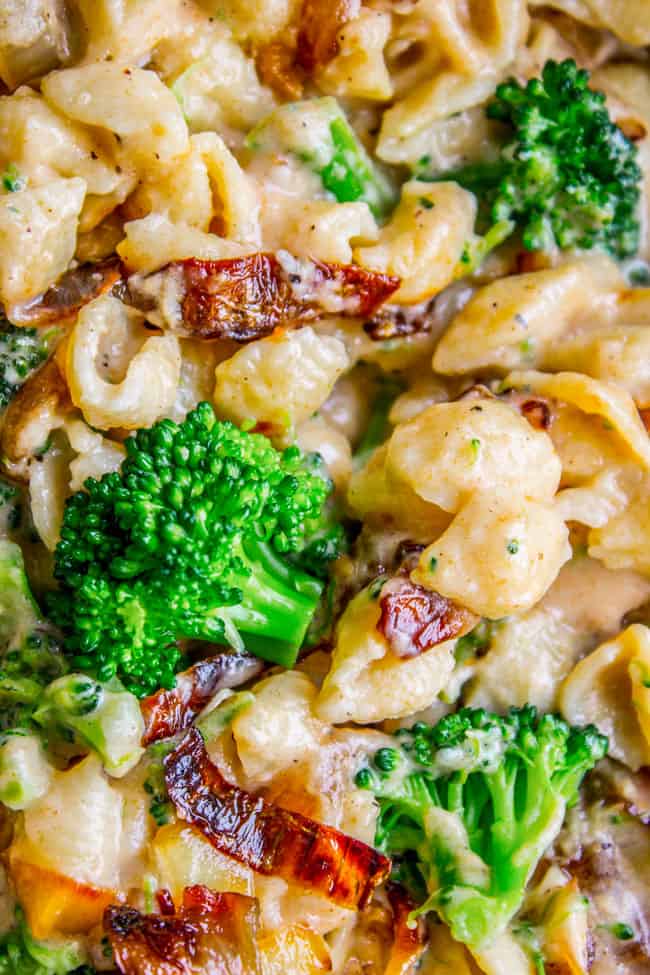 Tonight for family night Eric and I introduced a chore chart to the kids. Neither of them can read yet, so it has pictures of each task (like a toothbrush, or a girl making her bed) so that they know what to do.
I have been putting off starting this for a long time now because it's so much easier to DO the chores than to persuade a 5 year old to do it. (Can I get an amen.)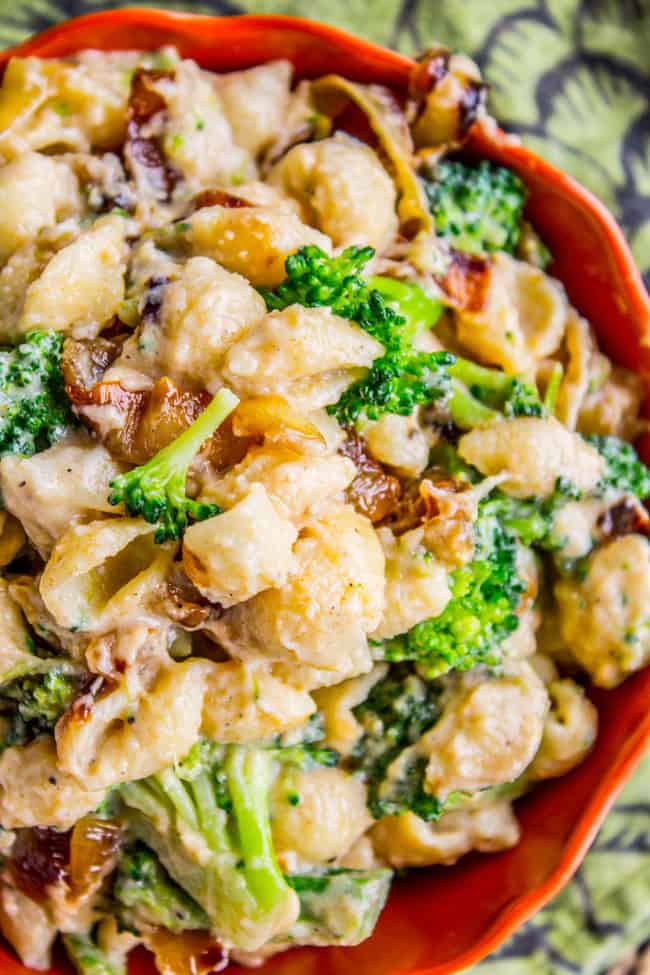 Plus I keep thinking back to when I was a teenager and EVERY TIME it was my turn to clean the toilet I would convince my mom that I "didn't know how to do it right," and I needed her to show me. I kept this up for YEARS. (Mom, don't hate me.) I just know that the Chore Gods are going to get their vengeance on me now. Charlotte is going to have me brushing her teeth for her by the end of the week, just wait.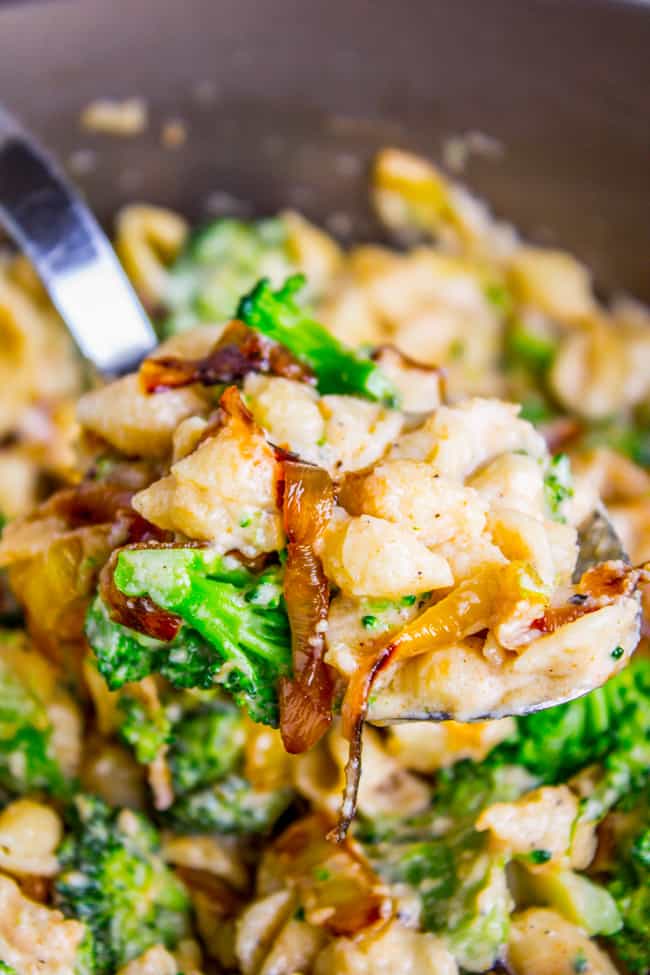 Have you guys been watching Fuller House?? That was my favorite show as a kid. I'm the youngest of 5, and all my siblings were too old for it, so I would aways watch it by myself and then quickly change the channel when I heard someone coming up the stairs. I'm sure they were totally convinced.
I couldn't get through the first episode of the new show though. It was just too weird. Some things are better left in my 7 year old memory. What do you think of it? Funny? Lame? Lame but nostalgic so you're watching it anyway?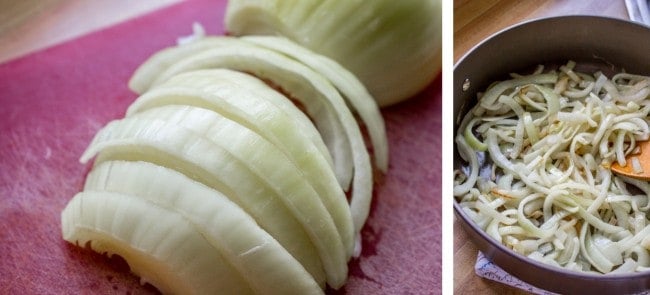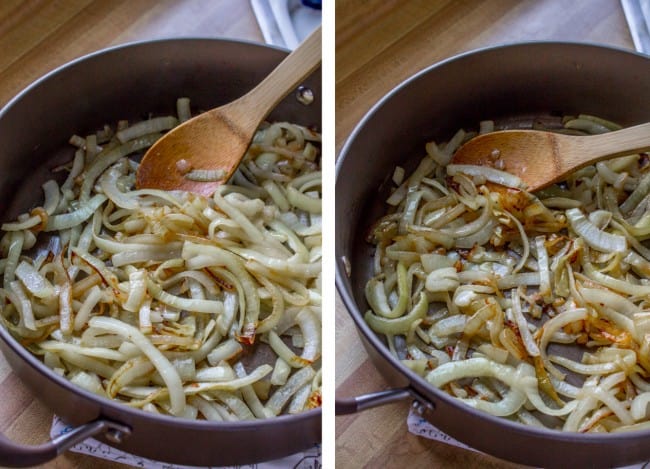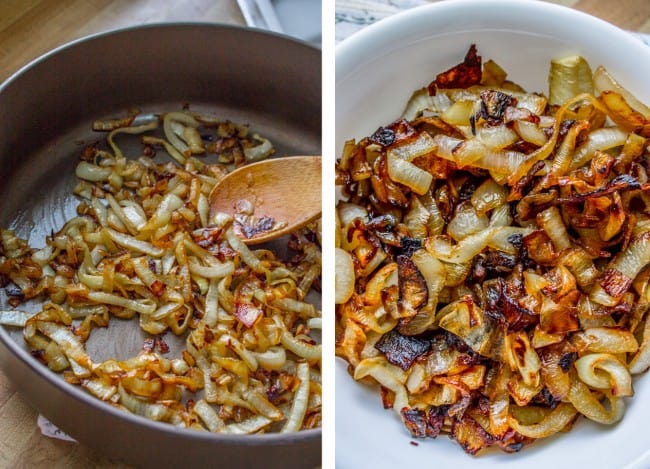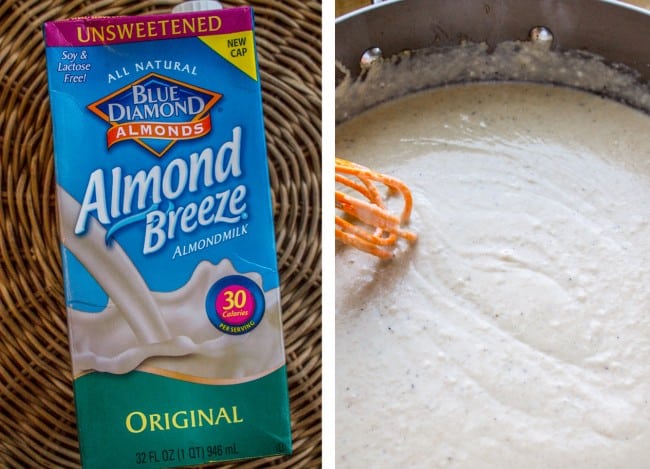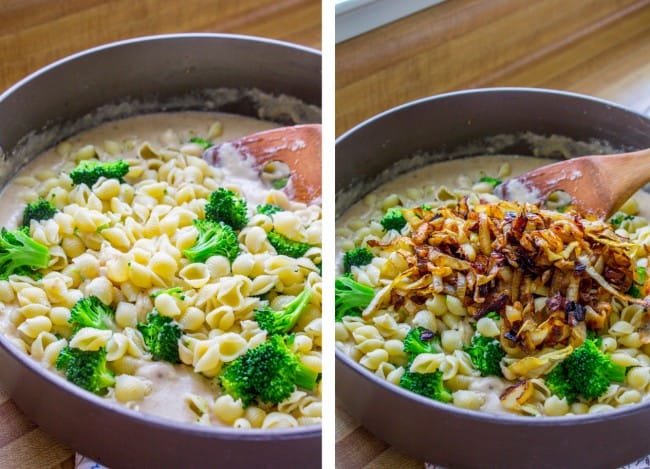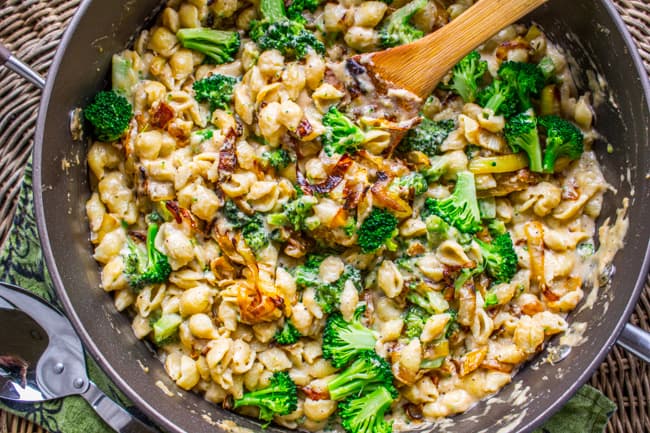 This Mac and Cheese is seriously AMAZING. One of the best things to come out of my kitchen lately, which is evidenced by Eric's remorse that the leftovers were gone within 24 hours of eating this for dinner. It's totally the caramelized onions. They have SO MUCH flavor!
The only thing about caramelized onions is that they can't really be rushed. They take a solid 45 minutes, but the good news is, you don't have to stand over them. While I made these I was in and out of the backyard with the kids, chatted with my neighbor for several minutes, and even went on a really short walk around our court with the kids. You only have to stir every 10 minutes or so. Caramelized onions to best if you leave them alone for stretches at a time.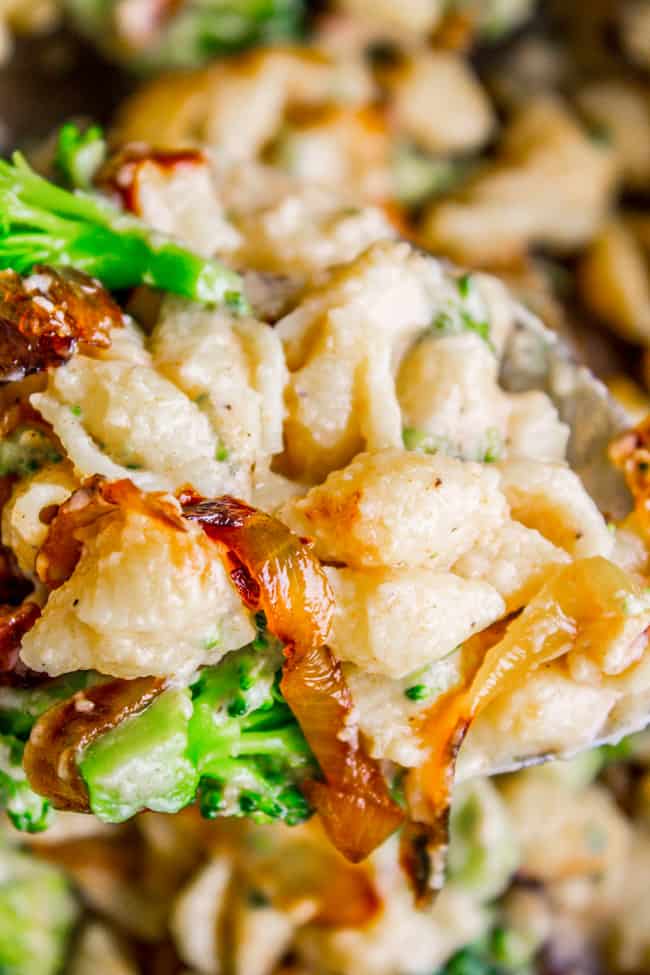 I'm still calling this a quick dinner though. You can prep everything else while the onions are going and just assemble at the last minute. I chose to make the sauce for the mac and cheese in the same pan that I caramelized the onions in, because I wasn't in a rush. But if you are in a hurry, just make the sauce in a different pot and it would be done even faster.
If you try out this recipe, be sure to share on Instagram using #TheFoodCharlatan!
Facebook | Pinterest | Instagram | Twitter

Healthier Mac and Cheese with Caramelized Onions and Broccoli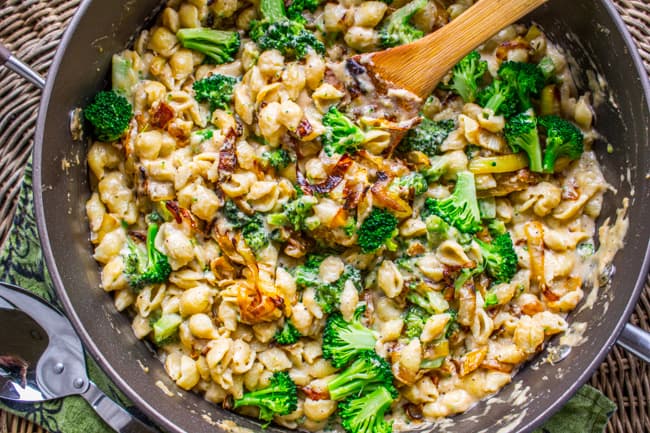 Caramelized onions add tons of flavor to this stove top mac and cheese! The sweet onions paired with the tender broccoli and sharp white cheddar is amazing!
Ingredients
For the onions:
2

medium

onions

2-3

teaspoons

olive oil

1

dash

salt

1-2

teaspoons

water

,

to deglaze the pan
For the macaroni:
2

quarts

water

1

tablespoon

kosher salt,

for the pasta water

2 & 1/2

cups

macaroni shells

,

I used the small ones

2

heads

fresh broccoli

,

stemmed and cut into similar sized florets
For the cheese sauce:
4

tablespoons

butter

3

tablespoons

olive oil

1/2

cup

whole wheat flour

1/2

teaspoon

kosher salt,

or more to taste

pepper

,

to taste

1/4

teaspoon

garlic powder

2

teaspoons

Dijon mustard

3

dashes hot sauce

,

I used Tobasco

1 & 1/2

cups

Blue Diamond Almond Breeze Almondmilk

,

Original

2

cups

white cheddar cheese

,

shredded & PACKED

2

tablespoons

heavy cream
Instructions
Start by caramelizing the onions. Split 2 onions in half, then cut each half into 1/4 or 1/2 inch slices. (You don't want super skinny slices for caramelizing.)

Heat a large, high-sided skillet over medium heat. Add 2 teaspoons olive oil. When the oil is hot, add the sliced onions and saute for 8-10 minutes. Reduce the heat to medium low. Add a dash of salt over the onions.

Continue to cook for another 35-40 minutes at least, checking on them every 10 minutes. If the onions start to stick to the pan and look dry, add another teaspoon of oil. In the last 10 minutes, add 1 or 2 teaspoons of water to deglaze the pan. Scrape the pan to work up all the browned bits. When the onions are as brown and sweet as you like them, remove the onions to a small bowl and set aside (keep warm)

Meanwhile, cook the pasta. Bring 2 quarts of water to a boil over high heat. Add the tablespoon of salt.

When it is boiling, add the pasta. Bring it back up to a boil, stirring occasionally for about 4 minutes less than the lowest suggested cooking time.

Meanwhile, prepare the broccoli by chopping off the stems and cutting the florets into similar sizes.

When the pasta has 3 minutes left, add the chopped broccoli and put the lid on. Set a timer for 3 minutes and don't lift the lid!

Drain the pasta and broccoli together in a colander. If your cheese sauce isn't ready yet, drizzle the pasta with a little olive oil and stir, so they don't stick.
Make the cheese sauce. For this step, you can either do it in the pan that you caramelized the onions it (meaning you would have to wait til they were done.) Or just get out a new saucepan.
Melt the butter with 3 tablespoons olive oil over medium heat.

In a small bowl, combine flour, salt, pepper, and garlic powder. Whisk the mixture into the butter.

Add Dijon mustard and hot sauce. Stir for about 1 minute to get rid of the "flour taste."

Slowly pour in the Almond Breeze Almond Milk, Whisking it in as you go. Stir out all the lumps.

Add the white cheddar and stir it all together with a wooden spoon.

Add 2 tablespoons heavy cream to make it extra rich.

Add the cooked pasta, broccoli, and caramelized onions to the cheese sauce. Stir to coat.

Serve hot. I like to pair it with a big salad green salad to cut the richness.
Nutrition
Serving:
1
cup
|
Calories:
712
kcal
|
Carbohydrates:
70
g
|
Protein:
27
g
|
Fat:
38
g
|
Saturated Fat:
18
g
|
Polyunsaturated Fat:
2
g
|
Monounsaturated Fat:
15
g
|
Trans Fat:
1
g
|
Cholesterol:
80
mg
|
Sodium:
715
mg
|
Potassium:
1048
mg
|
Fiber:
10
g
|
Sugar:
8
g
|
Vitamin A:
2339
IU
|
Vitamin C:
221
mg
|
Calcium:
472
mg
|
Iron:
3
mg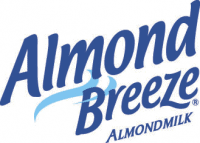 This post is sponsored by Blue Diamond Almond Breeze Almondmilk. Thanks for supporting the brands I work with! They help keep The Food Charlatan running. 
Here are some other pasta-for-dinner ideas!
The original family classic: Homemade Macaroni and Cheese (today's recipe is loosely based on this):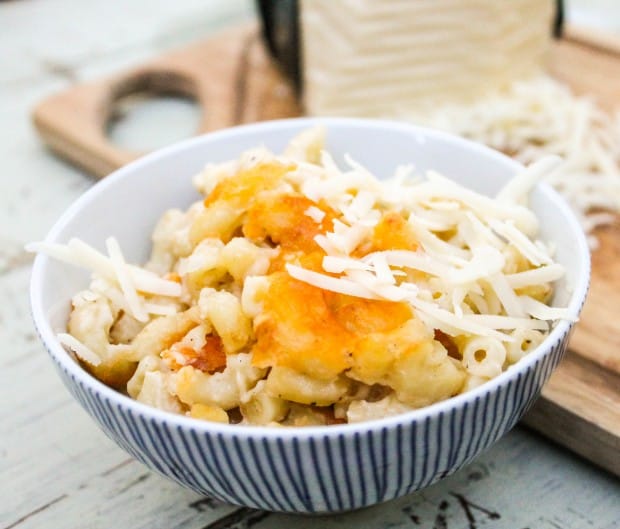 20-Minute Lemon Broccoli Pasta Skillet << I just posted this in December and it's got 62,000 pins on Pinterest already! You guys sure love your lemony pasta.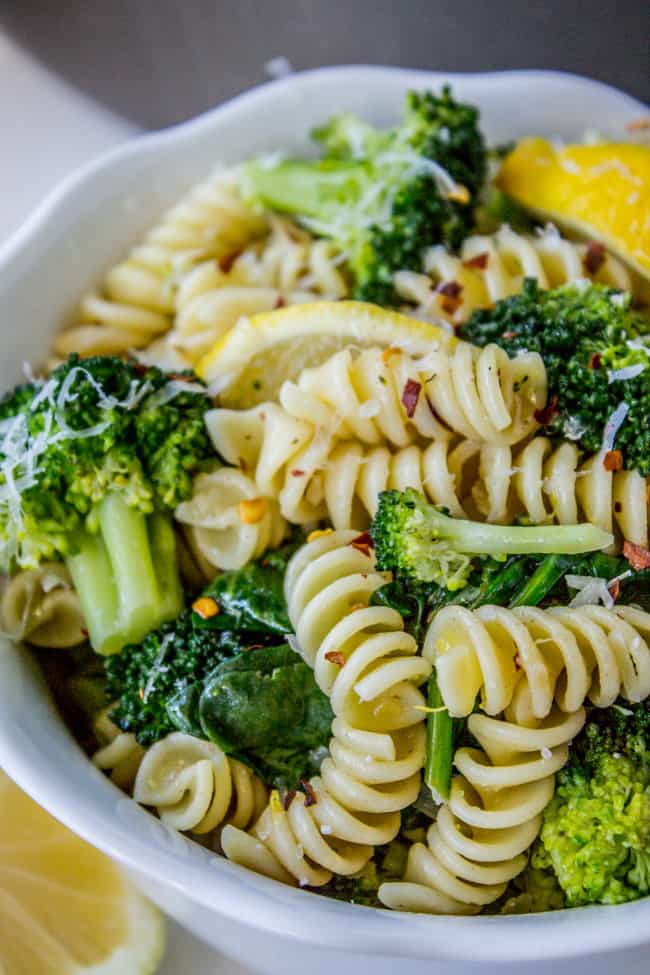 Ham and Mac and Cheese Soup << this ALWAYS hits the spot.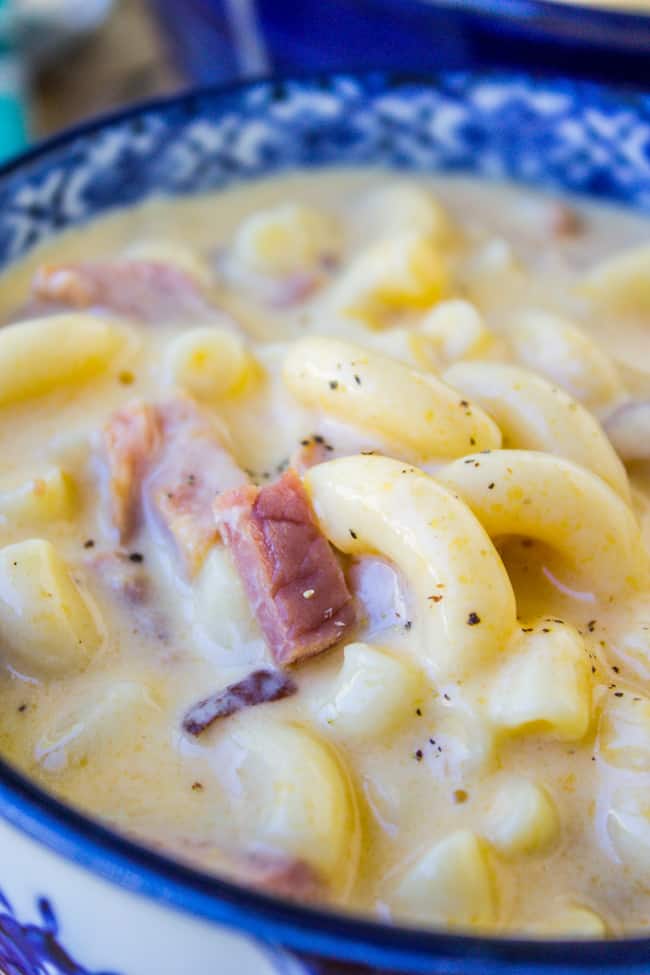 Creamy Lemon Pasta with Bacon and Peas << this one is fast and easy.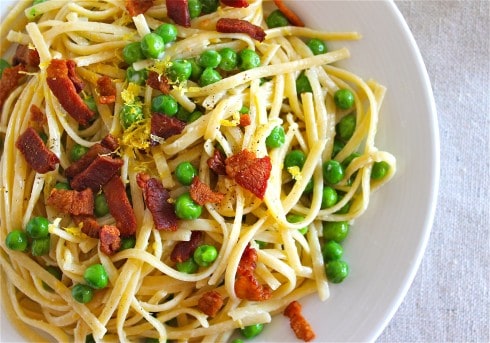 Other creamy pasta ideas!
Creamy Vegan Garlic Pasta with Roasted Tomato from Minimalist Baker
Healthy Alfredo Sauce from The Kitchy Kitchen
Creamy Pasta with Chicken and Sun Dried Tomatoes from Gimme Some Oven