Homemade Macaroni and Cheese
*Update! I finally have a functioning Facebook page! Click on that familiar blue F over here on the right and take a second to Like my page. Thanks for your support!*
I painted my curtains with a potato this weekend. This is what happens when you are a food blogger; you can't do anything without incorporating food. Just kidding. But I really did use a potato. You cut it in half, carve out the shape you want, dip it in paint and use it like a stamp. They turned out awesome. This is what you do when your artsy sister-in-law is in town and you are too cheap to buy the curtains that she really wants you to buy…DIY, baby.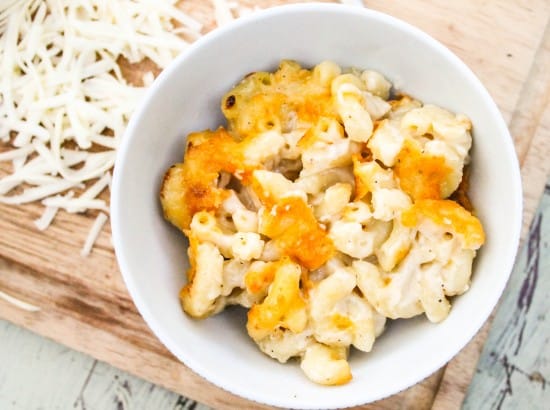 I know, I know, how many recipes are there out there for Macaroni and Cheese? And this one is nothing new, no freaky ingredients or trying to be healthy. (Kind of like my favorite Chocolate Chip Cookies.) I mean, it's Macaroni and Cheese. I called my mother-in-law for the official recipe and she said that sometimes she uses 1/3 cup of butter instead of a half cup and I'm just sitting there thinking really? You're trying to make this healthy? It's hopeless. Just accept it. Accept this cheesy heart attack.
My brother used to hate boxed macaroni and cheese growing up. He would hide the boxes when my mom bought it. She has this 100+ year-old organ that used to be my great grandmother's, and one time she found 3 or 4 blue boxes of macaroni and cheese hiding in it. It's so ironic because my brother's kids love it just about as much as he hated it. I fed them this delicious homemade mac n cheese for dinner last week and when they realized that we weren't having blue box macaroni, they looked like I had just announced Christmas was cancelled this year.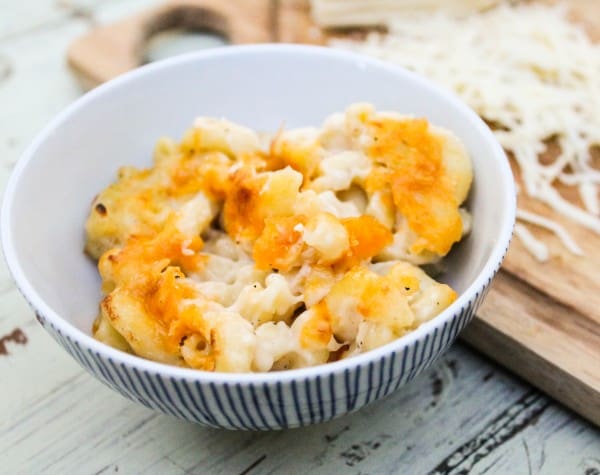 I love this recipe. I have it pretty much memorized, but I still want it memorialized on the blog, just because it deserves a spot. Serve this up with some comfy meatloaf and enjoy every minute.
Homemade Macaroni and Cheese
I love this recipe for Homemade Mac and Cheese. I have it pretty much memorized, but I still want it memorialized on the blog, just because it deserves a spot. Serve this up with some comfy meatloaf and enjoy every minute.
Ingredients
2 & 1/4

cups

dry elbow macaroni

8

tablespoons

butter

,

1 stick

1/2

cup

flour

1/2

teaspoon

salt

,

or more to taste

pepper

,

to taste

onion powder

,

to taste

1 & 1/2

cups

milk

2

cups

extra sharp cheddar cheese

,

grated (I used white cheddar)

additional cheese to top with
Topping
3

tablespoons

butter

1

cup

panko bread crumbs
Instructions
Cook the macaroni according to package directions. Should be something like: bring some water to a boil, add the macaroni and cook for 11-13 minutes. Drain.

While that is cooking, melt the butter in a separate small saucepan over medium heat. Add the flour, salt, pepper, onion powder (and whatever other spices you want) and whisk it together to make a roux. Continue to whisk for about 1 minute, then add the milk a little bit at a time, whisking constantly. Once all of the milk is added, continue to stir and cook for another 3-5 minutes, until the sauce thickens. Add the cheese, turn off the heat, and stir to combine.

Add the sauce to the drained macaroni, or the macaroni to the sauce (whichever is in the bigger pot.) Stir to combine, then pour it into a 2-quart casserole dish.

In a small bowl, melt the butter in the microwave. Add the bread crumbs and stir until they are all moist. Spread the mixture evenly over the top of the mac n cheese.

Bake at 350 for about 15-20 minutes, or until the breadcrumbs start to brown.
Notes
Source: my mother-in-law Kris
Nutrition
Serving:
1
cup
,
Calories:
645
kcal
,
Carbohydrates:
58
g
,
Protein:
21
g
,
Fat:
37
g
,
Saturated Fat:
23
g
,
Polyunsaturated Fat:
2
g
,
Monounsaturated Fat:
10
g
,
Trans Fat:
1
g
,
Cholesterol:
101
mg
,
Sodium:
714
mg
,
Potassium:
271
mg
,
Fiber:
2
g
,
Sugar:
5
g
,
Vitamin A:
1118
IU
,
Calcium:
378
mg
,
Iron:
2
mg
We are a participant in the Amazon Services LLC Associates Program, an affiliate advertising program designed to provide a means for us to earn fees by linking to Amazon.com and affiliated sites.