Ham Mac and Cheese Soup
This easy soup comes together in about 30 minutes! It is a huge crowd pleaser, especially for kids. Who doesn't love the ham and cheese combo? It would be perfect to serve on Halloween or any busy weeknight!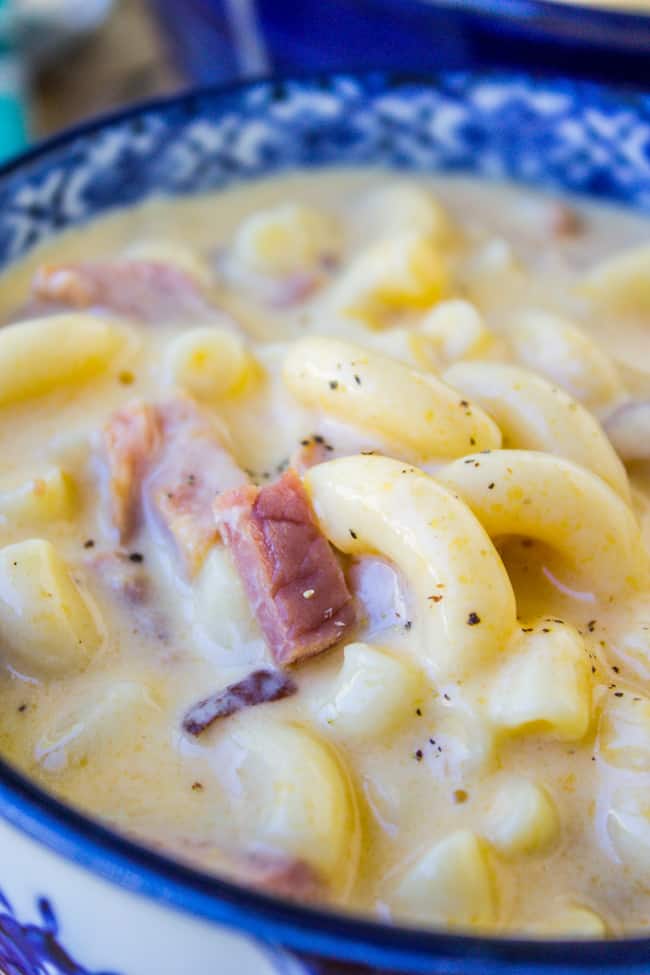 We made it! We are in our new house! And nobody's in the hospital as a result of moving my piano! It's a miracle.
So far we've only had one flood, which is better than two floods. Look, here I am, being positive! We bought the washer and dryer from our rental house, because we knew they worked and they were cheap. But in our rental, the washer and dryer lived outside in a detached garage. And apparently I never noticed that it leaks occasionally. WHO DOESN'T NOTICE THAT?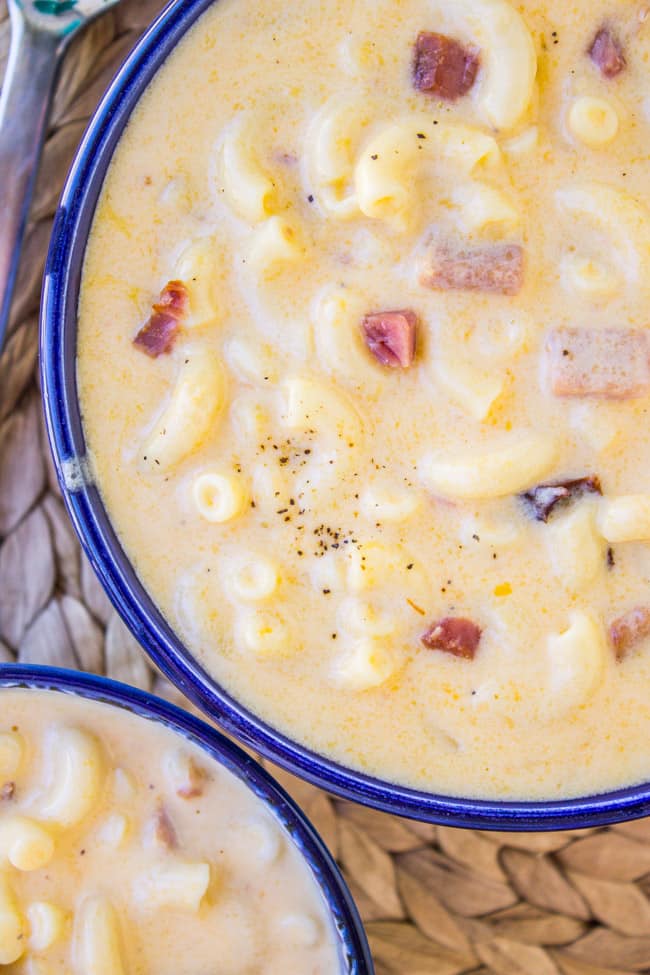 Well I noticed yesterday when it flooded our laundry room and soaked the edge of our just-shampooed-earlier-that-day-carpet. (Seriously. The carpet guy came in the morning and it was still damp when dirty water from the washing machine seeps into it.) Welcome to home ownership, where everything breaks and you have to pay for it yourself!
Here's my favorite part. The laundry flooded when Eric was at work, of course. So he comes home and starts poking around, and watches it go through TWO CYCLES with no leaking. You know what this means right? The washing machine will only leak when I am at home alone, and eventually I will start to look like a crazy person who can't do a load of laundry without setting up a chair and popcorn just to babysit it.
Please tell me something broke in your house immediately after you bought it?? This is normal right??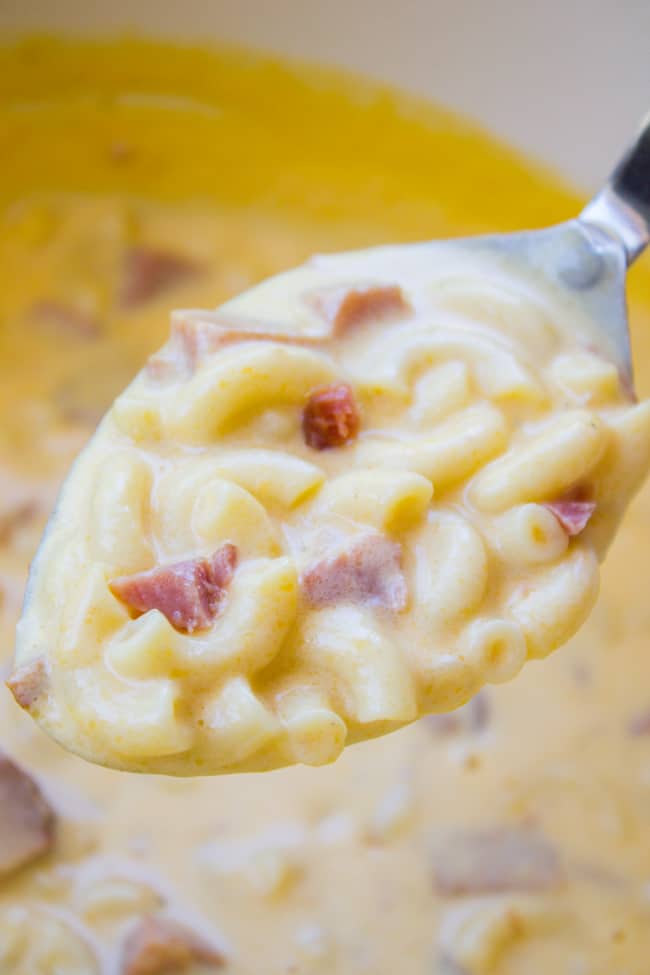 How bout this soup though? I love ham and cheese. I could probably eat a ham and cheese sandwich every day of my life and be happy. But now I have the soup version so I will make this instead. It's tastes exactly like Mac and Cheese, only in soup form, plus chunks of smokey ham. What's not to love?
Do you guys make a ham at Thanksgiving? How bout Christmas? I know that seems like a long ways off, but there are never enough leftover ham recipes in my opinion. Especially since I never wait for after the holidays to make them; I'm a firm believer in the 5-dollar ham steak.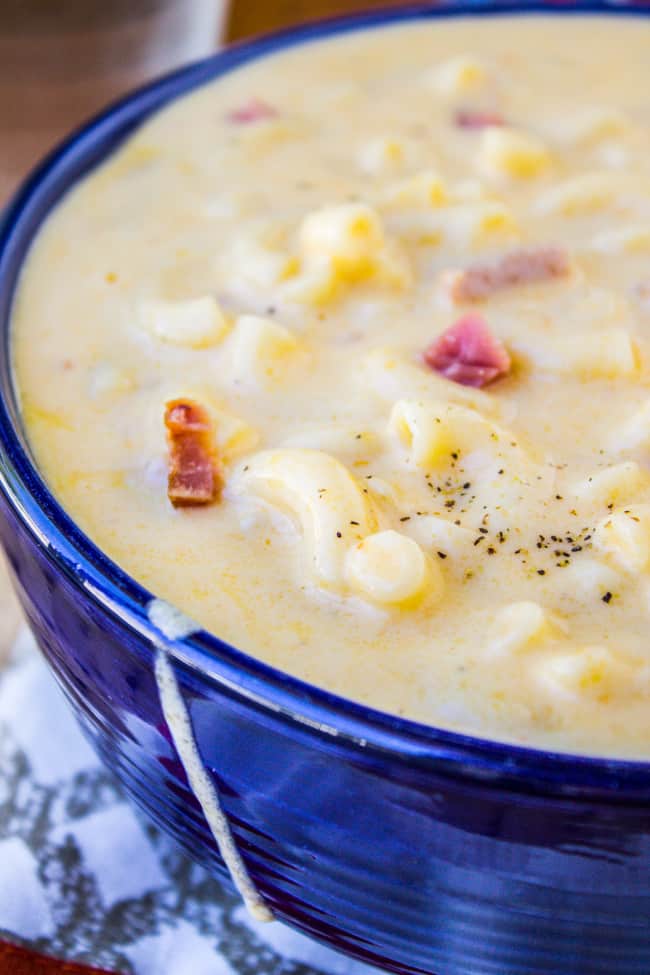 The best part about this recipe? It comes together super fast. We are talking 30 minutes. And thank goodness because who has time for all this cooking when I have washing machines to babysit.
Do you guys give up? Or are you thirsty for more?
Facebook | Pinterest | Instagram | Twitter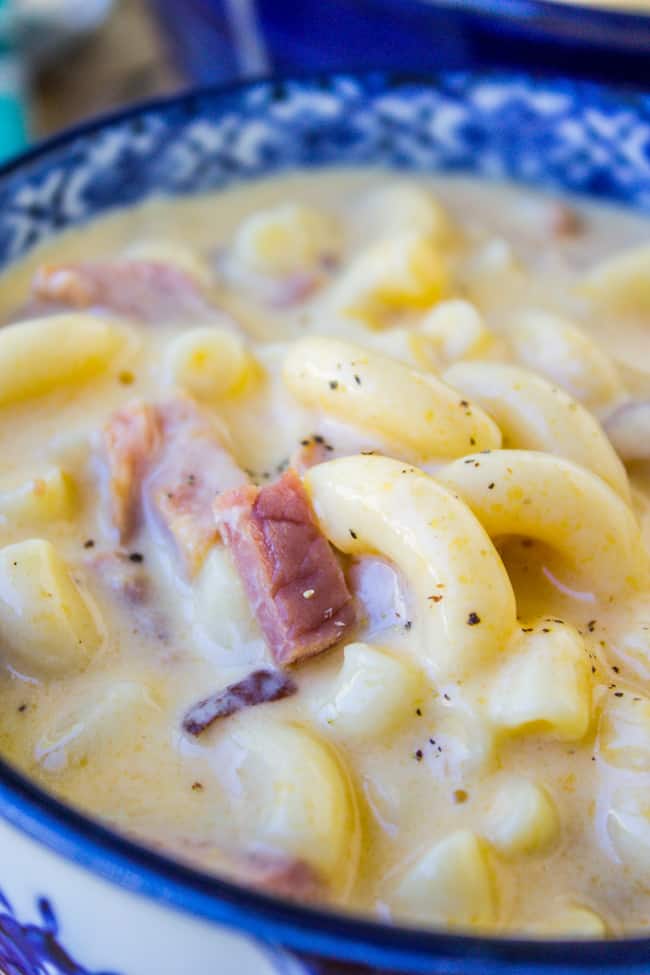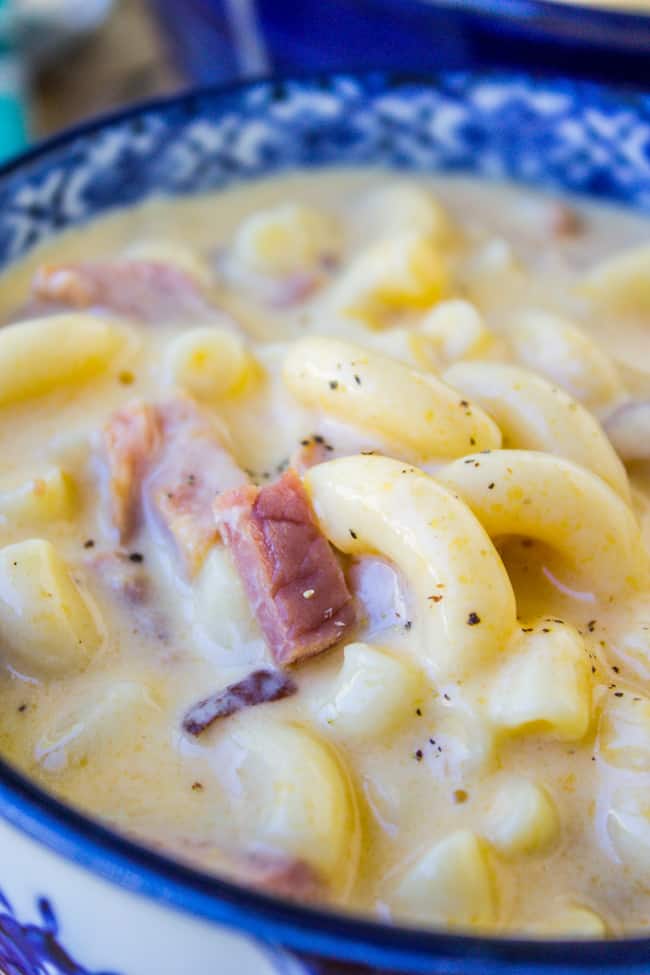 print
Did you make this recipe?
Leave a review »
Ham Mac and Cheese Soup
Serves 10-12
adjust servings
Ingredients
3

cups dry macaroni noodles

1/4

cup (half stick) butter

1/4

cup flour

1

tablespoon dijon mustard (more to taste)

28

ounces (3 and 1/2 cups) chicken broth*

3

cups half and half

1

pound (about 5 cups) cheddar cheese, shredded

2

cups diced ham (use leftovers, or buy a ham steak)

salt and pepper to taste
Instructions
In a medium pot, cook the macaroni according to package directions. Drain as soon as they are al dente. Add a little oil and stir so they don't stick if you are not ready to add them to the soup right away.
Meanwhile, in a large soup pot melt the butter over medium heat.
When it is hot, add the flour and mustard. Use a whisk stir it up.
Slowly whisk in the chicken broth and half and half. Turn the heat up to medium-high, and stir constantly until the mixture comes to a low boil, about 5 minutes.
Immediately reduce the heat to low and stir in the shredded cheese.
Stir in the macaroni and ham. Keep the burner on low until it is as warm as you like.
Salt and pepper to taste.
This is great served with a big salad and bread. If you want some veggies in your soup, frozen peas make the perfect addition. Just add them with the macaroni and heat on low until thawed.
by The Food Charlatan

If you make this recipe,
share it on Instagram
 using the hashtag
#TheFoodCharlatan
so I can see it!
Source: This recipe is a classic from Land O Lakes! I made a few adjustments.
Other soups to get your cozy on:
Easy Cheddar Cauliflower Soup << just made this again the other day. It's probably one of my own personal most-made recipes on my site. Love this stuff.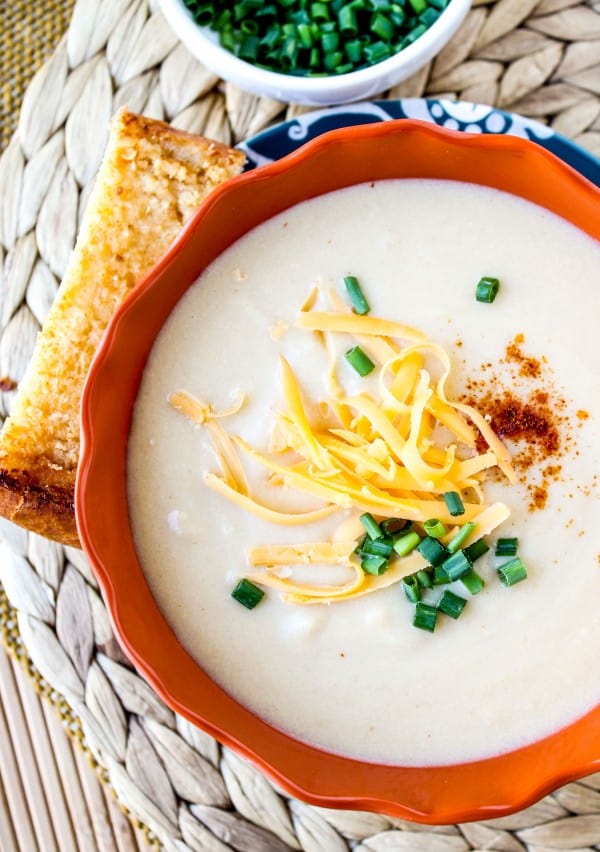 Cheeseburger Soup << I make no apologies for the pickles in this soup. Just try it.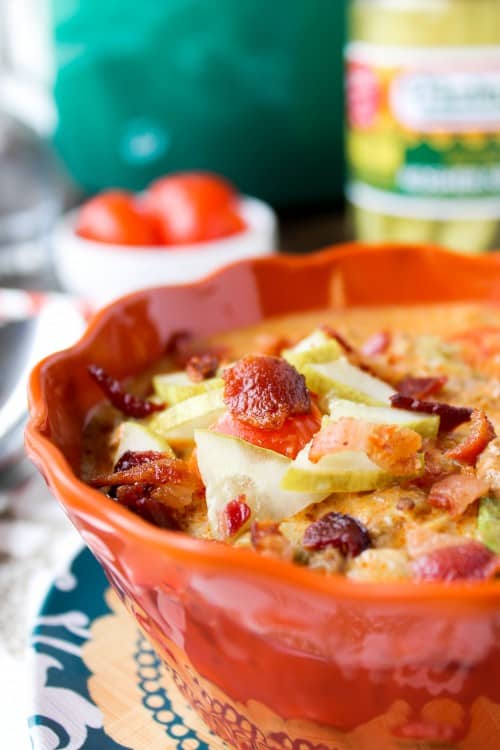 You guys want to see one of my first posts?? Scary photo alert! But this (super easy) Ham and Potato Soup is still just as good nearly 4 years later…plus it's fun to read about what a paranoid new mom I was since these days I am practically negligent.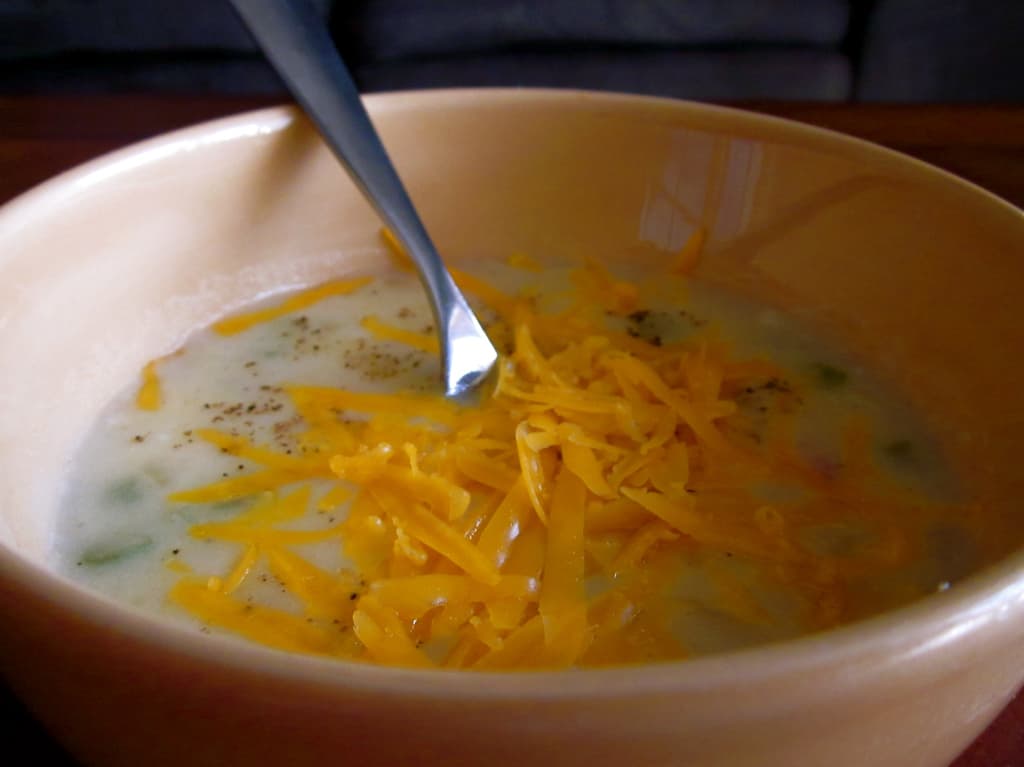 And in case you missed it last week…the famous Cowboy Bean Soup!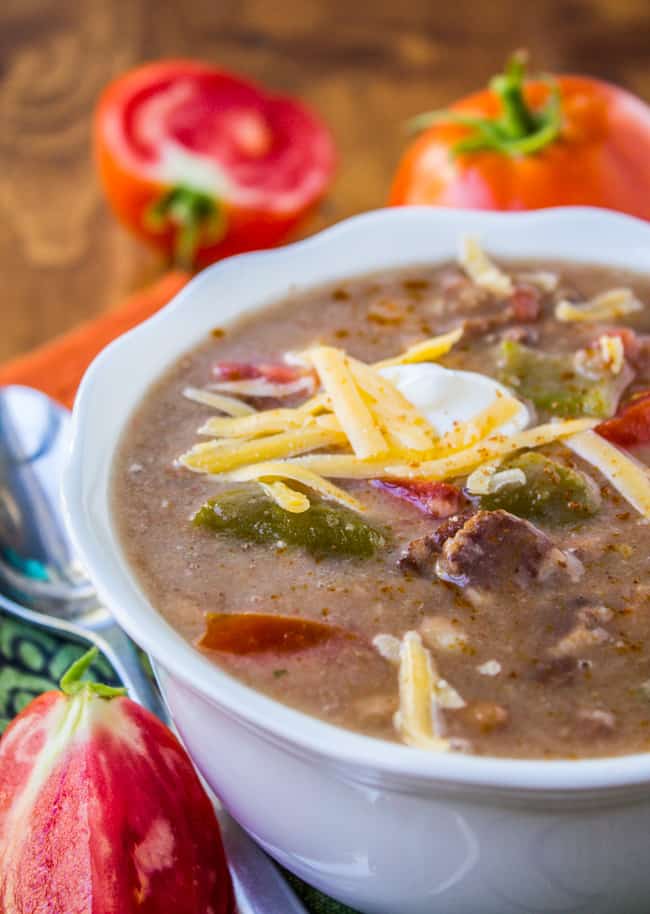 Here are some other ham happy soups:
Leftover Hambone Soup from Damn Delicious
Ham Cheddar Chowder from My Gluten Free Kitchen
Cauliflower Soup with Ham and Cheese from Taste and Tell << this sounds like my 2 favorite soups combined!!
We are a participant in the Amazon Services LLC Associates Program, an affiliate advertising program designed to provide a means for us to earn fees by linking to Amazon.com and affiliated sites.