You know what I love? Fancy salad. You know what I hate? CHOPPING. This green salad is so easy you could make it in your sleep. Feta, beets, dates, pecans, oh my!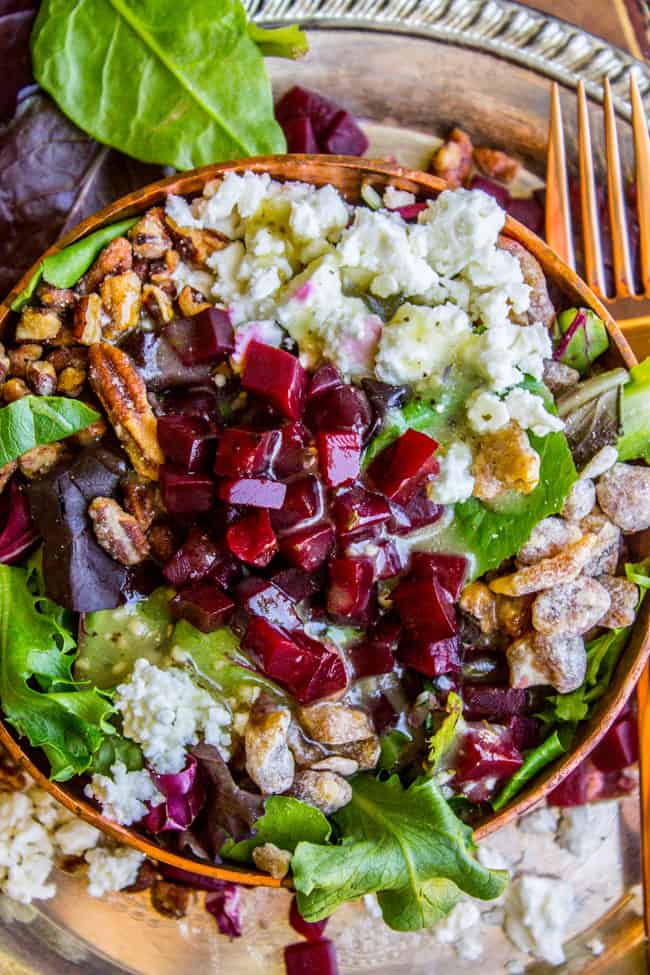 The other day I was complaining about something to Eric, I don't even remember what. This is pretty normal, he's very patient with me. But he was heading to the store, so just before leaving he made an audio recording on my phone: "I'm sorry Karen. That's really hard." In his most sympathetic voice.
It made me laugh so much that I almost didn't punch him in the face. But, in his defense, it has come in handy a few times since then.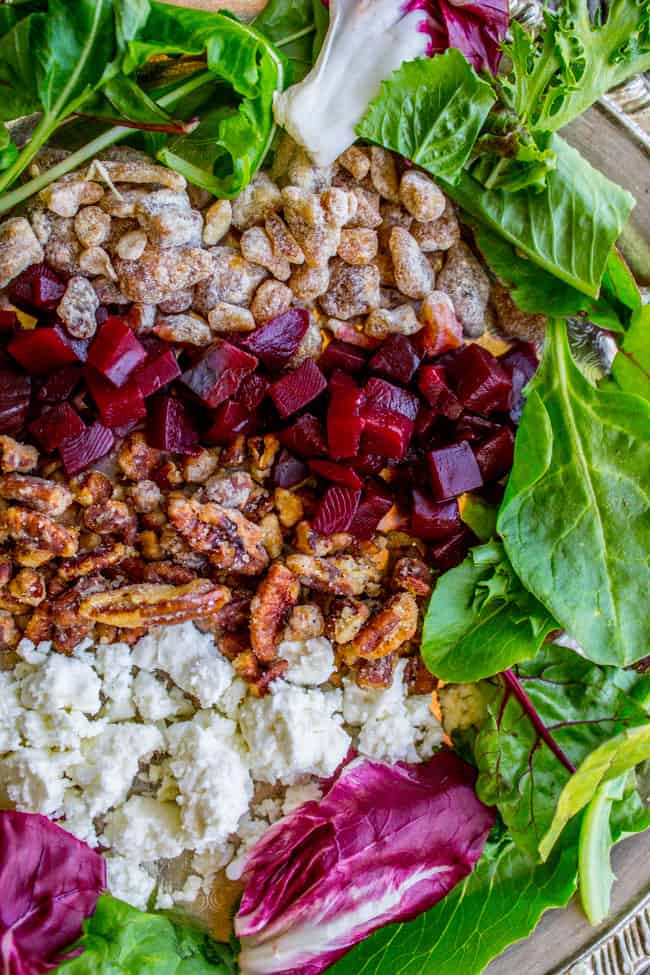 It made me think of all the times when I've been on the phone with someone and the call was lost but I didn't realize it. I just keep talking and talking, panicking slightly that whatever I'm saying has made the person on the line retreat into total silence. It takes me WAY too long to figure out that I'm talking to no one. People could totally feed me a recording of noncommittal-noises if they wanted: "uh huh. Mm-hmm. Yeah."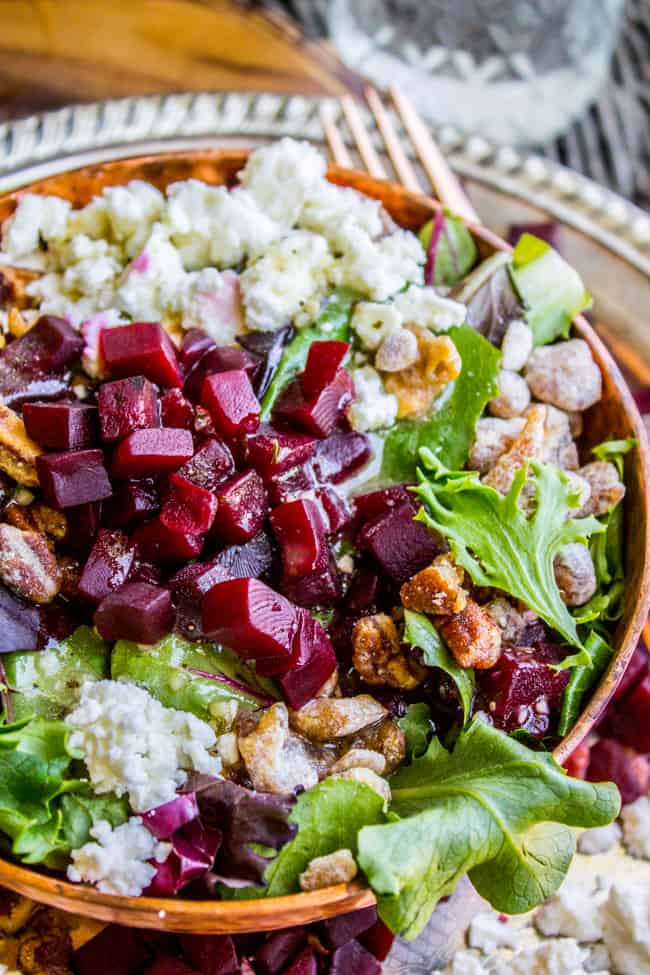 Okay let's get one thing straight here. I barely even like salad. I'm a meat and potatoes girl at heart. I think it's the chopping and the chewing that get me. I don't mind chopping veggies for a soup. That's no problem. But veggies for a salad? Where they all have to be the exact size I want them to be to fit in my mouth? And then I still have to chew forever? Such a trial. (Cue the recording. "I'm sorry Karen. That's really hard.")
I've had this blog 5 years running now and in that time I have blogged a total of 6 green salads. That's an average of just over 1 salad per year that I thought was significant enough to blog.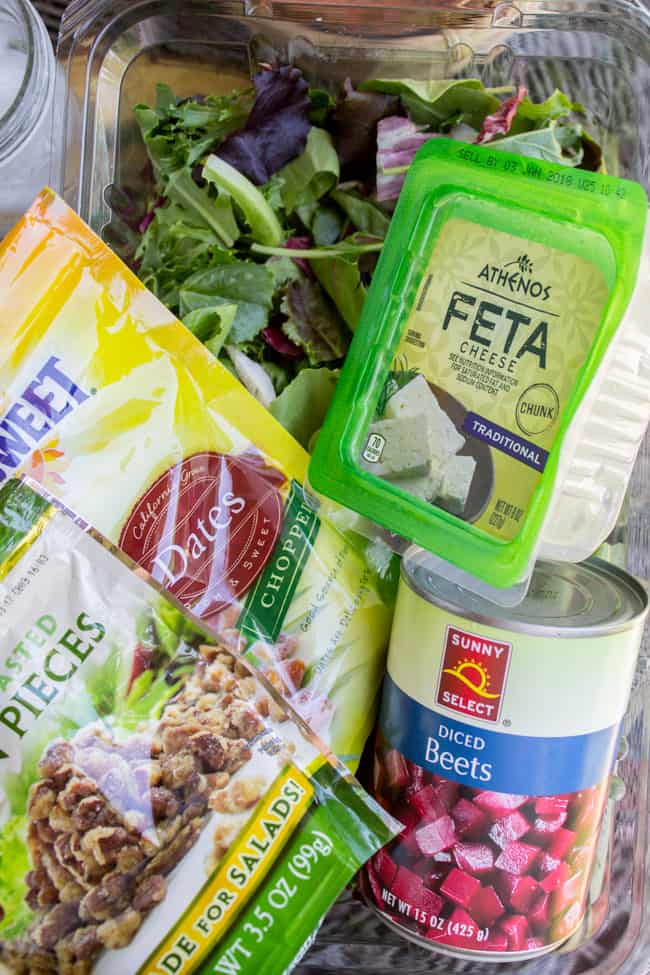 Here is this year's contribution, my friends. Why is it worthy? NO CHOPPING. And I do mean none, I'm not tricking you. Here's how it goes: Buy spring greens or spinach. Buy chopped dates. Buy chopped candied pecans/walnuts. Buy crumbled feta. Buy a can of diced beets. Throw it all in a bowl. DONE. (Add rotisserie chicken if you want to make it a main!) Serve it with a bottle of vinaigrette that you bought at the store, because if you don't have time to chop anything, you don't have time to emulsify oil and vinegar either.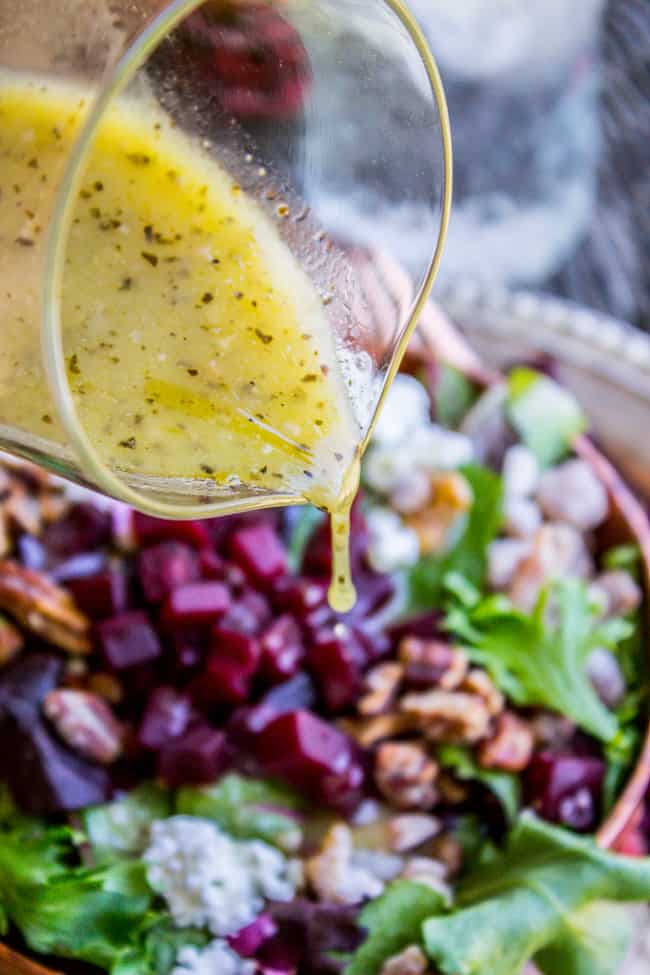 Look at that beautiful salad dressing you didn't have to make.
Then serve it when you have company and your guests will say, oooh, beets, so fancy! Beets are something I usually only have on restaurant salads (do you eat them more often? Impressive.) I like them but have never even bought or cooked one that wasn't in a can. And in fact, this was my first time buying canned beets.
(It makes me think of how my brother Nate and I used to go to restaurant salad bars when we were little and put slabs of what we thought was sliced cranberry sauce on our plates. Nope; canned beets. Quite the rude awakening for a 7 year old.) But I've seen the light. I'm a beet convert. Let me know if you try out this salad! And share your best no-brainer salads with me in the comments!
Facebook | Pinterest | Instagram | Twitter
One year ago: Pepperoni Meatballs
Two years ago: Raspberry Almond Crumb Brownies
Four years ago: Peach Custard Pie

Green Salad with Feta and Beets (The Fanciest No-Chop Salad Ever)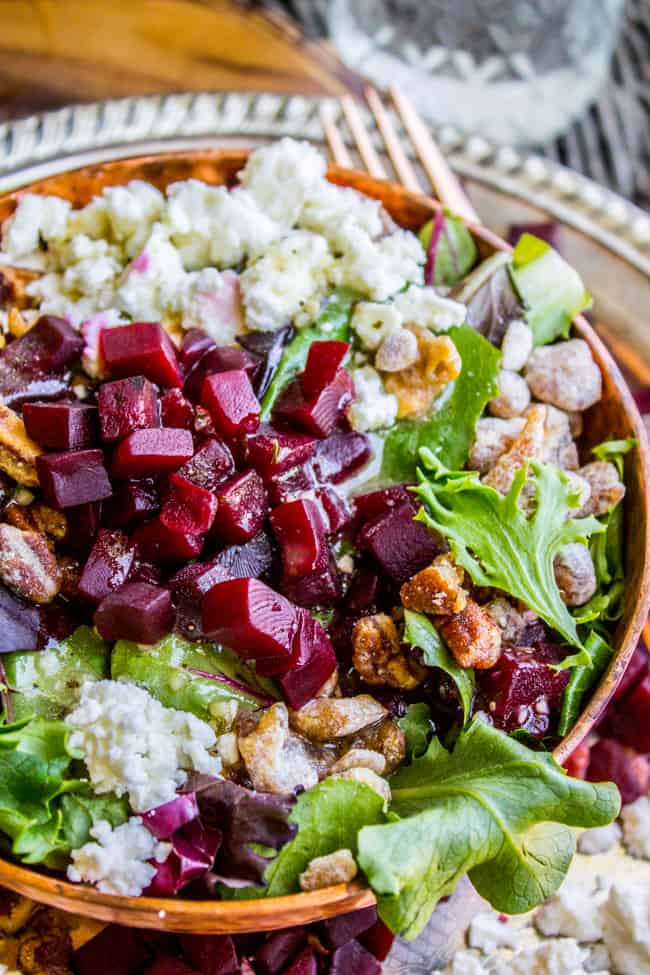 You know what I love? Fancy salad. You know what I hate? CHOPPING. This green salad is so easy you could make it in your sleep. Feta, beets, dates, pecans, oh my! 
Ingredients
1

pound

spring greens

1

can

diced beets

6

ounces

feta cheese

,

crumbled

4

ounces

candied pecans

1

cup

chopped dates

vinaigrette

,

your favorite store bought brand
Instructions
Add spring greens to a large bowl. You don't have to use all of it.

Drain the can of beets. Add to the bowl. Again, you don't have to use all of it.

Add the crumbled feta, candied pecans, and chopped dates.

Top with your favorite vinaigrette. I happened to have some basil and garlic vinaigrette in the fridge so I used that.

Toss to combine.

Seriously. That's it.
Notes
Add rotisserie chicken to make this a main dish!
Nutrition
Serving:
1
g
|
Calories:
342
kcal
|
Carbohydrates:
25
g
|
Protein:
5
g
|
Fat:
26
g
|
Saturated Fat:
7
g
|
Polyunsaturated Fat:
9
g
|
Monounsaturated Fat:
9
g
|
Cholesterol:
19
mg
|
Sodium:
326
mg
|
Potassium:
280
mg
|
Fiber:
3
g
|
Sugar:
21
g
|
Vitamin A:
267
IU
|
Vitamin C:
5
mg
|
Calcium:
130
mg
|
Iron:
1
mg
Here are a few of the 6 salads on The Food Charlatan :) 
Spinach and Blue Cheese Salad with Poppyseed Dressing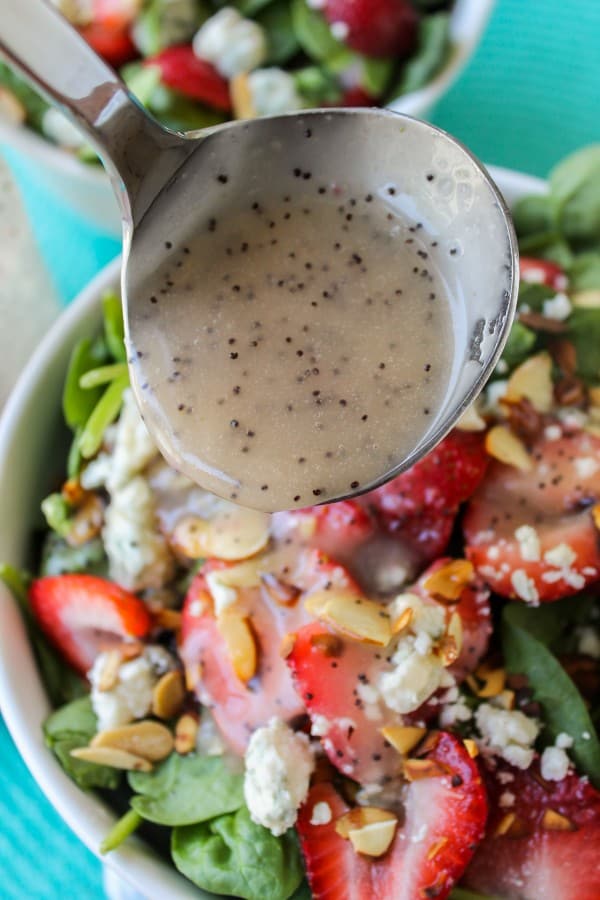 Pineapple Spinach Salad << this one's a fav.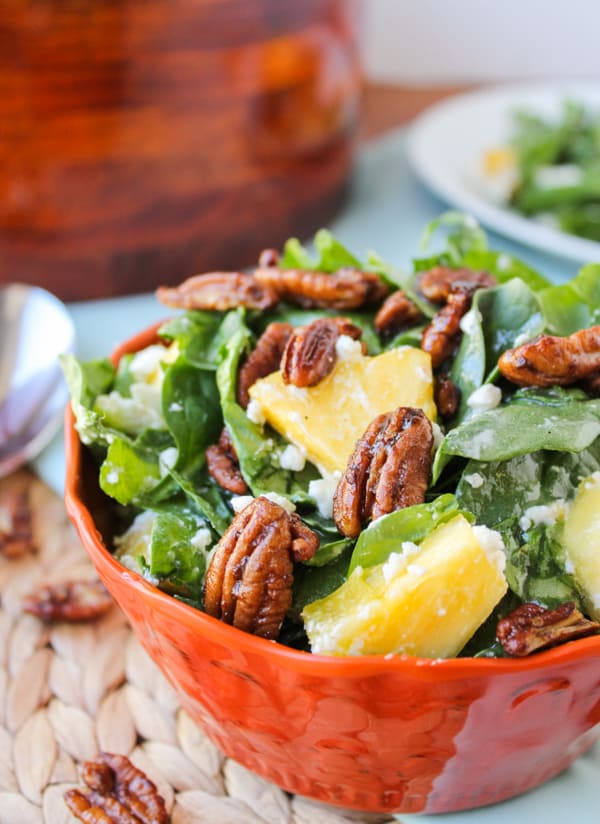 Watermelon and Lime Steak Salad with Roasted Corn Vinaigrette: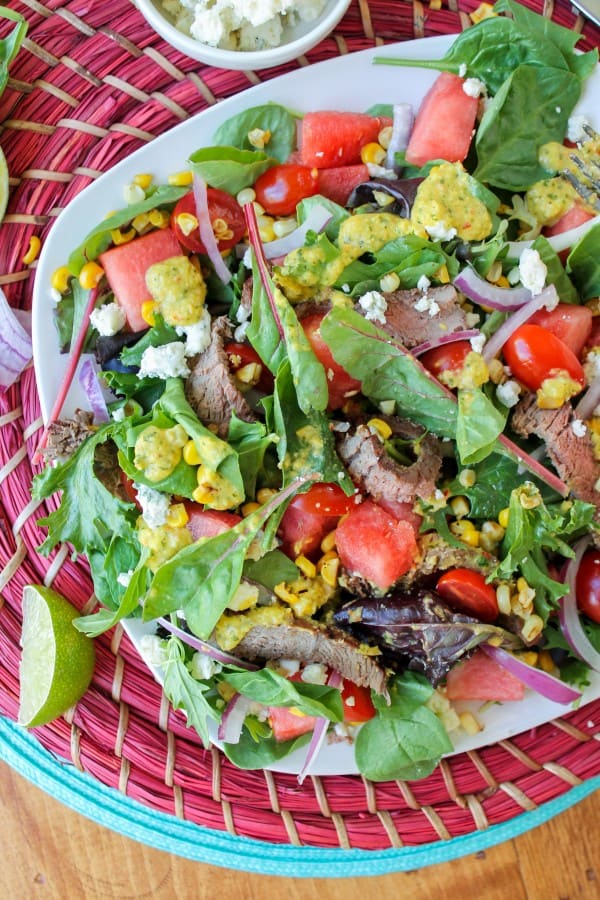 More salads you might like!
5 Ingredient Sugar Snap Pea Salad from Aggie's Kitchen
Beet Salad with Goat Cheese from Wonky Wonderful
Quick and Easy Green Salad from Reluctant Entertainer
Roasted Beet Salad from Chelsea's Messy Apron << Check out Chelsea's method of roasting fresh beets on a bed of salt. I want to try it!