Honey Balsamic Pork Ribs in Crock Pot
These slow cooker pork ribs are fall-off-the-bone delicious! The slow cooker makes them incredibly tender and moist, and the honey balsamic glaze just doesn't need an explanation. Does it?? They are SO easy to make!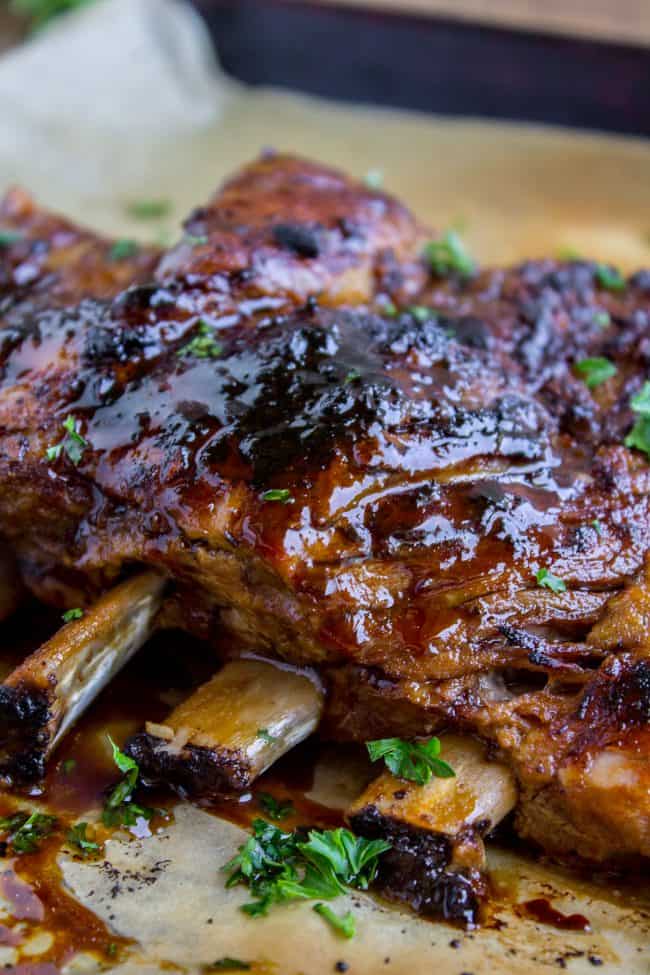 Today is the primary election in California and I realized that I accidentally threw away my mail-in ballot. In an effort to keep my house clutter free, I've become ruthless in the past few years when it comes to throwing stuff away. I don't know who I think I am throwing away my voting ballot, but I'll blame it on the pre-vacation cleaning frenzy.
You know, the crazy eyes cleaning where everything has to be spotless before you leave? (Click that link, you will die laughing)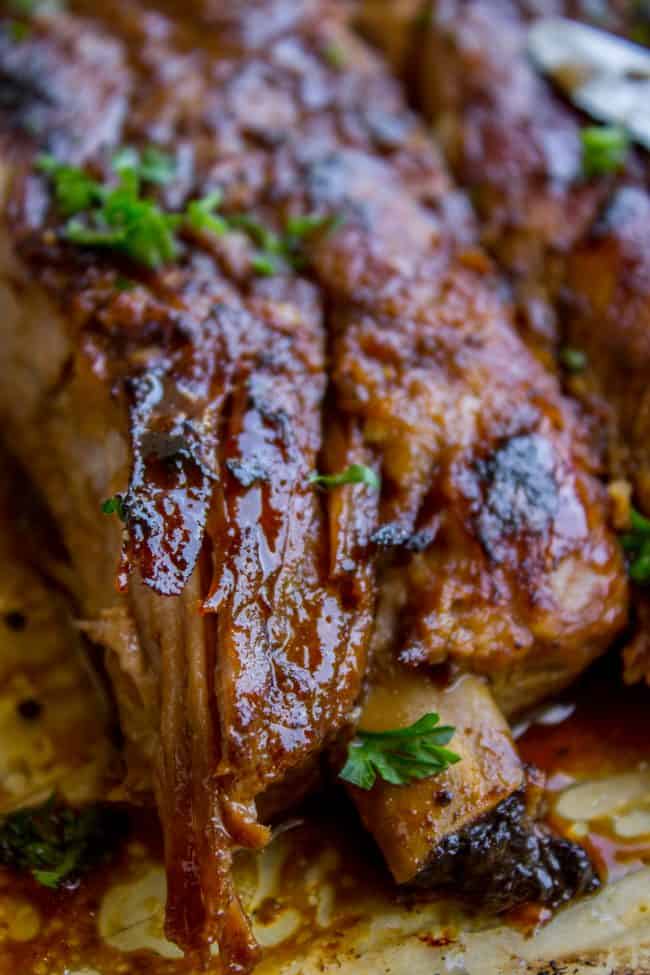 I have a friend who told me that her mom would clean for HOURS before they left for a vacation. She has a memory of everyone (all 6 kids) being in the car while her mom was in the house doing some last minute tidying, except she wasn't just rinsing the breakfast dishes or something, she was on her hands and knees cleaning the grout in the entryway tile.
I'm sure Eric held up the voting ballots the day we left for our trip and said, "hey we should vote" and I went something like, "WE DON'T HAVE TIME FOR THAT NONSENSE, THROW IT AWAY AND START SCRUBBING THE GROUT!!"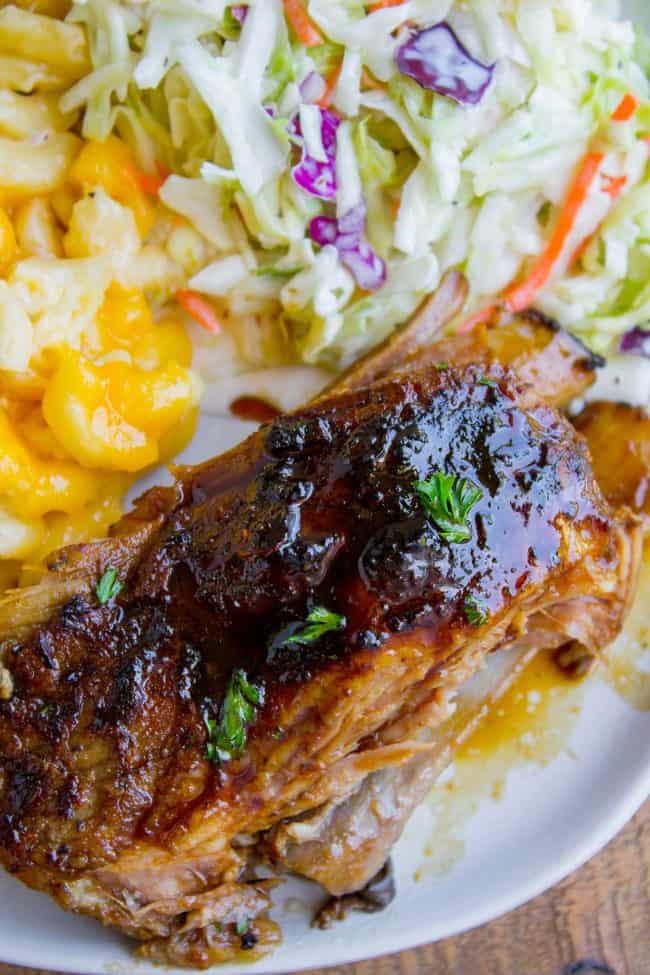 Also I totally feel like Meg Ryan on You've Got Mail. Remember when she admits to her boyfriend that on election day, she went to get a manicure and forgot to vote? He's like, "I forgive you." and Meg's like, "You FORGIVE ME??"
Don't worry, I can't actually NOT vote. I don't have enough Meg Ryan in me. I'll have to make it over to a voting center somewhere today, which will be loads of fun I'm sure. Wish me luck!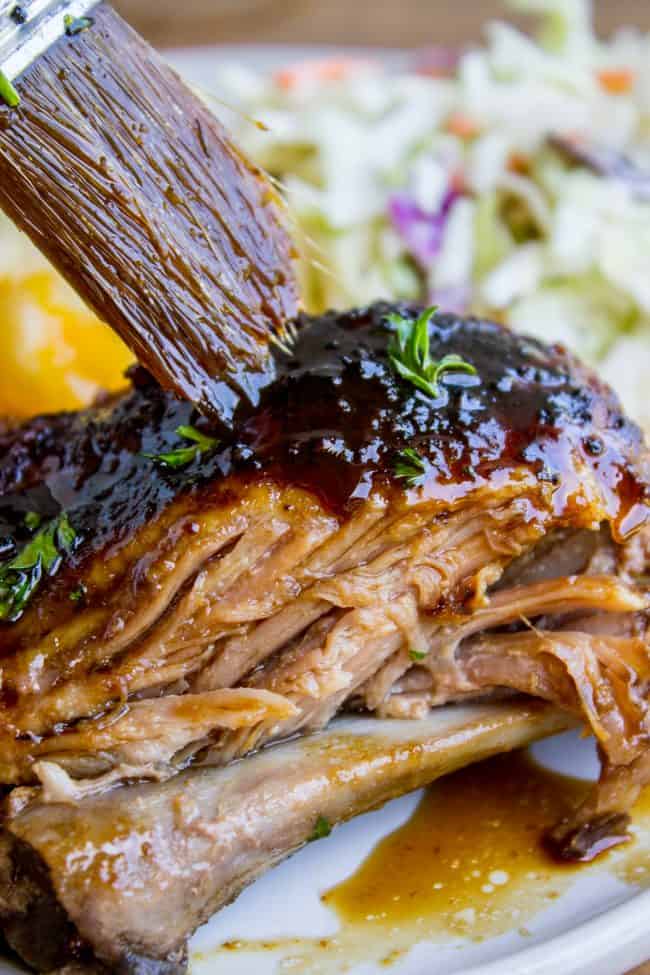 At least I'll have these ribs to come home to! These AMAZING slow cooker pork ribs are from my friend Natalie's new cookbook, The Big Book of Paleo Slow Cooking. Natalie's blog is called Perry's Plate, and I've been following her since forever! She's so talented.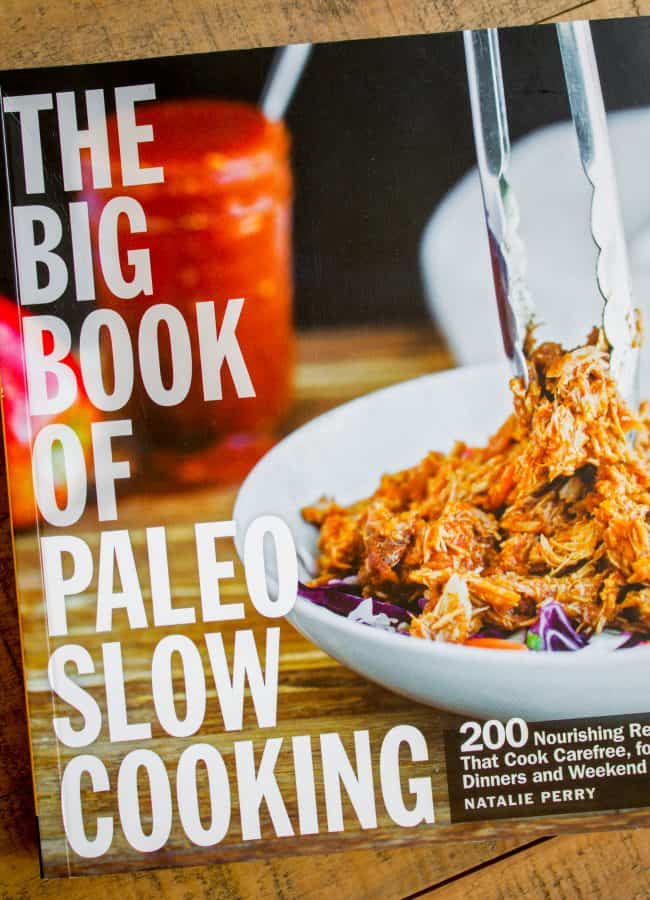 I don't eat Paleo, but I do love cooking with normal ingredients. I've gone through a few of my grandma's old slow cooker books and almost all of them have some kind of cream-of-soup in them. I'm not a huge stickler about it (let's be honest, cream of chicken soup is kind of amazing) but I don't want to eat it every time I use my slow cooker!
Natalie has lots of options for healthy slow cooker meals that are KILLER. I tried a sweet potato curry that was also delicious, and I'm trying the Strawberry Balsamic Chicken next!! This book would actually be a really nice Father's Day gift, if you have a guy who likes to cook. There are a lot of manly meat recipes.
How to cook ribs in a Crock Pot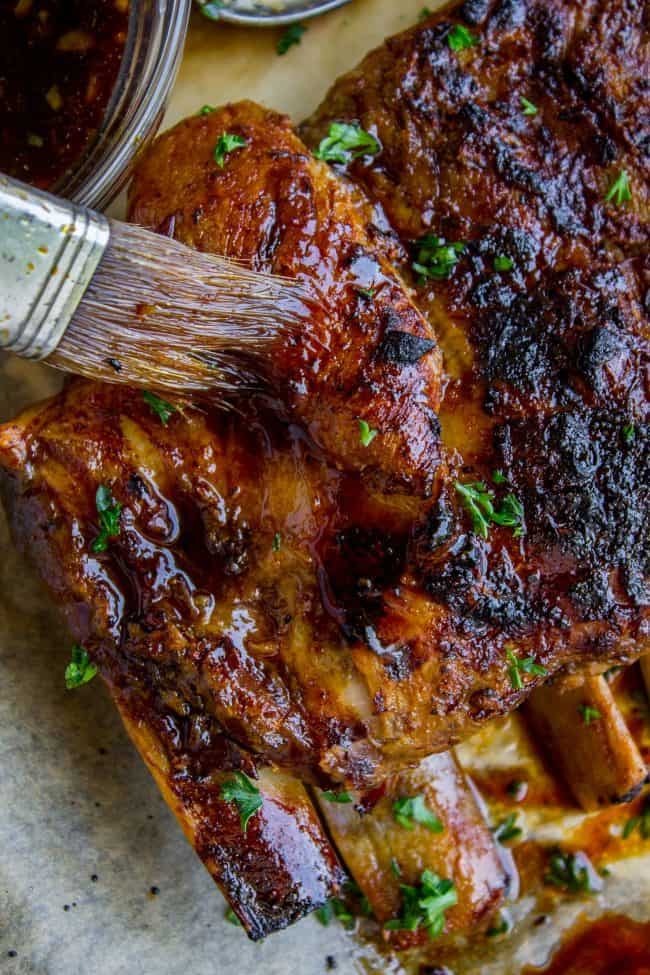 I was super excited to try these slow cooker pork ribs, and they did not disappoint. Honey balsamic is just such a fabulous flavor combination! The ribs get SO TENDER in the slow cooker. I've actually never made pork ribs in the slow cooker (I know, who am I?? I usually do oven, then grill) but I'm a huge fan. Such a good way to get some summer-lovin food without even venturing outside to the grill, where there is no air conditioning.
The best part about the recipe is that after they have slow cooked all day, you brush them with glaze and crisp the edges in the broiler. It gives them that perfect sticky outer edge. Then you douse them with more glaze at the table. Give me all the glaze!
I served this with My Favorite Coleslaw and Literally the Best Mac and Cheese. Summer just has the BEST side dishes, right??
Facebook | Pinterest | Instagram

One year ago: Blender Hollandaise Sauce
Two years ago: Mississippi Mud Cake < family favorite
Three years ago: Blackberry Balsamic Grilled Chicken
Six years ago: Brazilian Cheese Bread << these would actually go with today's ribs really well!
Crockpot Pork Ribs with Honey Balsamic Glaze
These slow cooker Honey Balsamic Ribs are fall-off-the-bone delicious! The slow cooker makes them incredibly tender and moist, and the honey balsamic glaze just doesn't need an explanation. Does it?? They are SO easy to make!
Ingredients
For the ribs
1

rack

spare ribs

,

full rack of spare or back ribs

3

tablespoons

fresh lemon juice

,

1 large lemon

1

tablespoon

kosher salt

1

tablespoon

Dijon Mustard

6

cloves

garlic

,

smashed and minced

2

teaspoons

onion powder

1

teaspoon

dried thyme

1/2

teaspoon

black pepper

1/4

cup

water
For the glaze
1/3

cup

balsamic vinegar

1/4

cup

honey
Instructions
In a small bowl, combine the lemon juice, salt, mustard, garlic, onion powder, thyme, and black pepper.

Use your hands to rub the mixture into the ribs, top and bottom and all over.

Place the lid on the turned off crockpot and let the ribs sit at room temperature for 30 minutes.

After 30 minutes, add 1/4 cup water to the bottom of the slow cooker. Try not to wash the rub off of the ribs, add the water near the edge.

Turn the crock pot on and turn the heat to low. Cook for 5-6 hours. The meat should be tender and shred easily with a fork.

Make the glaze: Pour 1 and 1/4 cups of the cooking juices from the crock pot into a small saucepan and set over medium high heat. Add the balsamic vinegar and honey. Bring to a boil, then reduce to a simmer. Let simmer and bubble actively for 6-8 minutes, until the glaze has thickened and looks syrupy. It should coat the back of a spoon.

Preheat your broiler to high heat and move the oven rack to the top, so that it's just a few inches away from the heat source.

Brush some of the glaze over the ribs. Broil in the oven for 2-3 minutes. Brush the ribs again with the glaze, rotate the pan, and return to the broiler. Broil for another 2-3 minutes. Don't walk away! Set a timer! Can you imagine burning your ribs at this point after waiting this long??? All the tears.

Serve ribs hot with the extra glaze!
Nutrition
Serving:
1
g
,
Calories:
490
kcal
,
Carbohydrates:
17
g
,
Protein:
24
g
,
Fat:
36
g
,
Saturated Fat:
11
g
,
Polyunsaturated Fat:
6
g
,
Monounsaturated Fat:
13
g
,
Trans Fat:
1
g
,
Cholesterol:
121
mg
,
Sodium:
1304
mg
,
Potassium:
420
mg
,
Fiber:
1
g
,
Sugar:
14
g
,
Vitamin A:
8
IU
,
Vitamin C:
4
mg
,
Calcium:
41
mg
,
Iron:
2
mg
More summer dinner recipes you will love!
Nana's Fall Off the Bone Ribs and "Barb"-ecue sauce << these are a huge family classic!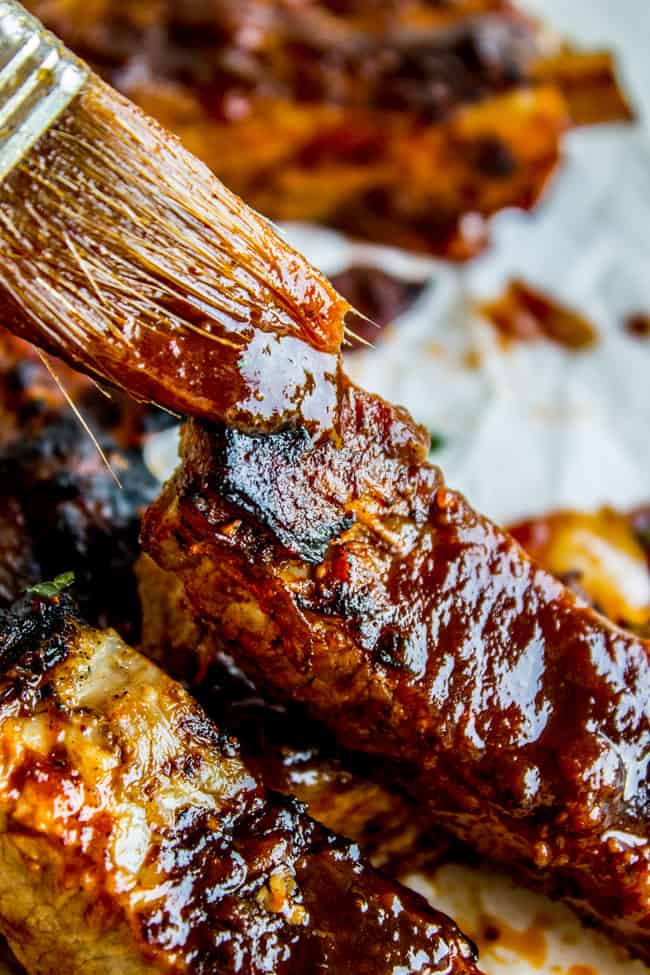 Brown Sugar Balsamic Pork Tenderloin (Crock Pot) << this is an old standby.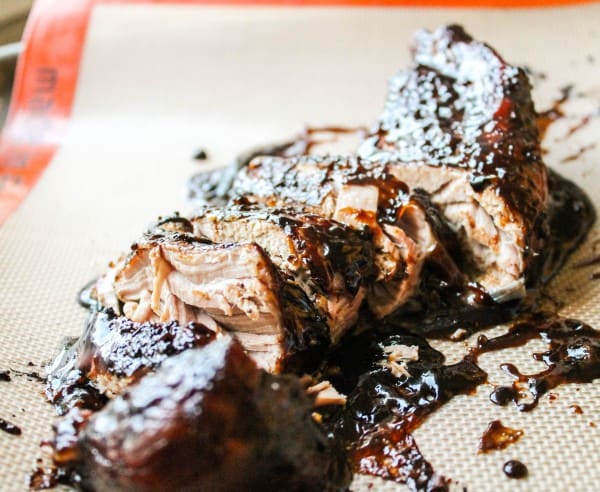 Balsamic Grilled Chicken with Spicy Honey Bacon Glaze << I just made this again last night!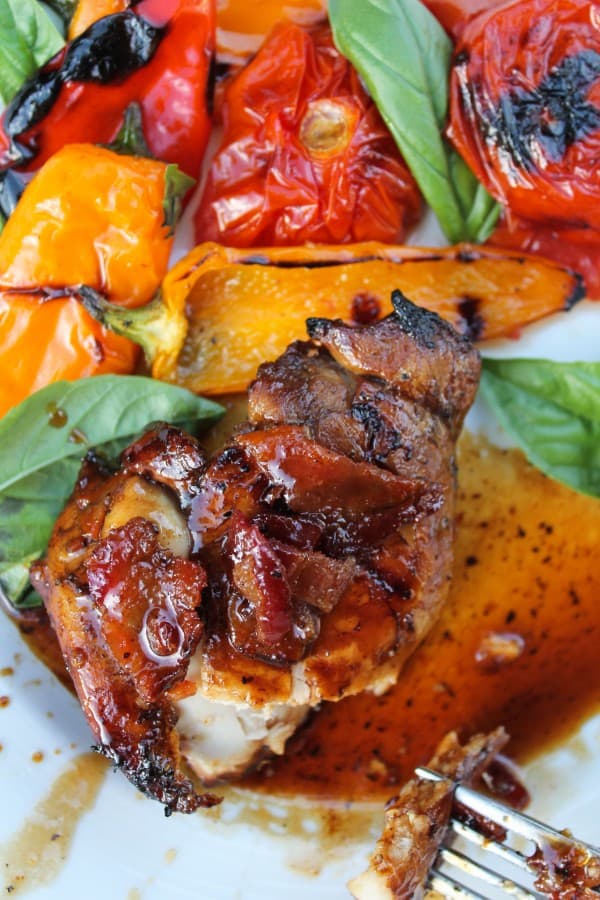 More slow cooker ribs to love!
Slow Cooker Balsamic Short Ribs from Your Homebased Mom
Slow Cooker BBQ Country Style Ribs from Amanda's Cookin'
Crock Pot BBQ Ribs from Tried and Tasty
We are a participant in the Amazon Services LLC Associates Program, an affiliate advertising program designed to provide a means for us to earn fees by linking to Amazon.com and affiliated sites.