Oven Roasted Asparagus with Balsamic Browned Butter
This is hands-down my FAVORITE way to eat asparagus! What is it about oven roasted asparagus that is so magical?? Add the Balsamic Browned Butter and you will be in heaven. This recipe takes about 15 minutes, tops. It's SO easy and perfect for Easter or as a side dish for any weeknight.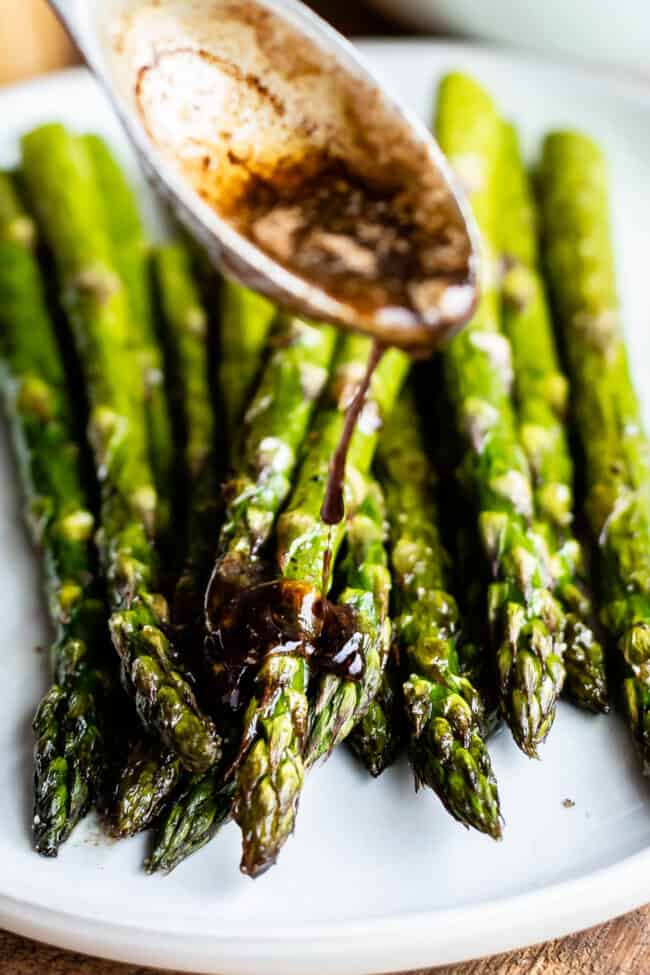 This recipe was originally published on April 6, 2012. 
Charlotte and I just got back from a super quick trip to Utah for the weekend to attend a session of General Conference in person! It was so much fun!
Two years ago on Charlotte's 6th birthday, we gave her a challenge to read the Book of Mormon. We told her that if she read it by the time she was baptized when she turned 8, then we would take her to Utah to see a session of General Conference in person.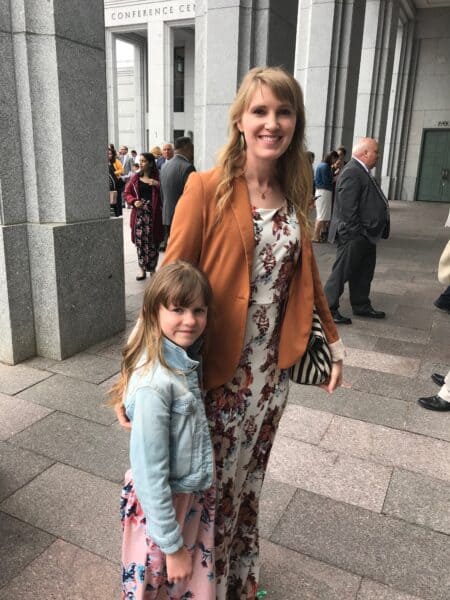 Well she made it! Which is kind of amazing, because it's a 531 page book and is not exactly Kindergarten through 2nd grade level. She read a few pages a day and just kept plugging at it.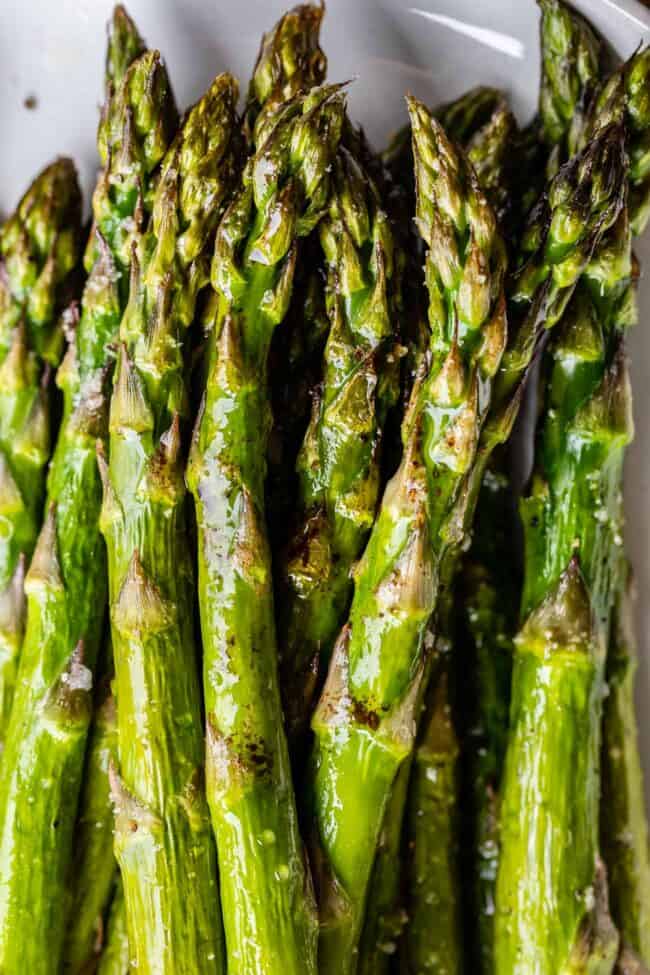 I'm so proud of her, not only because of the habit of scripture reading that it hopefully has instilled in her, but also just for her to be able to say that she took 2 years to accomplish something and she didn't give up. How many kids can say that when they are this age? Heck, how many adults can say that?? She's pretty fabulous.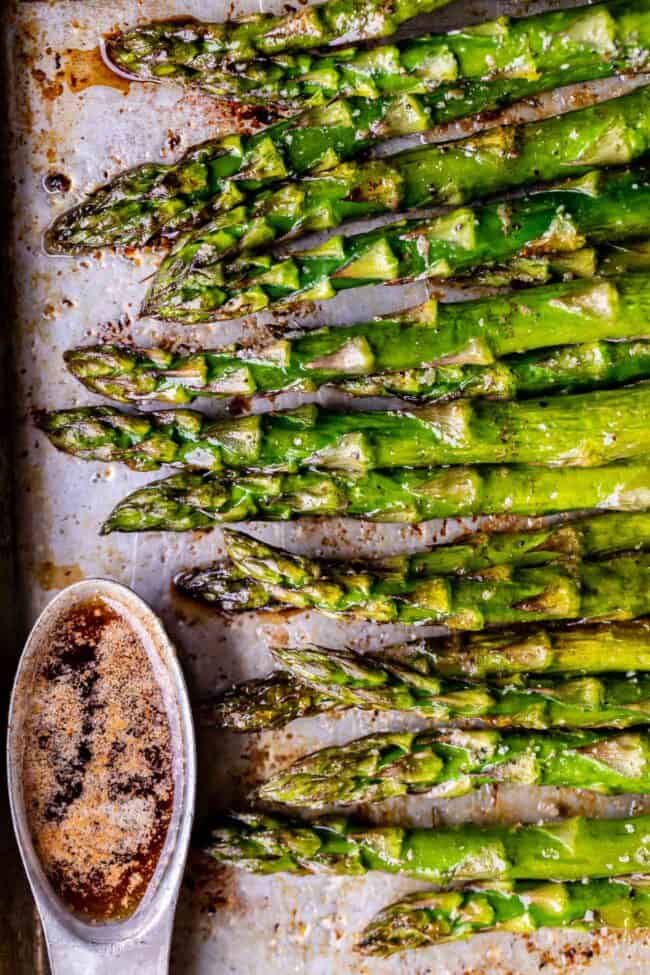 How was everybody's weekend? Spring has sprung here in Sacramento, which means asparagus is on sale! Have you seen it at the market yet?
My grocery store had it for $2.50 a pound, which is pretty good considering that most of the year it's $5 or more.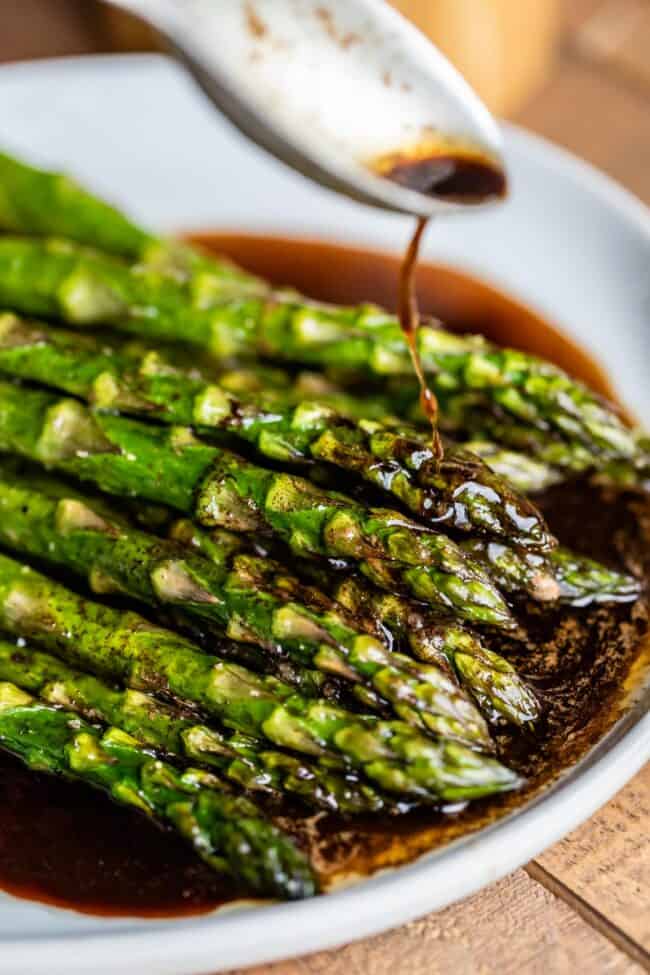 I found this recipe in a Southern Living magazine years and years ago. I published my version of the recipe here on The Food Charlatan within just a few months of starting my blog, because of course when you start a food blog you post all your favorite recipes right away. I'm updating it now with some better photos, and so that all of you lovely readers get a chance to hear about it! It's been buried in the archives for way too long.
How to make Oven Roasted Asparagus with Balsamic Browned Butter
This oven roasted asparagus is the recipe that made me like asparagus. I'm not even kidding. I wouldn't say I was overly picky as a kid, but I also wasn't crazy, and the way that asparagus was served to me in the 1990s was just bad. So I can't even blame my former self too much for such a grave error.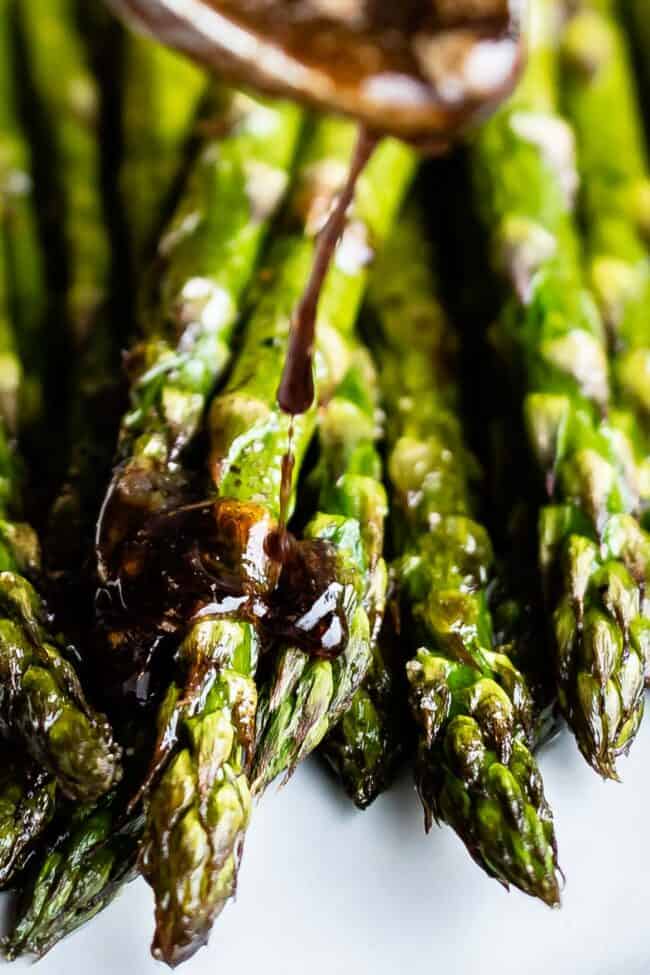 Oven roasted asparagus is pretty much the only way to go, in my opinion. (Same goes for Brussels sprouts.) Just 10 or 12 minutes in the oven with a little salt and olive oil, and you are on your way to heavenly asparagus that is no longer bitter and bland, but tender and sweet and delicious.
Here's the original photo I took when I posted this recipe back in 2012. Not too bad, right? It's actually one of the first photos of mine to go "viral." Viral for me back then, anyway.
Of course my favorite asparagus recipe has to involve browned butter. I've often thought to myself that if I were ever to write a cookbook, a real, hold it in your hands cookbook, I might make it browned butter themed. I mean how amazing would that be, right? Stuff is liquid gold.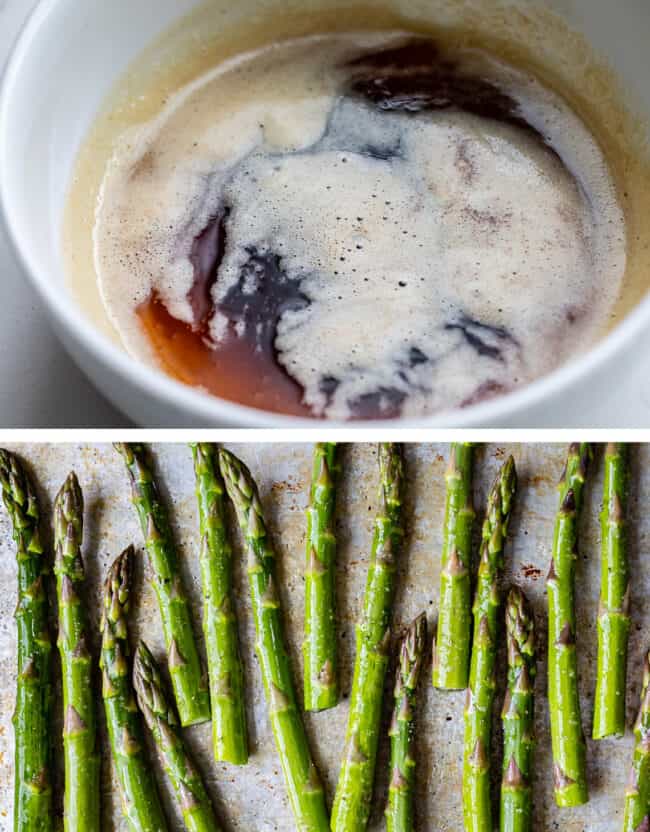 (Make sure you give your spears plenty of space on the pan so that they roast properly.)
The browned butter flavor in this oven roasted asparagus is not overpowered at all by the soy sauce. In fact, you can't really even taste the soy sauce. Just beautiful amazing balsamic-browned butter, as the title claims. The soy sauce is there to add that salty umami taste. The Balsamic vinegar, on the other hand, definitely stands out, and that's not an apology. Browned butter and Balsamic vinegar should basically get married, have a thousand babies, and live happily ever after.
What meals to make with oven roasted asparagus
This recipe literally takes about 15 minutes start to finish, super quick. It is a really great simple side dish for your average weeknight when you're crunched for time. Try pairing it with 1770 House Meatloaf, Simply Amazing Grilled Chicken, or Honey Balsamic Slow Cooker Pork Ribs.
If you plan to make an epic Easter meal (it's only in a couple weeks!!), I recommend this oven roasted asparagus recipe, Raspberry Chipotle Glazed Ham, Aunt Shirley's Famous Creamy Mashed Potatoes, and these big fat buttery Crescent Rolls. It will be incredible and everybody will love you.  Try drizzling the extra asparagus sauce over the mashed potatoes…amazing!!
Facebook | Pinterest | Instagram
3 years ago: Tropical Mongo Coconut Granola
5 years ago: Simple Asparagus Soup
6 years ago: Greek Spinach Feta Chicken Pockets Basically grown up hot pockets ;)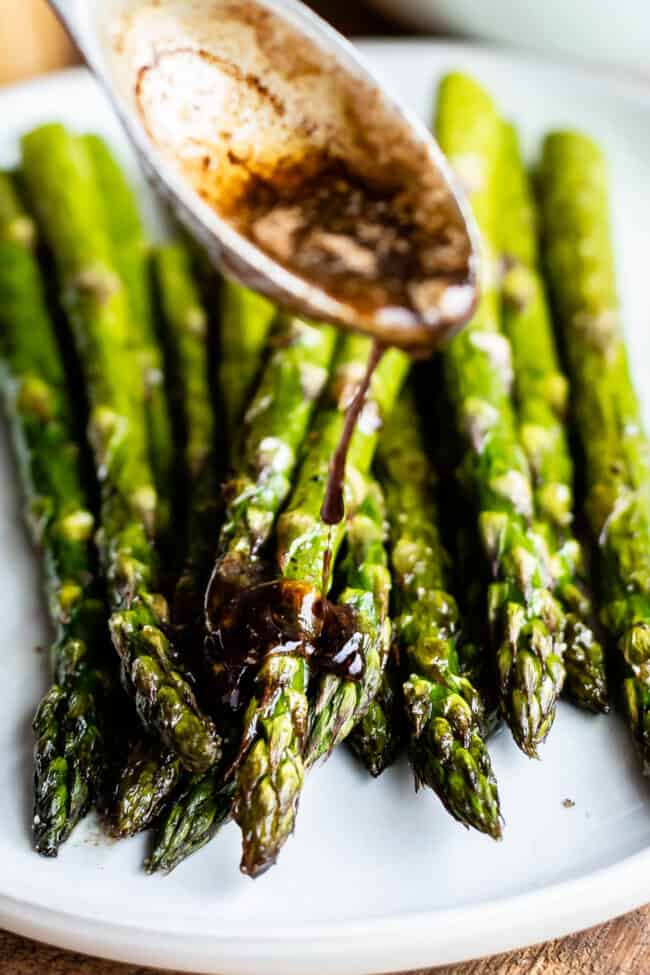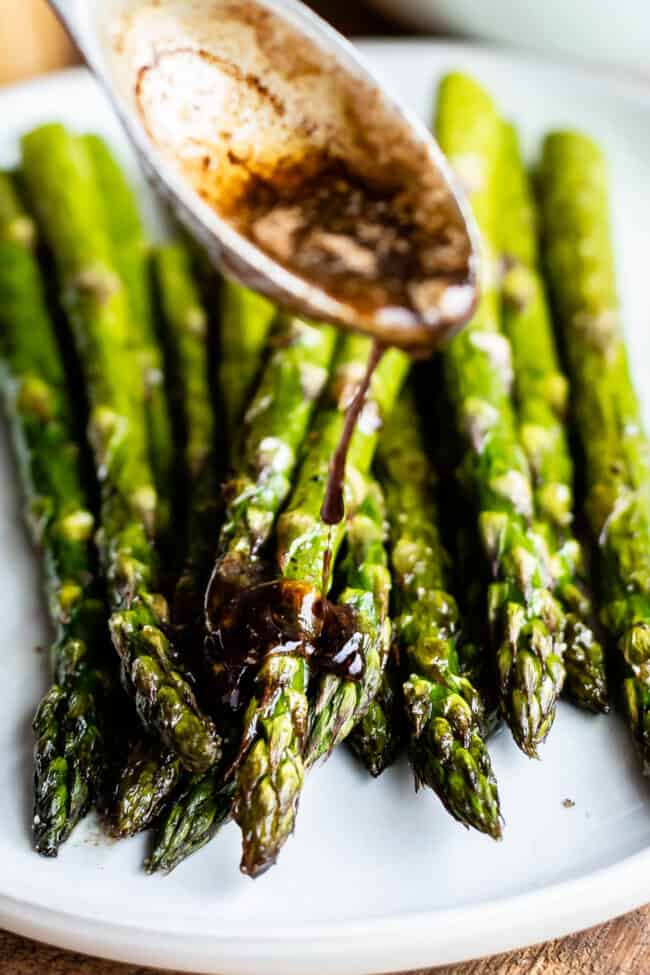 print
Did you make this recipe?
Leave a review »
Oven Roasted Asparagus with Balsamic Browned Butter
10
adjust servings
This is hands-down my FAVORITE way to eat asparagus! What is it about oven roasted asparagus that is so magical?? Add the Balsamic Browned Butter and you will be in heaven. This recipe takes about 15 minutes, tops. It's SO easy and perfect for Easter or as a side dish for any weeknight.
Ingredients
4

pounds fresh asparagus, ends snapped off

2

tablespoons extra virgin olive oil

1/2

teaspoon kosher salt

1/4

teaspoon cracked black pepper

1/4

cup salted butter

1

tablespoon soy sauce

1

tablespoon balsamic vinegar
Instructions
Preheat your oven to 400 degrees F.
Snap off and discard tough ends of asparagus.
Roughly spread out the asparagus onto 2 large baking sheets.
Drizzle with about 2 tablespoons olive oil, and sprinkle with about 1/2 teaspoon salt and 1/4 teaspoon pepper. (Or just salt and pepper to taste.)
Use your hands and toss to coat well. Spread out the asparagus evenly on the two pans. Make sure that each asparagus spear has space to roast; if all the asparagus spears are touching, they will steam instead of roast, and that's not what you want. Try to get them as far away from each other as possible.
Roast asparagus at 400° for 10-13 minutes, or just until tender. A fork should slide into a spear, but don't roast so long that it gets mushy. Remember that it will continue cooking a little even after you take it out of the oven. The spears should be bright green and not yet starting to yellow.
Meanwhile, melt butter in a small skillet over medium heat. Stir the butter occasionally. It will turn white on top, then it will foam up. Once it is foamy, it will start forming brown colored milk solids or "bits". They will swirl up when you stir. The scent of the butter will change to a "nutty" or toffee like aroma. Once you see brown bits, remove the pan from the heat.
Stir in 1 tablespoon each soy sauce and balsamic vinegar. Transfer asparagus to a serving plate. Drizzle sauce over asparagus, tossing to coat. Serve immediately.
by The Food Charlatan

If you make this recipe,
share it on Instagram
 using the hashtag
#TheFoodCharlatan
so I can see it!
More asparagus recipes you are going to love!
Sauteed Asparagus and Cherry Tomatoes << simple, easy, cheesy.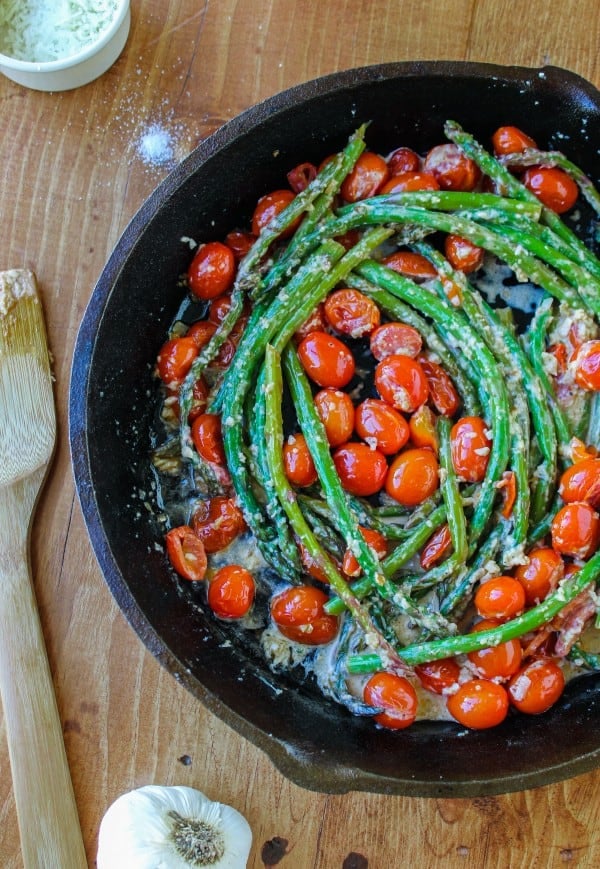 Prosciutto Wrapped Chicken with Asparagus << one of my favorite meals! (It's even low carb)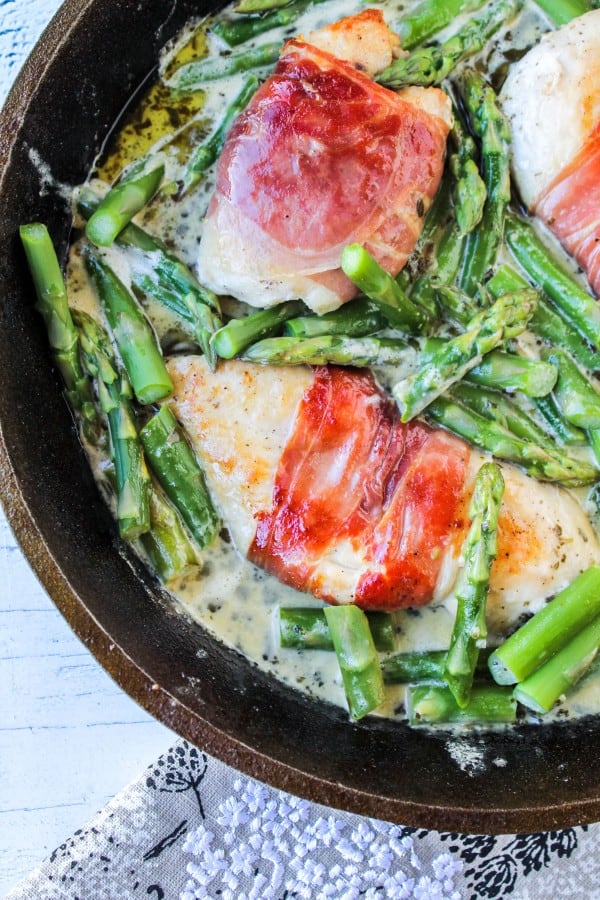 Lemon Asparagus with Pistachios << Another good one for Easter!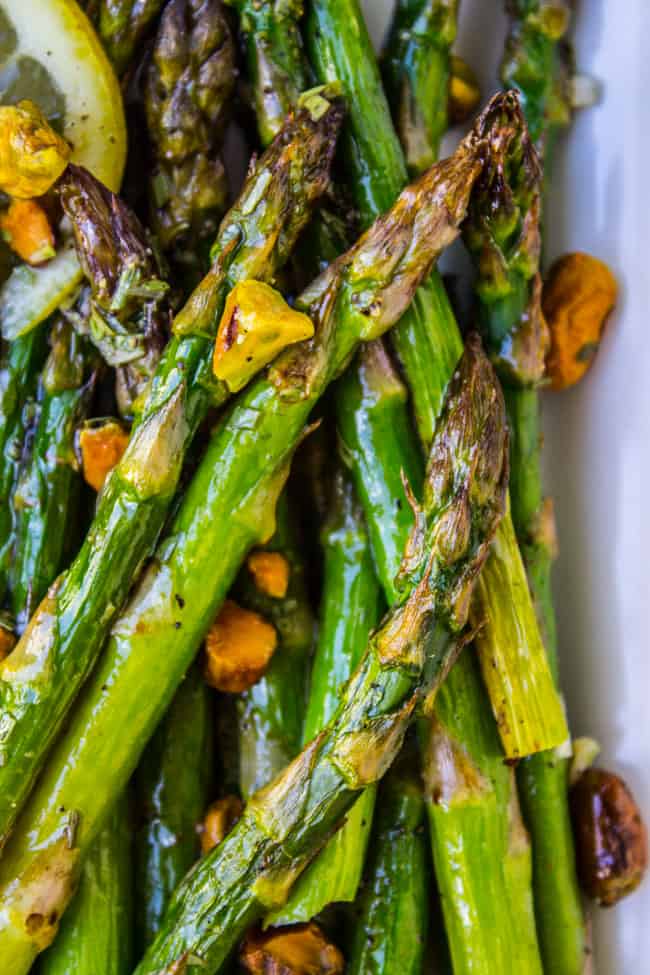 Asparagus Soup: What to do with Asparagus Ends from Eating Richly
Asparagus Frittata with Bacon from A Mind Full Mom
Spicy Smashed Avocado and Asparagus with Dill Havarti Grilled Cheese from FoodieCrush
We are a participant in the Amazon Services LLC Associates Program, an affiliate advertising program designed to provide a means for us to earn fees by linking to Amazon.com and affiliated sites.