This slow-roasted then grilled recipe for fall-off-the-bone pork ribs is famous in my husband Eric's family. His grandma, "Nana," has been making these ribs every 4th of July for decades. Her "Barb"-ecue sauce recipe (her name is Barbara) is absolutely incredible!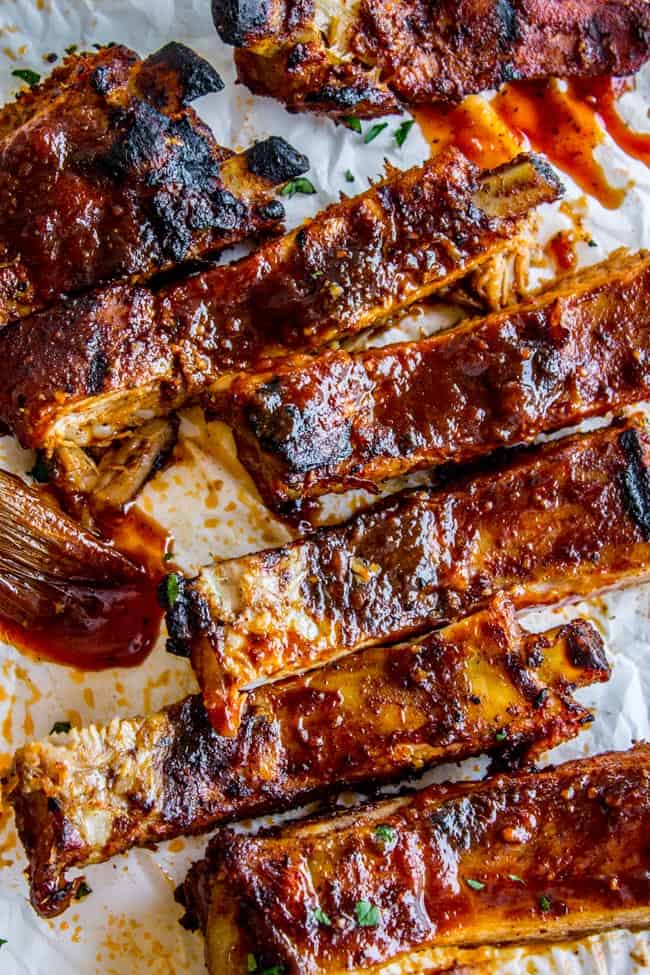 I just got back from an awesome girl's weekend with my sisters and my mom. It was super fun, but first I have to tell you about Eric, slaving away at home with the kids. He was working in the yard, shaping our bushes with a hedge trimmer, and I get this text: "I cut another power cord."
That's right, this is the SECOND time he's accidentally cut his own cord while doing yard work. I pretty much laughed until I cried.
Destroying power equipment aside, Eric's pretty great at being a single dad while I'm off galavanting. Here he is with the kids. Aren't they adorable??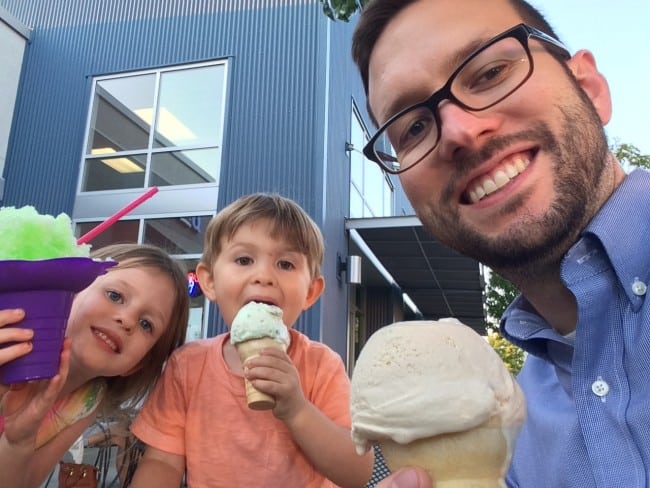 Us girls had an awesome weekend too. Here's part of our list of things to do:
movie marathon
cooking class
No planning
small hikes every morning or evening
give each other pedicures
go to bed on time
arts and crafts
We did all of them, except for the "go to bed on time" part. Which is a real shame, because I think we were all looking forward to that part. But we're just too darn entertaining. We kept each other up late every night, either chatting or watching Mr. Darcy fall in love with Elizabeth Bennett. I can't say I have any regrets. Just baggy eyes.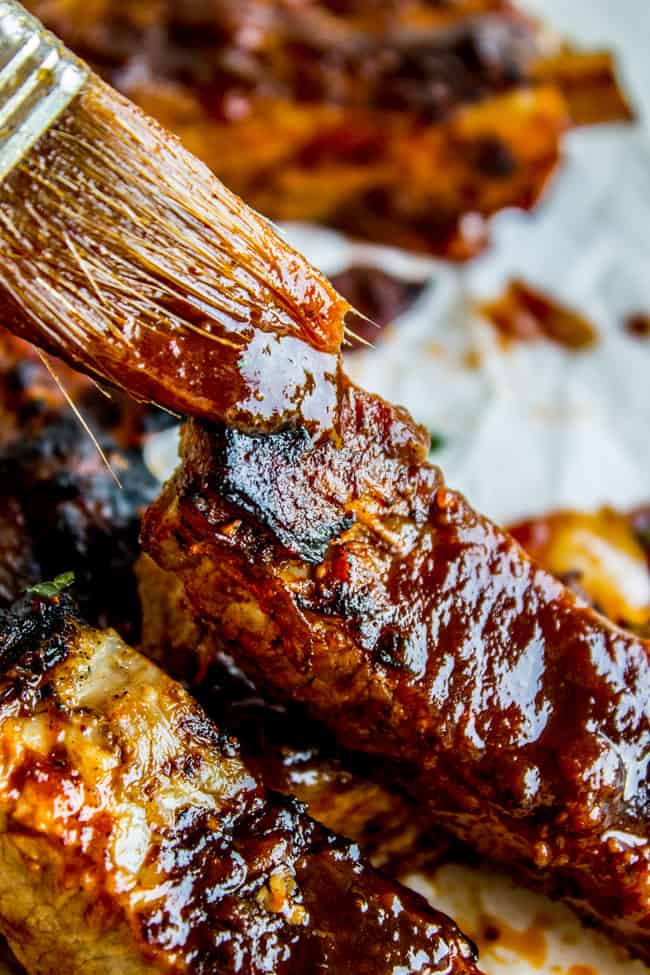 We had a great time at the cooking class, even if it was a little disappointing (not very hands-on). The class was Fried Chicken 101, and basically all I learned is that even trained chefs can't make fried chicken properly. We had to put almost all of it in the oven to finish cooking the center. It was still super delicious.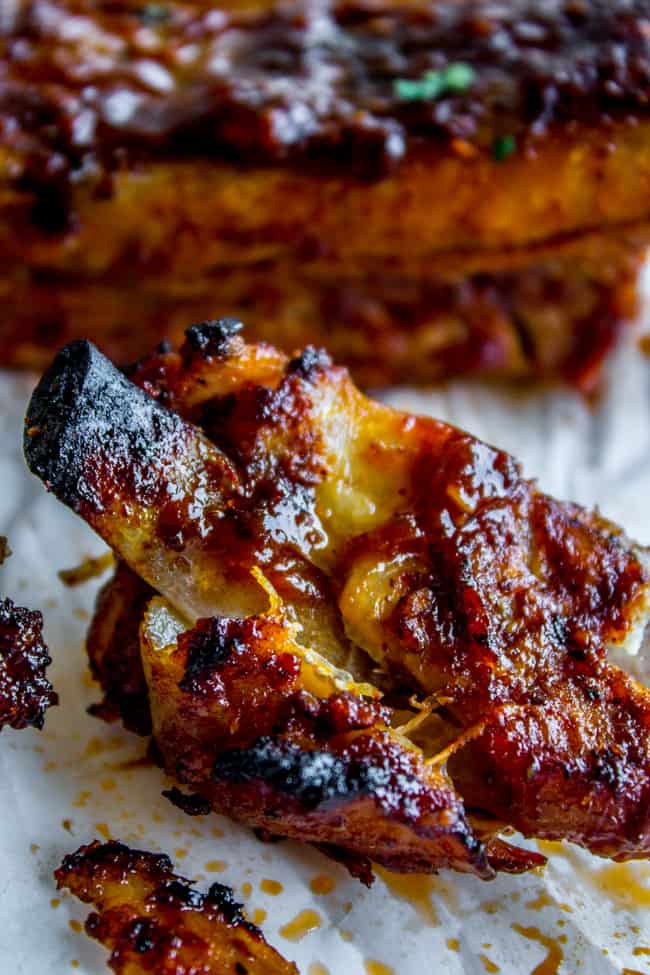 Let me tell you what else is delicious: these famous ribs (and they're not even deep fried.) Instead they are rubbed down, slow cooked at a low temperature for 3 hours in the oven, slathered in a killer homemade sauce, and grilled to flavorful perfection. This recipe is from Eric's grandmother Nana. Her name is Barbara, and the recipe card that she gave me years ago is titled 'Ribs with "Barb"-ecue Sauce.' How cute is that?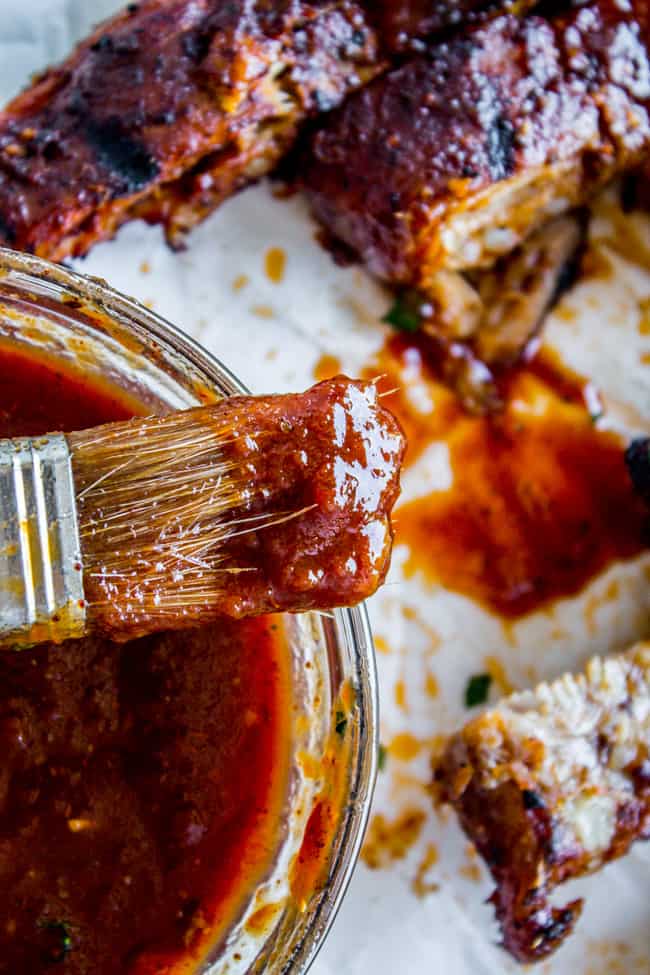 Update 2023: I do love Nana's sauce and still make it, but I recently developed a go-to BBQ Sauce that I also love. I originally made it to go with Pulled Pork, but I tried it on Nana's ribs too and it's amazing. Make both sauces and see which one you like better!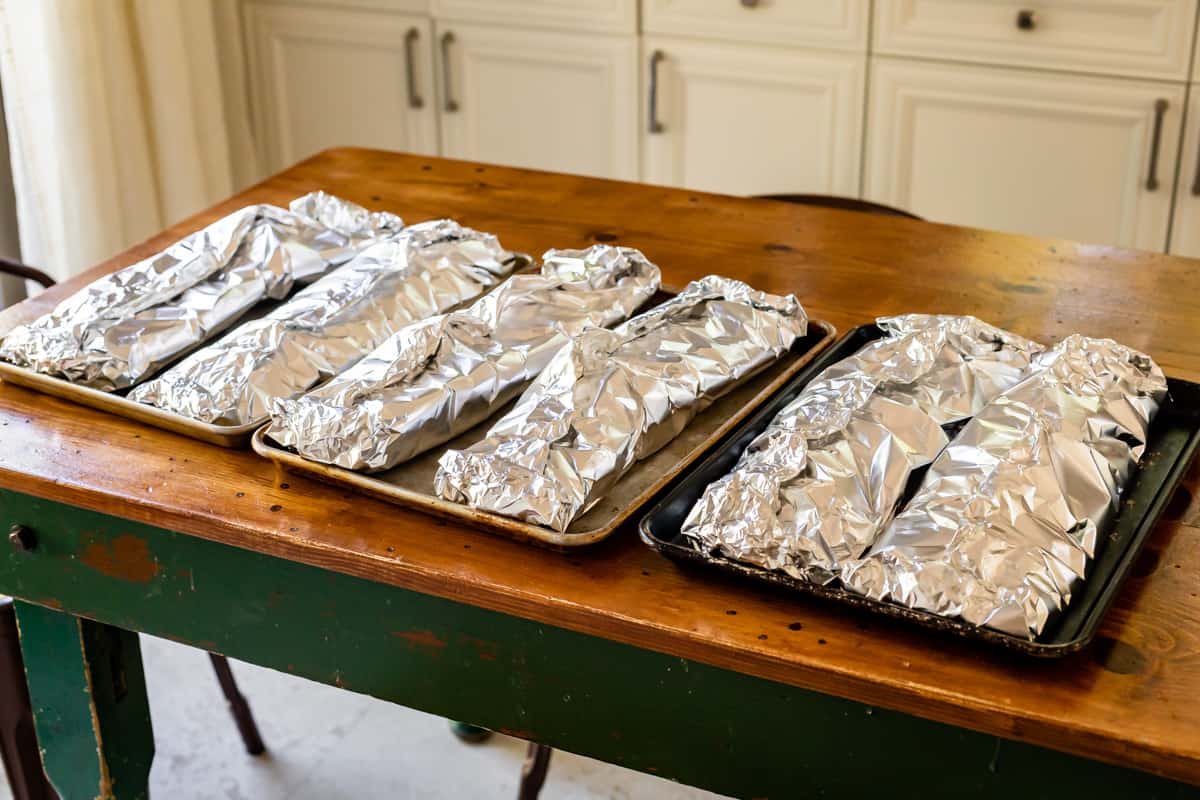 Here are all my ribs laid out this year (July 2023, I told you, we make these every year, I figured I should add in some more pictures of the process!)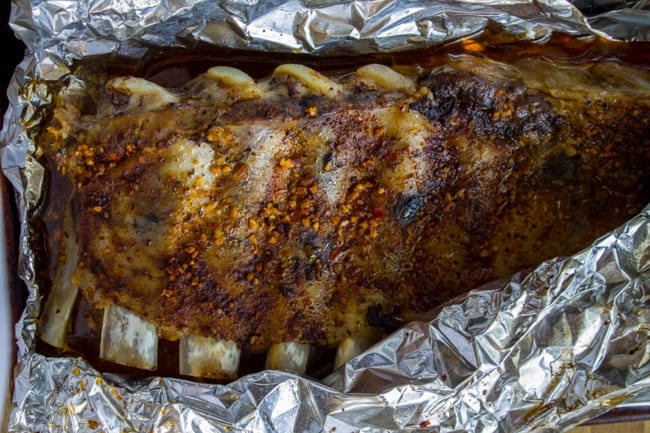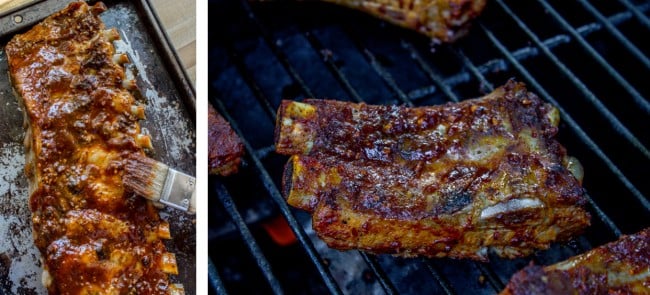 Slather them with sauce, then grill hot hot and get that smokey flavor!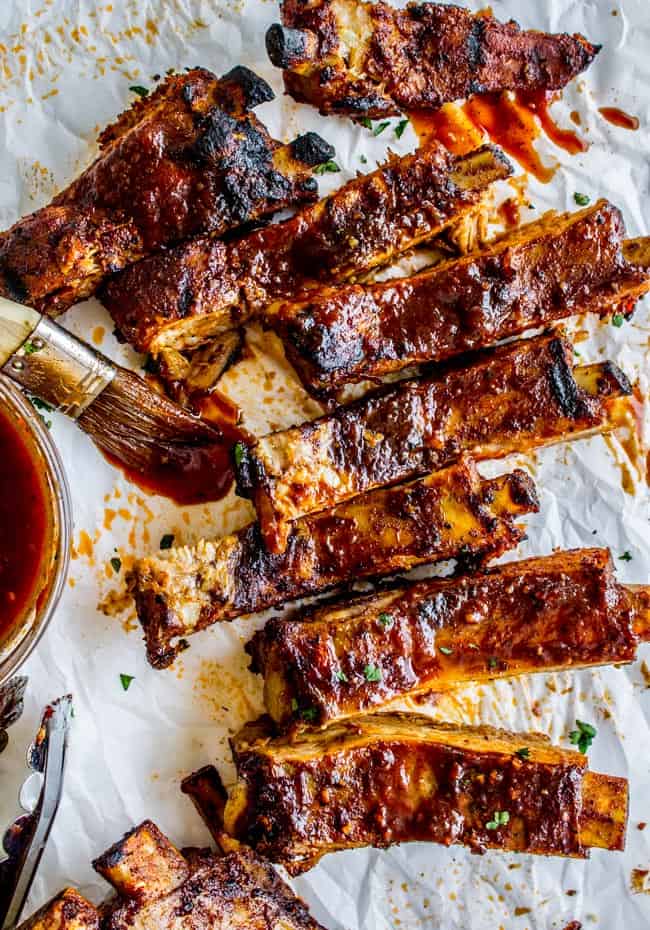 Nana always made a HUGE batch of these ribs every year on the 4th of July. She's passed on now and we continue the tradition even when we're not in Montana to celebrate with Eric's family.
This year we were at my parents house, and I introduced them to the glorious thing that is Nana's Ribs, to much moaning of approval. It's just really hard to not like ribs. Especially when they are slow roasted, slathered, and grilled to perfection. Make it with Potato Salad, my favorite Coleslaw, and Cucumber Salad for the full effect!
More favorite summer dishes:
Slow Cooker Pulled Pork << You could use the rub from this pork for today's ribs too, if you can't find Applewood.
Smoked Pulled Pork << how to make pulled pork on a gas grill.
Homemade BBQ Sauce << I love Nana's "Barb"-ecue sauce, but this one is also amazing. It's a little spicier and tangier!
Cuban Mojo Marinated Pork << this is the TOP recipe on my site. With good reason, my friends.
Asian Pork Tenderloin with Ginger Glaze (Slow Cooker) << this is so easy!
Grilled Pork Tenderloin with Peanut-Lime Sauce << Have you ever tried the 5-6-5 method for grilling pork tenderloin? Perfect every time.
Facebook | Pinterest | Instagram

Nana's Fall-Off-The-Bone Ribs and "Barb"-ecue Sauce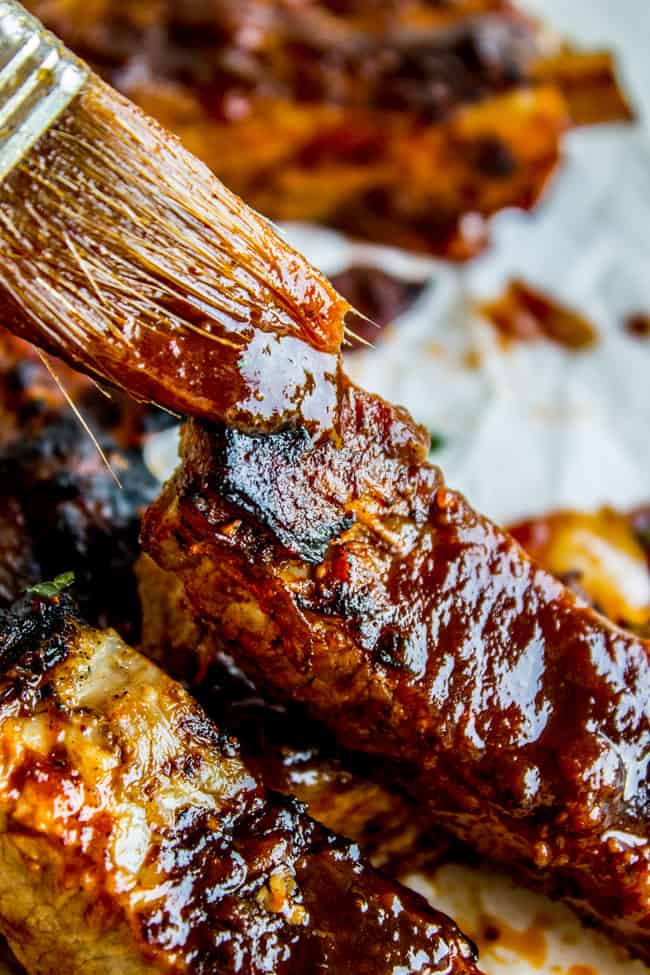 This slow-roasted then grilled recipe for fall-off-the-bone pork ribs is famous in my husband Eric's family. His grandma, "Nana," has been making these ribs every 4th of July for decades. Her "Barb"-ecue sauce recipe (her name is Barbara) is absolutely incredible! 
Ingredients
For the ribs:
heavy foil

7

pounds

racks of ribs*

6

ounces

Applewood rub**,

you might need more!
For the sauce:
2

cups

ketchup

2/3

cup

Worcestershire sauce

2

teaspoons

chili powder

2

teaspoons

salt

1

teaspoons

celery seed

2

cups

water

1/4

cup

brown sugar

4-8

drops Tabasco sauce
Instructions
Lay out a generous amount of heavy foil on a large rimmed baking sheet. Lay one rack of ribs on the foil and rub generously with Applewood rub. You can be very generous. I used at least 1/3 cup per rack.

Pull the long edges of the foil up over the ribs and seal them together by folding down, until you have neat package that seals on top of the ribs. Fold the two ends in on themselves, upward, so that juices don't drip out. The ribs should be completely covered.

Repeat with the other racks of ribs.

Let the ribs sit for at least 30 minutes. Overnight in the fridge is better! I always do it the day before. You can lay two racks of ribs on a large half baking sheet. (Two prevent raw meat drippings spilling in your fridge, no thanks.

When you are ready to cook, preheat your oven to 250 degrees F.

Place the ribs in the oven, sitting on a baking sheet in case they drip, and roast for about 3 hours. Take the ribs out when they are fork-tender. Sometimes they take longer to get really soft and tender, so plan ahead, you might need more like 4 or even 5 hours if you have very thick or meaty ribs. It's better to have the ribs done ahead of time and sit in a warm oven for a while than to have to wait for dinner! I always start roasting mine in the morning.
For the sauce:
Well ahead of time, combine all the ingredients for the sauce in a 3 quart pot. Stir together over medium high heat until the mixture comes to a boil.

Lower heat to a simmer and cook for about 30 minutes, until thickened slightly. Remove from heat and allow the sauce to cool. It will thicken more as it cools down. (I also love my homemade BBQ Sauce on these ribs, you could try both!)

When the ribs are done, take them out of the oven and unwrap the foil. Cut the ribs into 1, 2, or 3 piece sections, whatever you like.

Heat your grill to medium high, about 450 degrees F.

Generously brush the ribs with the barbecue sauce. Or pull an Eric and dunk them in the sauce completely. (The ribs are cooked. Stop looking at me like I'm a heathen.)

Grease your grill grates, and grill the ribs for about 2-3 minutes per side, until there are grill marks.

Remove from the grill and cover with foil until ready to serve.

Serve ribs with the remaining sauce. Eat with your hands!
Notes
*You can use any kind of ribs that you like. Spare ribs or Baby Back are good. Spare ribs are what I used for these photos. They are a lot meatier than Baby Back, so they will serve more people.
**If you can't find Applewood rub, use my homemade spice rub found on this Pulled Pork recipe. I was going to try to recreate the Applewood spice rub at home, but it calls for solidified molasses and Apple cider vinegar solids. I didn't think I would be able to recreate it without some serious dehydration! So for now I'm just buying it like Nana did!
A note on the sauce: I like to have this much sauce for 2 racks, but this is a generous amount. If you are doubling the recipe, you may only need to 1 and 1/2 the sauce recipe. I also love to make this recipe with Homemade BBQ Sauce. 
I made this once without grilling before we bought a grill. After removing the ribs from the oven and brushing with sauce, raise the temperature to 300 degrees F. Return it to the oven uncovered for 20 minutes. Brush with sauce again, cook another 20 minutes, or until fork tender.
Source: This recipe is from Eric's grandmother, Barbara Johnson, or Nana. She's also the contributor of this classic Beef Barley Soup.
Nutrition
Serving:
0.5
rack
|
Calories:
883
kcal
|
Carbohydrates:
27
g
|
Protein:
44
g
|
Fat:
65
g
|
Saturated Fat:
21
g
|
Polyunsaturated Fat:
11
g
|
Monounsaturated Fat:
24
g
|
Trans Fat:
1
g
|
Cholesterol:
222
mg
|
Sodium:
1602
mg
|
Potassium:
1068
mg
|
Fiber:
1
g
|
Sugar:
22
g
|
Vitamin A:
475
IU
|
Vitamin C:
6
mg
|
Calcium:
90
mg
|
Iron:
4
mg