Homemade Mac and Cheese with Velveeta
This super creamy Easy Mac and Cheese recipe is made on the stovetop in one pot! You don't need an extra pot to boil the noodles, hallelujah. The recipe is SO cheesy and flavorful. It's got the nostalgic texture of the blue-box mac and cheese, except it's a lot richer. It's done in 30 minutes. It's the recipe you need for a busy weeknight!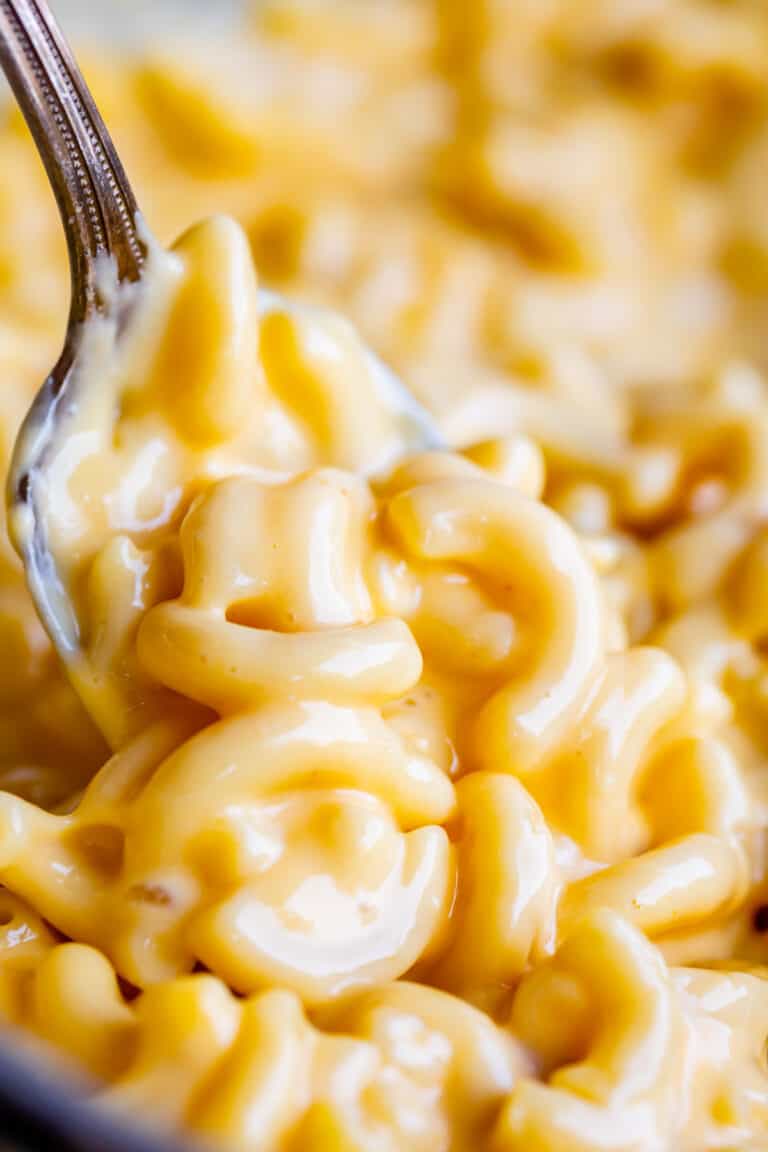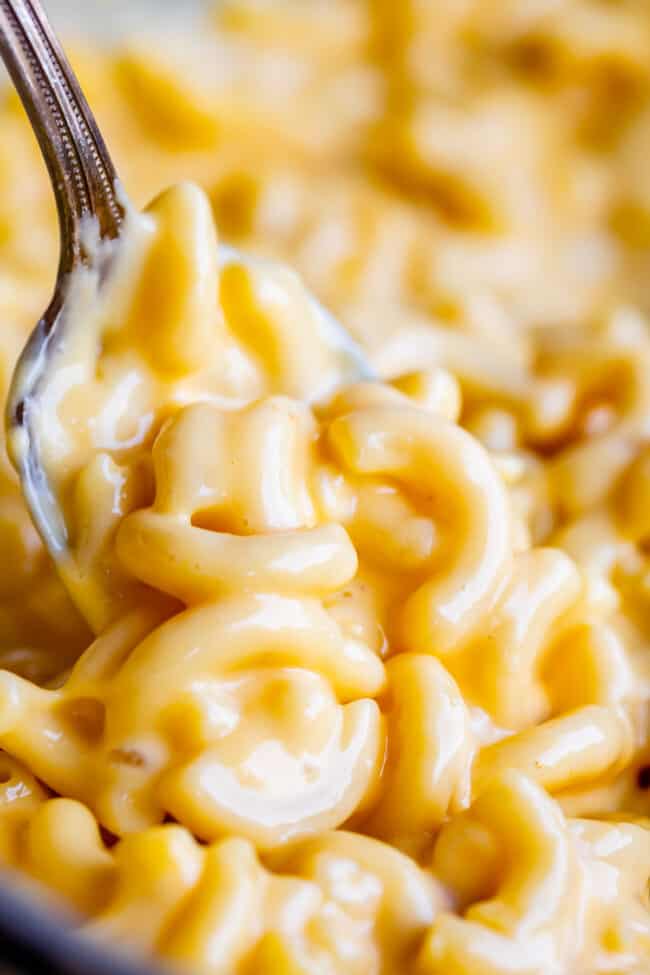 Well guys, my son Edison has officially reached the crawling stage. Except he's not really crawling, it's more of a shuffle-drag situation. The first day he started doing it I was horrified to realize how dirty he was getting all down his front. Time to mop I guess. Busted!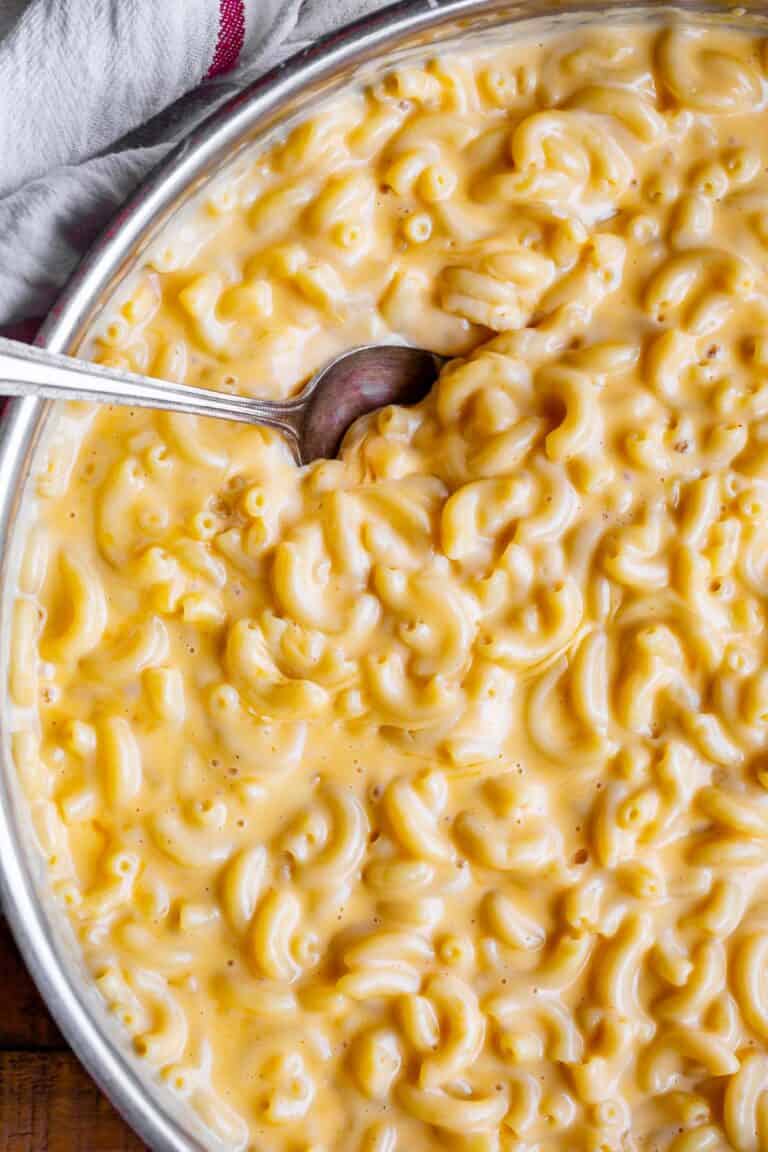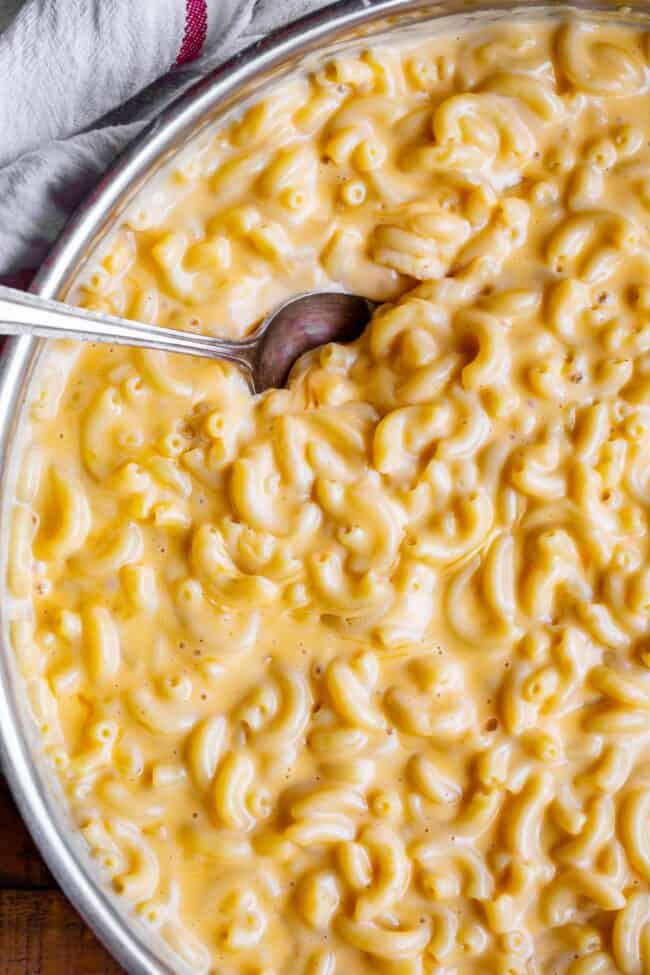 Aside from definitely needing a deep clean of my house, I now live in constant fear that he's going to choke on the approximately 1,000 baby-esophagus-sized toys my other children have amassed over the years. I feel like every time I set him down I'm unleashing him on a mine field. It is an absolute miracle that younger children ever survive, honestly.
Especially with a 3 year old in the house, who's constantly trying to "feed him" or "hug him" (to death). She's going to kill him accidentally through her own exuberance. At least it's not as bad as for my sister, who turned around one day to find her 2 year old poised over the newborn with a jagged rock in her hands, ready to strike. Gah!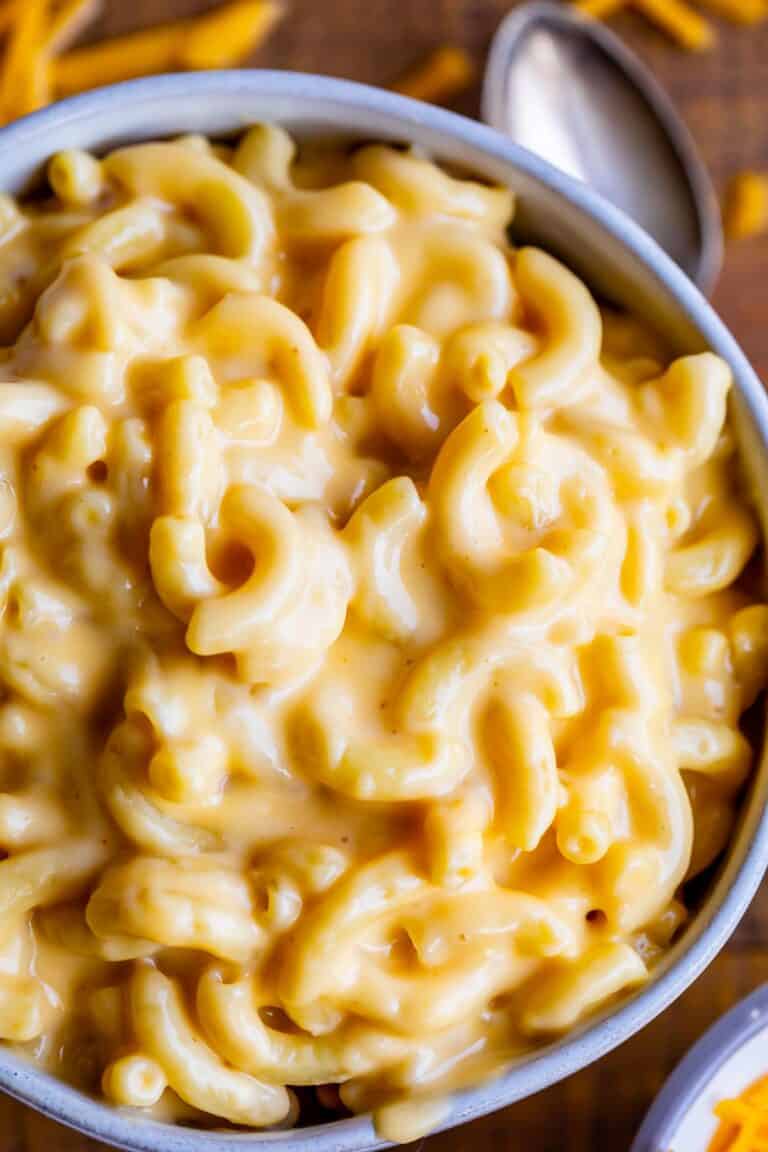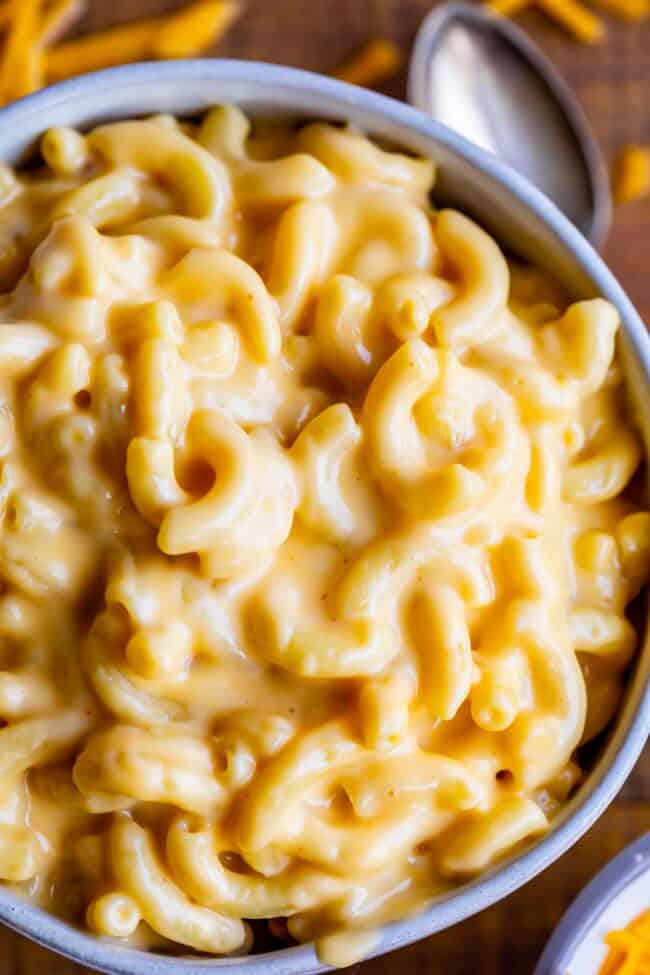 You'll love Homemade Mac and Cheese with Velveeta
Who's ready for some easy stovetop mac and cheese?? Kraft Mac and cheese from the box was the first thing I ever remember making on the stove. I forgot to drain it, and just added the butter and milk to the watery pasta. OOPS. I think I was 7 or 8? (What was the first thing you ever remember making in the kitchen??)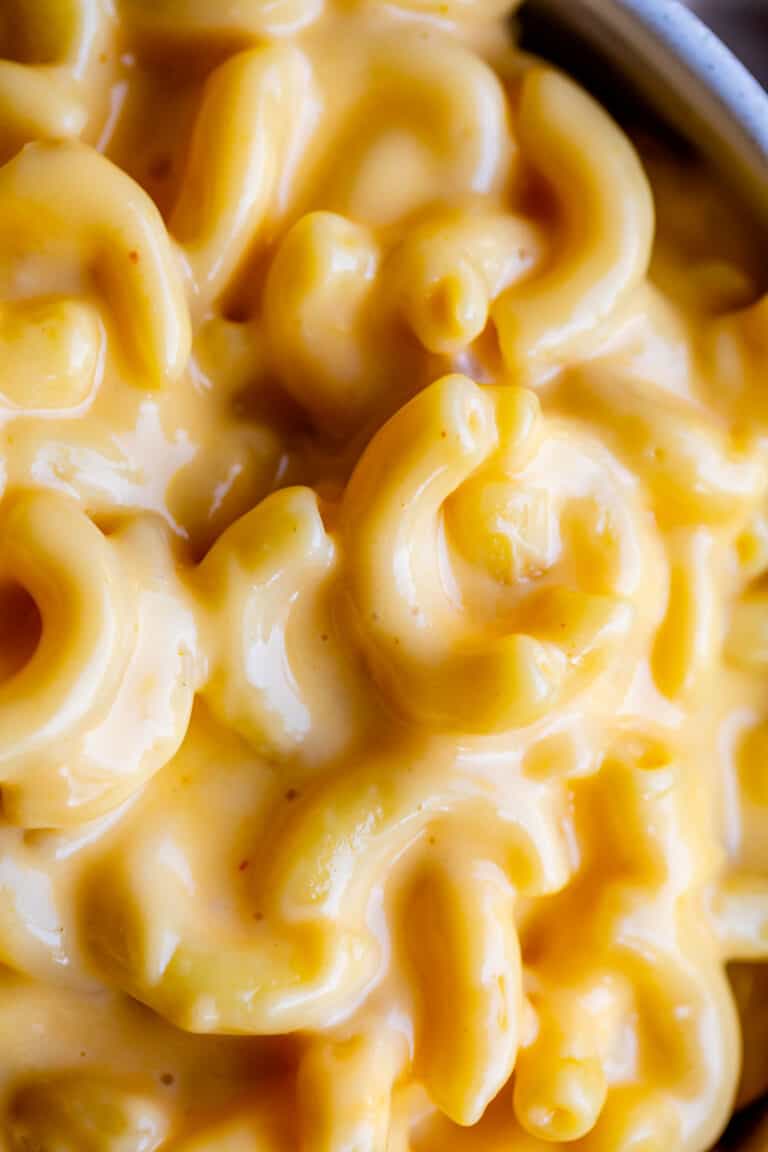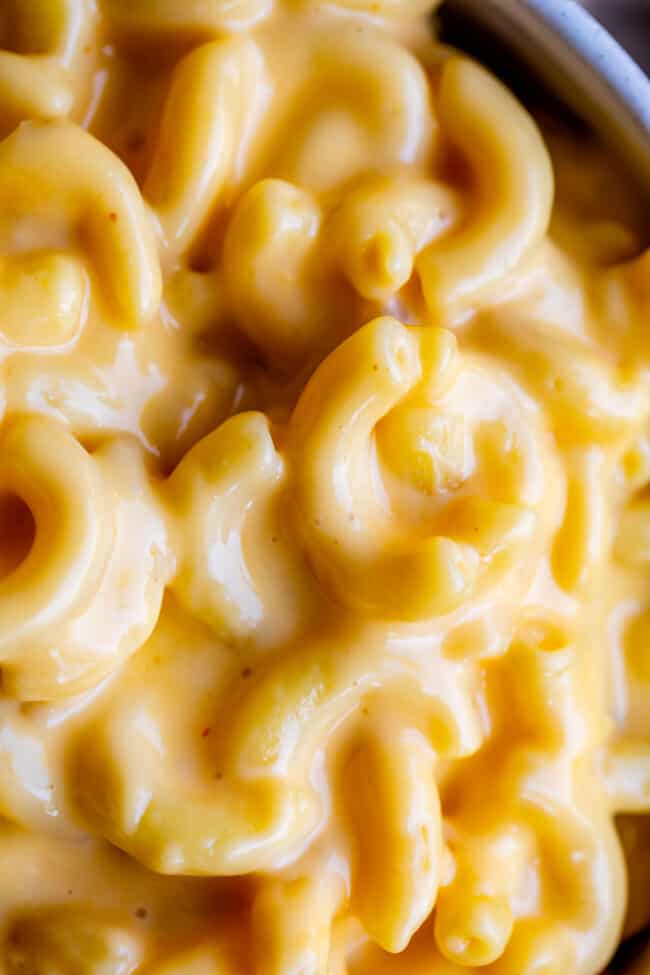 This recipe is very similar in texture to the famous blue box version that we all know and love. It is creamy, gooey, and oh so cheesy. Today's recipe is a lot richer than the box mac and cheese. And of course, we are using real cheese, so the flavors are a lot more intense! It's so delicious and nostalgic digging into a bowl of this ultra creamy, straight-from-your-childhood goodness.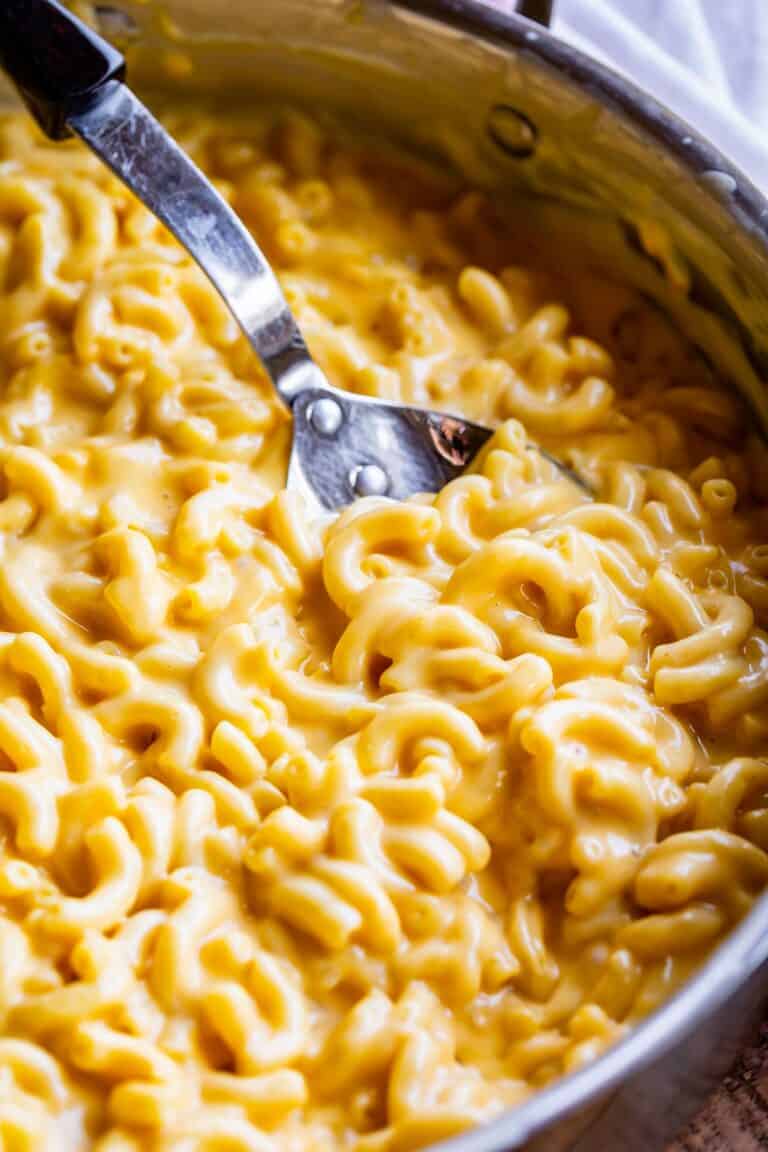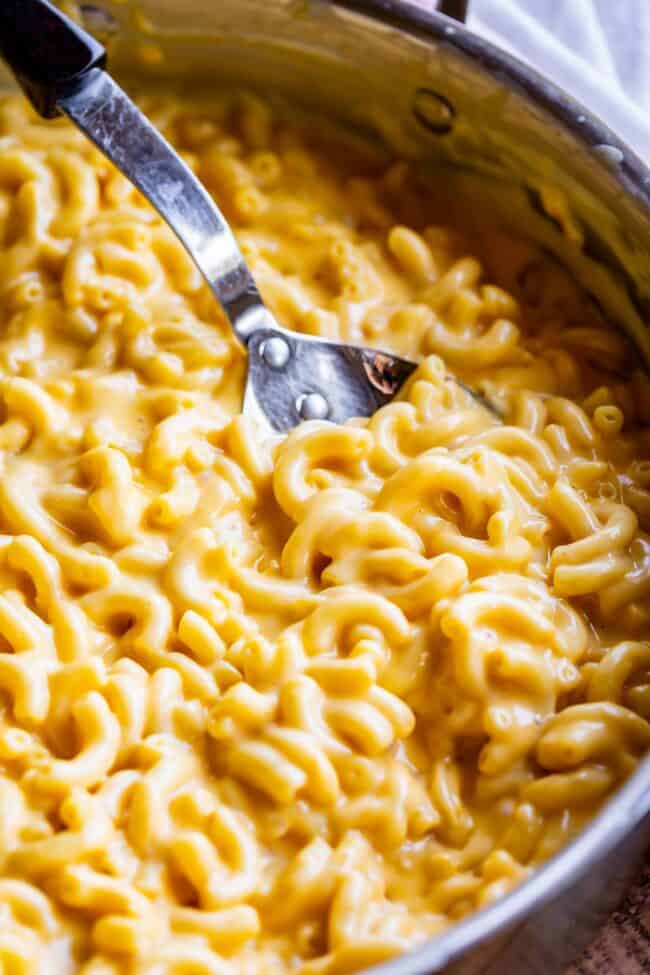 The best part is that it's all made in one pot. No second pot needed to boil the noodles. Hooray! We are boiling the pasta in the same mixture that turns into the cheese sauce. I will show you just how to make it!
How to make Easy Stovetop Mac and Cheese
As the title suggests, it really is super easy. Start out by melting a little butter in a pan. Add in some flour and whisk it up to make a roux. Gradually pour in evaporated milk, water, and whole milk, whisking constantly so you don't break the sauce (more on that below).
Once all the liquid is in, add the dry macaroni right away. Bring the mixture to a light boil, then turn it down to medium low to get your pasta to al dente.
After that, you simply add in your cheese and THAT'S IT. It's so easy and done in just 20 or 30 minutes, depending on how many 3 year olds you have in the background trying to strangle the 9 month olds.
How to make Stovetop Mac and Cheese creamier
The answer lies in 1) making sure you don't break your sauce, and 2) using the right kind of cheese.
We are starting out by making a very loose roux, which is a fancy way to say, "cooked butter and flour." You melt the butter, whisk in the flour, and once a paste has formed, you add liquid. This is the moment where you can make or break your mac and cheese. If you add the liquid too fast without whisking to incorporate it into the roux, you will get grainy clumps of buttery flour  in your mac and cheese, and the sauce will seem thin and watery.
As for the cheese: a combination of cheese is a must. You need sharp cheddar cheese for flavor. You can of course substitute any type of cheese you want (mozzarella, Gouda, Monterey Jack, etc) but American nostalgia demands sharp cheddar, so that's what I use.
The problem with high quality cheddar cheese is that it doesn't melt well into sauces. It's tends to seize up and get grainy. The flavor is amazing, but the texture is not quite what we're looking for in a perfectly creamy stovetop mac and cheese.
The solution? Add Velveeta, or any type of American cheese. Processed cheese  provides the texture we need in this recipe. Can you use all cheddar cheese, in place of the processed stuff? Yes. Will your mac and cheese be as creamy? Nope.
The other way to avoid grainy mac and cheese is to shred your cheddar cheese by hand. If you use pre-shredded cheese, it will not melt as smoothly because of the anti-caking agents they use to package it.
A defense of Velveeta and American cheese
For those of you who are writing off this recipe because it uses "the fake stuff," I will direct you to this article, What is American Cheese, anyway? It explains a little bit about processed cheeses. My favorite quote: "Saying "American cheese is not cheese" is like saying "meatloaf is not meat." Technically, true. But I'm never ever going to stop eating meatloaf, or American cheese!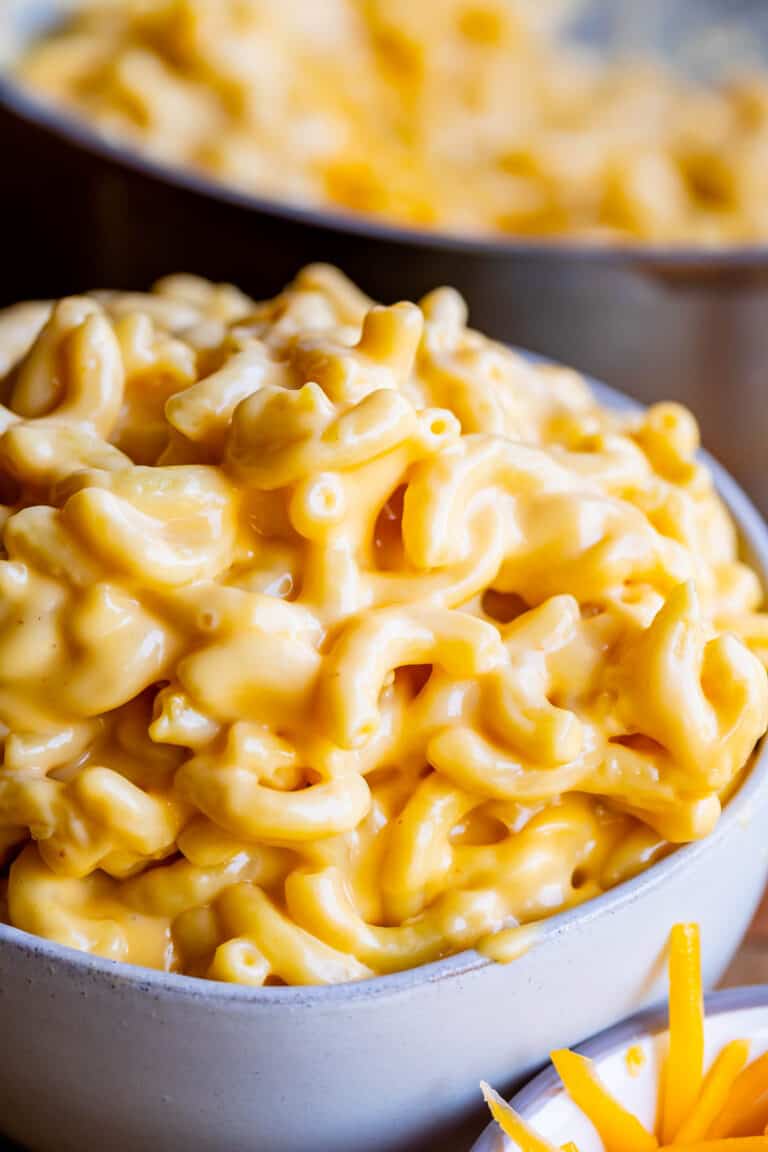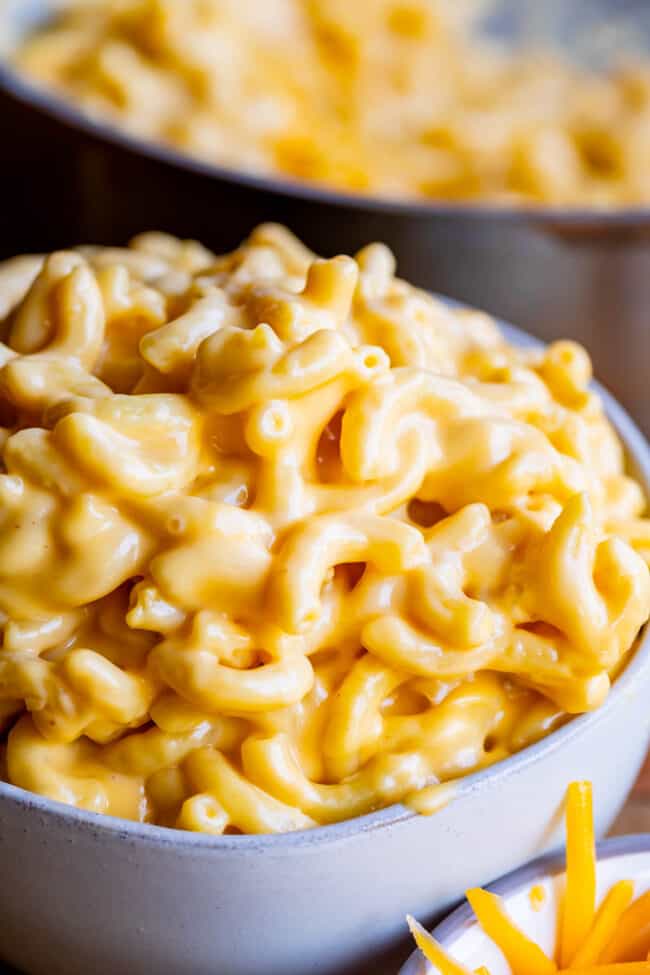 Mac and Cheese Recipe stovetop reheating
This easy stovetop mac and cheese will start to thicken as it cools, and once you refrigerate it, it will become even thicker. To restore it to the glorious creaminess of yesterday, just reheat it on low with a little milk added in. You can do it in the microwave, stopping to stir every 30 seconds or so, or you can do it on the stove.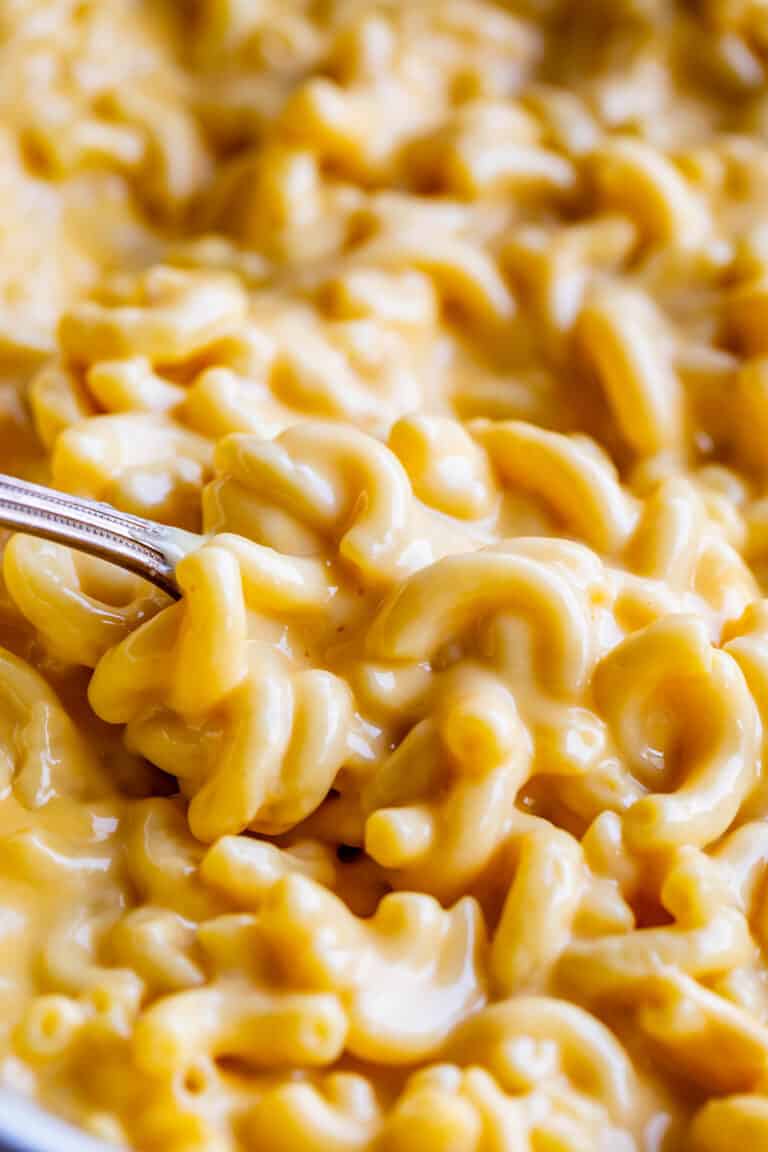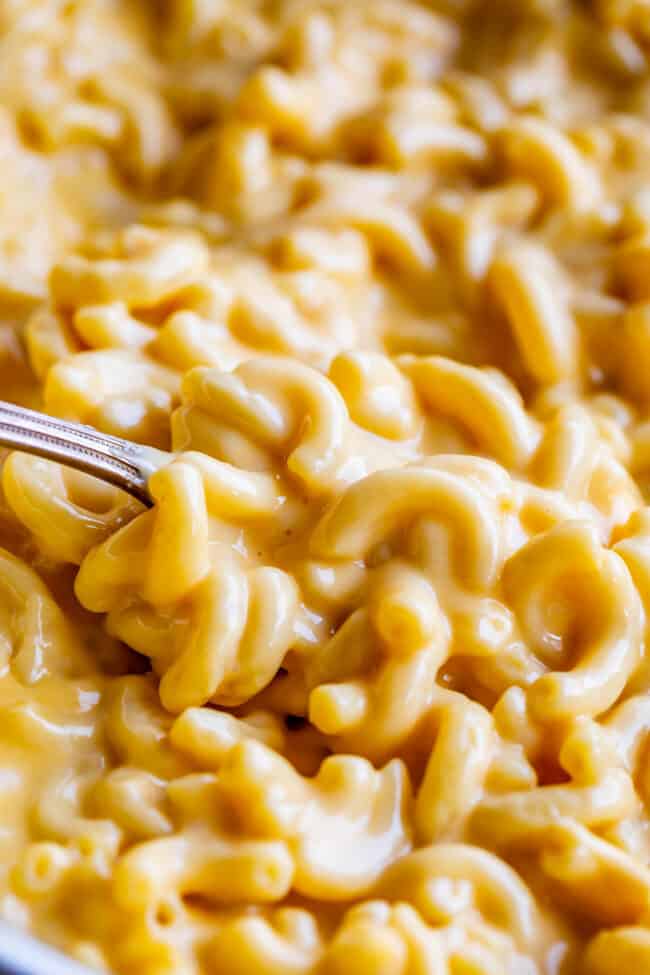 What to serve with Stove Top Mac and Cheese
A serving of meat goes really well with your mac and cheese.
One of the first times I visited my future in-laws house, Eric's mom made meatloaf for dinner, with a side of mac and cheese. I've been obsessed with the combo ever since. Here are my favorite meatloaf recipes:
Other meat dishes that go with mac and cheese are ribs, like Nana's Fall Off the Bone Ribs, or these Honey Balsamic Ribs.
Pulled Pork would also be delicious, or try this Grilled Tri Tip.
More Mac and cheese recipes!
Literally the Best Mac and Cheese I've Ever Had << I still stand by this, for a baked mac recipe! I love today's easy stovetop mac and cheese for certain occasions, but sometimes you need a hearty baked breadcrumb version, and this is it.
Homemade Macaroni and Cheese << This is a recipe from my mother-in-law. It's a really good basic baked recipe.
Mac and Cheese with Caramelized Onions and Broccoli << Adding stuff into your mac to make it a full meal is always a great idea!
Ham Mac and Cheese Soup << This is a soup version of mac and cheese, and it's a huge favorite!
More easy pasta recipes you are going to love!
The Only Macaroni Salad Recipe You Need << Bring this to a summer cookout! Everyone loves it.
Bacon Casserole Cheeseburger from Amanda's Kitchen
Pasta in Foil Recipe with Goat Cheese and Tomatoes from Cookin' Canuck
Pasta with Egg and Cheese from Copycat Recipes
Easy Mac and Cheese Recipe Stovetop
This super creamy Easy Mac and Cheese recipe is made on the stovetop in one pot! You don't need an extra pot to boil the noodles, hallelujah. The recipe is SO cheesy and flavorful. It's got the nostalgic texture of the blue-box mac and cheese, except it's a lot richer. It's done in 30 minutes. It's the recipe you need for a busy weeknight!
Ingredients
3

tablespoons

butter

2

tablespoons

flour

3

cups

water

2

cups

whole milk

1 (12-oz)

can

evaporated milk

1

pound

dry elbow macaroni

1/4

teaspoon

dry mustard

1/8

teaspoon

cayenne pepper

1 & 1/4

teaspoon

kosher salt

1/2

teaspoon

garlic powder

8

ounces

American cheese

,

or Velveeta

3-4

cups

sharp cheddar cheese

,

about 18 ounces, shredded

1/2

cup

additional milk

,

as needed
Instructions
Moving very slowly at first, and whisking constantly to not break the roux, very gradually add in 3 cups water, 2 cups milk, and 1 can evaporated milk. When you first start adding the liquid, stop every little bit to whisk it and smooth it out before adding more.

Add in 1 pound dry elbow macaroni. Turn the heat up to medium high. Bring the mixture to a simmer, stirring every minute or so to make sure the noodles don't stick. After a few minutes, you will see slow bubbles coming up from the center of the pan (not just the edges). Turn the heat back down to medium low. Continue cooking and stirring on medium low for about 10 minutes, until the pasta is al dente. Be sure to stir every 1-2 minutes so that your pasta doesn't stick, and so the sauce remains creamy.

Do not drain! Turn your heat to low.

Meanwhile, get your cheese ready. Chop

your American or Velveeta cheese into 1-inch chunks for easier melting.

Shred

3-4 packed cups of sharp cheddar cheese. (I do not recommend pre-shredded cheddar because it does not melt smoothly and you will end up with slightly grainy mac and cheese. But sometimes convenience beats perfection, I get it. Do what you gotta do.)

Turn the heat to low as soon as your pasta is al dente. Add in about 1/3 of the cheese. Stir it well and make sure all the cheese melts before adding another bunch of cheese. Adding in batches ensures that the mac and cheese doesn't get lumpy or grainy.

Serve immediately. If you have to wait a period of time before serving, add in about a half cup of milk and stir it over low heat to loosen it up a bit. The mac and cheese will thicken as it cools.

Reheat leftovers in the microwave or on the stove on low. Add in a little milk and stir as it heats up, to make it creamy again.
Nutrition
Serving:
1
g
,
Calories:
530
kcal
,
Carbohydrates:
32
g
,
Protein:
25
g
,
Fat:
33
g
,
Saturated Fat:
20
g
,
Polyunsaturated Fat:
1
g
,
Monounsaturated Fat:
9
g
,
Trans Fat:
1
g
,
Cholesterol:
104
mg
,
Sodium:
1222
mg
,
Potassium:
378
mg
,
Fiber:
1
g
,
Sugar:
10
g
,
Vitamin A:
1062
IU
,
Vitamin C:
1
mg
,
Calcium:
810
mg
,
Iron:
1
mg
We are a participant in the Amazon Services LLC Associates Program, an affiliate advertising program designed to provide a means for us to earn fees by linking to Amazon.com and affiliated sites.