Sweet Creamed Corn Casserole (with Jiffy Mix)
This stupid easy Creamed Corn Casserole recipe is made with a store bought Jiffy cornbread mix, and that's not an apology. It is SO good! If you grew up with this Thanksgiving side dish you know what I'm talking about. It is creamy, corny, custardy, and sweet. It's the perfect compliment to a holiday meal, but I also love serving it with a bowl of chili! Originally published October 30, 2020.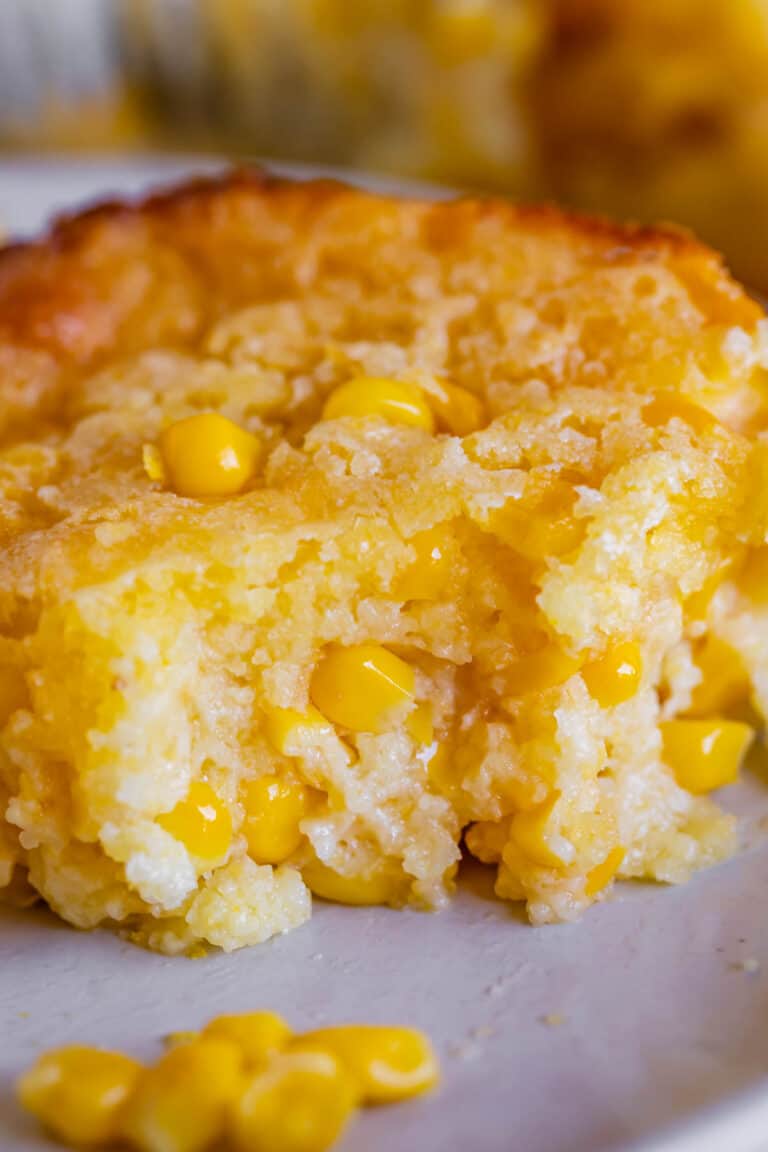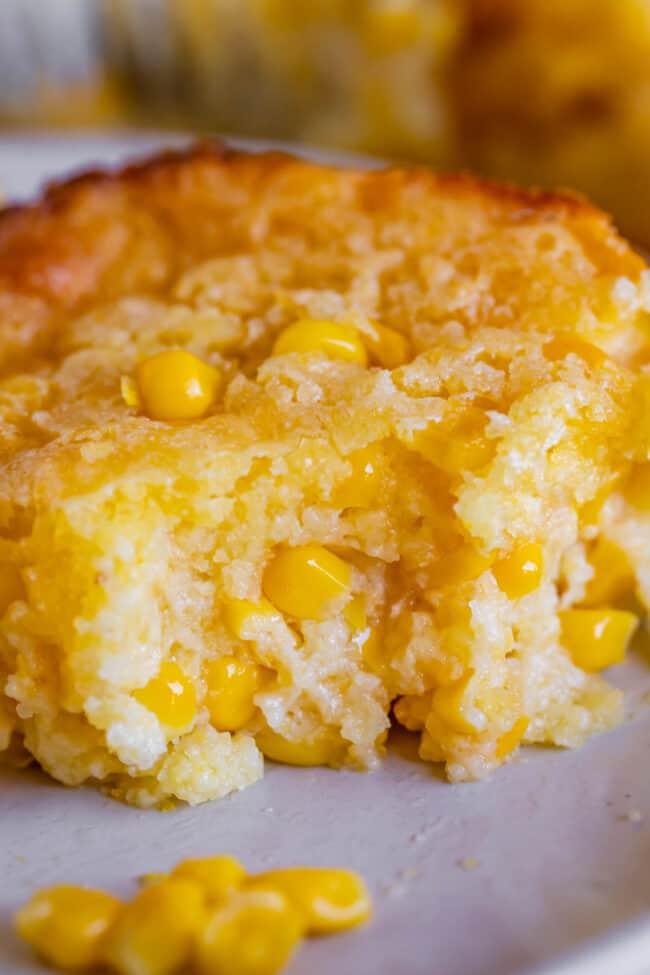 You guys! Halloween is tomorrow! And then soon enough it will be Thanksgiving. And then, you know what that means…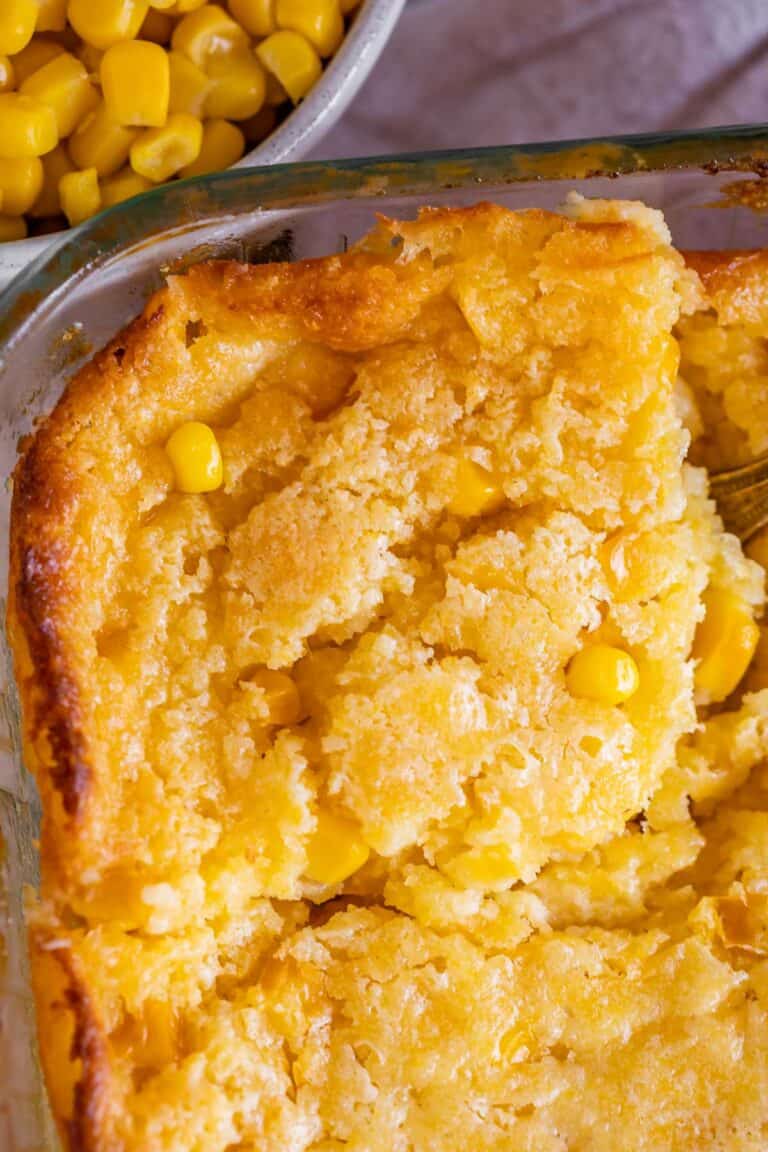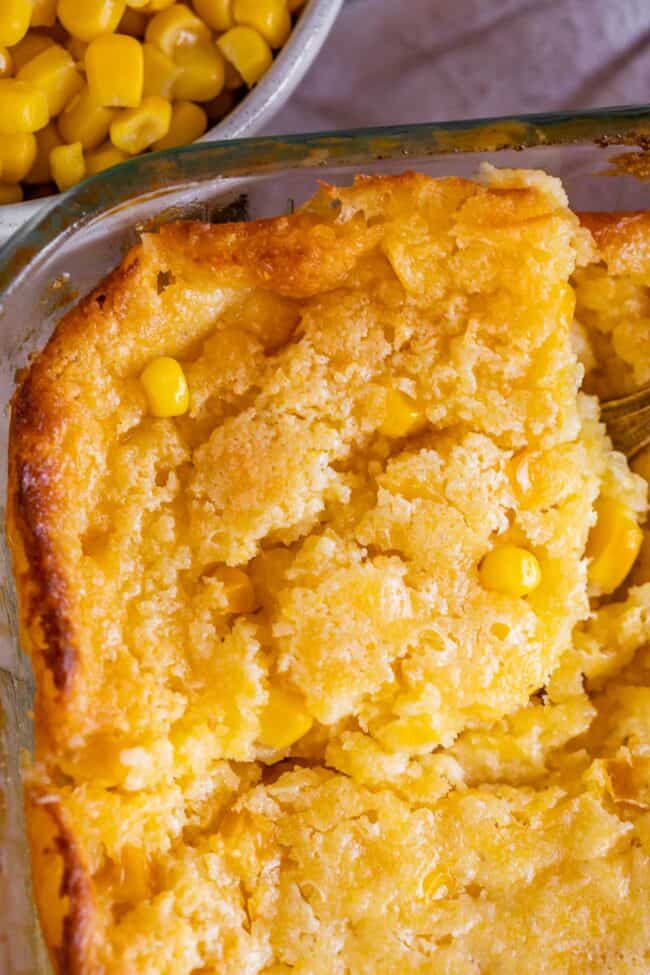 Okay, confession time. I busted out the Christmas music a few days ago. Okay, I'm lying, it was weeks ago, but at least it was in October and not September like last year. I needed some love an' comfort, and aren't Christmas songs like musical hugs? Who doesn't need a musical hug in 2020? I mean come on.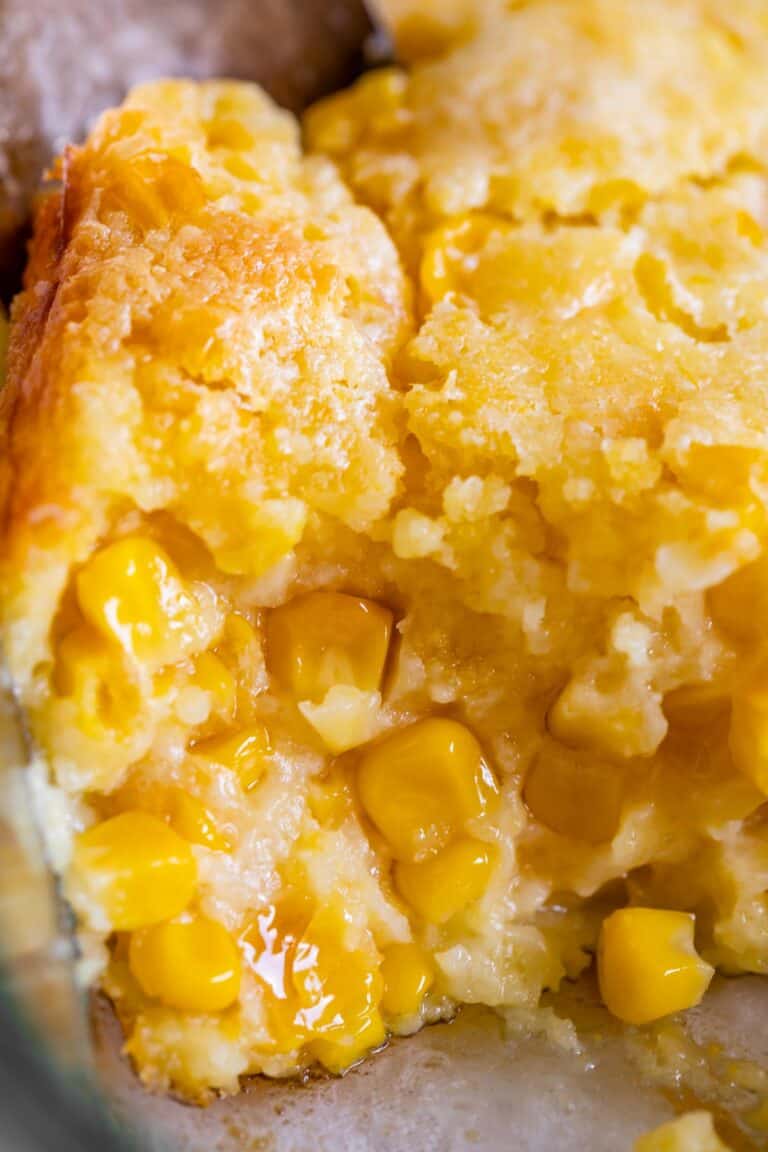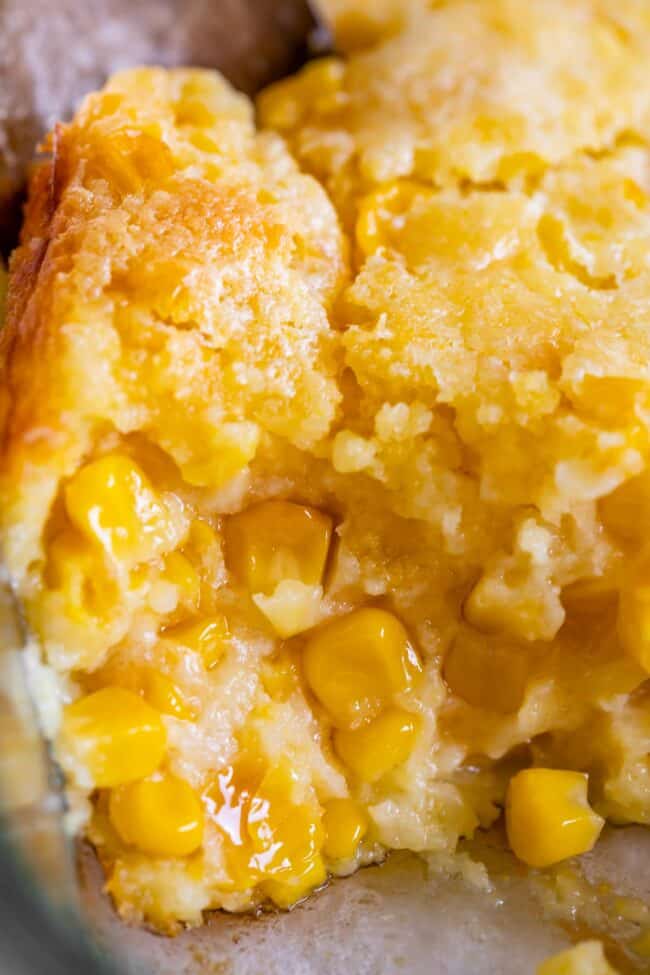 I know not everyone likes to listen to Christmas music this early (don't worry about hurting Thanksgiving's feelings. I think he has accepted his fate.) But whenever you do get started I recommend trying out Sufjan Steven's holiday albums. They are a little fun and different!
I can't be the only one who is dreaming of the holidays, right? My kids are always asking me why they put Christmas stuff out in the stores before Halloween even hits. Because people buy it, that's why! I am so here for it. Just yesterday I bought some gingerbread Oreos at the store. It's never too early in my book :)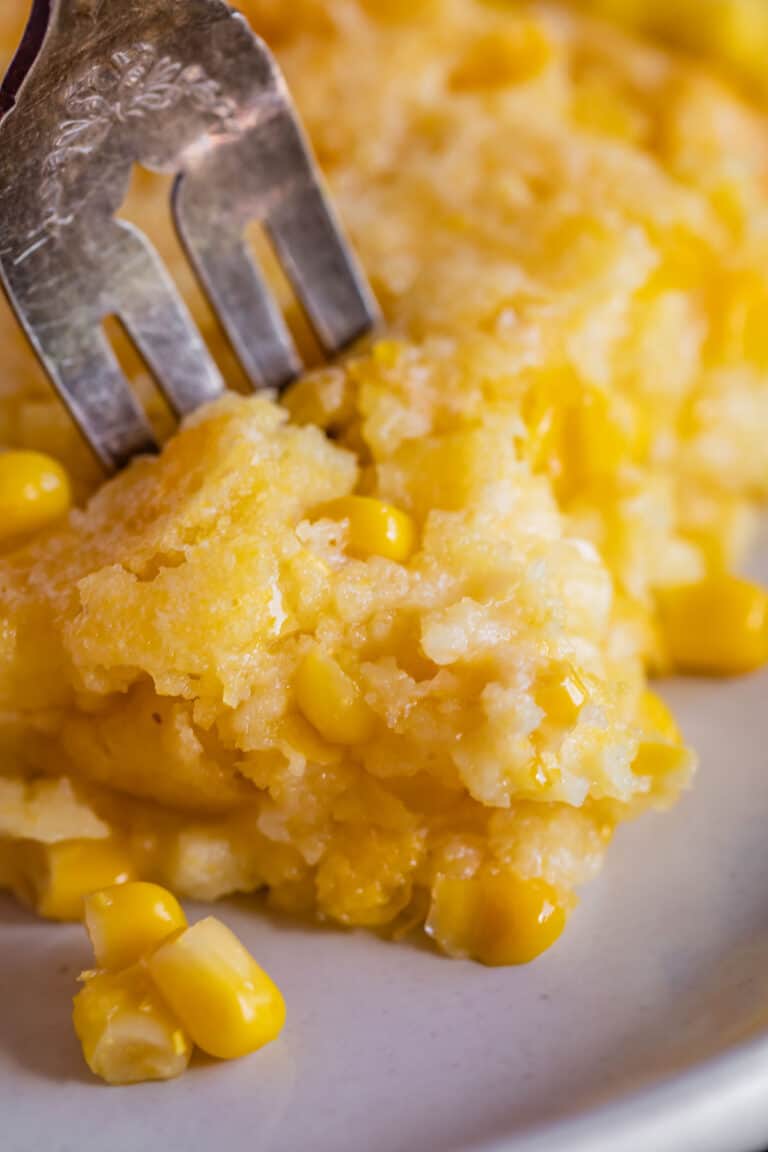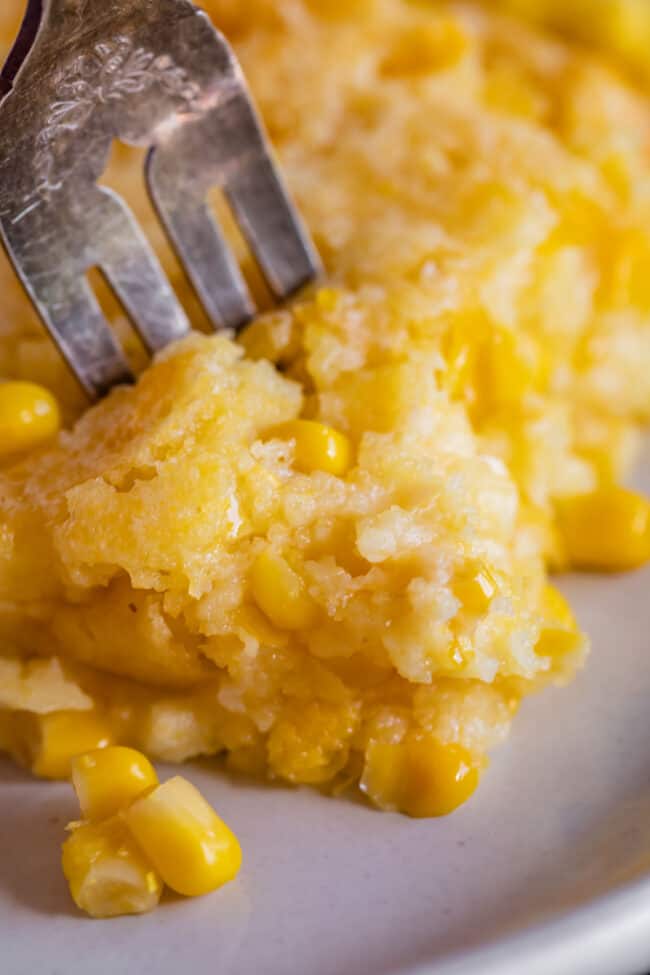 Or maybe it's because of all the holiday food prep I'm doing for you guys. Who has tried Jiffy corn casserole before?
What is Jiffy Corn Casserole?
I had never heard of this magical side dish before last year, when a friend of mine brought it for Thanksgiving (he said it was a staple at his family's holiday table growing up).
It's kind of a combination of cornbread and creamed corn. It is custardy, sweet, and decadently delicious. And it's so easy to put together it's kind of ridiculous! I think this is going to become a holiday staple for us from now on. It's so good with all the turkey and stuffing at Thanksgiving!
Is there a difference between corn casserole and corn pudding?
There sure is. Corn pudding has a heck ton of eggs in it that makes it super light and fluffy, like a very custard-y cake. (The Brits call this kind of cake "pudding," remember? Weirdos. ;) Just kidding I love you Brits come baaaack!!) I'm making a corn casserole, and it definitely doesn't have 5 eggs in it. Are there any eggs at all, you ask?? Well, let the recipe testing begin!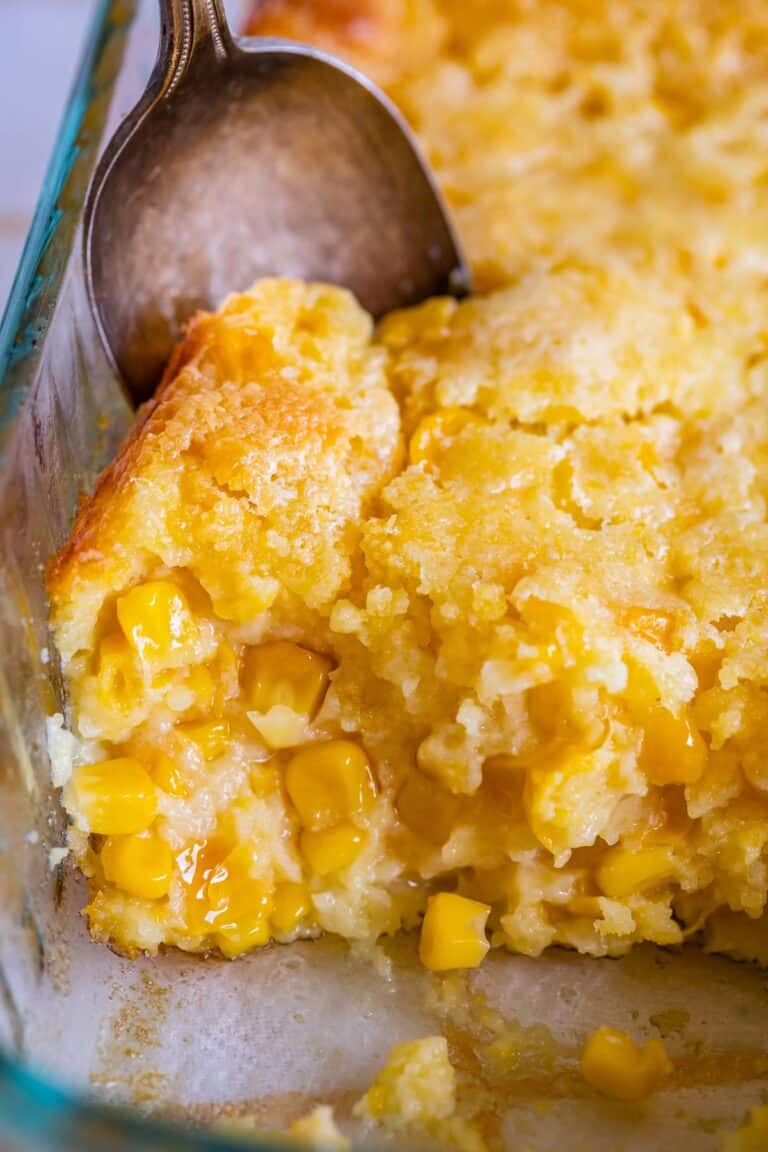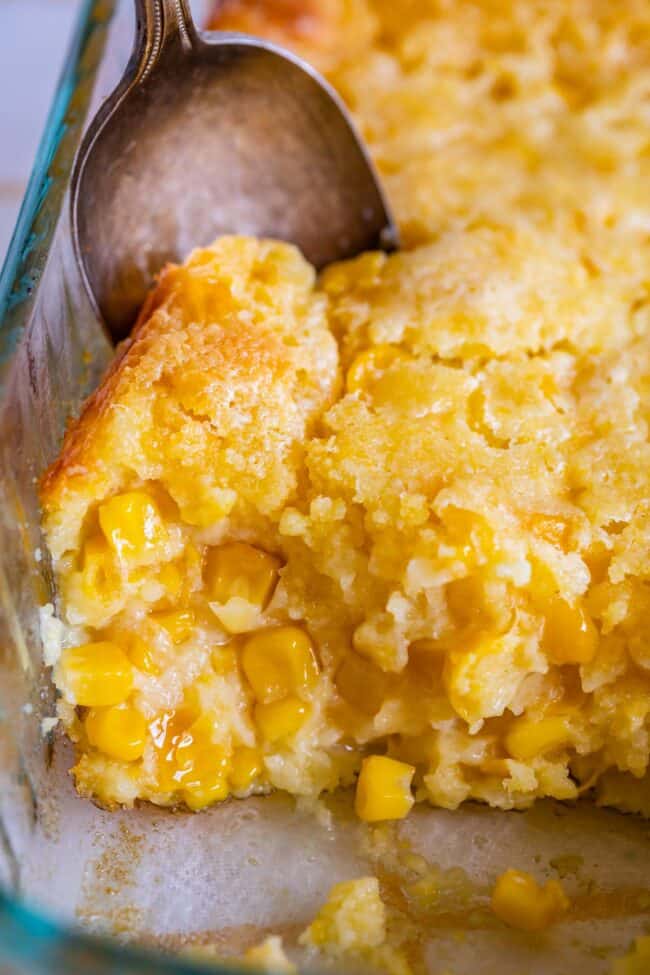 I had a lot of fun testing out two different kinds of recipes for Creamed Corn Casserole. The traditional recipe only has 5 ingredients:
Butter
Creamed corn
Whole canned corn
Sour cream
Jiffy Cornbread Mix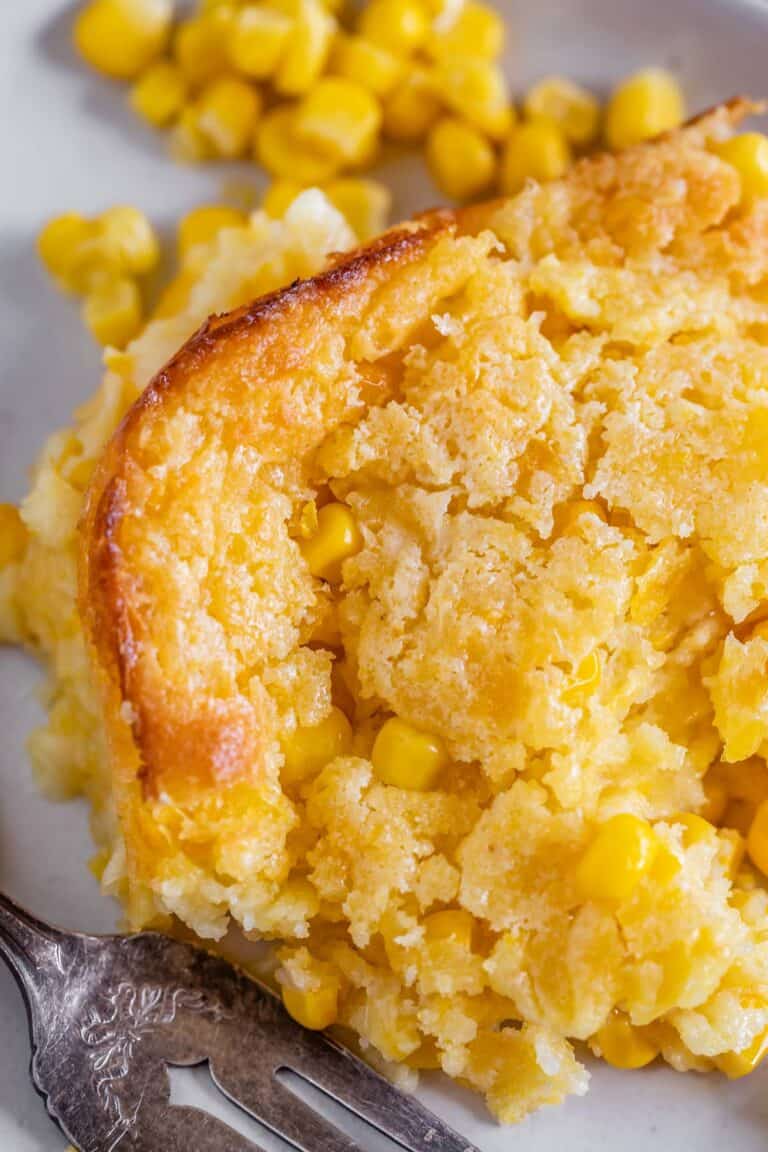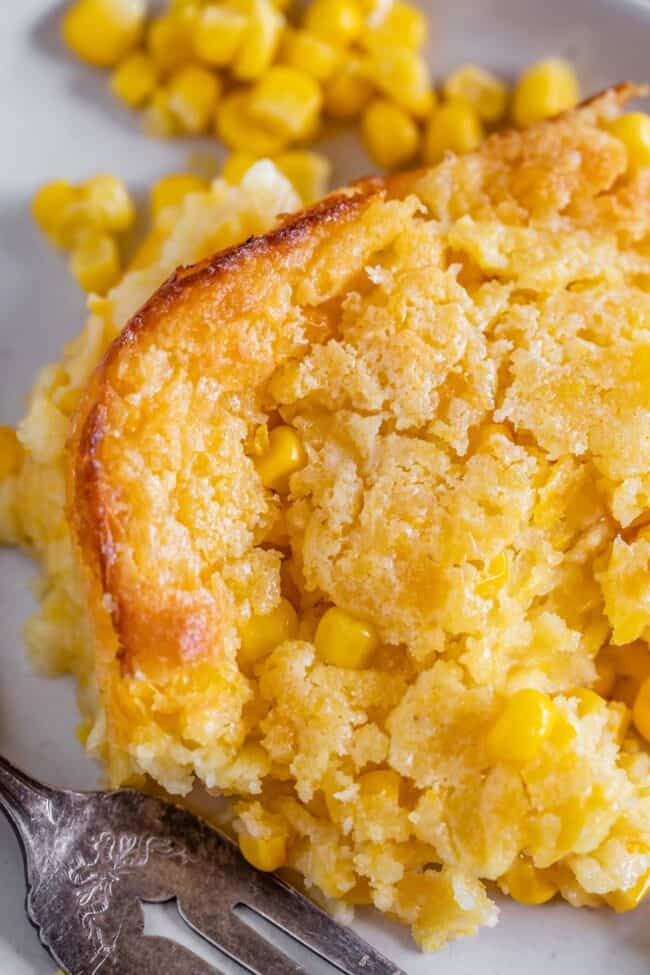 There are tons of different variations to this basic recipe. Add eggs, add more sugar, swirl sour cream on top, add cheddar cheese, top with cheddar cheese, etc etc.
TONS of recipes I looked at used either one or two eggs. I wanted to try it with and without eggs, so I did a little test!
How to make Creamed Corn Casserole
First we start out by melting a stick of butter right in the square pan we're using to bake the casserole in.


Use a brush or spoon to spread it up the sides so that your cornbread doesn't stick.
What is the difference between cornbread with creamed corn and regular corn?
Usually I prefer frozen corn, but canned corn has this special flavor that is just perfect for jiffy corn casserole. Canned corn is just whole kernel corn, water, and a little salt. We are draining out the water for today's recipe.


Creamed corn is a little more substantial: It's made of corn, water, sugar, corn starch, and salt. Basically it's corn in a sweetened sauce that is thickened with starch. It's good all by itself, but it's amazing when added to creamed corn casserole!
After you dump in the corn, add sour cream. I decided to also add 3 tablespoons of sugar and 1/2 teaspoon salt, but it's optional. (I always think recipes could use a little more salt and sugar, what can I say.)


I added 2 eggs to the pan on the right, to test which kind I like better. And last but not least, add in your Jiffy cornbread mix! Stir it all together right there in the pan. That's really it. So easy.


For the recipe with eggs, I reserved half of the sour cream and swirled it on the top. A few recipes said this was their secret to the dreamiest creamiest corn casserole! (I actually wasn't impressed with this method.)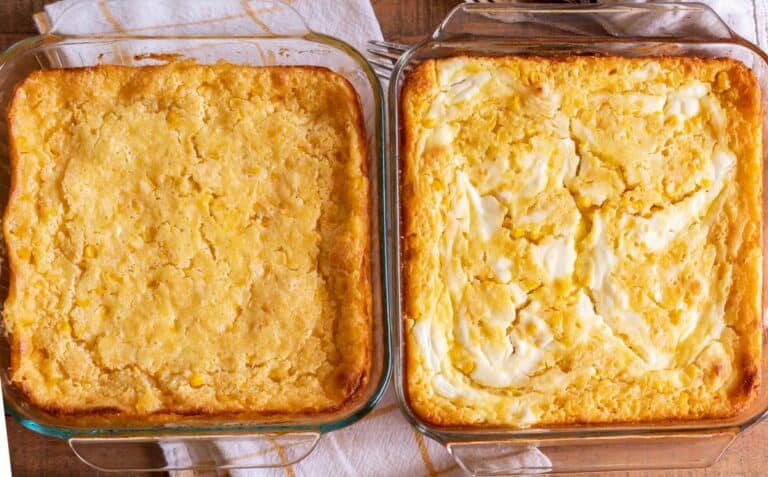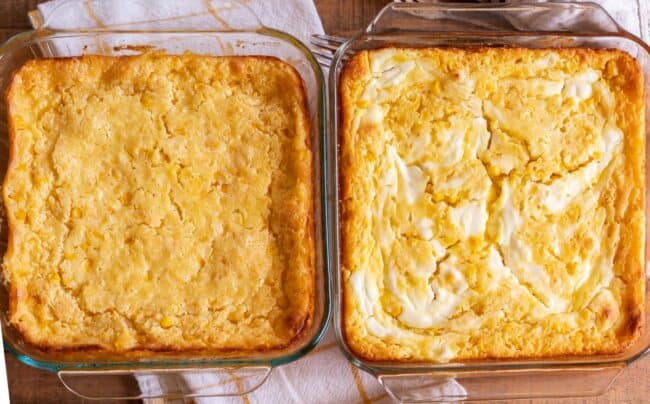 Here they are all baked! The one on the right with the sour cream swirled on top has two eggs in it. Here are the differences:
No eggs: your corn casserole will be richer and more custard-like. It is a little more dense, but in a good way. I love how creamy and corny it is. (This one was my favorite)
Add 2 eggs: your corn casserole will be fluffier and more cornbread-like. It will be taller when you bake it. It's a little bit like a souffle, especially if you add extra sugar (like, up to 3/4 cup)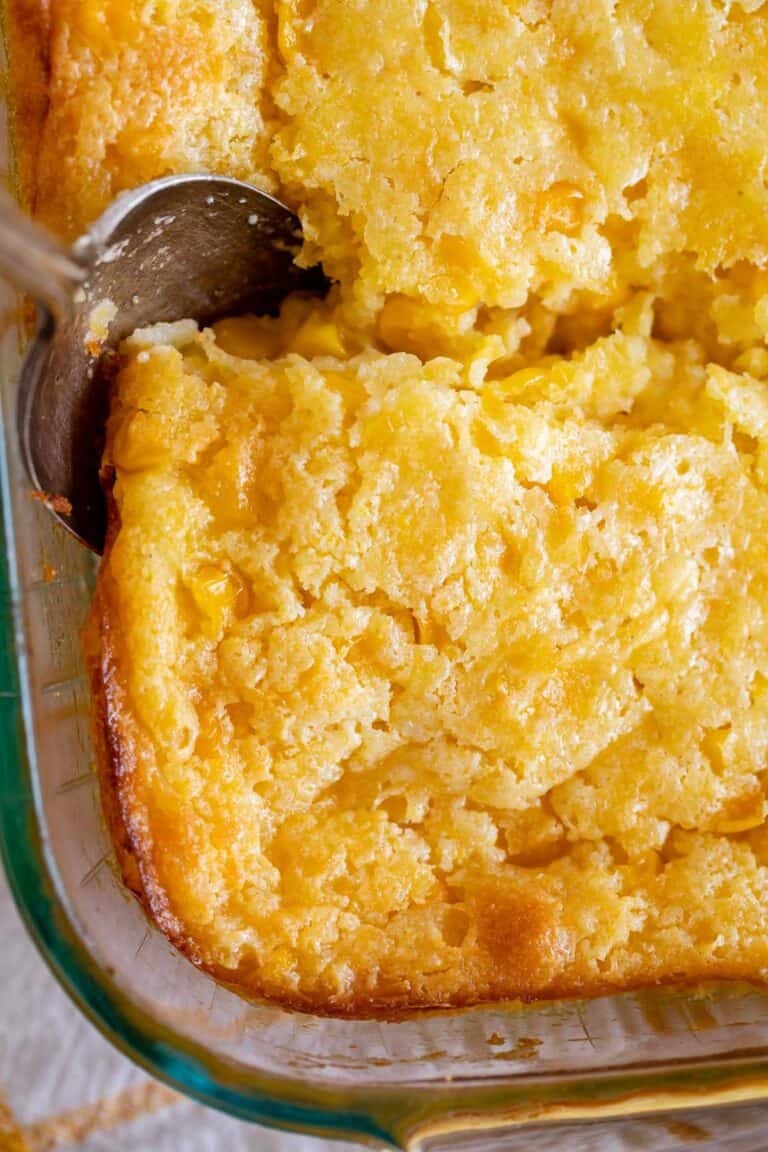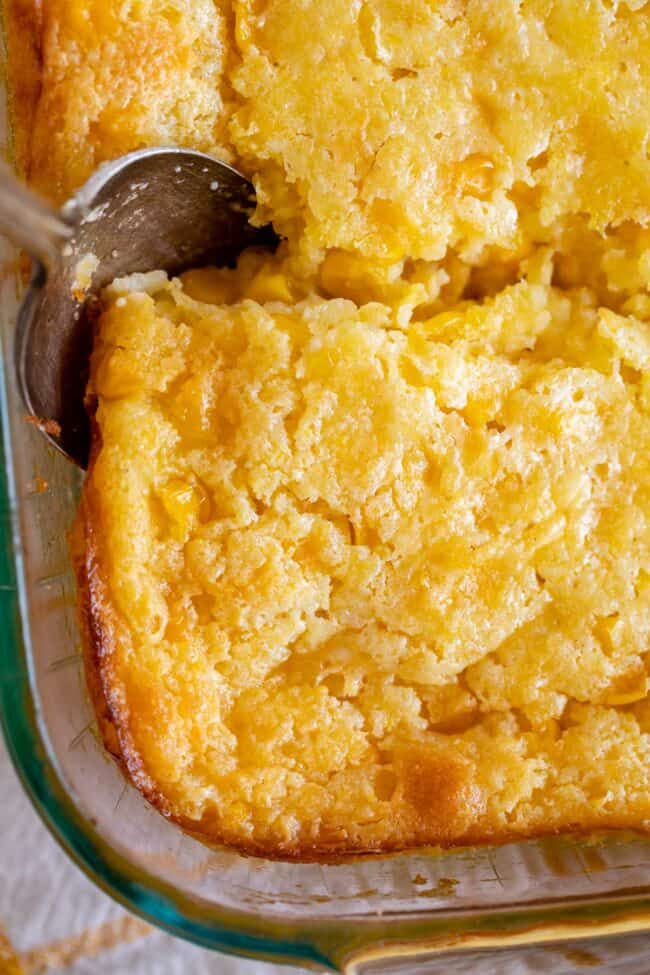 Both versions are really tasty. I couldn't stop stealing bites all day on the day I tested them. Eric couldn't even decide which one he liked better. I'm a no-eggs girl myself. FYI, all the final photos in this post (that aren't how-to photos) are of the no-egg version, and that is the official version in the recipe card below. (I also shared at the end of the recipe how to make the 2-egg version, if you want to try it.)
This is a great side dish to make for the holidays (you can even do it in the slow cooker, see notes), but I also think it makes a handy and tasty side dish for any random weeknight. My kids LOVED it. It's rich and sweet corny bread-y casserole, what's not to like??
Can corn casserole be made ahead of time?
Absolutely. You can make the casserole up to two days ahead. This is great during the holiday season. Warm it in the oven for about 20 minutes before serving. For a regular weekday meal, the casserole comes together so fast, there's hardly any need to make it ahead of time.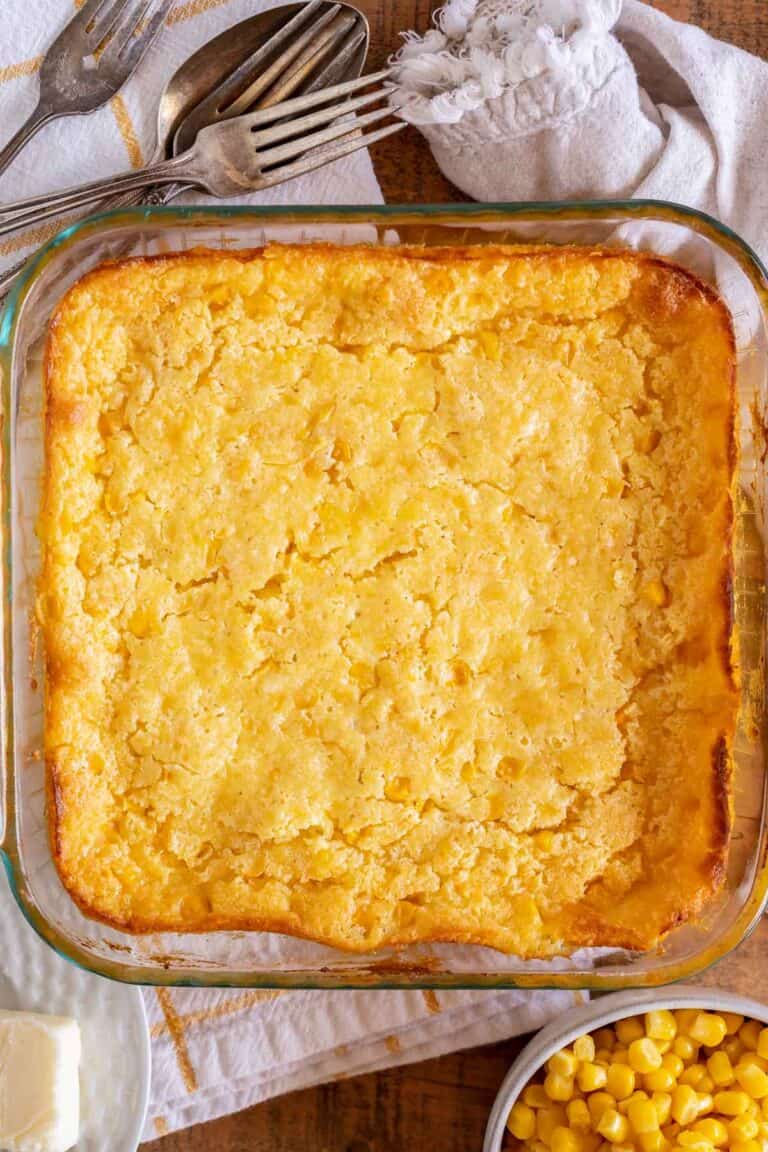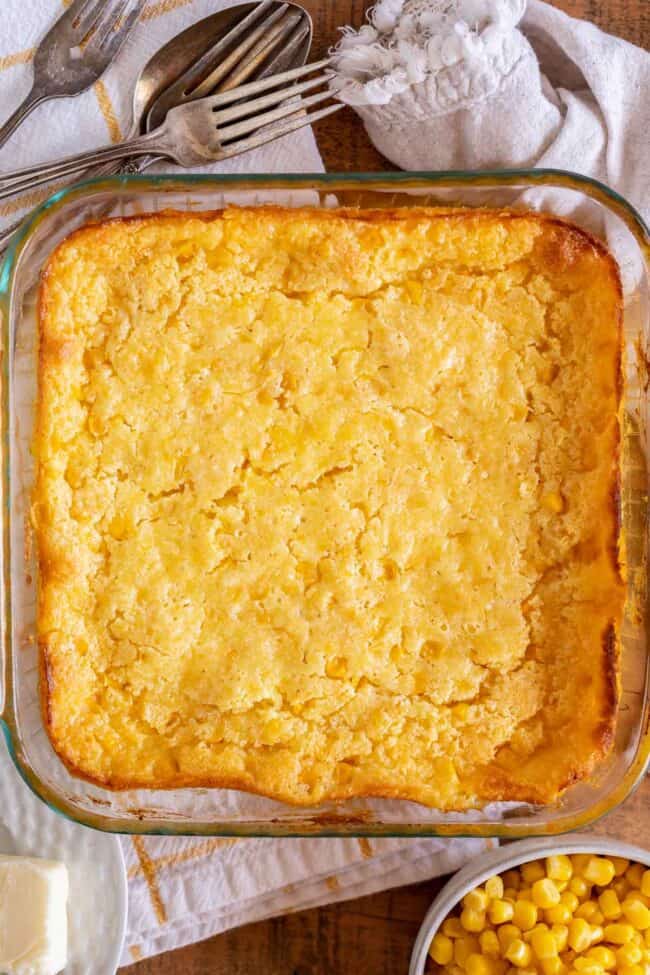 How to store and reheat Jiffy corn casserole
Tightly seal and refrigerate. This is not a counter-sitting casserole.
Reheat corn casserole in the oven at 300 or 350, covered with foil to retain moisture. Or you can microwave small portions for 45-90 seconds.
Can another cornbread mix be substituted for Jiffy Mix?
Have you SEEN other cornbread mixes? Maybe it's just California, but I've never seen another brand. If you see one, try it out. I bet it'll work just fine. Make sure it has the same weight amount, 8 ounces.
I haven't tried making homemade Jiffy mix, but if you don't have any, you can you can try making it. Mix together ⅔ cup all-purpose flour, ½ cup yellow cornmeal, ⅓ cup granulated sugar, ½ tablespoon baking powder, ½ teaspoon salt, and 2 tablespoons vegetable oil. Stir that all together and add to the recipe just as you would add in the box.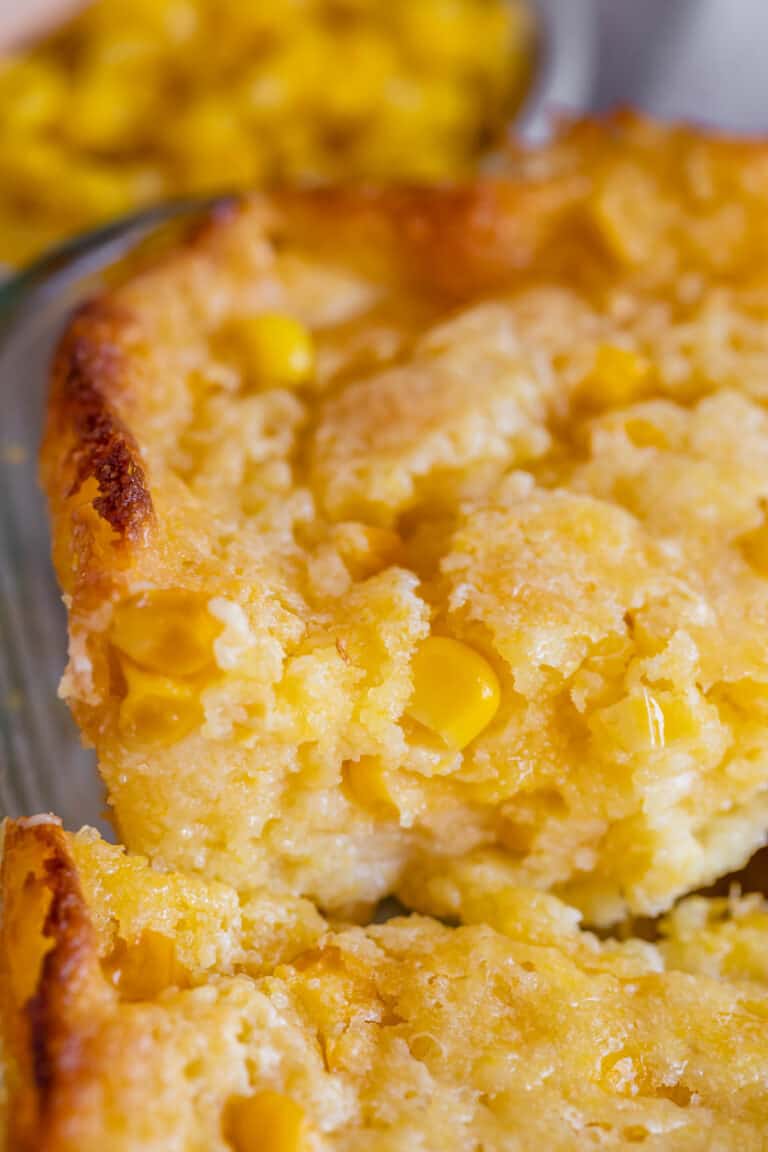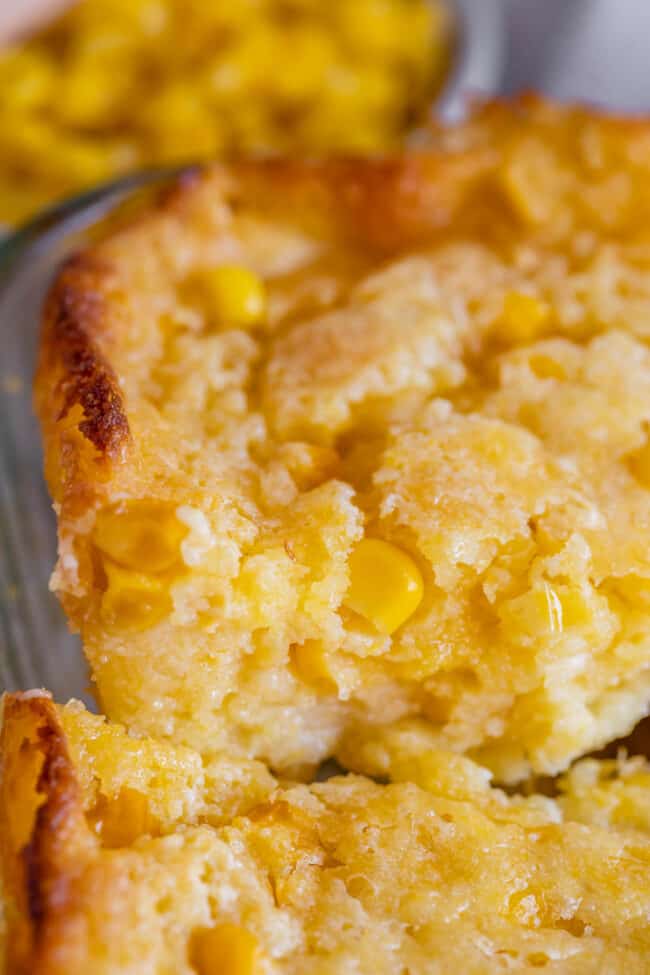 What to serve with Jiffy Corn Pudding
More side dishes for Thanksgiving!
Corn Casserole is a Thanksgiving favorite! Try these other sides:
Facebook | Pinterest | Instagram
Sweet Creamed Corn Casserole Recipe
This stupid easy Creamed Corn Casserole recipe is made with a store bought Jiffy cornbread mix, and that's not an apology. It is SO good! If you grew up with this Thanksgiving side dish you know what I'm talking about. It is creamy, corny, custardy, and sweet. It's the perfect compliment to a holiday meal, but I also love serving it with a bowl of chili!
Ingredients
1/2

cup

butter

,

(1 stick)

1 (15-oz)

can

whole kernel corn

,

drained

1 (15-oz)

can

creamed corn

,

not drained

1

cup

sour cream

3

tablespoons

granulated sugar

1/2

teaspoon

kosher salt

1 (8-oz)

box

Jiffy cornbread mix
Instructions
Preheat your oven to 350 degrees F.

In a

8×8 or 9×9 inch glass pan

, add 1/2 cup butter. Put it in the microwave and melt it right in the pan. (If you only have a metal pan, melt it in a bowl and then transfer to the pan.*) Use a spatula or

pastry brush

to spread the butter up the sides of the pan, so that it doesn't stick while baking.

Open the can of whole corn kernels and drain. I usually just press the lid down on the corn holding it upside down over the sink. Add the drained corn to the butter in the pan.

Open the can of creamed corn and dump the whole thing into the pan.

Add 1 cup sour cream.

Add 3 tablespoons sugar and 1/2 teaspoon kosher salt (add 1/4 teaspoon if using table salt).

Use a spatula to stir it all together until well combined. Scrape down the edges.

Bake at 350 for about 35-40 minutes. The edges should be turning golden brown and pulling away from the sides. When you shake the pan, the center should not be jiggling more than the edges. You can also use the toothpick test, when a toothpick inserted in the center comes out with no wet batter, it's done.

Let cool on a wire rack for a couple minutes before serving warm!
Variations
Sweet Corn Casserole: Add 1/2 cup or even 3/4 cup sugar instead of 3 tablespoons

For a cake-like texture, rather than custard texture: add 2 eggs. This makes the casserole a little more fluffy and taller. This is a VERY common addition to corn casserole, but I prefer it without the eggs. It's good both ways though!

Add cheese: how can you go wrong? Omit the 3 tablespoons sugar and stir in 1 and 1/2 cups shredded cheddar cheese. Sprinkle another 1/2 cup cheese on top. You could even go wild and add in some chopped jalapanos…or some cooked bacon!

Make it in the slow cooker: You can make this recipe as written in a 4-quart slow cooker, or double the recipe and make it in a 6 quart slow cooker. Be sure to spray the edges. Cook on high for 2 hours, or low for 3-4 hours. Super handy for Thanksgiving when you need your oven for the turkey!

To make the second version I tried that you see in the photos: Follow the recipe as directed making these changes: reserve half of the sour cream. Add 2 eggs. Mix it all together, then dollop the remaining 1/2 cup sour cream on top and swirl in with a knife. It will take a couple minutes longer to bake.
Notes
*Corn casserole baked in a metal pan will cook a couple minutes faster than in a glass pan, so check it early if you're using a metal pan.
You can double this recipe and bake in a 9×13 inch pan! It will probably take closer to 45 minutes to bake. A 9×13 inch pan will serve 16-20 poeple.
Nutrition
Serving:
1
g
,
Calories:
330
kcal
,
Carbohydrates:
37
g
,
Protein:
4
g
,
Fat:
19
g
,
Saturated Fat:
10
g
,
Polyunsaturated Fat:
1
g
,
Monounsaturated Fat:
6
g
,
Trans Fat:
1
g
,
Cholesterol:
41
mg
,
Sodium:
657
mg
,
Potassium:
186
mg
,
Fiber:
2
g
,
Sugar:
11
g
,
Vitamin A:
538
IU
,
Vitamin C:
3
mg
,
Calcium:
48
mg
,
Iron:
1
mg
More Recipes you will Love!
We are a participant in the Amazon Services LLC Associates Program, an affiliate advertising program designed to provide a means for us to earn fees by linking to Amazon.com and affiliated sites.