Cheesy Scalloped Potatoes Recipe
This Cheesy Scalloped Potatoes recipe is my new favorite holiday side dish! Could anything be more classic for serving at Easter, Thanksgiving, or Christmas? Thinly sliced russet potatoes are layered with cheddar cheese and the BEST creamy, flavorful sauce. It all bakes together into this magical, melt-in-your-mouth experience, with an ultra crispy cheddar cheese topping! You can even make them ahead of time.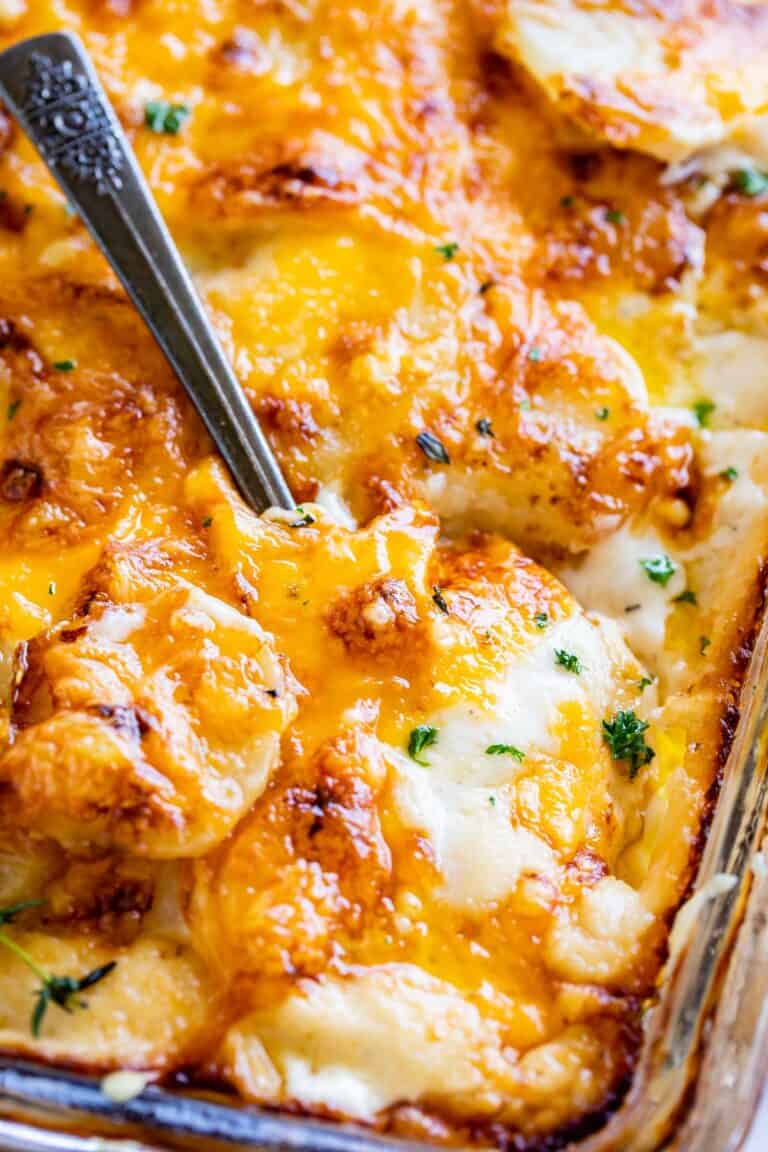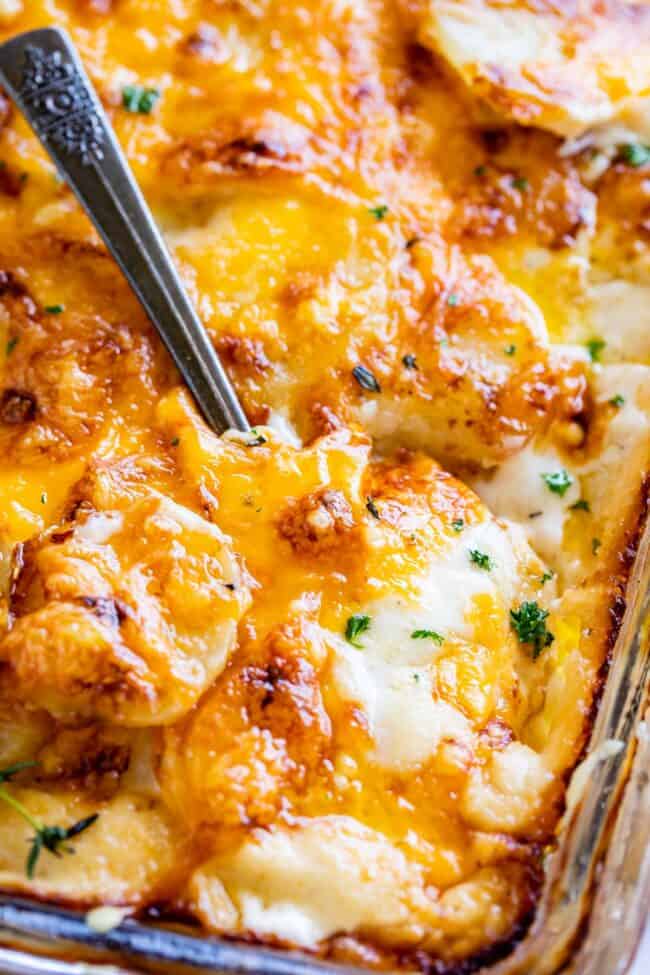 Last night some old friends came over for dinner. Amelia has been a nurse for many years, but just recently got a new job in Labor and Delivery. She was VERY nervous about it at first, and even asked her supervisors if she could have an extra week of shadowing after they thought she was ready. Which they gave her. But on her last night being supervised, the hospital got totally slammed and they needed to divide forces.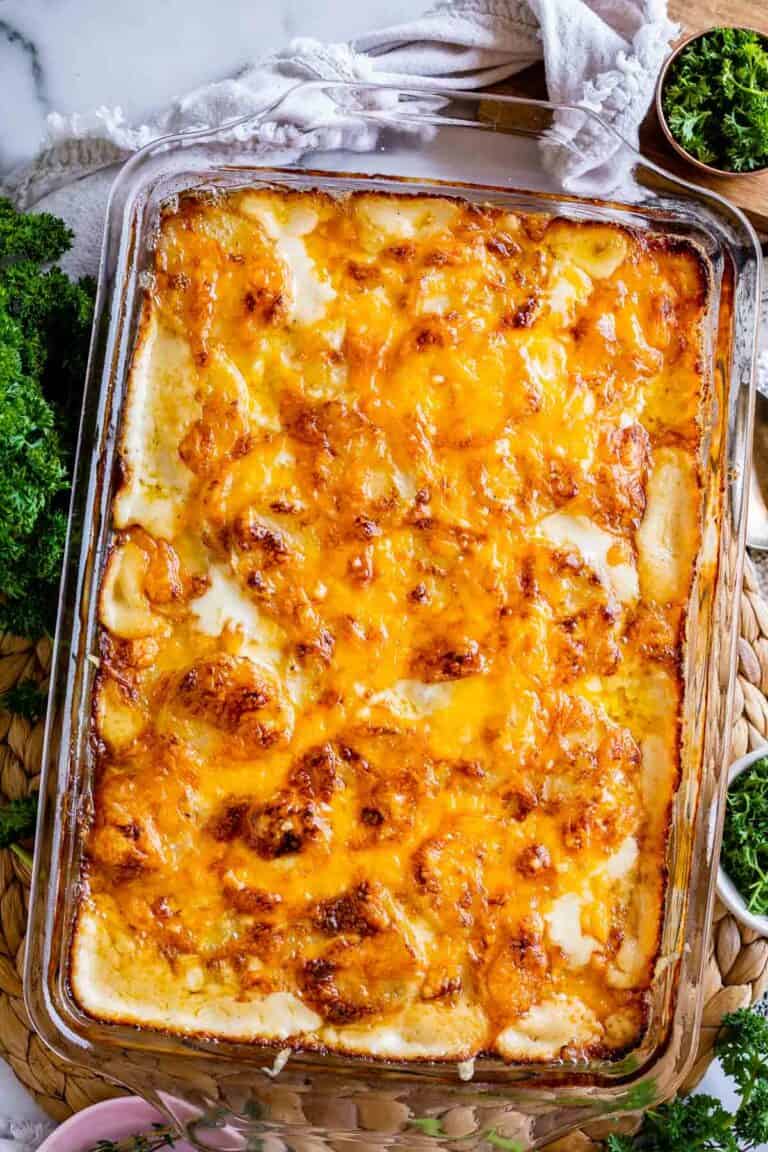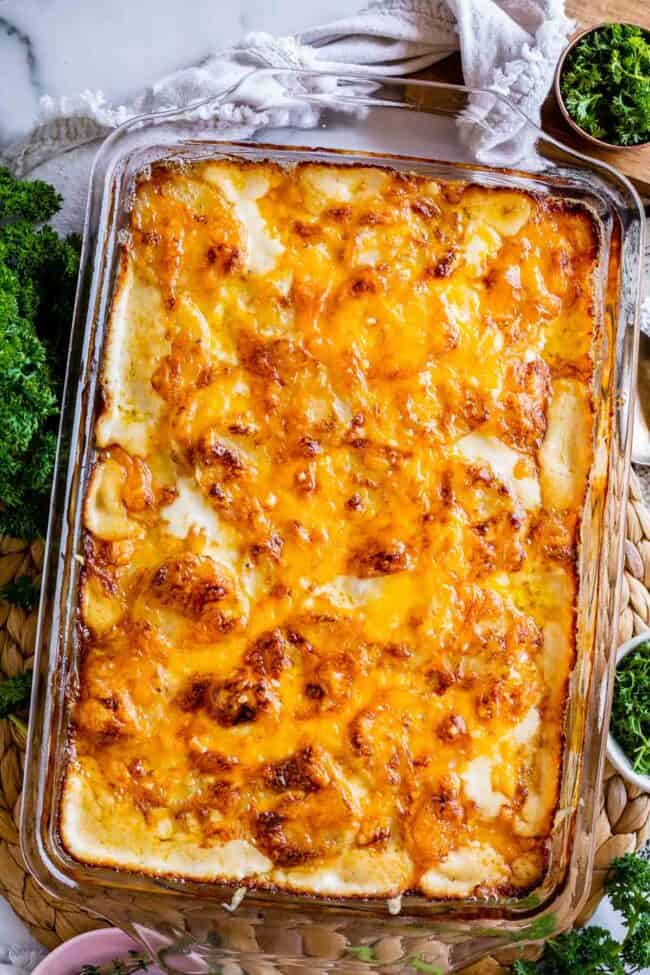 So here's Amelia, 3 hours into her first time being on the job solo, and she's in the room alone with one of her patients. AND OUT POPS A BABY. She said that she was so flustered and in shock that she couldn't even find the nurse bell, she just hollered toward the door, "We got a baby in here!!"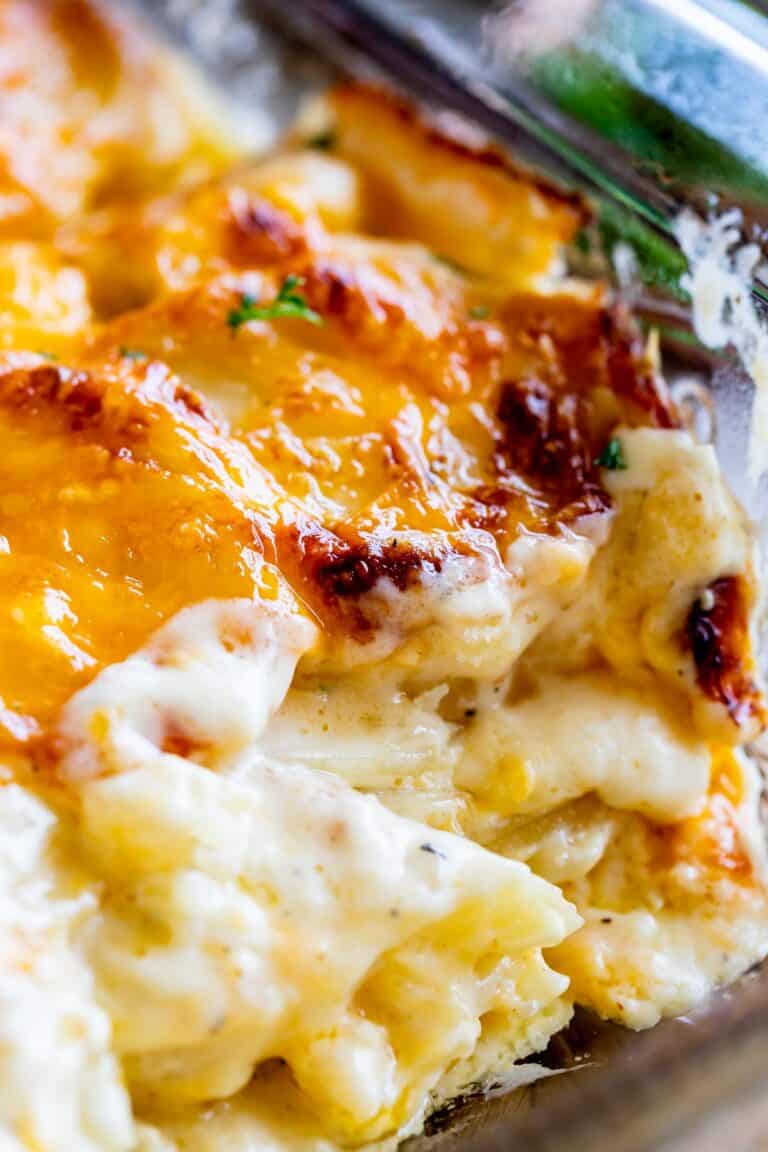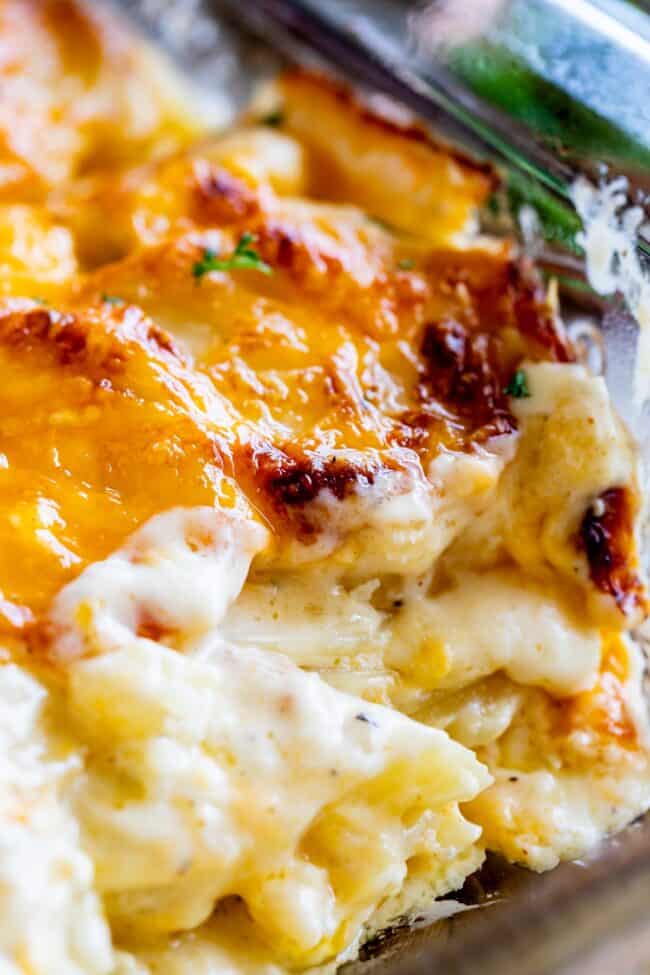 So what's new with you? Delivered any babies recently?? You guys, I can't even imagine having this kind of job. Amelia is extremely talented and has since single-handedly delivered two other babies on the job, because she's awesome like that.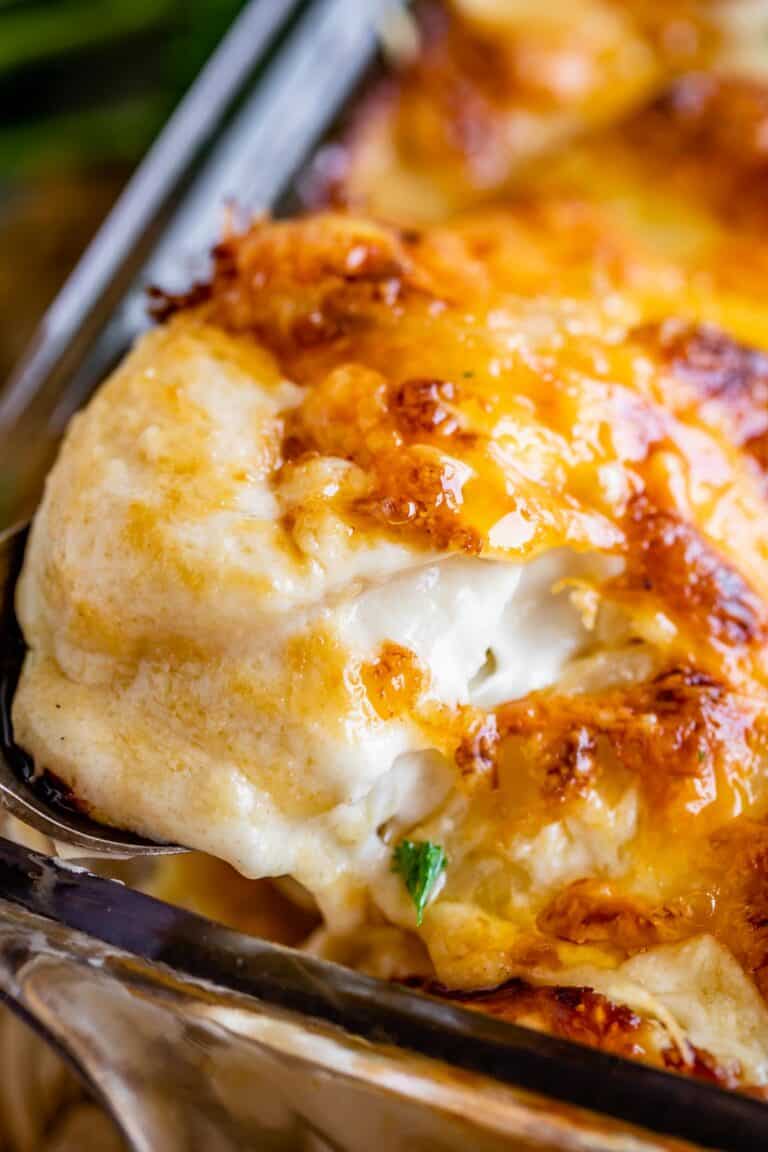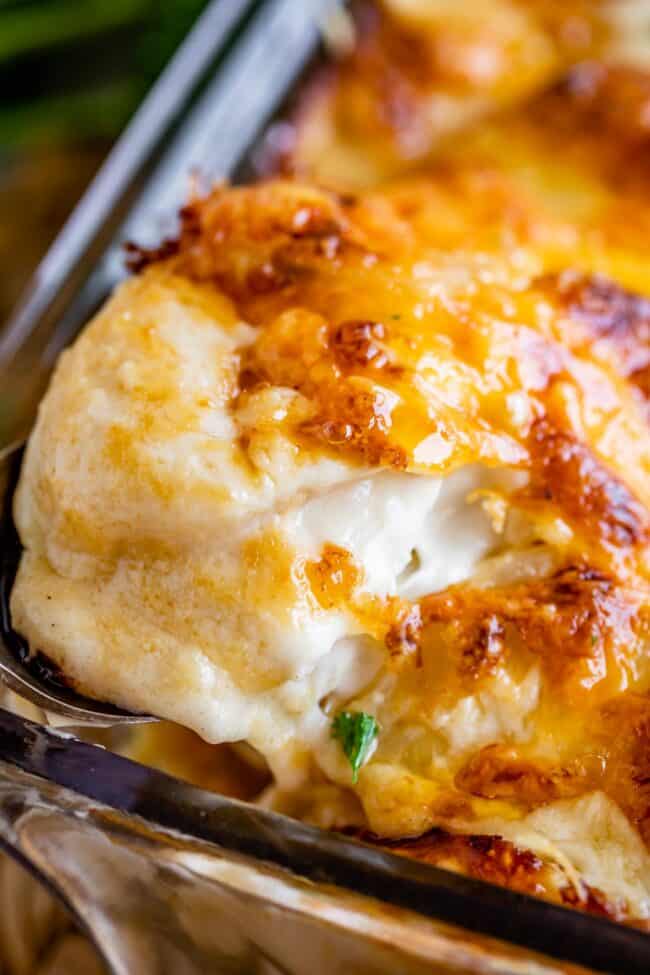 I don't think I would EVER get the hang of it. I feel like no matter how many times I'd done it before, I would be the one screaming, "We got a baby in here!!!" and frantically ringing the nurse bell, completely forgetting the fact that I'M the nurse and am supposed to know what to do. So much for instilling confidence in my patients.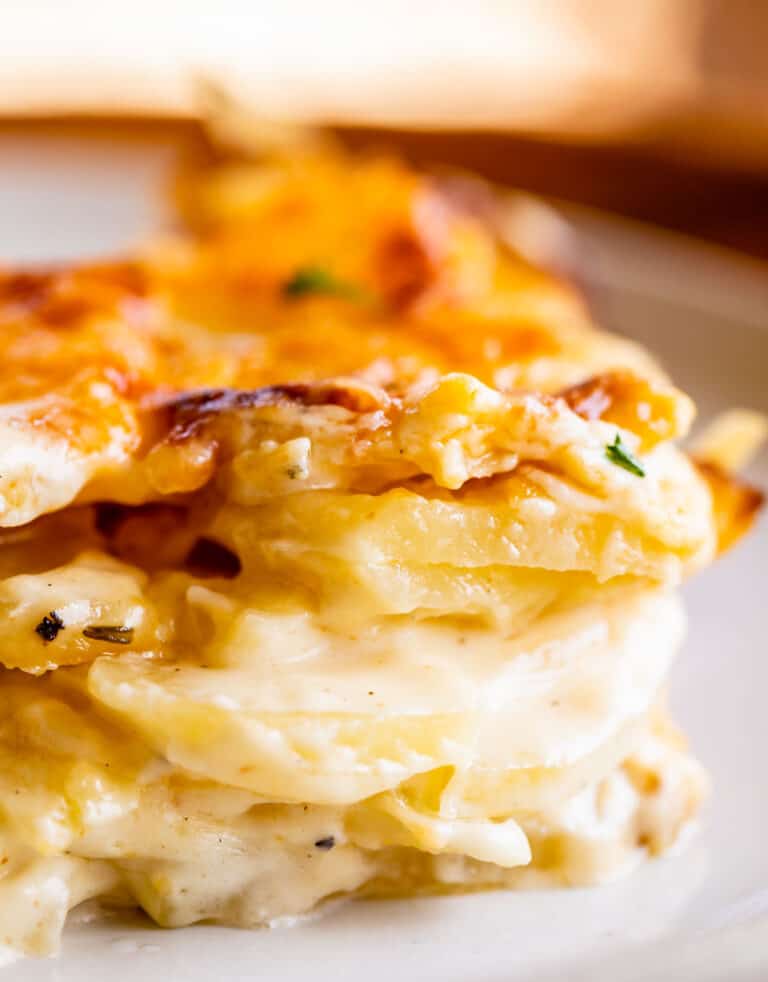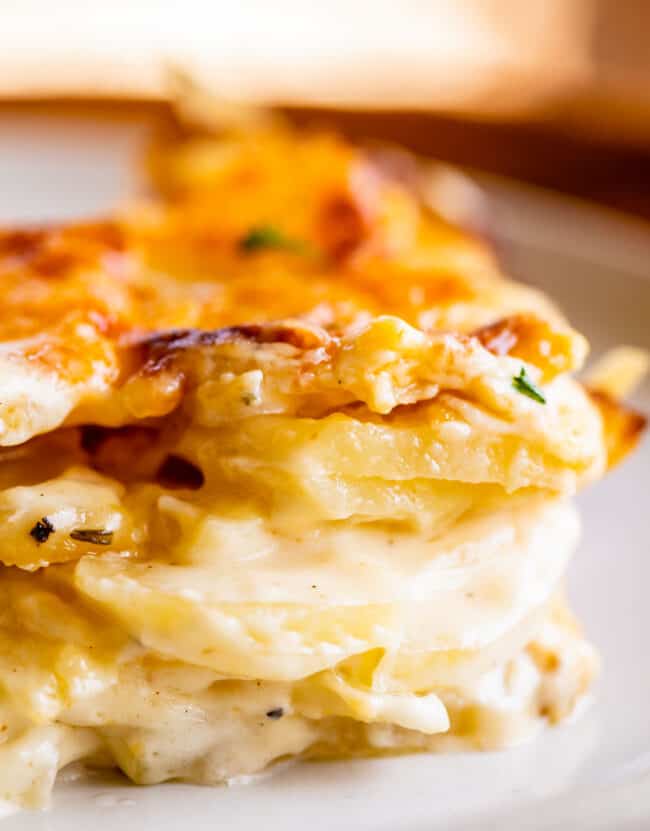 I'm so glad there are calmer, not so birth and death type jobs, like food blogging. Ah, doesn't it feel nice just thinking about it? You get to make food, take pictures of it, eat it, and then tell everyone how they can recreate such a fantastic experience. So soothing. So not life or death.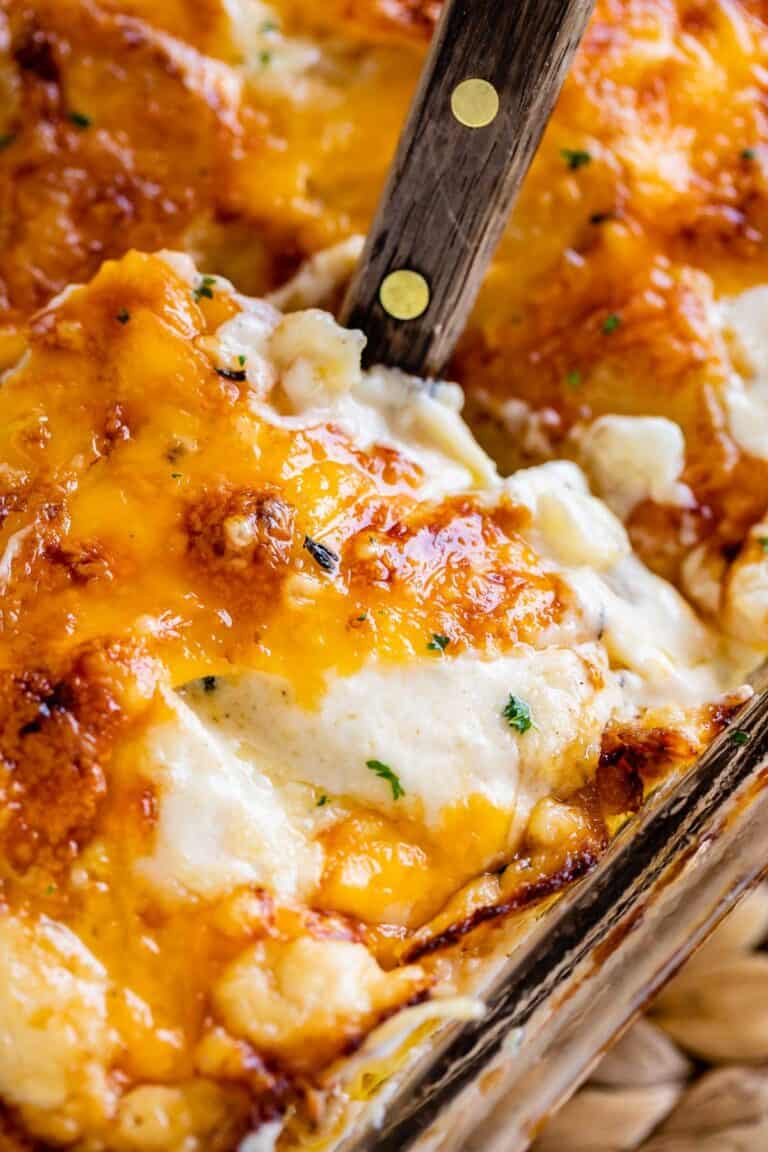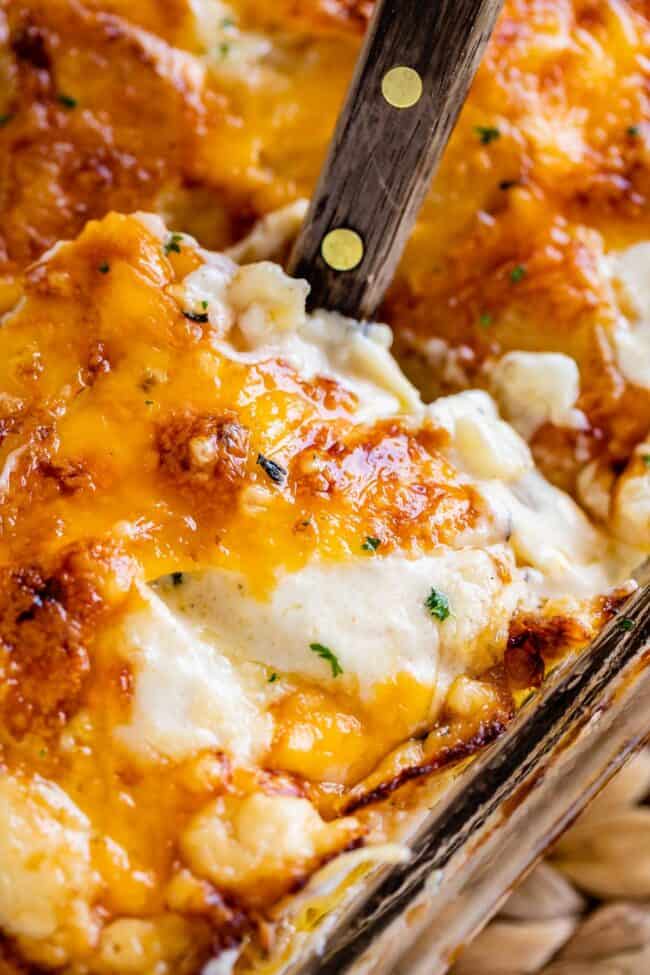 My hats off to all you nurses out there. Catching babies like it's nbd and making us all feel confident that you know what you're doing. I fake it til I make it at my job, why shouldn't you??
Well, even if I would be a failure as a nurse, at least I can make some mean scalloped potatoes. It's the little things, right?
The BEST cheesy scalloped potato recipe
Who loves a good scalloped potato dish? Seems like everyone loves this holiday classic! I used to be a mashed potato girl all the way, but that was before I discovered the secret to phenomenal scalloped potatoes that are never dried out: CREAM. Cream has got your back. Cream makes the world go round.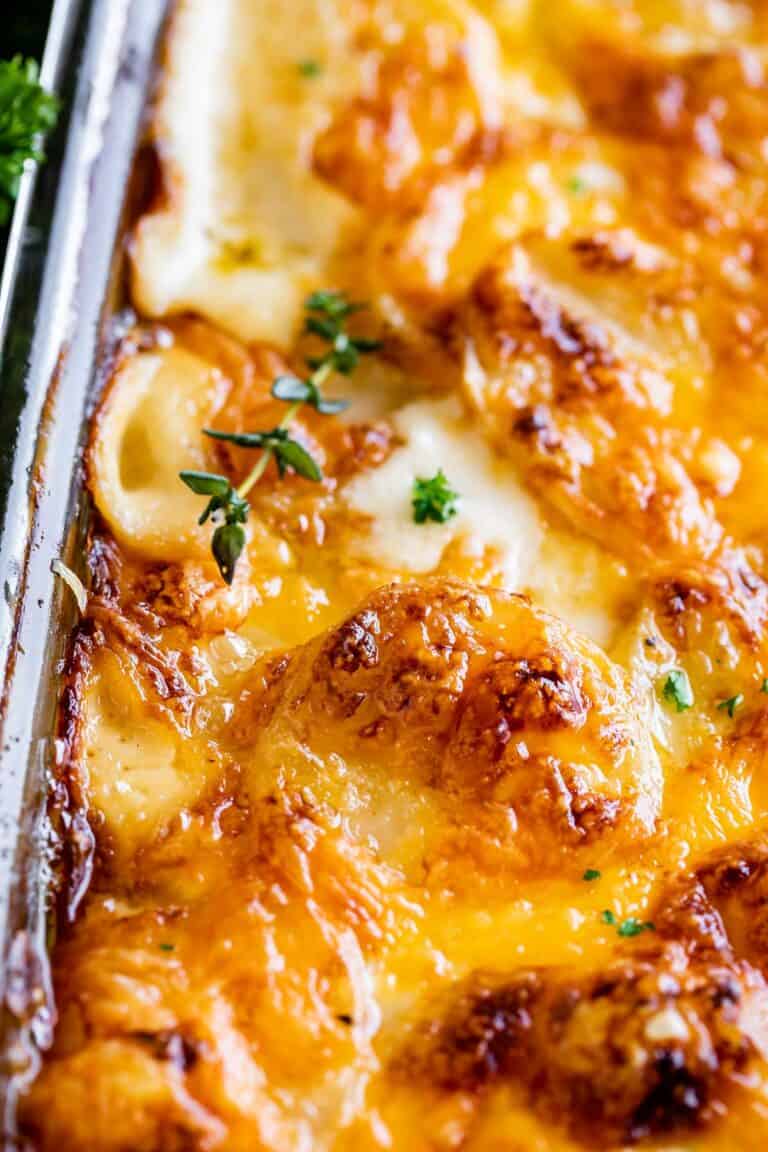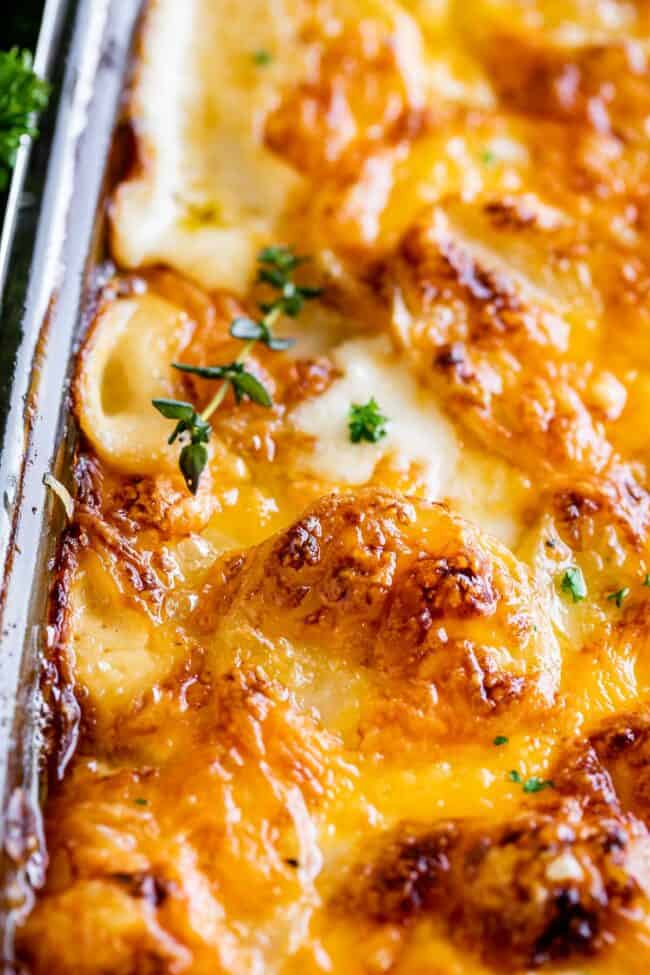 Most scalloped potato recipes have you make a roux from butter and flour, then add milk. It makes an acceptable white sauce. Some other scalloped potato recipes, like these Gruyere-Crisped Potatoes Au Gratin, skip the flour and use straight up cream. It's delicious, but I wanted a traditional scalloped potato recipe that held its shape a bit more (I want it nice and saucy, but not so much that it spreads into the other food on my plate.)
Today's recipe combines both methods: first we are making a roux, then we are turning it into a thickened sauce with cream instead of milk. It makes it super rich and flavorful. Parmesan added to the sauce makes it even more cheesy!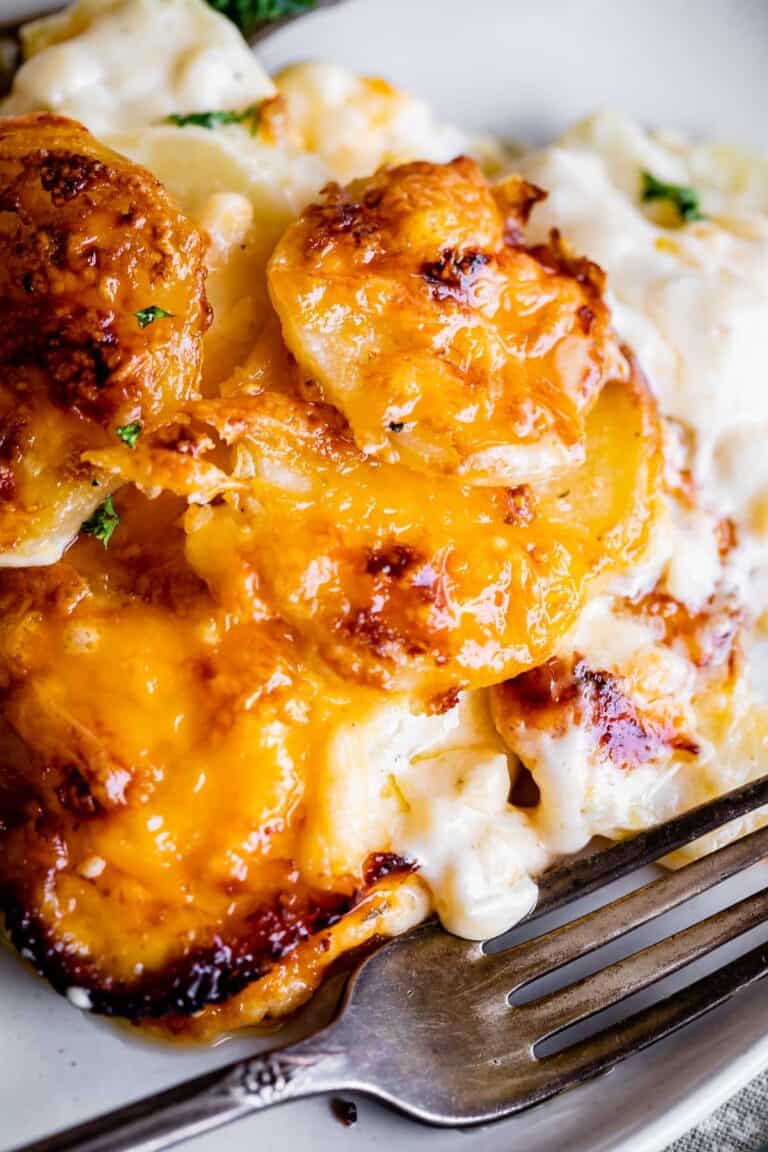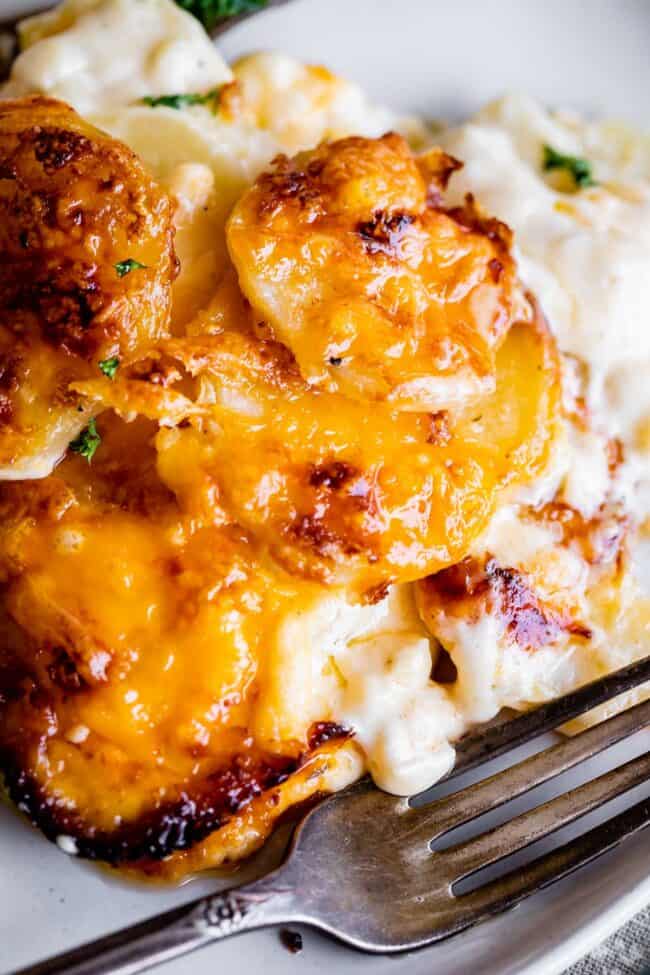 And don't even get me started on the crispy cheddar cheese topping. Heaven. There is no better compliment to your Easter ham. Let's make it!
How to make scalloped potatoes
First we're starting out with some sliced onions and garlic. The beginning of so many amazing dishes, right? Bring on the flavor.


On the left are all the main ingredients you need to make scalloped potatoes. Pretty simple!


Here are the onions and garlic cooked in butter, then mixed with flour. Add in the cream SLOWLY so that you don't get any flour lumps! Sprinkle in your parmesan so that it melts into the sauce.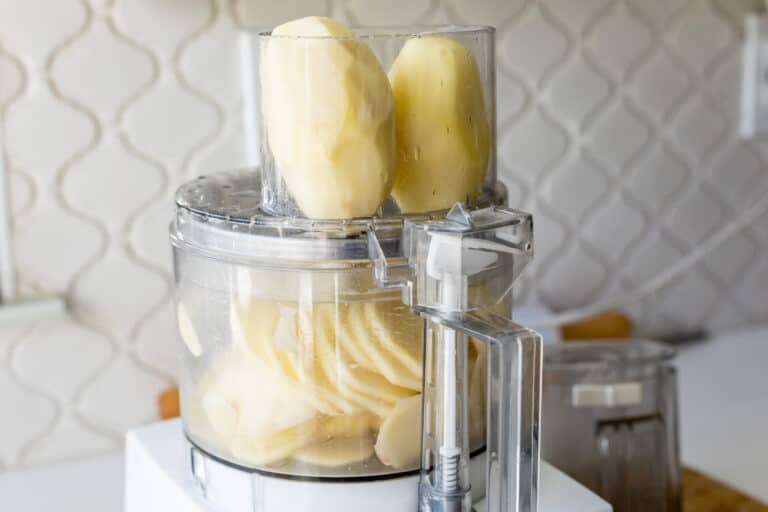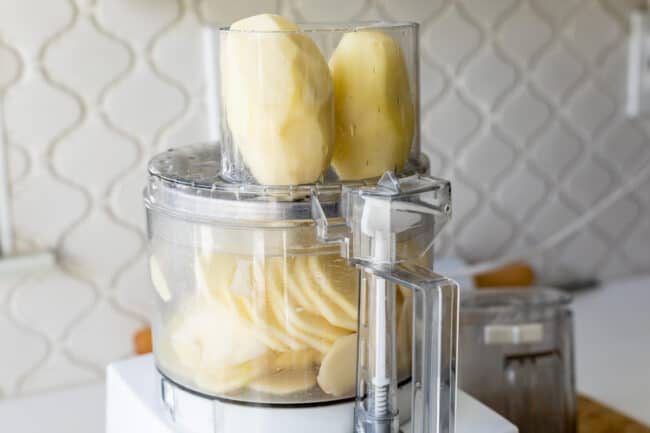 I love to use my food processor for slicing the potatoes. It takes about 2 minutes and they get sliced to the perfect 1/8 inch size.

Of course you can just use a knife too! Here's about how thick to slice your potatoes. Then add them in to that gorgeous cream sauce. Cook for about 10 minutes on the stove, using a rubber spatula to stir so that you don't break all your potatoes into mush. This time on the stove is the secret to not having a ridiculously long bake time! We are parboiling the potatoes in cream, half cooking them. This means less time in the oven!


Layer half the potatoes in the pan and top with sharp cheddar. Get that mild cheddar outta here. We want these potatoes to taste sharp!


Add the rest of the potatoes and sprinkle on some more cheese! It's ready for the oven.
How long to cook scalloped potatoes
Potatoes take forever to bake and get fully tender in the oven. If you put raw potatoes in the oven, expect it to take about 80-120 minutes before they are ready.
The good news is that this recipe gives you a shortcut! Because we are parboiling the potatoes (cooking them for a while in a pot on the stove) we get to cut our oven time in half. These scalloped potatoes only need about 40 minutes before they are perfectly melt-in-your-mouth tender, and the cheese on top is at crisp-level-ultimate.
Can you make scalloped potatoes ahead of time?
Yes, scalloped potatoes are a great candidate for making ahead, unlike mashed potatoes which pretty much need to be done last minute. This is a life saver for holiday meals! Oh scalloped potatoes, how we love you 2 days in advance.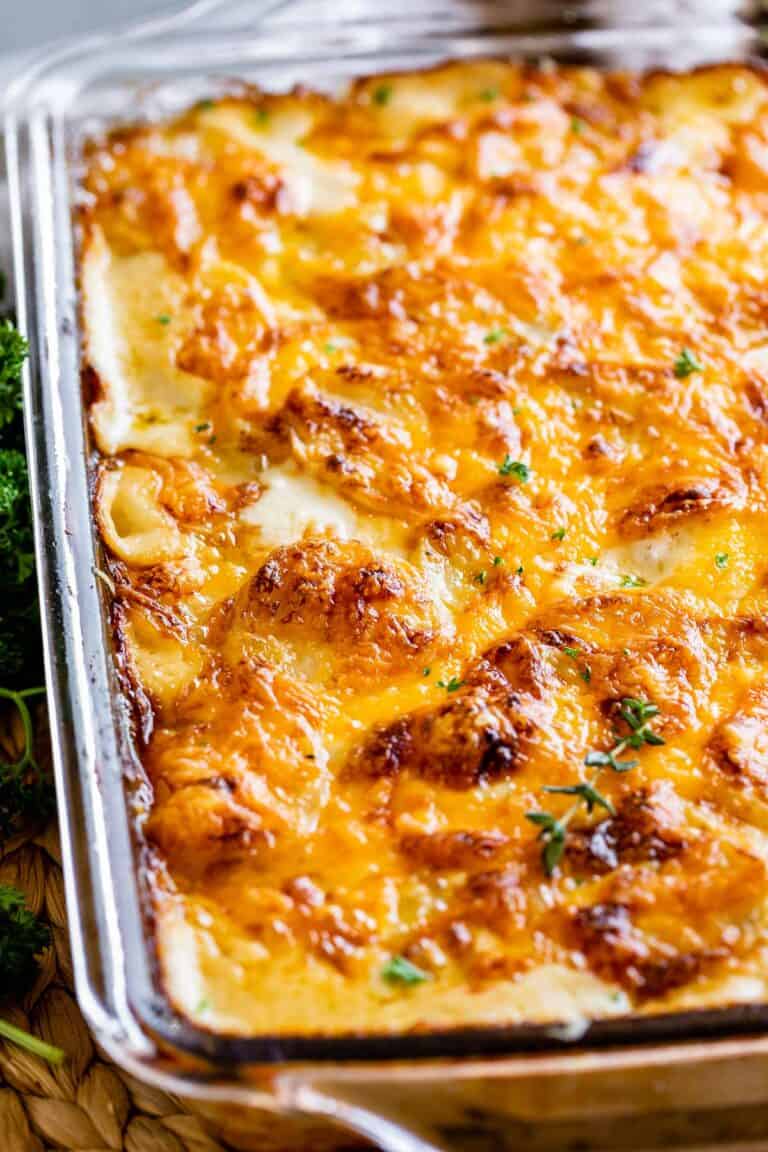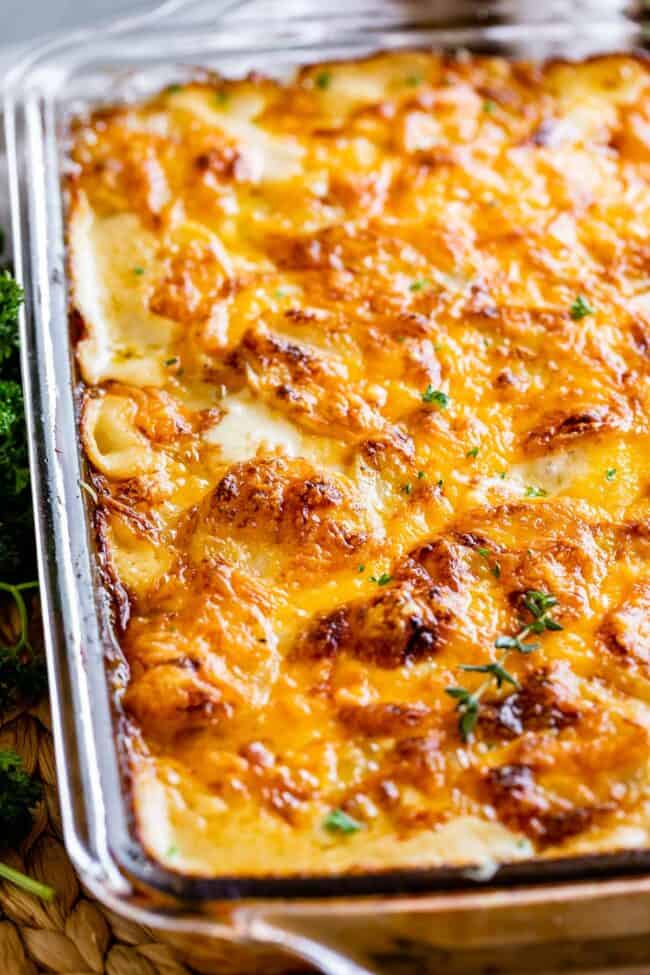 Make the recipe as instructed, and once you've sprinkled the cheese on top, cover and refrigerate. When you are ready to bake, let it sit out on the counter for about 15-30 minutes, then bake for 40-50 minutes as instructed (uncovered). We are letting them sit on the counter for a bit so that your glass dish doesn't shatter going into a hot oven. If you have a metal pan, you can put it right in the oven.
Can you freeze scalloped potatoes?
Yes! Scalloped potatoes freeze very well. If you are planning ahead, I recommend making them in a disposable aluminum pan so that you are not holding one of your casserole dishes hostage in the freezer. You can freeze the potatoes either before OR after you bake them. Cover well, and then wrap tightly several times in aluminum foil. If you have a 2 gallon freezer bag, that will keep it even fresher. The potatoes can be frozen for up to 3 months.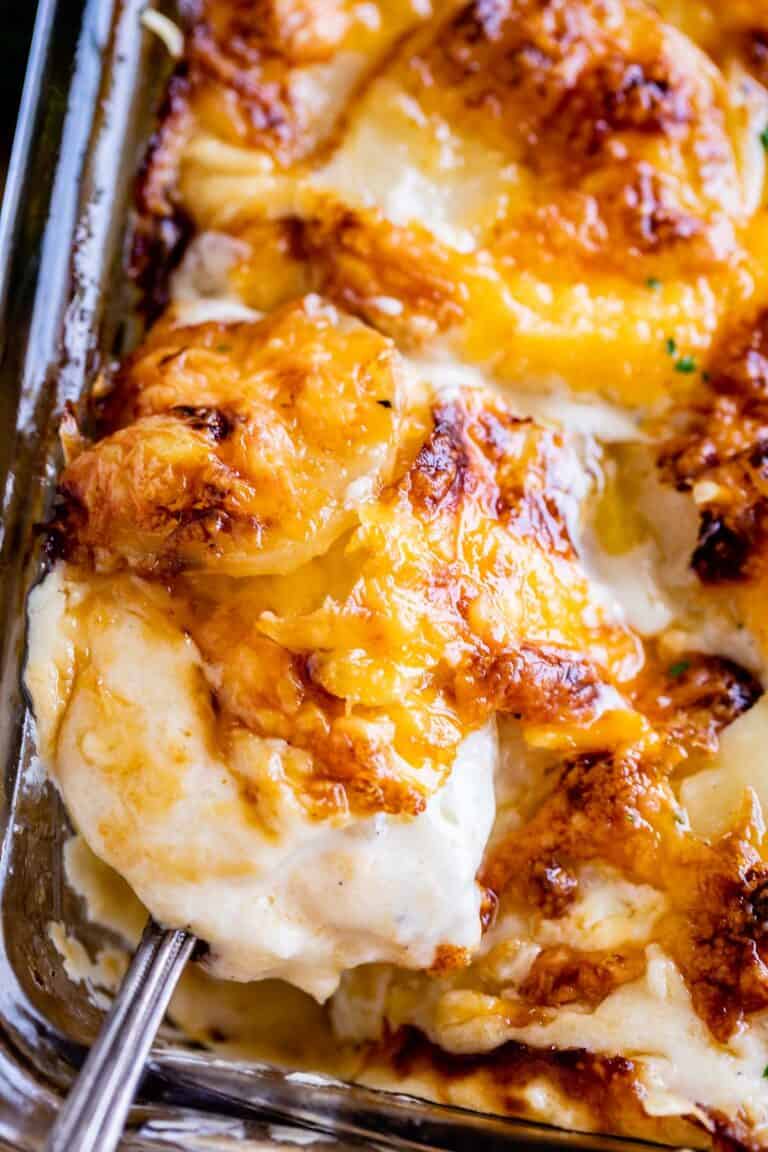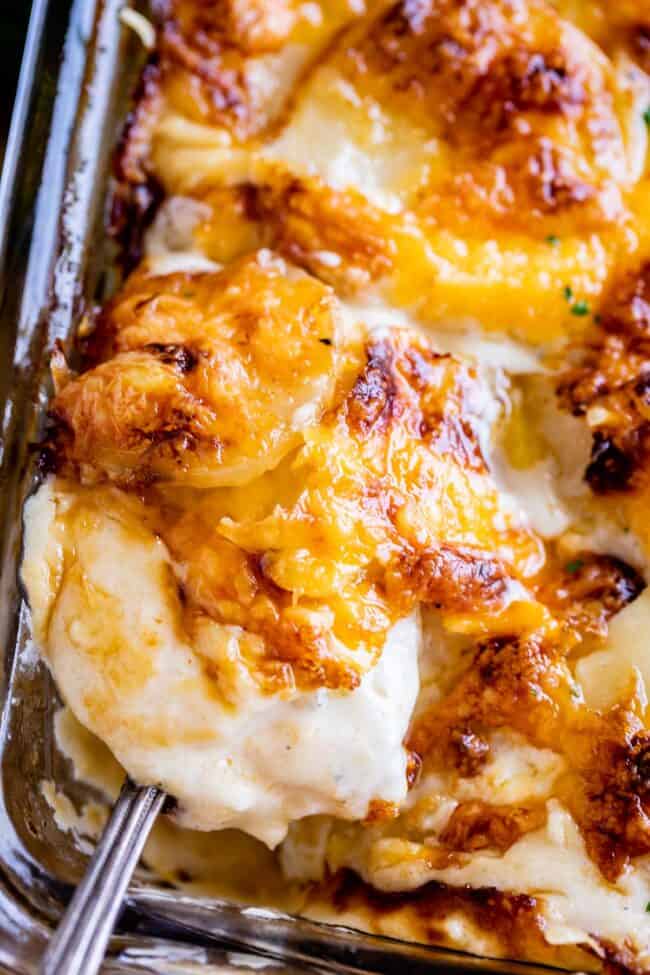 What goes with scalloped potatoes?
Scalloped potatoes are a great side dish option for so many main dishes! Try out these favorites:
Easter side dishes to try:
More holiday potato ideas!
Facebook | Pinterest | Instagram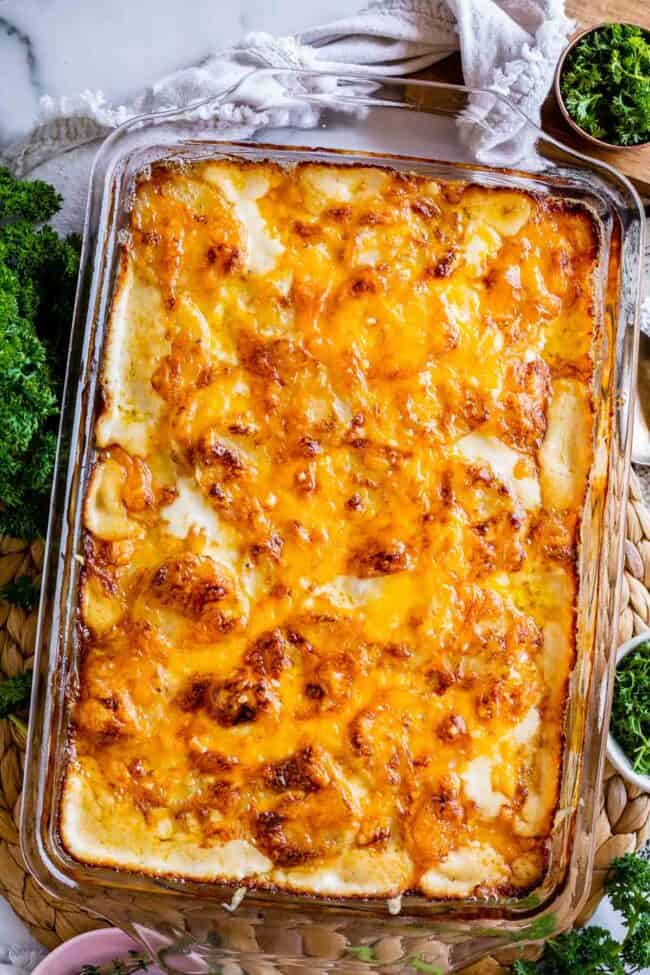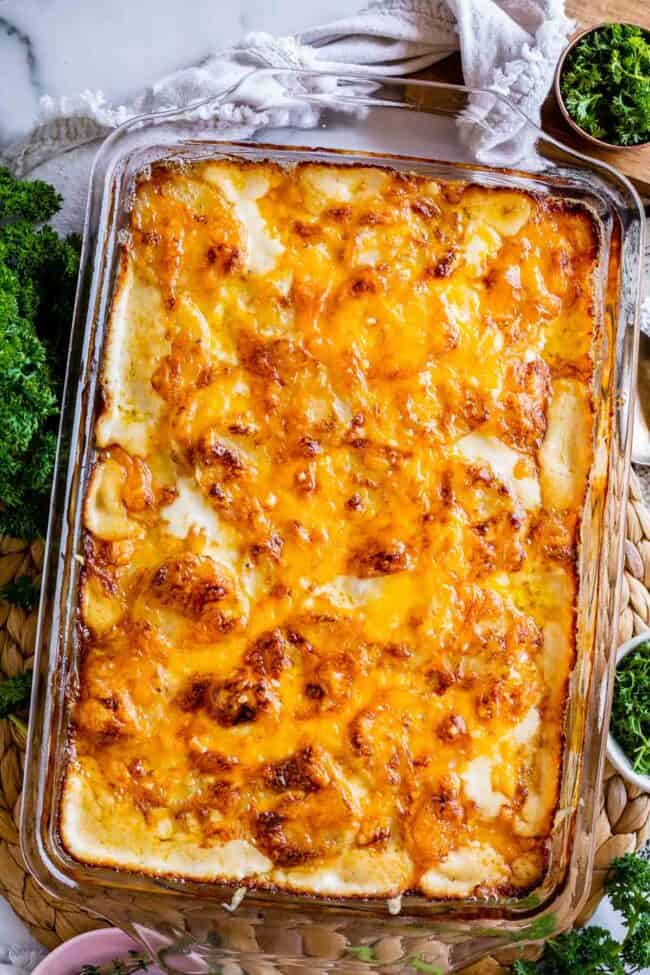 print
Did you make this recipe?
Leave a review »
Cheesy Scalloped Potatoes Recipe
12
adjust servings
This Cheesy Scalloped Potatoes recipe is my new favorite holiday side dish! Could anything be more classic for serving at Easter, Thanksgiving, or Christmas? Thinly sliced russet potatoes are layered with cheddar cheese and the BEST creamy, flavorful sauce. It all bakes together into this magical, melt-in-your-mouth experience, with an ultra crispy cheddar cheese topping! You can even make them ahead of time.
Ingredients
1/4

cup butter

1

onion, thinly sliced

1

tablespoon kosher salt

1/4

teaspoon black pepper

1/4

teaspoon cayenne pepper

1/4

teaspoon dried thyme

5

cloves garlic, smashed and minced

6

tablespoons flour

4

cups heavy cream*

1/2

cup parmesan cheese, shredded

4

pounds russet potatoes**, peeled and sliced to 1/8 inch

3

cups sharp cheddar cheese, shredded and divided in half
Instructions
Preheat your oven to 400 degrees F. Grease the bottom and sides of a 9x13 inch casserole dish with a little butter, or use nonstick spray. Set aside.
Melt 1/4 cup butter over medium heat in a large pot. Thinly slice 1 onion and add to the butter. Saute for 4-6 minutes until the onion is translucent.
While it's cooking, add 1 tablespoon kosher salt (use less if all you have is table salt), 1/4 teaspoon black pepper, 1/4 teaspoon cayenne pepper (this adds flavor not heat), and 1/4 teaspoon dried thyme.
After sautéing for 4-6 minutes, add 5 cloves of smashed and minced garlic. Let cook for about 30 seconds, until fragrant.
Gradually sprinkle in 6 tablespoons of flour, adding about a tablespoon at a time and stirring in between. It will form a thick paste with all the onions. Cook the flour for about 30 seconds to cook out the "raw flour" taste.
Use a whisk to SLOWLY stir in 4 cups of cream. The process of adding the cream should take at least 2-3 minutes. Your burner should still be at medium heat. Add a little bit of cream, whisk it in completely, then add a little more. The goal is to form a smooth sauce; if you add the cream all at once, you will have flour lumps.
Once all of the cream is added, stir in 1/2 cup parmesan cheese, sprinkling it in a little at a time so that it melts nicely.
(If your potatoes are not prepped and ready, remove the sauce from heat and set aside.)
Peel 4 pounds of russet potatoes** and slice thinly into 1/8 inch rounds with a sharp knife, mandolin, or food processor. See photos. If you have a food processor, I highly recommend using it. The slicer attachment cuts them to exactly the 1/8 inch size you need, and it's so much faster. If there is any lag time in between when you slice the potatoes and when you add them to the sauce, place them in a large bowl of water to prevent browning. Drain well.
Add the sliced potatoes to the pot of sauce with the heat set to medium. Use a rubber spatula to stir the potatoes into the sauce, separating any slices that stick together to make sure they are all coated in sauce. Let the mixture come to a low bowl over medium heat, then reduce heat to medium low and cook for 10 minutes, stirring occasionally. Be gentle when stirring your potatoes; you don't want to break them all into pieces. A rubber spatula is better than a wooden spoon.
After the cream and potato mixture has bubbled for about 10 minutes, turn off the heat.
Pour or spoon half of the mixture into the greased 9x13 inch pan. Sprinkle the first layer with 1 and 1/2 cups sharp cheddar cheese.
Top the cheese with the rest of the potato and cream mixture and spread to the edges. Sprinkle the top with 1 and 1/2 cups cheddar cheese.
Bake in the oven at 400 degrees for about 40 minutes.
You will know the potatoes are done when the mixture is very bubbly, the cheese has started to brown, and a butter knife inserted into the potatoes slides through easily. If your cheese is browning but the potatoes are not tender, cover with foil and bake another 10 minutes.
Let stand for 10 minutes before serving.
Store leftovers covered in the fridge. Leftovers will keep in the fridge for about a week. Reheat in the microwave for lunches. Or if you have enough leftover that you want to serve it for dinner again, sprinkle a little extra cheese on top and bake at 400 for 20 minutes, to recreate that perfect crispy topping.
by The Food Charlatan

If you make this recipe,
share it on Instagram
 using the hashtag
#TheFoodCharlatan
so I can see it!
We are a participant in the Amazon Services LLC Associates Program, an affiliate advertising program designed to provide a means for us to earn fees by linking to Amazon.com and affiliated sites.