This smash burger recipe is your favorite, even if you don't know it yet. This method for a cast iron skillet burger is the secret to crispy, craggy hamburger edges and a seriously juicy center. It's so simple. You will never go back! Make it for 4th of July!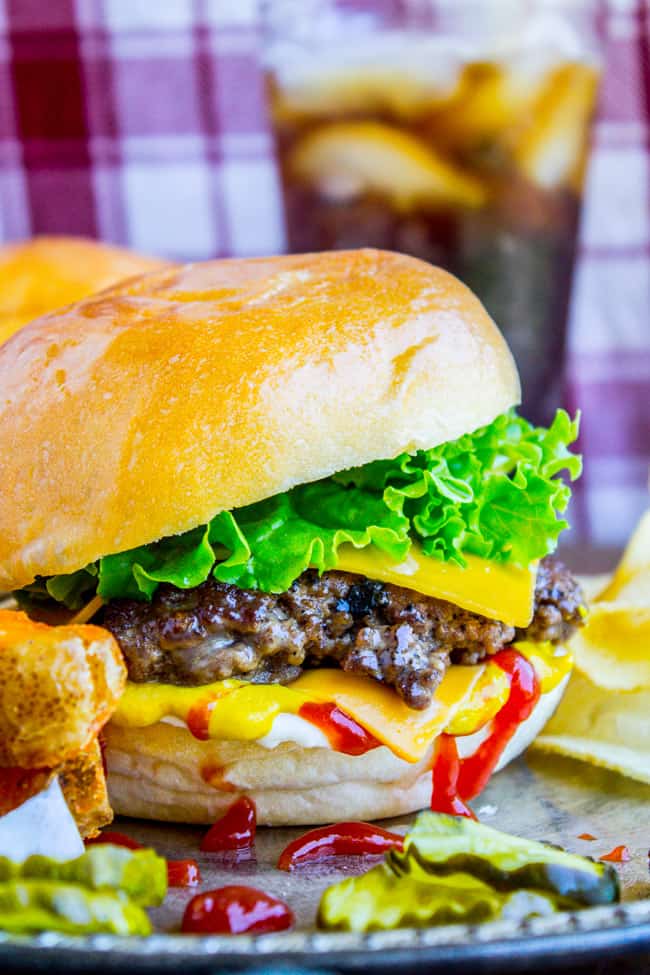 Originally posted June 28, 2017
Eric looked in the fridge the other day and said, "I'm not going to tell you how many tubs of sour cream are in our fridge right now."
So I counted…5. Five sour creams. And one of them was a huge 3 pound tub from Costco. Sour cream is the thing at the store that I'm always like, "Hm, do we have any sour cream at home? Probably not." And then I add it to the cart. (Five times.)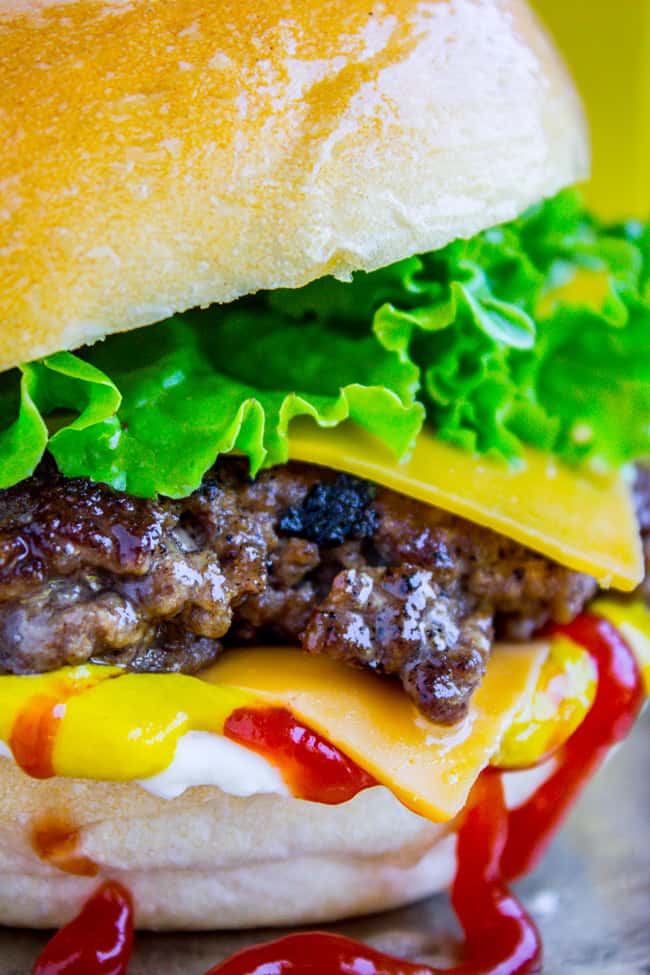 The reason I bought the huge one from Costco was because of Taco Tuesday. A few weeks ago I read an article on Kitchn called "5 Rules for Hosting a Crappy Dinner Party (and Seeing Your Friends More Often.)" Basically the idea is to stop worrying so much about fancy food and clean houses and focus on just hanging out. Somebody mentioned in the comments that they have a standing Taco Tuesday at their house. So we are trying it out! It's been a lot of fun and hasn't been too overwhelming. (Read: no cleaning allowed.) But apparently people don't eat sour cream like I do, so we still have 4 unopened tubs of sour cream.
But I don't have a taco recipe for you today. (In fact for Taco Tuesday my rule is NO SPECIAL RECIPES. Just regular ol tacos. Less stress.)
The Best Smashburger Recipe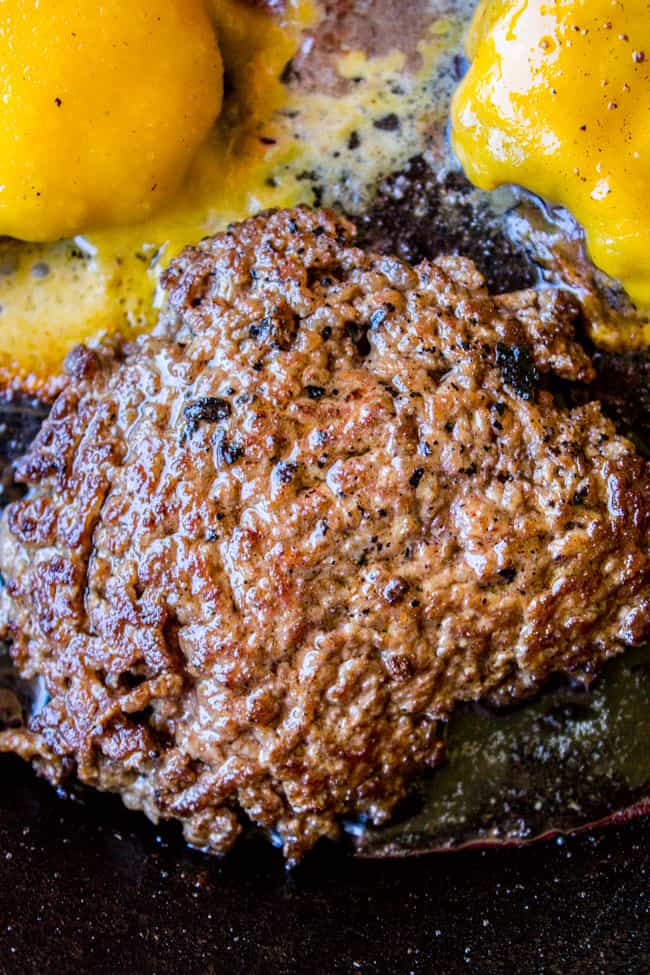 Today we are talking SMASHBURGERS. Look at this beauty. Have you had one? Of course you have. You may not have known it. But probably any burger that you have eaten and thought to yourself, "That was exceptional," it was made using this method. They are incredibly juicy, not too thick, and have perfectly crispy edges that are the star of the show. You get this effect by throwing some 80% ground beef on a hot pan, sprinkling with salt, and smashing the heck out of it.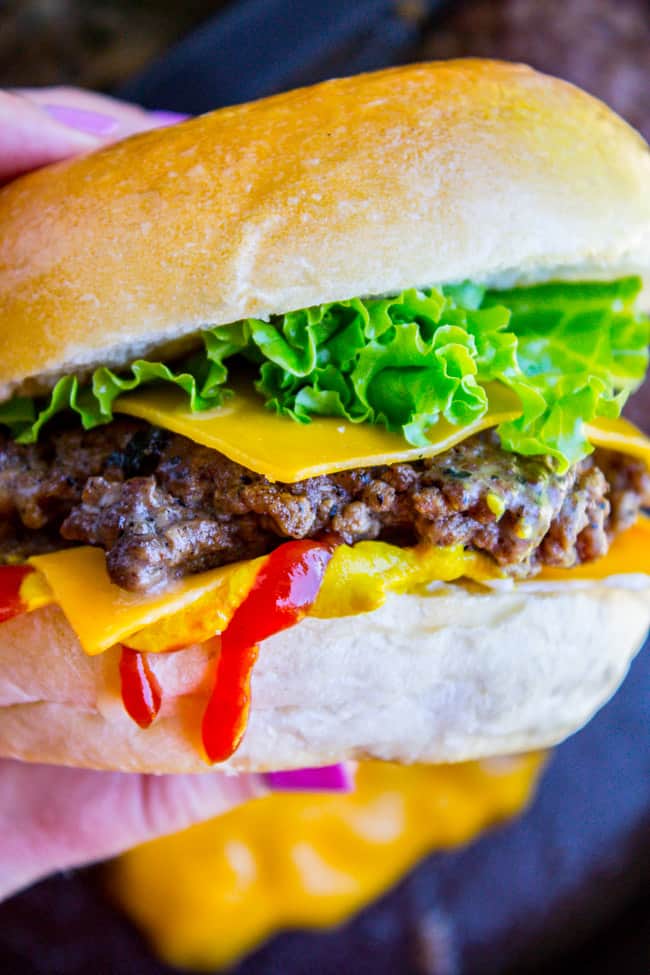 Two years ago my mother-in-law came to visit and told me that she wanted to try a new hamburger recipe for dinner. She smashed up these cast iron skillet burgers and I'm not kidding you, we have never gone back. Every burger that has come from my kitchen since that day has been a smash burger.
How to make Smash Burgers
The basics at a glance. (Pro tips below! More instructions included in the recipe)
Put a cast iron skillet on your grill or stove.
Drop a chunk of ground beef directly onto the skillet.
Salt the meat. Salt is your friend.
Smash the meat, obviously. I feel like this is an 80's song. Smash it, smash it real good!
Smell the frying beef and drool. Have wipes on hand.
How do you smash a burger without a smasher?
Yes, you need something to smash the burgers with and, yes, a grill press is best. Here's one for sale that is similar to the one I have pictured here, but here's the kind I wish I had; it's round and the perfect shape for a burger. You can see that some of the burgers I made today are a bit oval.
But, hey, no press, no problem! A heavy spatula will do.
What is the secret to juicy hamburgers?
The less you mess with the meat, the better. You want really loose ground beef. The more you mold it, the more packed it will become. (No bueno.) Don't round off those edges; craggy, crispy edges are what you're going for.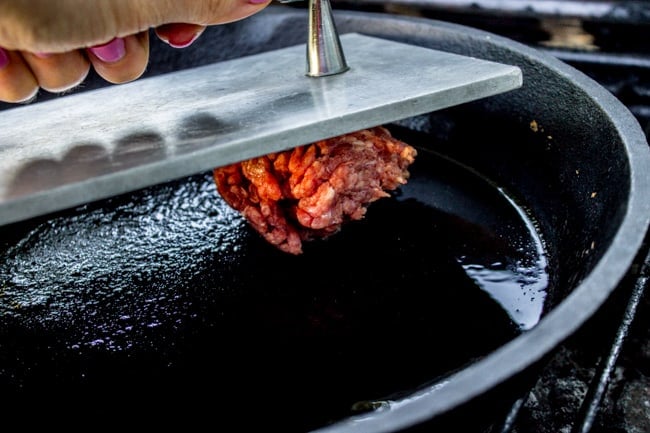 Ingredients for Smash Burgers
This isn't meatloaf. You don't need a bunch of seasonings to get a great burger. Salt is all you need. Variations & substitutions include . . . nothing. Burgers are great because beef is great. Ron Swanson from Parks and Rec says it best: "It's a hamburger made out of meat, on a bun, with nothing. Add ketchup if you want, I couldn't care less." In other words:
1 pound 80% ground beef. Not 95%. Not 90%. 80 PERCENT!!
Vegetable oil. To brush the pan!
Salt. Kosher salt is what you want.
American cheese. Don't be an American cheese hater, see more below!
Soft buns. Not too big!
Mayonnaise. LOTS. not optional.
(quantities listed in the recipe below!)
BEEF. Salt. Mayonnaise. People. Subtract nothing from the above!
If you want, you're allowed to add toppings.
pickles

lettuce

tomatoes

onions

mustard

ketchup

BBQ sauce

bacon

avocado

blue cheese

pepperoncinis . . . anyone? Pepperoncinis? I freaking love pepperoncinis
Why are Smash Burgers so good?
Because you are going to buy 80% ground beef. That's 20% FAT, my friends. Fat is flavor. Say it with me now: Fat=flavor. Don't you forget it.
Did I mention you need mayonnaise? I didn't say you might want some; I said you NEED IT. (again: "add ketchup if you want, I couldn't care less.")
What temperature do you cook Smash Burgers?
Ground beef needs to be cooked to about 160 degrees. But I never use a meat thermometer to check smash burgers. They are smashed thin enough that if the outer edge is crispy and browned, you can rest assured that the inside is cooked perfectly. Just like cooking Skirt Steak for Carne Asada.
The heating surface for burgers should be about 400-425 degrees F. Wet your fingers and sprinkle a bit of water on the greasy surface. It should sizzle and pop. A cast iron skillet or griddle is what you want. All the fat drips into the fire if you put it directly on a grill, and remember what fat is? So instead we are cooking the meat in its own juices, which is the secret to getting those delightfully crispy edges.
You can cook this in a skillet on your stovetop, but I actually like to cook it on the grill so that I don't heat up the whole kitchen. Like this: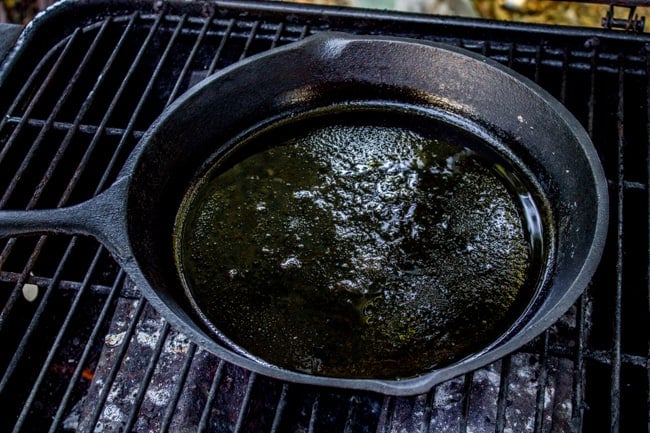 I have a flat griddle, but I'm thinking of buying this one from Lodge. It is nice and big so you could fit a bunch of burgers at once, and it has raised edges so all the fat doesn't drip into the grill. It would be great for making bacon when camping too, I'm always starting grease fires with a flat griddle.
Can you make Smash Burgers on an electric griddle?
Yes, as long as you keep plenty of fat on the griddle surface. Electric griddles aren't going to have quite as much heating power, but they will do in a pinch.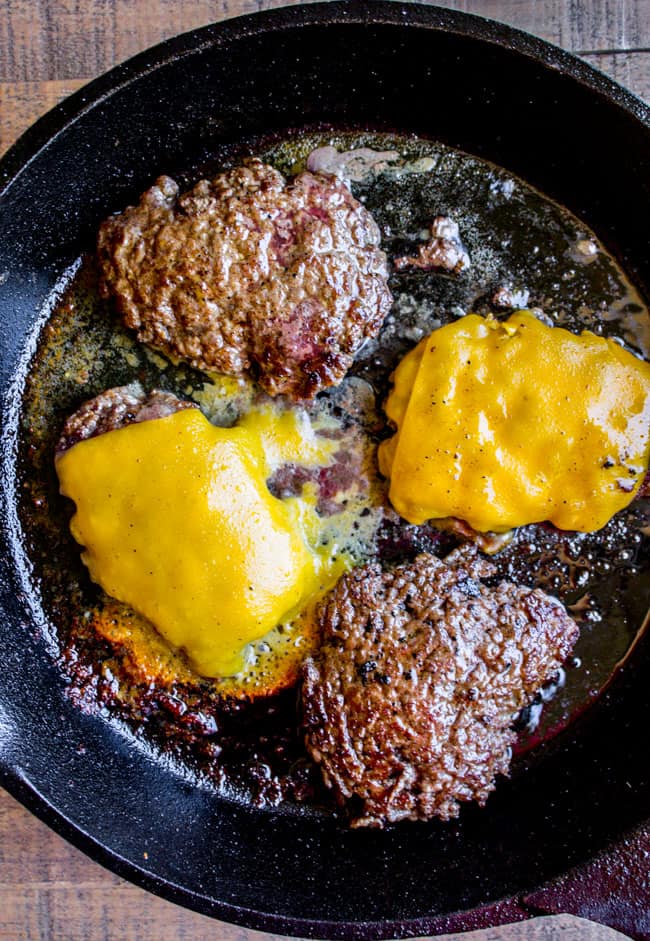 More secrets to cooking a great smashed burger
American cheese melts better than cheddar cheese. Don't turn your nose up at me. It is the best. (Read this article if you're not convinced.) I got mine from the deli at the grocery store. (My friend Tawna told me the other day that she's never gotten anything from the deli. NEVER. This is crazy, right? Or do I just go to the deli a lot.)
Get yourself some nice soft buns. Not too big.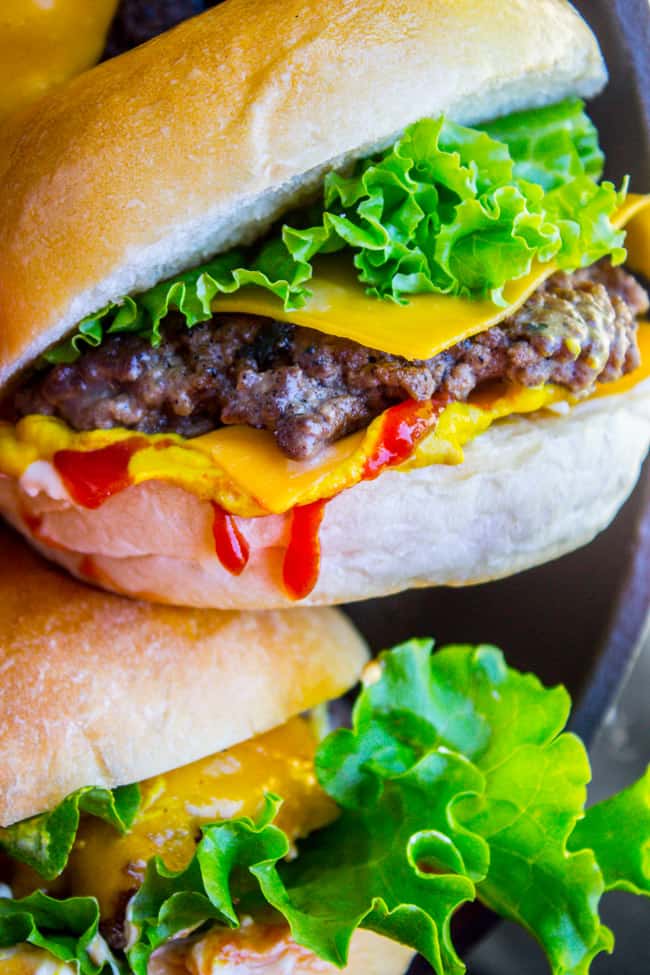 I think that's about it. It really is simple. If you are grilling for 4th of July next week you seriously have to try out this smash burger recipe! If you don't have any cast iron, now is the time. It's a game changer!
Update: The day after I published this recipe my cousin Alice texted me…"Karen, I read your post about the sour cream. I went to the fridge and counted how many open jars of pickles I have. 6." HA!
Other great ground beef ideas – including more hamburgers!
Facebook | Pinterest | Instagram

Smash Burger Recipe (Cast Iron Burgers)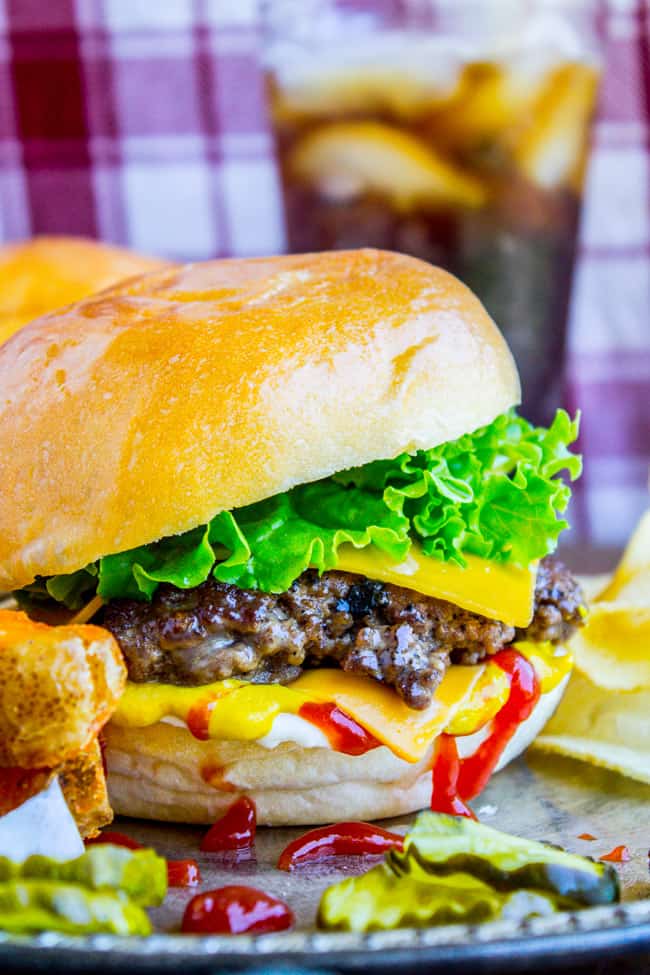 The smash burger method is the secret to crispy, craggy burger edges and a seriously juicy center. It's so simple. You will never go back!

Ingredients
1

pound

80% ground beef

vegetable oil

,

to brush the pan

salt

8

slices

American cheese

4

buns

,

not too big

mayonnaise. LOTS. not optional.
Topping ideas::
ketchup

mustard

lettuce

tomato

onions

pickles
Instructions
Place a cast iron skillet or griddle on your grill. Turn the grill to high heat and close the lid. Let it heat up for several minutes, until it is very hot. (You can also make these on the stovetop; set your skillet over medium-high heat.)

Brush the skillet with vegetable oil.

Take 1/4 pound of ground beef straight from the package. Loosely shape it into a ball if you need to (depending on the shape of the ground beef you bought, you may not even need to do any shaping. If it came from the store in a nice tall mound, you might just need to grab a hunk.) Do NOT pack.

Place the ball of meat on the oiled skillet. Work in batches if you need to; I can fit 2 at a time on my skillet. (

Need to get myself a griddle!

)

Season with a generous amount of salt. Salt is your friend. Add some pepper if you want, but not necessary.

Close the lid of your grill (no need to cover if you're on the stovetop.) Let cook undisturbed for about 2 minutes, until the outer edges are brown.

Flip the burger, season with more salt, and place two slices of American cheese on the burger. Cook until the cheese droops, about 1 more minute. This is for medium rare. Remove from the skillet.

Serve with a soft warm bun, lots of mayonnaise, and whatever over toppings you want. You really can't go wrong. You could even get crazy and stack 2 patties together for a double decker. (2 thin patties is way better than 1 too-thick patty.)
Nutrition
Serving:
1
burger
|
Calories:
617
kcal
|
Carbohydrates:
34
g
|
Protein:
32
g
|
Fat:
38
g
|
Saturated Fat:
16
g
|
Polyunsaturated Fat:
1
g
|
Monounsaturated Fat:
13
g
|
Trans Fat:
2
g
|
Cholesterol:
123
mg
|
Sodium:
1070
mg
|
Potassium:
362
mg
|
Fiber:
1
g
|
Sugar:
5
g
|
Vitamin A:
397
IU
|
Calcium:
466
mg
|
Iron:
13
mg
More recipes you are going to love!