Creamy Pan Seared Pork Chops with Asparagus
Creamy Pan Seared Pork Chops is such an easy weeknight dinner! Juicy boneless pork chops are seared over high heat to get that irresistible crust. Sautéed mushrooms and asparagus in a creamy pan sauce bring it all together. Dinner is done in about 30 minutes!
My newborn's social security card came in the mail, and I promptly signed it. There is an instruction at the top that says, "Adults: sign this card in ink immediately." I was congratulating myself for being so obedient (I'm a born rule-follower) but then I kept reading. "Children: Do not sign this card until age 18." I realized that I am not the adult this card was talking to. I should have left it blank.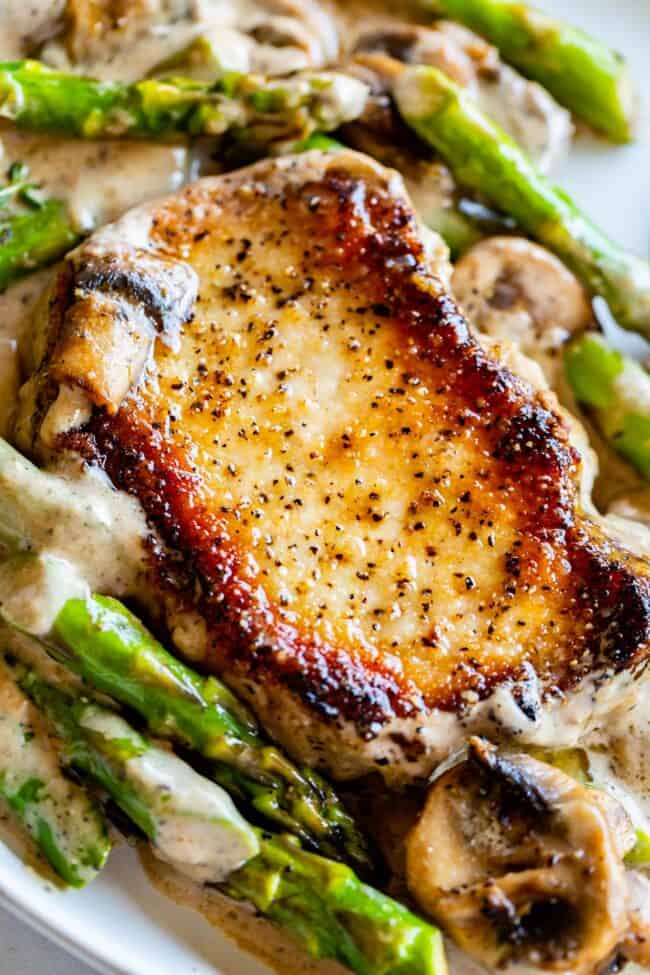 A couple days later Eric was going through our filing cabinet and showed me that I also signed the social security cards for two of our other kids. So apparently I've been an idiot for several years, it's not just a recent thing. How did I ever get through college?? I will pay penance by sitting on hold with the social security office for hours on end, I'm sure.
My mom made me feel better by sending me a few online forums where other Idiots of America talk about having done the same thing. It helped. I know my people.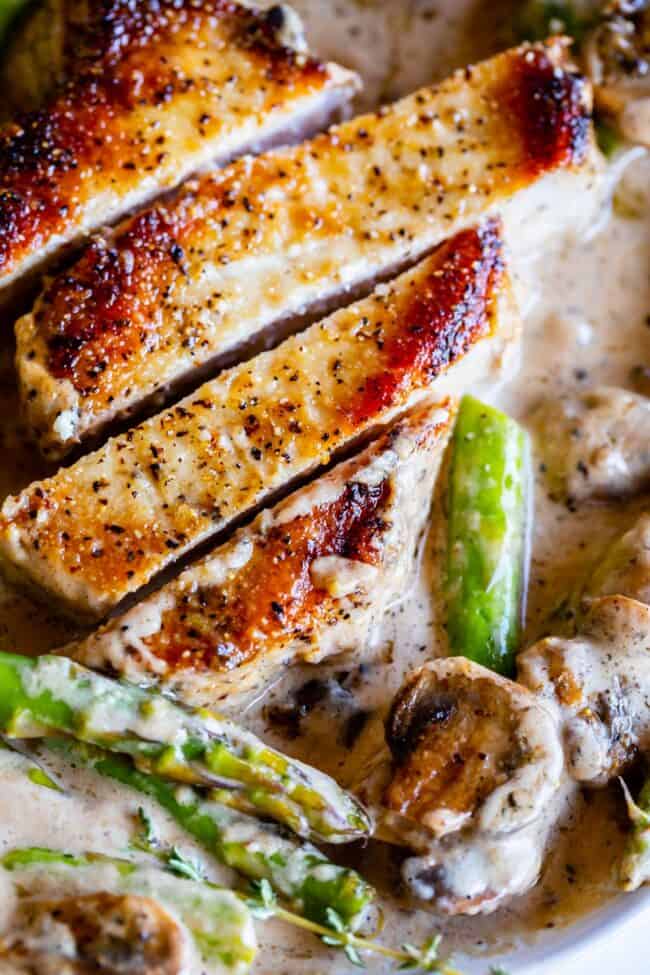 Well even if I can't follow basic instructions on government forms, at least I can make dinner. That's something right? No one has starved on my watch (yet). Which is kind of a miracle considering I've been nursing a newborn nonstop for 2 months. Basically anything that gets done besides feeding the baby is a miracle.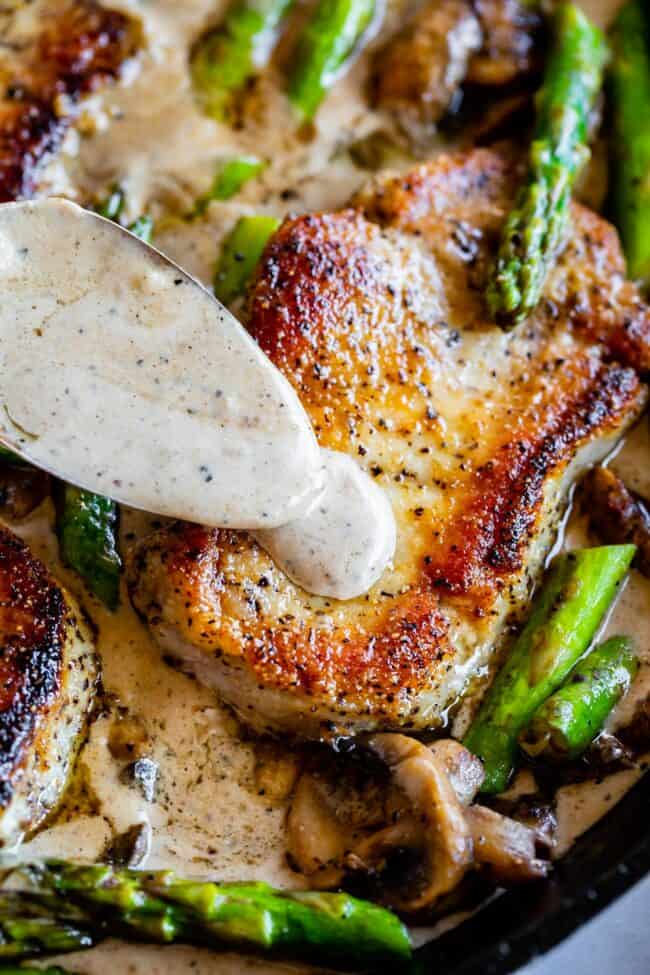 Things have actually eased up a bit lately. I finally told the baby to stick it, and put him on a schedule. He's two months old and doesn't need to nurse on demand anymore, according to me, Queen Mother. So there, baby. Look who's boss now!! I think we're all a lot happier now. Next step: cut out the 4am feeding. Wish me luck!
Pan Seared Boneless Pork Chops
Who's ready for some pork chops? I am obsessed with this recipe! Pork chops have always been a favorite of mine. My mom's most special meal that she made for us growing up were these Saucy Pork Chops, straight out of Betty Crocker I believe. Pork chops just have such a homey taste, don't you think?
This recipe for creamy pan seared pork chops is a little more sophisticated, with sauteed asparagus and mushrooms, and a simple pan sauce of balsamic vinegar and cream, with a hint of thyme. It's delicious and SO easy to put together. It's good on it's own or over some noodles or potatoes.
How to Pan Sear Pork Chops
First things first: prepping the pork. For this recipe I like to use boneless pork chops because they cook a little faster, but you could easily use bone in pork chops no problem. Just be sure to use a meat thermometer.
My best tip for pan searing pork chops is one I learned from Cook's Illustrated: use a knife to make a slit in two spots on the fat cap of the pork chop, like so: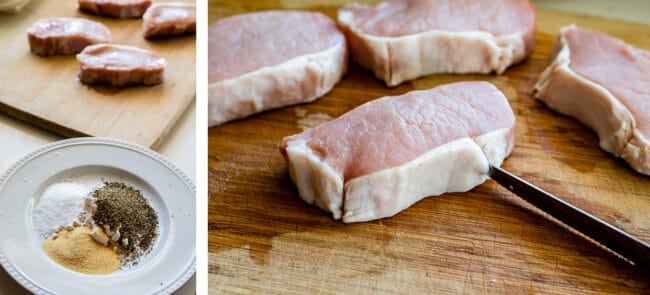 The thick fat cap will cook faster than the meat when you are pan searing. The fat starts to shrink, dragging your still-raw pork chop with it. This makes the pork chop curl in on itself. If your chop is curling, it will not have a chance to sear properly! Slitting the fat cap solves the problem.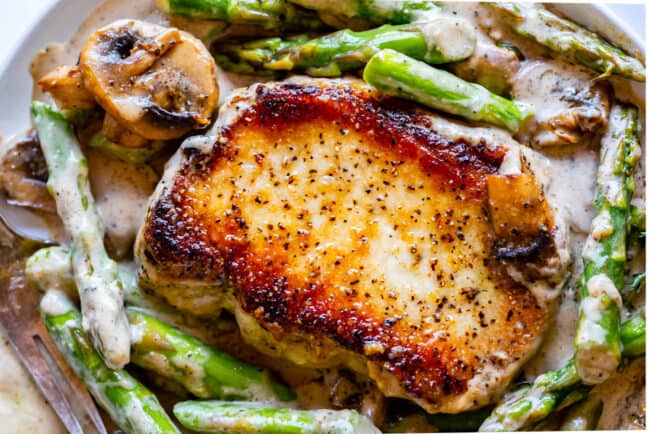 Next we make a really simple flour and spice mixture: salt, pepper, garlic powder and flour. Rub each pork chop so that it's completely coated. There will be some flour mixture leftover, don't throw it out! We're using it to thicken the sauce later.
Heat the pan over medium high heat and add some butter and oil. Add the pork chops so that there is plenty of space in between the chops (you will steam them instead of searing, if they are too close together.) How long you sear the pork chops is going to depend on the thickness of your chop. See recipe for more details.

Once the pork is cooked, remove from the pan and keep warm while you saute some asparagus and mushrooms (or literally any vegetable you want!) After that, make a 10 minute pan sauce. It's all done in the same pan but separately. Add it all back into the pan when the sauce is done and voila! Dinner is done.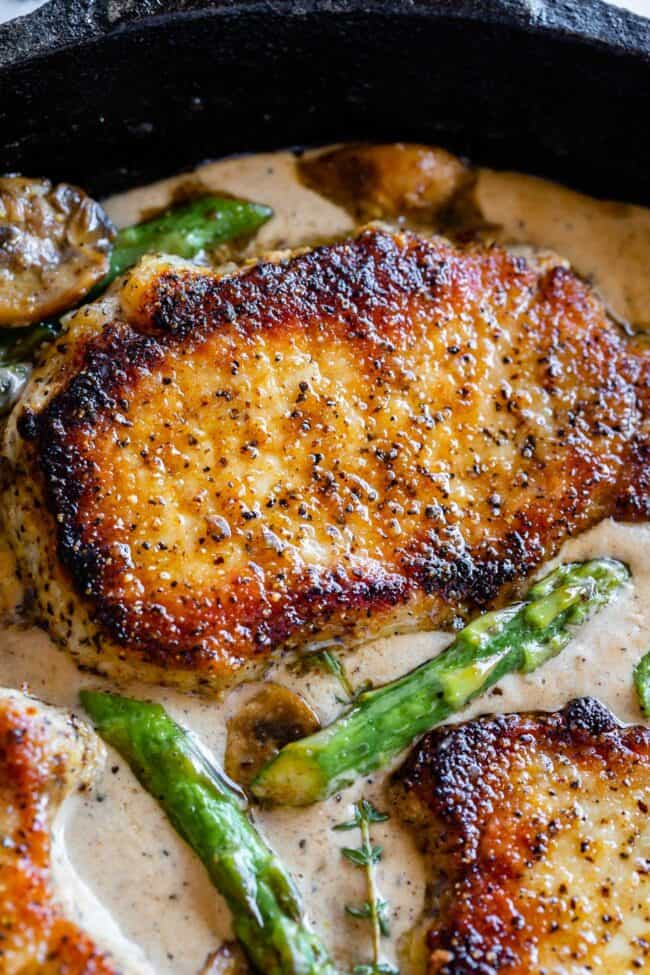 These pork chops are really good served over white or brown rice, egg noodles, mashed potatoes, or cauliflower rice for a low carb option. A green salad to go with it, and dinner is done!
More weeknight pan seared recipes you will love!
Facebook | Pinterest | Instagram
Creamy Pan Seared Pork Chops with Asparagus
Creamy Pan Seared Pork Chops is such an easy weeknight dinner! Juicy boneless pork chops are seared over high heat to get that irresistible crust. Sautéed mushrooms and asparagus in a creamy pan sauce bring it all together. Dinner is done in about 30 minutes!
Ingredients
For the pork
4

1 inch

boneless pork chops

,

(about 1 and 1/2 pounds)

1/4

cup

flour

1

tablespoon

kosher salt

1

tablespoon

garlic powder

1/2 to 1

tablespoon

black pepper

1

tablespoon

butter

,

for pork

1

tablespoon

olive oil

,

for pork
For the veggies and sauce
2

tablespoons

butter

,

for veggies

1

tablespoon

olive oil

,

for veggies

1

pound

asparagus

,

ends snapped off and sliced into thirds

8

ounces

mushrooms

,

sliced
For the pan sauce
2

tablespoons

balsamic vinegar

1

cup

chicken broth

1

cup

cream

,

or you can use half and half

3

sprigs

fresh thyme

,

or 1/2 teaspoon dried thyme
Instructions
Preheat your oven to the "keep warm" setting, which is about 170 degrees F.

Heat a dry

12-inch skillet

over medium high heat. You want it to get nice and hot, at least 3-5 minutes.

Meanwhile, prep your pork chops. Pat dry with paper towels. Use a sharp knife to snip the fat cap in 2 spots along the side of the chop. (See photo). Sometimes when you sear pork chops, the thick strip of fat constricts, causing the pork chop to curl up on itself, meaning it won't sear very well. Making cuts in the fat helps to avoid this curling. (The thinner your pork chops are, the more they will curl.)

Add the 1/4 cup flour, 1 tablespoon kosher salt, 1 tablespoon garlic powder, and 1/2 to 1 tablespoon black pepper to a shallow bowl or plate, and stir it all together.

Dredge each pork chop in the flour mixture, coating well and making sure to get the edges. Do NOT discard the flour mixture that is leftover! We're using it later.

When your skillet is very hot (medium high heat), add 1 tablespoon each butter and olive oil. When the butter is melted and the oil shimmers, add each pork chop. Do not crowd them together, make sure there is plenty of space in between each chop so that they brown instead of steam.

Sear over medium high heat for about 2 minutes, then turn the heat to medium and continue cooking for 2-3 minutes. When the chops are nice and brown on the bottom, flip each one, swirling the pan to spread around the fat as necessary. Cook on the second side over medium heat for another 4-5 minutes, depending on thickness, until a meat thermometer registers 140 degrees F. Depend on your meat thermometer more than the times.

Remove the pork chops to

a baking sheet

and place in the warm oven. (this will not cook the chops, it's just to keep them nice and warm. You can just remove to a plate on the counter if you prefer.)

Cook the veggies. Add 2 tablespoons butter and 1 tablespoon olive oil to the still-hot skillet. (If you haven't prepped your veggies yet, turn off the heat).

Add the asparagus and mushrooms to the hot pan and cook over medium-high heat for 3-4 minutes, scraping up the browned bits from the pork, until the asparagus is crisp-tender.

Remove the veggies to the pan in the oven (or to a plate).

Return the pan to the burner over medium high heat, and add 2 tablespoons balsamic vinegar. Let it bubble for 30 seconds or so until it starts reducing, scraping up any bits.

Gradually add 1 cup chicken broth while stirring. Add 3 sprigs of thyme, or 1/2 teaspoon dried thyme.

Whisk in all the remaining flour mixture that you dredged the pork chops in. Simmer until there are bubbles all across the top, to make sure that any contamination from the flour is cooked out.

Reduce the heat to medium and gradually whisk in the cream.

Add the pork chops and the veggies back into the skillet, including any juices. Let the pan sauce simmer gently on medium or medium low heat until the sauce has thickened somewhat, another 2-5 minutes.
Nutrition
Serving:
1
g
,
Calories:
689
kcal
,
Carbohydrates:
18
g
,
Protein:
44
g
,
Fat:
50
g
,
Saturated Fat:
24
g
,
Polyunsaturated Fat:
4
g
,
Monounsaturated Fat:
19
g
,
Trans Fat:
1
g
,
Cholesterol:
218
mg
,
Sodium:
2147
mg
,
Potassium:
1194
mg
,
Fiber:
4
g
,
Sugar:
5
g
,
Vitamin A:
2042
IU
,
Vitamin C:
13
mg
,
Calcium:
98
mg
,
Iron:
4
mg
We are a participant in the Amazon Services LLC Associates Program, an affiliate advertising program designed to provide a means for us to earn fees by linking to Amazon.com and affiliated sites.