Sticky Sweet-and-Salty Chex Mix (Christmas Crack Recipe)
I've got your yummy Christmas Crack recipe right here! This Sticky Sweet and Salty Chex Mix gets its name for good reason! Once you start you just can't stop. A simple syrup (with LOTS of butter) gets drizzled over corn Chex and studded with nuts and M&Ms. It is salty-sweet perfection!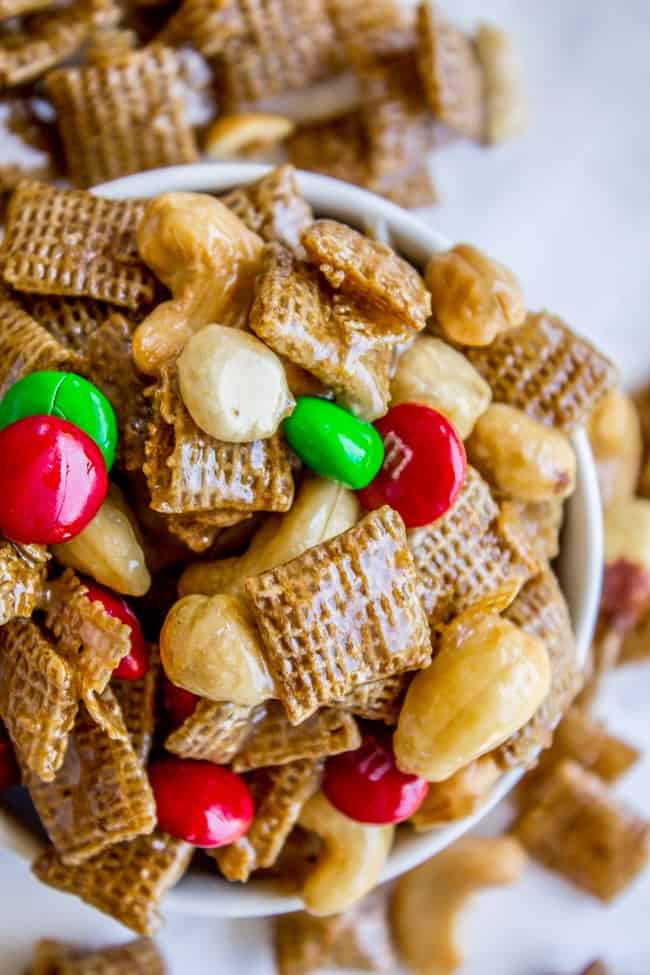 Originally posted December 9, 2016
Today I had my first parent-teacher conference with Charlotte's kindergarten teacher. It was so fun to hear about how she's doing in class. Miss Harris said that one day she asked the kids to decide what item they should use to practice counting, and they chose dessert. Charlotte said, "My mom makes lots of dessert. But we can only eat it after she shoots it."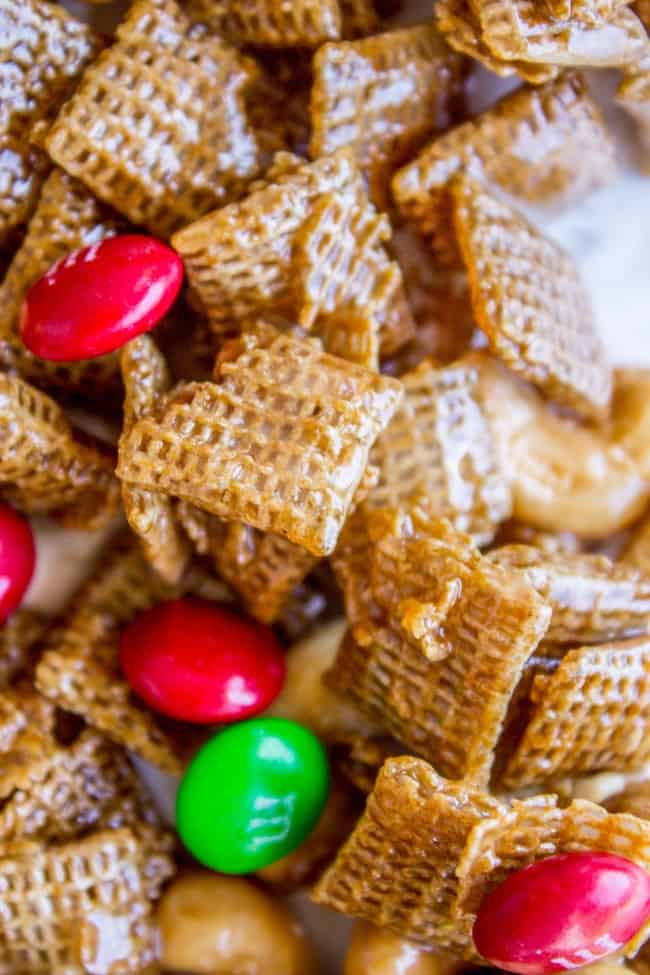 So it's time for a Blogging Moment of Truth. You see these photos? I shot them on a sunny morning in August. You see those red and green M&Ms? I only had twelve. Total. They don't sell Christmas M&M's in August, so I pulled all the green and red ones from a regular pack. There were 10 reds…and only TWO greens (and look, one of them was gimpy on one side.)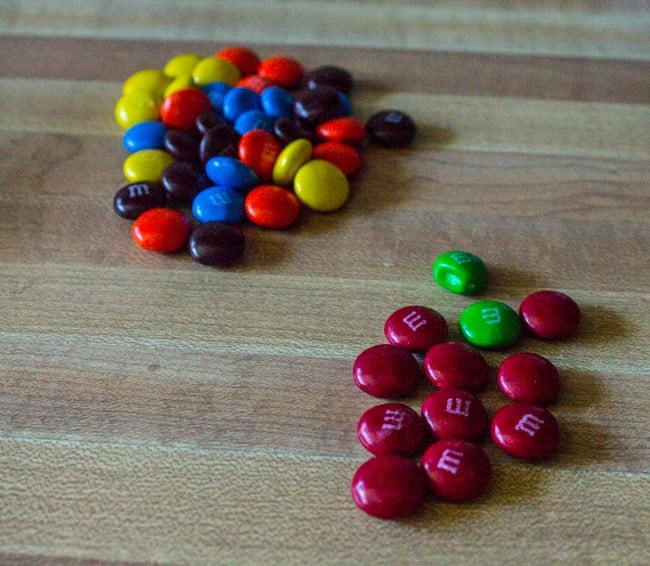 So add "move around green M&M 100 times" to the strange list of tasks that makes up my life. (Put it right after "denies daughter dessert samples until after the photo shoot.")
(By the way, I was shooting Christmas recipes in August because I just had a baby and I was trying to get ahead on the blog. But I have to say, why should this recipe only be a Christmas thing? Bust out the regular M&Ms.)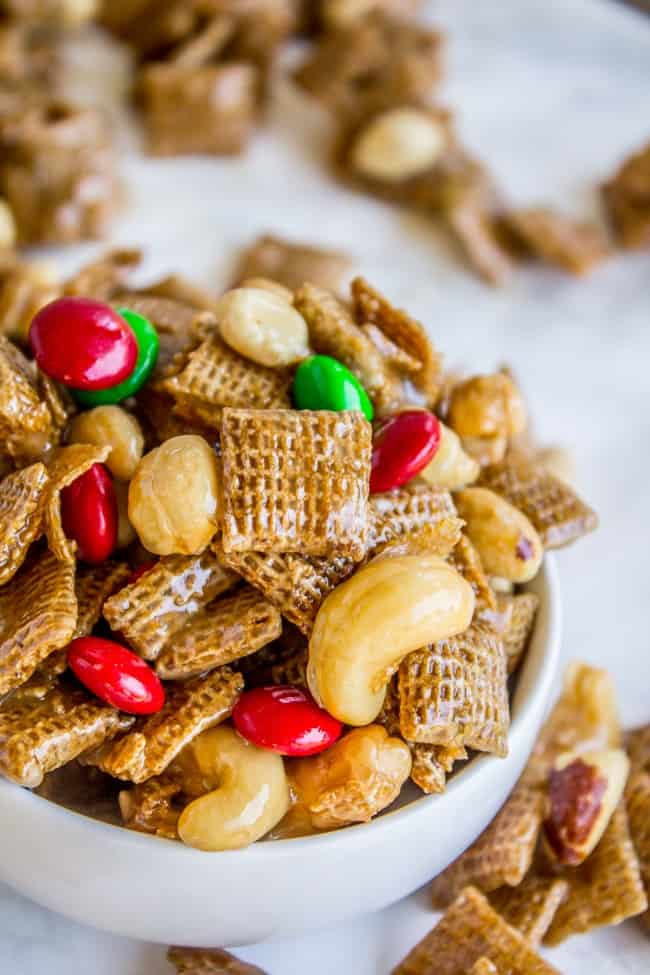 How to make this Christmas Crack recipe
Have you heard of Christmas Crack? I got this recipe from my friend Debbie, who gave it to me as a gift a couple years ago. Then I haunted her until she got me the recipe. (Debbie was also my source for this incredible Cheesy Buffalo Chicken Dip, which I have been known to serve to my family for dinner, in spite of the fact that it's mostly chicken and mayonnaise. Cheesy, delicious mayonnaise. I owe you one Debbie.)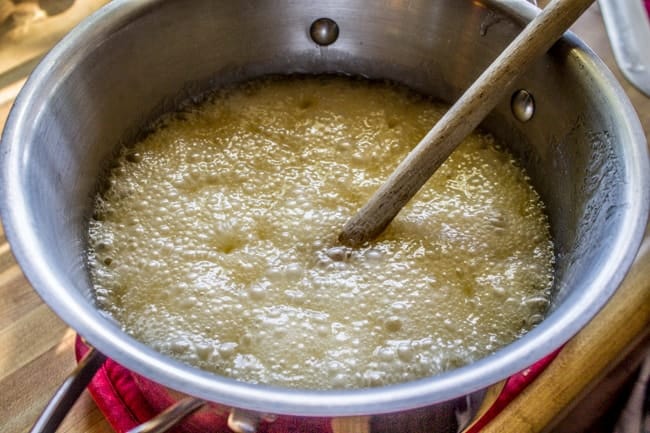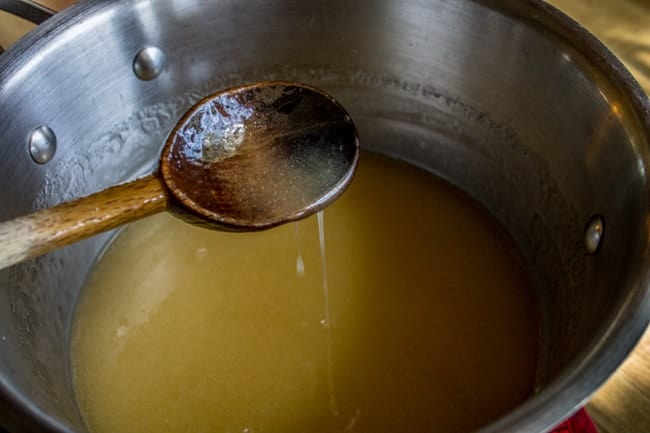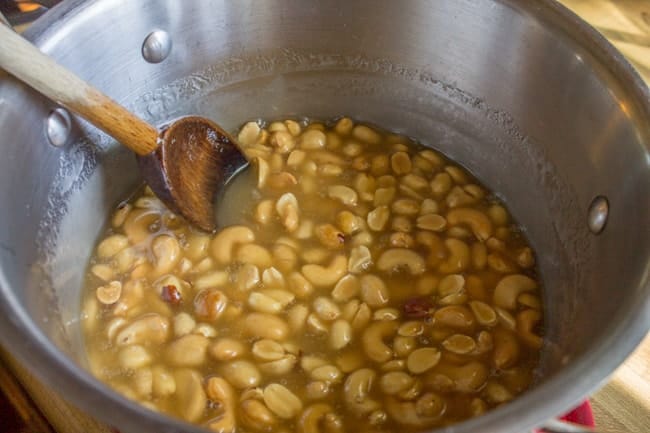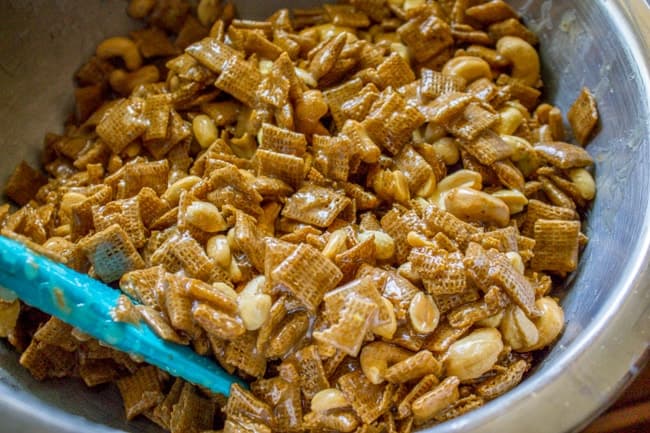 Two, actually, because this sweet Chex mix recipe is incredible.  And SO easy. You just boil some butter, sugar, and syrup for a couple minutes until it gets all caramelly, then pour it over the Chex and some salty cashews and peanuts. Thaaaat's it. It is the most ooey-gooey, where-did-it-go sweet and salty snack. This would be a super easy gift to hand out to the neighbors. Christmas Chex Mix FTW!
Here are some other Christmas gift ideas!
Cinnamon Honey Butter << this one is hugely popular! A super easy recipe to throw together.
Mint Chocolate Covered Almonds << this would make a great hostess gift!
Caramel Nougat Pecan Rolls << this is my absolute favorite Christmas candy. It's SO GOOD.
The Best Homemade English Toffee
The Softest Sugar Cookies of Your Life! << If you like decorating cookies this will make you the favorite neighbor
More Chex Mix recipes!
Cinnamon Sugar Chex Mix from Sprinkle Some Sugar
Sweet and Salty Cranberry Snack Mix from The Creative Bite
Facebook | Pinterest | Instagram | Twitter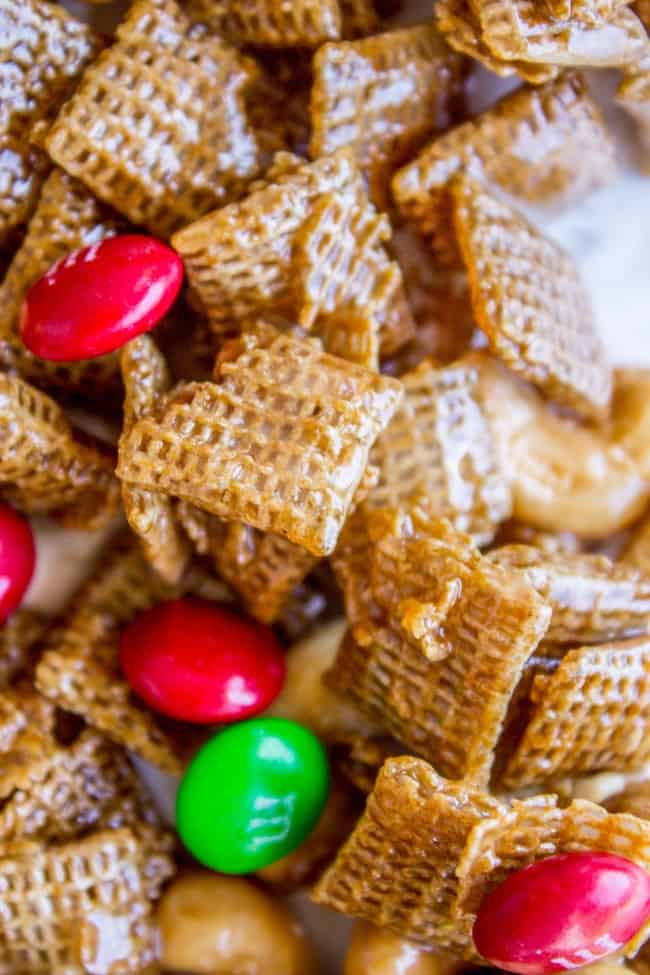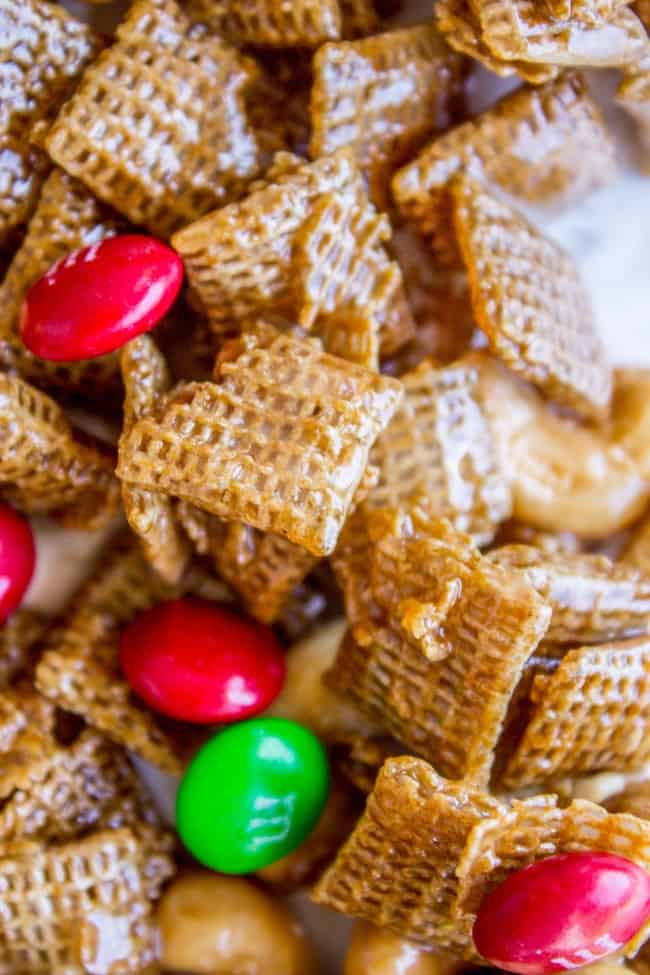 print
Did you make this recipe?
Leave a review »
Sticky Sweet-and-Salty Chex Mix (Christmas Crack)
Serves 8-10
adjust servings
Ingredients
1

cup (2 sticks) salted butter

1

and 1/2 cups light corn syrup

1

and 1/2 cups sugar

2

teaspoons vanilla

1

and 1/2 to 2 cups salted cashews and/or peanuts (or to taste)

8

cups corn Chex cereal*

Christmas M&Ms, optional
Instructions
In a medium saucepan, melt the butter over medium-high heat.
Add the corn syrup and sugar. Bring to a boil. Once there are bubbles all the way across the surface, set a timer for 3 minutes and stir occasionally. When it is a caramel consistency, remove from heat.
Stir in the vanilla.
Stir in the cashews and peanuts to get them completely coated.
Spray a large bowl with nonstick spray. Spray a large baking sheet with plenty of nonstick spray.
Add the Chex to the greased bowl, then pour the syrup over the cereal and stir to combine. Keep stirring and wait for the mixture to cool down a bit before adding your M&Ms, otherwise they tend to split open and get chocolate everywhere.
Once all the cereal is coated, use a wooden spoon to spread it on a large greased baking sheet.
Let cool completely. It will set up some but will remain pretty sticky. Sticky's not in the title on accident :)
Store this in large ziplock bags. Or if you plan to deliver this as a gift, scoop some into a wide-mouth mason jar and tie a ribbon around the top.
by The Food Charlatan

If you make this recipe,
share it on Instagram
 using the hashtag
#TheFoodCharlatan
so I can see it!
We are a participant in the Amazon Services LLC Associates Program, an affiliate advertising program designed to provide a means for us to earn fees by linking to Amazon.com and affiliated sites.