My favorite ever easy homemade cranberry sauce recipe! Nothing beats a classic when it comes to cranberry sauce. All you need is a little bit of orange juice and zest, some cranberries and sugar! It is so good when you just keep things simple!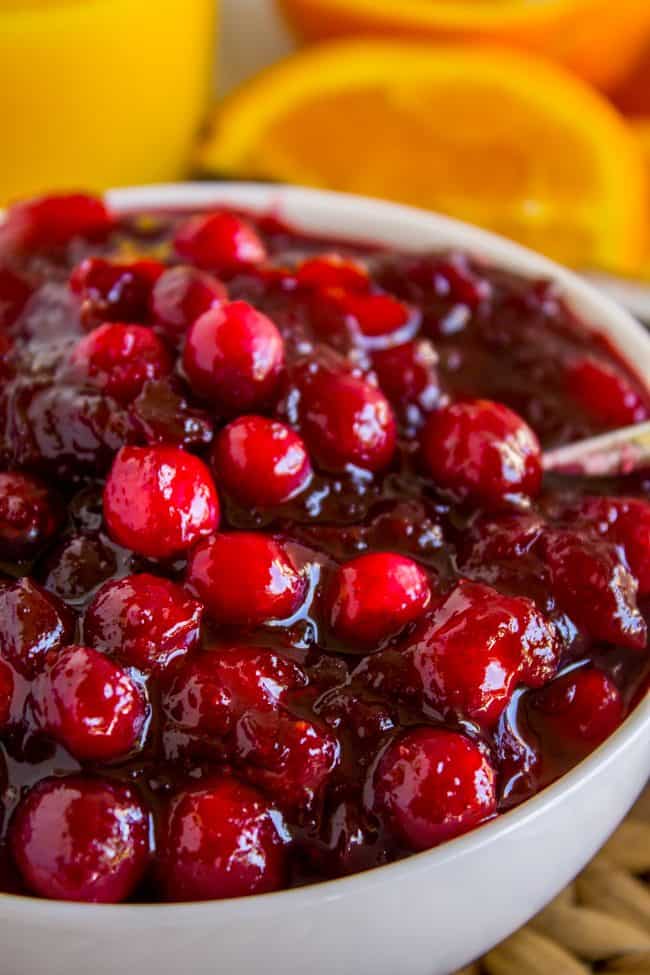 Originally posted November 14, 2018
Eric just tried to walk me through how to fix our broken garage door on the phone. Needless to say, my car is still trapped in the garage and I am still stuck at home. I did NOT get the fix-it gene.
I just know that when he gets home, he will walk into the garage, twiddle something once or twice, screw in something here or there, and the job will be done in 5 minutes flat. Men! How do they just know stuff like this??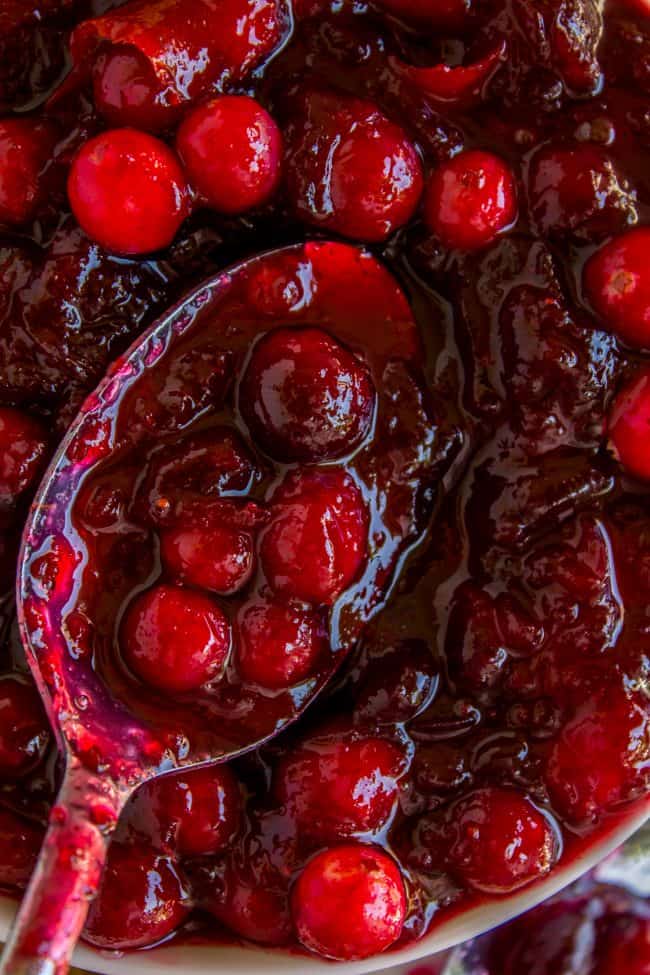 I am spending my home bound afternoon curled up with a blanket by the fire, so I suppose I can't complain too much. I almost feel guilty about having the fire going right now because of all the smoke in our area, but it's the cheapest way for me to heat my living room. We're in Sacramento, about 80 miles from the fire that took Paradise last week. The smoke is still really bad. The kids have to stay inside at lunch and recess, and Eric's entire university shut down campus today (he works at UC Davis).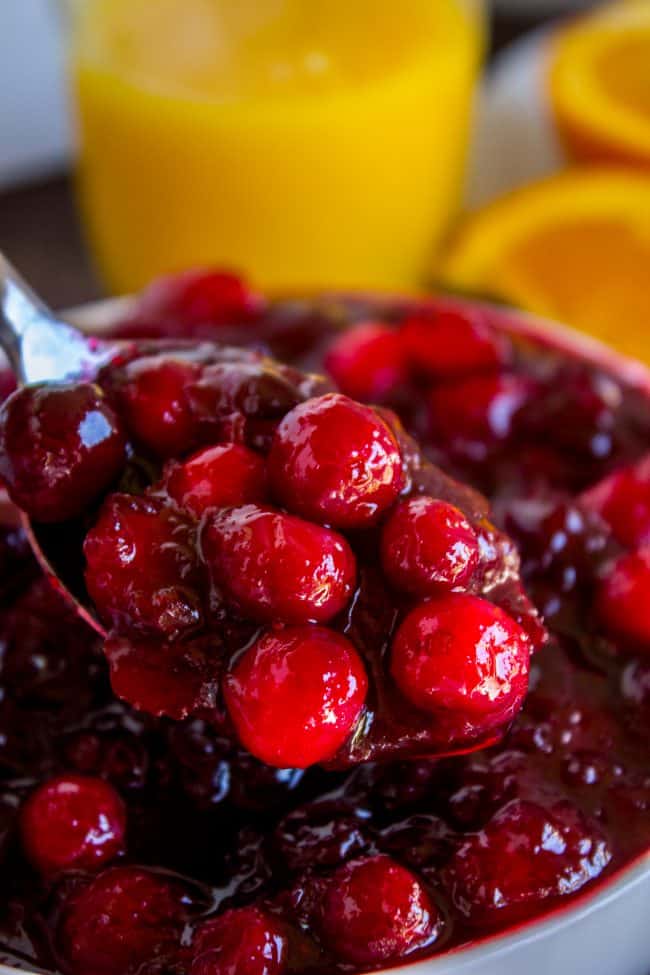 The smoke is just annoying though. It's nothing compared to having your house burned to the ground in 1 day flat. I just keep wandering around my house, wondering what I would take if we ever had to evacuate. (We are not in any danger, fyi). I just can't stop thinking about all the people who are camped out around the perimeter of what used to be their town, with nothing but the clothes on their backs.
It's really got me thinking about emergency preparedness. We have plans to get 72 hour kits put together this week, make a list of things to take if we do have time before an evacuation, and buying a fire proof box to store all our important papers. Thank goodness so many things are digital these day. My computer and external hard drives are at the top of the list, obviously. I don't even think taking photos off the walls makes my list, because you could always just have them printed again if you have the digital copy.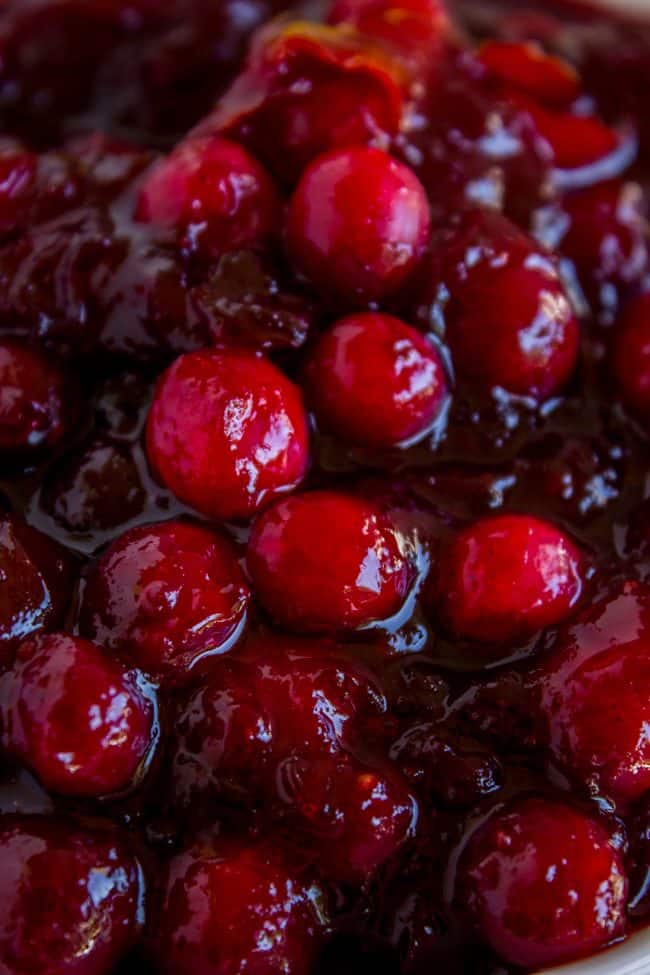 I'm glad that Thanksgiving is next week. Thanksgiving has always been one of my favorite holidays, because everyone can celebrate it, no matter who you are or what you believe in. Everybody has something to be grateful for.
How to make cranberry sauce
Speaking of Thanksgiving, do you have a favorite cranberry sauce recipe? It is unbelievably simple to make. You just boil fresh cranberries in a little bit of liquid (water, orange juice, apple cider, whatever you like) and simmer until the cranberries pop.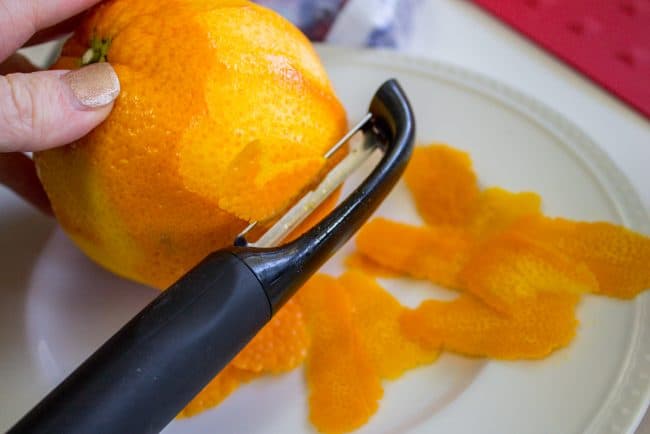 I love to use orange juice and big strips of fresh orange peel in my cranberry sauce. Cranberry and orange are literally a match made in heaven.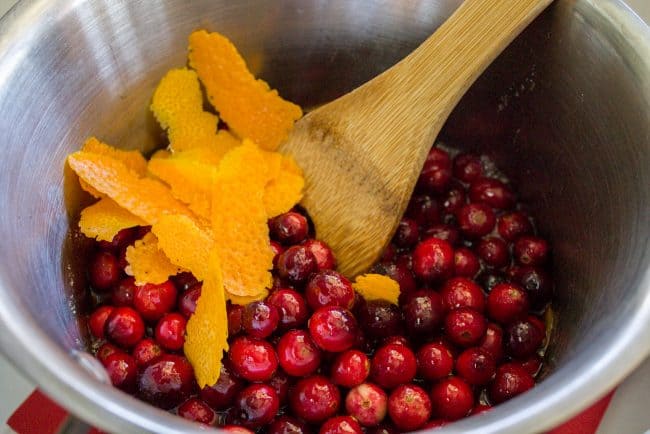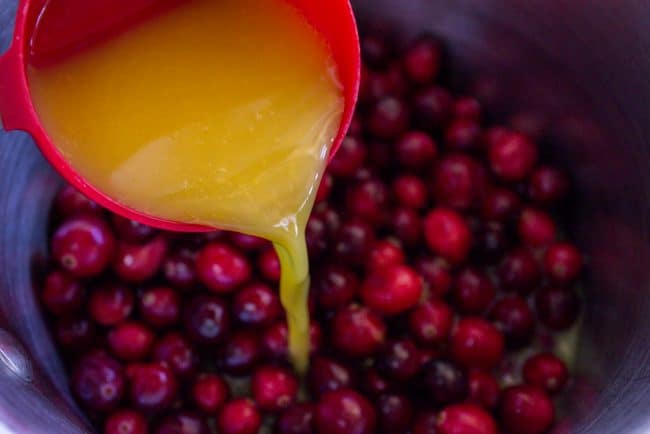 You can either use fresh-squeezed orange juice or buy a carton at the store. Either way will work great.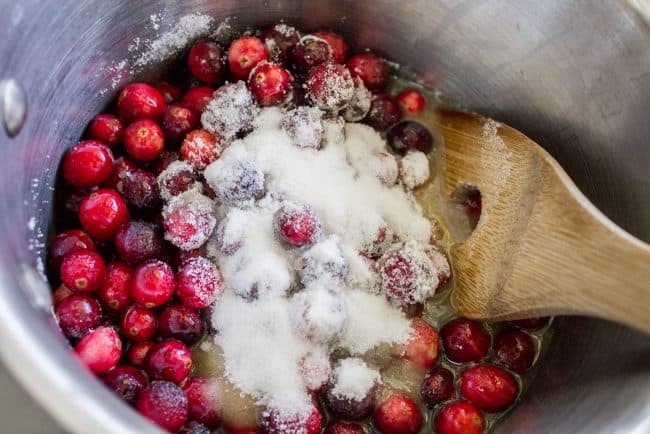 And then add in some sugar! Simple as that. You can adjust the sugar level to your preference.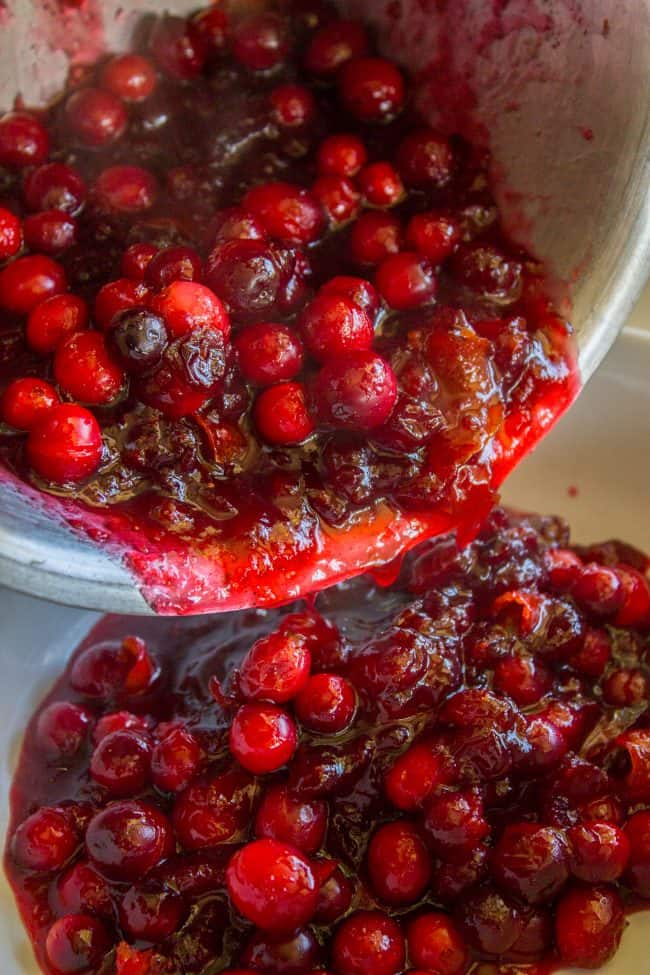 Once the cranberry sauce is done, you can remove the orange peels if you like. I actually love to leave them in! They get this candied flavor that I just love. Such a great compliment for turkey!
How do you serve cranberry sauce?
And viola! The nice thing about this cranberry sauce recipe (and pretty much any cranberry sauce recipe) is that it is 100% make-ahead-able. Whether you like you cranberry sauce warm or chilled, it can be made a week (or even more) ahead of Thanksgiving. In fact it will taste even better because the flavors will have time to marry in the fridge. I love it when flavors decided to get married, don't you?
What does cranberry sauce go with?
I like to eat my cranberry sauce right alongside my turkey as a sweet relish to the meat. Just like the Swedes eat their meatballs with lingonberry sauce. It's a tasty addition to a savory meal, and if you haven't tried it, you're missing out!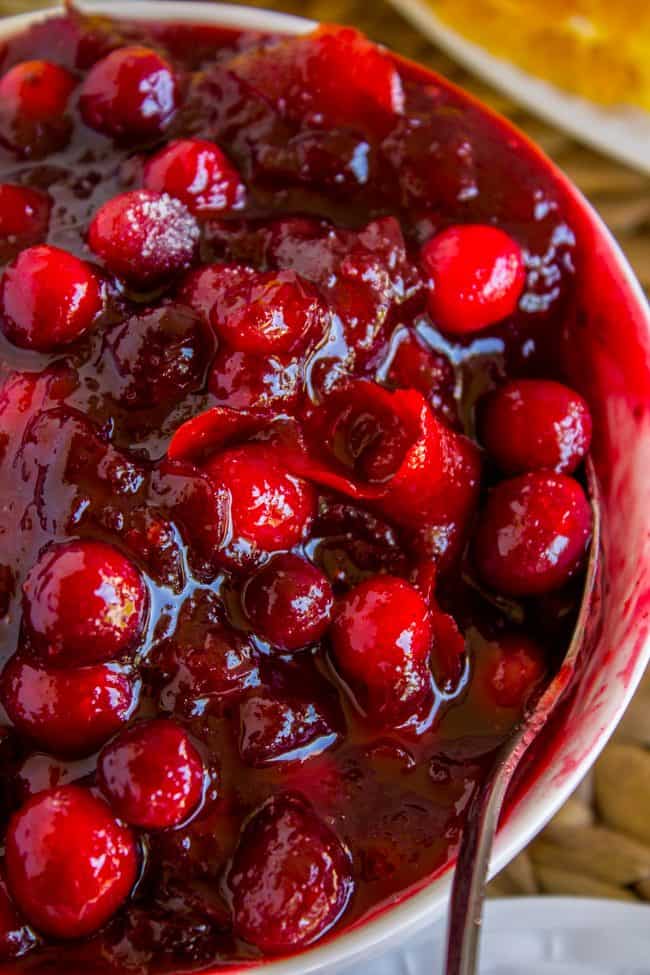 What to do with leftover cranberry sauce?
But if you do end up with a mountain of leftover cranberry sauce, the possibilities are endless! Once Thanksgiving is over, think of your cranberry sauce as a sophisticated, autumnal jam, and add it to whatever you deem delicious. Some ideas:
Stir it in with plain or sweetened Greek yogurt with a sprinkle of granola
Put it on a turkey sandwich with mayo. Or mix it together like this 2-Ingredient Creamy Cranberry Sauce
Serve it with meat. You could replace the raspberry jam in this Raspberry Balsamic Meatballs recipe!
Spread it on toast with butter or over a layer of cream cheese. (If you like, use an immersion blender to smooth out the whole berries)
Add it to a smoothie
Use it to make hand pies or homemade poptarts
Stir in a couple tablespoons chopped jalapeno and pour over a block of cream cheese. Serve with crackers.
Stir it into muffin batter.
Use the sauce as a filling for a cake.
Fold it into whipped cream and top a cake. Or dip fruit into it!
top your ice cream
top pancakes or waffles
blend it into barbecue sauce for a tart kick!
stir into oatmeal
Blend completely and add to your favorite homemade salad dressing
top a cheesecake or a pound cake
Can you freeze homemade cranberry sauce?
Absolutely! Put it in a tightly sealed container or a ziplock, seal it up well, and it will keep in the freezer for up to 3 months. Let it thaw on the counter or in the fridge.
A cranberry sauce recipe is pretty much a necessary item on your Thanksgiving table, right? I'm squeezing in a few more recipe for your table over the next week (Pumpkin Roll, anyone??), so stay tuned!
More great cranberry recipes!
Facebook | Pinterest | Instagram

Easy Homemade Cranberry Sauce Recipe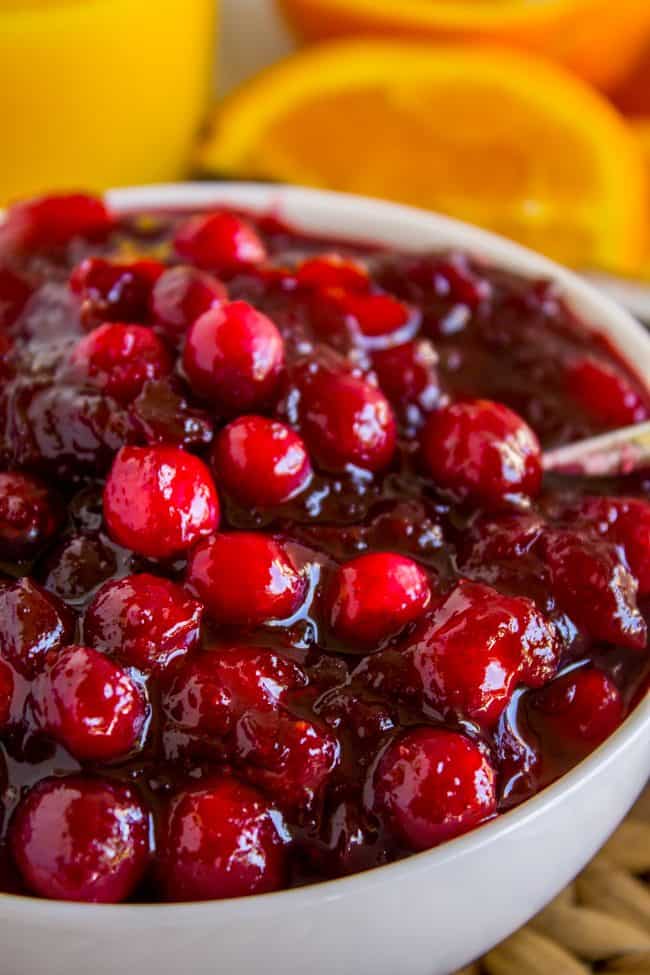 My favorite cranberry sauce recipe ever! Nothing beats a classic when it comes to cranberry sauce. All you need is a little bit of orange juice and zest, some cranberries and sugar! It is so good when you just keep things simple!
Ingredients
1 (12-oz)

bag

cranberries

,

divided*

big strips of orange zest from one orange

1/2

cup

orange juice

1 & 1/4

cups

granulated sugar

1/4

teaspoon

cinnamon

,

optional
Instructions
Wash the cranberries and remove any stems. Set aside 1 cup*. Add the rest of the bag (It should be about 2 and 1/2 cups) to a medium saucepan.

Use a peeler to peel large strips of orange zest from 1 orange. Don't press too hard, you only want to peel off the orange part (avoid the white pith). Add all of it to the saucepan.

Juice the orange. Add 1/2 cup orange juice to the pan with the cranberries. You might need to juice another orange to get to a 1/2 cup. (I used orange juice from a carton I had in the fridge. Either way will work fine, just make sure you have 1/2 cup liquid.)

Add 1 and 1/4 cups sugar to the pan. Add up to 1/4 teaspoon cinnamon, if you're using it. Set over medium high heat and bring to a simmer. Lower the heat to medium and cook for about 10 minutes, until most of the cranberries have popped.

Add the remaining 1 cup cranberries. Cook over medium heat for about 3 minutes, until the fresh cranberries have softened but not popped.

Remove from heat. At this point you can remove the pieces of orange zest if you like. I like to leave them in for an extra punch of flavor!

Serve immediately, or store covered in the fridge for up to 1 week. The cranberry sauce can be served warm or chilled. Re-warm in a pot on the stove over medium low heat.
Notes
*I like to reserve 1 cup of cranberries to add at the end, so that they soften but don't pop. I love the flavor of fresh cranberries! If you're not into the "whole berry" texture, then add all the cranberries in at the beginning. But I'm telling you, you should try it at least once :)
Nutrition
Serving:
1
g
|
Calories:
197
kcal
|
Carbohydrates:
51
g
|
Protein:
1
g
|
Fat:
1
g
|
Saturated Fat:
1
g
|
Polyunsaturated Fat:
1
g
|
Monounsaturated Fat:
1
g
|
Sodium:
2
mg
|
Potassium:
91
mg
|
Fiber:
3
g
|
Sugar:
46
g
|
Vitamin A:
76
IU
|
Vitamin C:
18
mg
|
Calcium:
8
mg
|
Iron:
1
mg