This Nutella filled donut recipe will seriously blow your mind. Imagine the softest, puffiest yeast donut of your life, then roll it in a ton of sugar. THEN poke a hole in the side and fill it with warm gooey Nutella!! These are insane you guys!! And not as hard as you think. Originally posted June 14, 2018.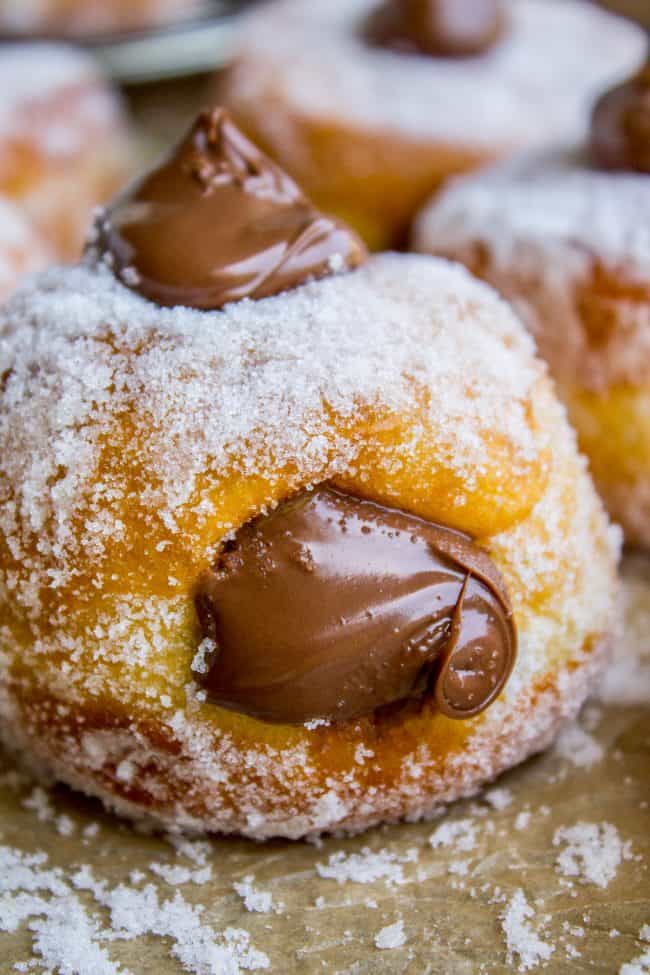 Eric and I went on vacation to Australia in May, so we declared this month to be No-Spend-June. We figured we would try to balance out Spend-a-Lot-May.
But then Kirby came to the door. That's right, the famous vacuum cleaner (sorry, I mean 'Home Cleaning System.' He corrected me like 5 times.) Our salesman's name was Zack, but I call him Kirby because he's a true believer! Kind of like how George Foreman named all of his kids George Foreman.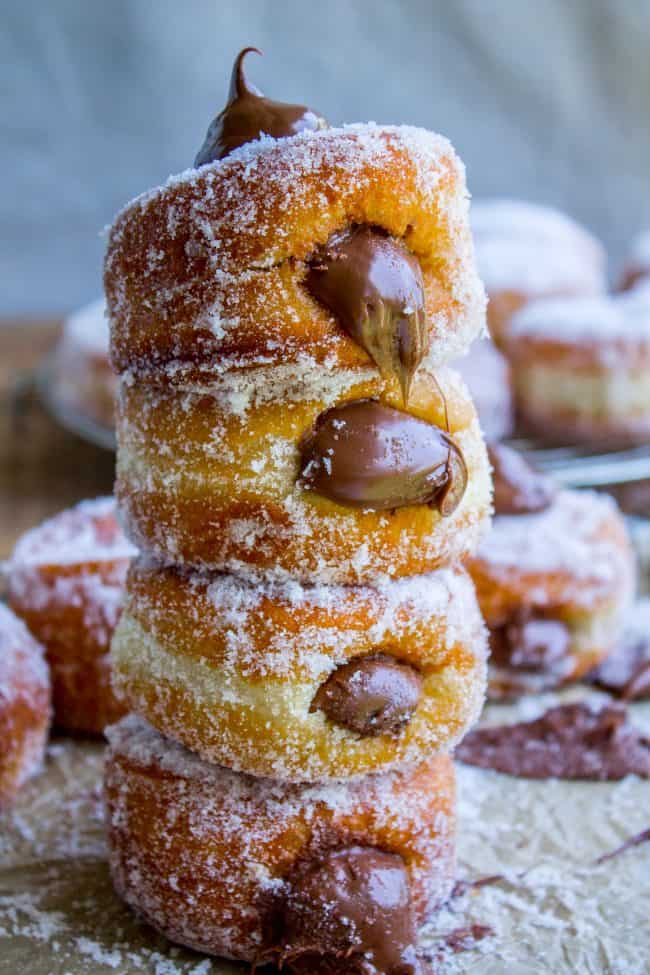 Kirby is trying to get on my good side by showing me JUST HOW MUCH dirt is in my house. Listen, I'm not perfect but my house isn't a complete disaster. Or so I thought. Now I'm questioning EVERYTHING.
Kirby keeps asking me all these embarrassing questions that I didn't even know I should be embarrassed about. "How often to you clean these drapes? Do you just throw them in the wash?" Um, no, neither of those things. 'How long have you had them?' I mumbled something unintelligible but they've got to be at least 5 years old. Who washes drapes, people?? Come on am I the only heathen out there?
Then he started vacuuming my laminate wood floors. Did you KNOW that when you sweep, you're basically pushing around little pieces of glass (dirt=glass apparently) and that it is basically SCRATCHING YOUR FLOOR???
Don't even get me started on the mattress. He started vacuuming my mattress, guys. "How often do you vacuum your mattress?" Um well… "How often WOULD you clean your mattress if you had a KIRBY Home Cleaning System??" EVERY DAY PROBABLY.
When all is said and done, I walked away with one half mattress vacuumed, one hallway shampooed, one window track so clean I could serve dinner on it, and one arm of my ceiling fan spotless. And 24 easy payments of $108 a month. Gah! Just kidding! I said no way! Guys, who makes payments on a vacuum??? Sorry, home cleaning system.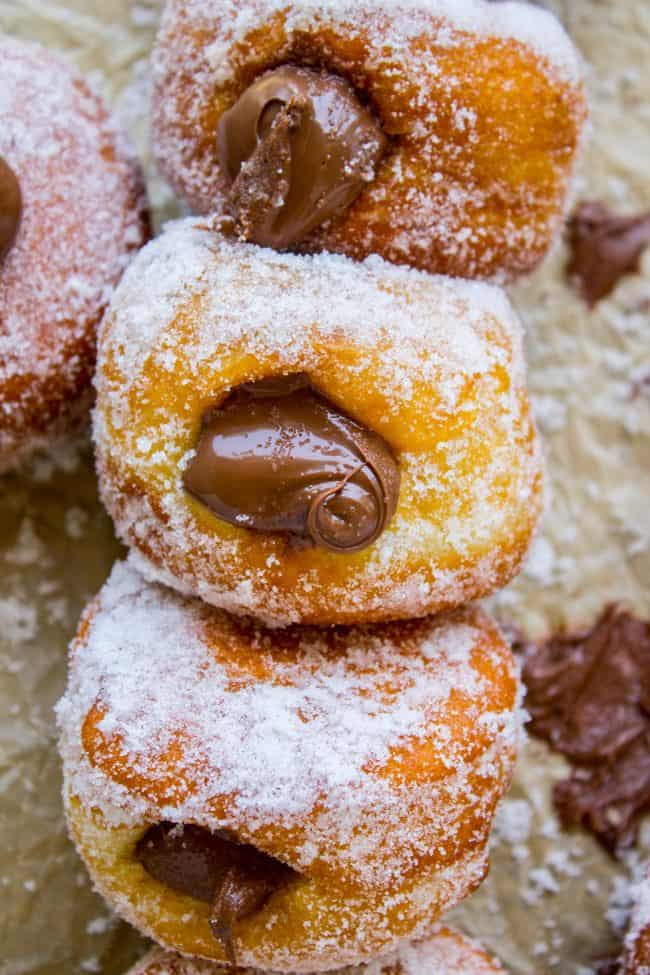 I did feel kind of bad because the poor kid spent THREE HOURS (3!!!!!!) cleaning my house and didn't even make a sale. Wait. Did I just say I felt bad for him? I meant me. 3 HOOOOURS!!!!
Eric came home toward the end of the kid's demo. "Look at how much dirt I'm pulling up! Other vacuums only clean the dirt you can see." said Kirby. Eric wasn't convinced. "People used to live in dirt. If I can't see the dirt, why do I care about it?" We are officially the customers from hell. Poor Kirby!
But cleaning that ceiling fan has been on my to-do list for at least 6 months (I know because it was on my to-clean list before my Christmas party in December, but I decided (quite rationally, I might add) that no one even looks up at parties so who cares about the ceiling fan. So at least that job is 1/5 of the way done.
Nutella Filled Donuts
Okay okay enough about Kirby, LET'S TALK DONUTS! This donut recipe is the best, you guys. It's makes the softest, puffiest donuts ever, that are so moist because we basically let them rise in a homemade sauna. You put a pan of boiling water underneath the rising donuts in a turned-off oven, and it makes them rise beautifully.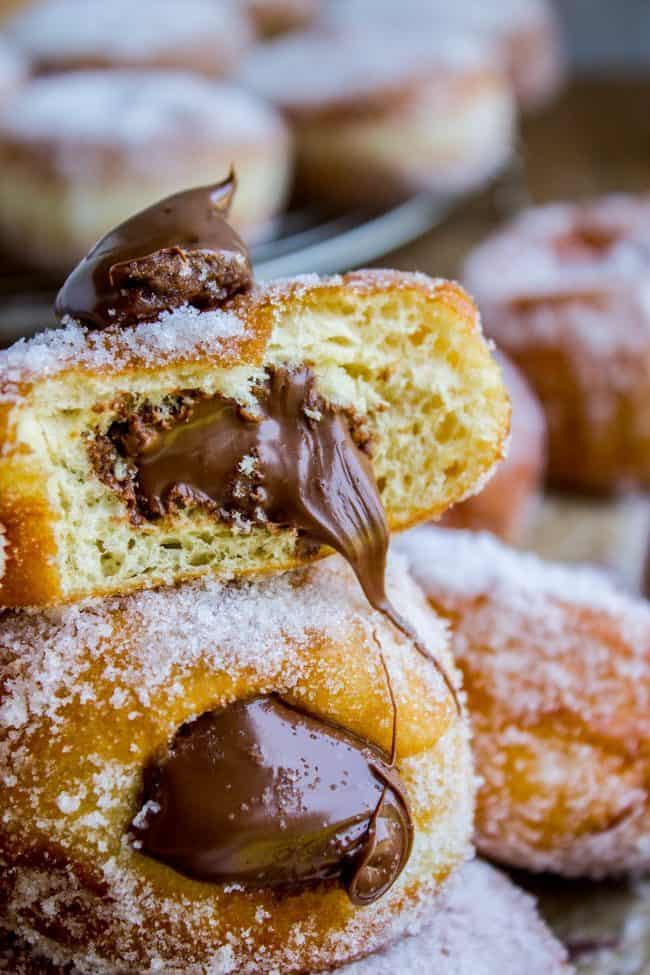 Have you ever made a donut recipe at home? From-scratch donuts can be a little intimidating, but it's so fun and definitely a project you should try at least once. Have a donut party and invite all your friends so if you start a grease fire they can help you put it out. Just kidding! That's totally not going to happen!
I feel like pretty much the best way to take a homemade donut recipe up a notch is by filling the whole thing with copious amounts of Nutella. Who's with me?? Let's go!
Nutella Donut Ingredients
Active dry yeast
Sugar
Salt
Baking powder
Bread flour
Shortening. I like butter-flavored Crisco.
Egg yolks
Vanilla
Peanut oil or light olive oil, for frying
LOTS OF NUTELLA
How to Make Nutella Donuts
There's a lot here, so let's start with a basic overview. It's really pretty simple. Full recipe is at the bottom of the post!
Make your dough
Let rise and roll out
Use a biscuit cutter to create the donut shape
Let circles of dough rise (see recipe)
Fry the donuts and coat them with sugar
Poke warm donuts with a toothpick, working it around to form a hole
Pipe Nutella into each donut and devour!

First off, 3 tablespoons of yeast is not a typo. It's a lot! That's what makes this donut recipe so puffy! The picture on the left shows how foamy it should be after 5-10 minutes of proofing. If it doesn't look super foamy, toss it and start over! On the right is how your dough should look after 2 minutes of kneading. It is a nice soft dough that will clean the bowl and will not stick to your fingers much.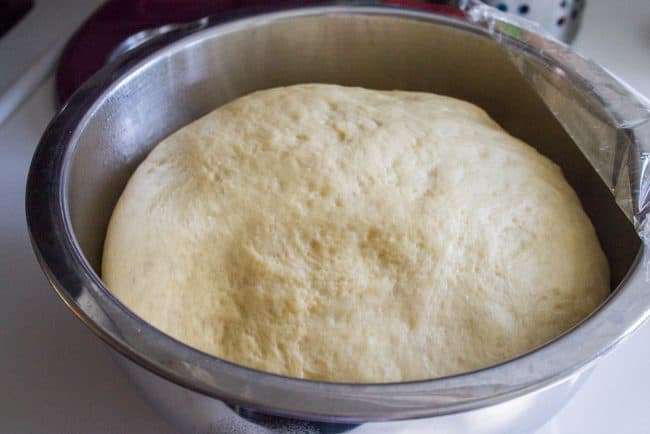 Make sure your dough has doubled in size. It will be so soft and moist after rising in the homemade sauna in the oven! See oven photo below.

You want to roll out your dough to about half the thickness of your thumb. Use a 2 and 1/2 inch biscuit cutter and push straight down.

Leave plenty of space for your donuts to rise. My oil bottle says "donuts" on it because this was the second time I used this oil for frying. See the last step of the recipe to see how to take care of the leftover frying oil. (Save it for the next time you make donuts, of course!)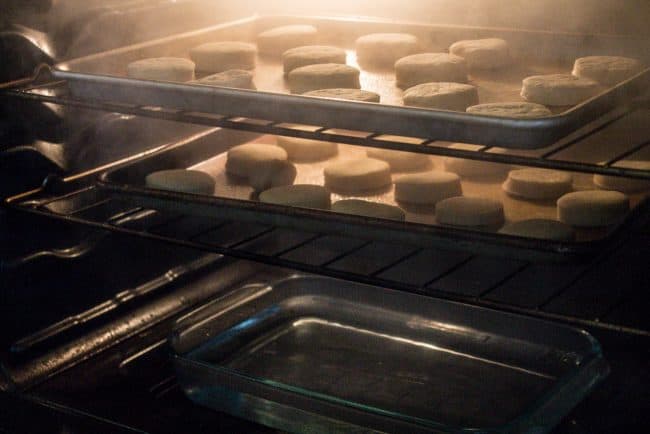 Here's what your final rise should look like. You want LOTS of steam from that boiling water! Don't cover the donuts this time.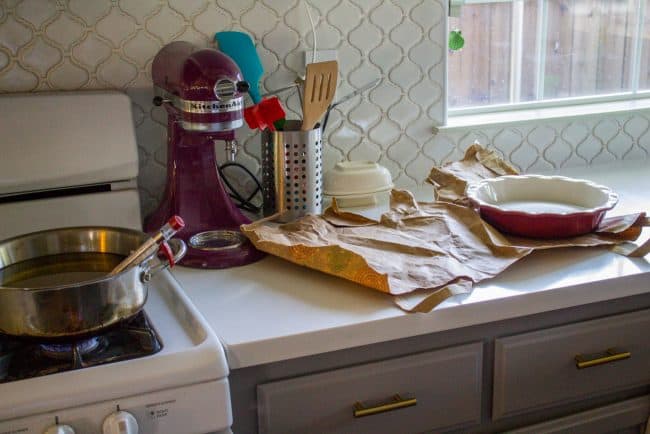 When the donuts are finishing their rise, get your donut station all set up. I like to use a paper grocery bag to place the freshly fried donuts on. They are really absorbent. Paper towels work fine too.

Time to fry! If your donuts are super puffy when you flip them over, sometimes it's helpful to push them down a little bit with a spatula so that the center gets fried and not just the edges.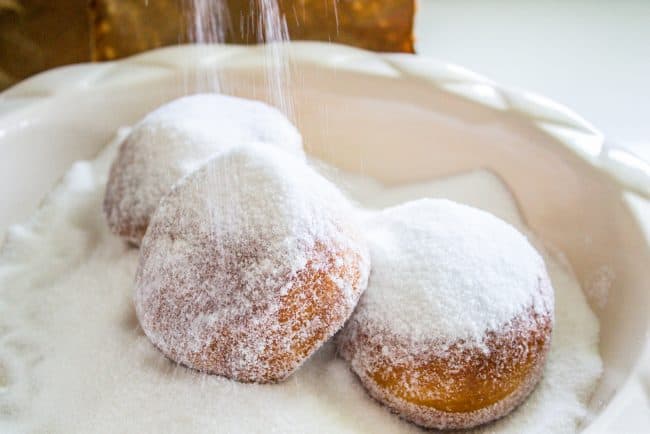 Don't be stingy on the sugar!! Pour it on!

How do you fill donuts with Nutella filling?
Once the donuts have cooled a bit, poke a hole in the side with a toothpick and work it around so the Nutella has somewhere to go.

Fill a pastry bag with Nutella. I like to place the pastry bag in a large glass to fill it, so much easier. Get the tip way inside the donut and fill it up!
What are stuffed donuts called?
As for the name of this donut, I think we have to stick with the full title, Nutella Stuffed Donuts. Sure, a jelly-stuffed donut is called a jelly donut but if you call this Nutella stuffed donut a Nutella donut, you might think there's simply Nutella flavoring in the dough. Oh heck no. There is NUTELLA STUFFED INSIDE THE DONUT. Let's never forget that.
Stuffed Donut Storage
Are you trying to say you don't plan to eat every single donut you've just made immediately? I'm so confused.
These donuts have no frosting, so putting them single-layers into an airtight storage container is no problem. Be sure to seal it well. Store on the counter for the first few days. If you still have leftovers (jealous) put them in the fridge.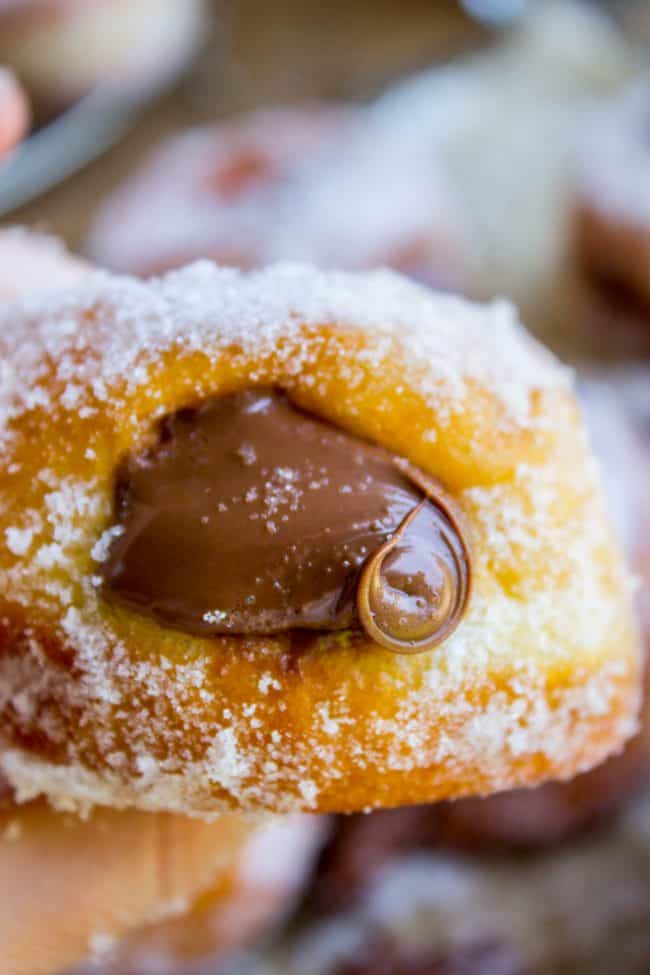 Donuts are best fresh. They just are. But if you're looking for long-term storage, try freezing them before you stuff them. Allow to defrost overnight in the fridge and fill them the day you'd like to serve them.
And voila. Allll the Nutella. Invite your neighbors over so you don't eat all these yourself! (But don't invite Kirby. He will NEVER LEAVE!)
More donuts! More Nutella!!
More donut recipes you will be sure to love!
Facebook | Pinterest | Instagram

Nutella Donuts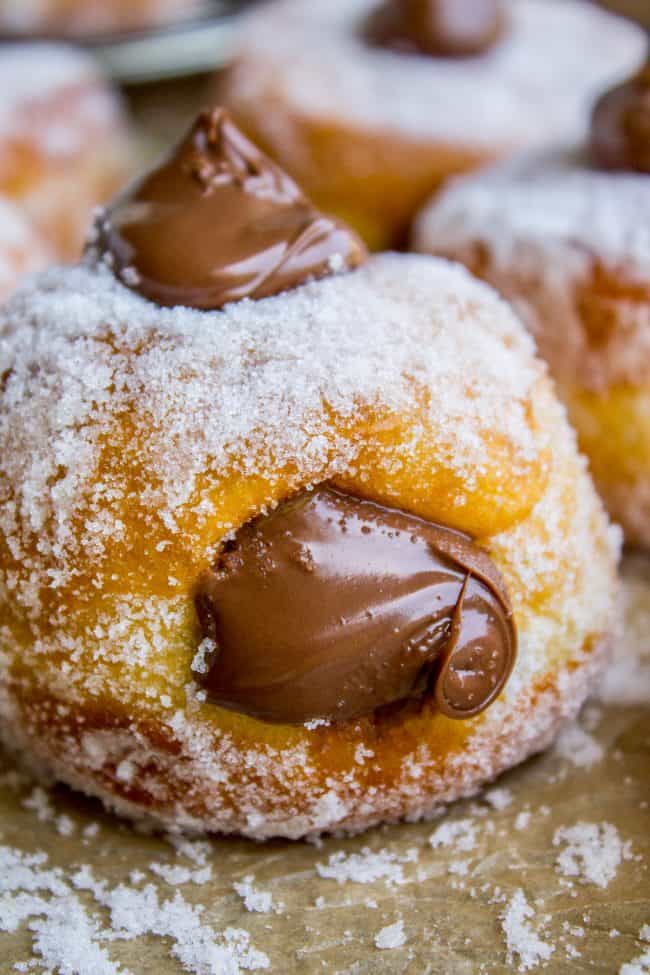 This Nutella filled donut recipe will seriously blow your mind. Imagine the softest, puffiest yeast donut of your life, then roll it in a ton of sugar. THEN poke a hole in the side and fill it with warm gooey Nutella!! These are insane you guys!!

Ingredients
3

tablespoons

active dry yeast

1

cup

warm water

,

105 degrees F

1

tablespoon

sugar

,

to proof yeast

2

teaspoons

salt

1/2

teaspoon

baking powder

1/2

cup

sugar

,

add to dough

4

cups

bread flour

1/4

cup

shortening

,

I like butter flavored Crisco

3

egg yolks

1/2

teaspoon

vanilla

peanut oil or light olive oil

,

for frying

1 & 1/2

cups

sugar

,

for rolling donuts

LOTS OF NUTELLA
Instructions
In a large bowl or stand mixer, combine yeast, warm water, and 1 tablespoon sugar. You want the water to be nice and warm but not hot. Let the mixture sit for about 5-10 minutes and make sure it's nice and foamy. (If it's not, abandon ship!! You've killed your yeast. Toss it out and start over; this time make sure your water's not too hot.

Fill a 3-quart pot with water, cover, and bring to a boil over high heat.

In another medium bowl, combine salt, baking powder, 1/2 cup sugar, and bread flour. Set aside.

When the yeast is foamy, add the shortening, 3 egg yolks, and vanilla and stir with a wooden spoon.

Add about half the flour mixture and combine well with the spoon.

Attach the dough hook to the mixer, if using (if not, just use the spoon) Add the remaining flour mixture and stir well. Once all the flour is mixed in, knead with the dough hook for 2 minutes. Or knead by hand for 2 minutes on a floured surface. The dough should clean the sides of the bowl, it is not very sticky. See photos. Add more flour if necessary (I've never had to.)

Grease a large bowl with nonstick spray or rub with a little bit of oil. Shape the dough into a ball and place in the bowl. Turn it over so that the top is greased. Cover loosely with a tea towel or plastic wrap. Place on the top rack of your oven.

Place a 9×13 inch pan on the bottom rack. Carefully pour the boiling water into the pan. Close the oven door and don't open it again for 1 hour!

After one hour the dough should have doubled in size.

Pour the water from the pan back into the pot, cover, and bring to a boil again.

Line 2 large baking sheets with parchment paper or silpats. Spray with nonstick spray.

Punch down the dough and knead it a couple times on a lightly floured surface.

Use a rolling pin to roll the dough into a circle about 12×12 inches. The dough should be about half the thickness of your thumb.

Use a 2 and 1/2 inch biscuit cutter to cut the dough into doughnuts. Do not twist the cutter, push straight down.

Line up the doughnuts on the prepared baking sheets with plenty of space for them to rise. I was able to fit between 12-15 on each pan.

Place the pans in your oven. I only have two racks, and one pan fits on each, so I put the baking sheets on the racks and the dish of water directly on the floor of the oven.

Pour the boiling water back into the 9×13 inch dish, and place underneath the donuts.

Do not cover the donuts with a tea towel this time. Let rise in the oven for another 45 minutes, until doubled in size.

About 20 minutes before the doughnuts finish rising, start heating up the oil. It takes a while for the oil to heat up, so don't wait until the last minute, or your doughnuts might rise too high and then fall before the oil is hot enough.

In a high sided skillet, add 1 and 1/2 to 2 inches of oil. Turn the heat to medium. If you have a candy thermometer, attach it to the side of your pan. Heat the oil to between 360-370 degrees F. If you don't have a candy thermometer, after 15 minutes test a tiny piece of dough. If it starts bubbling right away, the oil is ready. You may have to adjust the heat a little bit lower than medium, depending on how powerful your burner is.

Line your counter with lots of paper towels, or better yet, a deconstructed clean paper grocery bag (they absorb more oil than paper towels.)

Add about 1 and 1/2 cups sugar to a pie plate or shallow bowl. Set a cooling rack nearby.

Use a large spatula to gently lift the donuts one at a time into the hot oil. I usually fry 3-4 at a time, but this depends on how big your pan is.

Let the donuts fry on one side for about a 30-45 seconds, until golden brown. Be careful, they will continue to darken as you remove them from the oil.

Use tongs to flip each donut, and fry for another 20-30 seconds. You will have to use your judgment here, especially if you don't have a candy thermometer. You don't want to end up with doughy-centered donuts.

Remove the donuts to the lined countertop. Wait for them to cool for just 15 seconds or so (enough to get another batch in the oil) and then roll them in the sugar. Don't be stingy! Pile it on! Remove the donuts to the cooling rack.

Finish with the remaining donuts.

When the donuts are still warm but cool enough to handle, use a couple toothpicks to poke a hole in the side of each donut. Work the toothpicks around a little bit inside the donut to create space for the filling.

Shove the pastry bag into the hole of the donut and fill until the donut starts to feel plump. Don't go overboard or it will just ooze out. Continue with the rest of the donuts, you may have to refill the pastry bag.

When all the donuts have been filled, top each donut with a dollop of Nutella. This is optional, and be aware that the Nutella has a hard time sticking to the sugar on the outside of the donut. It tends to slide off. I did it mostly for the photos, but then I realized that it actually is nice to have a little extra Nutella to spread around to the edges of the donut that didn't get filled as much.

Eat these with a fork! Or go all heathen and use your hands. Eat warm! With lots of milk! Warm them up in the microwave for just about 10-15 seconds if you are eating them later.

To store, line several large tupperwares with paper towels. Store covered on the counter for a couple days. These are best eaten on day 1, but are still really good on day 2. I have no idea after than because they were gone!

Once the remaining oil in the pan has cooled completely, transfer it back to the original bottle so that you can use it again next time. (Get someone to help you.) Place the oil bottle in the sink, place a funnel on top, and place a mesh strainer on top of the funnel to catch any dough bits. Pour the oil from the pan through the strainer and funnel back into the bottle. Label your bottle so that you know the oil should only be used for frying.
Notes
This recipe is adapted from these Maple Bars, which recipe I got years ago from Our Best Bites, who got the recipe from this Top Pot Doughnuts book, which I have just added to my Amazon wishlist. It looks so good!
Nutrition
Serving:
1
g
|
Calories:
330
kcal
|
Carbohydrates:
50
g
|
Protein:
5
g
|
Fat:
12
g
|
Saturated Fat:
9
g
|
Polyunsaturated Fat:
1
g
|
Monounsaturated Fat:
1
g
|
Trans Fat:
1
g
|
Cholesterol:
22
mg
|
Sodium:
209
mg
|
Potassium:
150
mg
|
Fiber:
2
g
|
Sugar:
33
g
|
Vitamin A:
31
IU
|
Vitamin C:
1
mg
|
Calcium:
44
mg
|
Iron:
2
mg