This is the BEST recipe for Lemon Squares I have EVER tried! The shortbread crust is thick and tender, and the lemon custard on top is super tart and creamy. You will never go back!!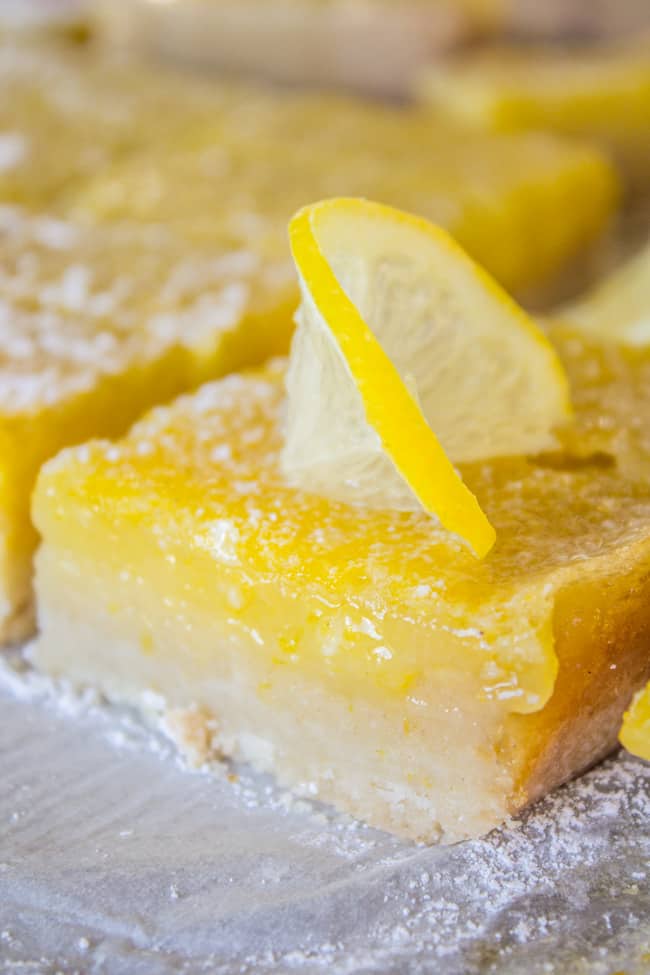 Originally posted January 20, 2012
The other day I casually mentioned to my friend Tawna that I made gluten free lemon squares. "Oh really?" she said, "I've never had a lemon square."
And then my brain EXPLODED.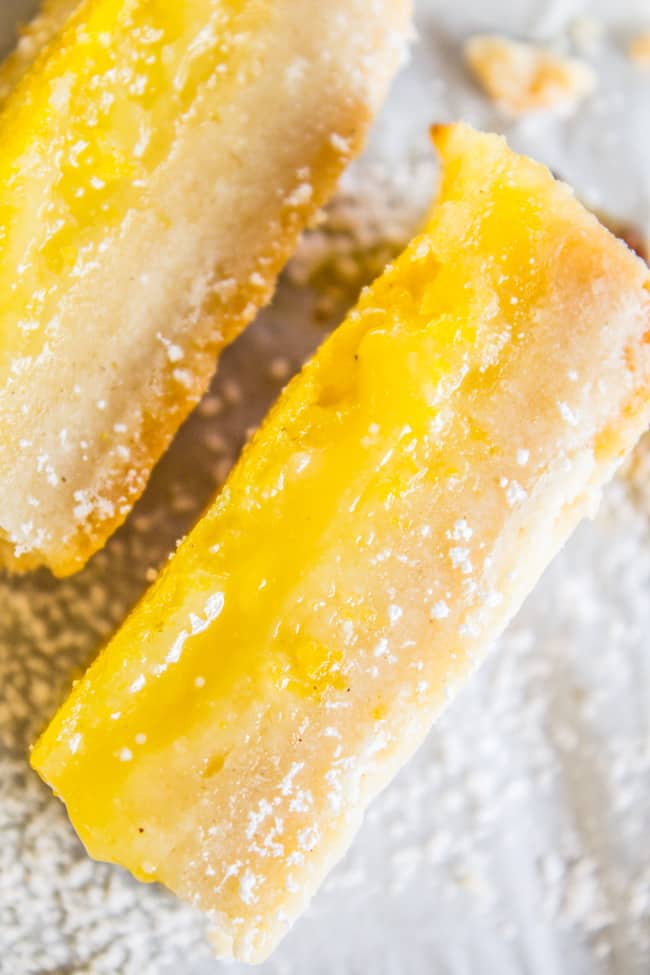 Okay not really, but GAH!!! The thought of life without lemon squares. If I could only eat one dessert for the rest of my life, it would be this recipe for lemon squares, no lie. (Okay. I'm lying. If in some sick world I really did have to choose, I would flip a coin between these lemon bars and The Best Chocolate Cake I've Ever Had.)
Tawna can't eat gluten. I saw her again last weekend at a church breakfast event where I was loading up on doughnuts. She (again, so casually) mentioned that she'd never had a doughnut. I'M ON A MISSION, GUYS.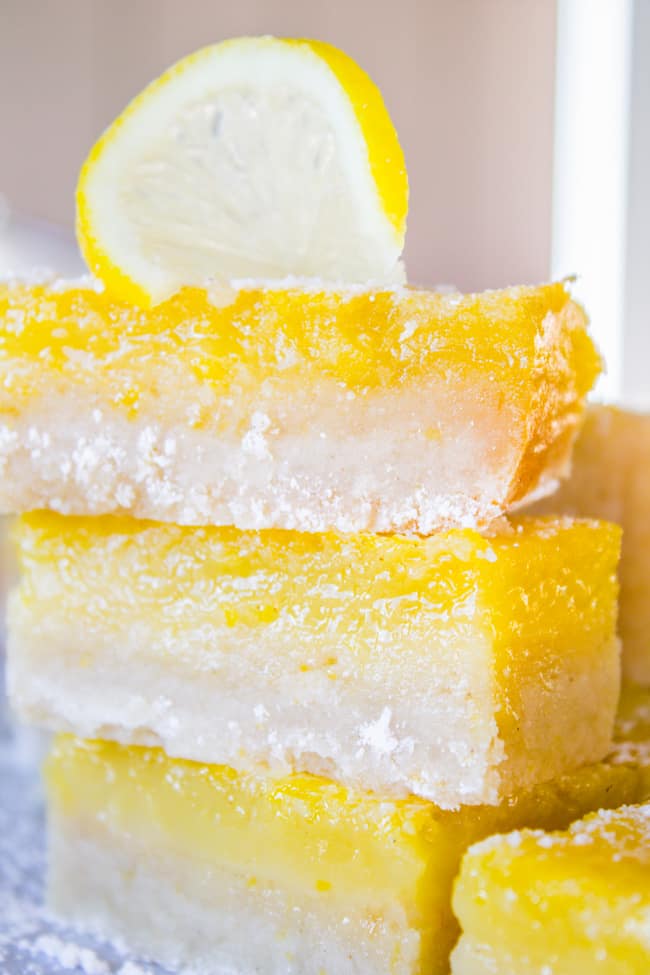 Although really I should just go to Sarah from Snixy Kitchen. Gluten-free baking definitely takes some practice and this girl has got it DOWN. Got any doughnut recipes up your sleeve, Sarah?? Spill!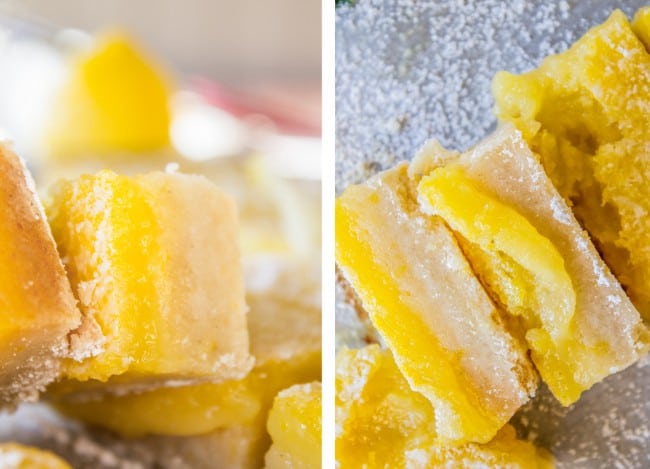 Sarah and I met at a blogging conference a couple years ago and since then she has literally saved my blog from the jaws of technical difficulties on a number of occasions. She also happens to be one of the most gifted photographers I know and even does food styling for the NY Times. She is crazy talented!!
I was at her house the other day and she showed me all the clothes that her mom has sewn for her baby. We are talking like an entire dresser-full, people, along with several blankets and knits. (Sherry, you are a master seamstress!) This kid is totally going to be better dressed than me, that is for sure.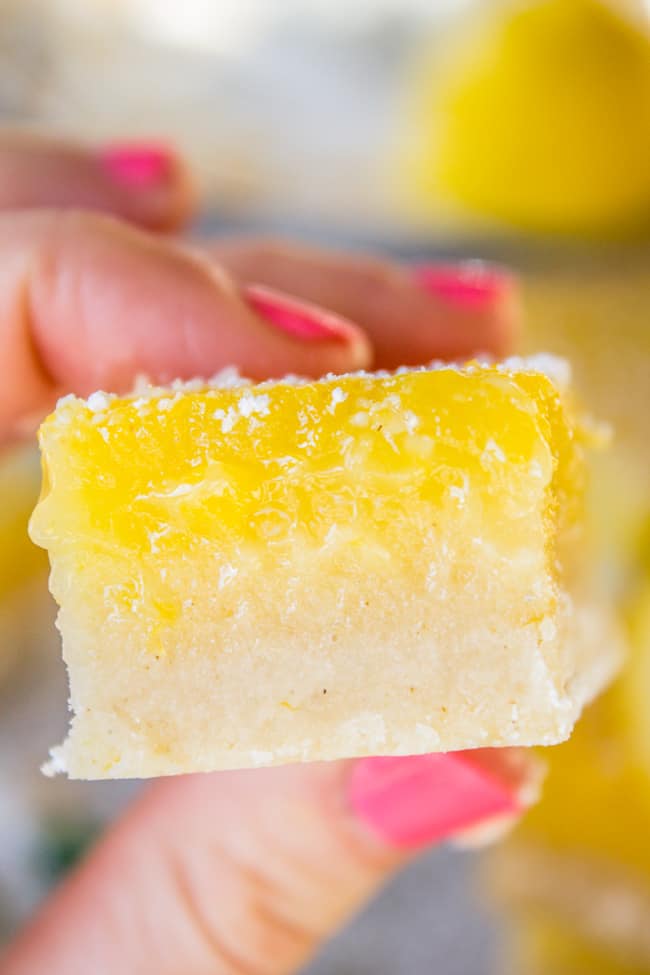 The Best Lemon Square Recipe
This lemon bar recipe is an oooold favorite of mine. I perfected the recipe back in 2012 and published it here on the blog, but I love the recipe so much that I wanted to update the photos and tell all you lovely new people about it (since basically it was Eric and my mom reading back then.) I haven't changed the recipe at all, and it's too good to remain hidden in my archives.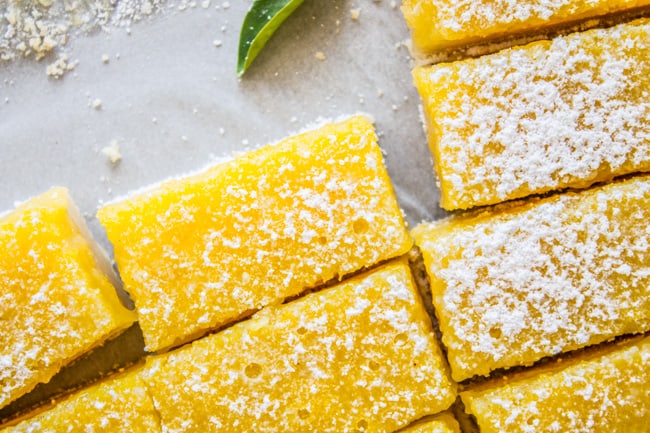 How to get thick shortbread for your Lemon Squares
You MUST make these in a 2-quart, 8×11 inch pan if you want the crust-to-custard ratio you see in the photos. It will definitely work in a 9×13 but the layers will be thinner, which in my opinion, ruins the lemon bars. I want a THICK layer of shortbread and a THICK layer of custard. If you do make these in a 9×13, make sure you lower the baking times.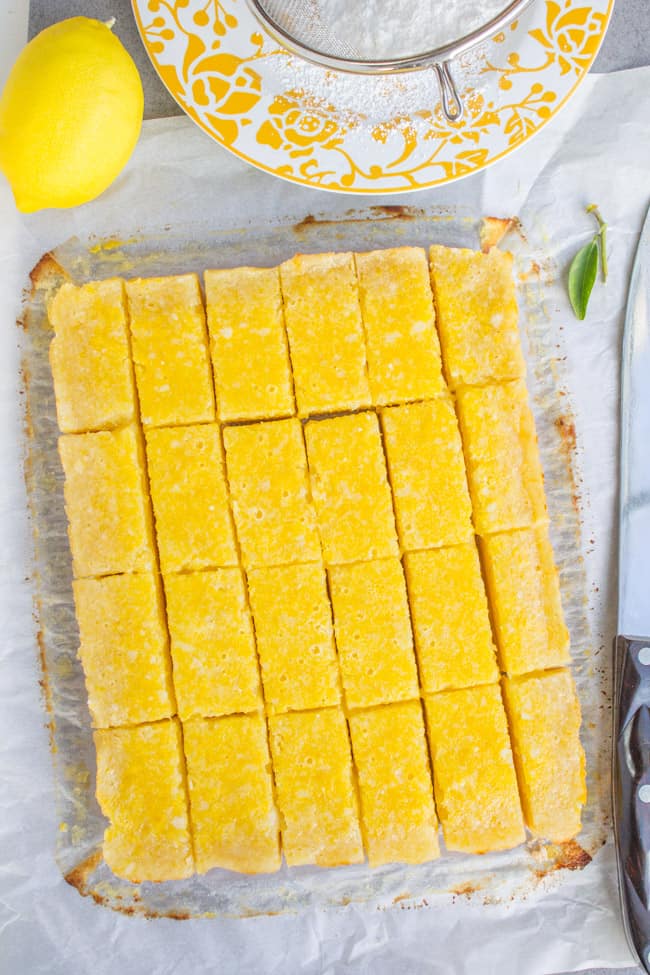 Here's one of my photos from when I originally posted this . I was soooooo proud of it. *pinches cheek of former self*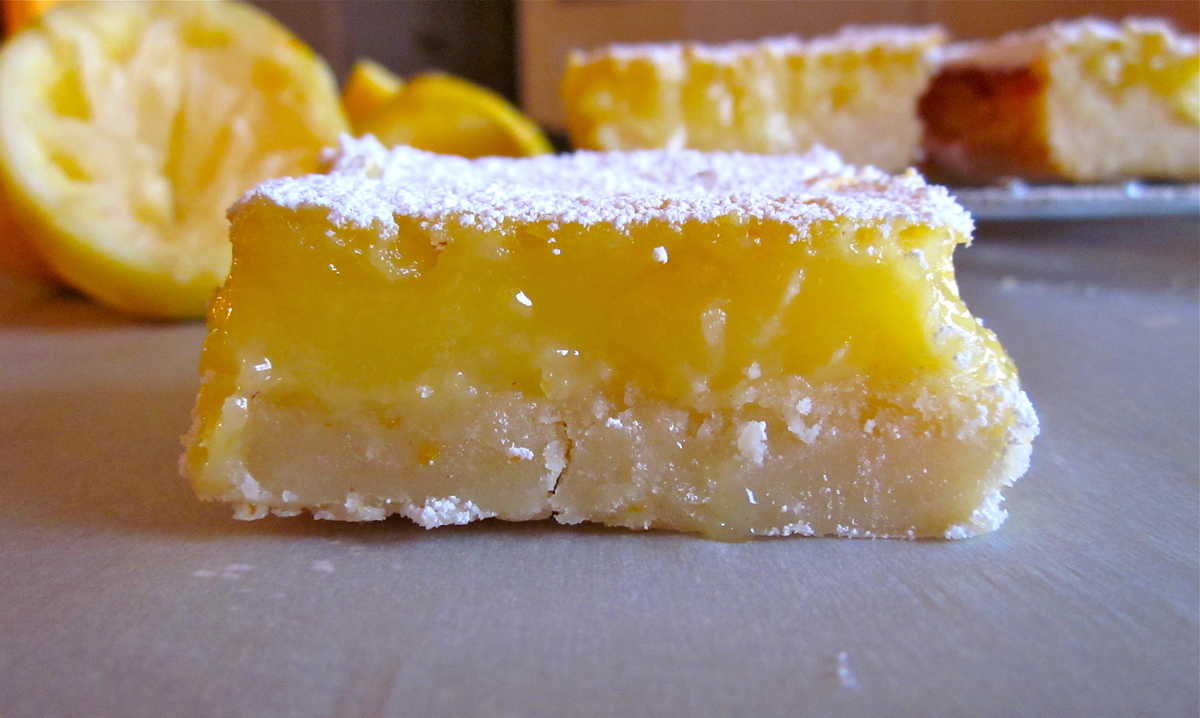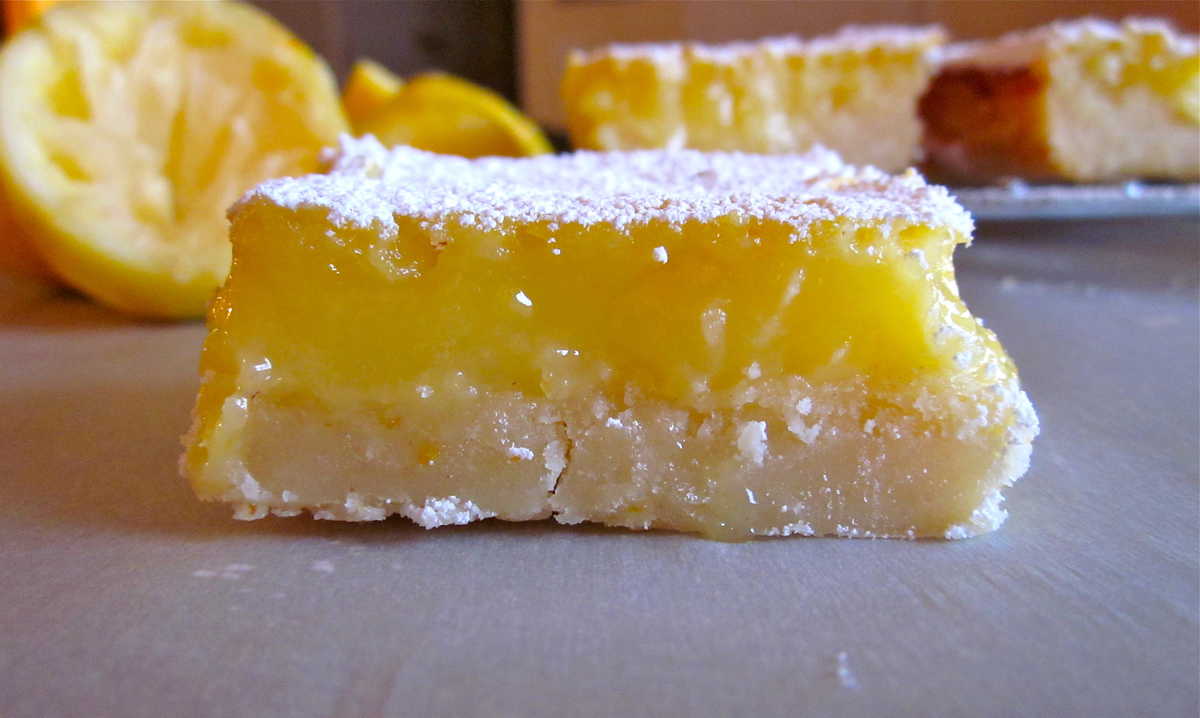 Can I make these Lemon Squares Gluten Free? Yes you can!
I always make these lemon bars with regular all-purpose flour but since I made these for Sarah and she does not eat gluten (and this is her baby shower after all), I tried these with a gluten-free flour blend. It worked beautifully! I didn't change the recipe at all besides swapping flours. Score! I love having an easy and delicious recipe on hand for gluten-free friends. Here's the kind I used: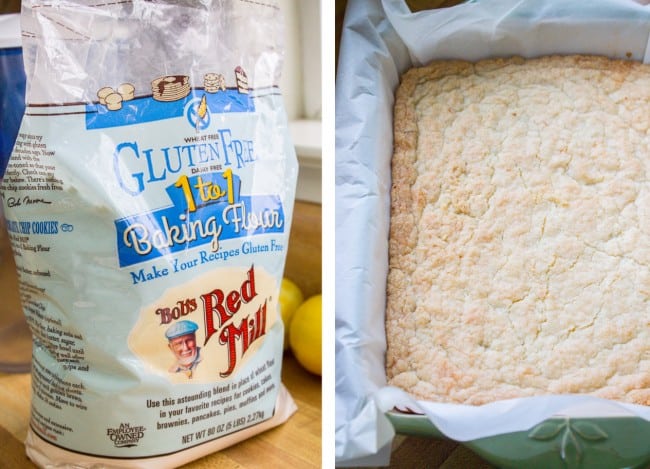 If you try out this recipe (DO IT!), snap a photo and share on social using #TheFoodCharlatan. I'd love to see what you are making!
Other Lemon Recipes You'll Love:
Lemon Curd Sugar Cookie Sandwich
Meyer Lemon Tart << Have you tried Meyer lemons yet? They are a little sweeter and more orange-y than a regular lemon and have such amazing flavor. Try this one out!
Lemon Crinkle Cookies with Lemon Frosting. These are SO LEMONY! I love them:
The Best Lemon Curd: << no lie, guys.
Lemon Cake with Lemon Frosting. It's one of my favorite cakes!
Lemon Bar Muddy Buddies from Lemon Tree Dwelling
Lemon Crumble Bars from House of Yumm << These look SO GOOD!!!
Lemon Ice Box Pie from Life, Love, and Sugar
Facebook | Pinterest | Instagram | Twitter

Lemon Squares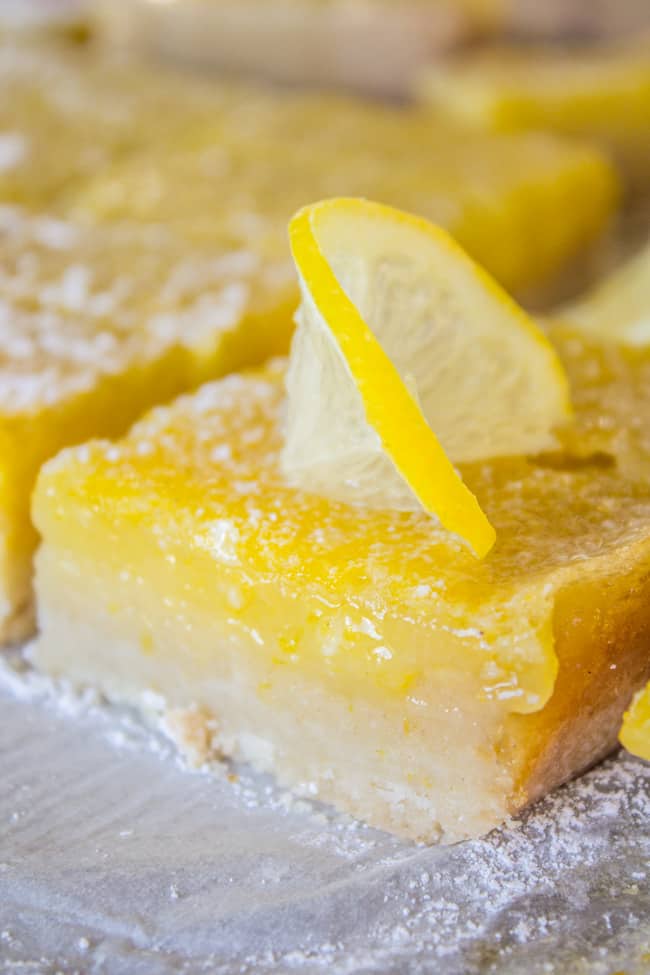 This is the BEST recipe for Lemon Squares I have EVER had! The shortbread crust is thick and tender, and the lemon custard on top is super tart and creamy.
Ingredients
For the crust:
1

cup

butter

,

softened

1/2

cup

white sugar

2

cups

all-purpose flour OR a gluten-free blend

,

I used Bob's Red Mill, spooned and leveled

1/4

teaspoon

salt

,

or a few shakes more, to taste

zest of one lemon
For the custard:
1 & 1/2

cups

white sugar

1/4

cup

+ 2 tablespoons all-purpose flour OR a gluten-free blend

,

I used Bob's Red Mill, spooned and leveled

3/4

cup

fresh lemon juice

,

about 4 medium lemons

4

large eggs

zest of 2-3 lemons

,

more zest=more tart. I add tons.

powdered sugar

,

for dusting
Instructions
For the crust:

Preheat oven to 350 degrees F. Prepare an 8x11 inch pan by lining it with parchment paper or spraying with nonstick spray. Or you could use foil, make sure you spray it with nonstick spray.

In a medium bowl (or stand-mixer), beat together softened butter with 1/2 cup sugar, salt and zest.

Add 2 cups flour, either all-purpose or a gluten-free blend. Make sure you use a scoop or spoon to place the flour in your measuring cup, then level it off. You don't want to pack your flour.

Beat in the flour. It won't come together in a ball probably, but you want to get big clumps that are sticking together. Make sure the butter and flour are incorporated.

Press into the bottom of the prepared 8x11 inch pan. Wet your fingers a little if the dough sticks to your hands.

Bake at 350 for 24-26 minutes, or until golden around the edges.
For the Custard:
In a bowl (or using stand mixer), whisk together the remaining 1 and 1/2 cups sugar and 1/4 cup + 2 tablespoons flour. You can use the unwashed bowl you just used for the crust, but only if you scrape it out pretty well. You don't want clumps in your custard.

After whisking the flour and sugar, whisk in the lemon juice, eggs, and zest.

When the crust is done, pour the custard over the top. You don't have to wait for the crust to cool.

Bake for an additional 26-28 minutes in the preheated oven. The edges should be set with the center still a little wiggly (just a little). The bars will firm up as they cool.

Cover and refrigerate for at least 3 hours until they are cold, then dust with powdered sugar right before serving. Don't bother doing it before because it will just seep into the custard and you won't see it.

Store covered in the fridge.
Notes
If you don't like your desserts extremely tart, (what is with you? :) decrease the lemon juice to 2/3 cup, and decrease the flour (in the custard layer) to 1/4 cup + 1 tablespoon. Also decrease the zest, maybe do 1 and 1/2 lemons.
This recipe for lemon bars NEEDS to be baked in an 8x11 inch pan. You can absolutely make it in a 9x13 (adjust baking times-it will cook faster), but the bars will not be as thick, and in my opinion, that is what makes these the BEST lemon bars.
Nutrition
Serving:
1
square
|
Calories:
281
kcal
|
Carbohydrates:
39
g
|
Protein:
3
g
|
Fat:
13
g
|
Saturated Fat:
8
g
|
Polyunsaturated Fat:
1
g
|
Monounsaturated Fat:
3
g
|
Trans Fat:
1
g
|
Cholesterol:
71
mg
|
Sodium:
154
mg
|
Potassium:
50
mg
|
Fiber:
1
g
|
Sugar:
25
g
|
Vitamin A:
415
IU
|
Vitamin C:
4
mg
|
Calcium:
13
mg
|
Iron:
1
mg