Stuffing is never boring when there is bacon involved! This Cornbread Stuffing recipe has tons of bacon as well as sage and thyme to get those classic Thanksgiving aromas going on. The perfect side dish to go with turkey and gravy!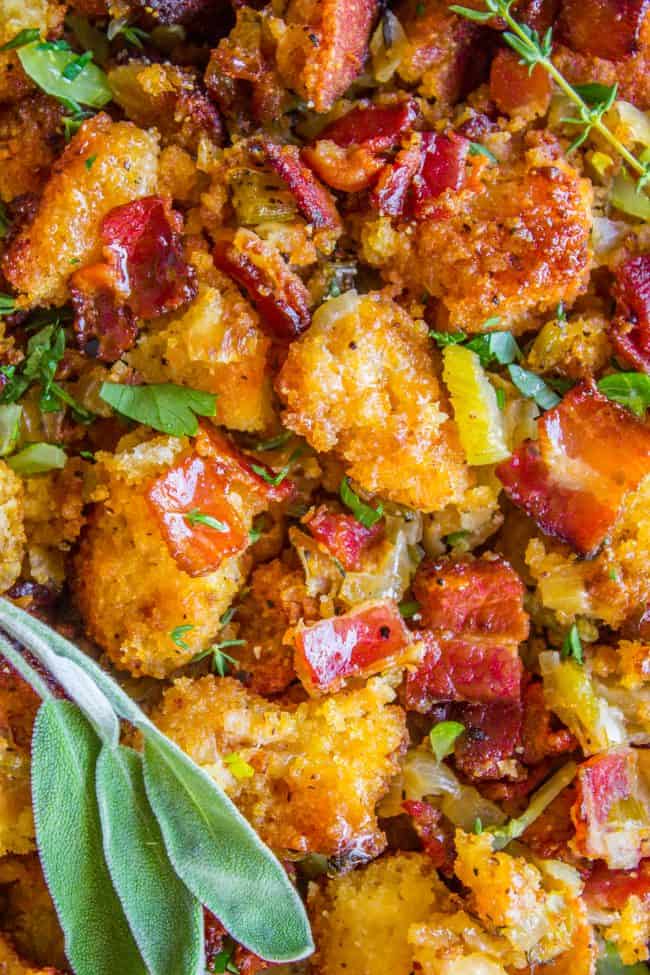 Eric woke up last Sunday thinking it was already daylight savings time. He woke up, stretched, and was like, I feel great with an extra hour of sleep! I'm like um, I think that's the placebo effect, because daylight savings is definitely next week.
I'm very ready for the time change, who's with me? It's 6:40am right now and blacker than black outside. I get up early to write blog posts, when there are no blessed children around, but it's getting lonely feeling like I got up in the middle of the night! I am sad about the sun setting so early though. It's always such a shock, isn't it?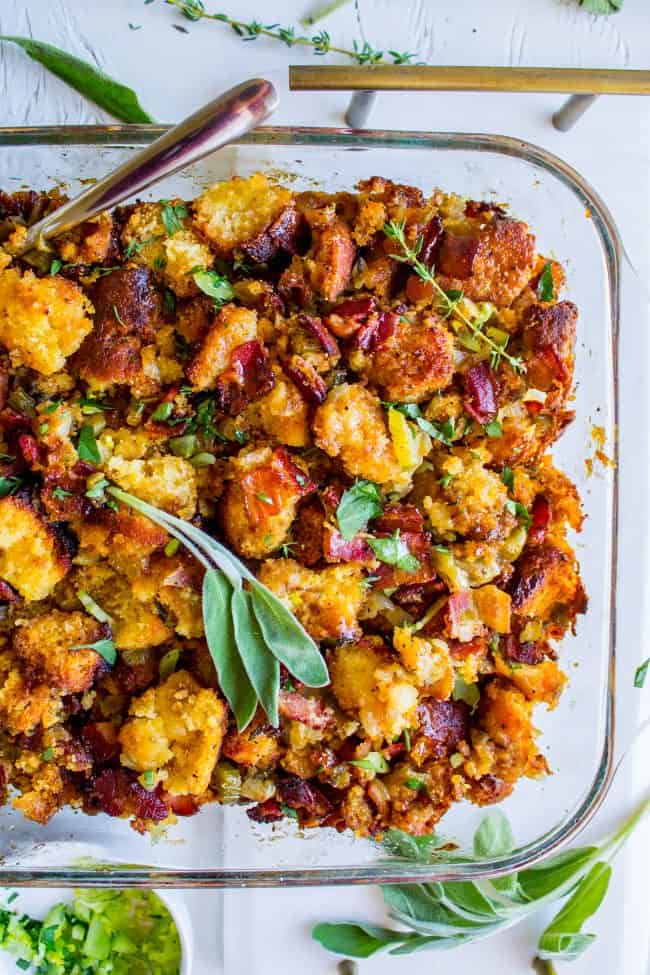 We had our family photos taken a few weeks ago! It's the first time we've had them done in 4 years, oops. When Valentine was born 2 years ago we had newborn photos done, and the photographer did snap a few of our whole family, but if you think I'm going to put pictures of myself up on the wall 5 days postpartum you've got another thing coming.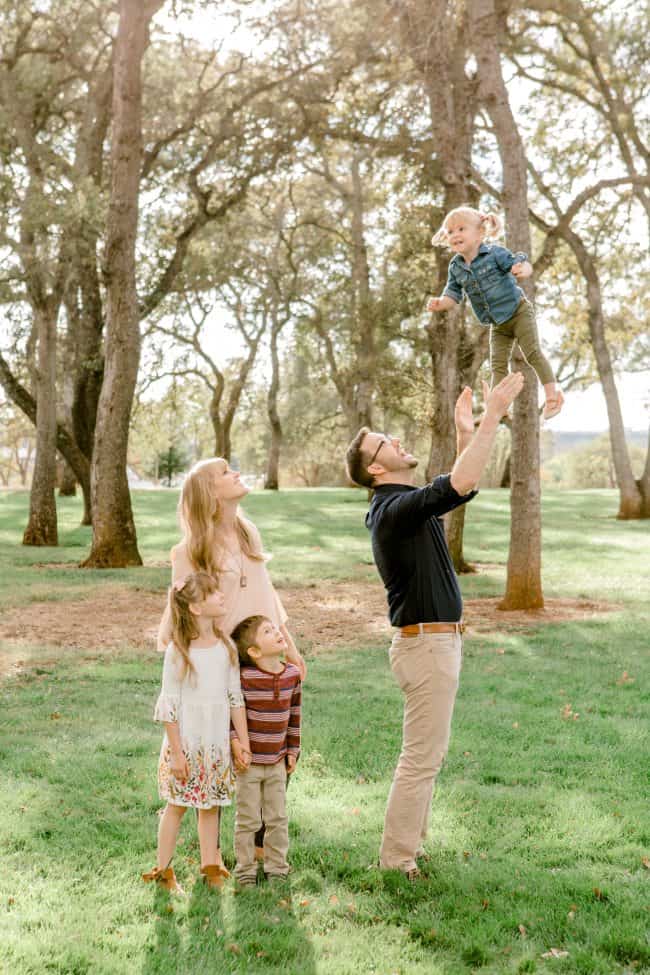 This was the only way we could get Valentine to smile. She kept running out of the picture, or glaring fiercely at the photographer. Eric would throw her in the air until she was laughing and then hurry to step closer to us so that Susanne could get a picture before Valentine started shouting "Again! Again!"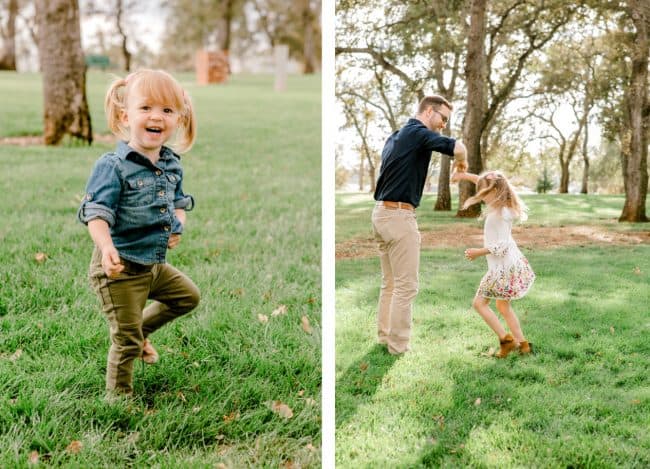 Truman decided during the photo shoot that photo bombing was the funniest thing ever. I'm surprised you can't see him in the background of any of these. The photographer probably had to edit him out.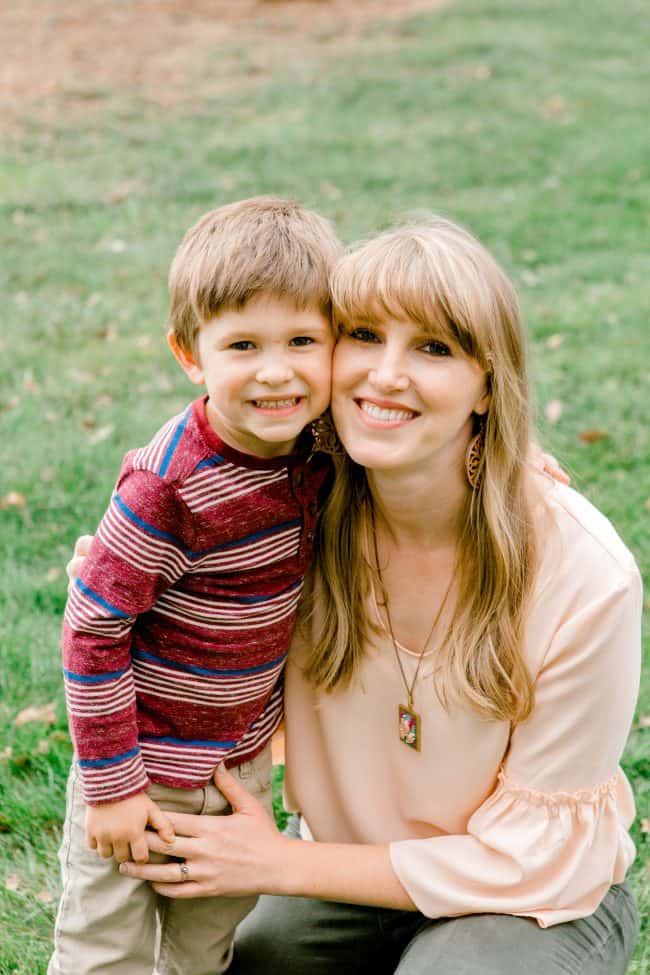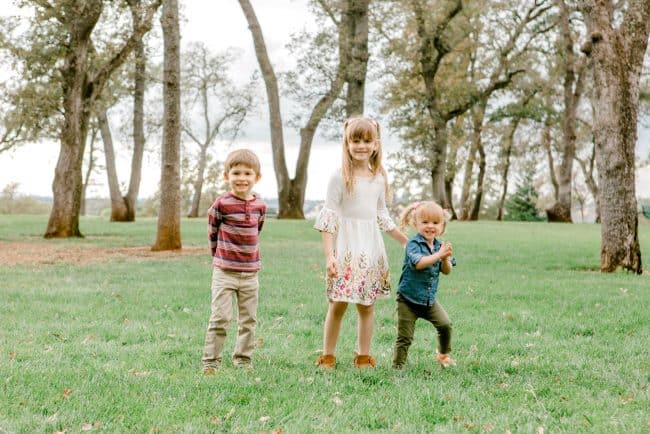 Valentine is trying to run out of this picture. I'm so excited to get these up on the wall, but also now we have to narrow down which ones we want. I've already put it off for weeks, they are just too cute! Look at their little faces! Ahh. Time flies, you guys.
How to make cornbread stuffing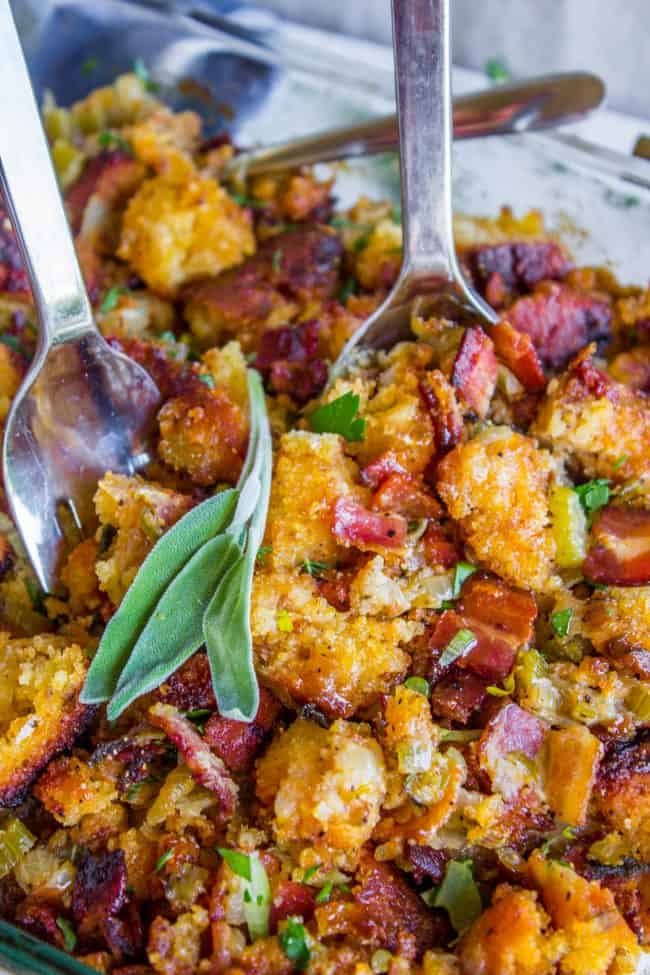 It's November my friends. That means it's CORNBREAD STUFFING TIME!
Guys, listen, I am just not a stuffing person. It's never been tempting enough to me, because we only have it when there are a million other sides to choose from. Who wants soggy bread when there are mashed potatoes, gravy, and rolls for heaven's sake?

Well I'm officially a stuffing convert. My cousin Lani told me a few years ago that cornbread stuffing was the way to go, so I decided to put it to the test. I bought cornbread from the deli at the grocery store, because I'm lazy, and because isn't there enough going on at Thanksgiving?? Cut corners where you can, guys, no one is going to notice store bought corn bread. (Update: I have since posting this found my favorite cornbread recipe! Sweet and Moist Honey Cornbread. It would taste amazing in this stuffing!)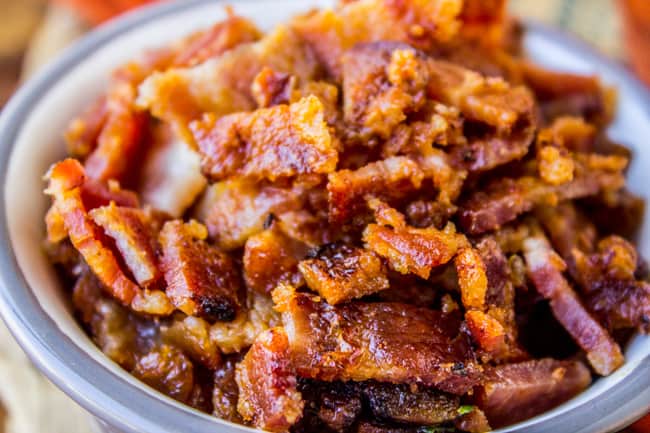 I decided that since I'm not a stuffing person, the best way to amp up the flavor was to add bacon and my favorite Thanksgiving herb, sage. (Sage Butter Roasted Turkey is my favorite for the big day. See, sage is the best.)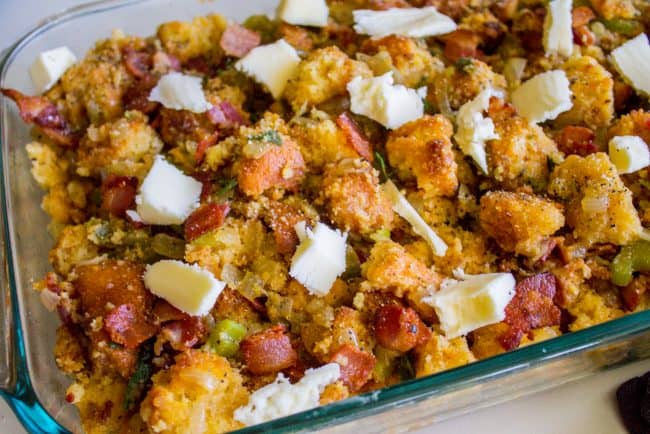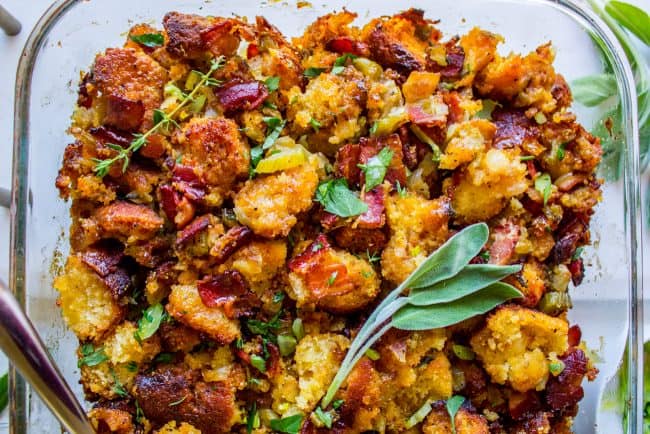 Bacon is a GOOD CHOICE when it comes to cornbread stuffing. So much flavor! Lani was right, cornbread really is better than regular dried bread. I feel like the Stovetop-style bread cubes just get soggy and sad when they get mushed into stuffing. Cornbread, if you are careful not to pulverize it while mixing, keeps that sturdy shape and gives you these amazingly buttery, crispy edges that are to die for.  Plus you get that sweet and subtle honey flavor, and who's going to say no to a little bacon and honey action?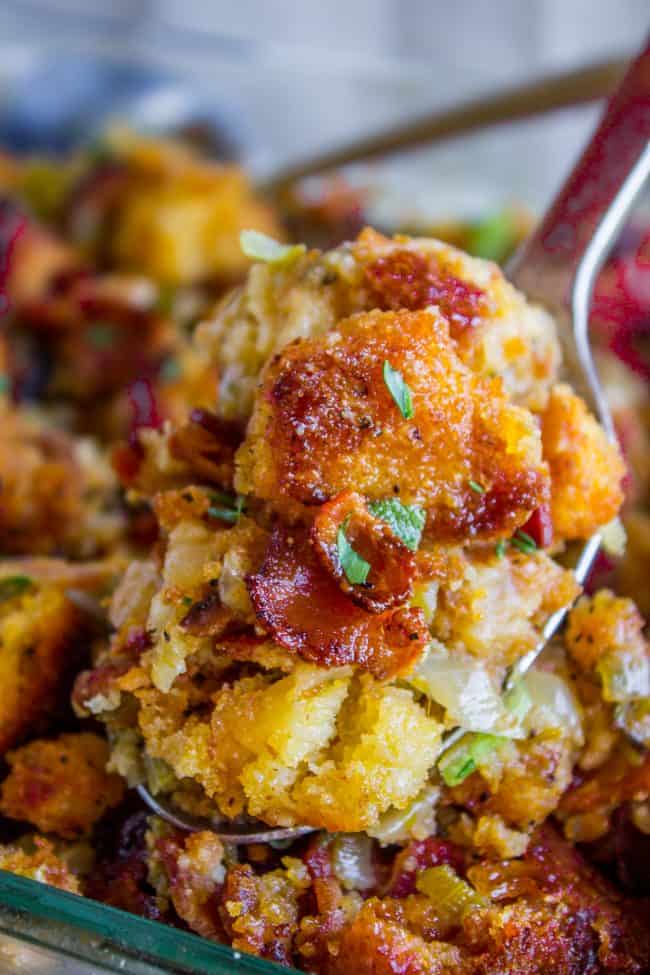 Happy November everyone! Next week I'm bringing you recipes for Crescent Rolls (The BEST) and from scratch Green Bean Casserole. It's gonna be epic. Thanksgiving forever!
P.S. If you love cornbread stuffing, you are also going to love this Sweet Creamed Corn Casserole I just posted! It's like a mix between creamed corn and cornbread. Perfect for Thanksgiving!
More Thanksgiving side dishes you will love!
Butternut Squash, Cranberry, and Lentil Stuffing:
Make Ahead Turkey Gravy for Thanksgiving << I never skip making this. It makes Thanksgiving SO much easier.
Gruyere-Crisped Potatoes Au Gratin << my favorite scalloped potatoes!
Mushroom, Toasted Fennel, and Sausage Stuffing from Big Bear's Wife
Turkey and Stuffing Turnovers from A Family Feast
Sausage Cranberry Stuffing from Mama Loves Food
Facebook | Pinterest | Instagram

Cornbread Stuffing with Bacon and Sage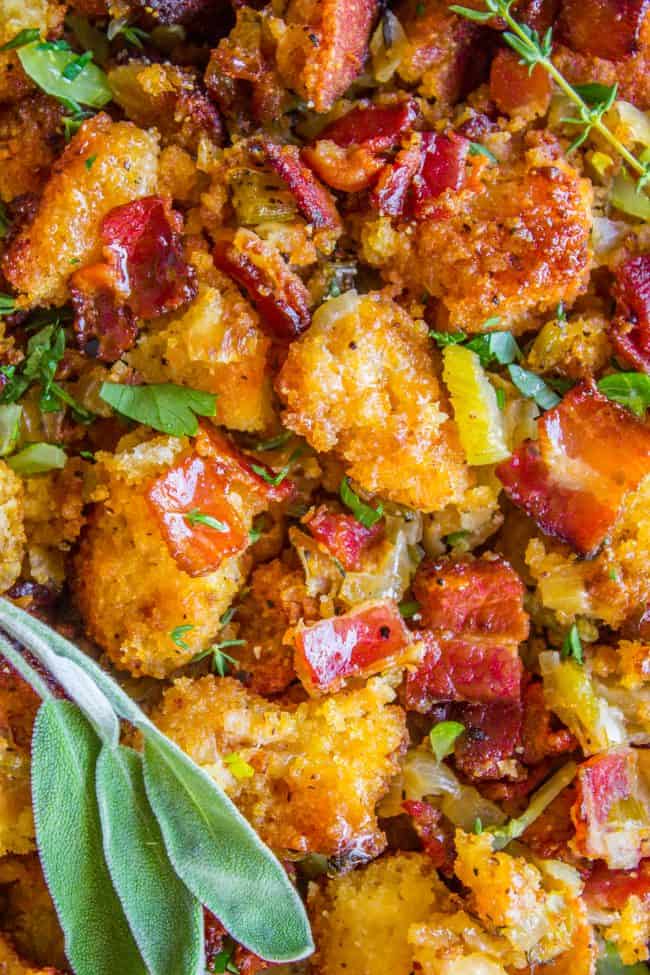 Stuffing is never boring when there is bacon involved! This Cornbread Stuffing recipe has tons of bacon as well as sage and thyme to get those classic Thanksgiving aromas going on. The perfect side dish to go with turkey and gravy!
Ingredients
cornbread

,

One 9x13 inch pan

12

slices

thick-cut bacon

,

about 12 ounces

2

large

onions

,

chopped

4

stalks

celery

,

including some leaves, about 2 1/2 cups

1

teaspoon

kosher salt

pepper

,

to taste

2

tablespoons

fresh sage

,

chopped

2

teaspoons

fresh thyme leaves

1/4

cup

apple cider vinegar

1/2

cup

butter

,

(1 stick)

2 & 1/2

cups

turkey stock

,

or chicken stock, plus more**

2

large

eggs

1 & 1/2

teaspoons

kosher salt

1

teaspoon

pepper

4

tablespoons

cold butter

,

chopped
Instructions
Tear the cornbread into bite-sized chunks. Spread out on 2 large baking sheets. Let the cornbread sit out uncovered (I left mine in the turned-off oven) overnight or for several hours.*

Bake the two pans of cornbread at 400 degrees F for about 10 minutes. Flip the cornbread if necessary and bake a little longer if they are not dried out. Return the cornbread to the turned-off oven so that it can keep drying out while you prepare the rest of the stuffing.

Chop the bacon into 1-inch pieces.

In a large skillet, cook the bacon over medium heat until crispy. Don't overdo it, or the bacon will get to crunchy when you bake it later. It should be cooked but still flexible. Remove the pan from the heat, and transfer the bacon to a paper towel lined plate and set aside. Leave all that bacon grease in the pan.

Chop 2 onions and 4 stalks of celery. For extra flavor, I love to chop some of the celery leaves. (In fact, I never remove celery stalks. I just start chopping the entire head of celery from the leaf end until it looks like I have about 2 and 1/2 cups. Those leaves have tons of flavor!)

Heat the bacon grease in the pan over medium heat until it is shimmery. Add the onion and celery. Saute for about 10 minutes until the onions are translucent and the celery is soft. Add 1 teaspoon kosher salt and pepper to taste.

Add 2 tablespoons fresh sage and 2 teaspoons fresh thyme to the onions and saute for another 1 minute until fragrant. Remove from heat.

Add the dried cornbread to a very large bowl.

Preheat the oven to 350 degrees F.

Scrape the onions and celery into the bowl, and return the pan to the oven (don't wash it). Add the bacon to the bowl.

Return the empty pan to medium heat and add 1/4 cup cider vinegar. Cook over medium heat, scraping the brown bits off the bottom of the pan, until the liquid is nearly evaporated.

Add a stick of butter to the pan and melt completely. Pour the butter over the cornbread in the bowl, scraping the pan well. (You can finally put it in the sink now.)

In glass measuring cup, whisk together 2 and 1/2 cups turkey stock** and 2 eggs. Season with 1 and 1/2 teaspoons salt and 1 teaspoon pepper.

Slowly pour the stock mixture over the bowl with the cornbread, stopping to carefully and gently stir. You don't want to demolish your cornbread, try to keep it from falling apart. If it's dried out enough, it should be okay. Add more stock as necessary to make sure that the cornbread is rehydrated.

Grease a 9x13 inch pan. Scrape the stuffing mixture into the pan and spread out evenly.

Top the stuffing with 4 tablespoons of chopped butter.

Spray a sheet of foil with nonstick spray and cover the stuffing, sealing the edges.

Bake at 350 for about 30 minutes, until warmed throughout.

Raise the oven temperature to 450 degrees F. Remove the foil from the pan. Bake at 450 for another 20 minutes or so, keeping an eye on it because every oven is different. You want the top to get crispy but not burned. The edges of the pan should also be crispy.

Serve with turkey and gravy and mashed potatoes!
Notes
*If you don't have time to let it sit out overnight before toasting, it will probably get toasty enough when you bake it in the oven. Just make sure you flip the pieces of cornbread over a couple times while your baking, and you will probably have to go longer than 10 minutes. Keep an eye on it. You want each piece of cornbread to be completely dried out and crispy.
**I always use Better Than Bouillon Turkey Base. It has amazing flavor. Regular liquid chicken stock will also work fine. If you are using Better than Bouillon, you will need to microwave 2 and 1/2 cups water, and stir in the 2 and 1/2 teaspoons base until dissolved. Don't put the eggs in the microwave! And make sure the water (now stock) is cooled enough that it won't curdle your eggs before you whisk them in.
Nutrition
Serving:
1
g
|
Calories:
505
kcal
|
Carbohydrates:
32
g
|
Protein:
11
g
|
Fat:
37
g
|
Saturated Fat:
17
g
|
Polyunsaturated Fat:
5
g
|
Monounsaturated Fat:
13
g
|
Trans Fat:
1
g
|
Cholesterol:
131
mg
|
Sodium:
1353
mg
|
Potassium:
303
mg
|
Fiber:
2
g
|
Sugar:
10
g
|
Vitamin A:
667
IU
|
Vitamin C:
3
mg
|
Calcium:
101
mg
|
Iron:
2
mg