A butter mixture with fresh sage, garlic, and salt makes this roasted turkey super moist. I've got an easy turkey brine that gives it tons of flavor. This is the easiest and best Thanksgiving turkey recipe ever! Originally posted November 3, 2014.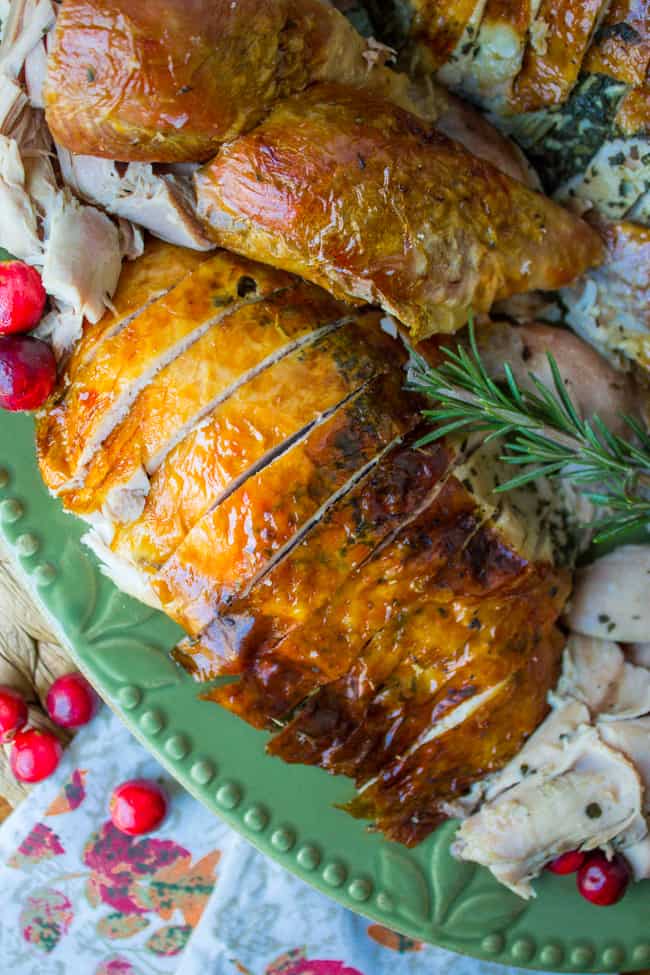 I have fond memories of going to my great Aunt Pauline's for Thanksgiving every year as a child. The division of labor was always the same: Pauline and my Grandma Georgia were in charge of everything savory, and our family (ahem, my mom) was in charge of baking a thousand pies.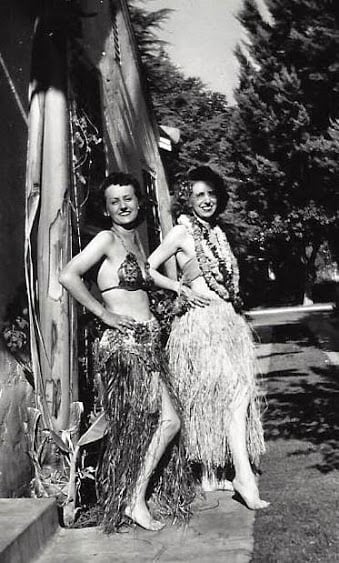 Here's Aunt Pauline and Grandma Georgia, having a V-J Day Party in August 1945. Both of their husbands served in WWII. Aren't they awesome??
I didn't grow up making turkeys, but I mean it's kind of an essential skill if you want to be American/awesome, because let's be real, roasted turkeys are freakin delicious. My mom came over last week so that we could roast one together. She brought Grandma Georgia's roasting pan that she inherited. We're guessing it's nearly 70 years old. (This is when we all chime in "they just don't make 'em like they used to!")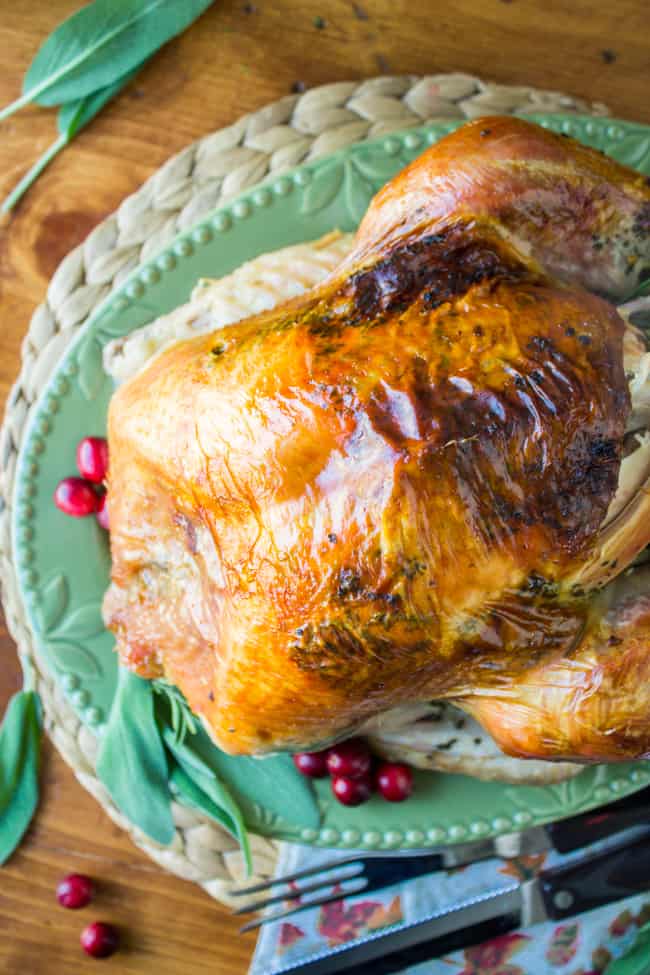 I love this Sage Butter Roasted Turkey because it is simple, no fuss, and tastes amazing. It has all the classic Thanksgiving flavors you love, and turns out moist and tender every time. I like to keep it simple when it comes to the turkey. Easy sage butter rub, a bag to roast it in, and voila. Thanksgiving is busy enough, right?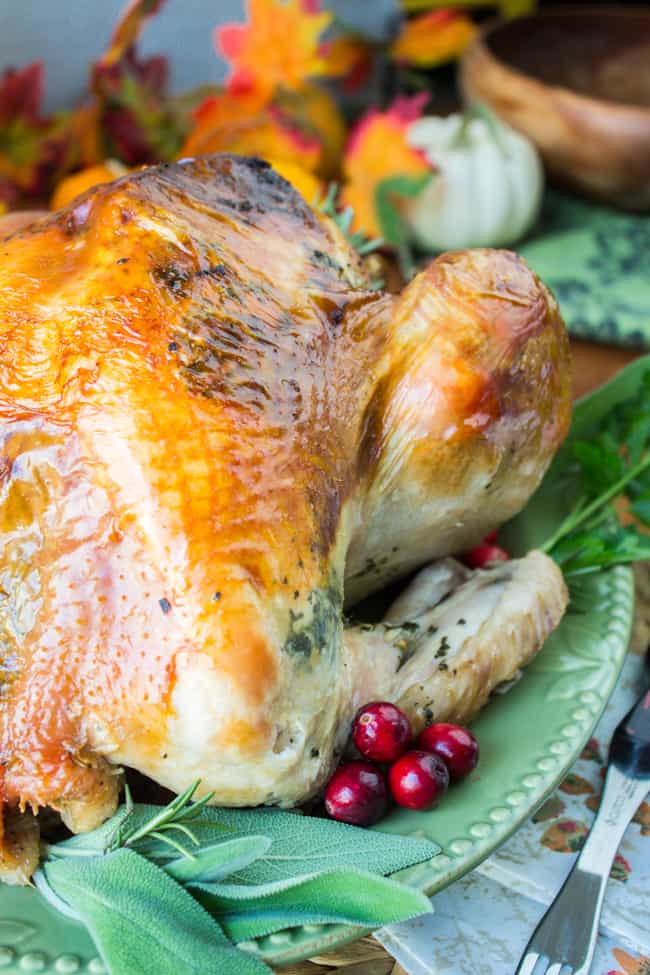 Sage Butter Roasted Turkey Recipe
This roasted turkey recipe is from my cousin Lani, who is an amazing and very instinctive cook. I only had to text her 3 times during the making. The butter rub is made with sage, salt and garlic, and it was a wrench to rub it on the turkey when all I wanted to do was slather it on bread. Don't be scared to rub butter under the skin. It's kinda weird at first but you will get over it, especially after you taste it.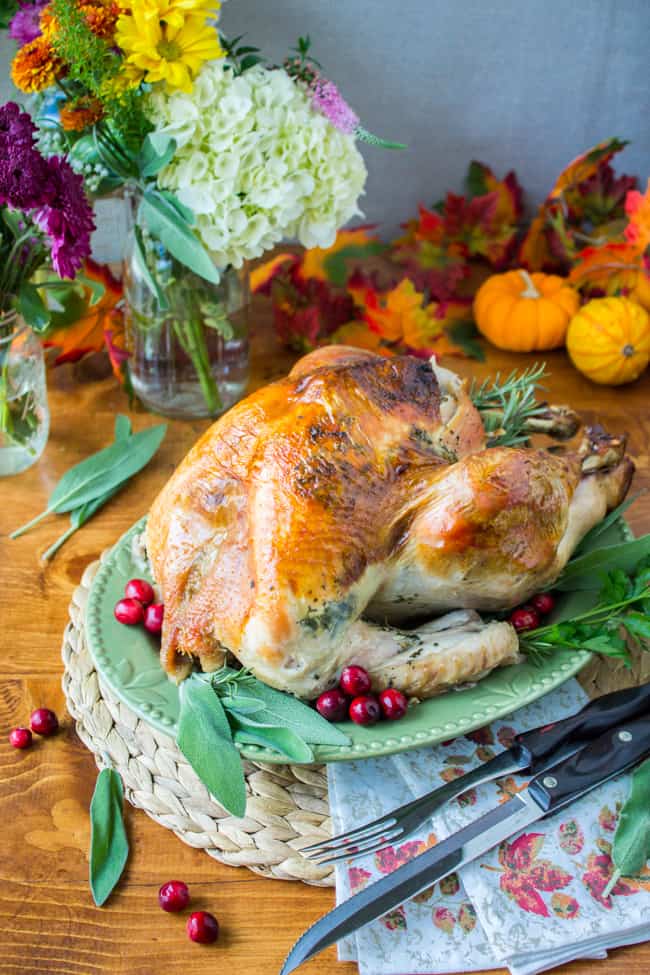 How to make an easy turkey brine
I love brining my turkey! It's my favorite low-difficulty way to get the bird full of delicious herby flavor. Brining isn't hard, it just takes planning ahead. If you have patience and a little time you're good to go.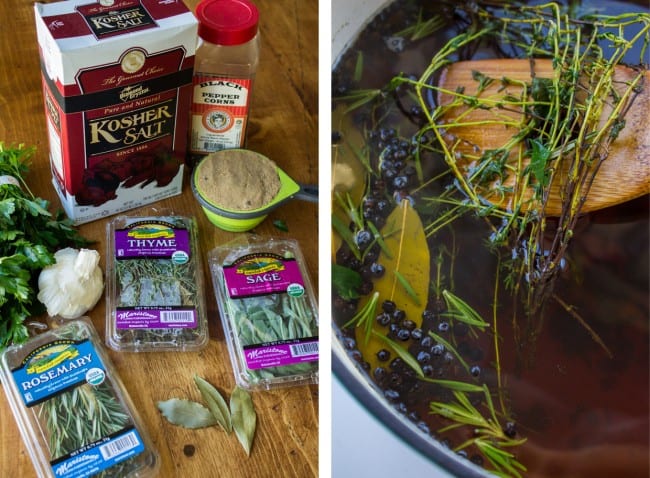 My turkey wasn't completely covered; I just turned it about 2/3 of the way through the brine time. Don't brine your turkey too early; 18 to 24 hours will do ya. Much more than that and your turkey will taste over seasoned and have a mushy texture, no thanks. I like to make my brine on Tuesday night, let it cool overnight, then put the turkey in the brine Wednesday morning. Then it's ready for roasting Thursday morning.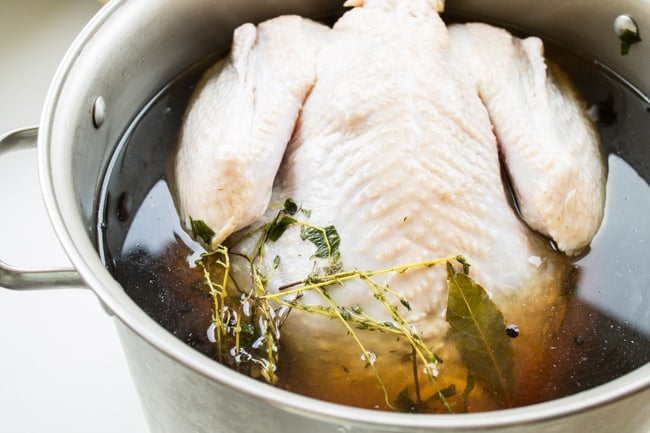 If you have a small enough turkey you can brine it in a pot, like I did here. But on other years I've had too big of a turkey for a pot. So I use the double oven bag method. I put the turkey and brine in an oven bag, seal tightly, then put it in another oven bag and seal tightly. (By "tightly" I mean like several rubber band and maybe some twisty ties for good measure.) I put it in my roasting pan in the fridge. (obviously you need a container in case the bag breaks! That would be so sad! It's never happened to me though!) You will need to turn it more often if you choose this method.
Make and apply the butter rub
What herb screams Thanksgiving more than any of the others? SAGE!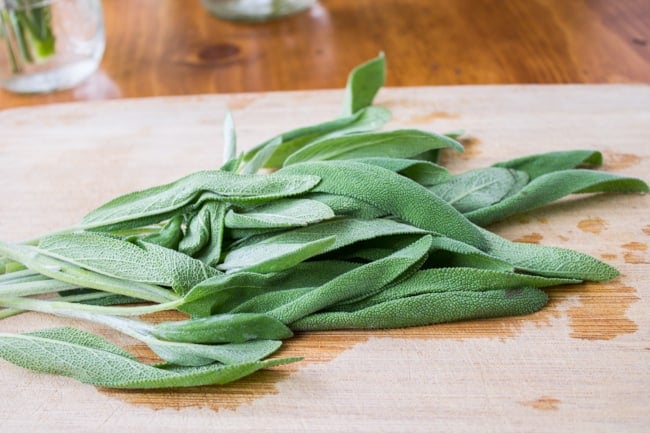 Here's how much I used for the butter rub. Look at all this glorious velvety-ness.

Chop it up nice and fine. Then top with kosher salt and minced garlic. Use the side of your chef's knife to smash and grind the salt and garlic into the sage, forming almost a paste. Add this glorious mixture to your soft, soft, soft butter and stir it up. Feel free to save out a dollop at this point and try it on a freshly baked roll. YUM.

This step feels weird, but I promise it's worth it. Gently separate the membranes between the skin and the meat, and jam your hand way down in there. You can do it. Be careful not to break the skin, but also remember that it's pretty tough stuff and it harder to rip than it looks. Use about half the sage butter under the skin, and the rest on the outside, all over the bird.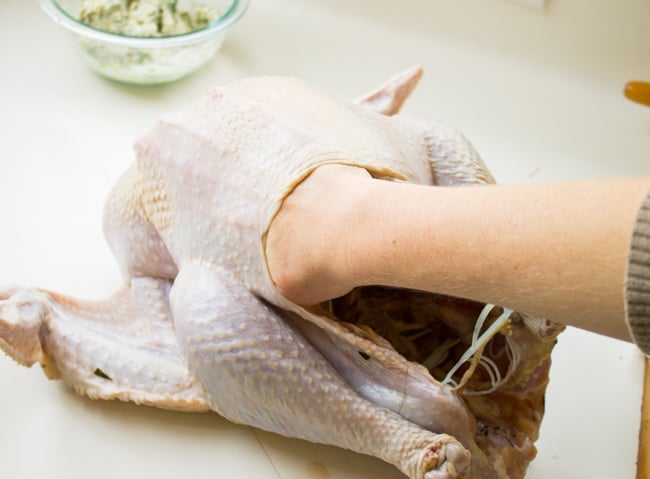 I like to stuff my bird with aromatics like onion, apple, carrots, and any extra herbs you have. It brings tons of flavor to your turkey! And make sure to use a meat thermometer to make sure it's cooked all the way, and so that you don't overcook it! Dry turkey is a tragedy indeed.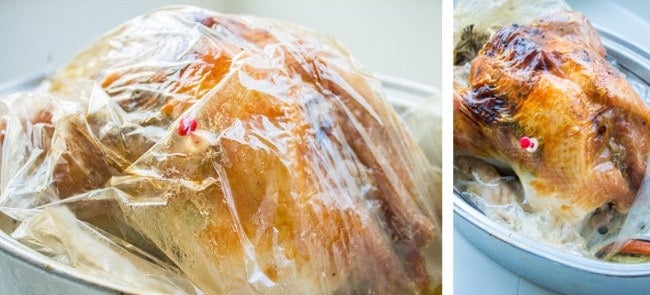 Also, don't bag on my bag. It's so easy, and a great option for beginners. You can totally use this sage-butter rub but then roast it however you like. The breast-down instructions on my first turkey are a little more involved (you have to flip a hot turkey) but it does make for one delicious bird.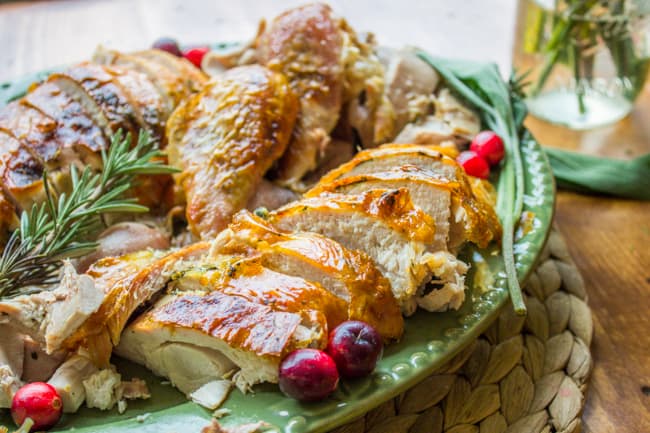 Here is the final roasted turkey. It's so tender and moist thanks to all that butter! I always get so nervous roasting turkey but it's actually easier than it sounds. Don't throw out your turkey carcass after carving! Save it to make this Turkey Stock from the Bones. It makes the best soup! (Like this Creamy Turkey Wild Rice Soup.)
Enjoy getting ready for the holidays, guys! I love this time of year!
How to complete your Thanksgiving Holiday Meal:
Facebook | Pinterest | Instagram

Sage Butter Roasted Turkey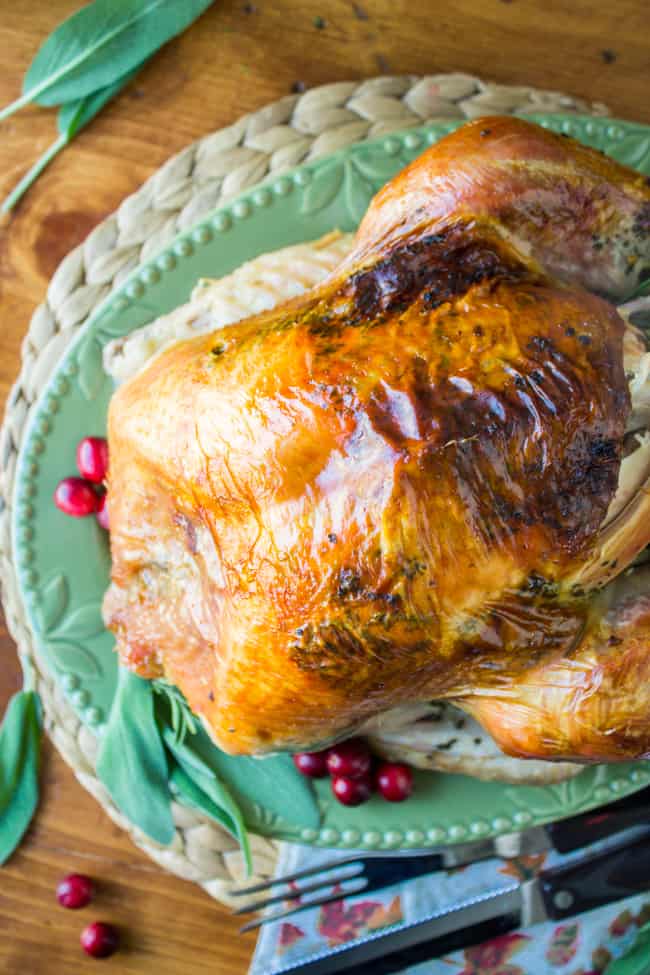 A butter mixture with fresh sage, garlic, and salt makes this roasted turkey super moist. I've got an easy turkey brine that gives it tons of flavor. This is the easiest and best Thanksgiving turkey recipe ever!
Ingredients
For the brine:
1 & 1/2

gallons

water

,

24 cups

1

cup

kosher salt

1

cup

brown sugar

1 & 1/2

tablespoons

peppercorns

3

bay leaves

3

cloves

garlic

,

mashed and roughly chopped

3

tablespoons

rosemary

,

fresh, roughly chopped*

3

tablespoons

parsley

,

fresh, roughly chopped

3

tablespoons

sage

,

fresh, roughly chopped

3

tablespoons

thyme

,

fresh, roughly chopped
For the butter rub:
1

cup

salted butter

,

softened to room temperature

1

large

bunch of sage

,

chopped fine

2

cloves

garlic

,

crushed and minced

1 & 1/2

teaspoons

salt
For the Turkey:
12-14

pound

turkey

,

fresh or frozen and thawed

5-7

carrots

,

peeled and roughly chopped

1

large

stalk celery

,

roughly chopped

1

apple

,

quartered

1

onion

,

quartered

2-3

sprigs thyme

2-3

sprigs rosemary

2-3

sprigs sage
Materials needed:
1

meat thermometer

a huge pot to boil the brine

a huge pot/bucket to brine the turkey in

paper towels

turkey oven bag

large roasting pan with roasting rack

kitchen twine

,

if your turkey is not trussed
Instructions
If you are using a frozen turkey, thaw it in the fridge for a few days before you brine it. Allow one day of thawing for every 5 pounds of meat. Do not brine a frozen turkey. (It won't absorb the brine).

Several hours or even the day before you want to brine the turkey, cook the brine. You need time to let it cool down completely; a warm brine will make the turkey absorb too much salt.

To make the brine, combine all ingredients in a very large pot and bring to a boil over high heat. Cook for 3-5 minutes or until the sugar and salt are dissolved. Turn off the heat. Let cool to room temperature, and refrigerate it if you are not using it right away.

Unwrap your turkey in a clean sink. Remove the neck, which is usually in the main cavity, and the giblets, which are usually in a bag in the other end. (Save for turkey gravy/turkey stock.) Rinse the turkey with cold water.

Place the turkey in a large pot or bucket and cover with cooled brine. You can do this in a turkey oven bag that is well sealed (You still need a large bucket or pot for it to sit in though.) If the turkey is not all the way covered, you can add a little more water to the brine. Mine wasn't completely covered and it was fine. Either way, be sure to flip the turkey 2/3 of the way through brining so that it brines evenly.

Refrigerate for 18-24 hours. Don't do it much longer than that or your turkey will get mushy and taste over seasoned.

Remove the turkey to a clean sink. Discard brine. Wash the turkey with cold water, or soak it in a plugged up sink for 15 minutes. You want to make sure to get all the brine off of it. The brine has already done it's work to tenderize the turkey meat, you don't need the salt on the outside.

Remove your turkey from the sink and pat dry with paper towels. (Clean your sink with bleach). Do your best patting it dry, you may need to keep grabbing more paper towels.

Wash your hands and make the sage butter. Add the 2 sticks butter to a medium bowl. Finely chop the sage on a cutting board. Crush and mince the garlic and place it on top of the chopped sage. Sprinkle with 1 1/2 teaspoons salt. Use the side of a chef's knife to smash the sage, garlic, and salt together until everything is incorporated. (See photos below)

Add the mixture to the bowl with the butter and combine.

Use your hands to separate the skin on the turkey breast from the meat. This is easier said than done. You will have to break apart some membrane-y feeling stuff and you have to be pretty forceful. Try not to tear the skin, of course. Try to get your hand as close up to the neck as you can.

Once you have gotten your hand under the skin, grab a fist full of sage butter and rub it under the skin. Use a lot, maybe close to half. Rub the rest of the outside and inside of the turkey with the sage butter until it is gone. Make sure you turn the turkey over and get the back, wings, legs, etc. The butter doesn't stick to the skin very well, but do your best.

Preheat your oven to 350 degrees F.

Now it's time to stuff the turkey with aromatics. You won't be eating the stuffing, it's just for flavoring. If your turkey is trussed with plastic, carefully remove the turkey legs from the plastic so that you have easier access to the cavity. Stuff in 1 roughly chopped carrot, the celery, apple, onion, thyme, rosemary and sage. Return the turkey legs to the plastic trussing, or tie together with kitchen twine.

Add the remaining carrots and 2 cups of water to the bottom of the roasting pan, underneath the rack.

Tuck the wings under the back of the turkey, like it's got its arms behind its head laying out on the beach. (Here's a good demonstration.)

Get someone to hold open the turkey bag for you while you place it in.

Place the bagged turkey on a rack in a roasting pan, on top of the carrots. Seal the bag and cut a few slits in the top. Place the roasting pan on the lowest rack of your oven. Make sure your thermometer is visible through your oven window.

Set a timer for 2 hours and 15 minutes. After that, check your turkey every 5 minutes with a meat thermometer. It needs to be 165 degrees in the breast.

Remove the turkey from the oven and let it sit without opening the bag for at least 15-25 minutes. (This is a good time to use the freed oven for warming other dishes.)

Cut the bag open and use old oven mitts to transfer the hot turkey to a cutting board. Discard the aromatics. Carve the turkey. I like this tutorial from Alton Brown.
Notes
*When you are buying your herbs, buy 1 (.75 oz) box thyme, 1 rosemary, and 2 sages.
This recipe can easily be doubled for a 20+ pound turkey.
Nutrition
Serving:
1
cup
|
Calories:
778
kcal
|
Protein:
119
g
|
Fat:
31
g
|
Saturated Fat:
8
g
|
Polyunsaturated Fat:
8
g
|
Monounsaturated Fat:
10
g
|
Trans Fat:
1
g
|
Cholesterol:
398
mg
|
Sodium:
618
mg
|
Potassium:
1237
mg
|
Sugar:
1
g
|
Vitamin A:
309
IU
|
Calcium:
61
mg
|
Iron:
5
mg