Sage Butter Roasted Turkey
A butter mixture with fresh sage, garlic, and salt makes this turkey super moist. Brining the turkey before roasting gives it tons of flavor. An easy Thanksgiving turkey recipe for a beginner.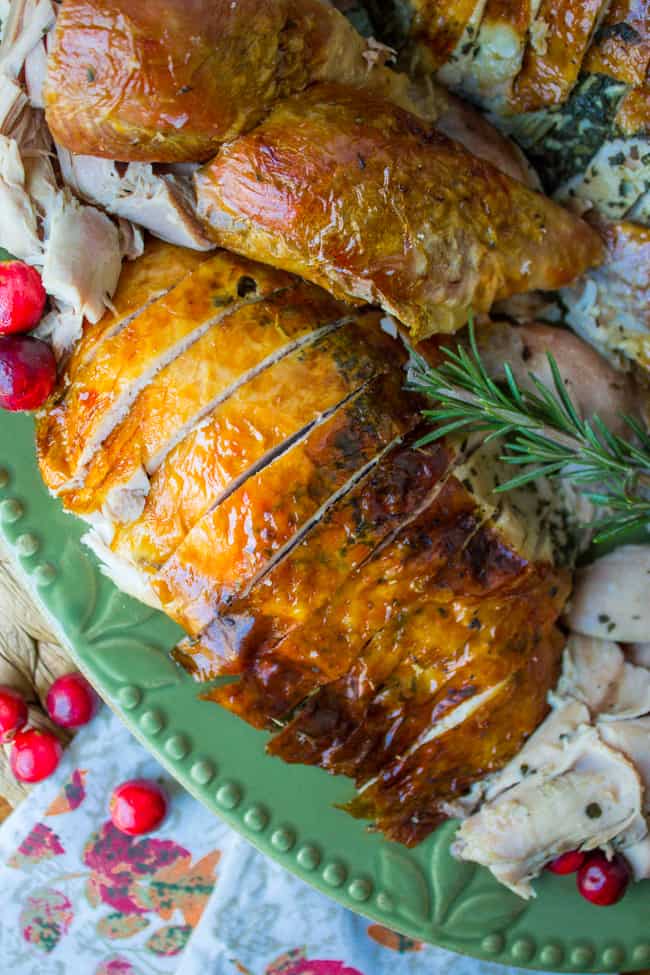 I have fond memories of going to my great Aunt Pauline's for Thanksgiving every year as a child. The division of labor was always the same: Pauline and my Grandma Georgia were in charge of everything savory, and our family (ahem, my mom) was in charge of baking a thousand pies.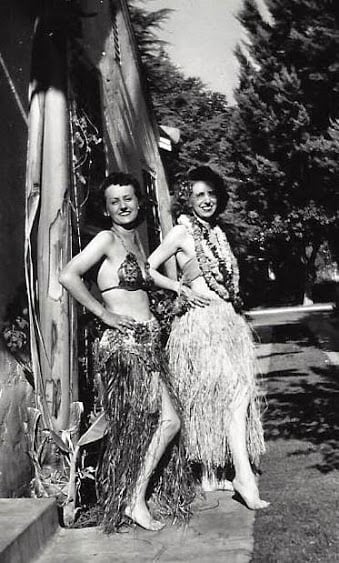 (Here's Aunt Pauline and Grandma Georgia, having a V-J Day Party in August 1945. Both of their husbands served in WWII.)
I didn't grow up making turkeys, but I mean it's kind of an essential skill if you want to be American/awesome, because let's be real, roasted turkeys are freakin delicious. My mom came over last week so that we could roast one together. She brought Grandma Georgia's roasting pan that she inherited. We're guessing it's nearly 70 years old. (This is when we all chime in "they just don't make 'em like they used to!")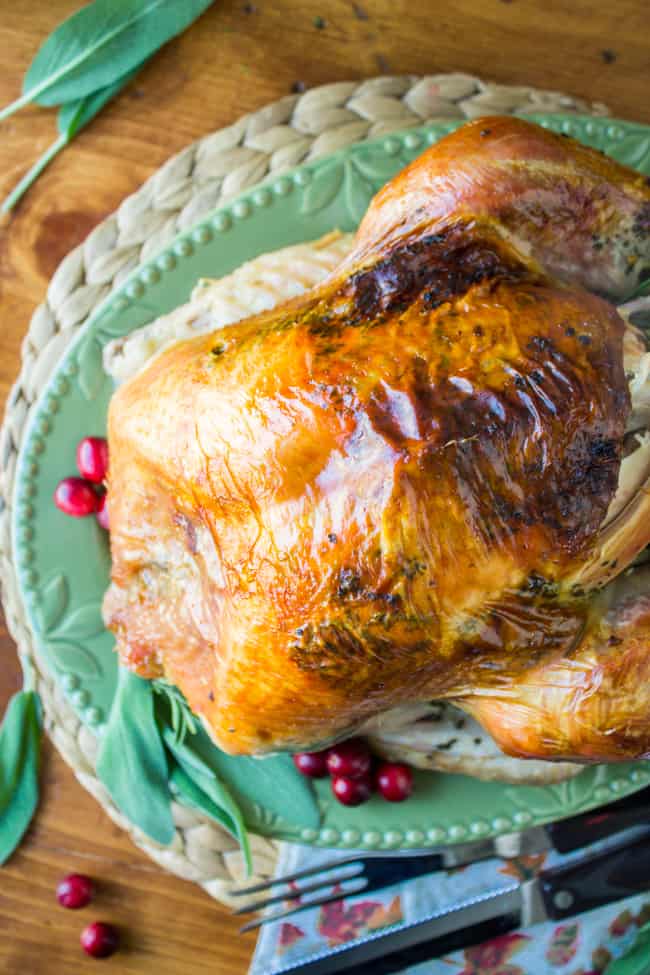 I made a turkey a couple years ago that turned out delicious, despite the fact that I took it out of the oven completely raw because my oven thermometer was broken. My friend arrived with her thermometer a few minutes later and saved the day, otherwise I might have gotten salmonella'd.
This time I used a Pop Up Disposable Cooking Thermometer. They sent me a couple in the mail, but I didn't even need to use them because the turkey I bought already had one in it. It worked like a charm, look: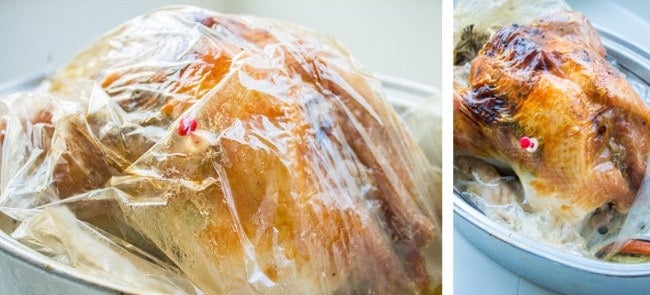 *Pop!* (<– I had to.) The red top pops up when your turkey is safe to eat. You don't even have to open the oven door to check.
My mom, being a fairly novice turkey-roaster herself (Pauline and Georgia sure took care of us), was saying how relieved she feels when she buys a turkey with a disposable thermometer in it. One less thing to worry about on a day that you've got a million things going on. Nobody wants to get sick on T-day.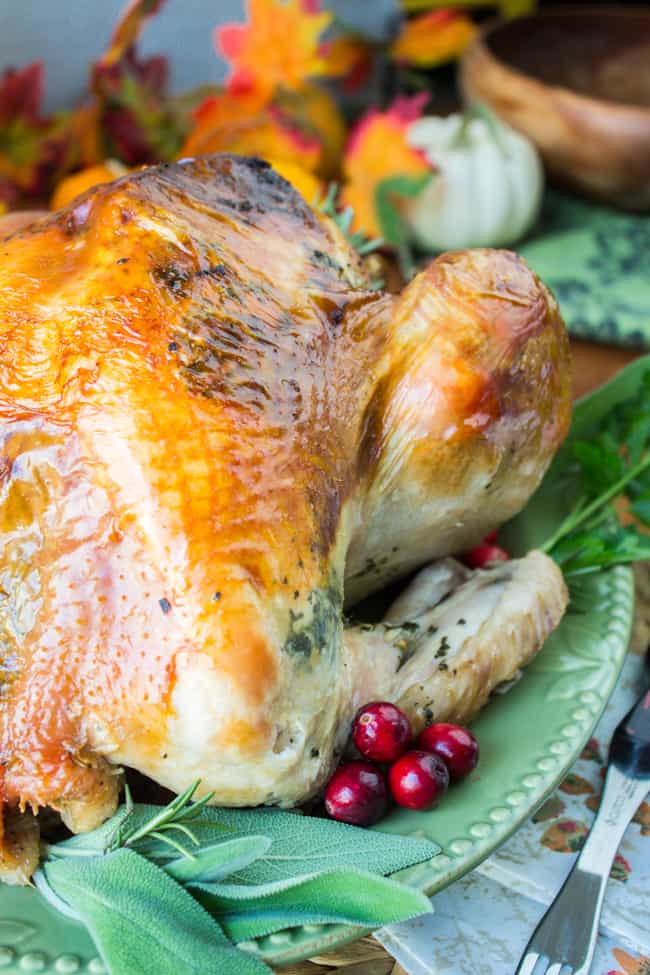 Also, don't bag on my bag. It's so easy, and a great option for beginners. You can totally use this sage-butter rub but then roast it however you like. The breast-down instructions on my first turkey are a little more involved (you have to flip a hot turkey) but it does make for one delicious bird.
This time I just wanted to keep it simple. Disposable thermometer, bag to roast, easy butter rub. Thanksgiving is busy enough, right? Check out this quick video on Pop Up thermometers to make sure you're using it right. And if you are looking for more turkey recipe and tips, follow Volk Enterprises on Pinterest and Facebook.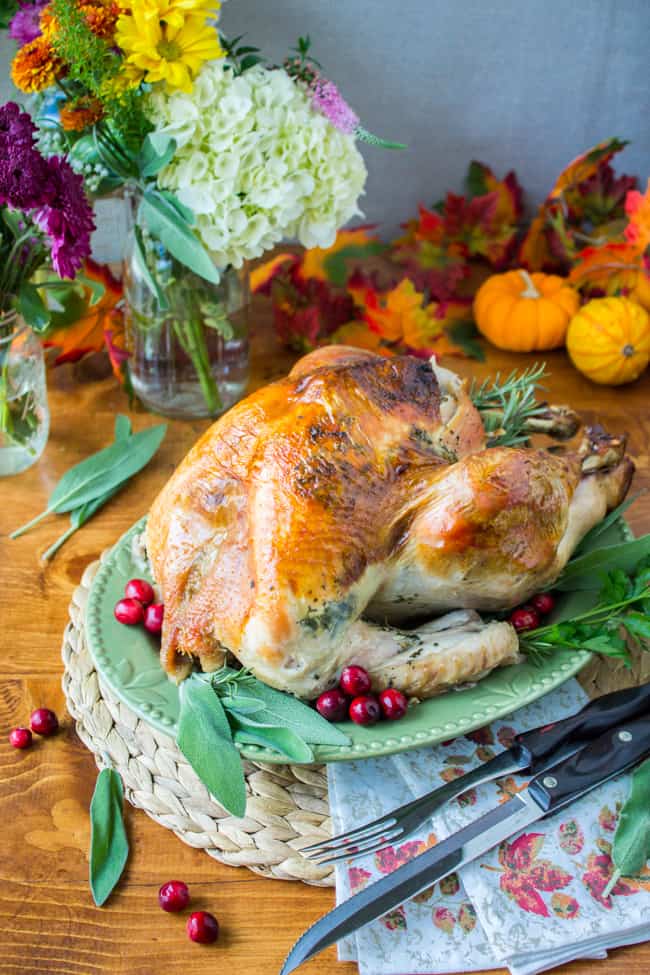 This Sage Butter Roasted Turkey recipe is from my cousin Lani, who is an amazing and very instinctive cook. I only had to text her 3 times during the making. The butter rub is made with sage, salt and garlic, and it was a wrench to rub it on the turkey when all I wanted to do was slather it on bread. Don't be scared to rub butter under the skin. It's kinda weird at first but you will get over it, especially after you taste it.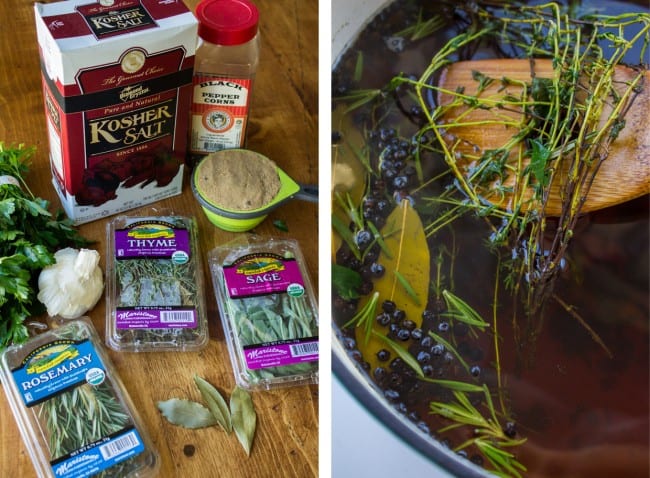 Brining isn't hard, it just takes planning ahead.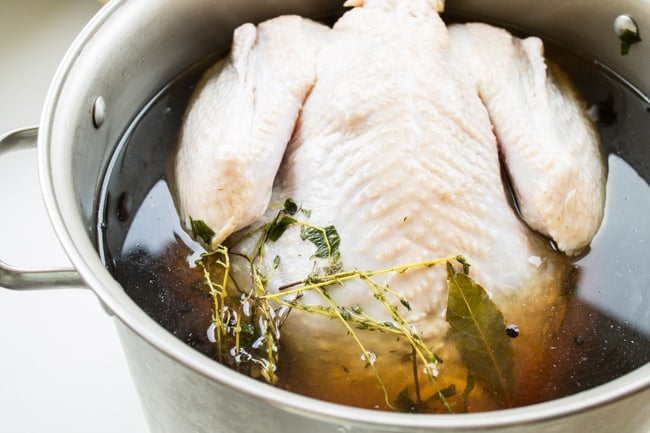 My turkey wasn't completely covered, I just turned it about 2/3 of the way through.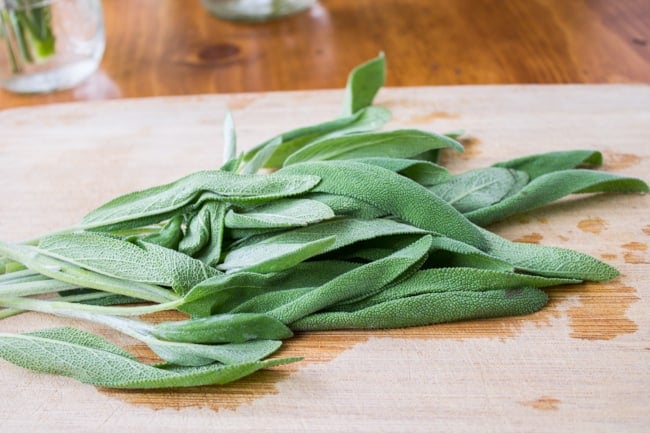 Here's how much sage I used for the butter rub.


Smash up that sage.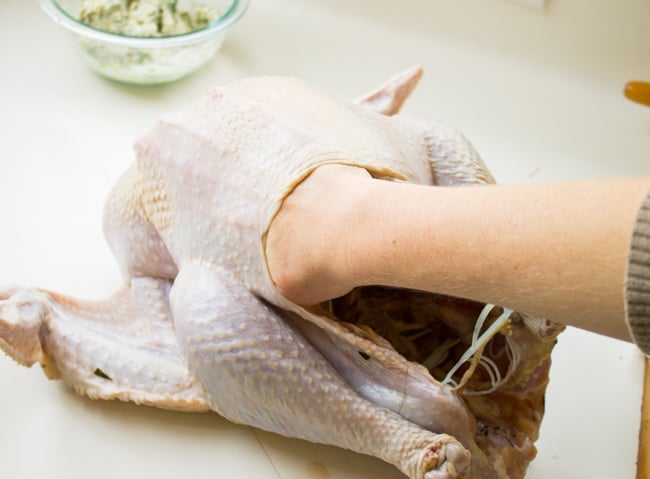 This step feels weird, but I promise it's worth it.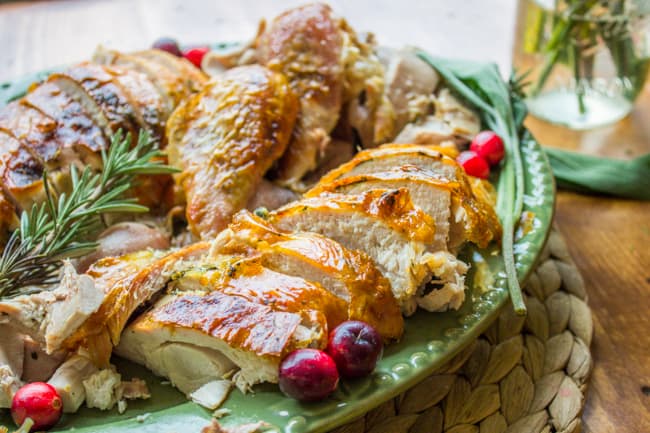 Enjoy getting ready for the holidays, guys! I love this time of year!
Facebook | Pinterest | Instagram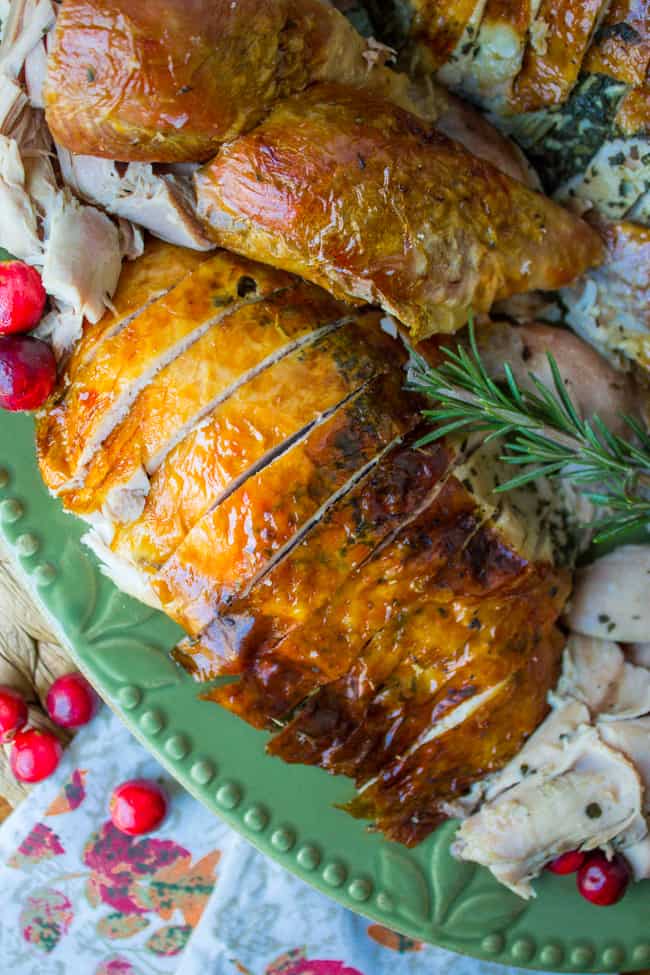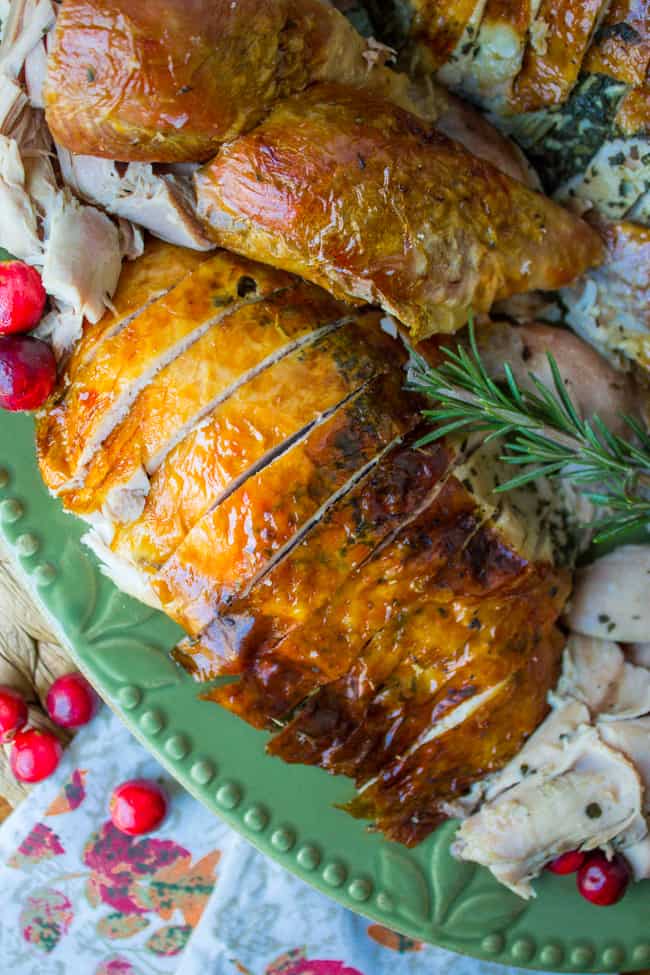 print
Did you make this recipe?
Leave a review »
Sage Butter Roasted Turkey
Serves about 7-8 people
adjust servings
Ingredients
For the brine
1

and 1/2 gallons of water (24 cups)

1

cup kosher salt

1

cup brown sugar

1

and 1/2 tablespoons peppercorns

3

bay leaves

3

cloves garlic, mashed and roughly chopped

3

tablespoons fresh rosemary, roughly chopped*

3

tablespoons fresh parsley, roughly chopped

3

tablespoons fresh sage, roughly chopped

3

tablespoons fresh thyme, roughly chopped
For the butter rub
1

cup (2 sticks) salted butter, softened to room temperature

1

large bunch of sage, chopped fine

2

cloves garlic, crushed and minced

1

and 1/2 teaspoons salt
For the Turkey
1 12-14

pound turkey, fresh or frozen and thawed

5-7

carrots, peeled and roughly chopped

1

large stalk celery, roughly chopped

1

apple, quartered

1

onion, quartered

2-3

sprigs thyme

2-3

sprigs rosemary

2-3

sprigs sage
Materials needed
1

Pop Up Disposable Cooking Thermometer

a huge pot to boil the brine

a huge pot/bucket to brine the turkey in

paper towels

turkey oven bag

large roasting pan with roasting rack

kitchen twine, if your turkey is not trussed
Instructions
If you are using a frozen turkey, thaw it in the fridge for a few days before you brine it. Allow one day of thawing for every 5 pounds of meat. Do not brine a frozen turkey. (It won't absorb the brine).
Several hours or even the day before you want to brine the turkey, cook the brine. You need time to let it cool down completely; a warm brine will make the turkey absorb too much salt.
To make the brine, combine all ingredients in a very large pot and bring to a boil over high heat. Cook for 3-5 minutes or until the sugar and salt are dissolved. Turn off the heat. Let cool to room temperature, and refrigerate it if you are not using it right away.
Unwrap your turkey in a clean sink. Remove the neck, which is usually in the main cavity, and the giblets, which are usually in a bag in the other end. (Save for turkey gravy/turkey stock.) Rinse the turkey with cold water.
Place the turkey in a large pot or bucket and cover with cooled brine. You can do this in a turkey oven bag that is well sealed (You still need a large bucket or pot for it to sit in though.) If the turkey is not all the way covered, you can add a little more water to the brine. Mine wasn't completely covered and it was fine. Either way, be sure to flip the turkey 2/3 of the way through brining so that it brines evenly.
Refrigerate for 18-24 hours. Don't do it much longer than that or your turkey will get mushy and taste over seasoned.
Remove the turkey to a clean sink. Discard brine. Wash the turkey with cold water, or soak it in a plugged up sink for 15 minutes. You want to make sure to get all the brine off of it. The brine has already done it's work to tenderize the turkey meat, you don't need the salt on the outside.
Remove your turkey from the sink and pat dry with paper towels. (Clean your sink with bleach). Do your best patting it dry, you may need to keep grabbing more paper towels.
Wash your hands and make the sage butter. Add the 2 sticks butter to a medium bowl. Finely chop the sage on a cutting board. Crush and mince the garlic and place it on top of the chopped sage. Sprinkle with 1 1/2 teaspoons salt. Use the side of a chef's knife to smash the sage, garlic, and salt together until everything is incorporated. (See photos below)
Add the mixture to the bowl with the butter and combine.
Use your hands to separate the skin on the turkey breast from the meat. This is easier said than done. You will have to break apart some membrane-y feeling stuff and you have to be pretty forceful. Try not to tear the skin of course. I found this video helpful. Try to get your hand as close up to the neck as you can.
Once you have gotten your hand under the skin, grab a fist full of sage butter and rub it under the skin. Use a lot, maybe close to half. Rub the rest of the outside and inside of the turkey with the sage butter until it is gone. Make sure you turn the turkey over and get the back, wings, legs, etc. The butter doesn't stick to the skin very well, but do your best.
Preheat your oven to 350 degrees F.
Now it's time to stuff the turkey with aromatics. You won't be eating the stuffing, it's just for flavoring. If your turkey is trussed with plastic, carefully remove the turkey legs from the plastic so that you have easier access to the cavity. Stuff in 1 roughly chopped carrot, the celery, apple, onion, thyme, rosemary and sage. Return the turkey legs to the plastic trussing, or tie together with kitchen twine.
Add the remaining carrots and 2 cups of water to the bottom of the roasting pan, underneath the rack.
Tuck the wings under the back of the turkey, like it's got it's arms behind it's head laying out on the beach. (Here's a good demonstration.)
Insert your Pop Up Thermometer if your turkey doesn't already have one. Push it all the way in to the thickest part of the breast.
Get someone to hold open the turkey bag for you while you place it in.
Place the bagged turkey on a rack in a roasting pan, on top of the carrots. Seal the bag and cut a few slits in the top. Place the roasting pan on the lowest rack of your oven. Make sure your thermometer is visible through your oven window.
Set a timer for 2 hours and 15 minutes. After that, check your turkey every 5 minutes to see if the thermometer has popped up.
Remove the turkey from the oven and let it sit without opening the bag for at least 15-25 minutes. (This is a good time to use the freed oven for warming other dishes.)
Cut the bag open, discard the thermometer, and use old oven mitts to transfer the hot turkey to a cutting board. Discard the aromatics. Carve the turkey. I like this tutorial from Alton Brown.
Save the turkey carcass for homemade turkey stock.
by The Food Charlatan

If you make this recipe,
share it on Instagram
 using the hashtag
#TheFoodCharlatan
so I can see it!
Eat this with:
Gruyere-Crisped Potatoes Au Gratin: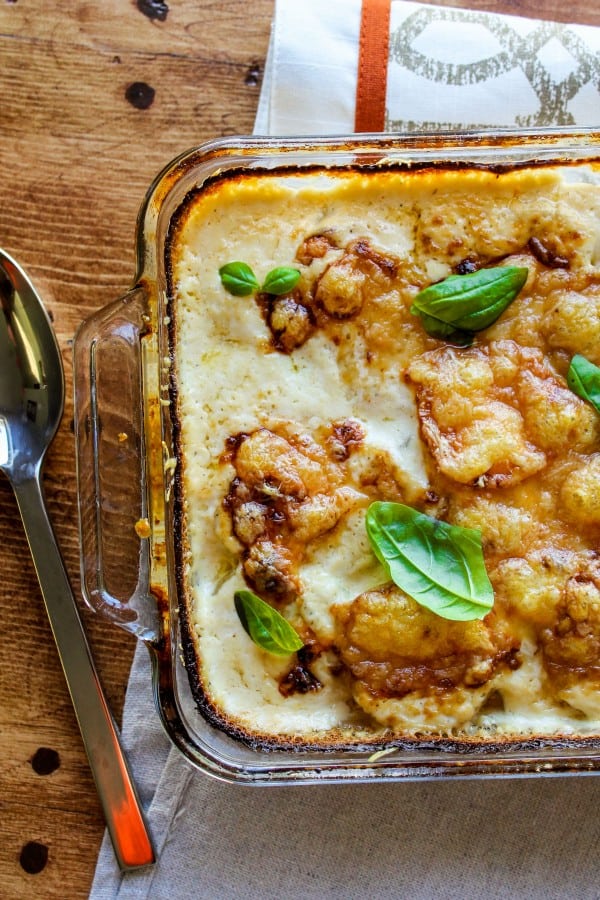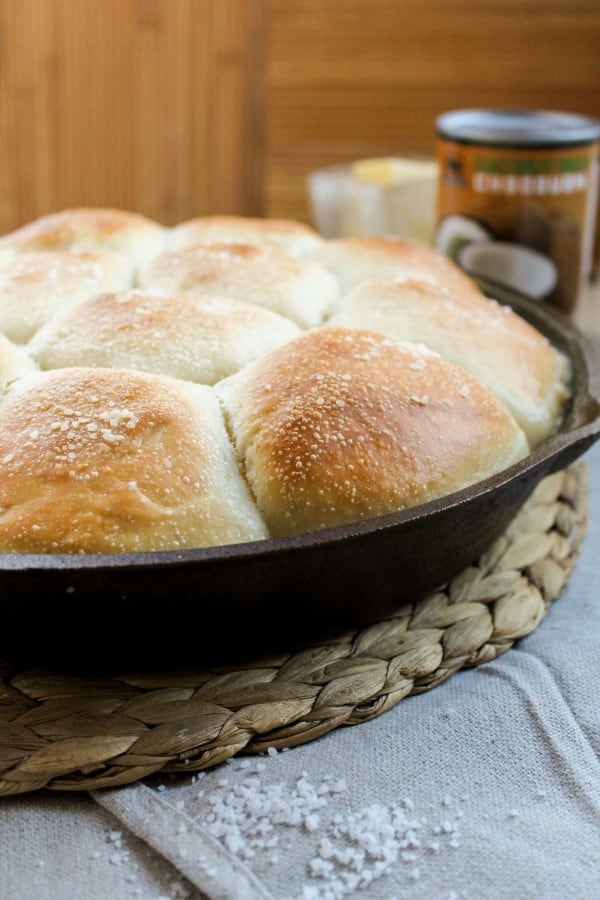 Balsamic-Browned Butter Asparagus: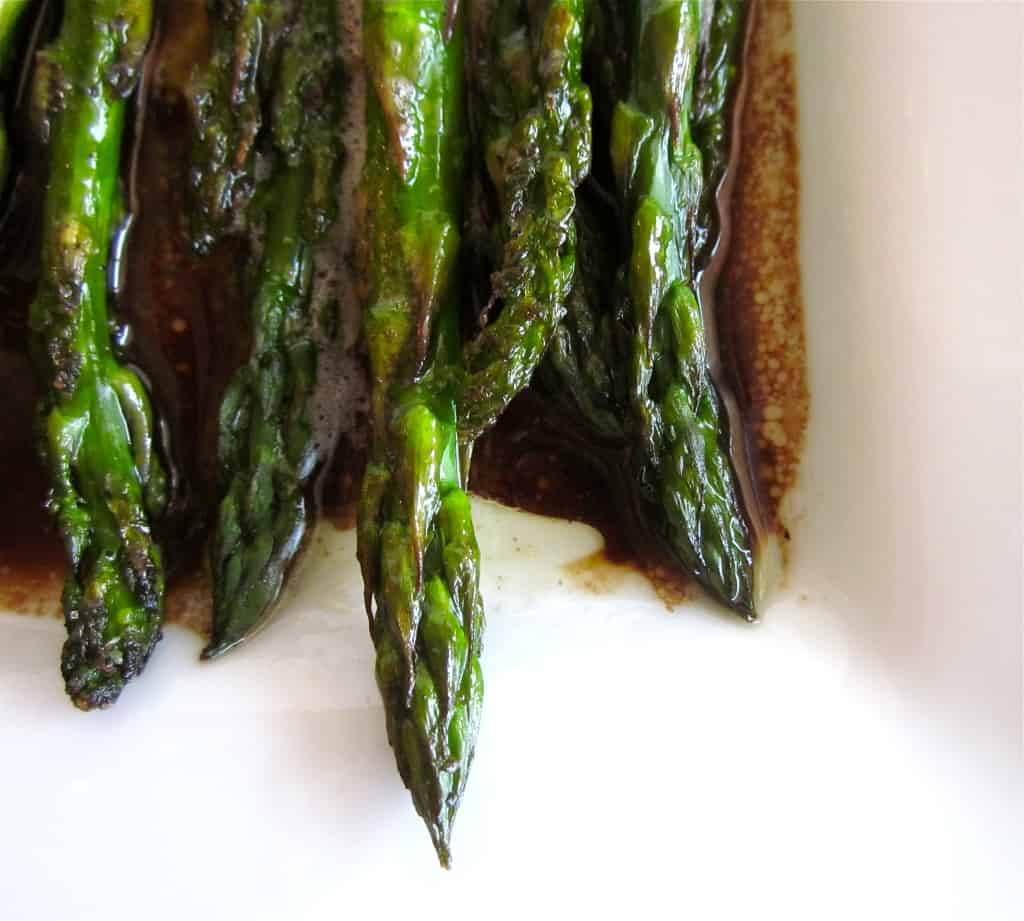 Here's the Make Ahead Turkey Gravy that I make weeks before Thanksgiving every single year. It's SO good and such a stress-saver!
*I was compensated by Volk Enterprises for the time I spent creating this post. Thanks for supporting the brands that make it possible for me to keep putting out free recipes for you guys! All opinions are my own, of course.
We are a participant in the Amazon Services LLC Associates Program, an affiliate advertising program designed to provide a means for us to earn fees by linking to Amazon.com and affiliated sites.