These Caramel Pecan Rolls are totally a dream come true! A soft and fluffy brioche dough, rolled up with a ridiculous amount of sticky caramel sauce, studded with toasted pecans. A decadent recipe for Pecan Sticky Buns that tastes like it came from a bakery! Originally published August 2, 2019.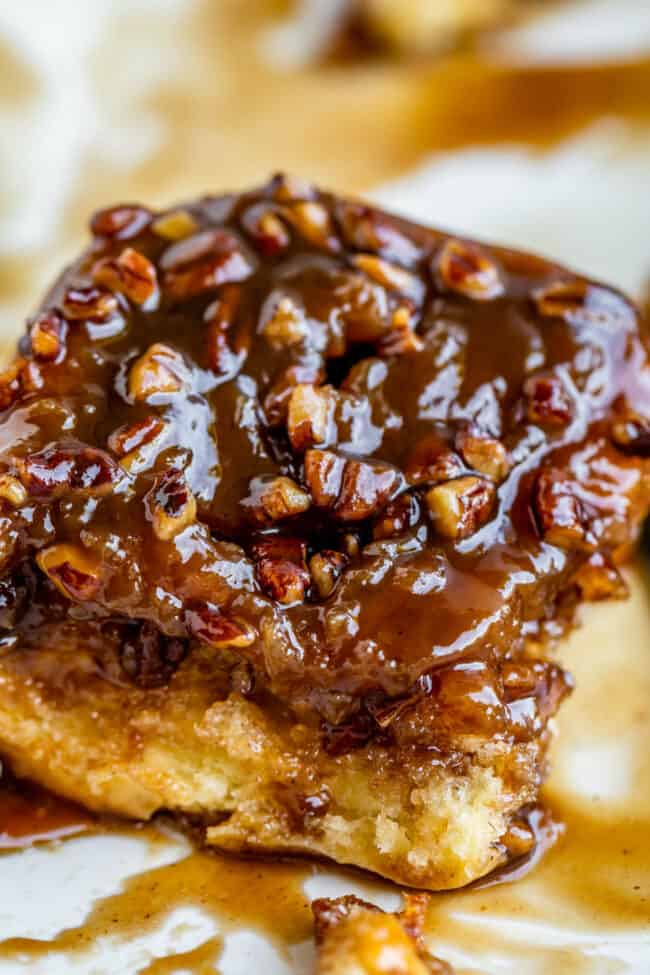 Pecan Caramel Rolls
Well my friends, I'm back! It's been a while! I got emails from people asking me what they were doing wrong. Why are there no new posts? Were they accessing the blog incorrectly? (That one made me laugh.)
There just haven't been any new posts for a while because I essentially took an early maternity leave. Yes, we're having another baby! Hooray!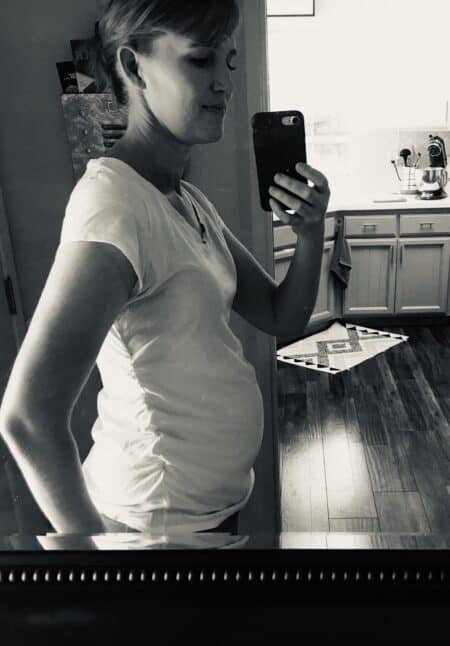 And no, my maternity leave was not for an infant that is already here, it was for my first trimester. I was the baby who needed taking care of, and Netflix and Anne of Green Gables novels took care of it well enough. Oh, and Eric. He's a saint. He was the dad AND the mom for a while there.
I get pretty sick for about 3 months with every pregnancy, and I basically stop being a responsible human. Just ask my children, who have essentially been Lord of the Flies-ing it over here.
But I'm feeling much better, thank goodness! I'm nearly 20 weeks pregnant now, due in December. I can not only eat food these days, I can think about it and talk about it too, which is progress indeed.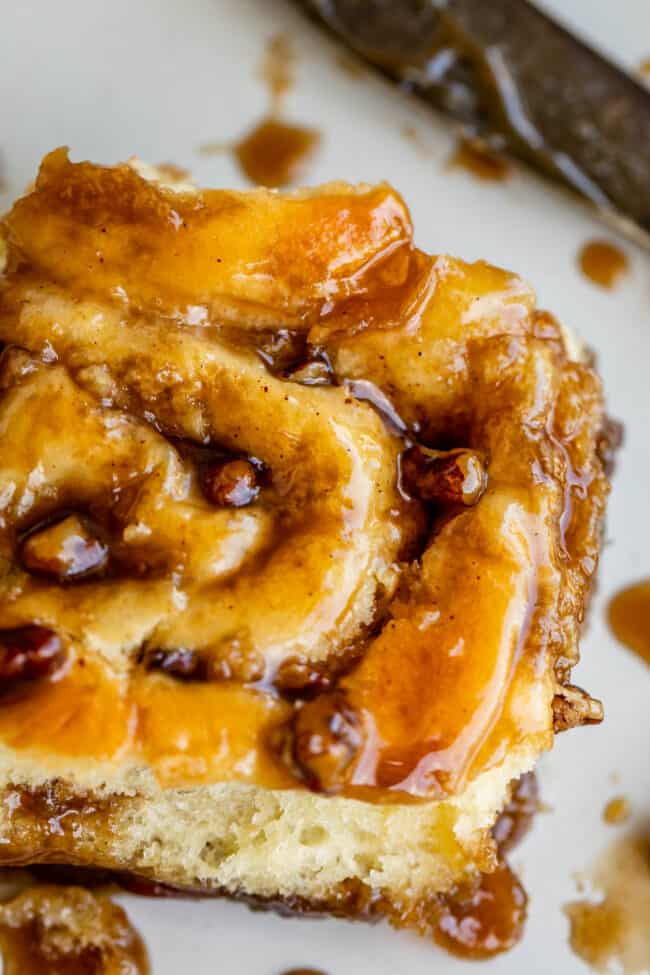 We're having a BOY! We're super excited. It's kind of funny having a 4th baby because people automatically ask if we're going to go for a 5th. Hold your horses! Let's take this one kid at a time!!
Although if you're my 13 year old neighbor PJ, you would not be asking about a 5th. He came over a couple weeks ago and I told him that I was pregnant. His eyes got really wide and he said, "Oh NO. Again??" I laughed so hard. Yes PJ, some people like having children (gasp!) and do it ON PURPOSE!
I had this great idea to make Pecan Sticky Buns and tell you that I had a bun in the oven, like I did when I announced my last pregnancy with Aunt Shirley's Famous Dinner Rolls. Because bloggers are supposed to do cute stuff like that, right? Or something? But it turns out people search for Caramel Pecan Rolls way more often than Pecan Sticky Buns, and since Google rules my life (or at least rules the titles I give my blog posts) I caved. And while we're on the subject of what to call them: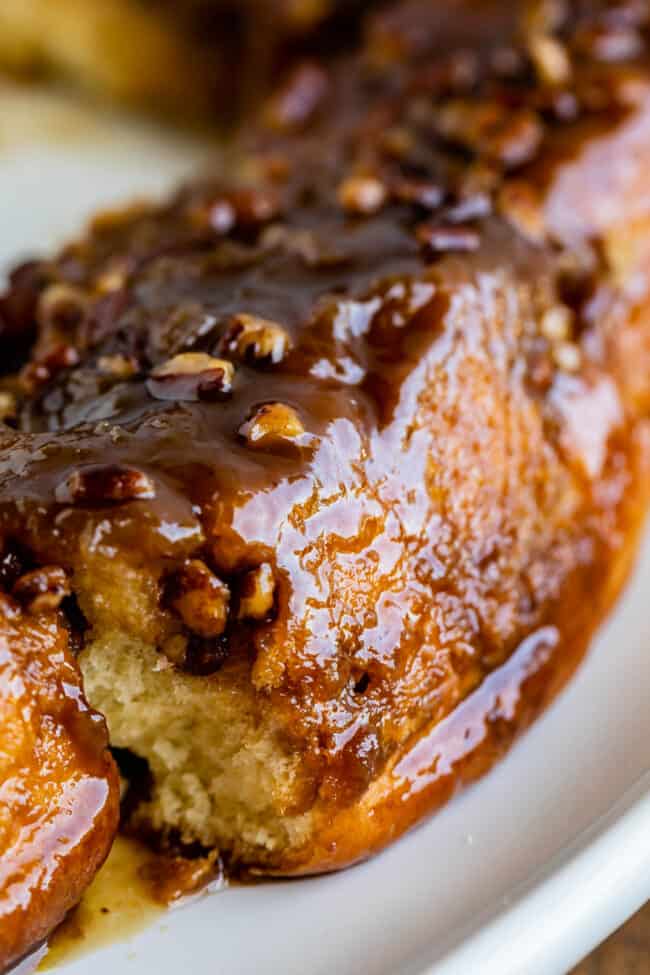 What is the difference between sticky buns and cinnamon rolls?
A sticky bun is basically a cinnamon roll, minus the cinnamon, plus gooey caramel sauce and tons of toasted pecans. HEAVEN.
Call them pecan sticky buns, call them caramel pecan rolls, call them whatever you want, this is one of the best breakfast items you will ever put in your mouth. Have you tried one?
Sticky Buns Recipe Ingredients
Even if you have tried one, get ready for me to change your life. Because we are making this pecan roll recipe with brioche dough. It makes them NEXT LEVEL you guys. Here is everything you're going to need:
Whole milk
Active dry yeast
Sugar
Large eggs
All purpose flour
Kosher salt
Salted butter
Brown sugar
Honey
Heavy Cream
Pecans
Cinnamon
Nutmeg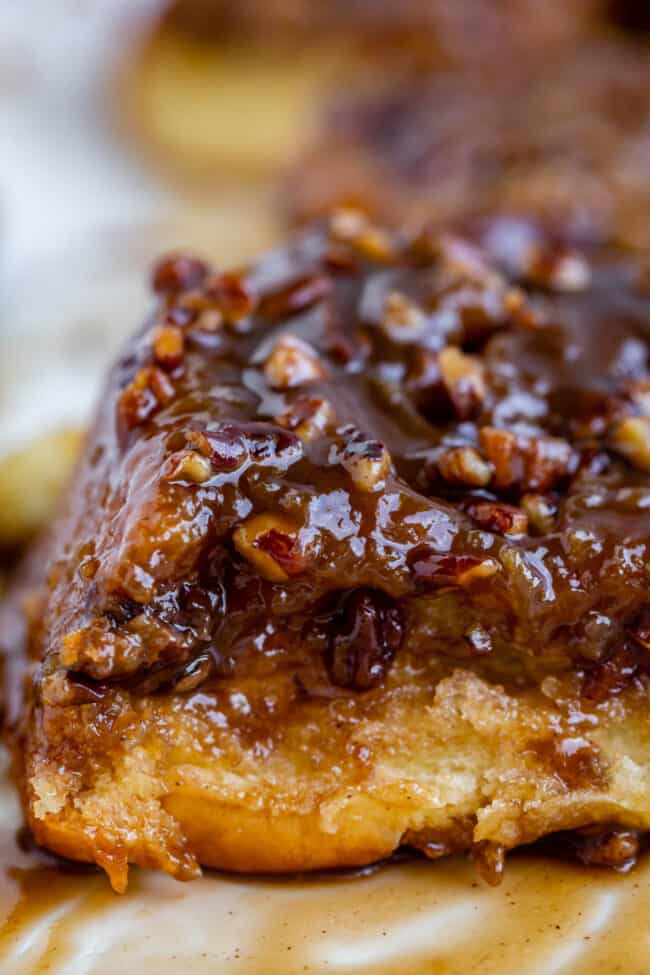 How to Make Caramel Pecan Rolls
This recipe isn't hard, but you'll get better sticky buns if you pay attention to some details. To get started, here's a basic overview of the steps. Details and process photos follow, and don't worry. All the instructions are listed in the recipe!
Make your sweet brioche dough, making sure to proof your yeast! Add the flour first. Then add very soft butter 1 tablespoon at a time when mixing the dough. Flour first, butter second, what??? Read on!
Chill the dough in the fridge instead of a normal room temperature rise. (It makes this very soft dough more workable)
Make the caramel sauce so it has time to cool
Toast the nuts
Roll out the chilled dough. Stick it back in the fridge if it's too warm to roll out!
Let rise again swimming in caramel sauce, placed in your oven with a pan of boiling water to create humidity
Bake at 350 for about 35-45 minutes
Flip rolls upside down and devour!!!
How to make Brioche Dough for Sticky Buns
Brioche dough is different from regular bread dough not only in the ingredients, but also in how the dough is mixed together. It has more butter and eggs than your average bread dough, resulting in a very soft and tender crumb once it is baked. It also doesn't have nearly as much flour as regular bread dough.

Using brioche dough instead of bread dough makes for a SUPER soft caramel roll once it is baked up. I use this same dough for The Fluffiest Homemade Cinnamon Rolls of Your Life and I'm never going back to regular dough for any type of sweet roll that I make.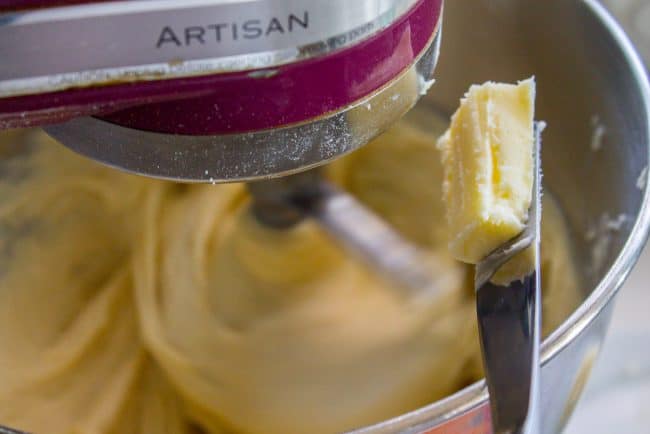 After mixing in the minimal amount of flour, THEN you add the butter (usually when making bread or rolls, flour is the last ingredient). Very soft butter, added 1 tablespoon at a time, until the dough is sticky, stretchy, and very soft. It barely comes together and would be impossible to roll out, which is where the chill step comes in.

Pre-chill. Post chill. It will rise some but not double.
Chilling the dough is what makes it workable. Many brioche recipes call for an overnight chilling, and while you can do that if you are making these ahead of time, 2 hours will do just fine if you want to make these all in one day.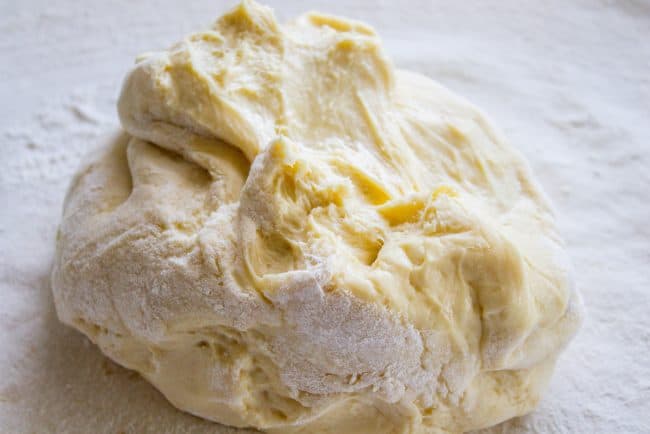 Here's the dough after it has chilled, ready to roll out. It is still soft, but it's easy enough to roll it out in order to shape your beautiful Caramel Pecan Rolls. Just don't take forever with the rolling process; if it becomes too warm it will be too soft and sticky to slice the rolls.
Yes, use ALL the caramel sauce. No, it's not too much, and yes, your rolls will be absolutely swimming in it before they rise. Embrace it!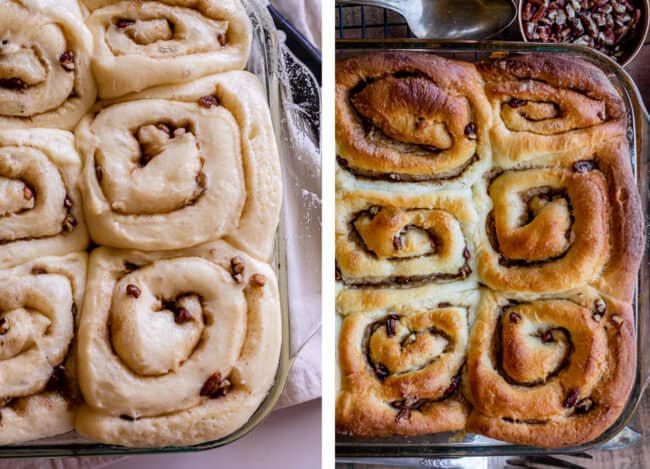 Do you see how puffy they get!? So satisfying. The high level of eggs and butter in the dough means the bread turns a very dark golden color when baked. Still, you should cover your rolls with foil for the last 15-20 minutes of baking so that they don't get too dark.
How do you know when a sticky bun is done?

Poke the bread part of a roll with a toothpick or fork to see if any wet dough comes out. Bake until the dough does not look wet or raw and the rolls are golden to dark brown on top. Because sticky buns are so, well, sticky, it's hard to tell if they are done with just the toothpick test. The safest way to know for sure if your rolls are cooked all the way through is with an instant read thermometer: It should read 190 degrees F.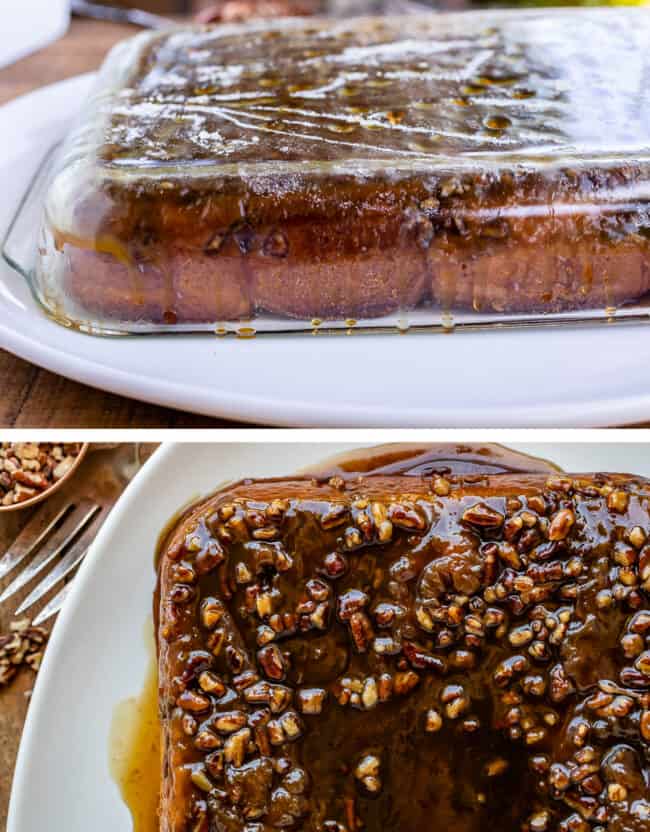 Flip that pan over and you get this gorgeous mess.
Can Pecan Caramel Rolls be made ahead?
Yes definitely! It's one of the best parts about this recipe! I love to make these overnight. It's the perfect Christmas Eve project, too. Who says we can't get ourselves Christmas gifts. If these rolls aren't a gift, I don't know what is.
Make the recipe as written through the step where you cover the rolled up rolls with greased plastic wrap. At this point you can refrigerate overnight. In the morning, prepare the oven by preheating the oven (and then turning it off) and placing a pan of boiling water on a bottom rack. (Remember to turn the oven off! You are just creating a warm environment.) Let the rolls rise for the same amount of time and bake as directed. See recipe for more details!
Do Caramel Pecan Sticky Buns freeze well?
They sure do. But the real question is:
Is it better to freeze sticky buns before or after baking?
Listen, there's nothing better than freshly-baked, well, ANYTHING. So if you have the time, freeze the dough rather than the baked roll. That said, baked sticky buns freeze and reheat exceptionally well. Here's how to do it:
To freeze before baking, follow the recipe until the rolls are in the pan with the caramel sauce. Cover with greased plastic wrap, then seal well with even more plastic wrap and foil. Freeze the whole pan before allowing them to rise. Freeze for up to 4 weeks. Allow to defrost in the refrigerator overnight, then follow the instructions in the recipe for rising with the boiling water in the oven. When the rolls double in bulk, they are ready to bake. This could take a bit longer if they weren't quite thawed out. Once they have risen, bake as instructed!
To freeze after baking, seal the entire pan of buns and freeze for 2-3 months. Thaw them overnight in the refrigerator, then bake at 350 degree for 5-8 minutes until warm. (Don't mess up and eat your sticky buns cold. That's a tragedy!)
To freeze individual portions after baking, place 1-2 buns into airtight containers and freeze. Reheat in the microwave for a delicious, anytime breakfast!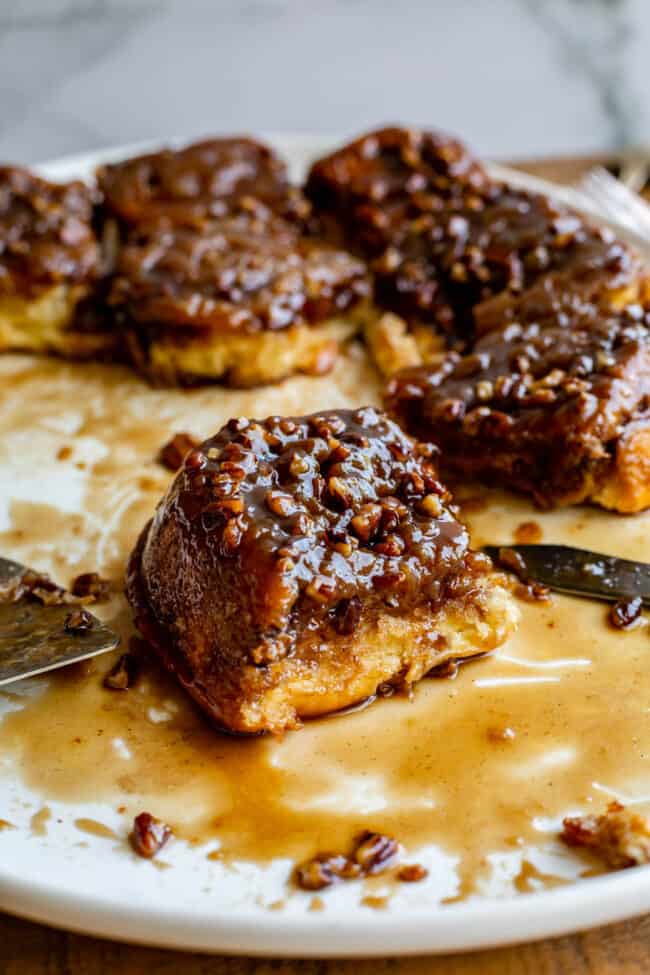 I can't begin to tell you how in love with these Caramel Pecan Rolls I am. I made them on a random Tuesday to celebrate being back in the kitchen after a 3 month ban, but these would be great to make over the weekend. Test it out soon so that you can impress your family on Christmas or Easter morning with this show-stopper brunch!
More breakfast recipes you are going to love!
More sweet rolls from friends
Facebook | Pinterest | Instagram

Soft and Sticky Caramel Pecan Rolls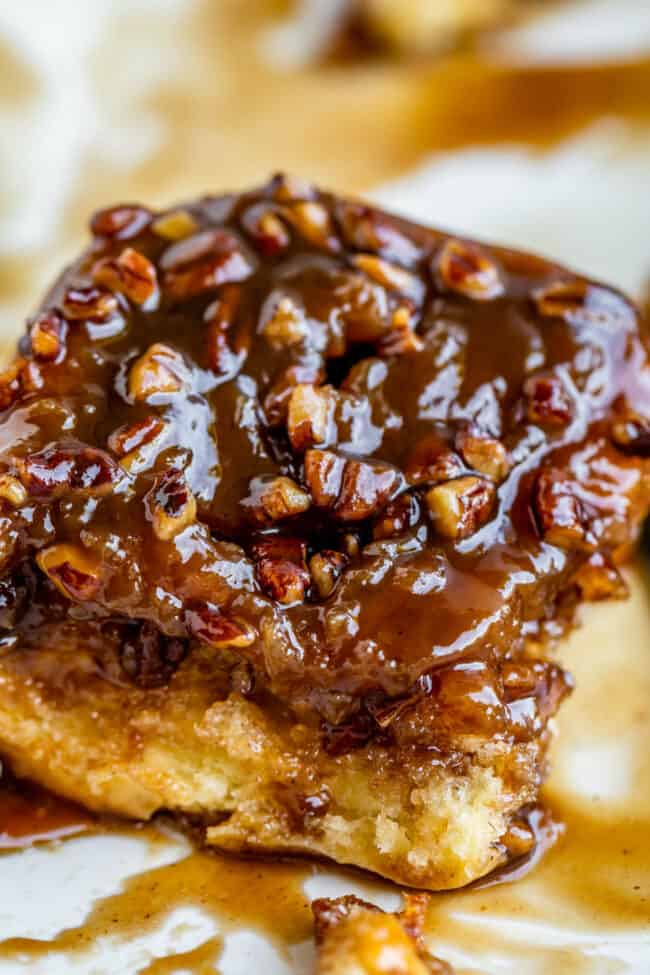 These Caramel Pecan Rolls are totally a dream come true! A soft and fluffy brioche dough, rolled up with a ridiculous amount of sticky caramel sauce, studded with toasted pecans. A decadent recipe for Pecan Sticky Buns that tastes like it came from a bakery!
Ingredients
For the sweet dough
1

cup

whole milk

,

warm

1

tablespoon

active dry yeast

5

tablespoons

granulated sugar

2

large

eggs

3 & 1/4

cups

all purpose flour

,

spooned and leveled

1

teaspoon

kosher salt

1/2

cup

salted butter

,

very soft (divided) (1 stick)
For the caramel sauce
3/4

cup

salted butter

,

(1 and 1/2 sticks)

1 & 1/2

cups

brown sugar

,

firmly packed

1/3

cup

honey

1/3

cup

heavy cream

1/3

cup

water

1/4

teaspoon

kosher salt
For the roll filling
1 & 3/4 (about 8-oz)*

cups

pecans

,

toasted

1/3

cup

granulated sugar

1/3

cup

brown sugar

,

packed

1/2

teaspoon

cinnamon

dash

nutmeg

,

optional
Instructions
Make the sweet dough:

In a glass measuring cup, add 1 cup milk. Use whole milk if you have it. Warm the milk in the microwave in 20 second increments until it is nice and warm. Stir it with a small spoon and feel it with your finger. It should be about

105-110 degrees F

, or about the temperature of nice bath water. If it feels at all HOT, stick it in the fridge until it cools down.

Add 1 tablespoon of yeast and 5 tablespoons granulated sugar and stir. Wait 5 minutes and check to make sure your yeast is getting bubbly. If not, you have killed your yeast; dump it and start over. Better to start over now than after hours of rising with no results!

Once you are certain that your yeast is alive and well, add two eggs to the measuring cup and whisk it all together until smooth.

Meanwhile, add 3 and 1/4 cups flour to a large bowl

or stand mixer

. Make sure you spoon and level your flour. Add 1 teaspoon kosher salt.

Add the wet ingredients to the flour in the bowl. Use the paddle attachment on your mixer (or regular beaters if you're using a hand mixer) and beat until combined, about 1 minute. Make sure to stop and scrape the sides and bottom of the bowl.

With the mixer running on low or medium low, add 1 tablespoon of very soft butter at a time, until the entire 1/2 cup has been added in. Make sure each tablespoon of butter is fully incorporated before adding more butter. The process of adding in the butter should take a couple minutes at least.

Once all the butter is incorporated, beat on medium low speed for 5 minutes. The dough should be silky, smooth, and shiny. After 5 minutes, it will not have cleaned the sides of the bowl, but it should be formed together in a loose ball. It is VERY wet and not workable at all.

Grease a large bowl with butter or oil. Don't be stingy now.

Use a spatula to scrape the sweet dough into the greased bowl. Cover and refrigerate for 2 hours or up to 2 days. (Chilling is not optional. You won't be able to work with this dough until it is completely chilled!)

Make the caramel sauce: In a medium saucepan, melt 3/4 cup butter over medium heat. Add 1 and 1/2 cup brown sugar and stir until incorporated.

Turn off the heat. Add in 1/3 cup honey, 1/3 cup heavy cream, and 1/3 cup water. Add 1/4 teaspoon kosher salt. Whisk it all together until smooth. Try to break up any chunks of brown sugar. Set aside to cool to room temperature. You can put it in the fridge to speed this up. (You can make the caramel sauce up to 2 days ahead. Store covered in the fridge.)

Make the roll filling: Start by toasting the pecans so that they have time to cool before you sprinkle them on the rolls. Preheat your oven to 350 degrees F. Chop your pecans into small or medium pieces (I actually just bought pre-chopped pecans from the store.) Spread evenly over a dry rimmed baking pan.

Bake at 350 for about 5-7 minutes, opening the oven at least once to toss them around with a spatula. You will know they are toasted when they become very fragrant. Keep a close eye on them, they go from toasted to burned quickly. Set aside to cool. (You are going to add HALF the pecans to the roll filling, and the other half to the caramel sauce; read on.)

In a medium bowl, combine 1/3 cup granulated sugar, 1/3 cup brown sugar, and 1/2 teaspoon cinnamon. Add in a dash of nutmeg if you like. Once the pecans have cooled, toss about HALF of them into the mixture. Reserve the other half of the pecans for later.

Prepare for rising: Bring a pot of water to a boil on the stove. Place an empty 9×13 inch pan on a bottom rack in your oven. Place another rack above it. Turn your oven on to 350 for about 3 minutes, then turn it off. Your rolls are going to rise in the oven with a water bath. (This way they rise in 45 minutes instead of 2 hours)

Add the caramel sauce that has cooled to a different 9×13 inch baking pan. Scrape it ALL in. I know it looks like a ton. It is. That's why these rolls are so good. Tilt the pan so that the sauce coats the sides of the pan, or use a spoon or brush. (The sauce is greasing the pan, so make sure you coat it well.) Sprinkle with all the remaining pecans. Don't mix. (see photo) Set aside.

Roll out the dough:

Prepare a work surface with a generous dusting of flour. I love to roll out dough on my

pastry cloth

, it makes it so easy.

Scrape the chilled dough onto the flour and knead it together a couple times with your hands. Press it out into a rectangle with your hands, then use a rolling pin to roll the dough into a large rectangle. It should be about 1/4 inch thick if not a little thicker. It should measure about 12 inches by 16-18 inches. It doesn't have to be exact.

Sprinkle the sugar and pecan mixture evenly over the dough.

Roll up the dough, starting from the long edge. As you roll, use your hands to smooth out the dough from the center to make the roll even (so that the center of your roll is not way thicker than the edge of your roll.)

Use your fingers to seal the roll.

Use a very long and sharp serrated knife to cut the dough into 12 slices, about 1 and 1/2 inches each. Use a sawing motion. Dip your knife in flour in between cuts. The dough is pretty sticky on the inside. If you waited too long and your rolled up dough is too soft to cut, transfer carefully to the freezer for 20 minutes and try again.

Place each roll in the prepared pan. Yep, straight into the deep caramel bath.

Once all the rolls are in the pan, generously spray some plastic wrap with nonstick spray, and cover the rolls. Do NOT forget to spray the plastic wrap. Do NOT use a tea towel. The dough is pretty sticky, and if your cover sticks to them, it will ruin your beautiful rise when you try to take it off. No, I'm not at all bitter that this happened to me on one of my test runs, why do you ask??

Pour the boiling water that you have on the stove into the empty

9×13 inch pan

that's on the lower rack in your oven. Make sure that you remembered to turn off the oven. It should be nice and warm but NOT HOT. You want the rolls to rise, not cook. If you accidentally left your oven on too long, leave the door open and let it cool down. If the racks are too hot to touch with your fingers, don't put the rolls in the oven. Let them start rising on top of the oven and put the rolls in when the oven has cooled a bit.

Let the covered rolls rise with the water bath for about 30 minutes. They should be nice and puffy. Don't open the oven door, not once, or you will lose your steam.

After 30 minutes of rising in the steam, remove the rolls and the pan of water from the oven. Preheat the oven to 350 degrees F. Let the rolls continue rising out of the oven in a warm spot (on top of or near the heating oven, if possible) for another 15 minutes. The rolls should rise for a minimum of 45 minutes.

Once the rolls are quite puffy and have just about doubled in size, bake at 350 for about 35-45 minutes. Cover the rolls with a sheet of foil in the last 15-20 minutes of baking.

The rolls should be dark golden on top when fully baked. The best way to know if the rolls are done in the middle is to use a thermometer: the center of the rolls should be 190 degrees F.

Let the rolls cool in the pan for about 20 minutes. At this point you can either invert the entire pan onto a platter (enlist help, or at least moral support) or remove the rolls one by one. The rolls should be served bottom-side-up. Devour with a large glass of milk!

These rolls will keep for about 2 days, covered and stored on the counter. They are best served on the first day though.
Notes
*The amount of pecans you use is totally up to you. You can use as little as 1 cup or as much as 2 cups. Or leave them out all together if you are feeding close minded children. (I can't judge. I used to be one of those kids.)
Overnight Instructions: Make the recipe as written through step 24 (except don't boil the water). Once the rolls are shaped and on the pan, cover as directed, then refrigerate overnight. In the morning, prepare the oven by preheating the oven (and then turning it off) and placing a pan of boiling water on a bottom rack. (Remember to turn the oven off!) Let the rolls rise for the same amount of time and bake as directed.
You can make the dough 2 days ahead (keep chilled). You can also make the caramel sauce 2 days ahead (keep chilled). The roll filling can also be made ahead, just store it covered on the counter.
Source: The caramel sauce recipe is from The Food Network.
Nutrition
Serving:
1
roll
|
Calories:
669
kcal
|
Carbohydrates:
81
g
|
Protein:
7
g
|
Fat:
37
g
|
Saturated Fat:
16
g
|
Polyunsaturated Fat:
5
g
|
Monounsaturated Fat:
14
g
|
Trans Fat:
1
g
|
Cholesterol:
93
mg
|
Sodium:
445
mg
|
Potassium:
216
mg
|
Fiber:
3
g
|
Sugar:
53
g
|
Vitamin A:
777
IU
|
Vitamin C:
1
mg
|
Calcium:
86
mg
|
Iron:
3
mg