Pumpkin Dump Cake
It really doesn't get any easy (or tastier!) than this Pumpkin Dump Cake!  The two main ingredients are pumpkin and cake mix.  Mix up a can of pumpkin pie mix with a few simple ingredients, then "dump" a dry yellow cake mix on top. Drizzle with butter and bake! Voila! If you are not into pumpkin pie, this will be your new favorite thing!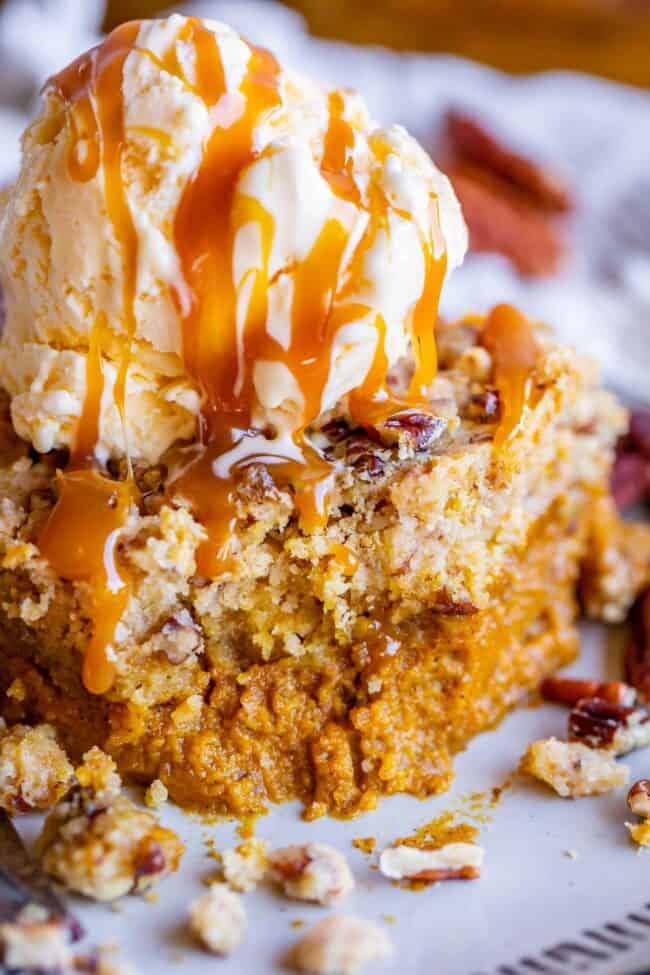 I was sitting in the living room working on something and kept hearing the Kitchenaid mixer turn on. Anytime the mixer turns on, that means something delicious is about to happen, right??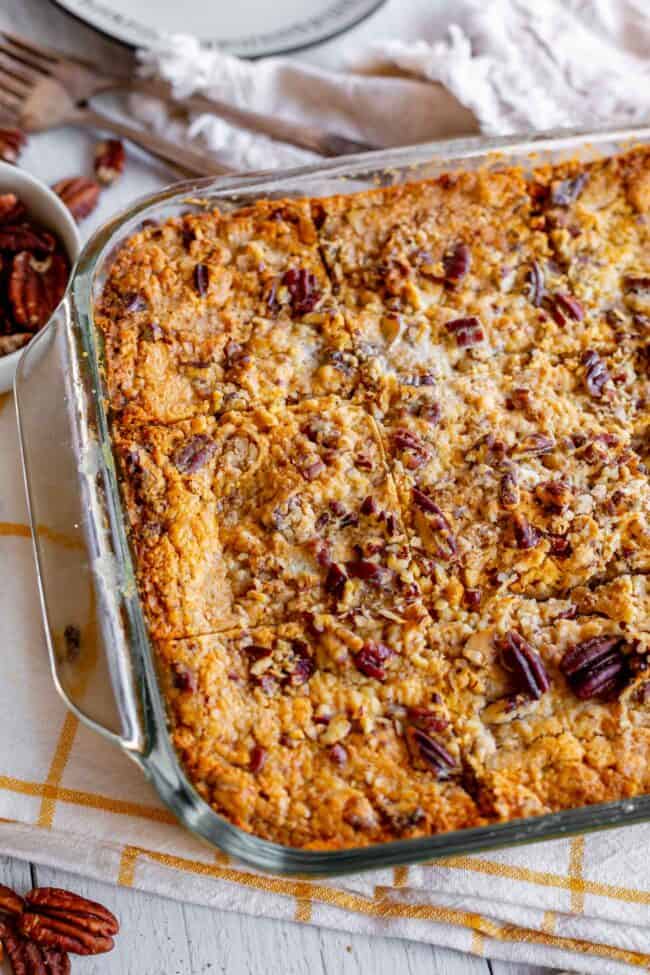 I went to investigate, only to find that Eric was taking a video of the mixer turned on, with nothing in it. The video was because we're trying to sell it on Craigslist and someone wanted to see it operating. He had to take multiple videos because he deleted all the ones with me yelling from the other room, What are you making me!!!!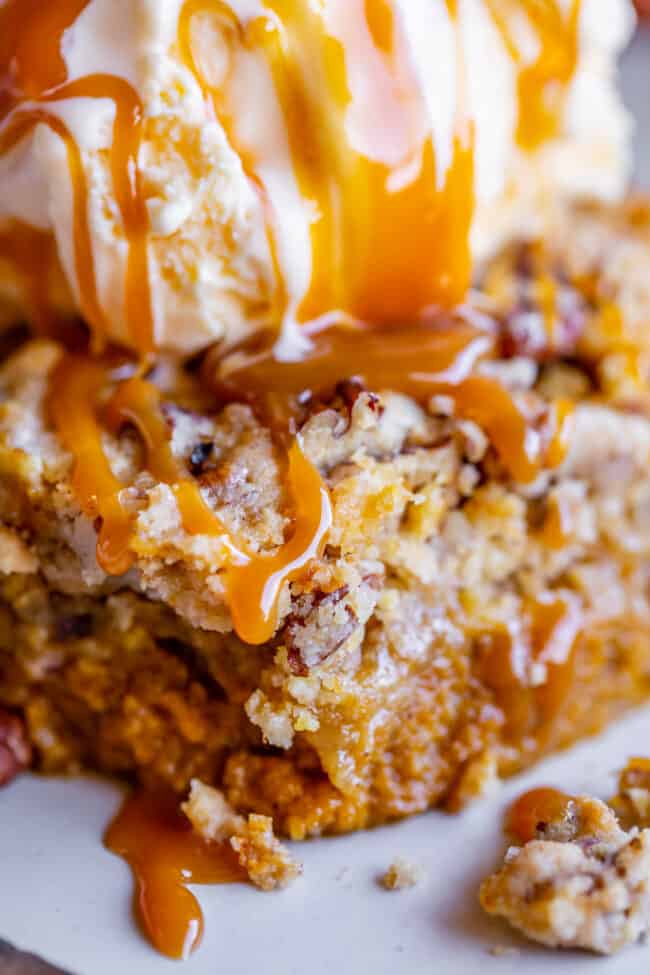 Eric bought me a new Kitchenaid for my birthday, and it is awesome. It works exactly the same as the one we already had, but it is copper and looks amazing in our kitchen. I know, stupid reason to get a whole new machine (I can FEEL my frugal parents cringing) but it really changes the look of our kitchen, and wouldn't you rather see gorgeous copper in the background of my blog photos than plum purple? See, I knew you were on my side.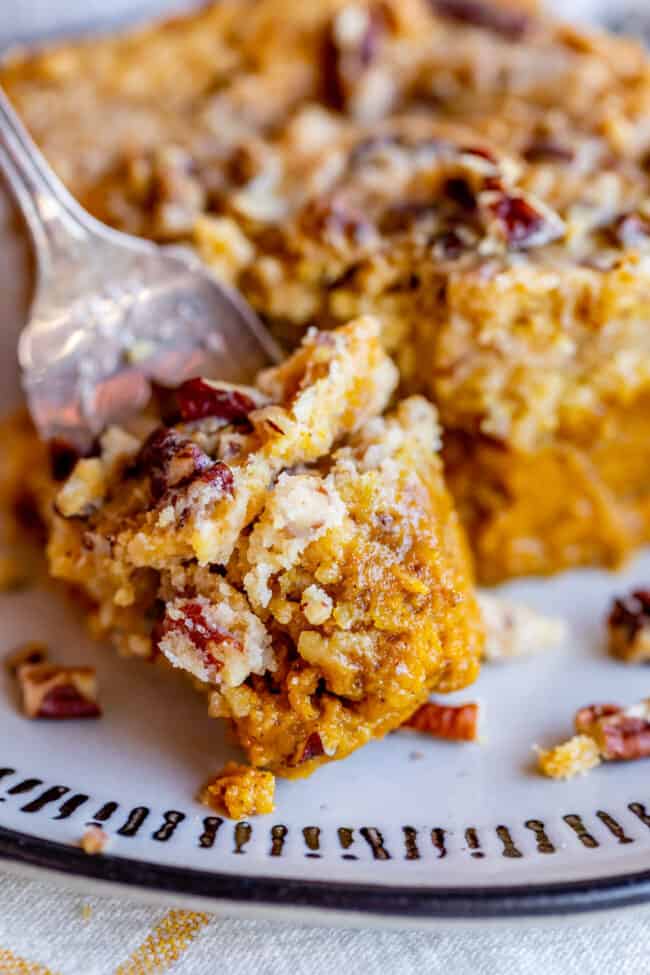 What is Pumpkin Pie Dump Cake?
Last week my friend Amelia threw a Witches Night Out Halloween party, girls only. It was SO fun and she fed us amazing food. Dessert was something she called "Pumpkin Dessert" and it was served in individual mini mason jars. I asked her what it was and she said a can of pumpkin mixed up how it says on the can, then you "dump" a dry cake mix on top and drizzle with melted butter. I LOVE cake mix recipes like this, the topping is unbelievable!
Amelia grew up eating this pumpkin dump cake, it's in her family's recipe file.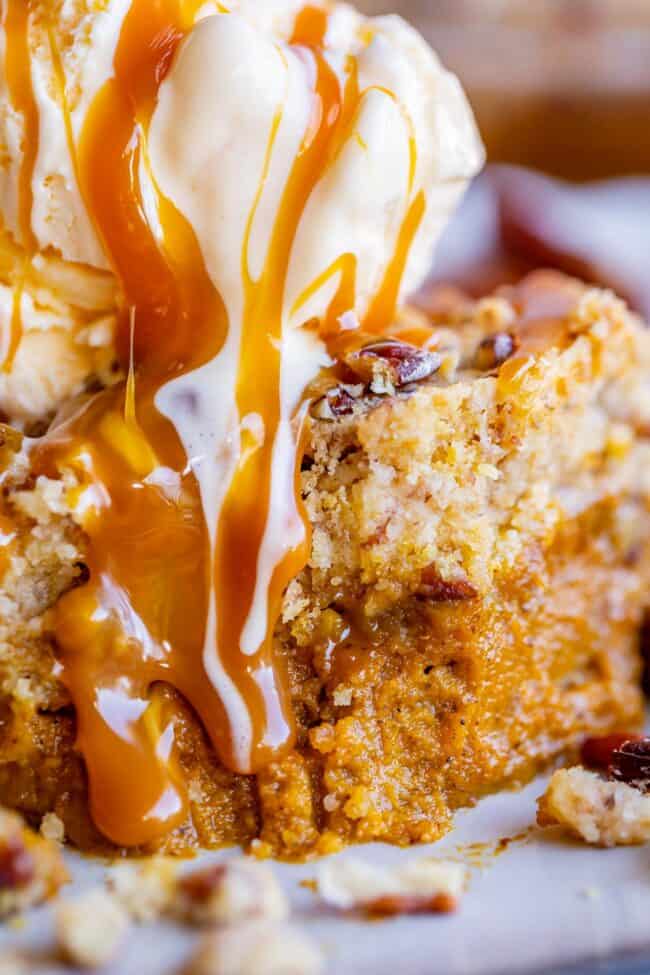 (That file is also where I got her apple crisp, which I have deemed "Apple Crisp, with a Ridiculous Amount of Streusel." Her family knows where it's at when it comes to dessert! One time Amelia was going camping with a friend, and Amelia said, 'look up a crisp recipe, I'll bring the apples, you bring the topping.' So her friend finds a recipe that looks good and reads on the post that it's from the food blogger's friend "Amelia." She had found Amelia's own family recipe on my blog. So funny, right?)
Well, I went home and made it the very next day. It was good but it could have been better, so I tried a couple more times to get it just right. (I found out later that I totally misunderstood Amelia's instructions. Oops!)
How to make Pumpkin Pie Cake with yellow cake mix
Most versions of this cake (the recipe is everywhere) call for 100% pumpkin in the filling. I like to start with a can of pumpkin pie MIX. The kind that already has some sugar and spice in it. We're adding even more pumpkin pie spice and a bit more sugar. I didn't call it cake for nothing guys.

You can totally just dump the cake mix straight from the box if you want, but I prefer to mix in a bit of extra flour and sugar. Remember when cake mixes used to be over 18 ounces? Now you can only find 15.25 ounces usually. The extra flour and sugar makes up the difference, and makes this dump cake a little more substantial, the way the recipe was back in the day when dump cakes first became a thing.

The pecans are totally optional. I tried it with and without, it's great both ways! You do you.

Dump all that butter on top, yes the full 2 sticks. If you've never made a dump cake before, this is the part where you're like, THIS IS GOING TO END BADLY, but trust me, it all works out!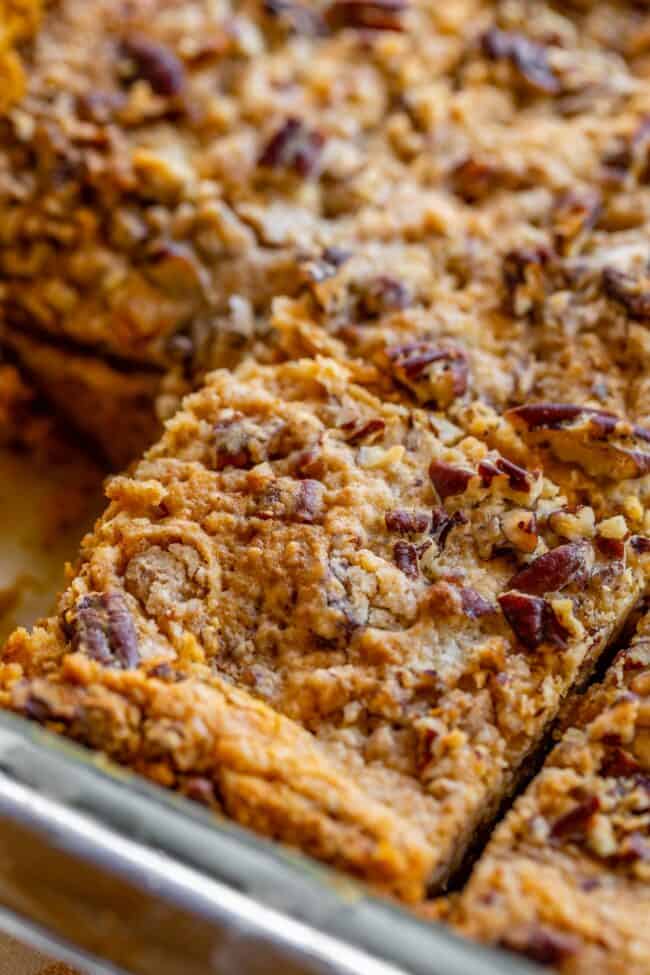 The butter melts into all that dry cake mix and turns into a cobbler-like topping. It does not taste like a baked up yellow cake. It is buttery and a little bit crunchy in some spots. So on the bottom of this cake you have delicious pumpkiny-ness, and on the top you have a distinct layer of buttery streusely type cobbler topping. I'm sure my descriptions are just really helping you out here, haha. Here's a picture of the layers: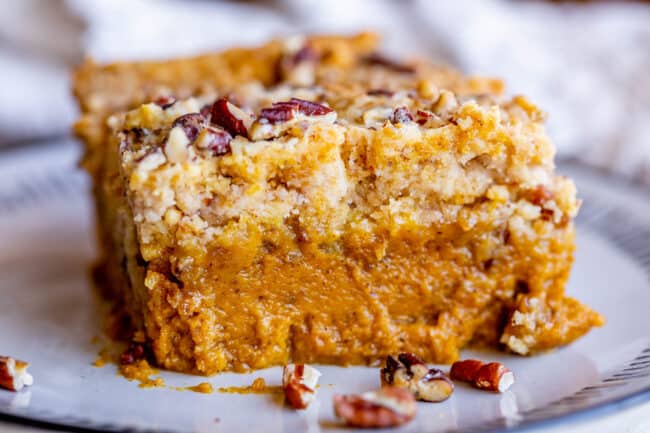 If your family is not into pumpkin pie, this easy pumpkin dump cake might be the answer! It still gives you that pumpkin-y, Thanksgiving nostalgia, and it's WAY easier than rolling out pie dough. And how can you go wrong with a cake topped with ice cream and salted caramel?? You can't!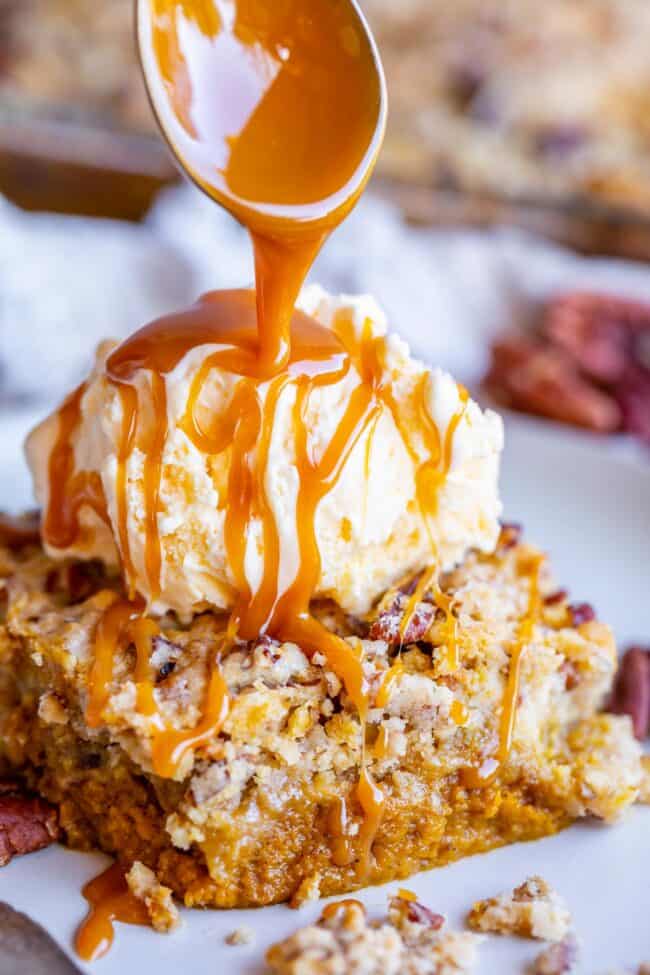 More recipes like this one that you are going to love!
Easy Berry Cobbler << this recipe is the same as today's recipe, but uses frozen berries and blueberry pie filling. It's so good!
Cake Mix Coffee Cake << This is my Aunt Shirley's recipe! She's such an amazing baker!
Apple Crisp, with a Ridiculous Amount of Streusel << This is another recipe from Amelia's family! It's my favorite!
Sour Cream Coffee Cake, with a Ridiculous Amount of Streusel << what can I say. I love streusel.
Other pumpkin  desserts you will love!
Easy Pumpkin Pie Cake << this is very similar to today's recipe but a little more cakey. I love it!
Pumpkin Cupcakes with Maple Pecan Frosting << These are some of my favorite cupcakes, the pumpkin makes it so moist.
Butterscotch Pumpkin Cake << this is one of my favorite pumpkin desserts!
Soft Pumpkin Cookies with Browned Butter Icing << These take 30 minutes flat. So addictive!
Crème Brulée Pumpkin Pie << You will never go back to regular pumpkin pie again. Brulée all the things!!
Paul's Pumpkin Bars with Cream Cheese Frosting << we put red hots on these. Don't knock it til you try it. I'm telling you!
Facebook | Pinterest | Instagram
Pumpkin Dump Cake Recipe
It really doesn't get any easy (or tastier!) than this Pumpkin Dump Cake! Mix up a can of pumpkin pie mix with a few simple ingredients, then "dump" a dry yellow cake mix on top. Drizzle with butter and bake! Voila! If you are not into pumpkin pie, this will be your new favorite thing!
Ingredients
For the filling
1 (30-ounce can)

pumpkin pie mix

,

use pie mix, not puree!*

3

large

eggs

1

cup

heavy cream

,

OR evaporated milk

2/3

cup

granulated sugar

3/4

teaspoon

kosher salt

1 & 1/2

tablespoons

pumpkin pie spice
For the top
1 (15-ounce)

box

yellow cake mix

,

add it to the recipe dry, not prepared

1/2

cup

all purpose flour

1/4

cup

sugar

1

cup

pecans

,

chopped, to mix into flour mixture (optional)

1/2

cup

pecans

,

chopped, for the top (optional)

1

cup

butter

,

2 sticks, melted

vanilla ice cream

,

or whipped cream for serving

salted caramel sauce

,

for serving
Instructions
Preheat your oven to 350 degrees F. Grease a 9x13 inch cake pan with nonstick spray, or rub with a bit of butter, focusing on the upper edges of the pan.

In a large bowl or stand mixer, add the can of pumpkin pie mix, 3 eggs, 1 cup cream, 2/3 cup sugar, 3/4 teaspoon salt, and 1 and 1/2 tablespoon pumpkin pie spice (or add spice to taste). Beat it together until the eggs are well incorporated, scraping down the sides and bottom of the bowl.

Scrape the mixture into your prepared 9x13 inch pan and spread it out evenly.

Open up your box of yellow cake mix and dump it into a bowl.

Add 1/2 cup flour, 1/4 cup sugar, and 1 cup chopped pecans. Whisk it all together.

Sprinkle this dry mixture over the top of the pumpkin in the pan.

Top with an additional 1/2 cup chopped pecans if you want.

In a small bowl, melt 1 cup butter in the microwave. Slowly pour the butter over the top of the dry cake mix. See photos. It's okay if some of the cake mix is still dry.

Bake at 350 for about 60 minutes, or even up to 70 minutes. You will know it is done if you shake the pan and it doesn't wobble too much in the center. You want the top to be golden brown.

Let cool for a few minutes before digging in! I am usually a warm-dessert kind of girl, but I actually really love this cobbler chilled in the fridge. It's also great room temperature. Decide between cold and room temperature judging by what temperature you like to eat your pumpkin pie!

You can store this dump cake covered on the counter for about 2 days, and after that stick it in the fridge.
Notes
*If you can't find pumpkin mix and all you have is 29 ounce can of 100% pumpkin puree, you can still make this no prob. Make these adjustments:
increase sugar in the filling to 1 and 3/4 cup sugar (instead of 2/3 cup)
increase pumpkin pie spice to 2 tablespoons, or to taste
And that's it! Everything else is the same.
Source: This recipe is adapted from my dear friend Amelia's family recipe file. They call it "Pumpkin Dessert" :)
Nutrition
Serving:
1
slice
,
Calories:
601
kcal
,
Carbohydrates:
72
g
,
Protein:
6
g
,
Fat:
34
g
,
Saturated Fat:
16
g
,
Polyunsaturated Fat:
4
g
,
Monounsaturated Fat:
12
g
,
Trans Fat:
1
g
,
Cholesterol:
114
mg
,
Sodium:
729
mg
,
Potassium:
214
mg
,
Fiber:
8
g
,
Sugar:
32
g
,
Vitamin A:
6722
IU
,
Vitamin C:
3
mg
,
Calcium:
145
mg
,
Iron:
2
mg
We are a participant in the Amazon Services LLC Associates Program, an affiliate advertising program designed to provide a means for us to earn fees by linking to Amazon.com and affiliated sites.