Maple Donut Recipe (Maple Bars)
It's kind of discouraging that after I slave in the kitchen making a healthy well-balanced meal with lots of vegetables, all Charlotte will eat is a cold, congealed mass of leftover oatmeal. (It is dang good oatmeal, but still. Doesn't she know I have feelings?)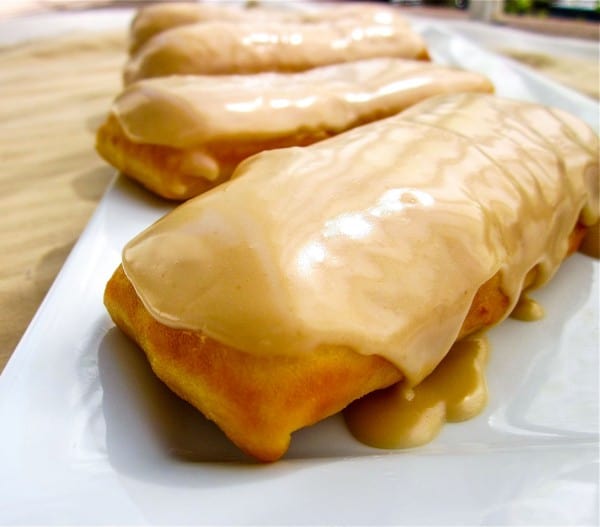 Maple Long John Donut
I made doughnuts!!!! Doughnuts are on such a high pedestal in my mind that I never thought I would make the attempt. There are so many ways it could go wrong…and deep-frying things is always scary (right? Please tell me I'm not the only one. Today I had horrible nightmares in which I somehow managed to slop the whole vat of 350° oil down my front. But it didn't happen! See, making doughnuts is easy!)
I'm convinced that most people have a favorite doughnut shop back home. Mine is called Sam's Donuts and they are amazing. They have the puffiest, softest doughnuts in the world, with the perfect glaze-to-doughnut ratio. I just googled them to see if they have a website. They don't, but the first hit had a review: "Just your regular donut shop could use some spice maybe sprinkle some bacon on the maple put Manteca on the donut map." (Manteca is my hometown.) Really? The donut map? Awesome.

You have got to try these Maple Bars, sans bacon. They are soooo worth all the effort. And really, they weren't hard at all. It's no more effort than making bread. (Okay, maybe a teensy bit more effort.) But the result is absolutely incredible. You will win many friends with this one. Because that's what cooking is all about right? Making people like you through food? Should I contact a psychologist now?
If you make this recipe, be sure to snap a photo and share on social media using the hashtag #thefoodcharlatan! I'd love to see what you're making!
Facebook | Pinterest | Instagram
Maple Bar Donut Recipe
You have got to try these Maple Bars. They are soooo worth all the effort. And really, they weren't hard at all. It's no more effort than making bread.
Ingredients
For the dough:
3

tablespoons

active dry yeast

1

cup

very warm

,

105 degree water

1/2

cup

+ 1 tablespoon white sugar

,

divided

1/2

teaspoon

mace

,

optional; I didn't use it

2

teaspoons

table salt

1/2

teaspoon

baking powder

4

cups

bread flour*

1/4

cup

shortening

3

large egg yolks

1/2

teaspoon

vanilla

Peanut oil for frying

,

I used two 24-ounce bottles**
For the Maple Icing
1

pound

powdered sugar

1 & 1/2

teaspoons

light corn syrup

1/4

teaspoon

table salt

1/4

teaspoon

vanilla

1

teaspoon

maple extract

1/3

cup

plus more if needed hot water
Instructions
Combine the yeast, 1 tablespoon sugar, and 1 cup very warm water in the bowl of a stand mixer. Allow it to proof for 5-10 minutes or until frothy.

While the yeast is proofing, combine the sugar, mace (if using), salt, baking powder, and 4 cups of flour in a large bowl. When the yeast is ready, add the shortening, egg yolks, and vanilla and mix with the paddle attachment for 1 minute to break down the shortening. Add 1/3 of dry ingredients and mix on low until blended. Repeat with the next 1/3 of the dry ingredients. Switch to the hook attachment and add the remaining 1/3 of the dry ingredients. Mix until no white spots remain and then turn the mixer to medium speed and knead for 2 minutes. Add more flour a little bit at a time if necessary. (You don't want the dough sticking to the bowl too much.)

While the dough is kneading, bring a large pot of water to a boil (a little more than 2 quarts of water). Lightly flour a baking sheet.

When the dough is done kneading, transfer it to the prepared baking sheet. Form a 6×6? square and cover it with a clean cloth. (Sprinkle the top of the dough with flour too, so the cloth doesn't stick to it. Not that that happened to me.) Place the pan in the oven and place a 9×13? pan on the rack beneath the baking sheet. Pour the boiling water into the 9×13? pan and close the door to the oven. Allow the dough to rise for 1 hour or until doubled.

When the dough is done rising, remove it from the oven and place it on a lightly floured surface. Bring another pot of water to a boil. Punch down the dough and roll it into an 11×12? rectangle. Use a pizza cutter to trim 1/2? off all the edges of the dough. (so that you have even rectangles. I used the scraps to make a 13th gimp-doughnut.) Cut the dough into 12 rectangles about 5×2?. Use a

flexible scraper

or large spatula to carefully transfer the dough rectangles back to a floured baking sheet, spaced about 1 1/2? apart. Place the baking sheet uncovered back into the oven and pour the boiling water back into the 9×13? dish. Rise for 30-45 minutes (or more), until the dough is doubled.

When the dough is almost done rising, heat 2+ inches of peanut oil in a large, high-sided pot with a candy thermometer attached to it. Heat it to 350 degrees. When the oil is hot enough, in batches of 2-3, use the rubber scraper to carefully transfer the rectangles to the hot oil and fry for 30-40 seconds and then flip and cook for another 20 seconds or until golden brown. Remove doughnuts from the hot oil, allow to drain on paper towels, and repeat with the remaining dough.

While the dough is cooling, whisk together the icing ingredients. Dip the dome-iest side of the bars into the icing and spread it out if necessary. Allow to stand for 10-15 minutes before serving. (Yeah right!!)
Notes
*I just realized that this says bread flour. Oops. I definitely used regular flour. I'm sure it makes an even lighter dough, so next time I will use it, but obviously is still works with regular flour.
**I saved the used peanut oil. Just funneled it right back into the bottles for the next time I make these babies.
Source: This recipe is adapted from Top Pot Doughnuts
Nutrition
Serving:
1
doughnut
,
Calories:
390
kcal
,
Carbohydrates:
78
g
,
Protein:
6
g
,
Fat:
6
g
,
Saturated Fat:
2
g
,
Polyunsaturated Fat:
2
g
,
Monounsaturated Fat:
2
g
,
Trans Fat:
1
g
,
Cholesterol:
49
mg
,
Sodium:
460
mg
,
Potassium:
58
mg
,
Fiber:
1
g
,
Sugar:
46
g
,
Vitamin A:
66
IU
,
Vitamin C:
1
mg
,
Calcium:
24
mg
,
Iron:
1
mg
Love Maple Bars? Try this 30 MINUTE version!! No joke!! They are sooo good (and so much faster):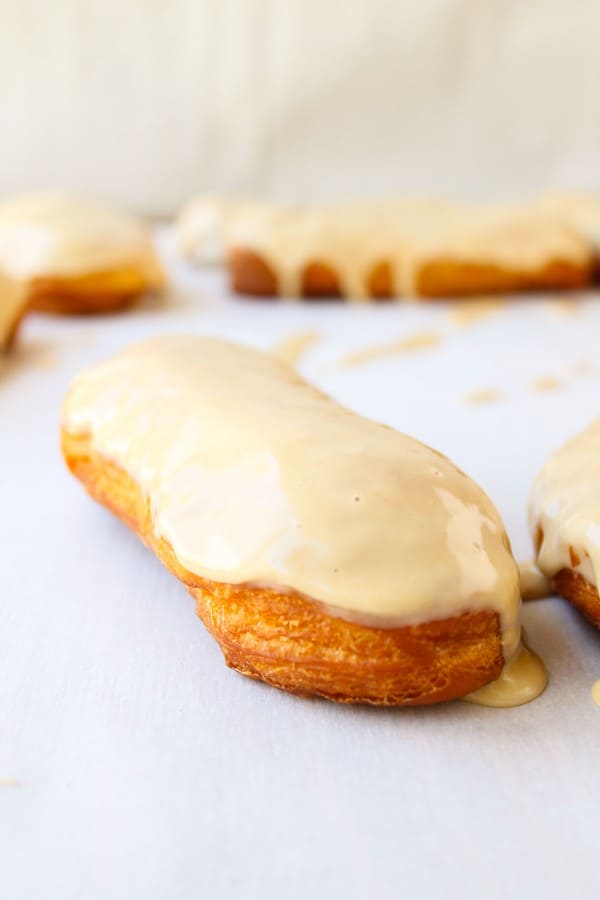 You will also like these 4-ingredient Apple Cider Doughnuts: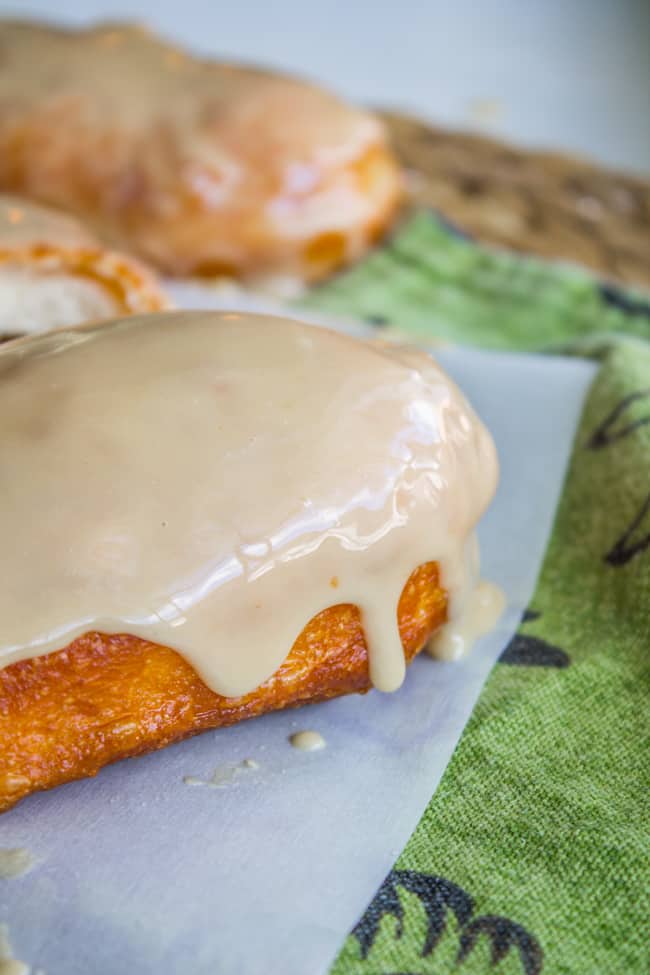 We are a participant in the Amazon Services LLC Associates Program, an affiliate advertising program designed to provide a means for us to earn fees by linking to Amazon.com and affiliated sites.