Turkey Stock from the Bones
Some things:
We are having a BOY!! I'm still in complete shock. I was convinced it was a girl. (I think I just told myself that because I didn't want to have to repaint Charlotte's room.) Also, I thought Charlotte was a boy, so maybe my mother's intuition is just in a state of perpetual Opposite-Day-ness. We are so excited to have a little boy!
Charlotte has recently learned the word "fox." Except that she pronounces x's like k's. It makes for some interesting playtime conversations.
I decorated for Christmas over the weekend. There is nothing better than a lit Christmas tree, yes, even the week before Thanksgiving.
Whose idea was it to let our toddlers sleep on mini trampolines? Charlotte's favorite thing to do is jump in her crib (which, by the way, makes it not quite as formidable a time-out spot). You would not believe the height she gets. I know she is up from her nap not when she cries, but when I can hear the springs of her mattress getting a workout. One of these days she is going to go sailing over the edge. I should start lining the floor with pillows.
The people above us vacuum about once a week. (It's pretty loud because the insulation in our building is practically nil.) And every time I think to myself Are they vacuuming again?? And then I immediately remind myself: Yes Karen, most people vacuum more than once every 3 months like you.
I made my first turkey last week, and wanted to get every last bit out of that bird as I could, so I decided to make some turkey stock. It was super easy. Throw everything in a pot and forget about it for a few hours. And man is it good. I already used it in the Turkey Enchiladas I am posting soon (get ready. These are epic enchiladas.) and then I froze the rest to use whenever I need it. I froze mine in ziplocks, but if you have enough ice cube trays, you can freeze individual tablespoons and then throw them in a bag. That would have been awesome but I am way too lazy. You should seriously try this, it's easy and you probably already have the ingredients on hand from cooking your turkey. Happy Thanksgiving everyone!
Turkey Stock from the Bones

Source: The Food Charlatan
1 turkey carcass, picked over
turkey neck, if you have it
leftover turkey drippings
1 onion, quartered
2 cloves garlic, mashed and roughly chopped
1 stalk of celery, including leaves and cut into 3 or 4 pieces
large bunch parsley
half a bunch roughly torn sage leaves
several rosemary sprigs
several thyme sprigs
3 bay leaves
5 peppercorns
Place carcass, skin and giblets (if you kept them) in a large stockpot with other ingredients. Cover with water. Bring to a boil over high heat. Turn burner down to just below medium. Skim any foam or scum that may settle at the top. Simmer for four to five hours. If the bones start to stick out of the water, add just enough boiling water to cover them up.
Pour the stock through a strainer into a large bowl (or two), catching any bones or vegetables. Allow stock to cool before moving to an airtight container and placing in the fridge or freezer. Use as a base for soups or anything that calls for chicken broth. Stock can be stored in the fridge for 2 or 3 days or in the freezer for a few months.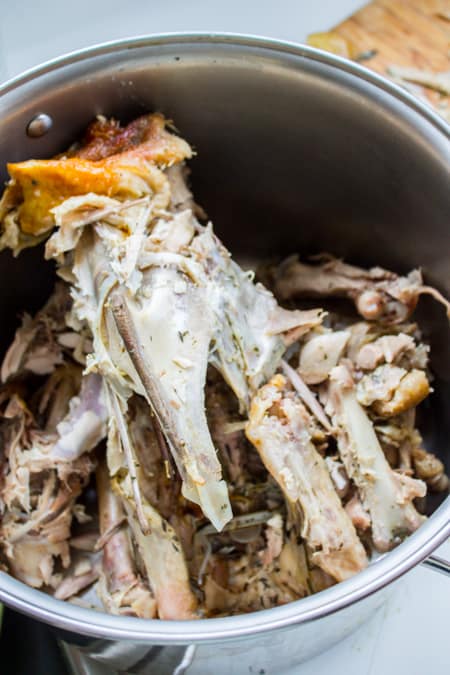 Depending on the size of your pot, you may need to break down the carcass to make it fit.
We are a participant in the Amazon Services LLC Associates Program, an affiliate advertising program designed to provide a means for us to earn fees by linking to Amazon.com and affiliated sites.