Not your mama's Green Bean Casserole recipe! Let's kick that can of soup out to the curb because the homemade version is LEGIT you guys. Big, bright green beans in a creamy mushroom sauce, topped with crispy fried onions. Thanksgiving doesn't get any better than this!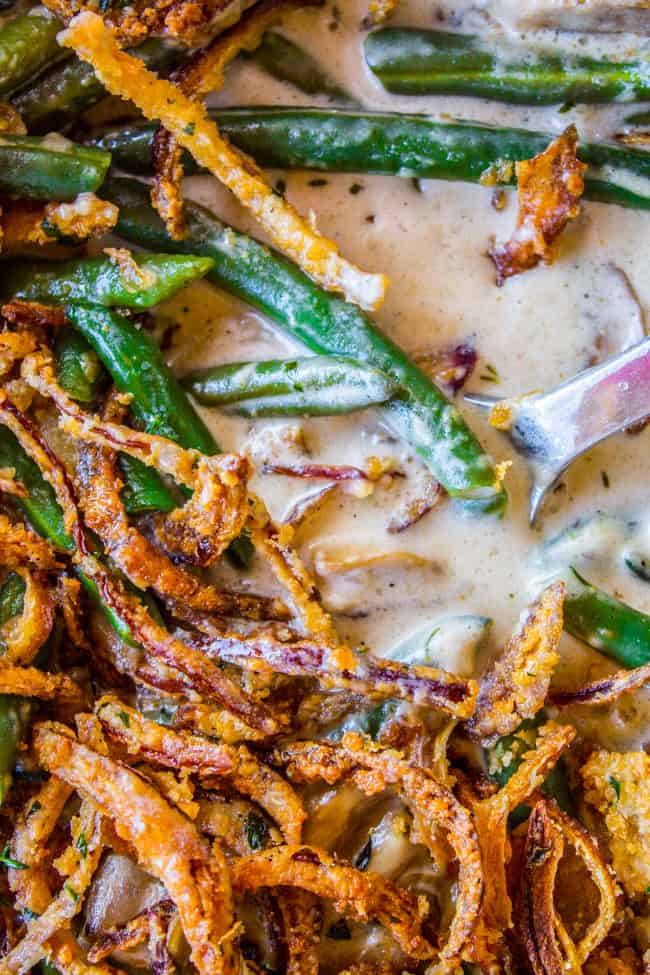 My sister-in-law just sent out a text to our family. "I'm making a list of Christmas movies. What are your favorites!?" And then my brother-in-law immediately answered, "I'm so glad you asked. I made a list while bored at church yesterday." I thought he was joking at first, because seriously?? But nope, 2 seconds later, the full list was copy and pasted through, with Home Alone at the top (OF COURSE.)
I don't know what your family has massive texting conversations about, but this is how we do. Christmas movies forever!!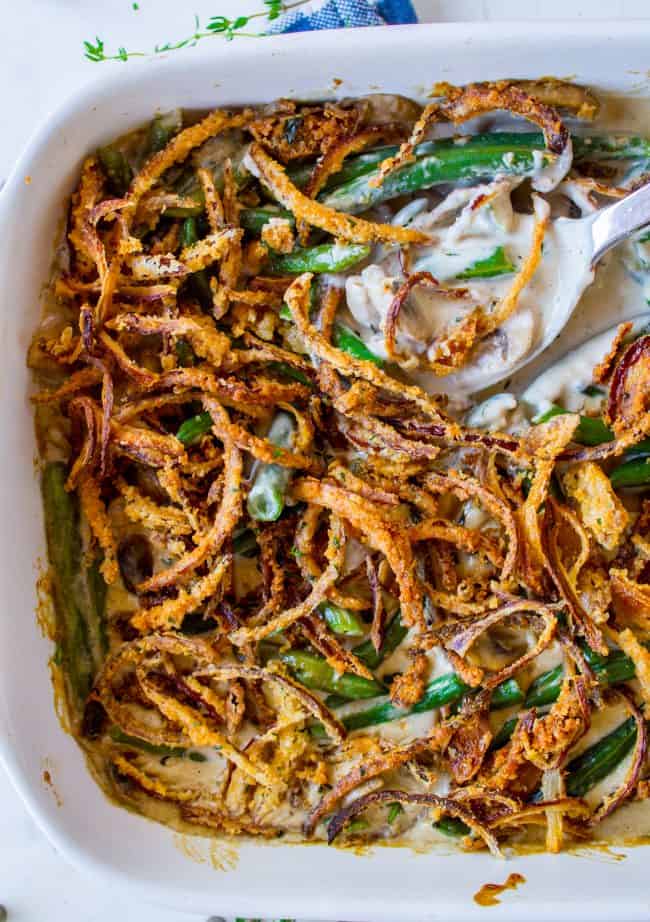 The other day Eric read me a Tweet that the official Netflix account sent out last year: "To the 53 people who have watched A Christmas Prince every day for the past 18 days: Who hurt you?"
Guys, I might have been one of them.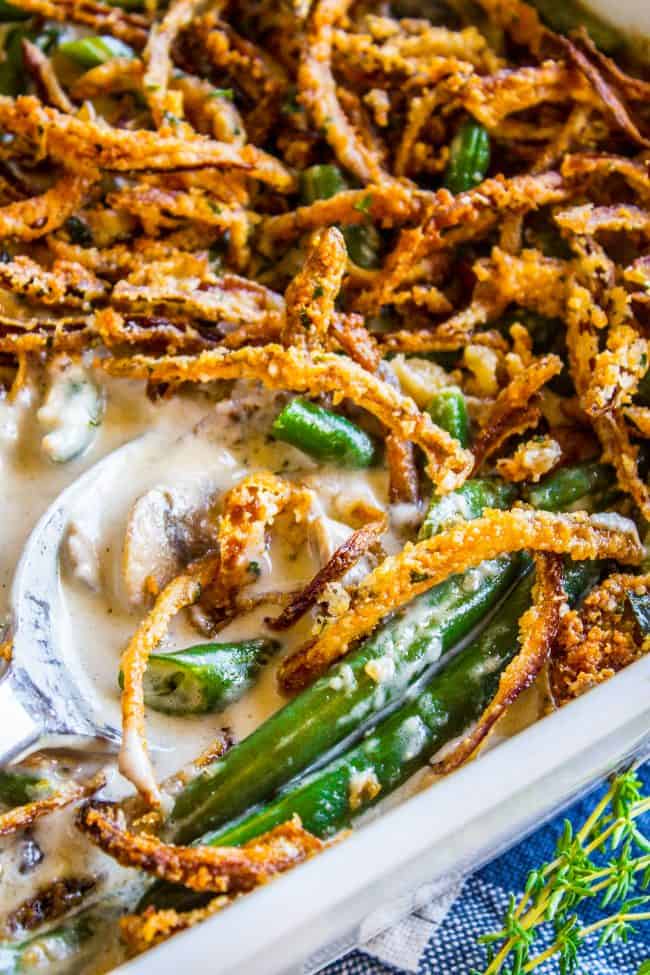 Okay not really I'm kidding, but I AM a total sucker for a feel good Christmas movie. Even the Hallmark ones. They are so charmingly unbelievable. What are your favorites? My top 3 are Home Alone (I mean, that's a given), It's a Wonderful Life, and White Christmas. I never get tired of them. Okay actually that's not true, I think I would after 18 days in a row, but let's not try that.
Are you getting into the holiday spirit yet? I'm putting together my Thanksgiving menu already of course. I always make this Sage Butter Roasted Turkey, my Aunt Shirley's Creamy Mashed Potatoes, and Make Ahead Turkey Gravy for Thanksgiving. This year I will be adding in this Cornbread Stuffing with Bacon and Sage, and this Homemade Green Bean Casserole recipe!
How to make Green Bean Casserole Recipe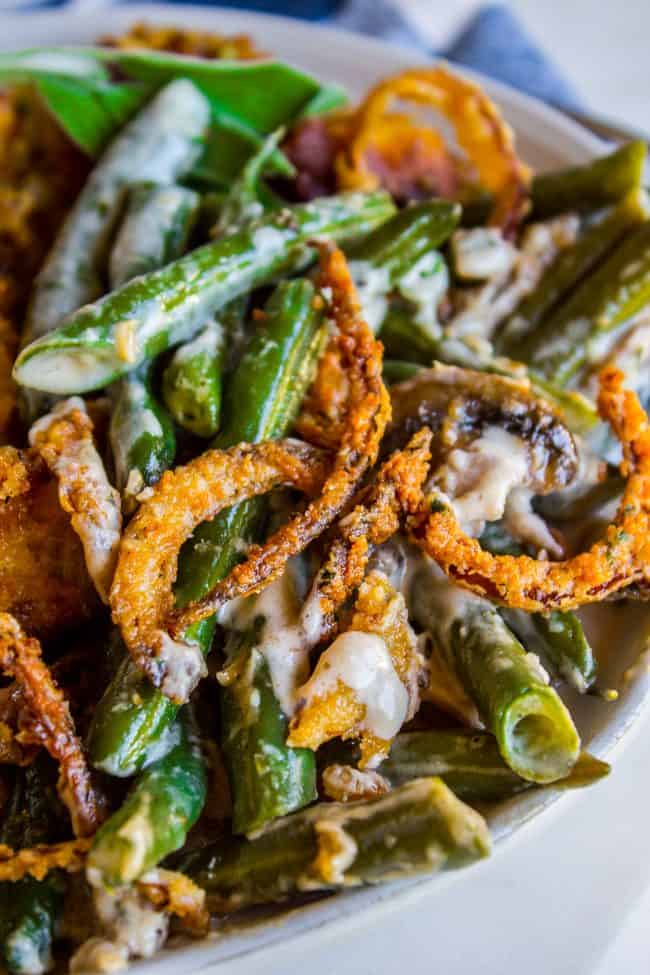 Did you grow up eating green bean casserole at every holiday meal? It was never a thing in my family. We always had at least 14 pounds of food per person (half of that was mashed potatoes) and typically there was nary a vegetable in sight. We're not exactly a salad kind of family, and who's got time for green beans when there is turkey and stuffing to be had?
Actually, I misspoke. We are definitely a salad family. Seafoam salad, to be exact. Since it has "salad" in the title, I think my mom thought she could get away with claiming the classic creamy jello as the nutritious part of the meal. (Seriously though, if you've never made Seafoam Salad, you are missing out. It's the perfect Thanksgiving dinner compliment.!)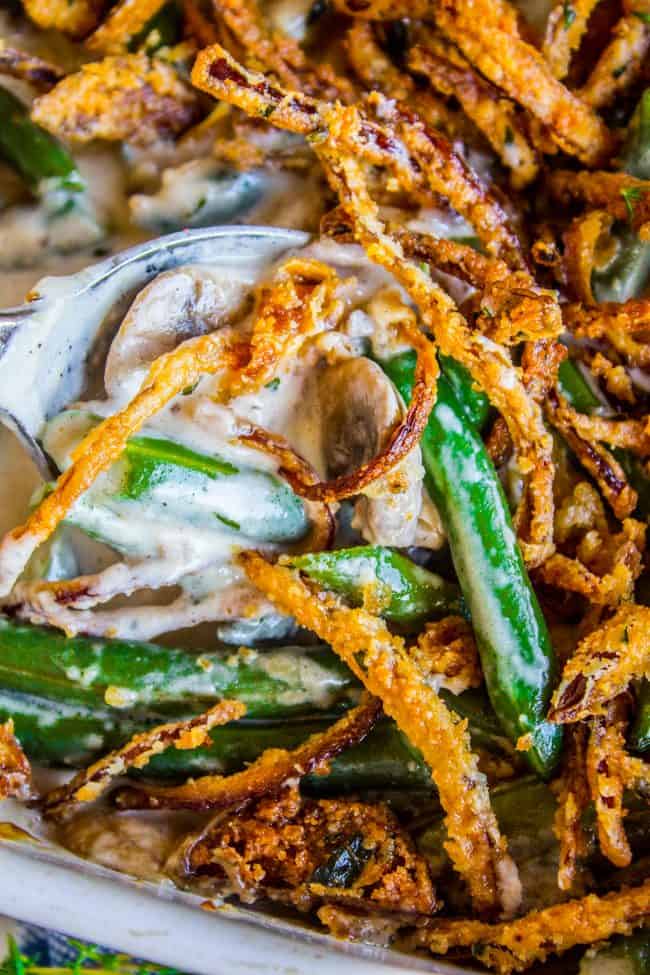 Even though we never served it, of course I've tried green bean casserole, in all its gluttonously gloppy glory. You see it at potlucks occasionally, right? I've always found it to be rather pitiful. Soggy canned green beans in a can of cream of mushroom soup. There's just no getting away from that distinctly canned flavor, in my opinion.
But I always thought the idea had potential. Fresh green beans are one of God's greatest gifts to produce, and serving them in a creamy white sauce sounds pretty amazing to me. Plus real fried onions on top?? Yes please.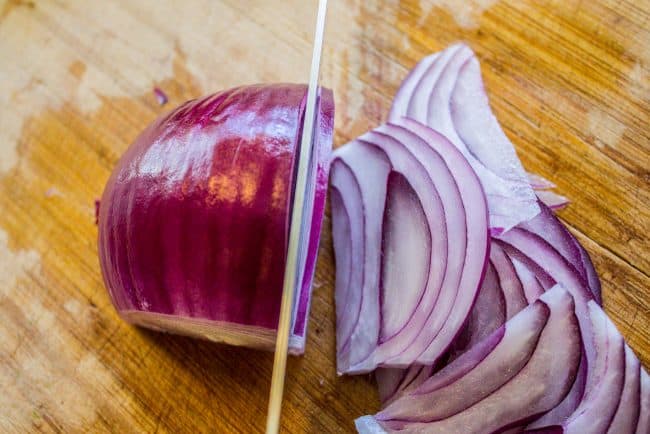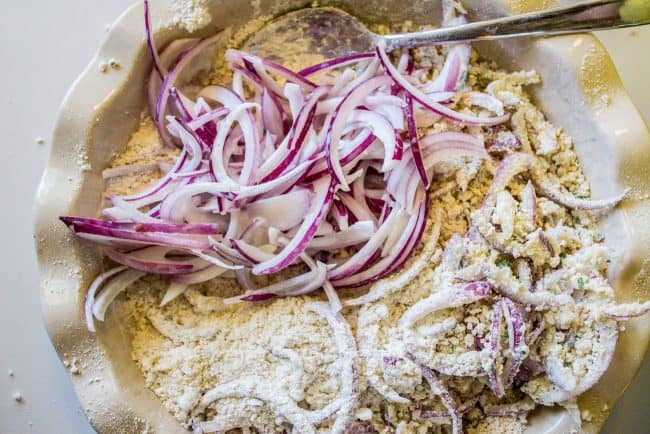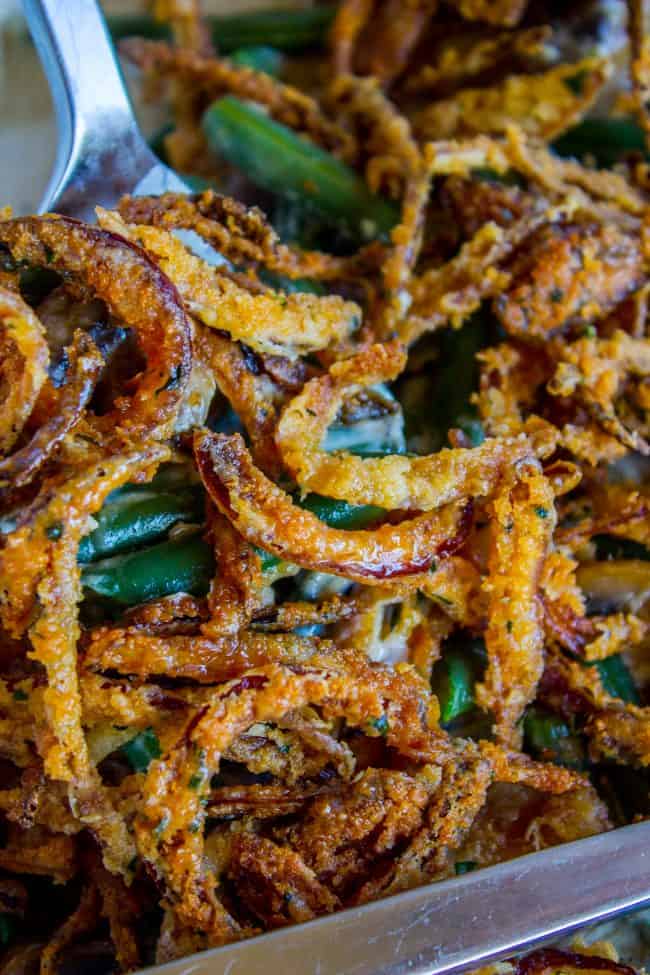 And as usual, just like the book is always better than the movie, the from-scratch version is better than the canned version. I'm in LOVE. I already knew that I loved homemade crispy fried onions (have you ever made them?), and now that I've tried them on top of a casserole I'm obsessed.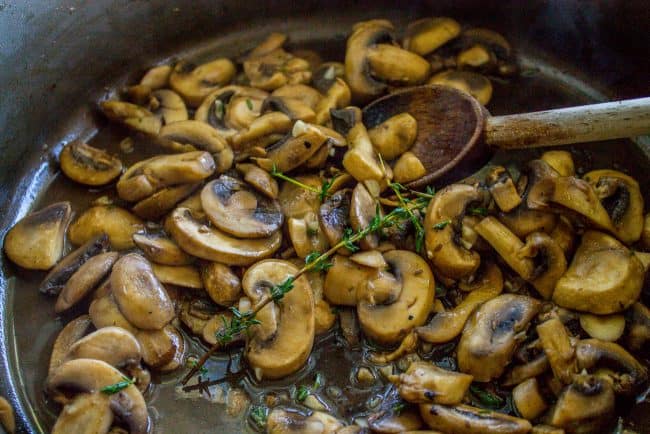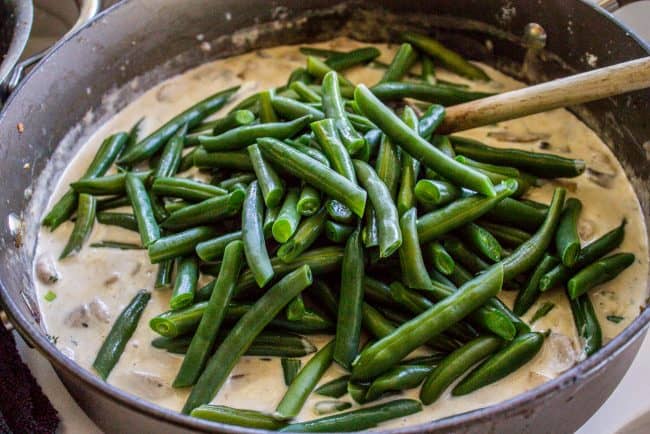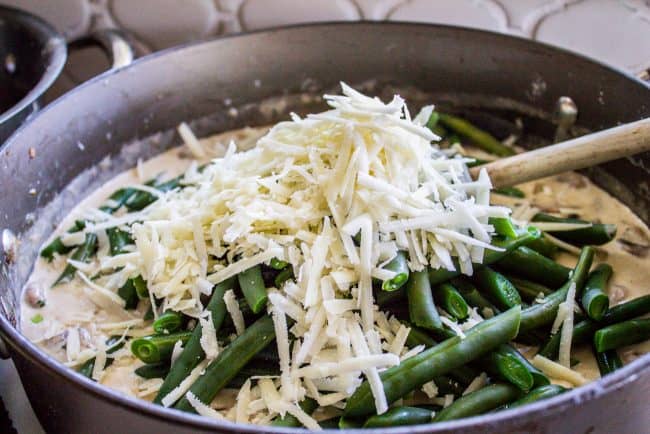 Oh, did I mention the Parmesan cheese? I'm pretty sure there is no cheese called for in the original Green Bean Casserole recipe, but I feel like adding cheese is never a bad idea, right? Especially when that cheese is freshly shredded Parmesan.
You can prep this casserole up to 4 hours ahead of time (until it looks like the above photo), and do the final bake right before serving. One more thing you can get done ahead of time so that you are not running around like a crazy person in those last 20 minutes before everyone sits down!
Facebook | Pinterest | Instagram
One year ago: Oven Roasted Cranberry-Dijon Ham
Four years ago: Bacon Ricotta Crostini << a favorite appetizer of mine
Seven years ago: Fire Roasted Tomato Soup

Homemade Green Bean Casserole Recipe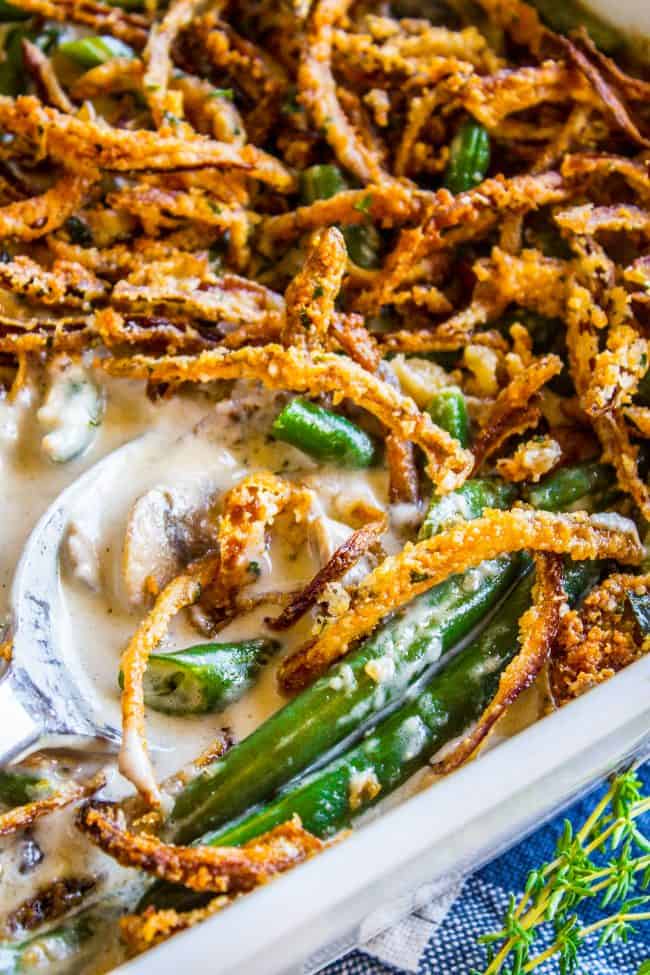 Not your mama's Green Bean Casserole recipe! Let's kick that can of soup out to the curb because the homemade version is LEGIT you guys. Big, bright green beans in a creamy mushroom sauce, topped with crispy fried onions. Thanksgiving doesn't get any better than this!
Ingredients
For the crispy onions
2

inches

oil

,

for frying

1

large

red onion

,

thinly sliced

1 & 1/2

cups

buttermilk

1 & 1/2

cups

flour

1 & 1/2

cups

Panko bread crumbs

1 & 1/2

teaspoons

kosher salt

pinch

cayenne pepper

3

tablespoons

chopped parsley

,

optional
For the green beans
large pot of water

1

tablespoon

kosher salt,

for water

2

pounds

green beans

,

trimmed and halved
For the white sauce
3

tablespoons

butter

1

pound

white button mushrooms

,

sliced or quartered

1/2

teaspoon

kosher salt

3

cloves

garlic

,

smashed and minced

2

teaspoons

fresh thyme

2 & 1/2

tablespoons

flour

pinch

cayenne pepper

1 & 1/2

cups

chicken broth

1 & 1/2

cups

half-and-half

3/4

cup

Parmesan cheese

,

shredded
Instructions
Add 2 inches of oil to a wide, high-sided skillet or a large pot. Turn the burner to medium heat.

Thinly slice an onion lengthwise. (That means your knife should be lined up with the root and the tip.)

Separate the onion slices and place in a medium bowl. Cover with 1 and 1/2 cups buttermilk and stir to coat. Let the onions sit in the buttermilk for about 15 minutes, or up to an hour. (your oil should only take about 15 minutes to heat, so if you plan to soak longer than that, you can turn off the heat.)

In a pie plate or shallow bowl, combine 1 and 1/2 cups flour, 1 and 1/2 cups Panko breadcrumbs, 1 and 1/2 teaspoons kosher salt, a pinch of cayenne pepper, and 3 tablespoons chopped parsley.

When the oil is hot (it should be about 360 degrees) and the onions have soaked, drain the onions. Working in batches, dredge the onions in the flour mixture until well coated, then transfer to the hot oil. Fry for about 2-3 minutes, until lightly browned. They will continue to darken when you remove them, so be careful.

Transfer fried onions to a paper towel lined plate. Continue until all the onions are fried.

Meanwhile, bring a large pot of water to a boil over high heat. Add about a tablespoon of salt. It should taste like the ocean.

When the water is at a rolling boil, add all the green beans at once and cover with a lid right away. Set a timer for 6 minutes. Check the green beans with a fork and make sure they are crisp-tender, adding 1 minute if necessary. Don't let them get mushy!

Once the green beans are done, drain immediately and rinse with cold water to stop the cooking process. At this point, if you are making this ahead, you can wrap the beans in paper towels and refrigerate for up to 2 days.

If you are making the casserole right away, blot the beans with paper towels to dry them a bit.

Preheat your oven to 375 degrees F.

Meanwhile, melt butter in a large skillet over medium-high heat. When the butter is hot, add the mushrooms and sprinkle with 1/2 teaspoon salt. Saute for about 7-8 minutes, until they are lightly browned and tender.

Add garlic and thyme, and sauté for 1 more minute until fragrant.

Add 2 and 1/2 tablespoons flour and a pinch of cayenne pepper, and stir to coat for about 1 minute.

Whisk in the half-and-half and chicken broth. Bring to a boil over high heat, then lower to a simmer. Whisk occasionally, making sure there are no lumps. After 5-7 minutes, the mixture should be slightly thickened and coat the back of a spoon.

Remove from heat and stir in 3/4 cup parmesan cheese and the green beans.

Transfer the mixture to a 9x13 inch pan (or any shallow 3 quart pan). At this point, you can cover the dish and refrigerate for up to 4 hours. (Leave the onions on the counter)

Bake the casserole for 15 minutes at 375, until bubbling. (If you made this ahead and refrigerated, it might take a few minutes longer)

Sprinkle the fried onions evenly on top of the casserole. Return to the oven and bake for another 5-10 minutes, until warmed through.
Notes
I adapted this recipe from one I found in the November 2015 issue of Food Network.
Nutrition
Serving:
1
g
|
Calories:
227
kcal
|
Carbohydrates:
27
g
|
Protein:
9
g
|
Fat:
10
g
|
Saturated Fat:
6
g
|
Polyunsaturated Fat:
1
g
|
Monounsaturated Fat:
3
g
|
Trans Fat:
1
g
|
Cholesterol:
26
mg
|
Sodium:
1305
mg
|
Potassium:
317
mg
|
Fiber:
2
g
|
Sugar:
5
g
|
Vitamin A:
654
IU
|
Vitamin C:
11
mg
|
Calcium:
183
mg
|
Iron:
2
mg
You will love these other Thanksgiving side dish ideas!
Sauteed Carrots and Shallots with Thyme << Holiday favorite around here!
Roasted Garlic Green Beans with Fried Sourdough: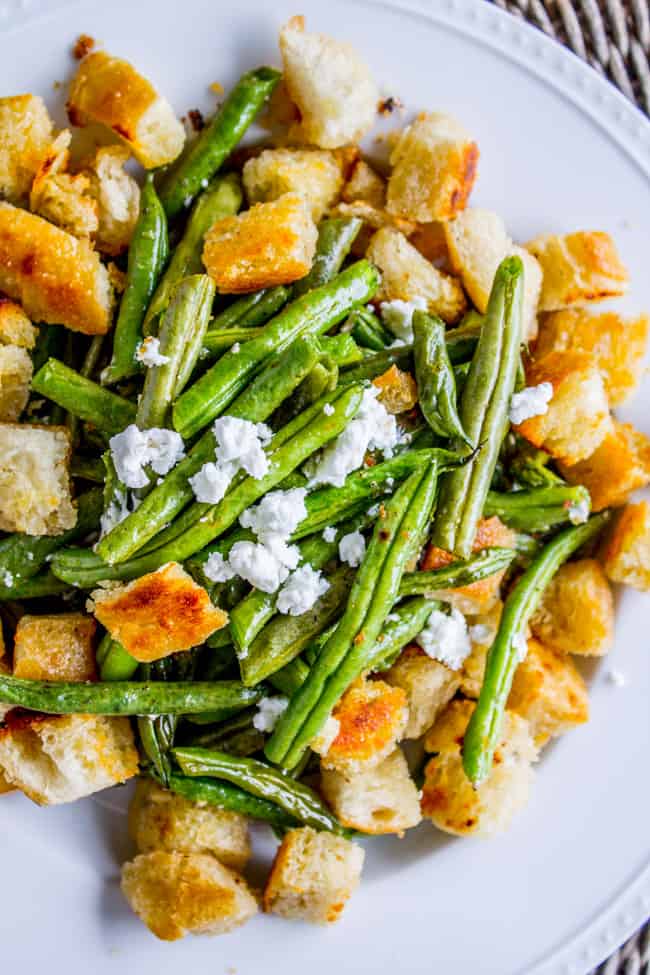 Broccoli with Feta and Fried Onions << love this one!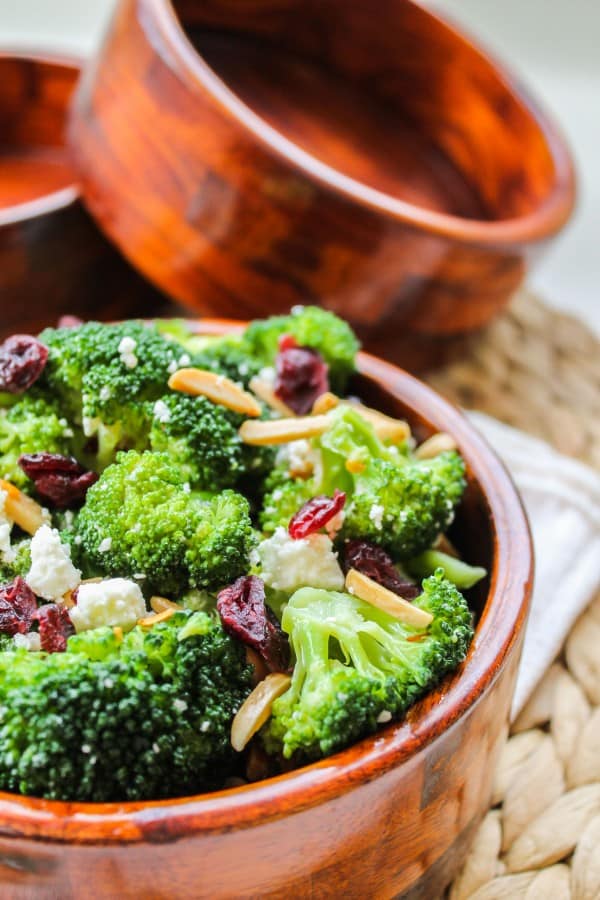 More Thanksgiving side dishes from friends you will love!
Roasted Brussels Sprouts, Cinnamon Butternut Squash, Pecans and Cranberries from Julia's Album
Roasted Mushrooms in Brown Butter from Closet Cooking
Cauliflower Bacon Gratin from Reluctant Entertainer