Corned Beef and Cabbage with Horseradish Sauce
Isn't St. Patrick's Day the best? When you were a kid, didn't you just love the shamrocks and rainbows everywhere, the pinching galore, and the green milk in the morning?
Okay so maybe my mom was the only one who claimed on the morning of every St. Patrick's Day that leprechauns had come in the night and magicked our milk an intense shade of green. Let me tell you, it is quite a shock early in the morning to pour greenness all over your Honey Bunches of Oats instead of whiteness. (We always used cardboard cartons of milk, not see-through jugs, so it really was surprising enough to accidentally knock your entire bowl of now-green cereal off the table.)
My mom was very into eating St. Patrick's Day food on the holiday. Don't be deceived by the large pictures of Corned Beef on this post. That is not St. Patrick's Day food, according to my mom. Instead she would serve broccoli, green mashed potatoes, and even green beef gravy. Beef gravy of course starts out brown, so adding copious amounts of green dye to it merely achieves a color that should not be discussed in pleasant company.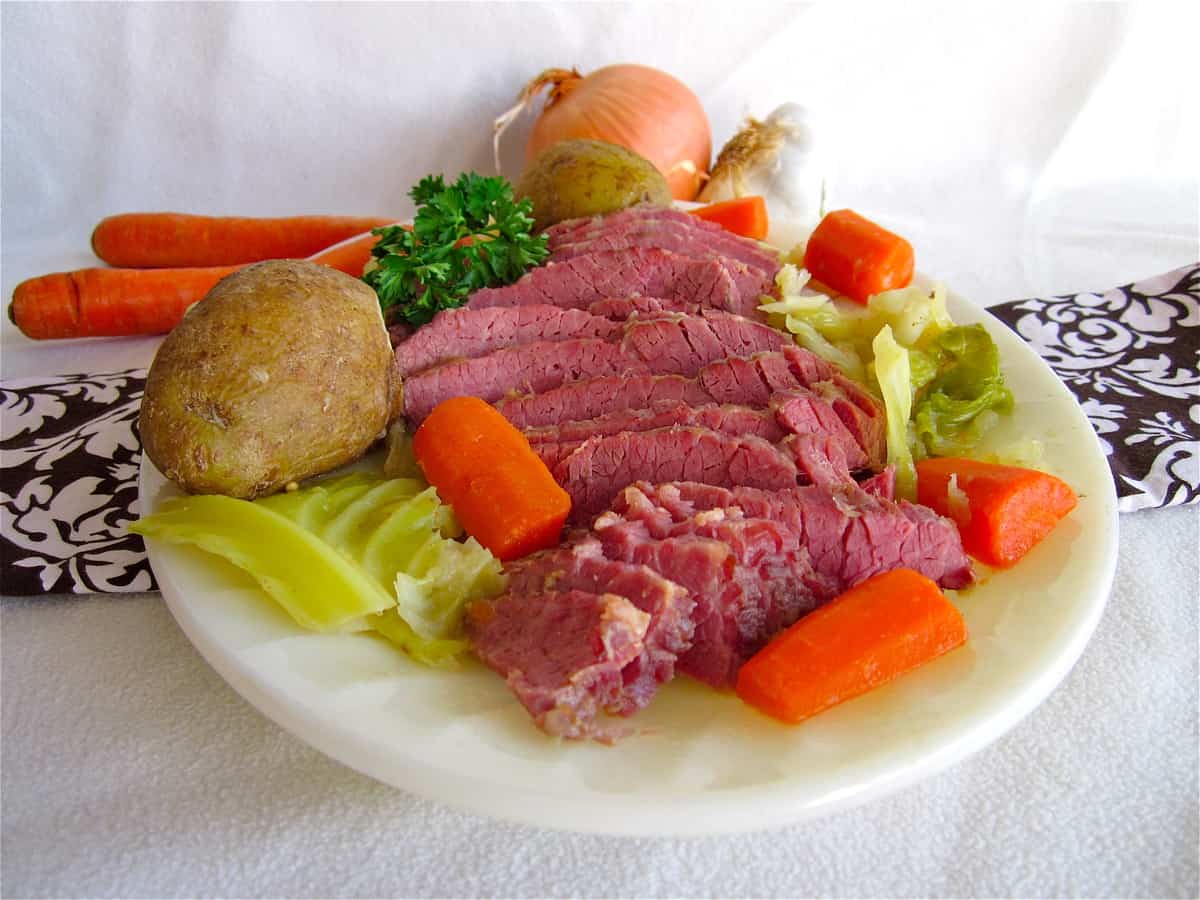 The best St. Patrick's Day meal ever though was the year she managed to dye even the pork chops green. No I am not kidding. My mom makes these awesome pork chops that are a family classic; we have been using the recipe for years. You cook the chops in a special sauce on the stove. The main ingredient of this sauce is ketchup. Do you remember a few years ago when they started marketing green ketchup? Yes, she did.
So if you thought it was impossible to dye meat green, think again. It still tasted fabulous, of course; I just had to close my eyes for every bite. I think that was the year I stopped believing that leprechauns were causing the mischief. Only my mom would be crazy enough for such antics.
I decided to go with a more traditional recipe this year rather than trying to scare the pants off my dinner guests. Eric's family always had corned beef and cabbage on St. Patrick's Day, so I thought I would give it a go. This is some serious comfort food. Make sure you buy a decent cut of meat. And the horseradish sauce totally perfects the meal, so don't skip it!
Corned Beef and Cabbage
Source: Allrecipes.com
3 pounds corned beef brisket with spice packet
water to cover the meat
beef bullion* (between 6-9 teaspoons, depending on how much water it takes to cover the meat)
12 whole peppercorns
10 small red potatoes (I used regular ol' russet. Just make sure if they are large you half them.)
5 carrots, peeled and cut into 3-inch pieces
1 large onion, cut into wedges
3 cloves garlic, minced
1 large head cabbage, cut into small wedges
Place corned beef in large pot or Dutch oven and cover with water. Add the spice packet that came with the corned beef. Cover pot and bring to a boil, then reduce to a simmer. Simmer approximately 50 minutes per pound, or until tender.
About 35 minutes before your meat is done, add whole potatoes, carrots, onion, and garlic, and cook until the vegetables are almost tender. Add cabbage and cook for 10 more minutes. Remove meat and let rest 15 minutes.
Place vegetables in a bowl and cover. Add as much broth (cooking liquid reserved in the Dutch oven or large pot) as you want. Slice meat across the grain. Serve with horseradish sauce: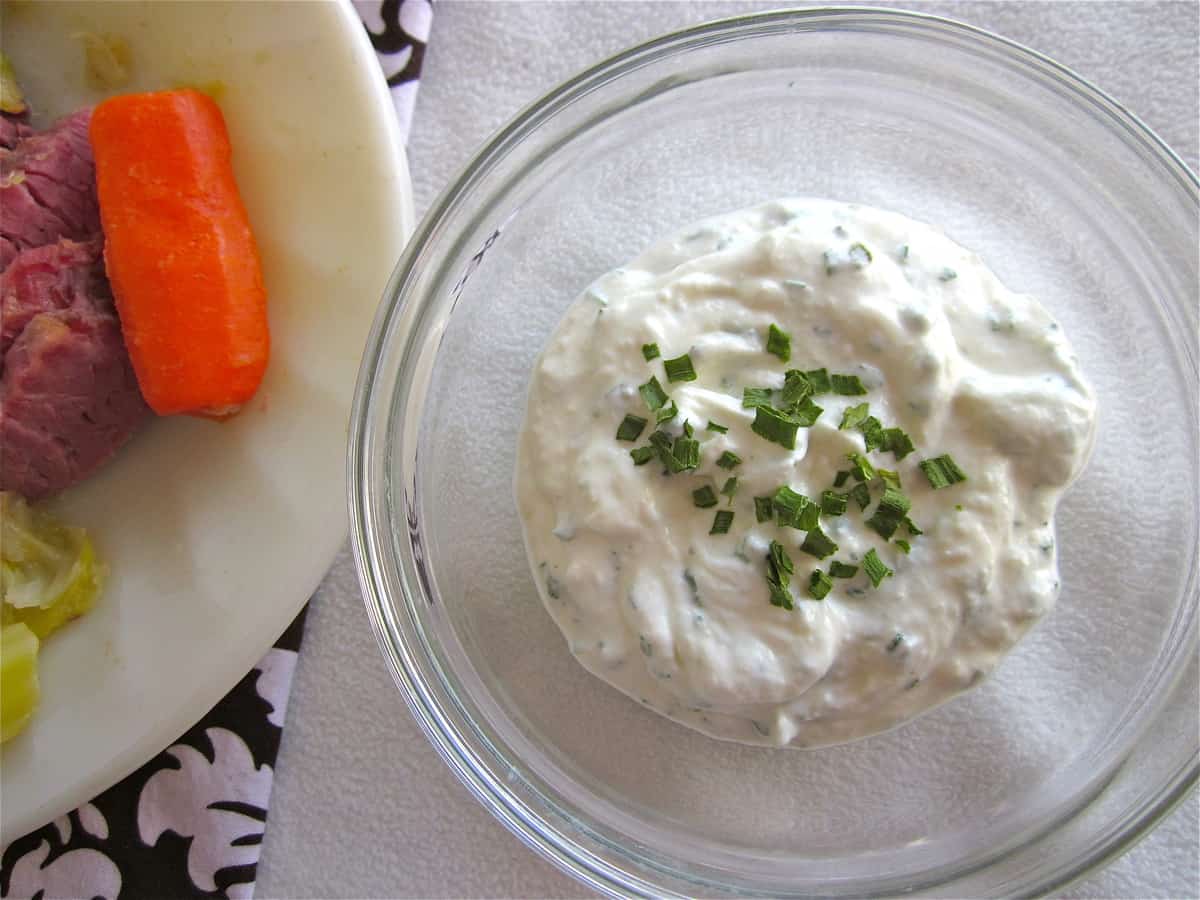 Horseradish Sauce
1/4 cup + 2 tablespoons sour cream
1/8 cup white prepared horseradish (or to taste)
1 1/2 teaspoons lemon juice
1 1/2 teaspoons dried chives
Combine all ingredients and serve with the corned beef.
*You could use beef broth to cover the meat if you want, instead of water and bullion.
We are a participant in the Amazon Services LLC Associates Program, an affiliate advertising program designed to provide a means for us to earn fees by linking to Amazon.com and affiliated sites.