Irish Soda Bread
Charlotte has developed a habit lately of pinching my back-fat while indignantly squealing in disbelief. It's like she's trying to send me a message. Mom! Check out your squishy back-fat! This is incredibly disgusting! You really should try dieting.
It reminds me of when I was at a Chinese restaurant one time with my friend Sarah. She opened her fortune cookie and read the message. It was something like this: You have many talents and gifts that will allow you to achieve your goals. Dream big. Then I opened mine: Improve your exercise regime.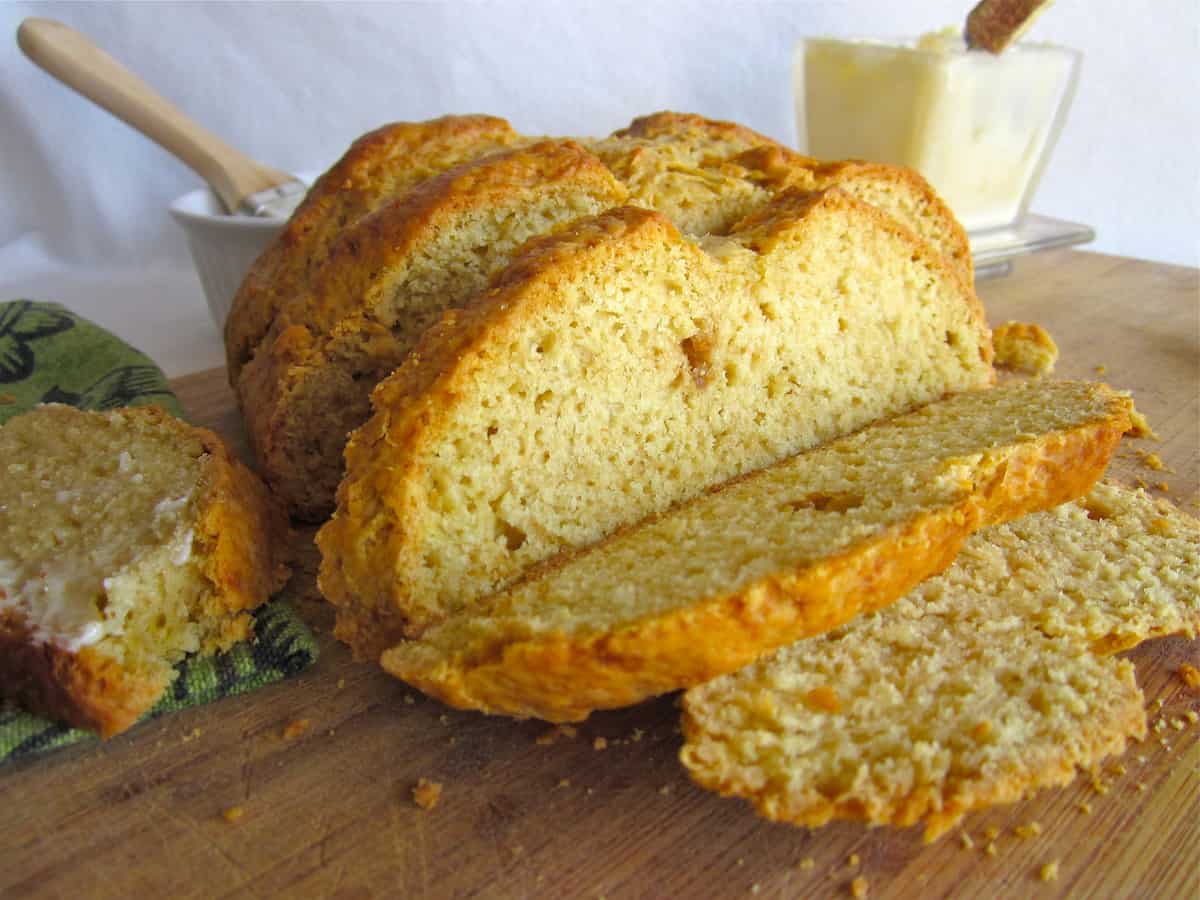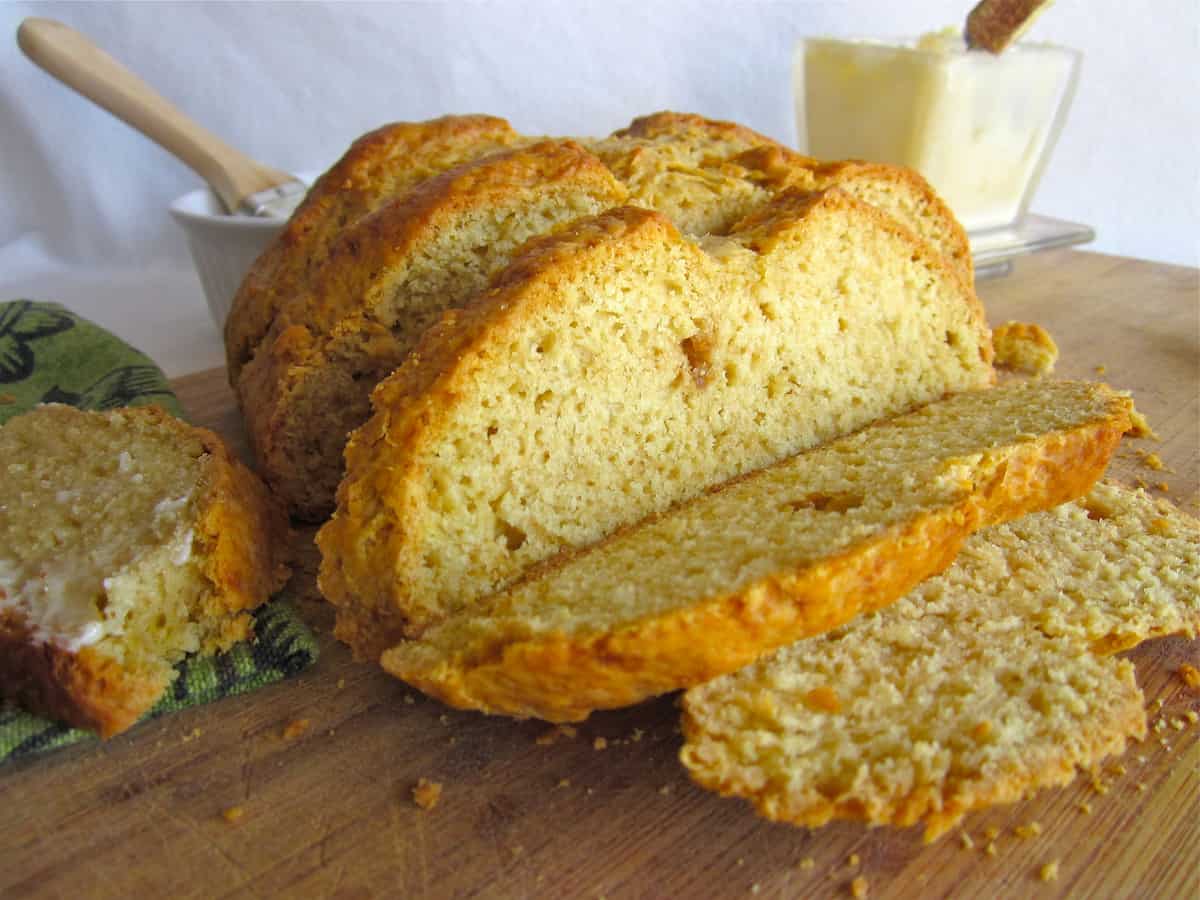 This bread rocks. I had never even heard of Irish Soda Bread until a few weeks ago when I tried a sample at a local bakery. I probably "sampled" about half of their loaf; I'm sure I was that customer, you know, the one that all the employees are glaring at from underneath their visors and hair nets. I tried to find a knock-off recipe but Kneaders is not a huge chain, so the internet wasn't helping. But I think this recipe is pretty close. And bonus points: it is super quick and easy.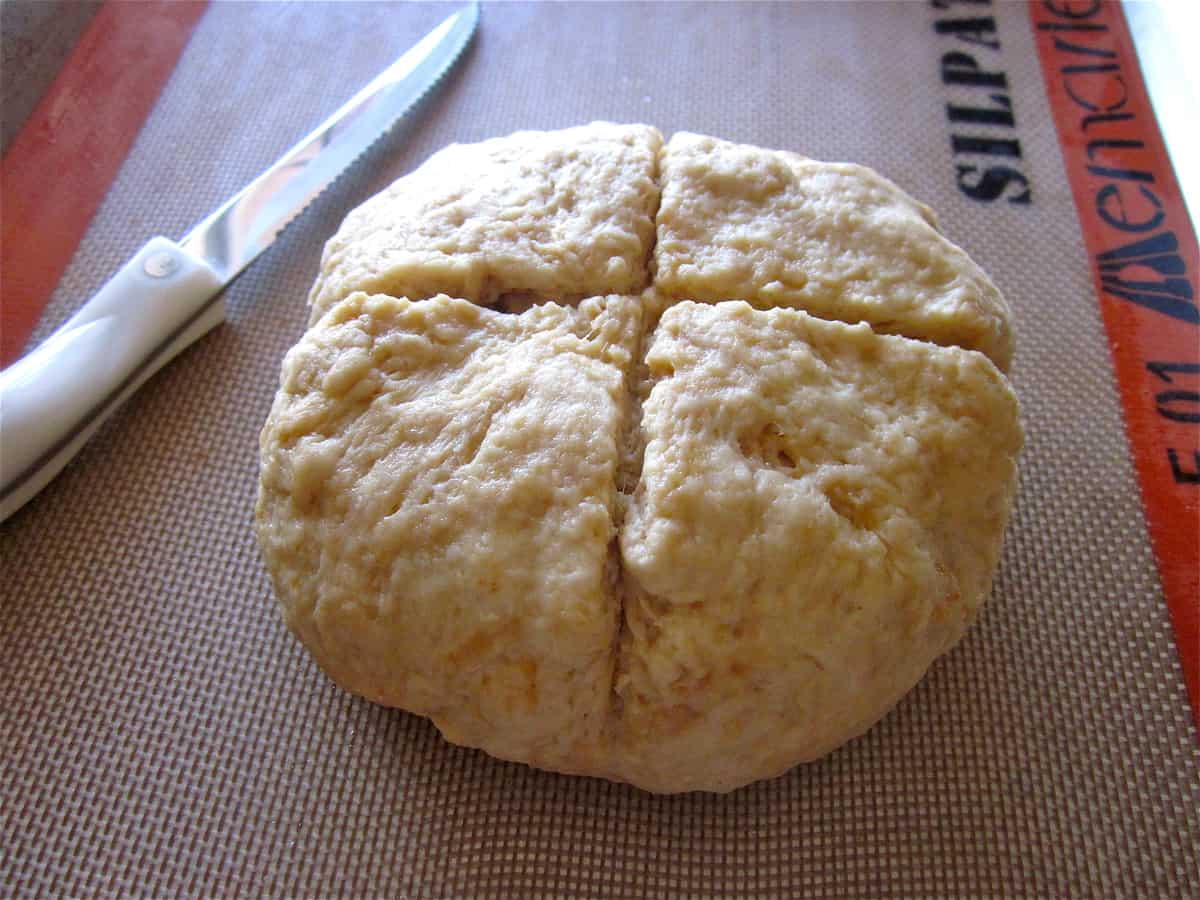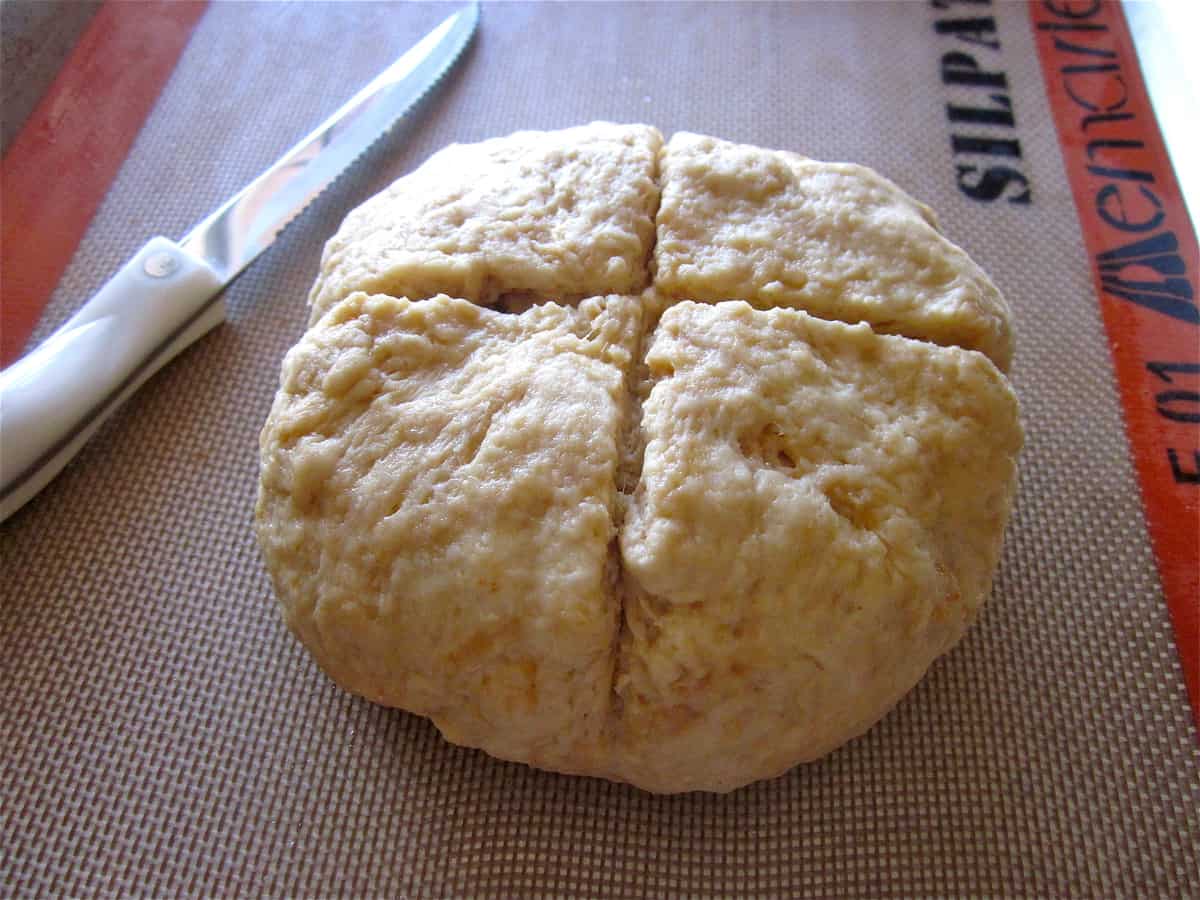 It is delicious all by itself. Or you can upgrade by spreading on some butter. Or you can try my super deluxe version: butter and then sprinkle brown sugar on top. Aw yeah.
Facebook | Pinterest | Instagram
Irish Soda Bread
Ingredients
4

cups

flour

,

spooned and leveled

1/2

cup

granulated sugar

1 & 1/2

teaspoons

baking soda

1 & 1/2

teaspoons

kosher salt

1/4

cup

cold butter

,

half stick

1 & 1/2

cups

buttermilk

1

large

egg + 1 egg yolk

1

cup

zante currants

,

or raisins, or real currants (optional)
Instructions
Preheat the oven to 375 degrees F.

In a large bowl, whisk together 4 cups flour, 1/2 cup sugar, 1 and 1/2 teaspoons baking soda, and 1 and 1/2 teaspoons kosher salt.

Use a pastry cutter to blend in 1/4 cup cold butter until you have pea-sized pieces of butter throughout.

In a glass measuring cup, add 1 and 1/2 cups buttermilk. Add in 1 egg and 1 egg yolk. Whisk together.

Add the buttermilk mixture to the flour and combine with a rubber spatula.

Turn the mixture onto a floured surface and knead just once or twice to bring it together. Shape into a 6 or 7 inch circle. Shaggy dough is good, don't knead too much.

Transfer the loaf to a greased baking sheet or cast iron skillet. Use a serrated knife to slice an X into the top, about half inch deep. This allows heat to penetrate to the center of the bread.

Bake at 375 for 40-50 minutes, until a thermometer reads 180 degrees F.

Brush the top with more melted butter. Let cool slightly before slicing. Top with butter and jam, or butter and brown sugar, or leave plain and eat with Corned Beef and Cabbage!
Nutrition
Calories:
209
kcal
,
Carbohydrates:
38
g
,
Protein:
5
g
,
Fat:
4
g
,
Saturated Fat:
2
g
,
Polyunsaturated Fat:
1
g
,
Monounsaturated Fat:
1
g
,
Trans Fat:
1
g
,
Cholesterol:
22
mg
,
Sodium:
377
mg
,
Potassium:
144
mg
,
Fiber:
1
g
,
Sugar:
7
g
,
Vitamin A:
143
IU
,
Vitamin C:
1
mg
,
Calcium:
36
mg
,
Iron:
2
mg
We are a participant in the Amazon Services LLC Associates Program, an affiliate advertising program designed to provide a means for us to earn fees by linking to Amazon.com and affiliated sites.