This Horseradish Sauce recipe is so easy to make and has the best flavor! Just a few simple ingredients combine to make this sauce the perfect creamy condiment for Prime Rib, any kind of Steak, Corned Beef and Cabbage, Pot Roast, French Dip Sandwiches, you name it! Done in 5 minutes. Originally published March 11, 2022.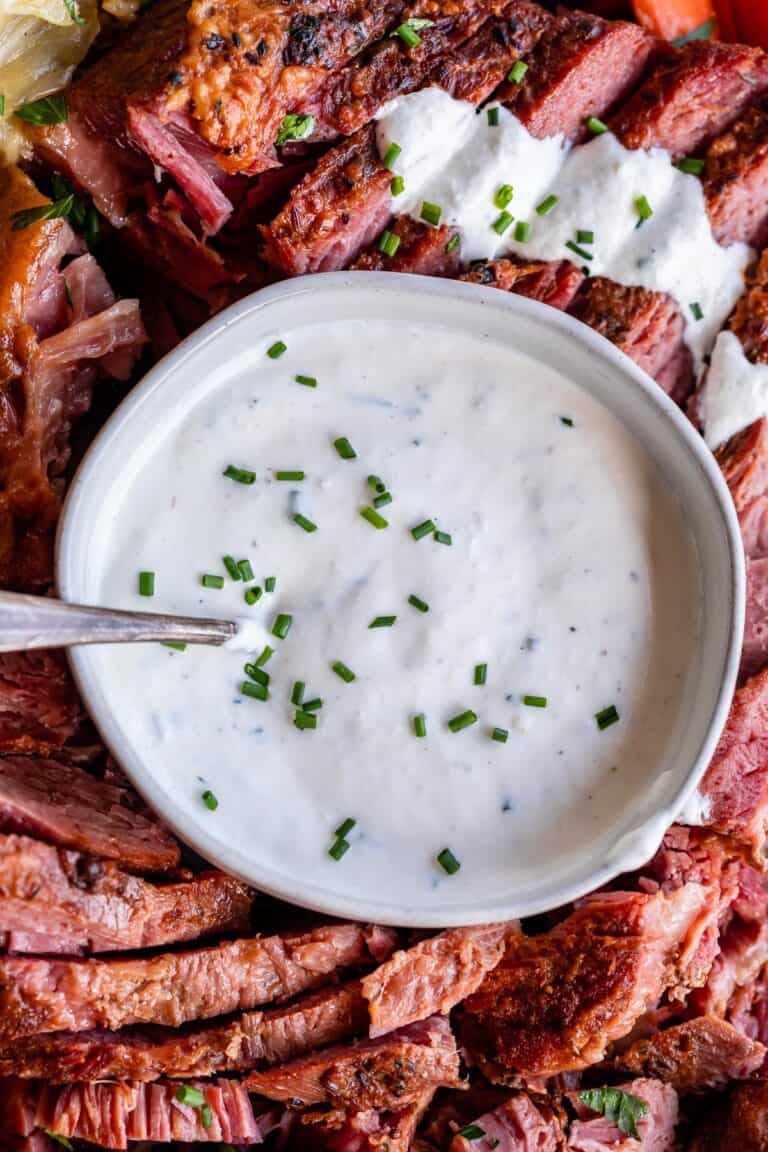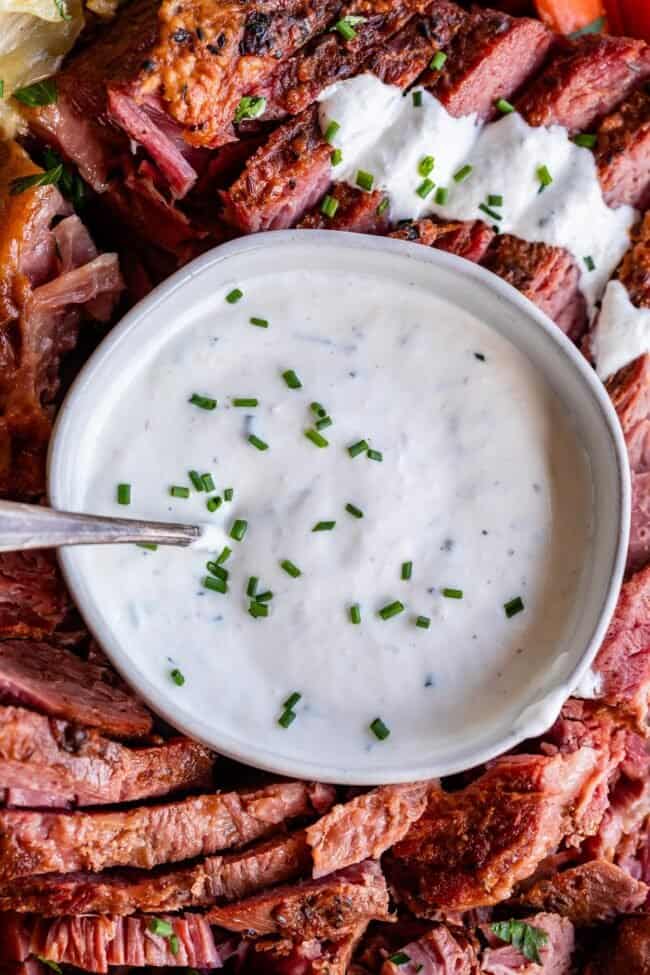 Table of Contents
I used to live in Indianapolis and worked as the secretary for a small non profit company. Every year they hosted a big old fancy pants dinner at a locally famous restaurant where they wined and dined certain Very Important People.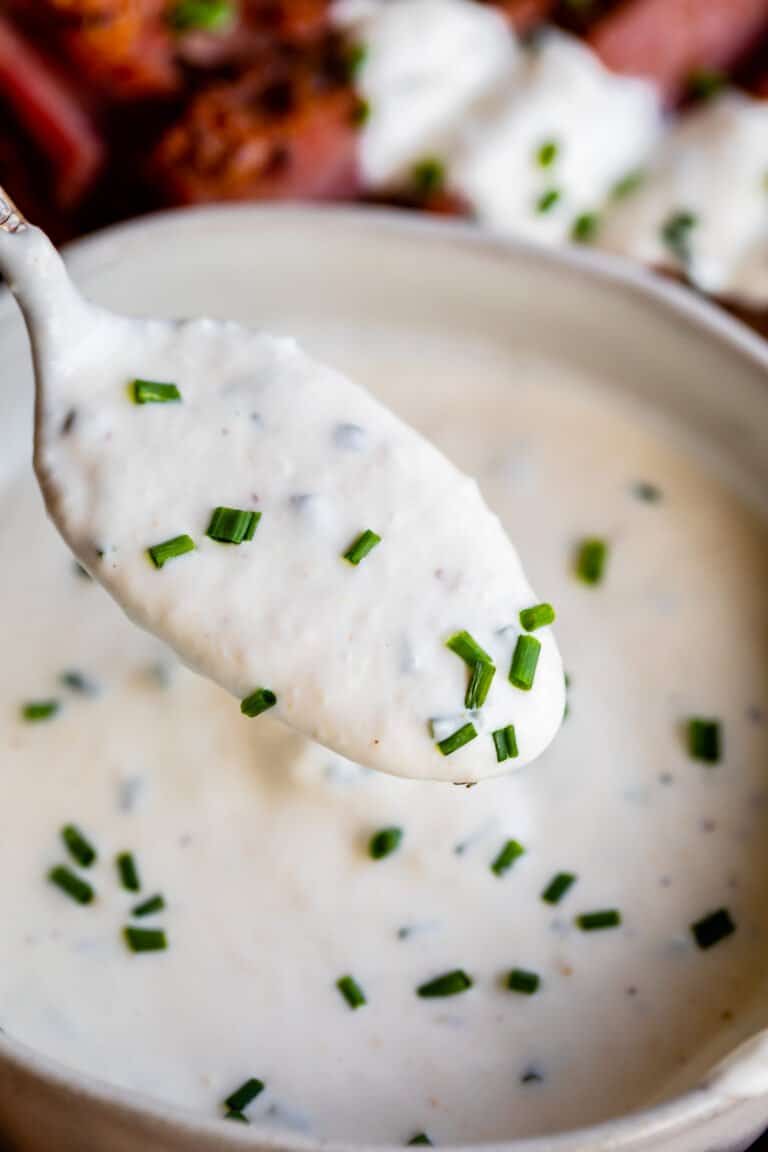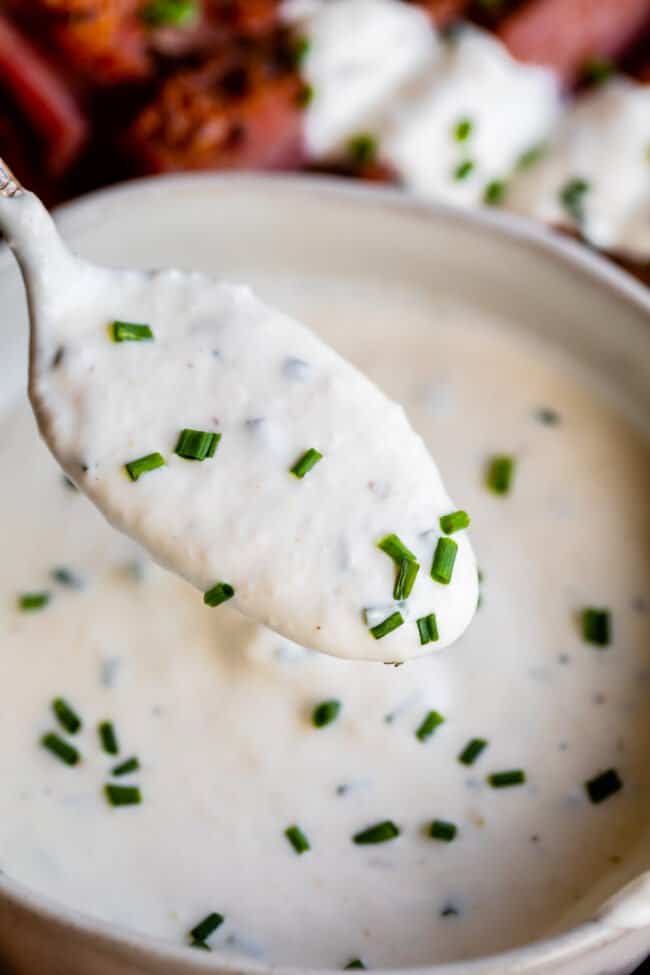 I was there as an underling on the sidelines, making sure the evening went perfectly. Imagine my dismay when the first course appetizer was served and all 30 of our Very Important Guests took their first bite… and in unison squeezed their eyes shut, pinched the bridges of their noses, and bowed their heads with looks of intense pain. Some even had tears streaming down their faces. What was going on?? Have we poisoned our guests??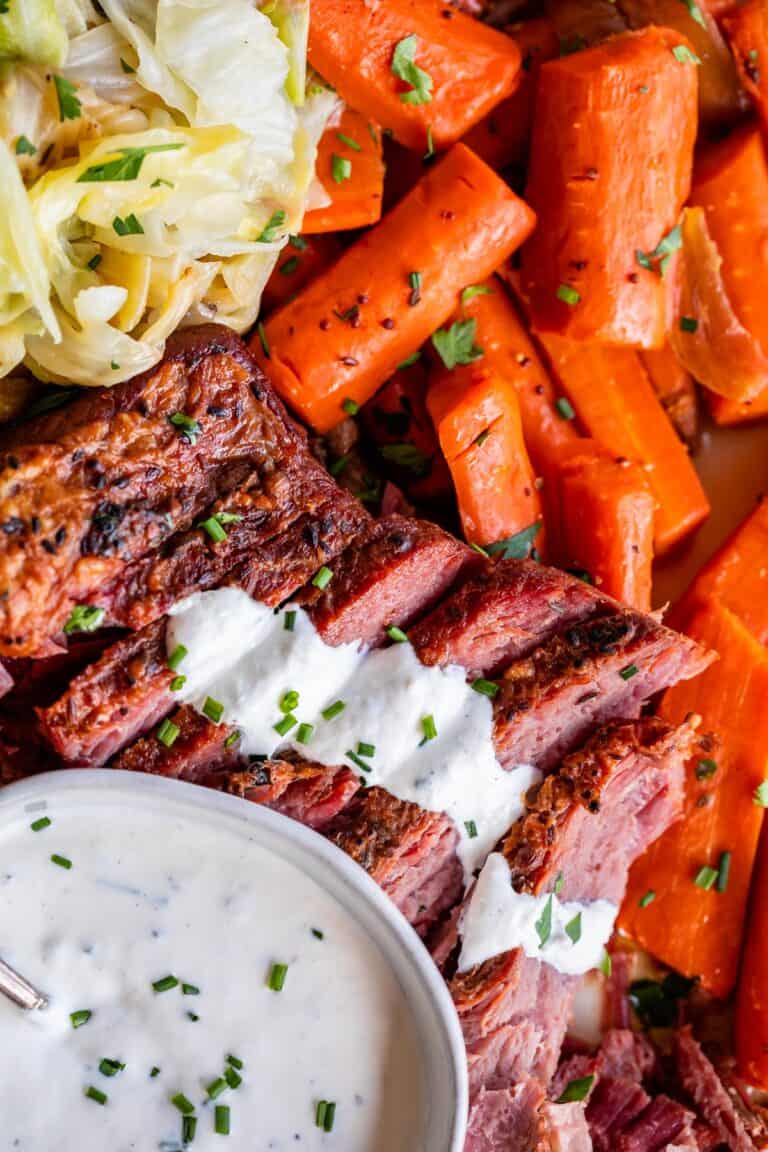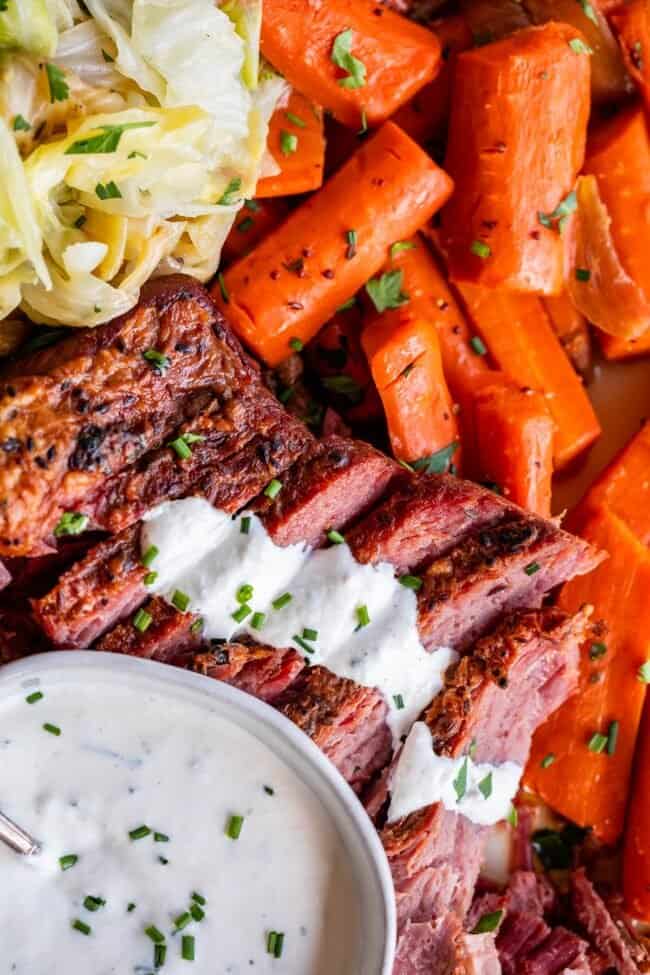 That was when someone explained to me that the restaurant was famous for the level of horseradish in their Shrimp Cocktail appetizer. Everyone had been there before and knew what to expect, but they forgot to mention this trial by fire situation to me. I was about to call 911, for real.
If you have never had Horseradish before, get ready for it! It seriously packs a punch! But it is SO delicious (especially if you don't use so much that it makes you cry). I'm in love with it!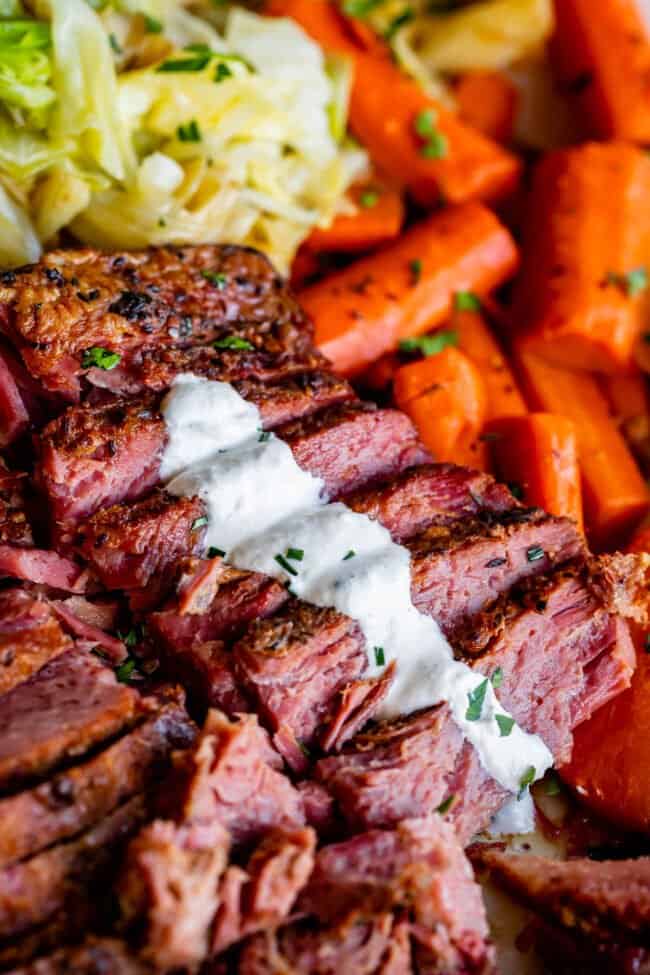 What is Horseradish Sauce?
Horseradish is a large white root, in the same family as mustard and wasabi. Prepared Horseradish is shredded horseradish root mixed with little vinegar, sold in jars at the store, usually near the mustard.
We are taking that jar of prepared horseradish, draining off some of the vinegar, and mixing it with sour cream, mayo, and lemon juice to make a fabulous sauce to serve with meat and whatever else you can think of! I've got tons of ideas below. The flavor is seriously so unique and delicious. Once you make it you will be wanting to put it on everything!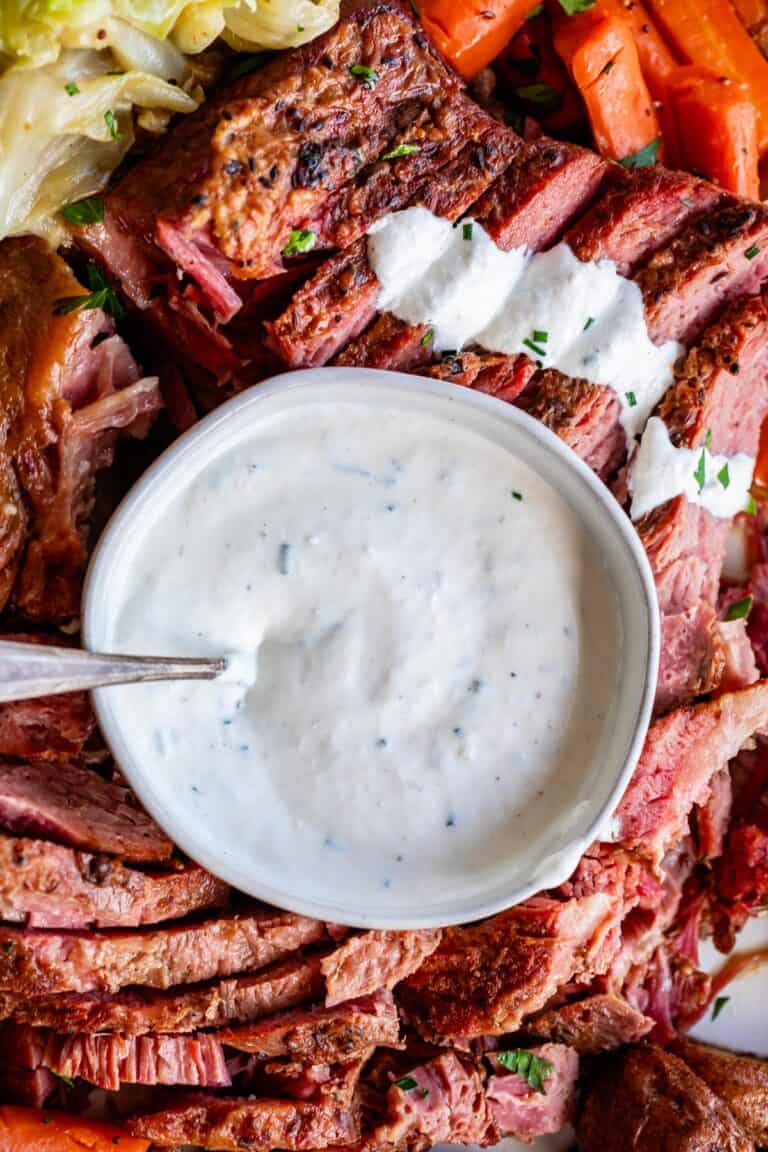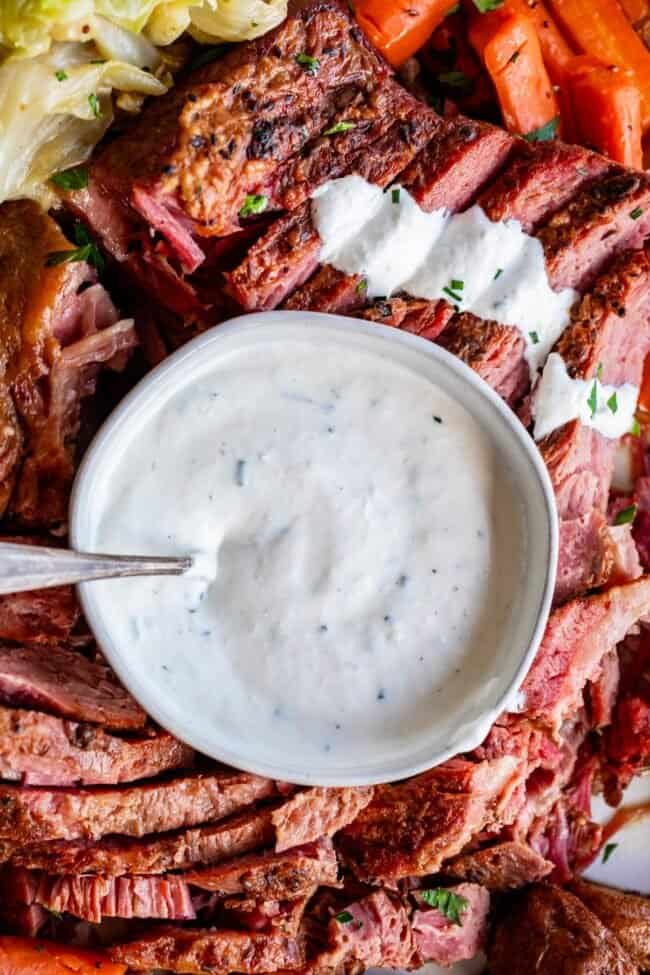 What is in Horseradish Sauce?
Here's a quick shopping list to help you gather your ingredients. See the recipe card below for the full ingredients and instructions!
Sour cream
Mayonnaise
Lemon
Prepared horseradish
Chives
How to make Horseradish Sauce
This is done in 5 minutes y'all. Here's what you need:
sour cream
mayonnaise
lemon juice
kosher salt
black pepper
prepared horseradish
chives, optional
Swirl your sour cream in a bowl, and lay out your ingredients just so. This is a really important step.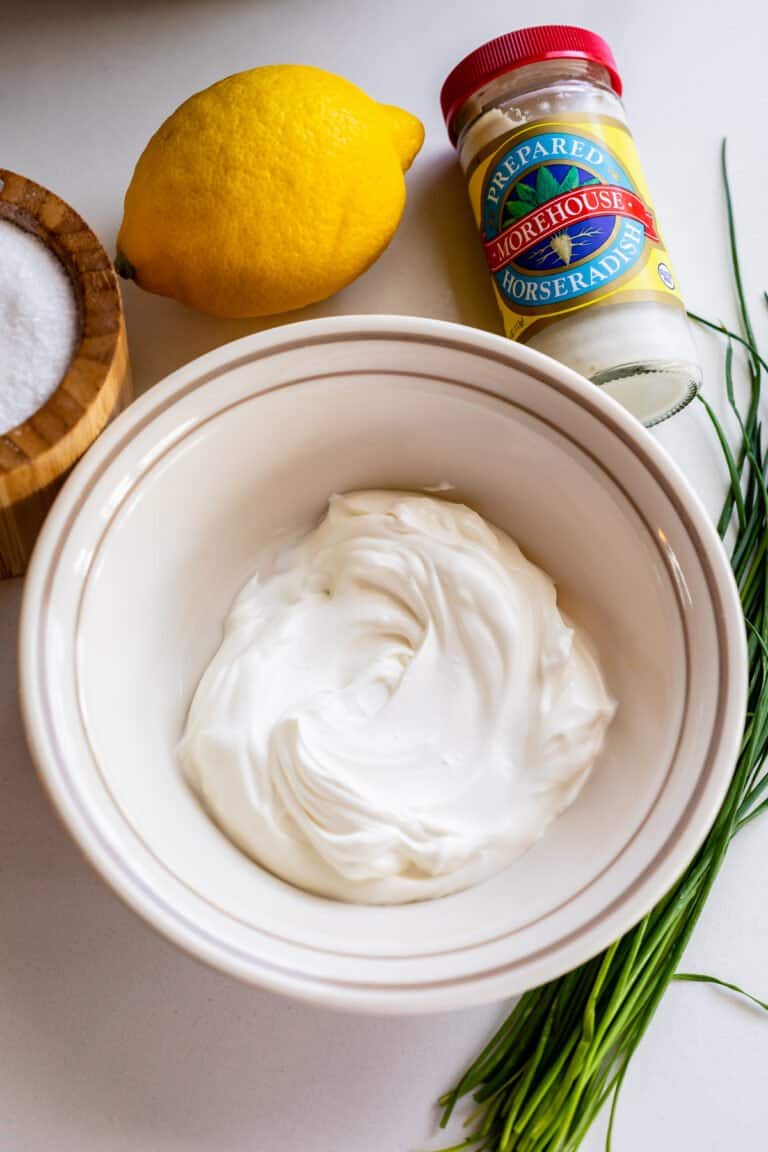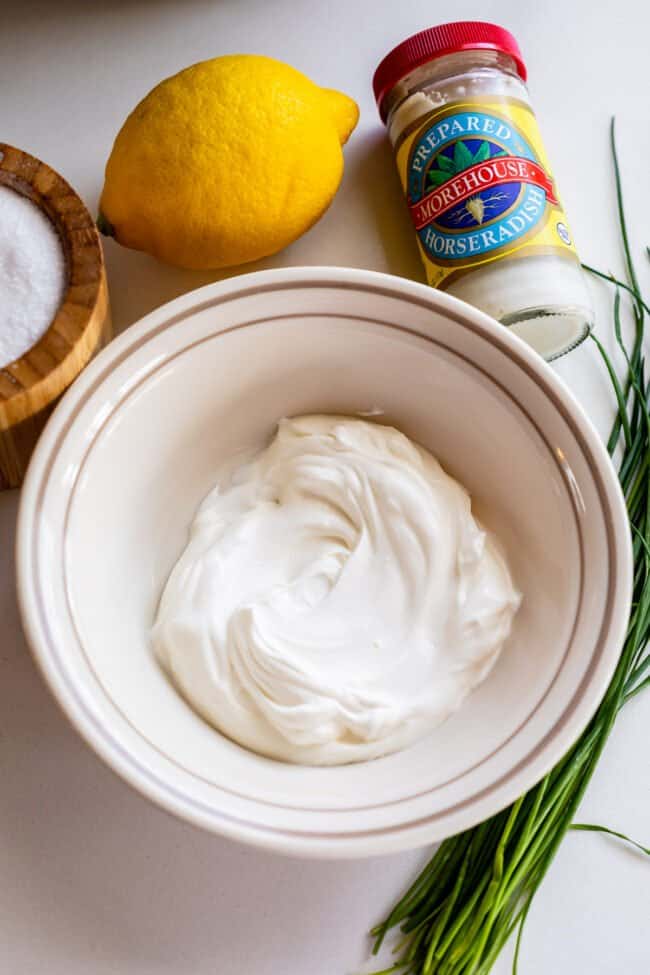 Just kidding. Scoop in some mayo. The amounts don't have to be exact; you can totally eyeball the ingredients for this recipe if you want. Use more sour cream than mayo.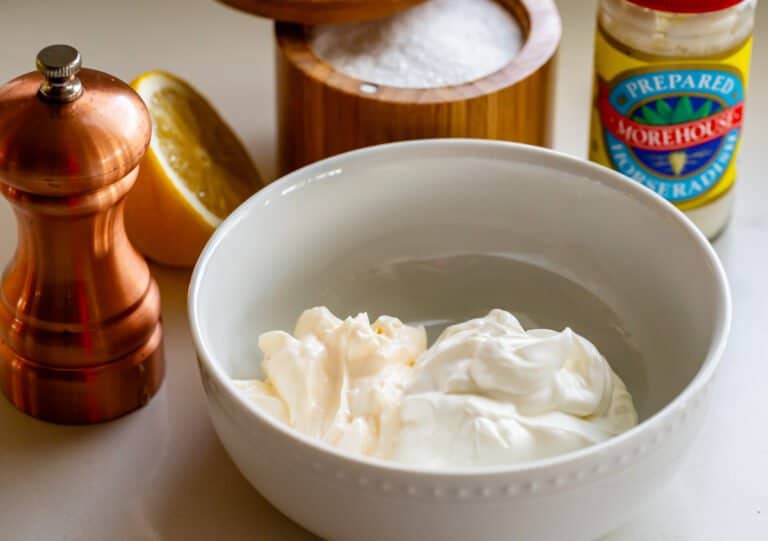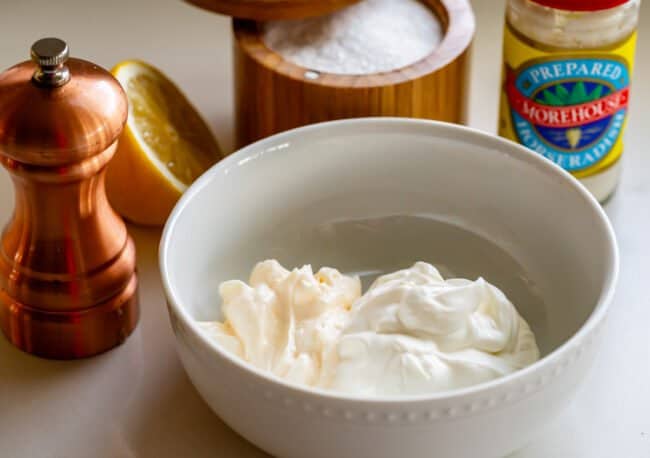 Next up: horseradish. Here's what a spoonful of prepared horseradish straight out of the jar looks like. Do you see how it's a little watery?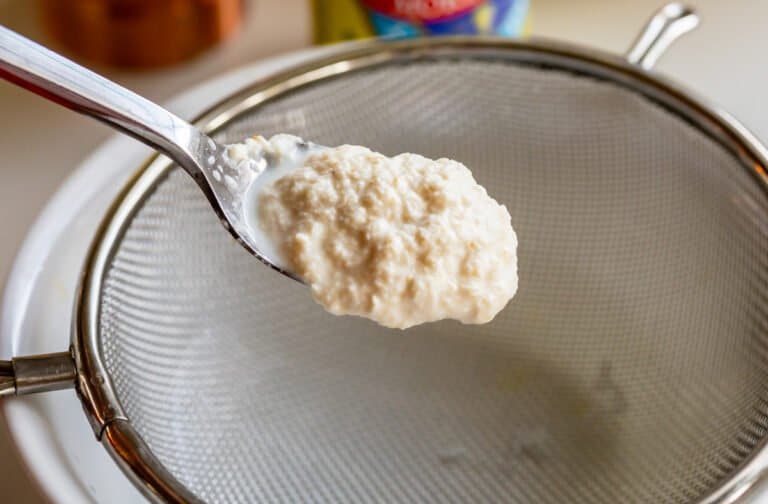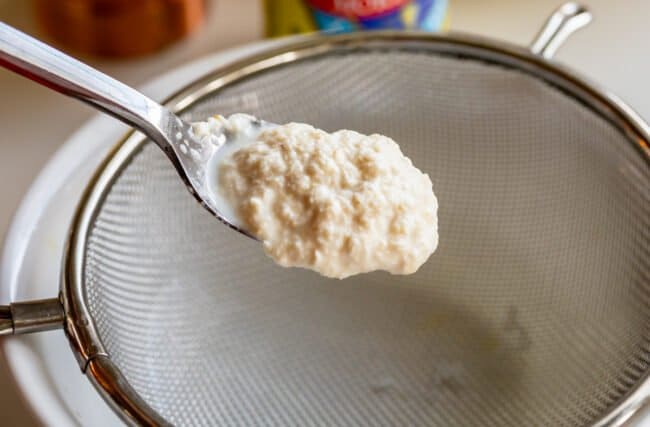 It's actually vinegar-y. We are going to strain out some of that liquid now. Press a spoon down and spread it out.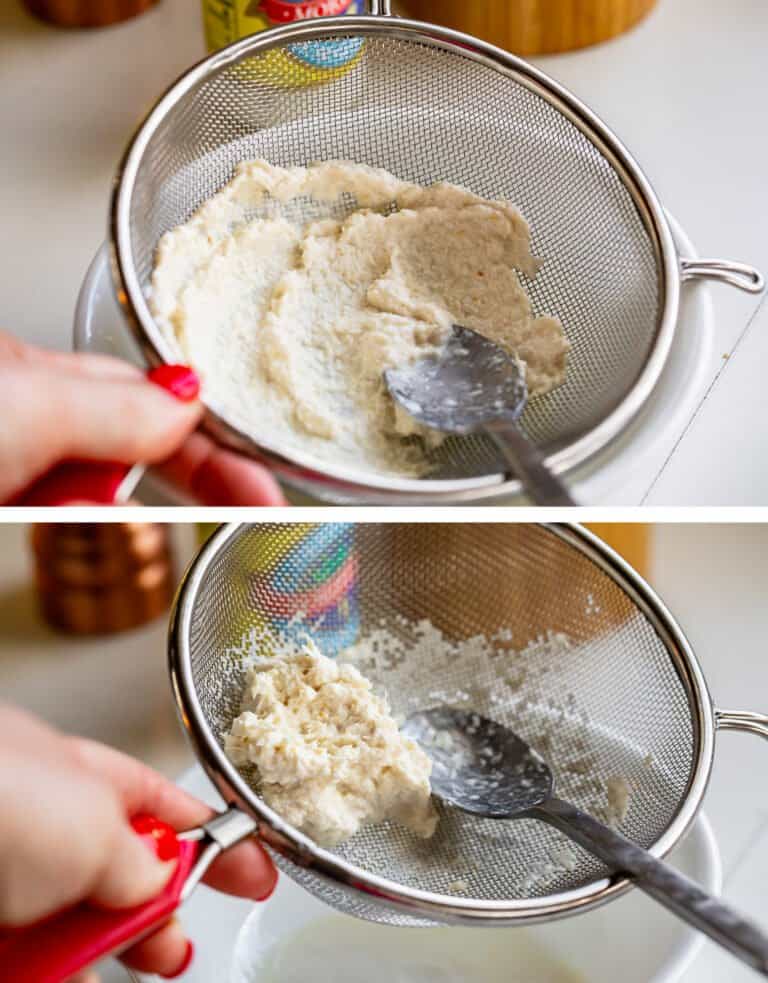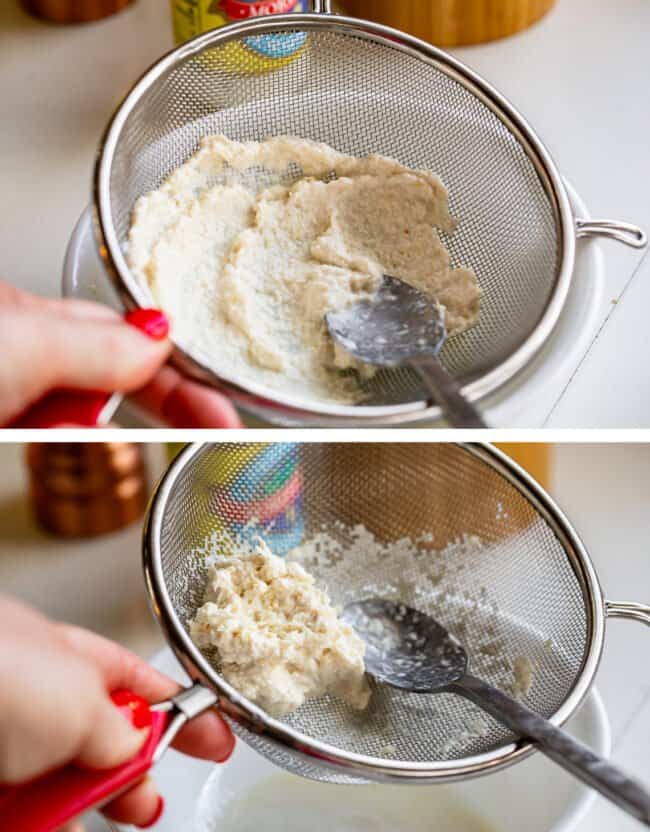 You can see how much liquid comes out. We don't want a sauce that's too thin! We want it nice and creamy.


Add in some lemon juice and salt and pepper, then stir it all up.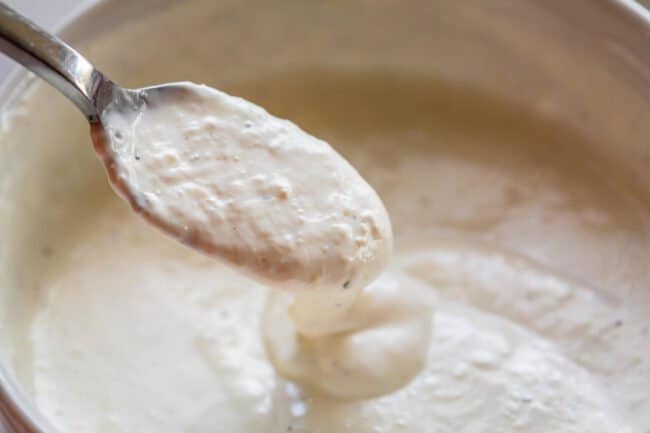 Last but not least, stir in some freshly chopped chives, and voila! That's it!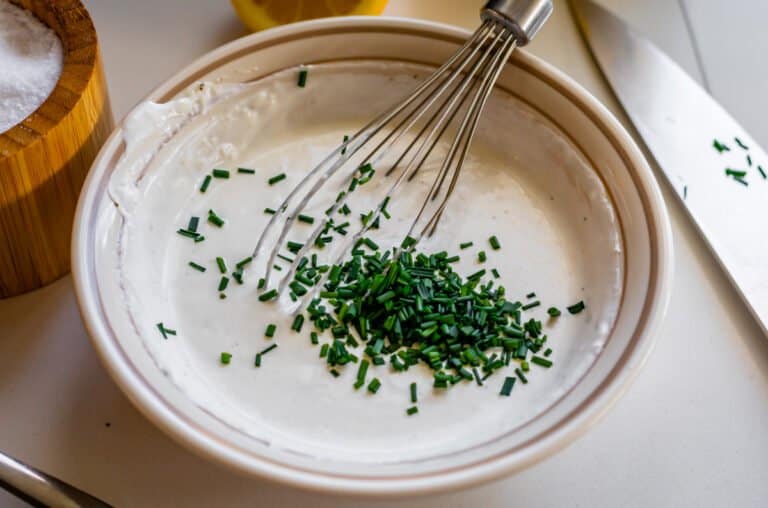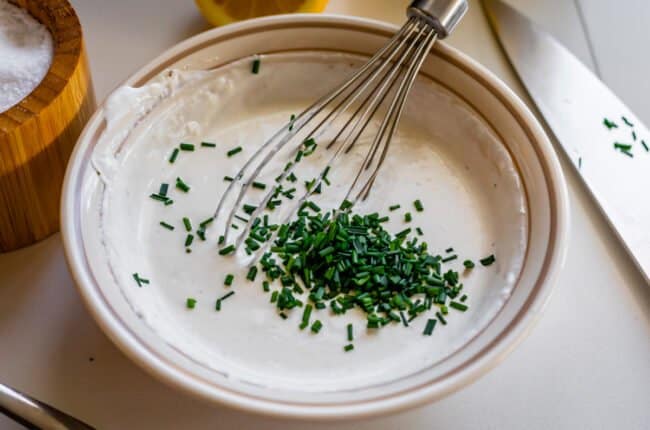 I'm telling you, once you taste this, you will be trying it out with every meal you have for the foreseeable future! Here are some fun ideas.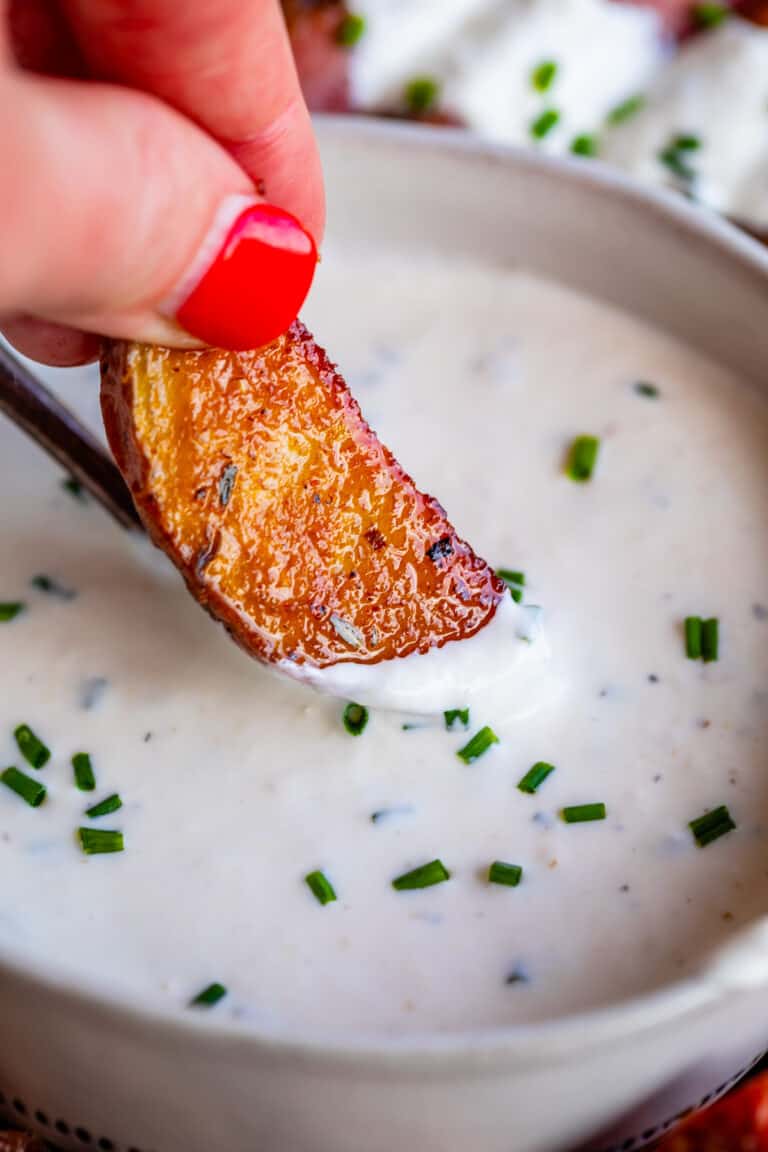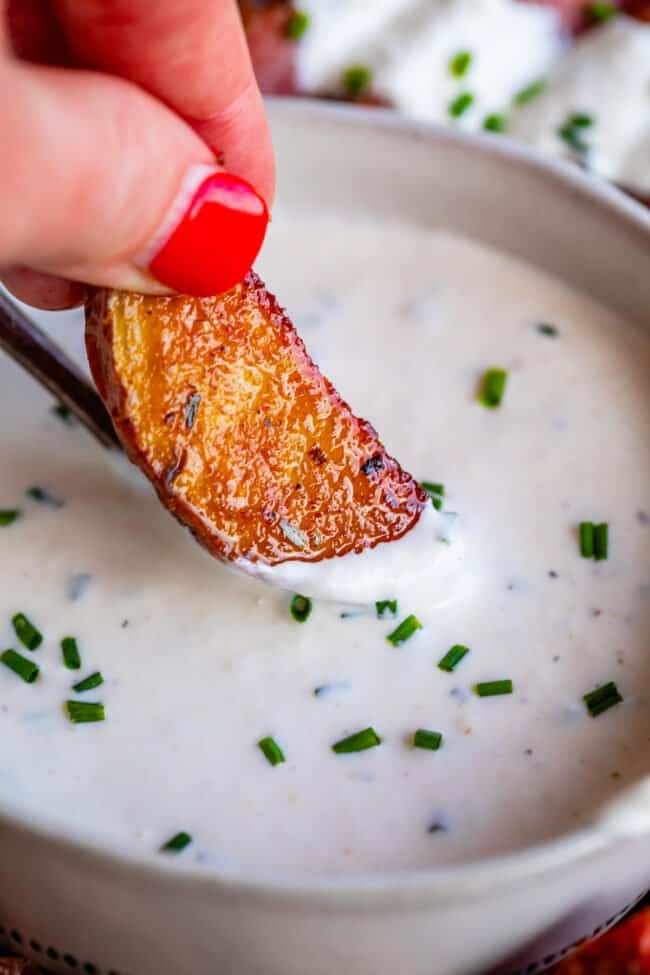 What is Horseradish Sauce good on?
MEAT! Horseradish is so good with all different kinds of meat, most especially beef. Here are some of my favorites:
More ways we like to serve Horsey Sauce
Top your baked potato!
Add a little bit to your potato salad
Swirl into mashed potatoes. Are you noticing a theme here?
Top scrambled eggs
Try it with Sushi instead of wasabi!
Combine with ketchup and a little Worcestershire sauce to make a killer shrimp cocktail sauce
Stir into guacamole, salsa, hummus, any dip!
Spread it on your next sandwich in place of mayo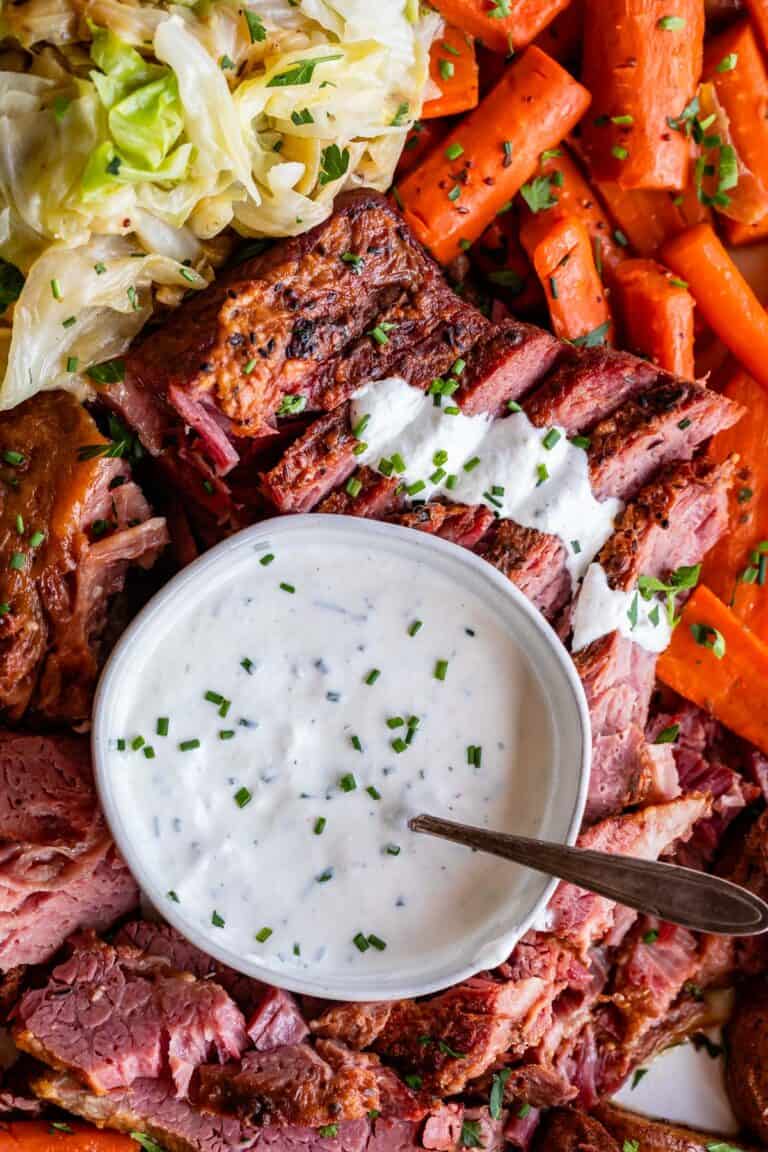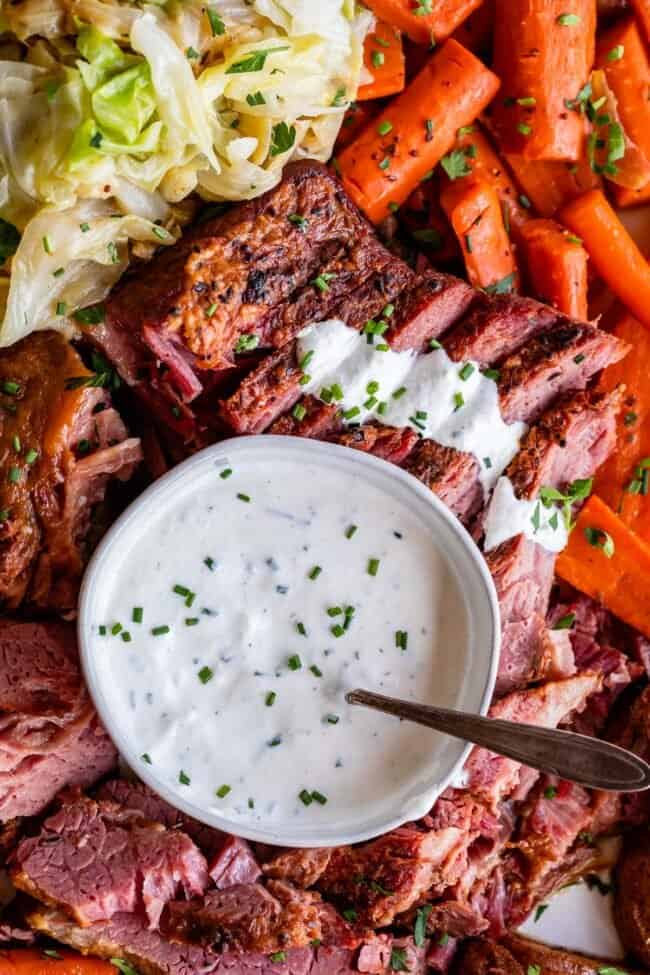 Storing Homemade Horseradish Sauce
How long does this Horsey Sauce Recipe stay fresh?
Horseradish sauce will stay fresh if kept covered in the fridge for 1-2 weeks. You can always just follow your nose to see if it's okay to eat. I haven't tried freezing horseradish sauce, but I don't think it's a good candidate for the freezer. You generally don't freeze sour cream or mayo, and that's what it's made of. It will likely break down and become watery.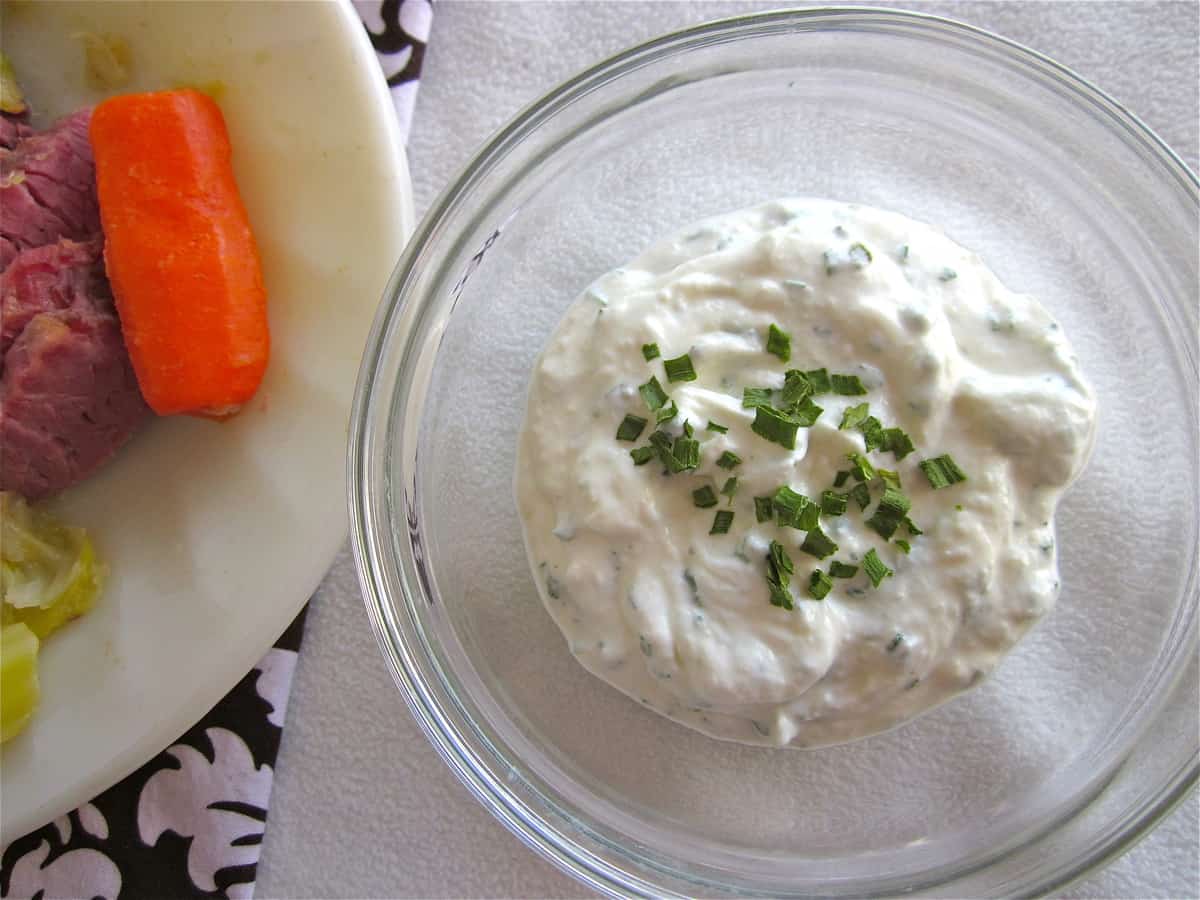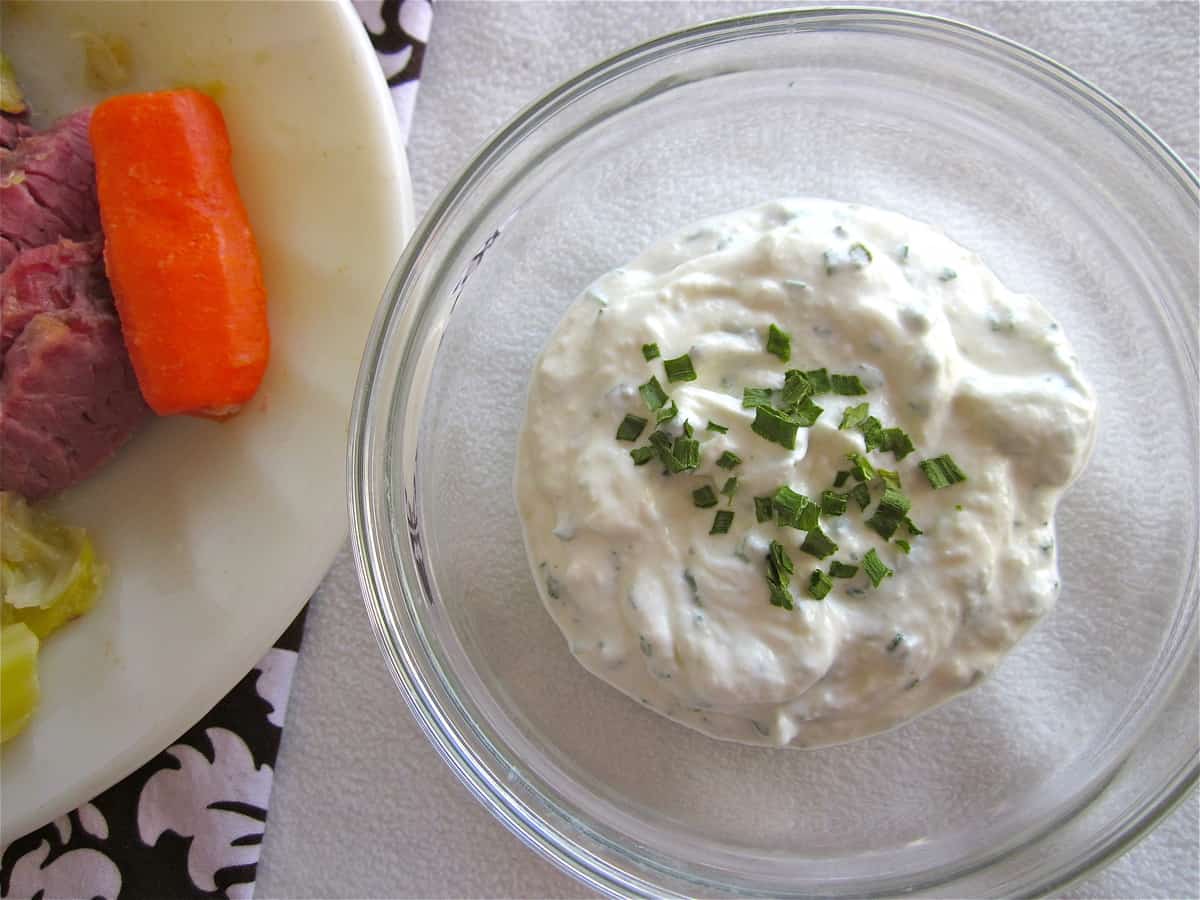 That's about it my friends! What are you going to put it on first?? And just for old times sake, here's the old photo of the first time I posted this recipe back in 2012, once again to go alongside Corned Beef! Nothing could be better.
Enjoy! And Happy St. Patrick's Day!
Horseradish Cream Sauce FAQs
What is horseradish made of?
Horseradish isn't made of anything other than itself; it's a white root vegetable. But what you're probably asking is "what is the horseradish condiment that I've had before?" It depends on its preparation, but you might have just had a simple mixture of the grated horseradish root, vinegar, and salt (maybe a little sugar too). Prepared horseradish, like we're using in this recipe for creamy horseradish sauce, is just that.
What are the benefits of eating horseradish?
I'll tell you one thing: if you're stuffed up, horseradish sauce is going to decongest you. Like, FAST. And kind of painfully, if you really load it on whatever you're eating. I don't recommend going overboard, because it can burn your throat and potentially irritate your stomach if you hit it too hard. However, it might be a merciful thing to serve if you or someone you love is really congested (and enjoys the flavor of horseradish).
The main benefit of horseradish for me is that I like eating it on potatoes, meat, veggies, and more in this spicy, creamy, borderline addictive sauce.
Is Horseradish Sauce good for you?
You can find many sources that will tell you horseradish is basically a miracle food with cancer-curing properties, antioxidants out the wazoo, etc etc. I'm eating horseradish sauce in super small quantities (because it's so intense) and I'm eating it because I love the flavor. The horseradish isn't bad for you, but I'm also mixing it with mayo and sour cream…so draw your own conclusions about health benefits there.
What can I use instead of horseradish for horseradish sauce?
There's really no substitute for horseradish in horseradish sauce. I don't know how else to say that guys. If you don't have horseradish, maybe wait until you do to make this? It's a pretty unique flavor. If you're just looking for something spicy, you can go buy some spicy mustard or some wasabi sauce at the store, but it won't be the same as horseradish.
More sauce recipes to love!
Facebook | Pinterest | Instagram

Horseradish Cream Sauce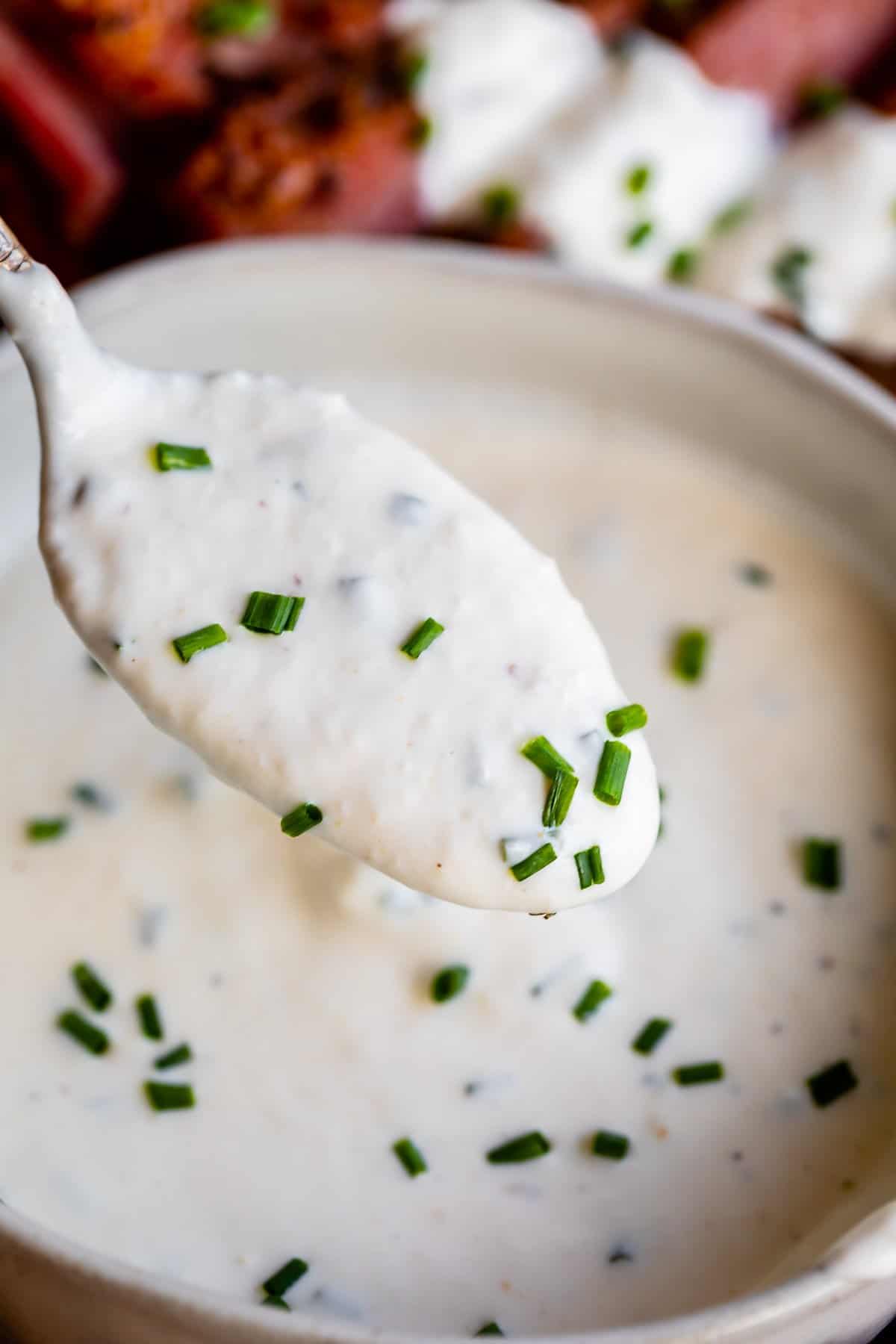 This Horseradish Sauce recipe is so easy to make and has the best flavor! Just a few simple ingredients combine to make this sauce the perfect creamy condiment for Prime Rib, any kind of Steak, Corned Beef, Pot Roast, French Dip Sandwiches, you name it! Done in 5 minutes.
Ingredients
1/2

cup

sour cream

3

tablespoons

mayonnaise

1 & 1/2

tablespoons

lemon juice

,

about half a lemon

1/2

teaspoon

kosher salt

black pepper

,

to taste

3

tablespoons

prepared horseradish

,

drained, or more to taste

fresh chives

,

chopped
Instructions
In a small bowl, add 1/2 cup sour cream, 3 tablespoons mayonnaise, the juice from half a lemon (about 1 and 1/2 tablespoons), 1/2 teaspoon kosher salt, and black pepper to taste.

Place 3-4 tablespoons prepared horseradish in a strainer and press it through with a spoon until it gets a little dried out. Add the drained horseradish to the bowl.

Store leftovers covered in the fridge. It will stay fresh for about 2 weeks!
Nutrition
Serving:
1
serving
|
Calories:
89
kcal
|
Carbohydrates:
2
g
|
Protein:
1
g
|
Fat:
9
g
|
Saturated Fat:
3
g
|
Polyunsaturated Fat:
3
g
|
Monounsaturated Fat:
2
g
|
Trans Fat:
1
g
|
Cholesterol:
13
mg
|
Sodium:
285
mg
|
Potassium:
51
mg
|
Fiber:
1
g
|
Sugar:
1
g
|
Vitamin A:
124
IU
|
Vitamin C:
3
mg
|
Calcium:
26
mg
|
Iron:
1
mg