Easy Salisbury Steak Recipe (30 Minutes)
Salisbury Steak sounds so fancy but it's SO easy to make. They are basically mini meatloaves fried and served with mushroom gravy. It's the perfect comfort food and only takes 30 minutes to make. You have to serve this with Creamy Mashed Potatoes recipe to get the full effect!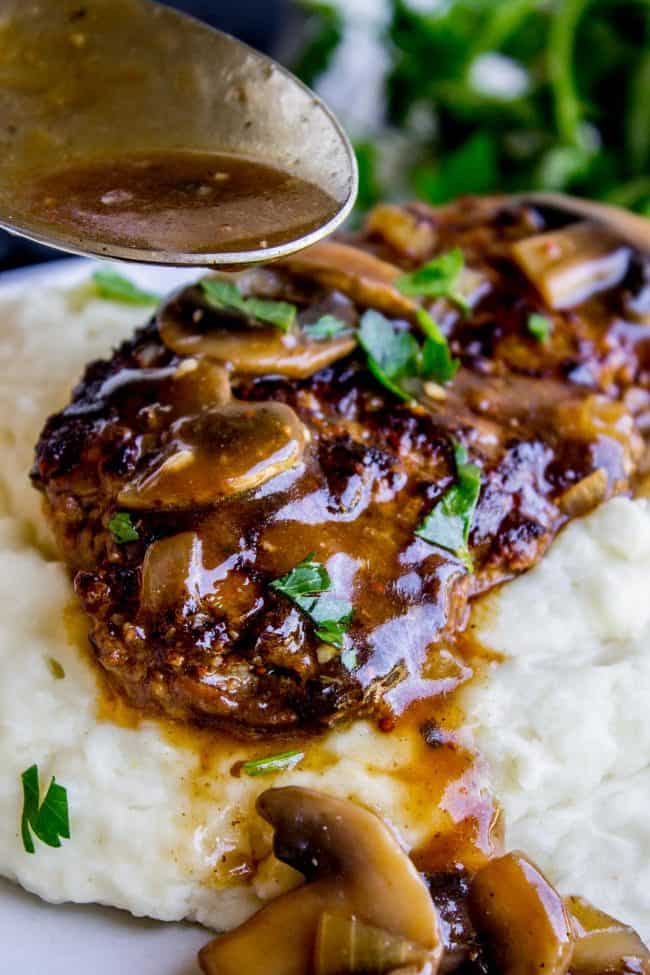 Originally posted May 7, 2018
I am typing this at an outdoor eating area at Whole Foods (for the wifi). Eric and I are in virtual line for a U2 concert tonight. Have I told you about Eric's U2 obsession? Oh yeah. I definitely have.
We are pretty excited. He's excited for the concert (and crushing on the Edge), and I'm excited for bacon wrapped hot dogs. No, they don't serve hot dogs as part of the show (although how awesome would that be??) but we've been to this arena before, and I happen to know that when the show gets out around midnight, there will be dozens of little hot dog carts set up, ready to sell me overpriced deliciousness. I even recreated the recipe, you should definitely make these Bacon Wrapped Hot Dogs this summer. They're soooo goood.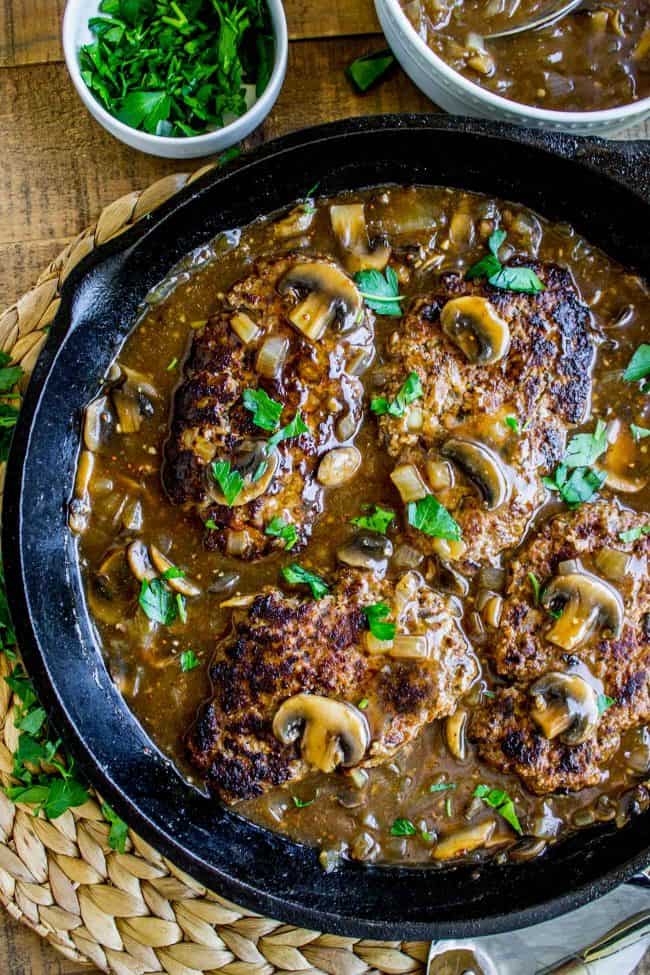 What is Salisbury Steak?
You should definitely make Salisbury Steak too, stat. I love how we're taking ground beef and frying it and getting away with calling it "steak." I made an earlier version of this recipe for my family a few weeks ago, and we got to talking about where exactly Salisbury Steak came from, anyway. We were throwing out ideas, I said, "German?" My mom said, "English?" My brother Nathan and I both said, "No way, it's too delicious to be British." (Don't hate me if you are from the UK. Just set me straight. Send me a delicious British recipe. I'm serious. Make sure there is no blood sausage involved, or you will confirm all of my biases.)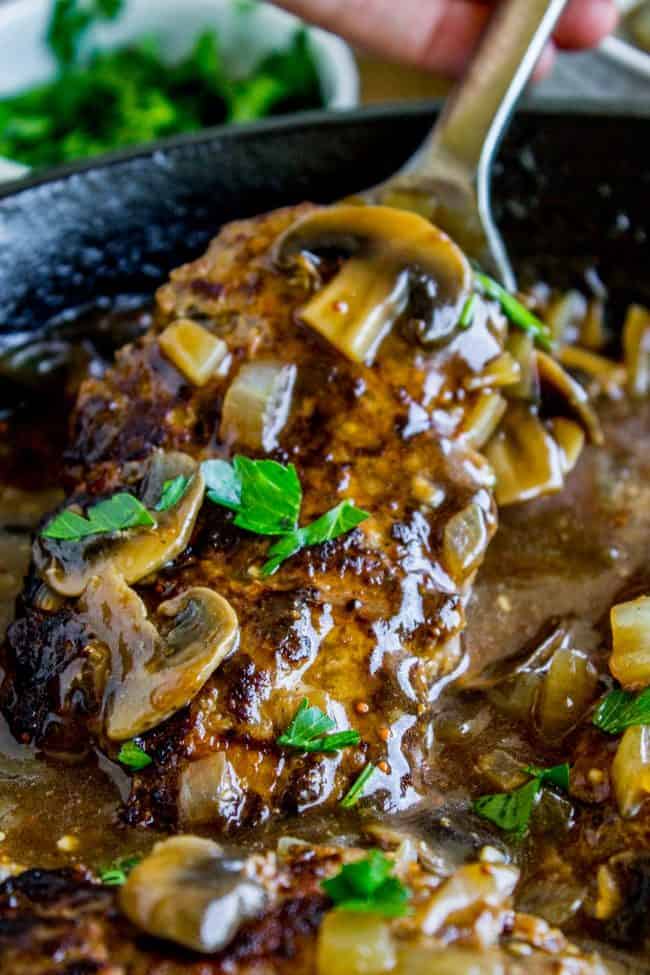 Well it turns out Salisbury Steak is American, and it was made up by a guy (named Salisbury) who was one of the first health faddists. He was convinced that vegetables released toxins (??), and that we would all be healthier if we ate copious amounts of boiled ground beef. He said we should eat it three times a day. Seriously. I'm glad someone improved on this idea by frying and adding mushroom gravy, because boiled ground beef??? Sick.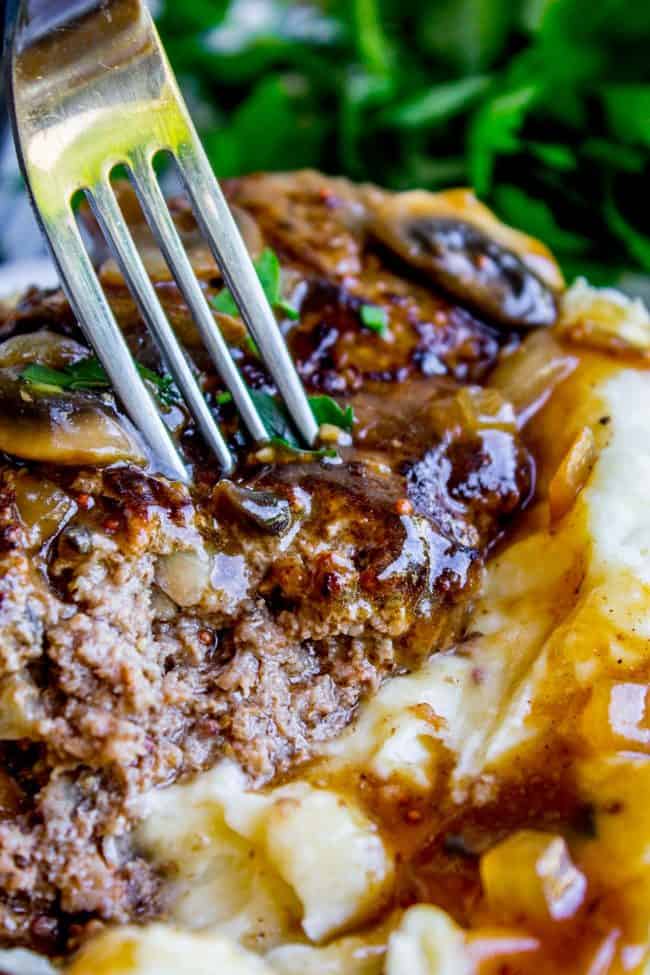 How to make Salisbury Steak
You've got to try this version of Salisbury steak. It is just such an easy crowd pleaser, and it only takes a half hour to throw together. You start by chopping some vegetables and adding them to the ground beef with bread crumbs and some other spices, forming them into oval patties. It's a lot like making meatballs. Except instead of baking them you fry them until they are a beautiful golden brown. Then you make a delicious gravy with mushrooms, add the patties back in the pan, cover and cook until done.
These really are so quick. If you're like me, you've always got a pound of ground beef in the freezer or the fridge. Pair with some green beans or a salad and dinner is DONE. But for the full effect you HAVE to make it with my Aunt Shirley's Creamy Mashed Potatoes. This is basically not optional.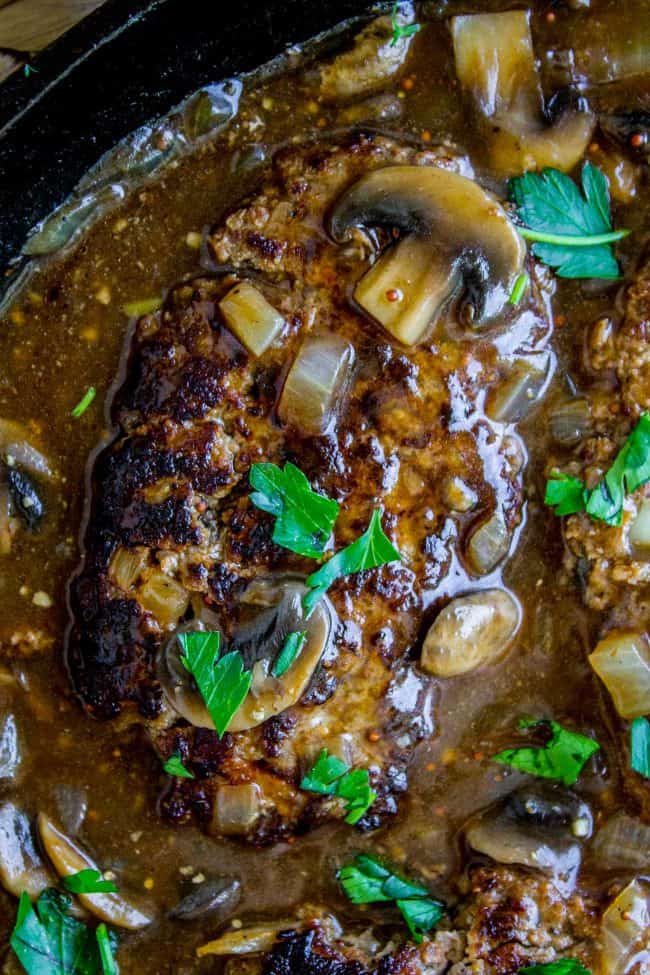 It's summer time and I'm supposed to be posting salads and stuff for you guys. Boringggggg. (This explains why I only have like 5 salads on my site.) But I DID make a salad recently that even I am in love with, which means YOU are going to love it. It's a Buca di Beppo knockoff. (Have you been there? You know the salad I mean.) (UPDATE! Here's the recipe for Apple Gorgonzola Salad.) Until then, eat some Salisbury Steak!
Other comfort food recipes I'm sure you will love!
Facebook | Pinterest | Instagram 
Salisbury Steak with Mushroom Sauce
Salisbury Steak sounds so fancy but it's SO easy to make. They are basically mini meatloaves fried and served with mushroom gravy. It's the perfect comfort food and only takes 30 minutes to make. You have to serve this with Creamy Mashed Potatoes to get the full effect!
Ingredients
For the steaks
1

cup

mushrooms

,

finely chopped

1

large

onion

,

chopped and divided

1 & 1/2

pounds

ground beef

1

egg

1/3

cup

panko breadcrumbs

2

tablespoons

tomato paste*

2

tablespoons

whole grain mustard**

1

teaspoon

minced garlic

1

tablespoon

Worcestershire sauce

1/4

teaspoon

liquid smoke

,

optional

1 & 1/4

teaspoons

kosher salt

3/4

teaspoon

black pepper

1

teaspoon

onion powder

1

tablespoon

oil

,

for frying
For the gravy
1

tablespoon

butter

2 & 1/2

cups

sliced mushrooms

1

teaspoon

minced garlic

2 & 1/2

cups

beef broth***

2 & 1/2

tablespoons

flour

1

teaspoon

whole grain mustard**

1

tablespoon

Worcestershire sauce

parsley

,

to garnish

Creamy Mashed Potatoes,

to serve with
Instructions
Start by chopping the onion and mushrooms. Chop the onion, then take about 1/4 cup of it and finely chop. Add the 1/4 cup to a large bowl. Set the rest aside for the gravy.

Finely chop one cup of mushrooms and add to the large bowl. Slice about 2 and 1/2 cups mushrooms and set aside to use for the gravy. (I bought 1 pound of mushrooms for this recipe and used about 3/4 of it.)

In the large bowl with the 1/4 cup finely chopped onion and 1 cup finely chopped mushrooms, add ground beef, 1 egg, panko breadcrumbs, tomato paste, whole grain mustard, 1 teaspoon garlic (I used the jarred kind), 1 tablespoon Worcestershire sauce, 1/4 teaspoon liquid smoke, 1 and 1/4 teaspoons salt, 3/4 teaspoon pepper, and 1 teaspoon onion powder.

Use your hands to combine the meat. It's feels weird but just do it; using a spoon takes longer and you end up with tougher steaks usually. (This is true for meatloaf and meatballs as well.)

Shape the meat mixture into 6 oval shaped patties.

Heat a large skillet over medium high heat. Add 1 tablespoon oil and swirl to coat. When the oil shimmers, add as many meat patties as will comfortably fit on your pan. Don't crowd them too much or they will steam instead of sear. I cooked the meat in 2 batches.

Sear the meat for about 2 minutes, and when they are nice and browned use a spatula to flip them over. Sear the other side until browned, about another 2 minutes. It's okay if the patties are not cooked all the way in the middle.

Remove the patties (or "steaks") to a plate and repeat with the other patties.

Remove the patties and add 1 tablespoon butter to the hot skillet. Add the onions and sliced mushrooms that you prepared earlier. Saute for about 5 minutes. Add garlic and saute another minute.

In a glass measuring cup, whisk together the beef broth* and flour.

SLOWLY add the broth mixture to the skillet while whisking constantly. Add 1 teaspoon mustard and 1 tablespoon Worcestershire sauce. Stir and cook for a couple minutes over medium high heat until the mixture begins to simmer.

Add the steaks back to the pan. Turn the heat to a low simmer and cook for another 5 minutes or so, until the salisbury steaks are cooked through.
Notes
*For odd tomato paste measurements like this, I love to buy tomato paste in a tube (like this) that is kept in the fridge. That way you don't have to deal with half a can of leftover paste.
**dijon mustard works great too!
***I always, always use Better Than Bouillon Base to make broth. I teaspoon beef base + 1 cup water = 1 cup broth. So in this recipe I used 2 and 1/2 cups water and 2 and 1/2 teaspoons base. It's my secret weapon for so many recipes!
Nutrition
Serving:
1
g
,
Calories:
484
kcal
,
Carbohydrates:
15
g
,
Protein:
30
g
,
Fat:
34
g
,
Saturated Fat:
13
g
,
Polyunsaturated Fat:
2
g
,
Monounsaturated Fat:
15
g
,
Trans Fat:
2
g
,
Cholesterol:
135
mg
,
Sodium:
1382
mg
,
Potassium:
853
mg
,
Fiber:
2
g
,
Sugar:
4
g
,
Vitamin A:
228
IU
,
Vitamin C:
6
mg
,
Calcium:
73
mg
,
Iron:
4
mg
We are a participant in the Amazon Services LLC Associates Program, an affiliate advertising program designed to provide a means for us to earn fees by linking to Amazon.com and affiliated sites.