This Rhubarb Custard Pie pairs the delectable tartness of rhubarb with a nice creamy custard for the perfect balance of sweetness, all wrapped up in a perfectly-flaky crust. Rhubarb is summer's favorite dessert flavor and once you try this pie, you'll agree. Don't forget to serve it a la mode!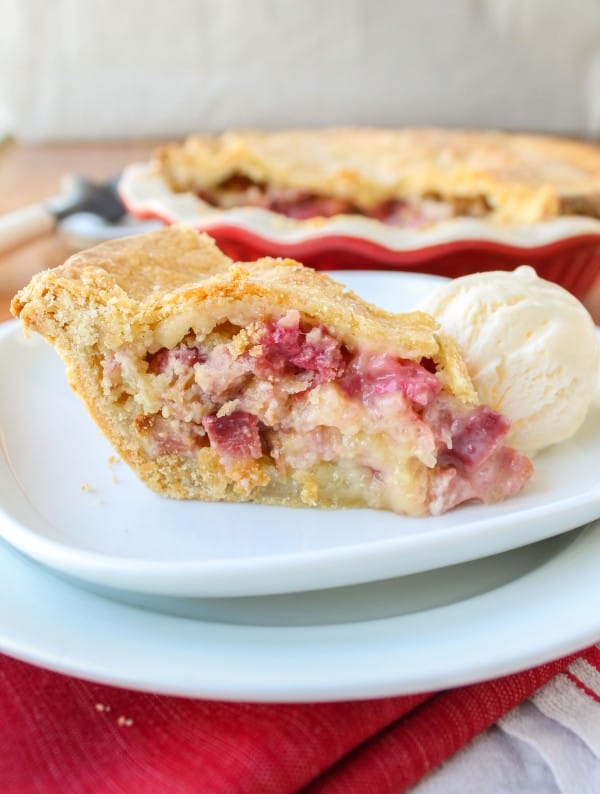 Originally posted June 4, 2014
Secret? What secret? THERE IS NO SECRET.
No really, there's not anymore. I've been planning my mom's surprise retirement/birthday/anniversary party for months now and while the event itself was amazing, I'm just so glad it's over so that I don't have to worry about giving away the surprise anymore.
I have a pretty bad track record. Once I threw a surprise party for Eric and a few hours before the event I said to him, "I have to go to the store to get stuff for your surprise party tonight" and then I caught myself and widened my eyes and slapped my hand over my mouth. He didn't get it somehow. (??)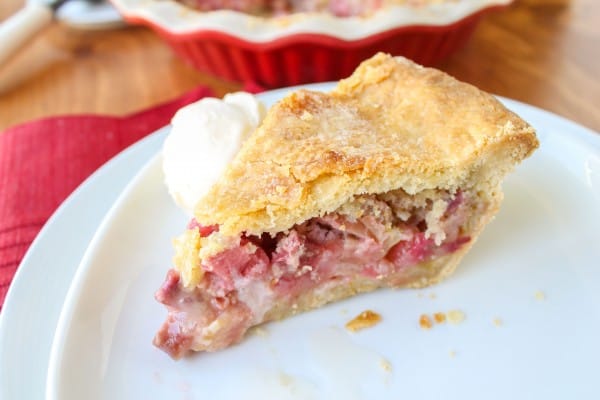 Later, our first guests arrived exactly when I asked them to, except he was the one to answer the door because I had yet to send him on his get-out-of-the-house-errand. I had to awkwardly make eye contact with the arrivals and say, oh you guys are just here [30 minutes away from your house] dropping by right? I seriously have no idea how he was still surprised.
My mom, on the other hand, wasn't surprised in the slightest. No matter how old you get, you just can't keep secrets from your mom. At least I never could. Oh well, it was an awesome party, if I do say so myself, and bonus! We have enough food leftover to feed the armies of 3 nations.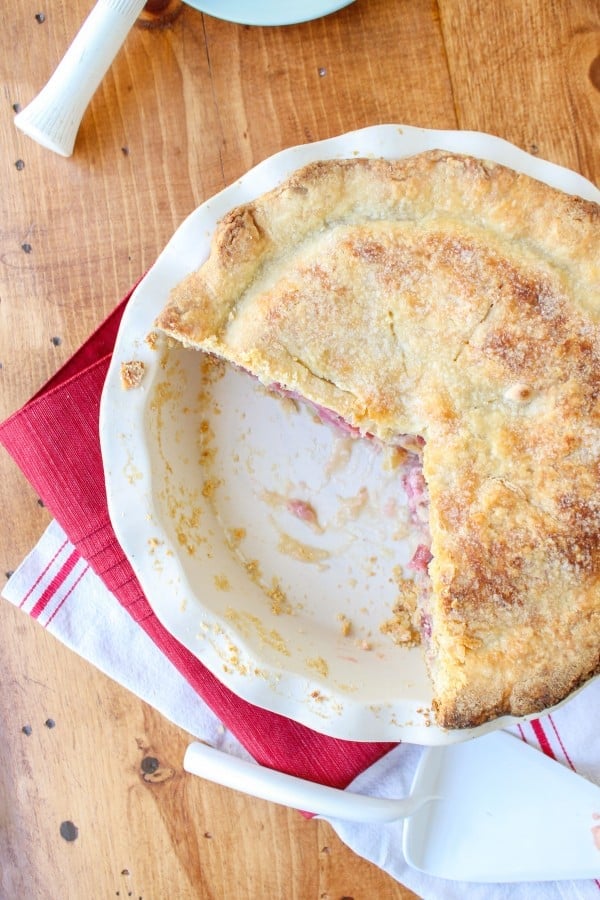 Me and my 4 siblings were all together for the weekend, which rarely happens since we're spread across 4 states. We were celebrating her retirement after 20 years of teaching, my parent's 40th anniversary, and her 60th birthday. That right there made up for any potential ruined-surprise deflation. Pretty hard to stay upset when there is so much awesomeness happening. 
How to make Rhubarb Custard Pie
My mother-in-law Kris has been talking up this Rhubarb Custard Pie for years. I'd never had it because I hadn't visited when rhubarb is in season. I just know that it has family-legend-status. I wanted to make it for Eric's birthday this year, so I asked for the recipe, and she texted me a photo of the recipe in her Betty Crocker cookbook. "It's basically the same," she said.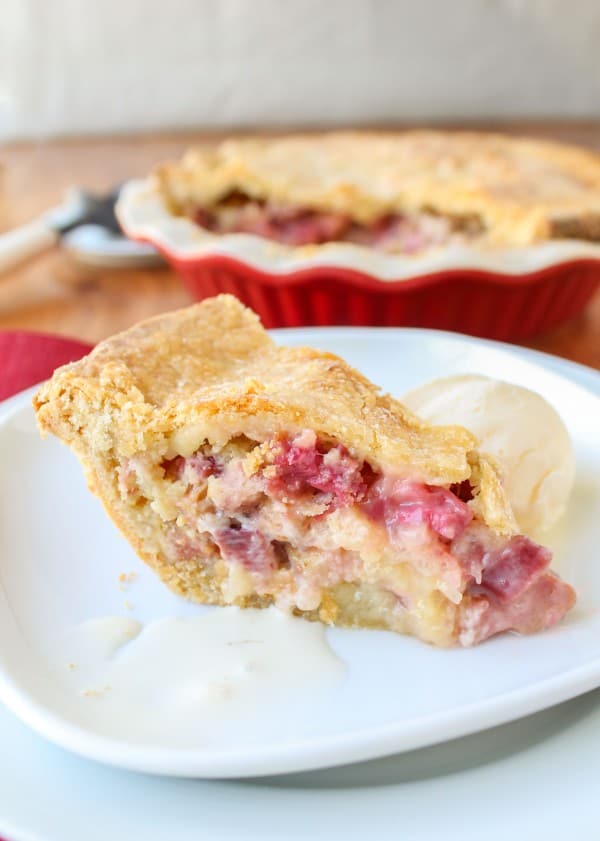 Except that the crust burned, the rhubarb was undercooked, and it was super runny. I asked her about it and she said, "Oh did you cover the crust? Did you beat the eggs well? Did you add tapioca? Did you up the salt?" Um, NO!!! "Oops, forgot to tell you those parts. Guess it's an excuse to make another pie!"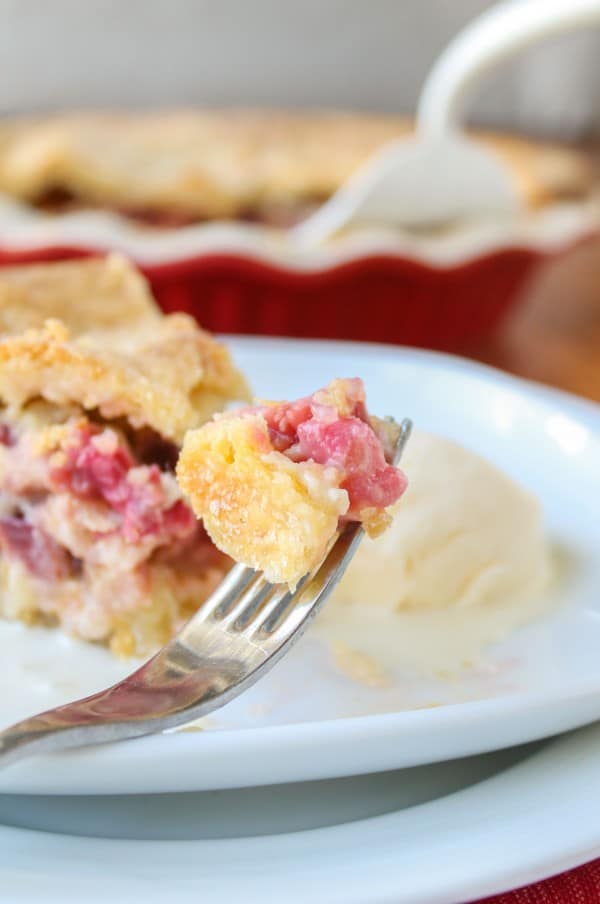 Honestly though I can't be mad. The first one was still pretty good, and it made me appreciate the second one–perfection–even more. This it my new favorite pie. No really. It used to be this Strawberry Glace Pie, and that one is still up there, but Rhubarb Custard Pie trumps it now. I am jumping on the family-legend-pie bandwagon because this. is. it my friends.
So what does rhubarb taste like?
Rhubarb is sort of like a red, sour celery. Weird, right? It's one of the strangest vegetables and is used more often as a fruit would be in dessert dishes. It's easy to grow and makes a great summer crop to make something sweet with (added sugar included, of course!). I didn't grow up with rhubarb and until I shared this pie with my mom, she had no idea what rhubarb actually looked like! It took Eric's family to introduce me to this amazing vegetable… fruit… thing.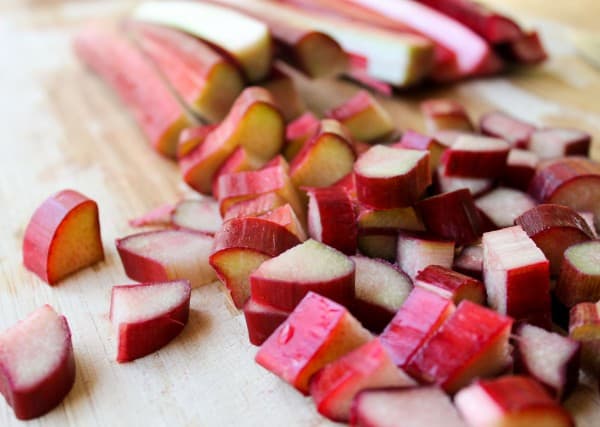 Forming the perfect pie crust
I LOVE this pie crust. It's simple enough. You cut your shortening in to the dry ingredients to the point that it looks like the left. After adding the egg and water and stirring, use your hands (right).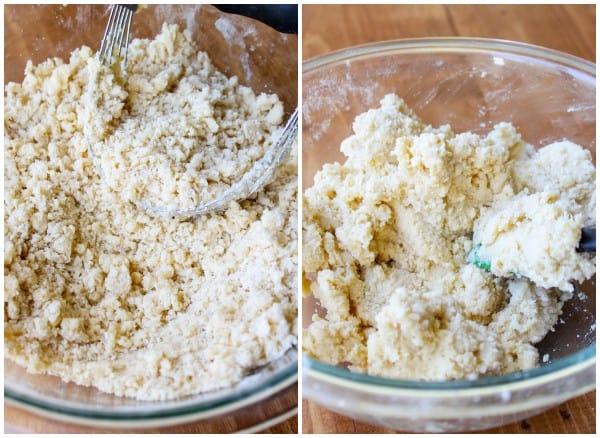 Divide the dough in half and then roll that baby out. (I swear I don't really have wrist cankles.)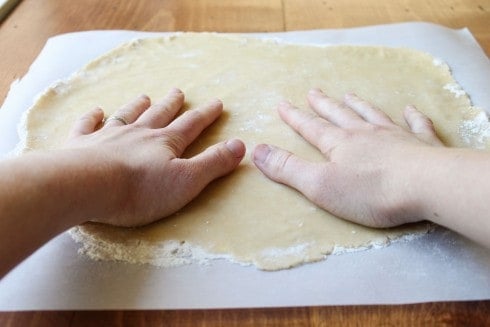 Take one of the halves of dough rolled out on parchment paper and transfer it to the dish. Peel off the paper until it's rest on the dish.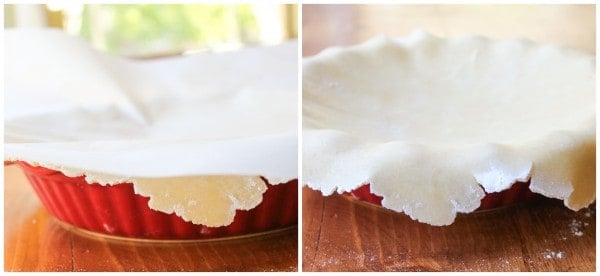 From there you gently press it into the dish. Trim and form the edges. Don't worry if you're edges are not perfectly formed! It will still taste just as good. The most important thing is to not trim it too short so when you put the top layer of crust you can push them together.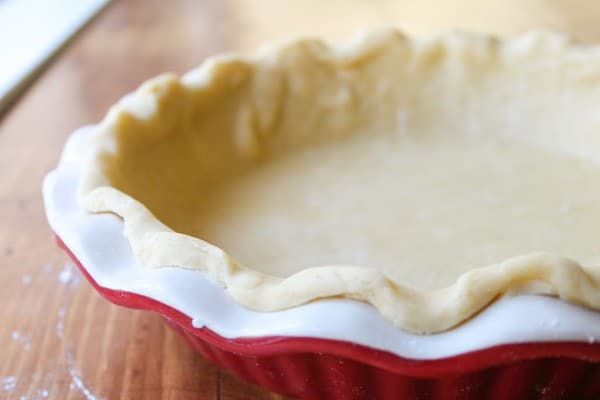 Making the Rhubarb Custard
Left is what your eggs should look like after beating the eggs. Right is what it turns into after the flour step.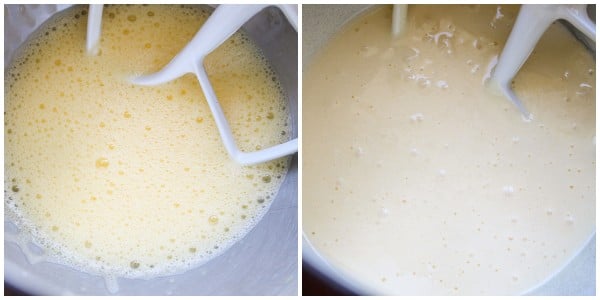 Don't forget the tapioca! It's a great thickener. I used good ol' Kraft. After the tapioca come the spices and the chopped up rhubarb.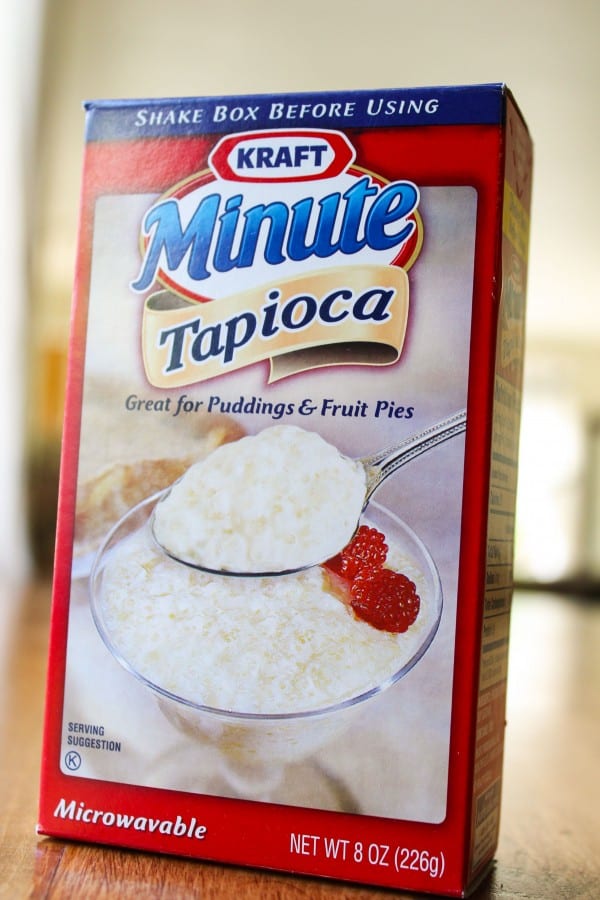 I like to split the rhubarb stalks down the middle the long way before chopping the smaller pieces to go in the custard.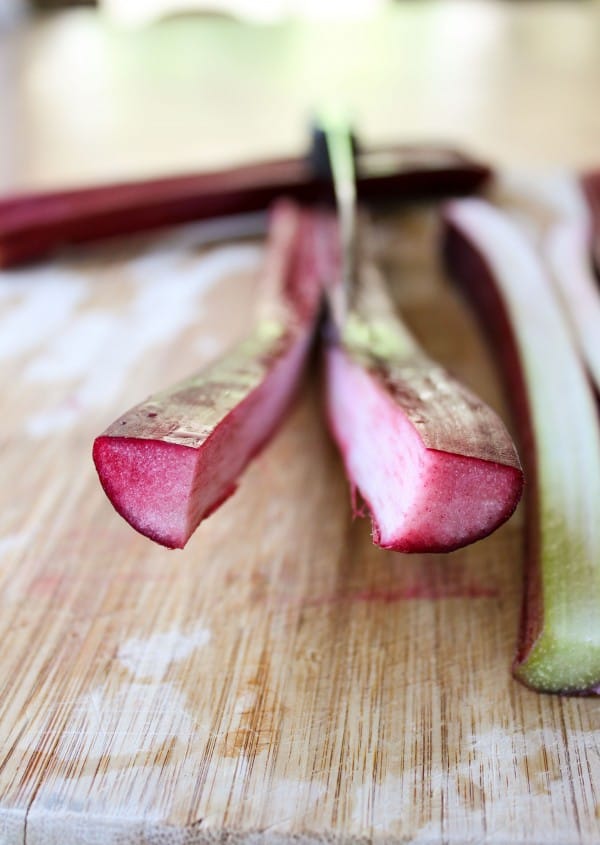 Putting the pie together
After you pour the rhubarb custard mixture into crust you're ready to add the top. Doesn't that look beautiful!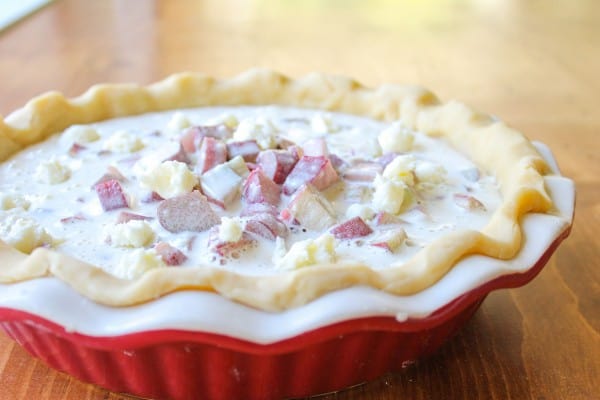 As before, us the parchment paper to your advantage as you place it on top.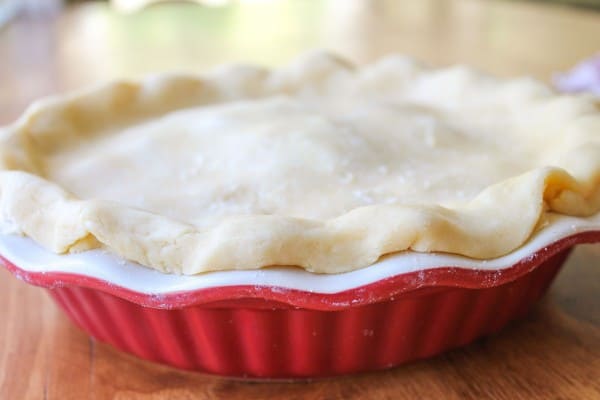 Seal up those edges unless you want a mess in your oven! It's a good idea to split the crust with a knife so it can vent the steam produced by the filling while its baking. You can go for something fancy, or not.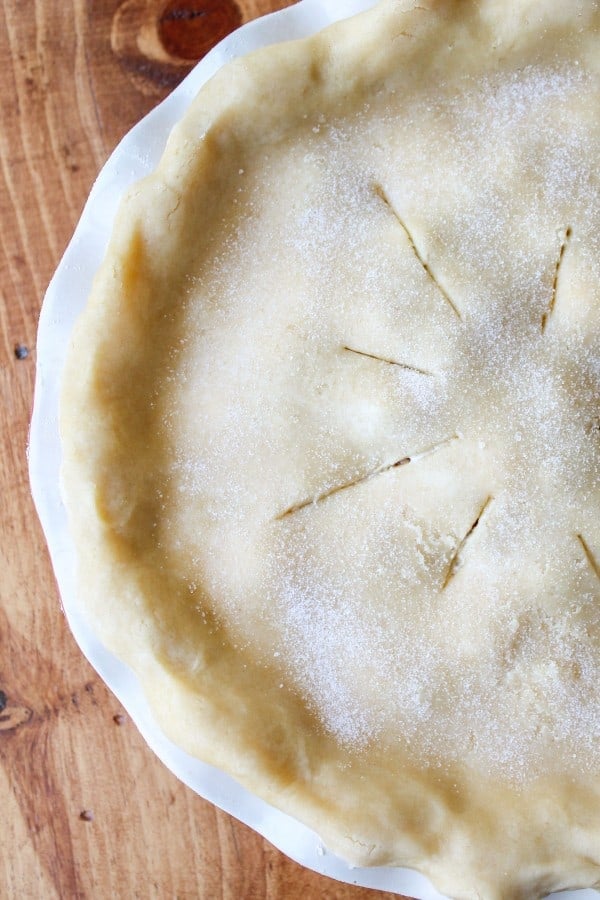 My mom gave me this pie crust cover thing a long time ago, but foil will work just fine. It prevents the outer edge from burning.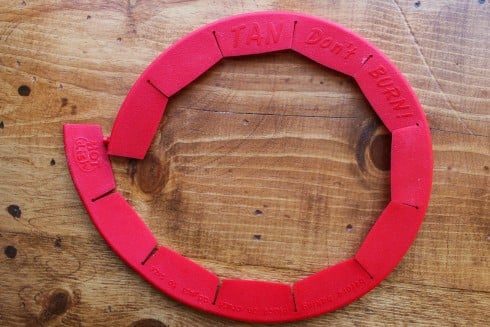 And voila! You've got a beautiful flaky crust, the perfect complement to the sweet filling inside.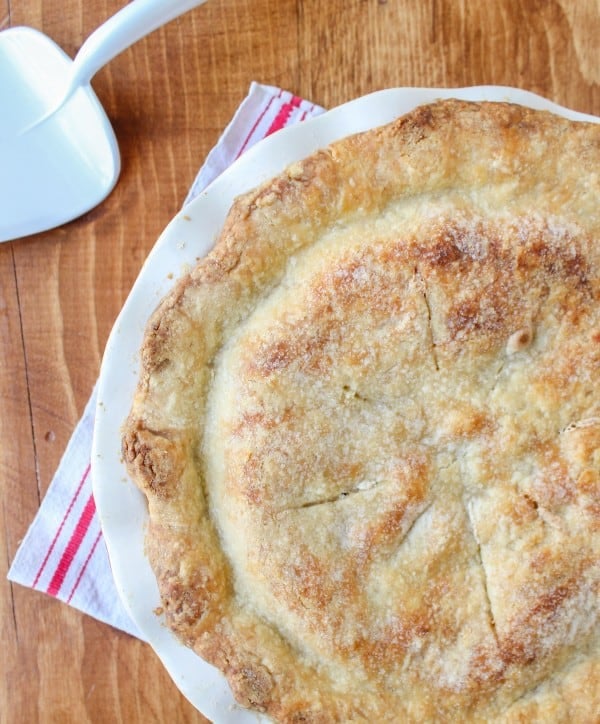 More great fruit pies and desserts to try:
Apple Custard Pie with Cinnamon Streusel
No Bake Cherry Cream Cheese Pie
Fresh Blackberry Glacé Pie – A delectable fresh fruit pie without a top crust that will impress
Cherry Pie for Fourth of July  Obviously you can eat it any time of the year!
Rhubarb Meringue Layers – You've gotta keep trying rhubarb recipes!
Facebook | Pinterest | Instagram | Twitter

Rhubarb Custard Pie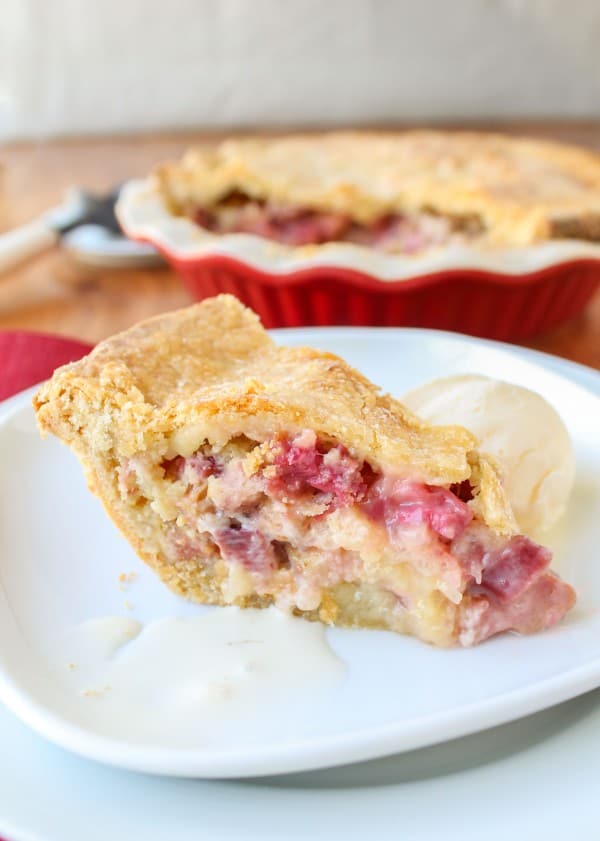 This Rhubarb Custard Pie pairs the delectable tartness of rhubarb with a nice creamy custard for the perfect balance of sweetness, all wrapped up in a perfectly-flaky crust. Rhubarb is summer's favorite dessert flavor and once you try this pie, you'll agree. Don't forget to serve it a la mode!
Ingredients
For the crust:*
¼

cup

water

,

very cold

2

cups

flour

1 & ½

tablespoons

sugar

1

teaspoon

salt

3/4

cup

butter-flavored shortening

,

+ 2 tablespoon

½

egg

,

beaten
For the pie:
3

eggs

1 & 1/2

cups

granulated sugar

2

tablespoons

instant tapioca

1/4

teaspoon

salt

1/4

cup

flour

,

spooned and leveled

nutmeg

,

fresh, grated (up to 1/4 teaspoon)

4 to 5

cups

rhubarb

,

sliced and chopped 1/2 inch thick

2

tablespoons

butter

,

cold, cut into pieces
Instructions
For the crust:
Measure out 1/4 cup water into a glass measuring cup and stick it in the freezer.

In a large bowl, whisk together flour, sugar, and salt.

Use a pastry cutter or fork to cut in the shortening. Cut until it looks like coarse crumbs. Don't overdo it!

In a small bowl beat one egg. Pour out half (into the sink or into another container, or heck, into a frying pan). You can just eyeball it.

Add the half beaten egg to the cold water that you put in the freezer. Beat it together, then add it to the shortening mixture. Stir until it is just coming together, then use your hands to knead it once or twice (only to make it come together). Divide the dough in half.

Generously sprinkle flour onto a sheet of parchment paper. Roll the dough with a rolling pin, using as much flour as you need so that it doesn't stick. Invert the parchment paper onto a 9-inch pie pan and gently peel off the paper. Arrange the pie crust and trim edges as necessary.

Repeat with the remaining dough, up until the invert step.
For the pie:
Preheat the oven to 400 F.

In a stand mixer or large bowl, beat eggs on medium speed for about 2 or 3 minutes, until they are a light lemon color.

Add the sugar and beat on medium for one more minute.

Add 2 tablespoons of instant tapioca and combine thoroughly.

Add the salt, flour, and nutmeg, and beat well.

Stir in the rhubarb with a rubber spatula.

Pour into the prepared pie crust. Mound the rhubarb slightly in the middle. Sprinkle the cut butter evenly over the mixture.

Transfer (invert) the top crust over the pie and seal the edges.

Cover the edges of the crust with a pie crust cover or foil (see note).

Bake in the preheated oven for 40 to 45 minutes, until the crust is golden.

Remove from the oven and let stand until room temperature, several hours. You can speed things up by putting it in the fridge if you want.

Store covered on the counter. Warning: this means you will take bites of it every time you pass through your kitchen. Sorry in advance.
Notes
*You can totally use store bought crust to make things go faster.
If you don't have tapioca, cornstarch will make a great substitution.
I like to slice my rhubarb into 2-3 strips, then chop them.
If you don't don't have a pie crust cover, take a square of aluminum foil, fold it into quarters, and cut out the middle so that when you open it you have a circle. Place over the pie crust.
Nutrition
Serving:
1
slice
|
Calories:
528
kcal
|
Carbohydrates:
72
g
|
Protein:
7
g
|
Fat:
24
g
|
Saturated Fat:
7
g
|
Polyunsaturated Fat:
6
g
|
Monounsaturated Fat:
9
g
|
Trans Fat:
3
g
|
Cholesterol:
79
mg
|
Sodium:
420
mg
|
Potassium:
242
mg
|
Fiber:
2
g
|
Sugar:
41
g
|
Vitamin A:
254
IU
|
Vitamin C:
5
mg
|
Calcium:
70
mg
|
Iron:
2
mg