This is not your average beef stroganoff recipe! Get outta here ground beef, we are using fall-apart tender pot roast, cooked to perfection in the crock pot. Juicy beef in a rich mushroom sauce is topped with a huge dollop of sour cream. Classic comfort food! Serve over pappardelle pasta with fresh chives. Originally published October 21, 2020.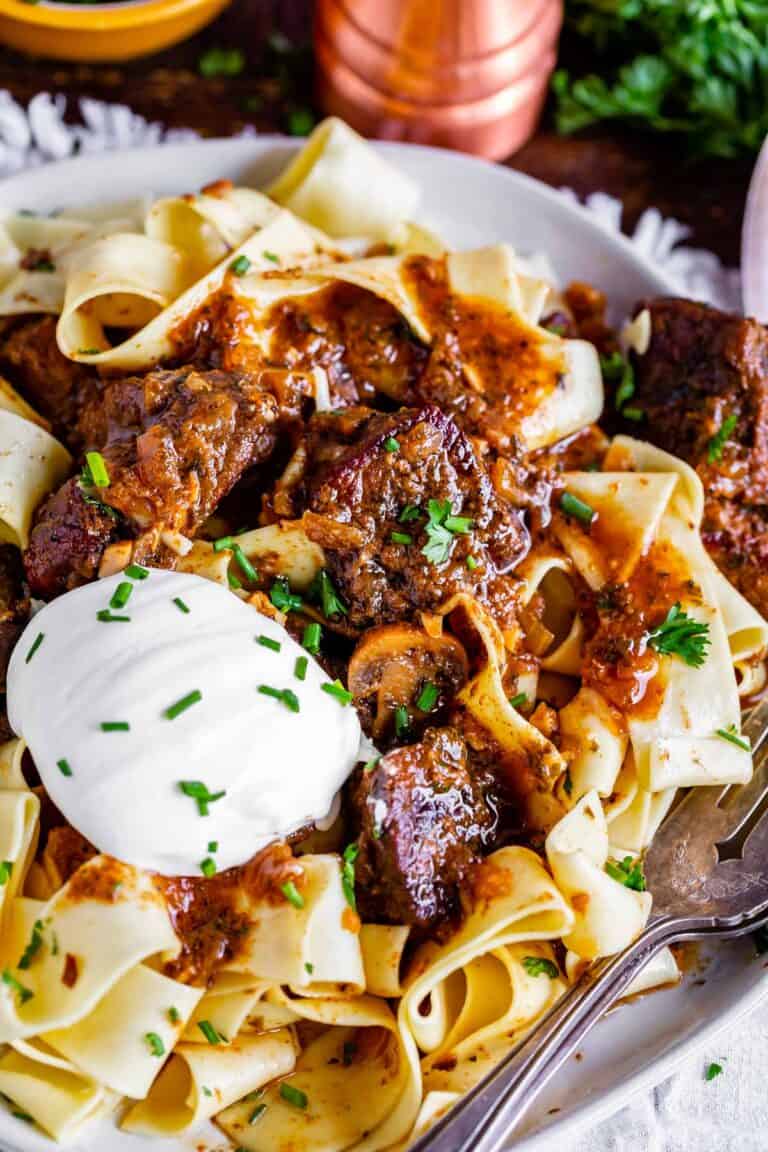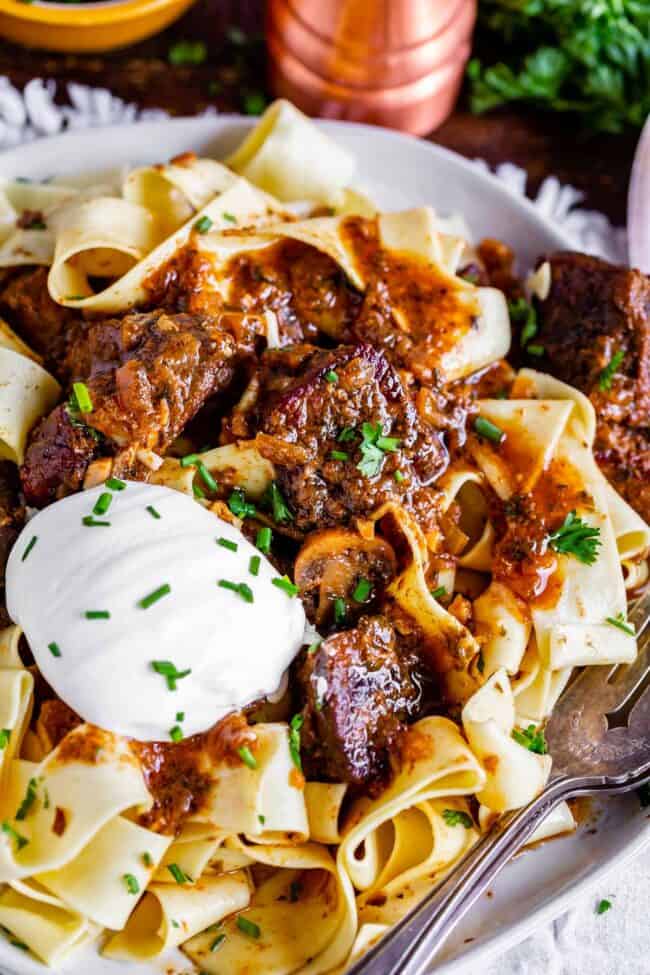 Well, it finally happened. I've joined the ranks of frantic parents who realize that their kid has just taken scissors to their own hair. I don't know how I made it 10 years of mom-ing without it happening before now. I thought I just had incredibly well behaved children. HA! Joke's on me.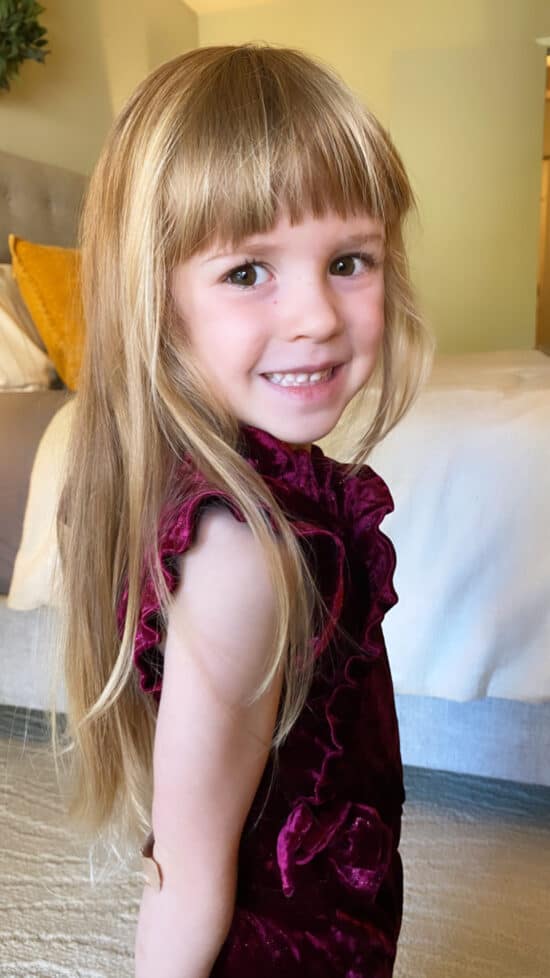 I took some pictures, just to memorialize it before she decides to do it again. It's really not bad, right? (See the shorter piece on the side? And the piece over her shoulder.) Her hair was in a pony tail so she could only axe off the front part. It's almost like she got some nice layering in?? I know you probably can't even tell at all. BUT I CAN.
It's definitely not as bad as my sister Nikki though, who cut all of her hair to the SCALP when she was little. My poor mother. It also helps that Valentine has ridiculously long hair, so even if we have to repeat this incident a few times, hopefully it just means she will end up with a cute bob in the end! See, it's fine. EVERYTHING IS FINE.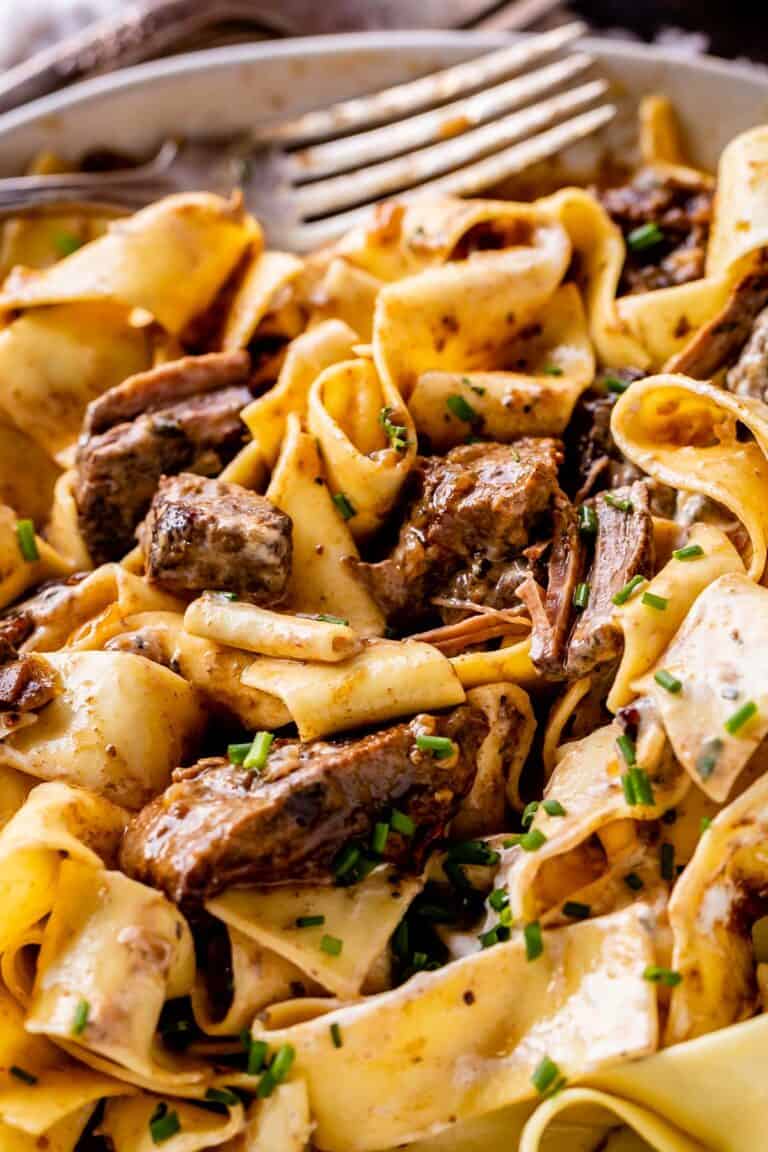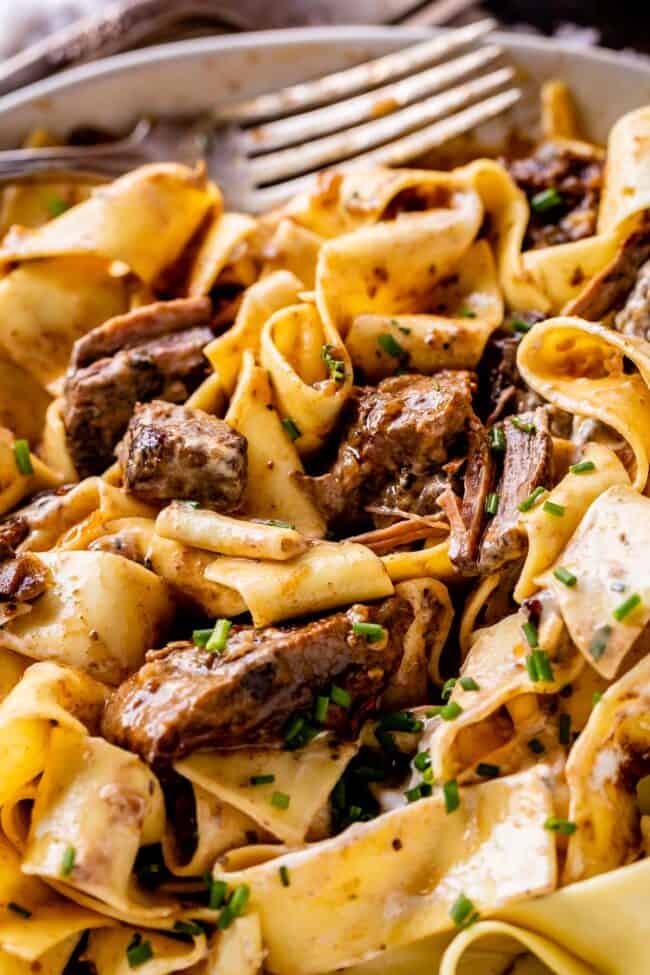 You'll Love this Old Fashioned Beef Stroganoff recipe
In other news. I am sick and ready for some comfort food. Who's with me?? (Also it's weird getting sick during a pandemic. I feel like…guilty almost? What if I give it to someone?? Very strange. No idea if it's Covid or not. It's pretty mild, but then most cases are, right?
But we are hunkering down and making some comfort food as we ride it out. Does comfort food get more comforting than a classic beef stroganoff recipe?? I don't think so. I could eat this stuff every day.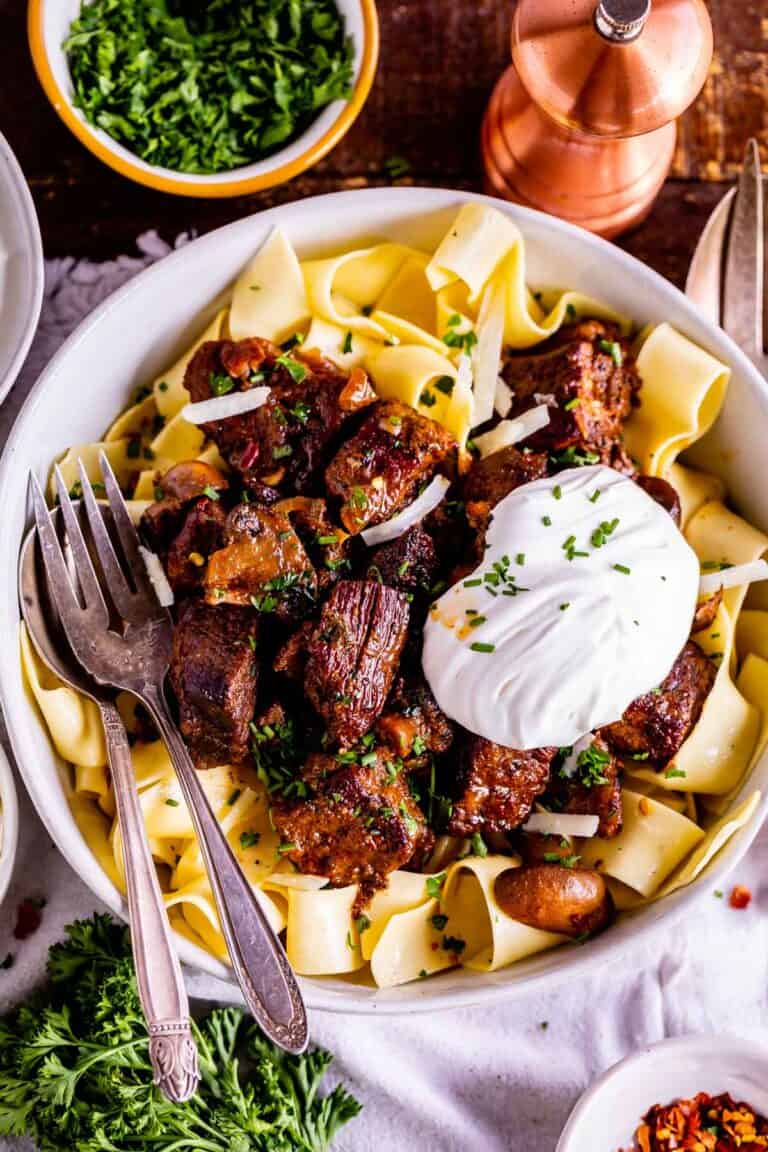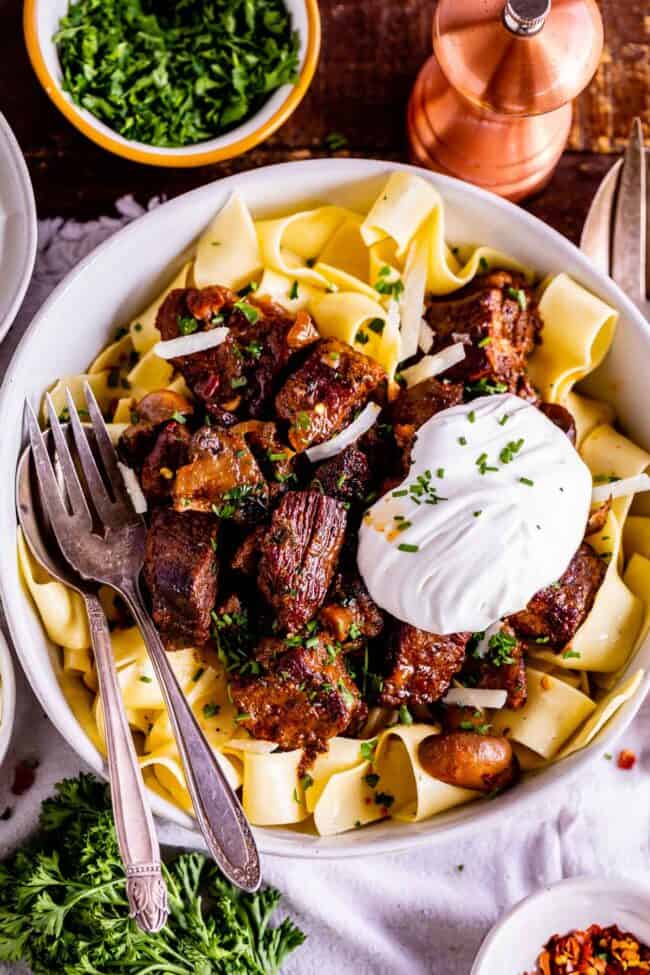 Beef Stroganoff recipe ingredients
See the recipe card below for the full recipe and instructions!
Chuck roast
Vegetable oil
Salt and pepper
Butter
Onion
Mushrooms
Seasonings (kosher salt, cracked black pepper, paprika, and dried parsley)
Garlic
Tomato paste
Red wine
Water
Better Than Bouillon Beef Base
Sour cream
Pappardelle pasta
Garnishes (fresh parsley and chives)
How to make this recipe for Beef Stroganoff
This ain't no 30 minute Hamburger Helper situation, where we throw in some ground beef and call it good. Oh no. There is a time and a place for ground beef (like this Easy Chili I just posted), but comfort food means we need to take some time. (Time in the crock pot, that is, while you kick up your feet and do nothing.) The only active time is in the beginning when we brown the beef and simmer the sauce for a bit.

Start off with a 2 pound chuck roast and chop it into 2 inch chunks. I learned recently that stew meat, the pre-chopped beef they sell at the store, can sometimes have odds and ends from lots of different cuts. I usually have no issues with it getting tender when slow cooked, but to guarantee tender fall-apart meat, buy yourself a chuck roast and chop it your self. Takes 3 minutes.
Pat dry, and salt and pepper generously. Generously, I say!


Sear it in your hot hot pan with plenty of space in between each piece of beef. If you dump it all in at once, the meat will steam itself instead of browning, and you've completely defeated the purpose. You may as well dump it in the crock pot raw. Searing properly gives you that gorgeous brown edge that has unparalleled flavor!


Next, chop up your onions and mushrooms. Cook them in butter in the same pan that you browned the beef in, working up all those browned bits. Season with salt, pepper, paprika, parsley, and garlic, yes please.
Add in some wine and beef broth and simmer it down for a few minutes. I used cooking wine. Anyone who drinks wine will tell you in a hoity toity voice that cooking wine is the worst thing ever, but I use it all the time and think it tastes amazing. And it's cheap. I don't drink alcohol and am certainly not going to buy a $20 bottle of wine just for beef stroganoff, to have the rest go down the drain. But if you drink wine, pick your favorite red and go to town!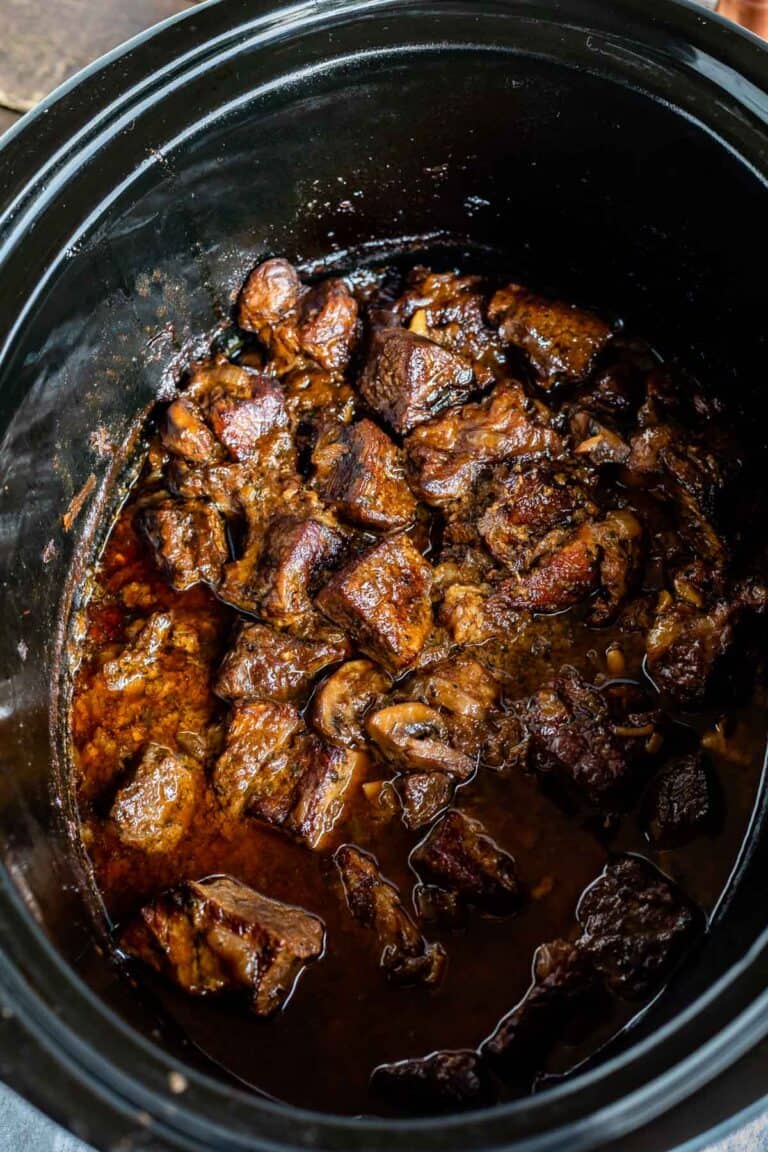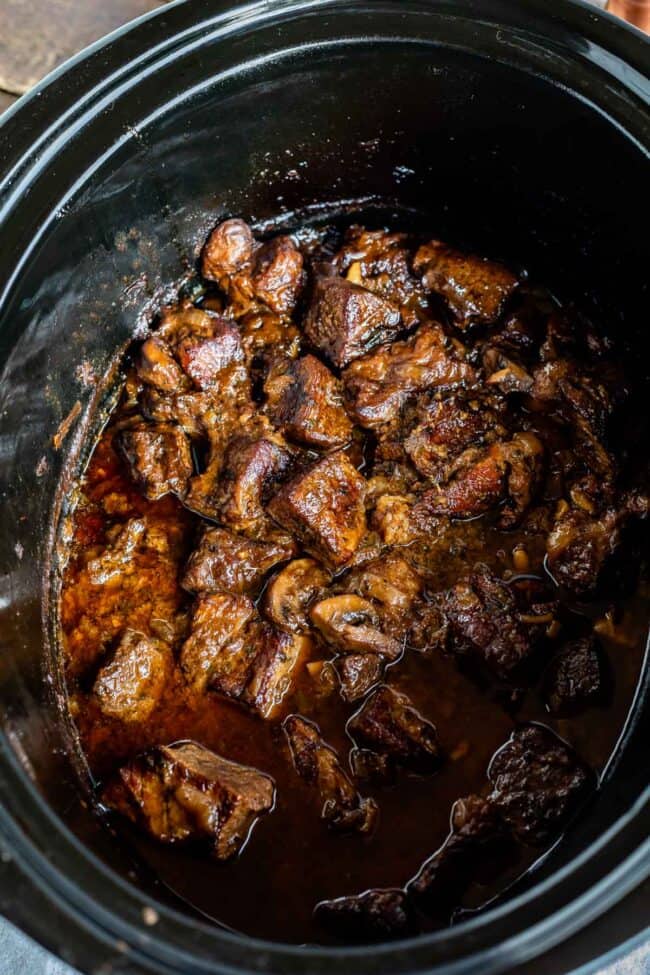 Here is the beef and mushroom sauce after slow cooking. This meat is so tender you can cut it with a wooden spoon. It's so good!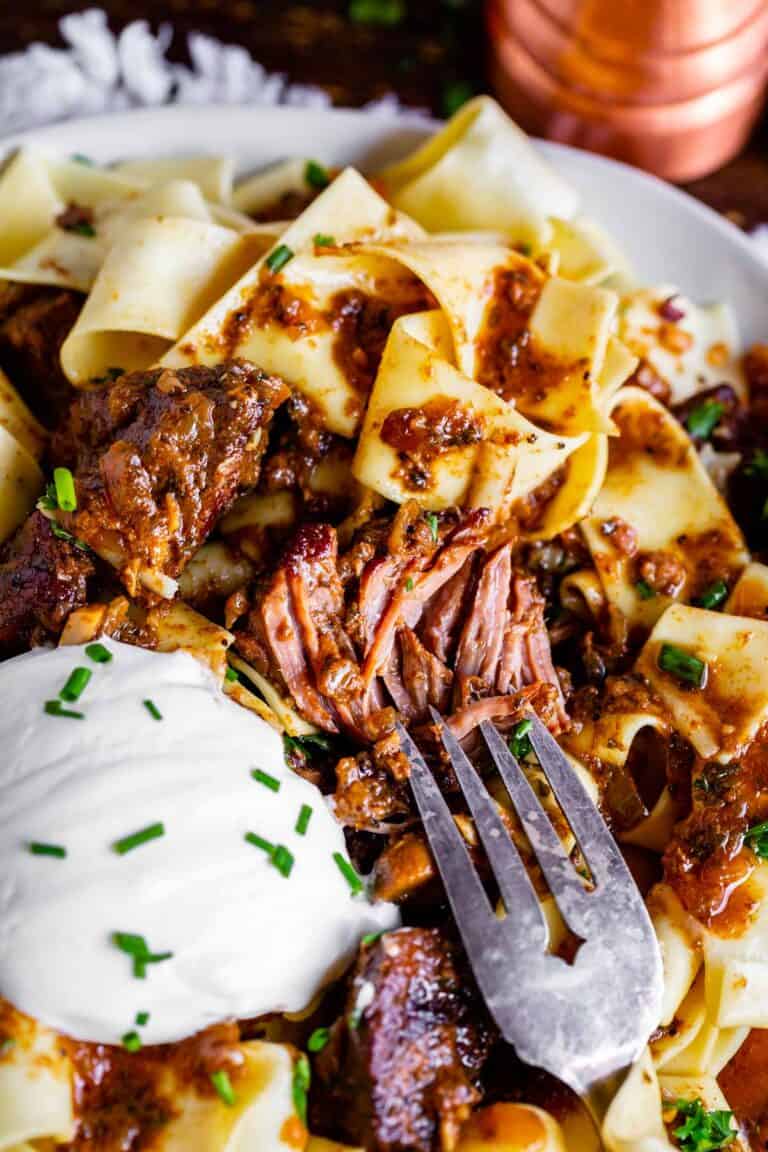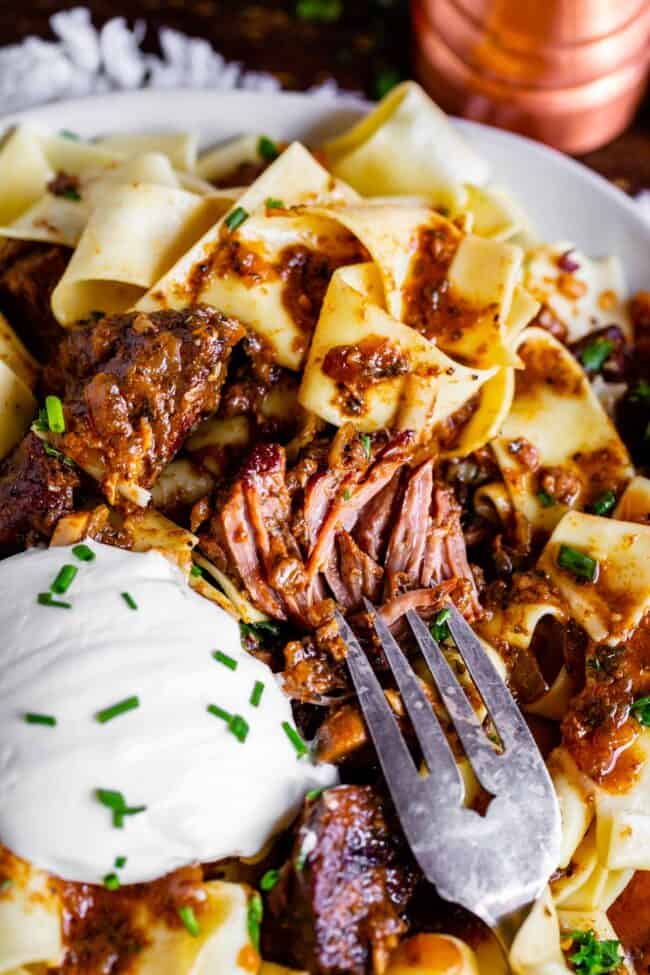 I love to serve this with pasta on the plate, then the beef stroganoff, then a healthy dollop of sour cream. You can add the pasta and sour cream straight to the crock pot and mix it all together before serving, if you prefer! I just think it's so pretty served in layers. And this way your guests can choose how much sour cream they want to add!
Top with fresh parsley and chives. I love the pop of flavor the herbs add!
How long to cook Crock Pot Beef Stroganoff
As far as cooking time goes, you have a couple of options–either cook on low for 8 hours or cook on high for 4 hours.
I love having the option of either one. If I'm shorter on time, I'll cook everything up a little bit quicker. But if I have the option to leave it all day, I'll definitely pick low and slow every time. Don't get me wrong, it's delicious either way, but if you can set it and forget it for a good 8 hours, your meat will be fall-off-the-bone tender, more flavorful, and less likely to dry out or burn.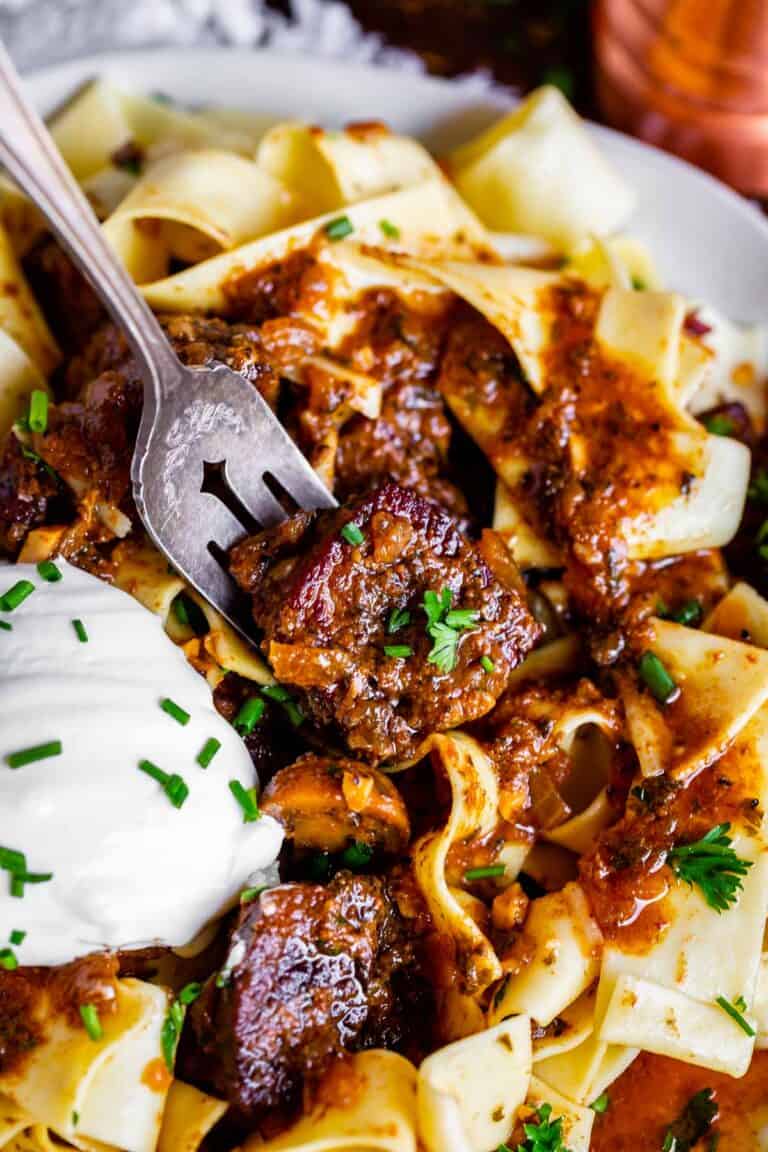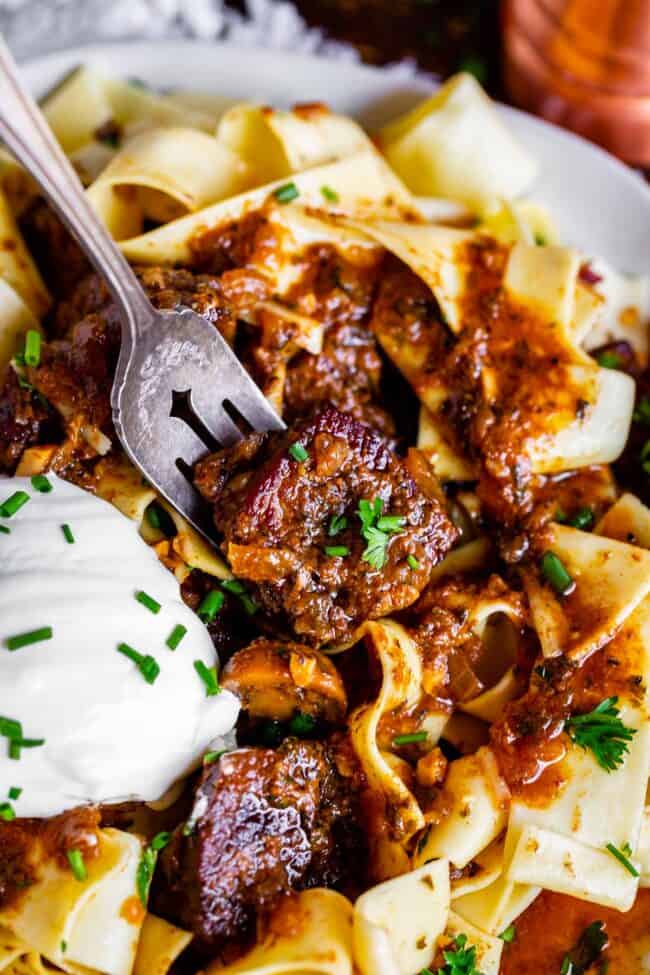 What to serve with Crock Pot Beef Stroganoff
I love serving this creamy beef stroganoff over a bed of pappardelle noodles or egg noodles. But it is also really good on mashed potatoes! Aunt Shirley's Famous Creamy Mashed Potatoes will forever and always be my favorite recipe!
You could also serve it over rice or brown rice for a healthier option. Or cauliflower rice for an even healthier option!
For side dishes to classic beef stroganoff, a nice big green salad always hits the spot. Green vegetables are good too. Try these green beans almondine or browned butter asparagus.
It's nice to serve bread to mop up all the sauce. Try these Big Fat Crescent Rolls, or this One Hour French Bread! You really can't go wrong!
Beef Stroganoff Crock Pot storage & reheating
Leftover beef stroganoff will last in the fridge for 3-4 days. To heat it up, warm single servings in the microwave or heat a larger portion up on the stove with a splash of beef broth to help everything heat evenly and avoid burning.
Since stroganoff contains dairy, I don't recommend freezing the finished dish. The sour cream can separate and become watery, and the noodles can get mushy.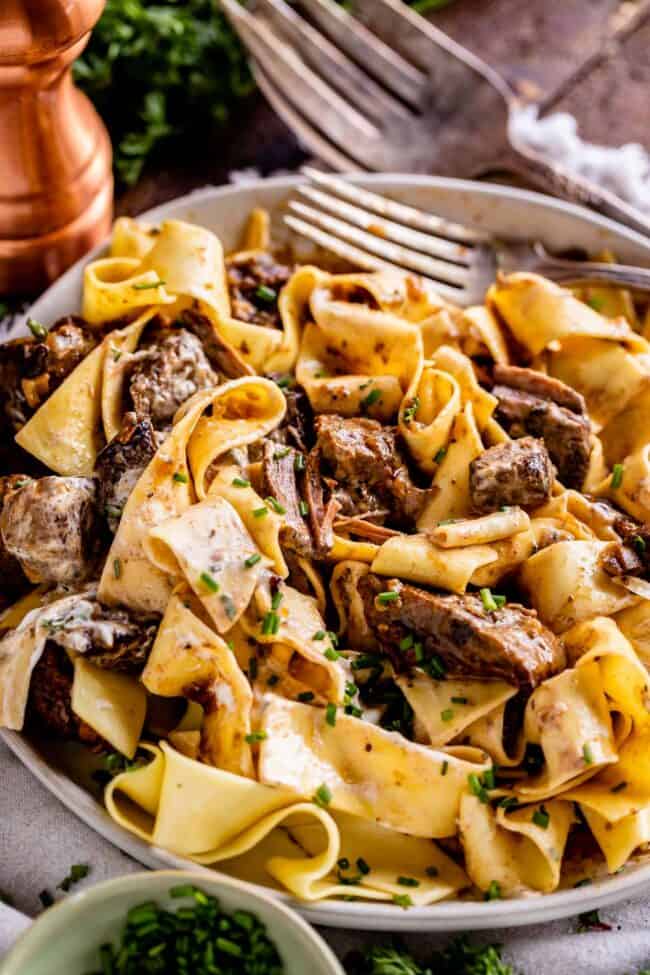 Crock Pot Beef Stroganoff Recipe FAQ
What is the best cut of meat for beef stroganoff?
Since this beef stroganoff is made in a crockpot, I recommend using an affordable cut of meat like chuck roast. Chuck roast is tougher than other cuts of beef, but since it cooks low and slow in the crockpot it has plenty of time to get nice and tender! 
What is the sauce in beef stroganoff made of?
Beef stroganoff sauce is a rich and tangy sauce made of beef broth, simmered with herbs and seasonings, butter, red wine, onion, and sour cream. 
How do I thicken slow cooker stroganoff?
If needed, you can easily thicken your sauce using a cornstarch slurry. To make a slurry, simply whisk together 1 tablespoon of cornstarch and 3 tablespoons of water until smooth. Stir it into the sauce and cook, just a few minutes, until thickened.
Can I substitute chicken broth or chicken base for beef base in beef stroganoff?
Yes. Feel free to swap the beef base out for chicken broth or chicken base if preferred. It will have a lighter flavor, but sometimes you gotta use what's on hand.
Can I use milk instead of sour cream in Stroganoff?
In theory, yes. However, milk will naturally create a thinner sauce. Sour cream makes it creamier and thicker. 
If you do decide to use milk, I recommend whole milk. The higher the fat content, the creamier the sauce will be. If you have half and half or heavy whipping cream, even better.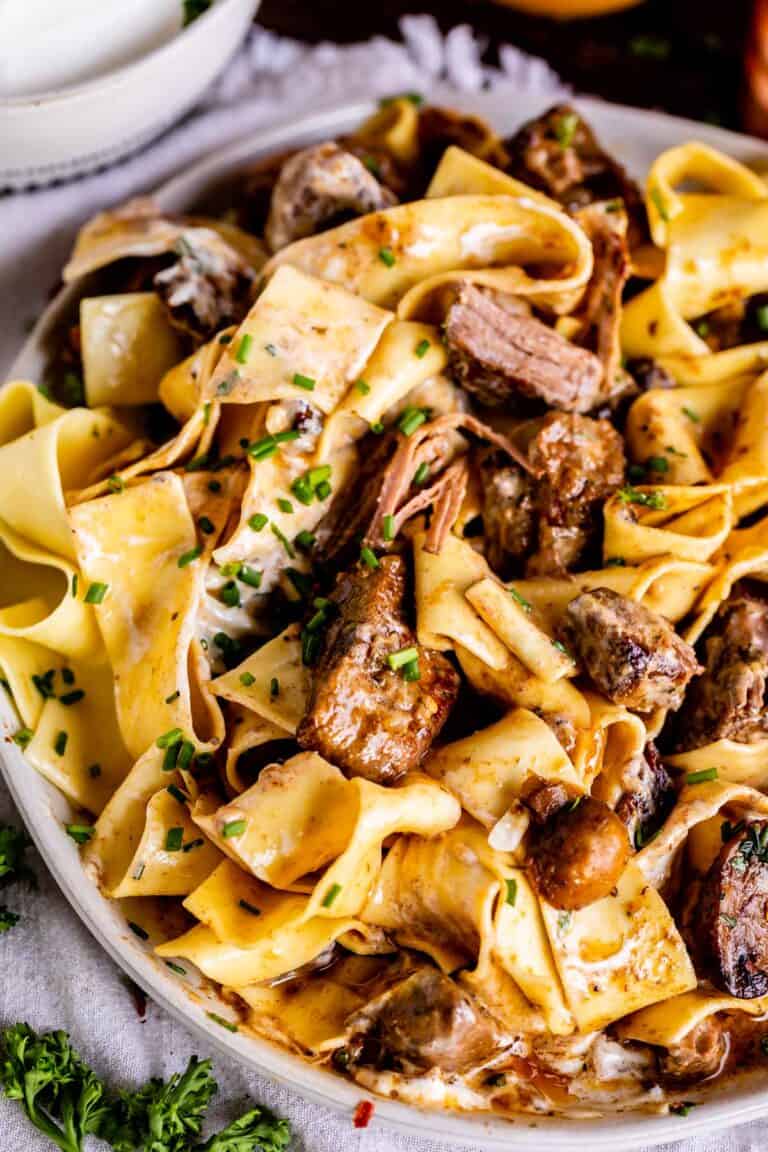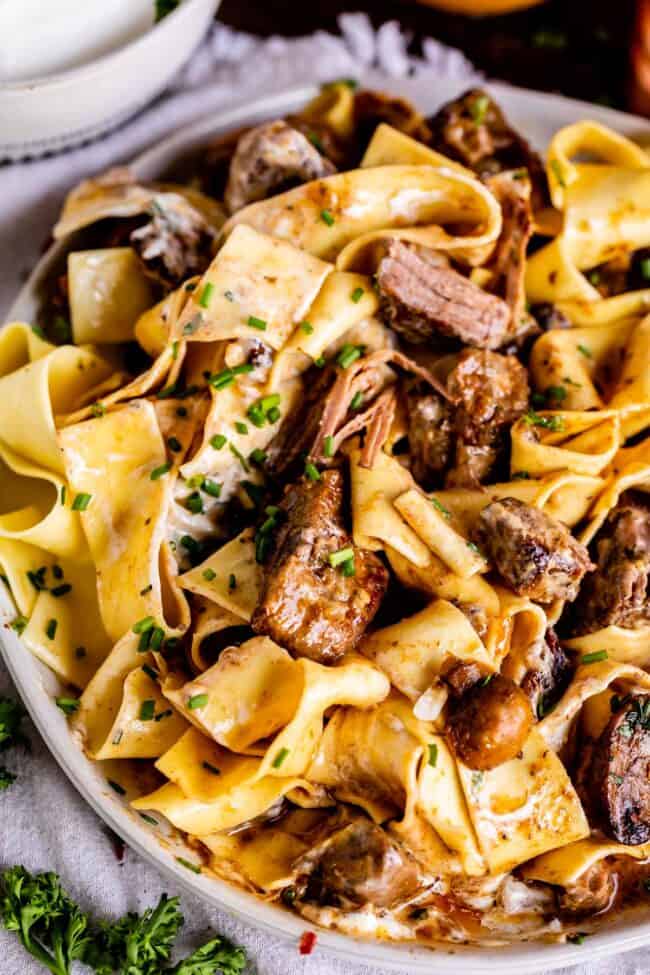 More classic beef recipes you are going to love!
Facebook | Pinterest | Instagram

Beef Stroganoff Recipe (Crock Pot)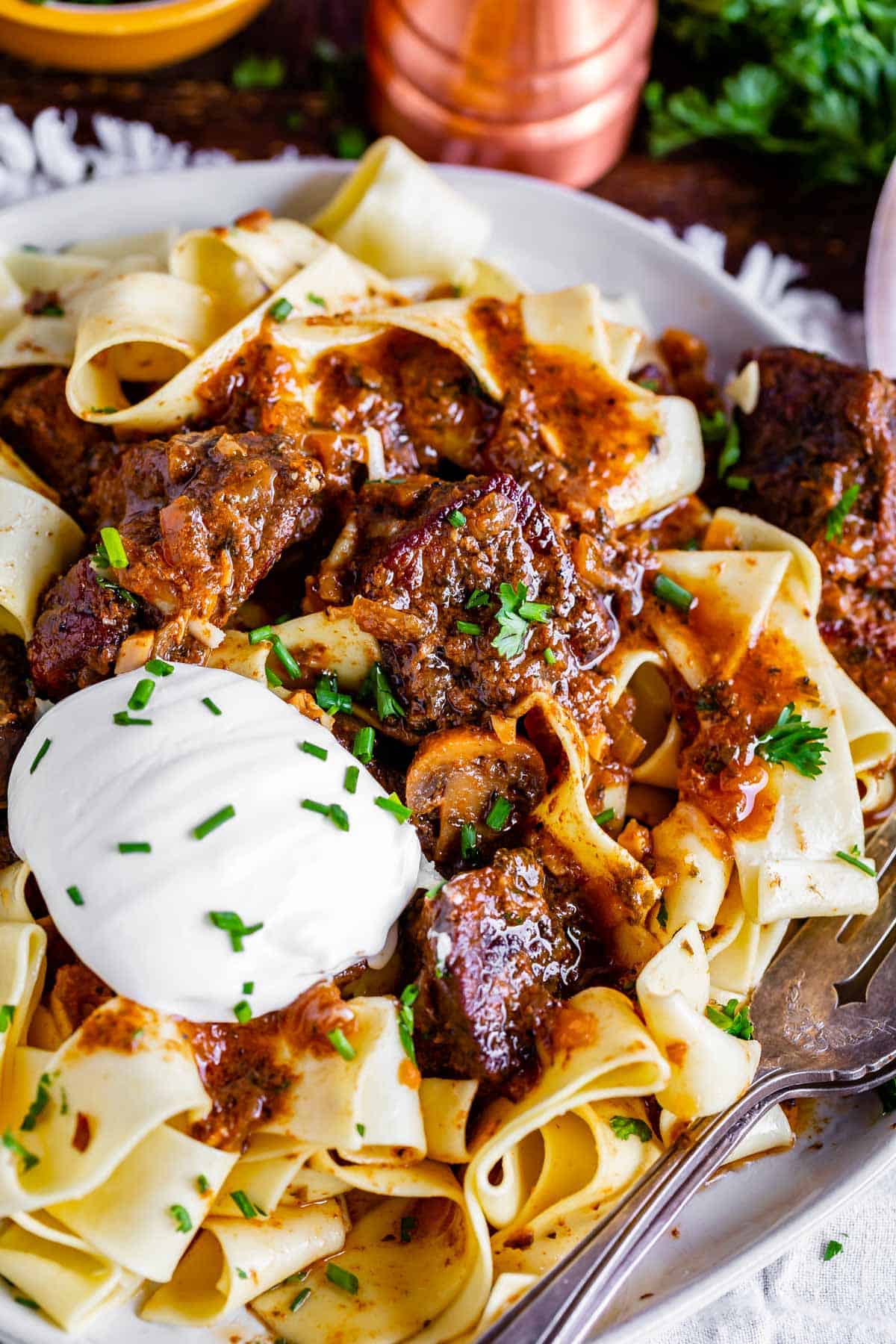 This is not your average beef stroganoff recipe! Get outta here ground beef, we are using fall-apart tender pot roast, cooked to perfection in the crock pot. Juicy beef in a rich mushroom sauce is topped with a huge dollop of sour cream. Classic comfort food! Serve over pappardelle pasta and fresh chives.
Ingredients
2 to 2 1/2

pounds

chuck roast

,

chopped into 2 inch chunks

1-2

tablespoons

vegetable oil

,

I used light olive oil

generous salt and pepper

4

tablespoons

butter

,

(half stick)

1

onion

,

chopped

8 to 12

ounces

mushrooms

,

quartered

1

teaspoon

kosher salt

1/2

teaspoon

cracked black pepper

,

or more to taste

2

teaspoons

paprika

1

tablespoon

dried parsley

1

tablespoon

garlic

,

smashed and minced

1

tablespoon

tomato paste

1/2

cup

red wine

1/2

cup

water

2

teaspoons

Better Than Bouillon Beef Base

1 to 2

cups

sour cream

,

to add after cooking

12-16

ounces

pappardelle pasta

,

plus water and salt

fresh parsley

,

to garnish

fresh chives

,

to garnish
Instructions
Use a sharp

serrated knife

to cut the chuck roast into 2 inch chunks. Separate all the pieces out onto a work surface (I had mine on a cutting board) and dry them all over with paper towels.

Salt and pepper the pieces. Be generous. I used at least 1 and 1/2 teaspoons kosher salt.

Heat a

12 inch skillet

over medium high heat. When it is hot, add 1 tablespoon oil and swirl to coat.

Carefully place about 1/3 of the pieces of beef into the pan, one by one. Leave at least an inch or two of space in between. If you put them too close together (or just dump the meat in all at once), your meat will start to steam itself, and no browning will occur. (You may as well just skip the entire browning process altogether and dump the raw meat straight into the crock pot.)

Let the meat sear for about 1-2 minutes, then use tongs to flip each piece. When you see nice brown edges on both sides, transfer the meat to your slow cooker.

Continue searing the rest of the beef in one or two more batches, depending on space. Add more oil as necessary, and reduce the heat to medium if your pan starts to smoke. Remove all the meat to the slow cooker, but don't clean out that pan. We need all those gorgeous brown bits.

Turn the heat off if you need to take a moment to chop your onion and slice your mushrooms if you haven't already.

Melt 4 tablespoons butter over medium high heat in the pan you seared the meat in. When it's melted, add the chopped onion and quartered mushrooms. Add 1 teaspoon kosher salt, 1/2 teaspoon black pepper, 2 teaspoons paprika, and 1 tablespoon dried parsley. Saute for 5-8 minutes, until onions and mushrooms are soft.

Add 1 tablespoon smashed and minced garlic. Saute for 1 minute until fragrant. Add 1 or 2 tablespoons tomato paste. I love to use these refrigerated

tubes of tomato paste

, so I don't have to throw away the rest of a 6-oz can.

Add 1/2 cup red wine (I used cooking wine) and 1/2 cup water. Add 2 teaspoons

Better Than Bouillon Beef Base

.* Let the mixture come to a boil over high heat, then reduce heat to a simmer and let cook for another 5-7 minutes until it has reduced a bit.

Transfer the mixture to the

slow cooker

, adding in every last drop. Stir it together with the beef.

Cover and cook on low for 8 hours, or on high for 4 hours.

Fill a large pot with water and about a tablespoon of salt (it should taste like seawater.) Bring the water to a boil and add the pappardelle pasta. Stir constantly to make sure the noodles don't stick. Cook according to package instructions, usually about 3 minutes. Boil until al dente, don't over cook.

Drain and add olive oil, stirring to coat.

Add some pasta to a serving plate.** Top with beef stroganoff. The chunks of beef may be big, but it's so fork tender your guests can take care of it themselves at the table.

Add a big dollop of sour cream to each plate. Top with fresh parsley and fresh chives.
Notes
*You can replace the 1/2 cup water and 2 teaspoons beef base with 1/2 cup of high quality beef broth. But I really love the extra concentrated flavor the beef base adds. Try it!
**If you prefer, you can add the sour cream and pasta straight to the beef stroganoff and mix it all together. But I love how it looks plated with the sour cream on top, and this way your guests can add as much or as little sour cream as they like.
Nutrition
Serving:
1
g
|
Calories:
689
kcal
|
Carbohydrates:
47
g
|
Protein:
39
g
|
Fat:
37
g
|
Saturated Fat:
18
g
|
Polyunsaturated Fat:
4
g
|
Monounsaturated Fat:
14
g
|
Trans Fat:
1
g
|
Cholesterol:
191
mg
|
Sodium:
659
mg
|
Potassium:
925
mg
|
Fiber:
3
g
|
Sugar:
4
g
|
Vitamin A:
904
IU
|
Vitamin C:
4
mg
|
Calcium:
107
mg
|
Iron:
5
mg