Reuben-Stuffed Crescent Rolls
These Reuben Sandwich inspired crescent rolls are easy, fast, and the perfect appetizer to support your loafing on the couch pretending to watch football habit.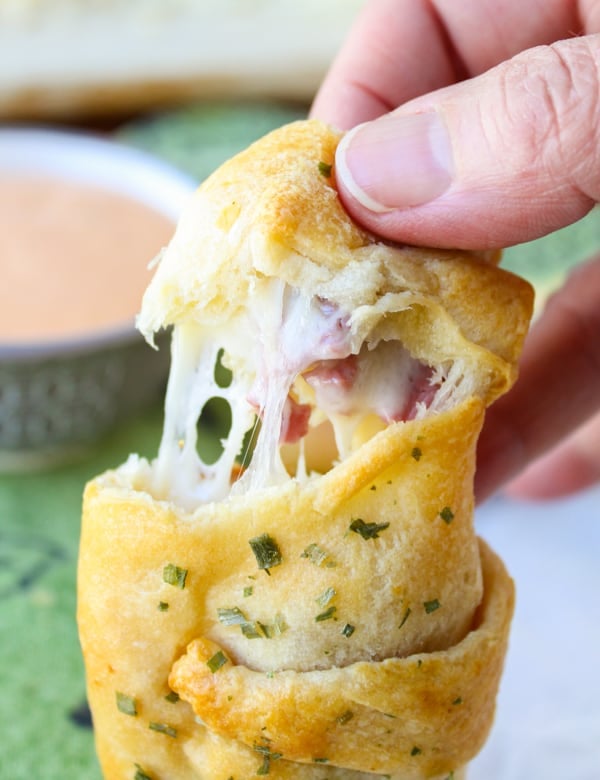 My mom is obsessed with birthdays. I suppose I could revise that to say she's obsessed with thinking about other people and trying to make them happy, or whatever. It's not a bad trait.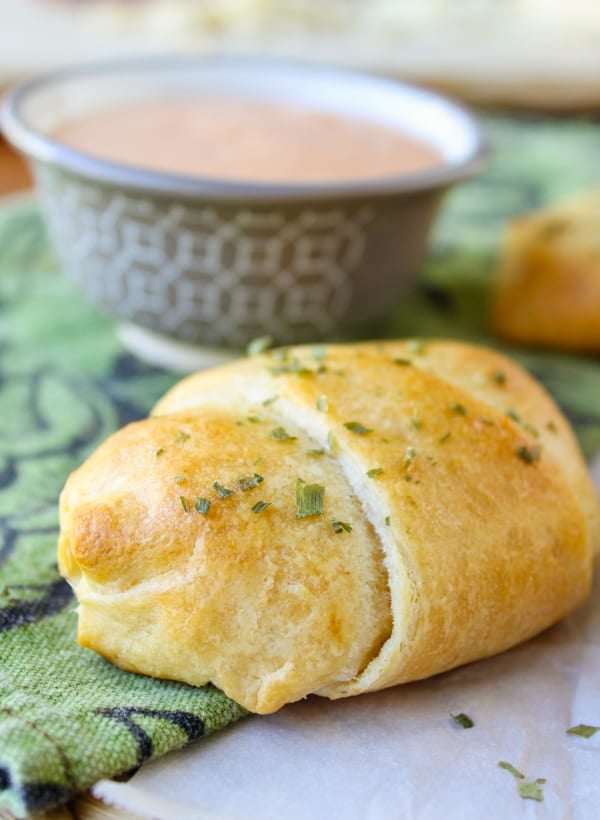 She never misses anyone's birthday, even her dozen nieces and nephews and all their children. Today she texted my cousin a happy birthday for his 5-year-old daughter Tori.
"Is this 1 month late or 11 months early?"
And that's when my mom realized that they have been letting her say happy birthday a month late for Tori's entire life, because apparently she messed up her calendar appointment 5 years ago. When she responded indignantly, he replied, "It's okay, it supports our nickname for you, 'Crazy Old Aunt Janice.'"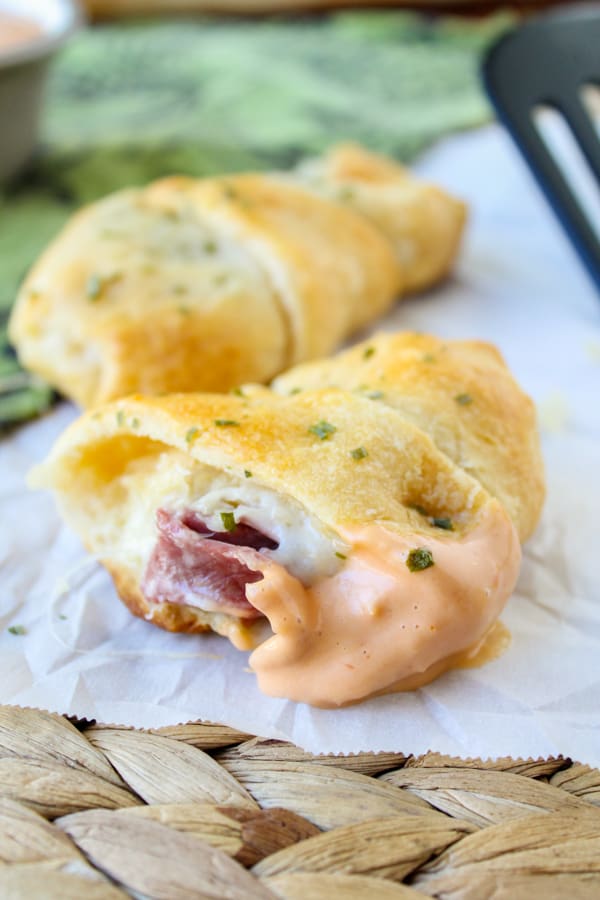 I seriously hope I grow up to be like my mom someday. Or at least like my cousin.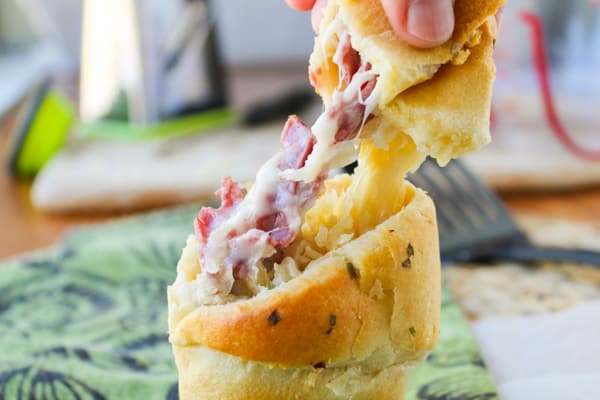 Well it's officially football season! Time for cheesy-carby appetizers. One of my favorite things to make is crescent rolls stuffed with…pretty much anything. Everyone loves crescent rolls, the cheesier the better. I was craving a Reuben sandwich, so I came up with these little guys. I'm in love. Swiss, sauerkraut, corned beef. Match made in heaven. I like to dip them in Thousand Island dressing for a nice kick. Corned beef is kind of expensive lately, so pastrami would be a good substitute. Happy football Eating-Food-On-The-Couch Season! I mean let's be real.
Do you guys give up? Or are you thirsty for more?
Facebook | Pinterest | Instagram | Twitter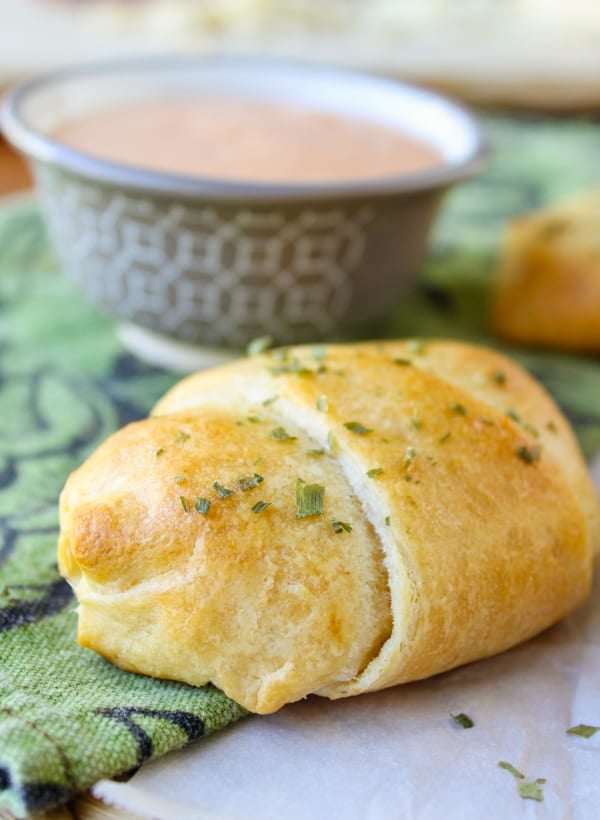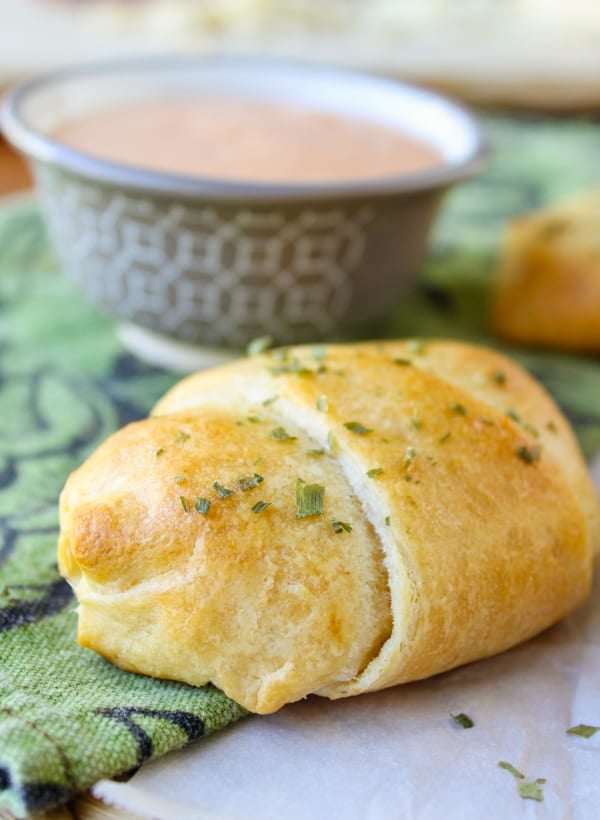 print
Did you make this recipe?
Leave a review »
Reuben-Stuffed Crescent Rolls
Makes 8 rolls
adjust servings
Ingredients
1

(12 ounce) can crescent rolls (I used Pillsbury Grands)

1 1/2

cups swiss cheese, shredded

1/2

cup sauerkraut, squeezed dry

3

large slices corned beef (about 3 ounces), roughly chopped

2

tablespoons butter, melted

dried basil, parsley, chives, etc., optional

Thousand Island dressing, for dipping
Instructions
Preheat your oven to 350 degrees F, or whatever temperature the packaging on your crescent rolls says.
Unroll the dough from the can and separate into triangles. One the wide end of the triangle, add about a tablespoon of swiss cheese, a tablespoon of sauerkraut, a tablespoon of corned beef, and another tablespoon of cheese.
Roll up the dough and seal the edges well. If any cheese is poking out it will ooze everywhere. It might not look very crescent-y, but that's okay. It's what's inside that counts.
Place the sealed rolls on a lined or greased baking sheet.
Bake at 350 F for 12-15 minutes, or according to crescent roll package directions. The tops should be golden brown when you take them out.
Immediately brush the tops with melted butter and sprinkle with dried herbs, if desired. You can totally skip this step no problem.
Serve the rolls warm with Thousand Island dressing to dip them in.
by The Food Charlatan

If you make this recipe,
share it on Instagram
 using the hashtag
#TheFoodCharlatan
so I can see it!
Source: The Food Charlatan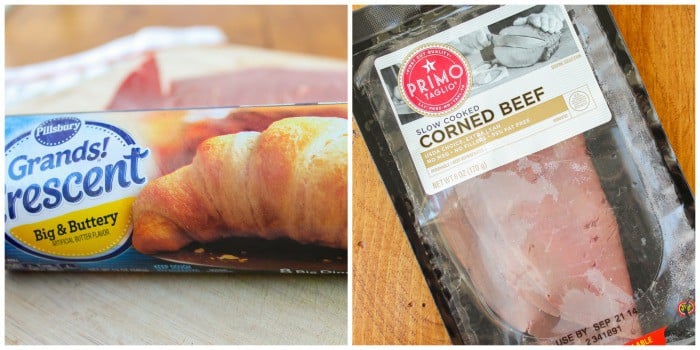 Use good quality crescent rolls. I like Pillsbury.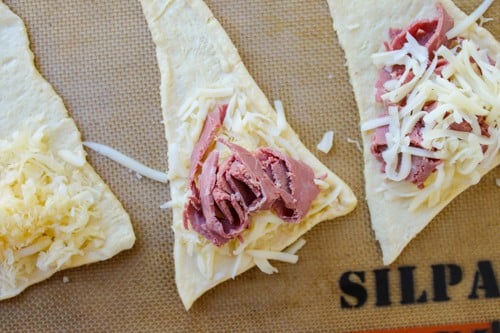 Cheese, sauerkraut, corned beef, more cheese.

Make sure you seal the edges well, otherwise all your cheese will ooze out.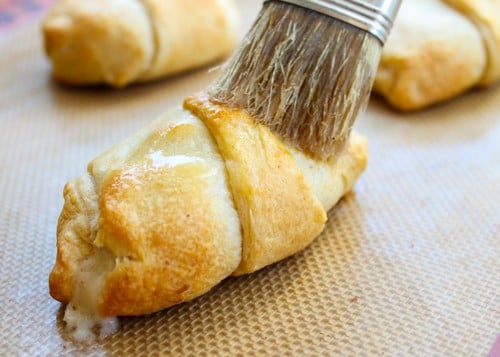 Don't forget the butter on top!
More appetizers you might like:
Bacon and Pepper-Jack Stuffed Crescent Rolls: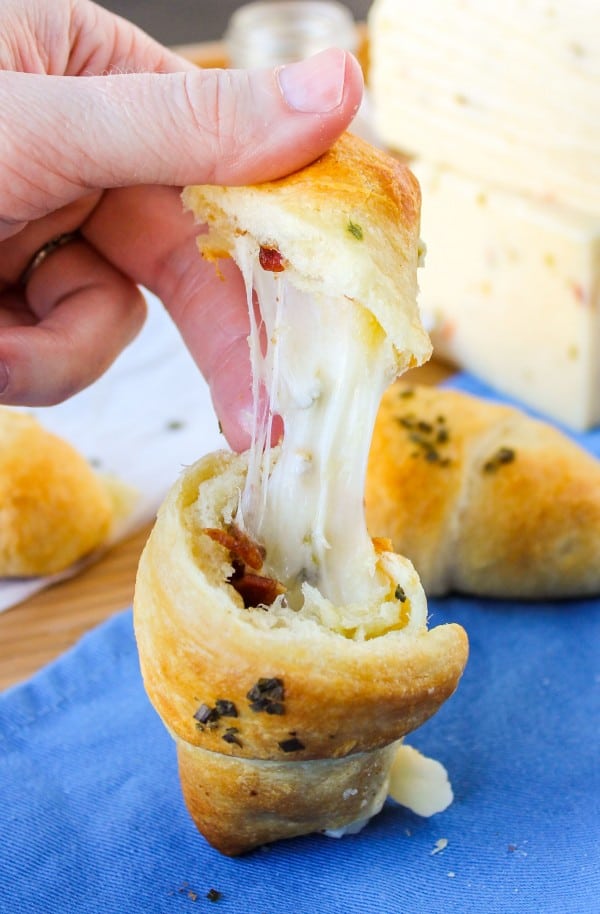 Fresh Bruschetta Lentil Dip:
Other great party food from around town:
Pepperoni Pizza Quesadillas from Snixy Kitchen
Chocolate Peanut Butter Footballs from She Wears Many Hats
Cheese-Stuffed Apple Chicken Meatballs from The Law Student's Wife
Hot Reuben Dip from Recipe Girl
We are a participant in the Amazon Services LLC Associates Program, an affiliate advertising program designed to provide a means for us to earn fees by linking to Amazon.com and affiliated sites.