Apple Cider Roasted Carrots with Plums
These tender carrots are roasted in apple cider sweetness that gives them an incredible glaze! Halfway through roasting, add a handful of dried plums. It's an awesome combo and perfect with the turkey and gravy on your Thanksgiving plate!
I'm just sittin here, watching Stranger Things 2 and stress-eating ALL the candy that I bought for Halloween tomorrow. Instead of handing out candy I'm going to be handing out sling shots to all the kids. Go home, hug your mom, don't get eaten by a demagorgon. (If you haven't watched Stranger Things yet, do it! I'm not even into scary movies (I literally watch with my hands on my face, no joke), but this one is amazing.)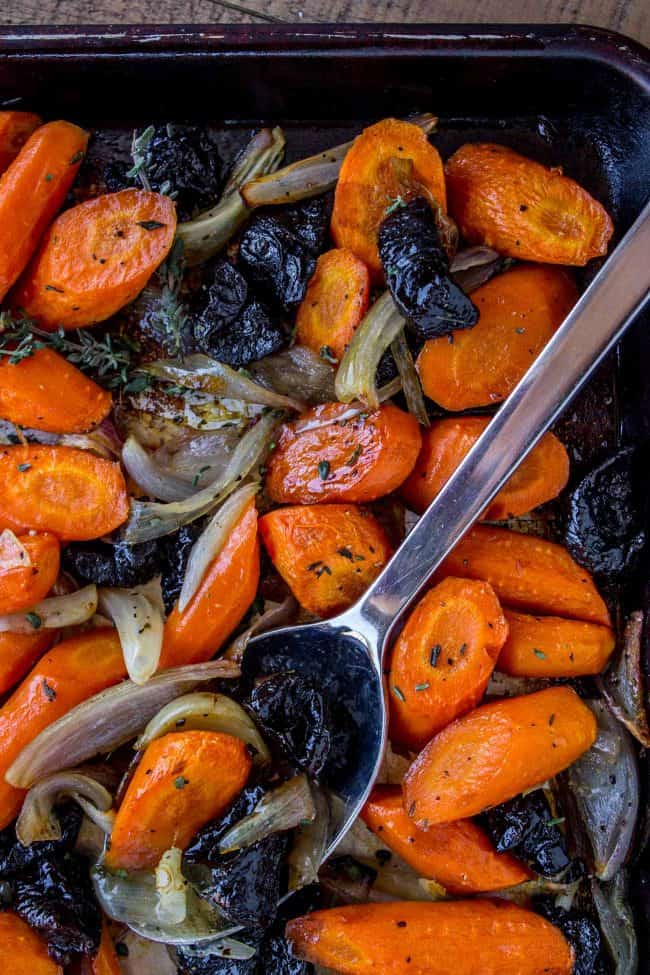 Who's ready for Halloween tomorrow? I'm kind of feeling like it already happened. We had a lot of events over the weekend and the kids had to get in and out of their costumes approximately 9 thousand times each, so I feel like I'm good. But trick or treating with the neighbors is always a fun tradition, I wouldn't miss it.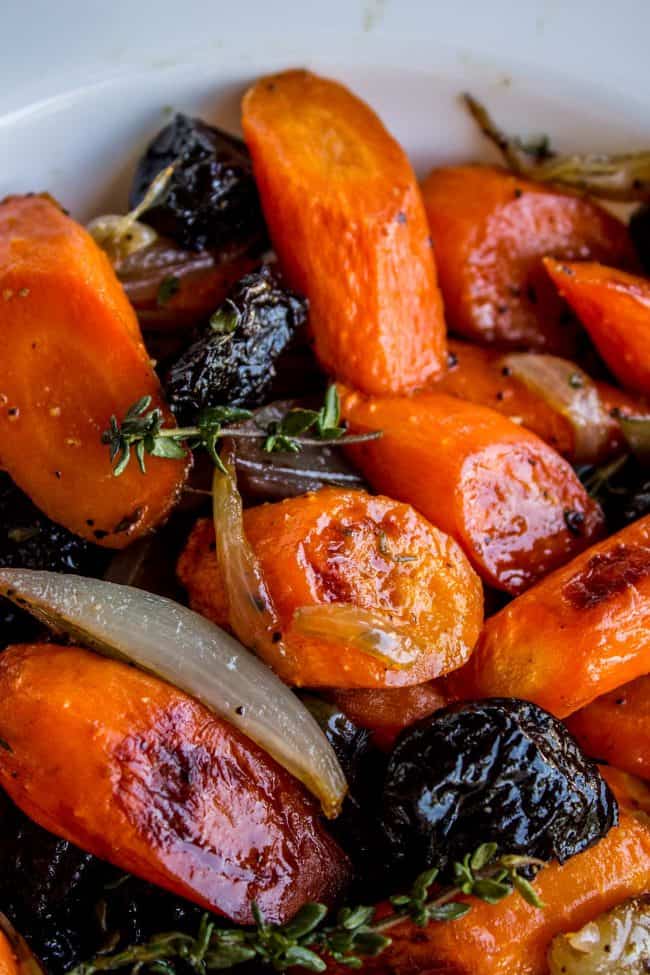 Are you guys ready for these apple cider carrots?? I'm one of those people who's trying to add apple cider to everything in the fall months, (Oatmeal? Milkshakes? Doughnuts?? YES.) and carrots are my latest victim. We're adding brown sugar to carrots all the time, why not sweet delicious apple nectar? You add it to the pan halfway through cooking, and end up with this subtle roast-y apple-y flavor on the carrots. It really is just perfect for the fall.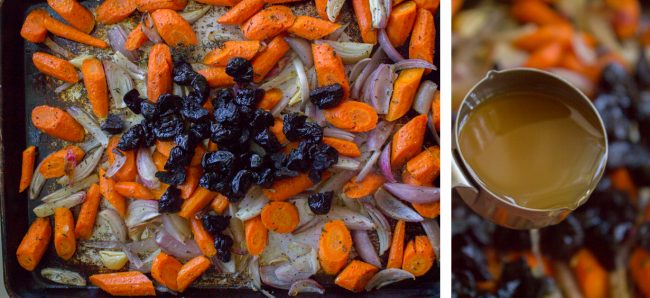 Don't be weirded out by the plums. I called them plums but they are really prunes, sorry. I know you're thinking about old people now, and certain facts of life that we won't discuss on a food blog. Prunes get a bad rap but they are actually so good. (I mean, plums are one of life's greatest treasures, so how could a dried one be bad?)
(Speaking of old people. We dressed up baby Valentine as an old lady for parties this weekend. Try explaining this to the old lady at church who asks what your baby is dressed up as. Go on. Try it.)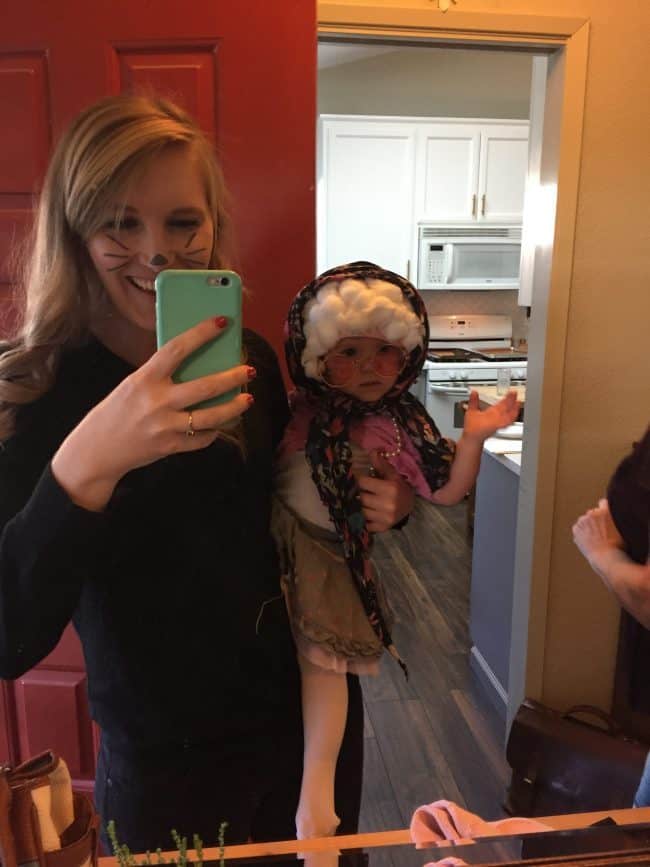 Anyway, the point is that prunes are delicious no matter how old you are. The sweetness from the apple cider and the savory carrots combine to make a really unique side dish.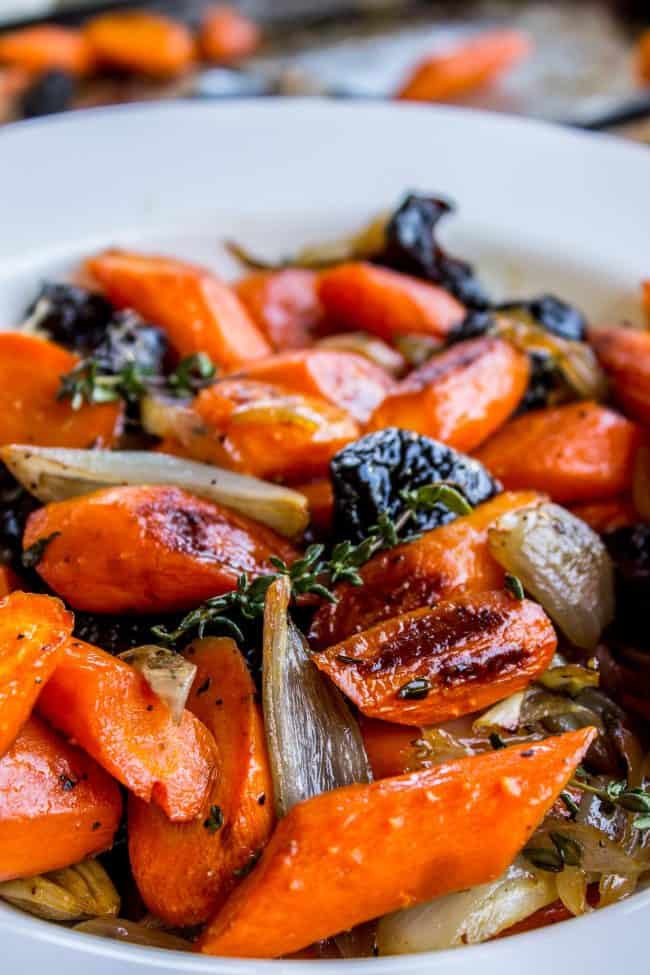 It would be perfect for Thanksgiving which is right around the corner! Seriously, this would be so good next to some turkey and gravy. And mashed potatoes. And maybe this butternut stuffing… I just found out I'm hosting this year. Let's hope I don't try to serve a raw turkey like that one time.
Facebook | Pinterest | Instagram | Twitter

One year ago: 3 Ingredient Roasted Potatoes with Crunchy Onions
Two years ago: Mini Chicken Pot Pies (Quick and Easy!)
SIX years ago: Pumpkin Cinnamon Streusel Pancakes
print
Did you make this recipe?
Leave a review »
Apple Cider Roasted Carrots with Plums
6
adjust servings
These tender carrots are roasted in apple cider sweetness that gives them an incredible glaze! Halfway through roasting, add a handful of dried plums. It's an awesome combo and perfect with the turkey and gravy on your Thanksgiving plate!
Ingredients
2

pounds carrots, chopped

3-4

shallots

2

tablespoons olive oil

1

and 1/4 teaspoons kosher salt

1/2

teaspoon pepper (or to taste)

1

tablespoon fresh thyme, chopped

3-4

cloves garlic, smashed

1/3

cup apple cider
Instructions
Preheat your oven to 425 degrees F. Generously spray an 11x17 inch sheet pan.
Chop your carrots into large chunks, see photos. Add to a large bowl.
You can use 4 small shallots or 3 large ones. Slice shallots thin. Add to the bowl.
Drizzle the olive oil over the carrots and shallots. Season with the salt, pepper, and fresh thyme.
Add the smashed garlic to the bowl. You don't need to mince it. It's there mostly for aromatics, though I always eat it...
Stir together and pour the vegetables onto the prepared baking sheet.
Roast for 20 minutes.
Remove from the oven and use a spatula to mix up the carrots. Add 1 cup chopped prunes and stir again. Drizzle the pan with 1/3 cup apple cider. Return the oven to the pan.
Continue to roast at 425 for another 15-20 minutes. When the carrots are fork tender, it's done!
Garnish with more fresh thyme and serve hot!
by The Food Charlatan

If you make this recipe,
share it on Instagram
 using the hashtag
#TheFoodCharlatan
so I can see it!
More carrots!! 
Roasted Carrots with Dill << I looove roasted carrots!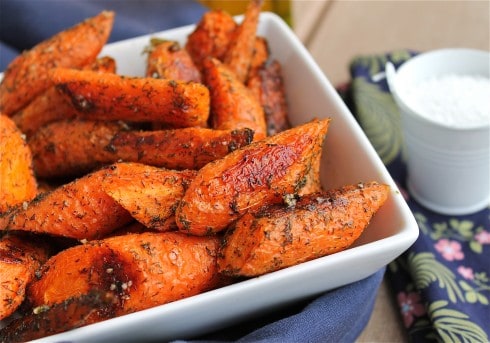 Slow Cooker Brown Butter Carrots < make ahead!
Sauteed Carrots with Shallots and Thyme << what can I say. Carrots, thyme and shallots are just a great combo!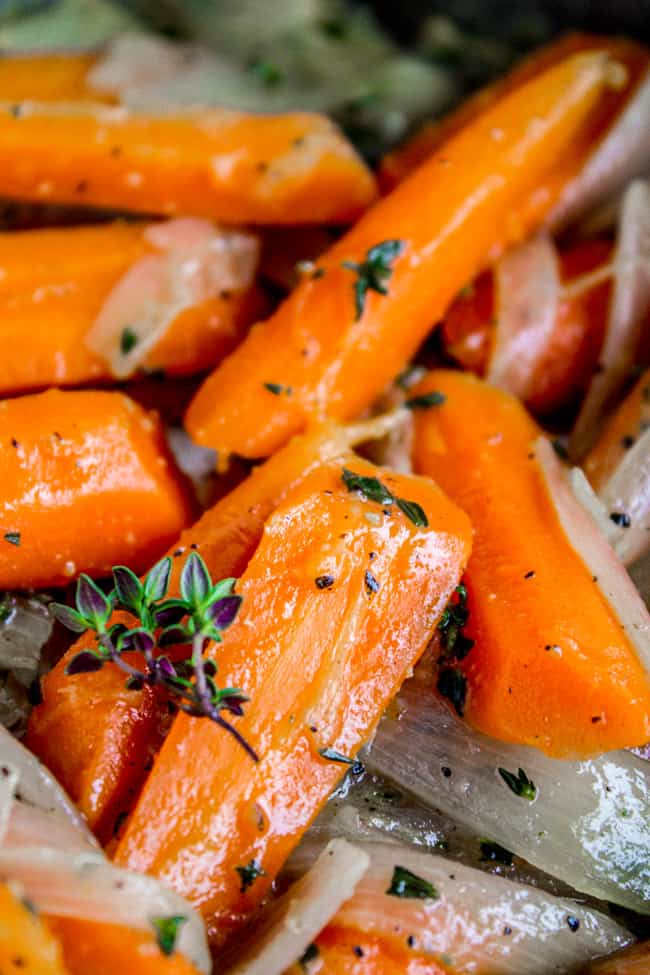 More roasted carrots to love! 
Honey Roasted Carrots from Today's Creative Life
Chili Maple Roasted Carrots from Aggie's Kitchen
Ginger Honey Roasted Carrots from She Wears Many Hats
Garlic Butter Roasted Carrots from Diethood
Want easy dinners?
Sign up for my FREE email course, Five 30-Minute Meals for When You Forget Dinner is a Thing. I'll send you easy recipes to solve the dinnertime madness!
We are a participant in the Amazon Services LLC Associates Program, an affiliate advertising program designed to provide a means for us to earn fees by linking to Amazon.com and affiliated sites.