A thick Mint Chocolate Brownie is one of my all time favorite desserts! Super fudgy brownies are topped with mint frosting, then the whole thing is drizzled with a thick layer of chocolate ganache. They are so rich, and completely irresistible! (This recipe is even better than BYU Mint Brownies!)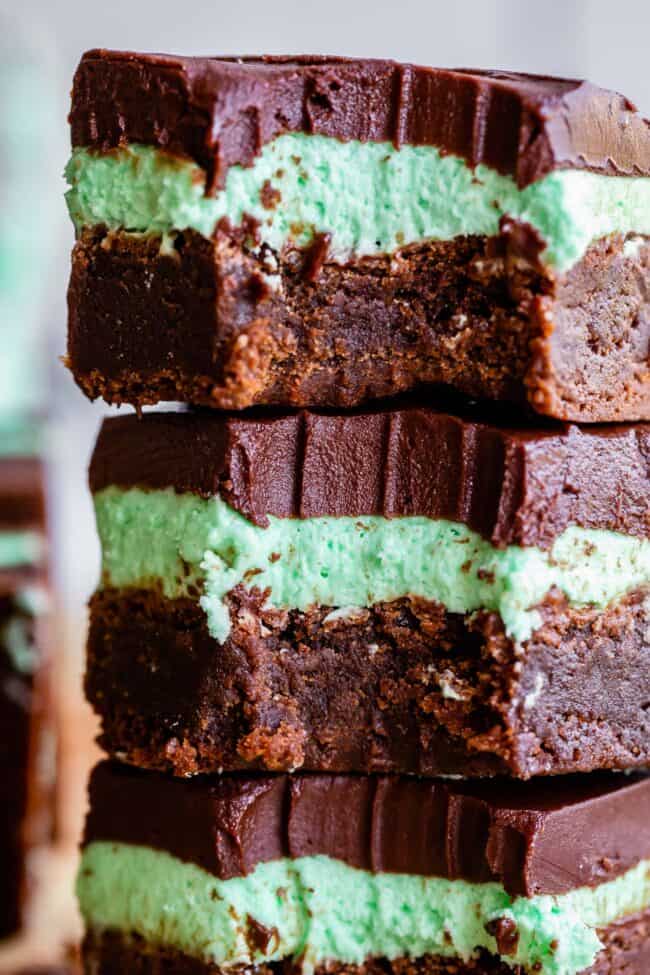 Originally posted on August 1, 2012. I updated the photos, recipe, and commentary on February 28, 2020. 
My newborn baby boy is 2 months old now and I haven't forgotten him anywhere yet, not once. Can I get a high five or what? Tell me you moms out there can relate! Adding a whole other human to your list of things to remember about is hard enough, but putting a sleep deprived person in charge is asking a lot. It's a miracle our species has survived, honestly. There is a reason Home Alone was such a hit. Every mom's worst fear!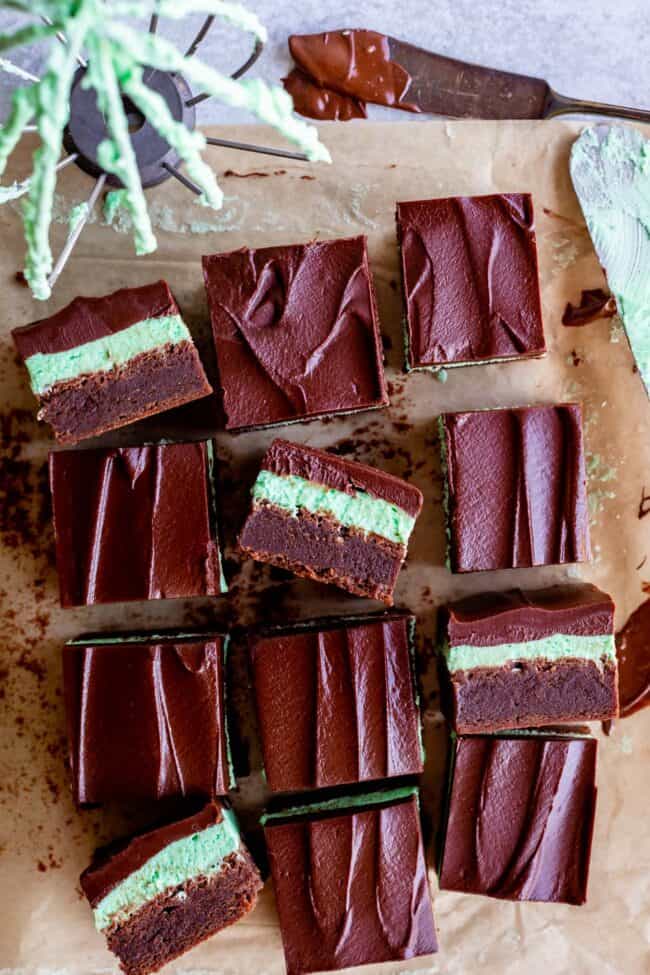 I remember the first time we forgot about Charlotte, our oldest. She was just a few weeks old. Eric and I went to a church barbecue and brought the carseat along so that she would have a place to nap. Nap she did, and first Eric wandered off to chat with a friend across the way, and then eventually I went to grab some food and joined him.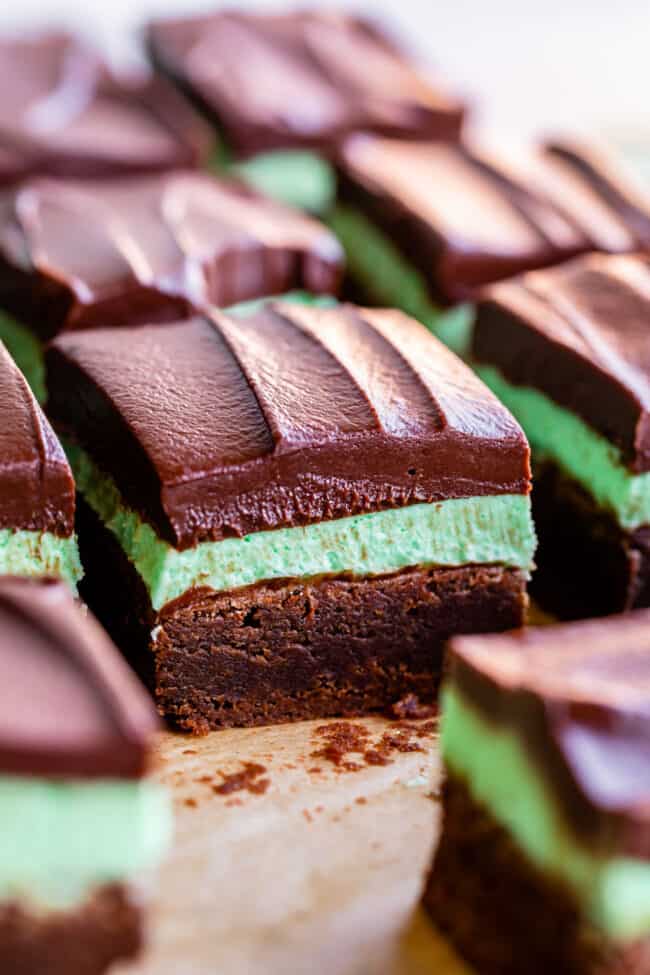 A few minutes went by and suddenly I looked at Eric and realized that he didn't have the baby, and I didn't have the baby, WHERE is the baby?? We rushed back (we were only 30 feet away) and a friend of ours had noticed her fussing and picked her up. It takes a village, right?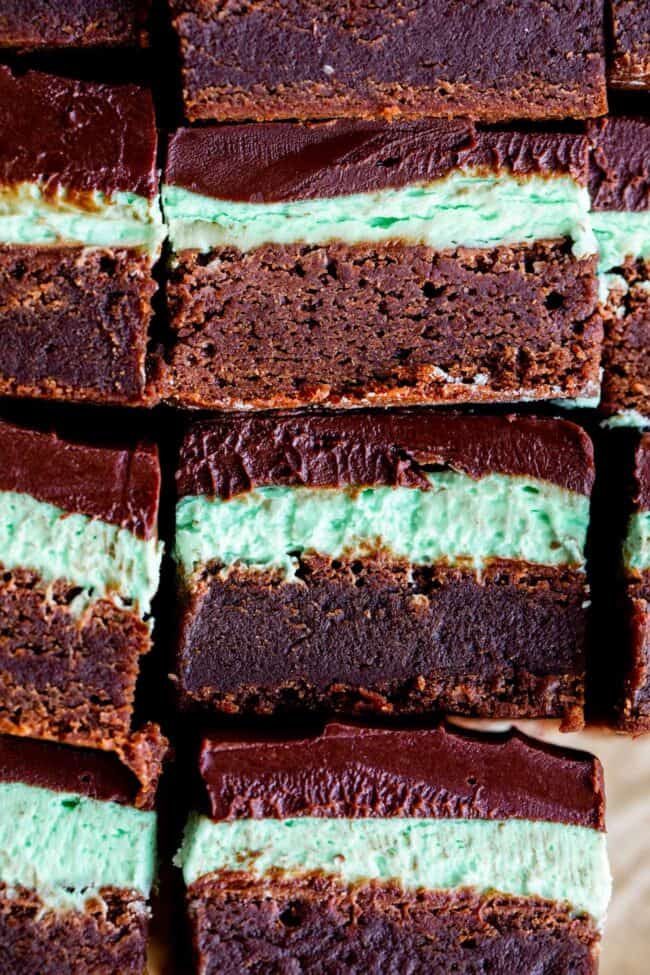 And here we are, 4 kids later. Haven't lost a single one, thankyouverymuch (permanently). Edison is starting to chill out a bit, which is so nice. If you've ever had a newborn before, you know how those first few weeks go. I told my friend Jen the other day, people are starting to not feel sorry for me anymore, so I guess that means I better start picking up with Real Life (instead of pretending I'm a vampire who never emerges from the house.)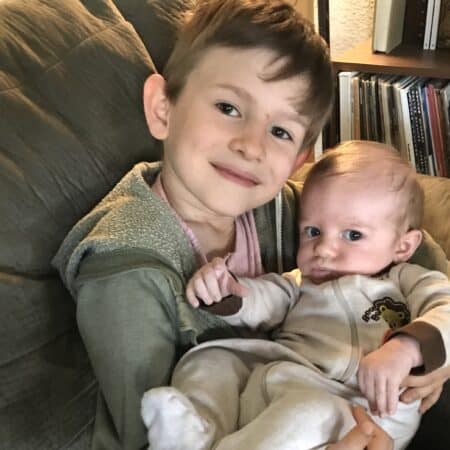 Here are my boys, Truman and Edison. Edison is about 10 and 1/2 pounds now. He's just a little guy I guess, the doctors aren't worried. Can you believe he is exactly the weight I was when I was born? My poor mother. You are a saint. I can't even imagine having a baby this big!!
BYU Mint Brownies
Have you tried the mint brownies at BYU? They are pretty legendary. But, I hate to break it to you BYU, this recipe is way better. It's got the fudge. The ones at BYU are a little more cakey, and top theirs with chocolate frosting instead of ganache. And there's no way it's a true mint brownie without the ganache. I mean. Just look at it: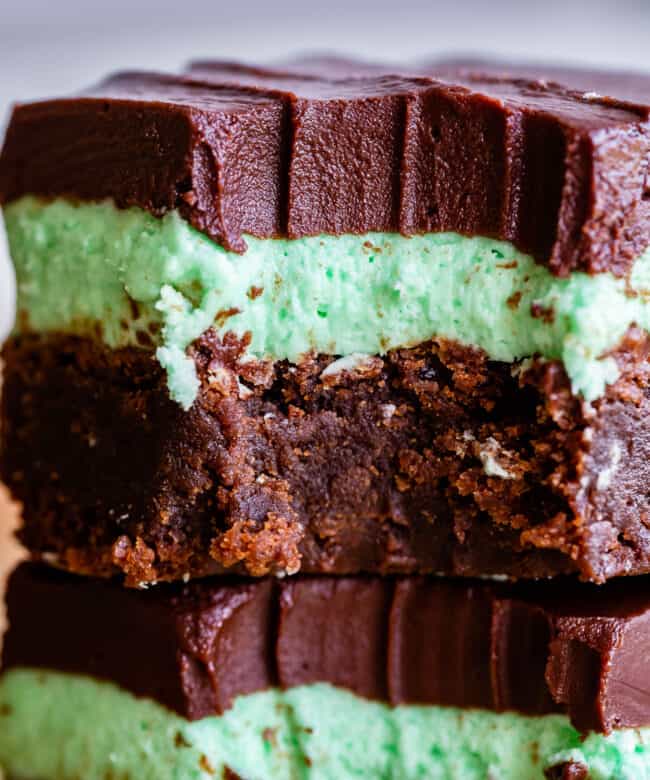 Mint brownies and I go way back, even before I discovered they were a thing at BYU. When I was growing up my mom made mint brownies every year for Thanksgiving, without fail. They were my Great Aunt Pauline's favorite and could not be skipped. Our family was solely in charge of dessert (my Grandma and Pauline did the turkey), and my mom took her dessert job very seriously. Every year we brought a huge pan of these mint brownies, a lemon meringue pie (or 2), blackberry pie, (definitely 2), pumpkin pie, pecan pie, homemade Reeses bars… those were the yearly staples.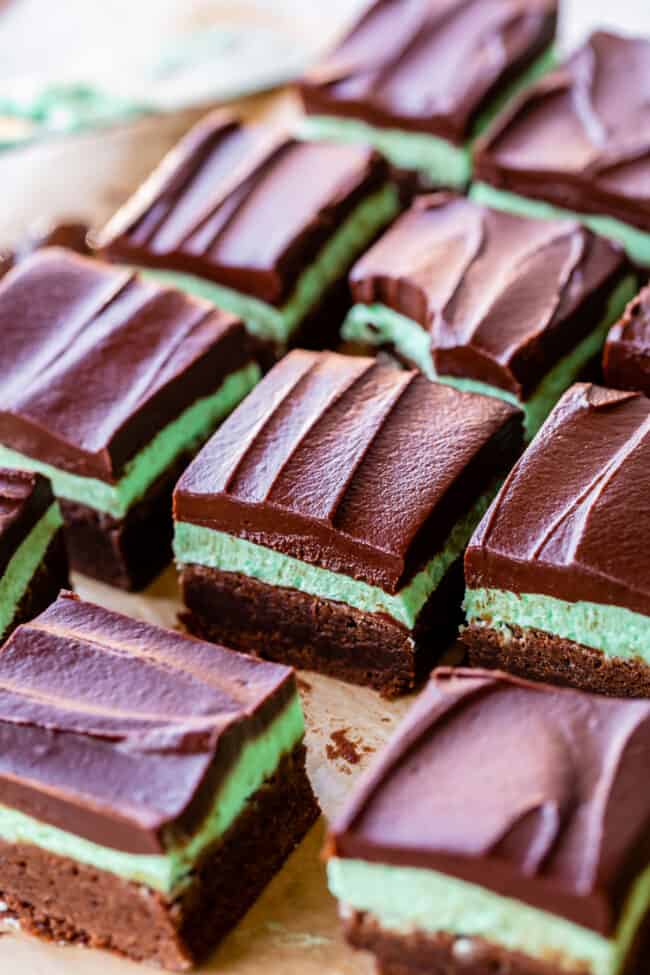 But I no longer limit mint brownies to Thanksgiving. EVERYONE loves these brownies, anytime of year you share them. (Eric brought a pan to work the other day and they were demolished.) The first layer is a fudgy brownie, then a layer of mint buttercream frosting, then a layer of ganache. It's just impossible to resist something so fudgy and chocolate-minty! They are especially festive for St. Patrick's Day, right? Bring on the green! They would be so fun to bring along to a party!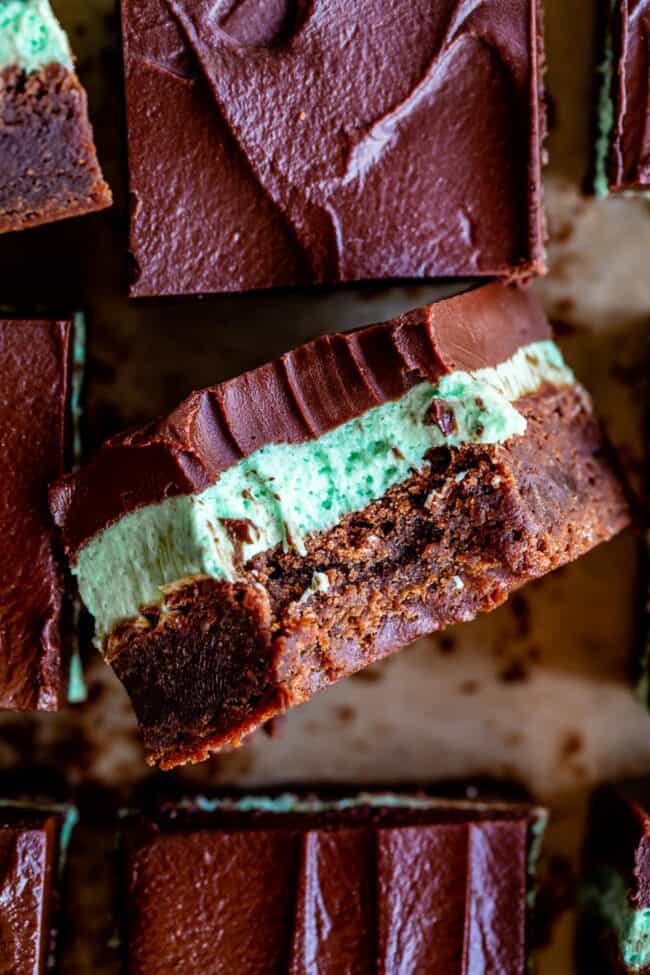 How to make Chocolate Mint Brownies
This recipe is super easy. I started out by adapting Nana's Famous Fudge Brownies. They really are the fudgiest brownies ever. Except today we are doubling the chocolate! It's all made on the stovetop. Melt some butter and unsweetened chocolate, stir in some sugar and flour and eggs. It comes together quick.
I like to beat my eggs in a separate bowl, to get them nice and smooth before mixing them in the batter. Not really necessary, and if an extra dirty bowl makes you sad, then just crack the eggs right in the pot! Just be careful not to over mix.

Here is the completed batter. It's hard not to just eat it.

Bake it up and top with the most delicious mint buttercream!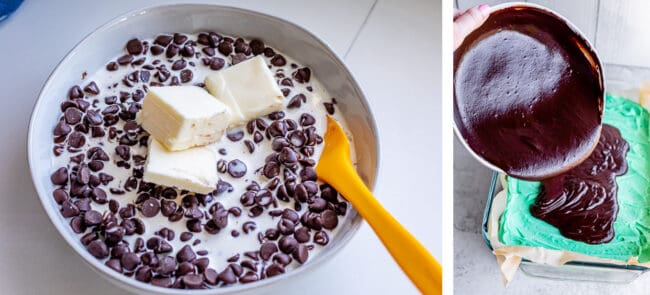 Now for the ganache. You want to heat up the cream until it bubbles on the edge, then add the chips and butter and let it sit for a minute or two before stirring, to give the chips a chance to melt. I prefer using semisweet chocolate chips, but you could use milk chocolate or bittersweet or some combination if you prefer. (Pretend there are only 2 tablespoons of butter in this photo. 4 was too much on my first test!)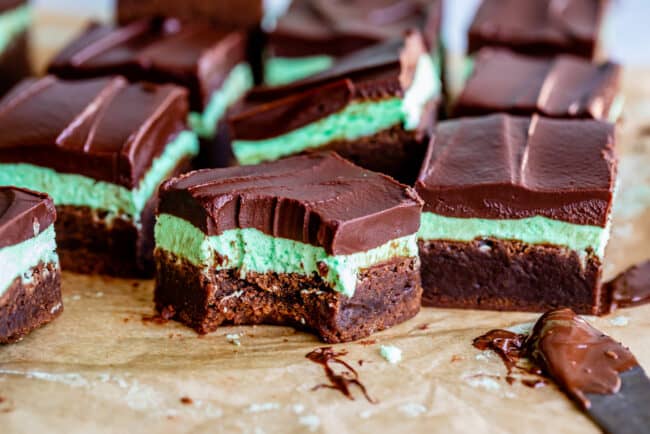 And there you have it! Super easy, irresistible mint chocolate brownies. I made a version of this recipe waaaay back in 2012, here's the old photo: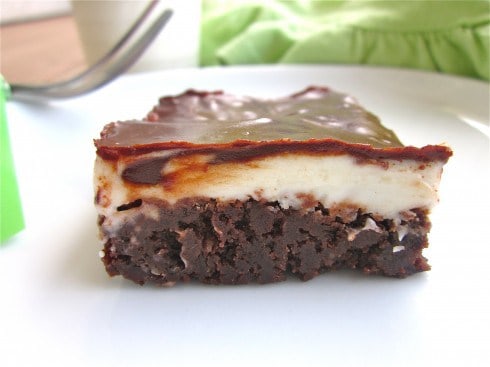 Oh, how things have changed! (My love for mint brownies, of course, has only increased. Probably directly in proportion to how much this layer of ganache increased:)
More brownie recipes you will love!
Facebook | Pinterest | Instagram

Fudgy Mint Chocolate Brownies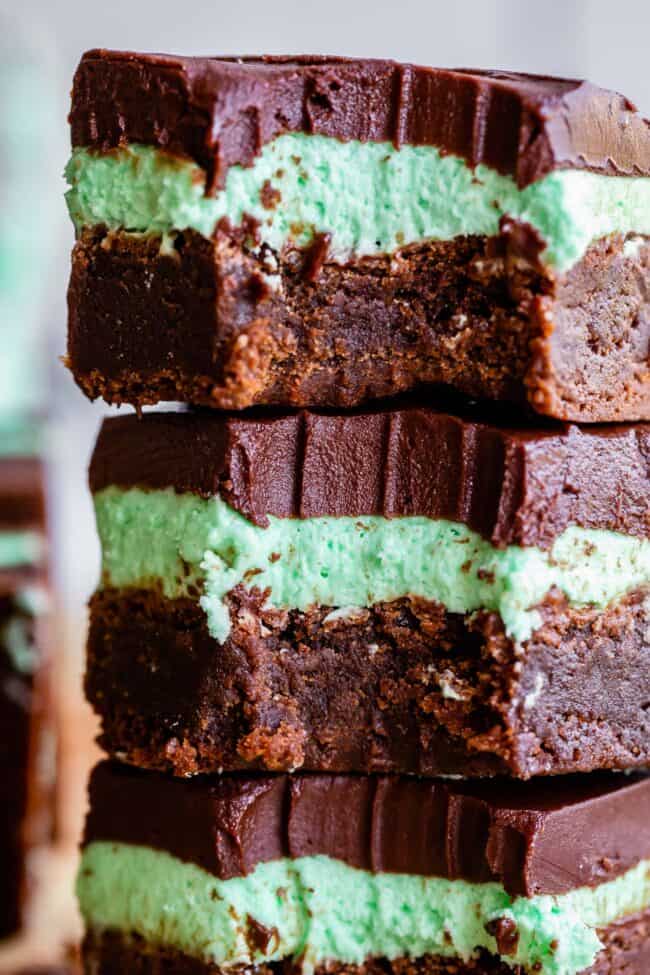 A thick Mint Chocolate Brownie is one of my all time favorite desserts! Super fudgy brownies are topped with mint frosting, then the whole thing is drizzled with a thick layer of chocolate ganache. They are so rich, and completely irresistible! (This recipe is even better than BYU Mint Brownies!)
Ingredients
For the brownies
1

cup

salted butter

,

(2 sticks)

4

ounces

unsweetened baking chocolate

2

cups

granulated sugar

1/4

teaspoon

salt

2

teaspoons

vanilla

1 & 1/2

cups

flour

,

spooned and leveled

4

large

eggs

,

beaten
For the mint frosting
3/4

cup

butter

,

softened

3

cups

powdered sugar

1

tablespoon

milk

1 & 1/2

teaspoons

peppermint extract

10

drops

green food coloring

1/4

teaspoon

salt
For the ganache topping
1/2

cup

heavy cream

3

cups

semisweet chocolate chips

2

tablespoons

butter
Instructions
For the brownies:
Preheat your oven to 350 degrees F. Line a

9x13 inch glass pan

with parchment paper or foil, to make it easy to lift the bars out of the pan and slice. (Foil needs to be sprayed with nonstick spray) Or you can grease the pan directly with nonstick spray.

Add 2 cups sugar, 1/4 teaspoon salt, and 2 teaspoons vanilla.

Stir in 1 and 1/2 cups flour until barely combined.

Add 4 eggs. (If you like, you can beat the eggs separately in a small bowl before adding to the batter, just to make sure you don't over mix your brownies.) Stir until combined but don't overdo it. Over mixing brownies makes them tough! But do make sure there are no streaks of egg.

Spread the batter into the prepared pan.

Bake at 350 for about 22-25 minutes. Start checking early, you don't want them to over bake. When a toothpick comes out of the center with no wet batter on it, they are done. Remove from the oven and place on a wire rack to cool completely. If you are in a hurry you can put it in the fridge or freezer after it has cooled on the counter for a few minutes.
For the mint frosting:
While the brownies cool, make the frosting. In a large bowl or stand mixer, beat 3/4 cup butter until it is smooth and creamy, scraping down the sides and bottom of the bowl.

Add 3 cups powdered sugar and 1 tablespoon milk. Beat until combined, stopping to scrape the sides and bottom of the bowl.

Add 1 and 1/2 teaspoons peppermint extract. If you are nervous about it being too minty, you can start with 1 teaspoon and add more if you like.

Add about 10 drops of green food coloring and 1/4 teaspoon salt. Beat well until smooth and creamy.

When the brownies have cooled, spread the frosting on top of the brownies.
For the ganache topping:
Add 1/2 cup cream to a medium bowl. Microwave on high heat in 30 second increments until bubbles appear on the edge of the bowl. Do not allow it to boil.

Add 3 cups of chocolate chips and 2 tablespoons of butter but do not stir yet. Allow the chips to melt for a minute or two, and then use a whisk to beat it together. Return the bowl to the microwave in 20 second increments if necessary, until the lumps have mostly smoothed out but not all the way. Then continue whisking until it is completely smooth. (Chocolate scorches really easily so you have to be careful.)

When the ganache is completely smooth and lump free, pour it over the mint frosting and spread it out to the edges.

Cover and refrigerate or freeze until the ganache has set. It should take about 30 minutes or less.

Mint brownies can be stored covered on the counter for 3-5 days. My husband Eric prefers them chilled, I like them room temperature!
Notes
You can replace the homemade brownie recipe with a box mix made according to the package! I prefer this recipe and it is super easy, but I get it, sometimes you just have to get it done!
Nutrition
Serving:
1
g
|
Calories:
927
kcal
|
Carbohydrates:
102
g
|
Protein:
8
g
|
Fat:
56
g
|
Saturated Fat:
34
g
|
Polyunsaturated Fat:
2
g
|
Monounsaturated Fat:
16
g
|
Trans Fat:
1
g
|
Cholesterol:
155
mg
|
Sodium:
386
mg
|
Potassium:
394
mg
|
Fiber:
6
g
|
Sugar:
80
g
|
Vitamin A:
1146
IU
|
Vitamin C:
1
mg
|
Calcium:
66
mg
|
Iron:
6
mg