This is my sister-in-law's famous recipe for the BEST CARROTS! Sautéing them with shallots and fresh thyme makes them next-level. She has made them at every Thanksgiving, Christmas, and Easter dinner for years. I finally finagled the recipe out of her! Originally published March 15, 2016.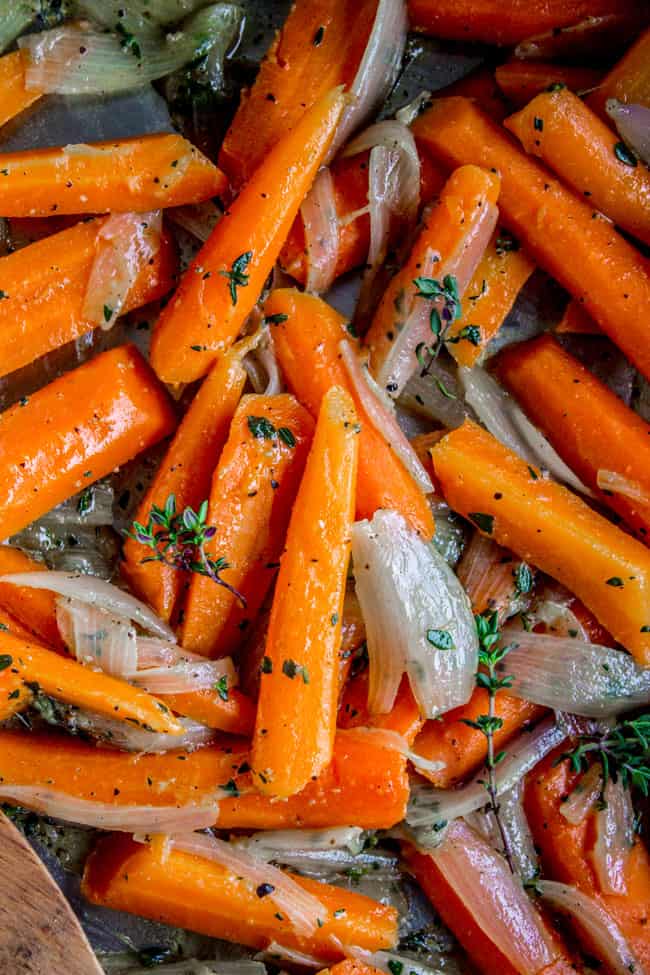 Table of Contents
Charlotte and I were in the car earlier today when she came up with one of her random 5-year-old comments: "Jesus had pom-poms, Mama."
"Uh, what?" I'm trying to picture it. Jesus is totally rooting for us, right? Maybe this is wisdom from the mouths of babes.
"Yeah, the people laid pom-poms down for him."
OHHHH. Palm fronds.
Do you guys follow Humans of New York on Facebook? I'm literally coming up for air after getting sucked down the rabbit hole for like the last hour and half. I read about a Canadian musician with anxiety, a "brother man" who's trying to help everyone love everyone else (women brother-mans are called sisters, obvi.), a 90-year-old man who "used to be a wimp" until he started running marathons (now he walks 10 miles a day), a lifetime custodian who went to college when he was 50, and a musician who is still reeling from the death of her French horn, the one she played for 20 years. Oh, and an open letter to Trump. (read it, read it.)
I love humans. I never get tired of hearing their stories.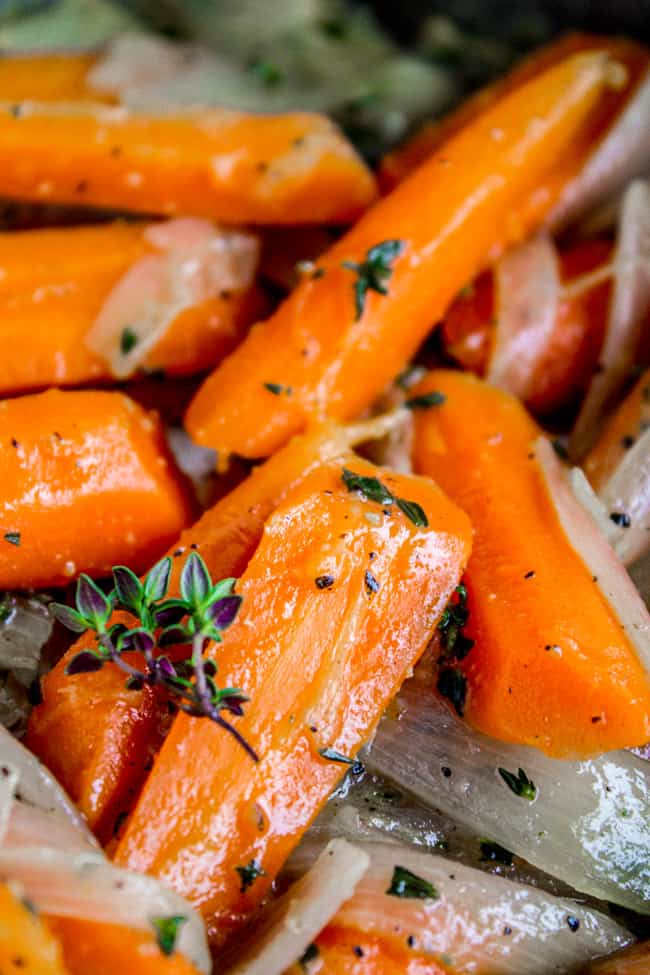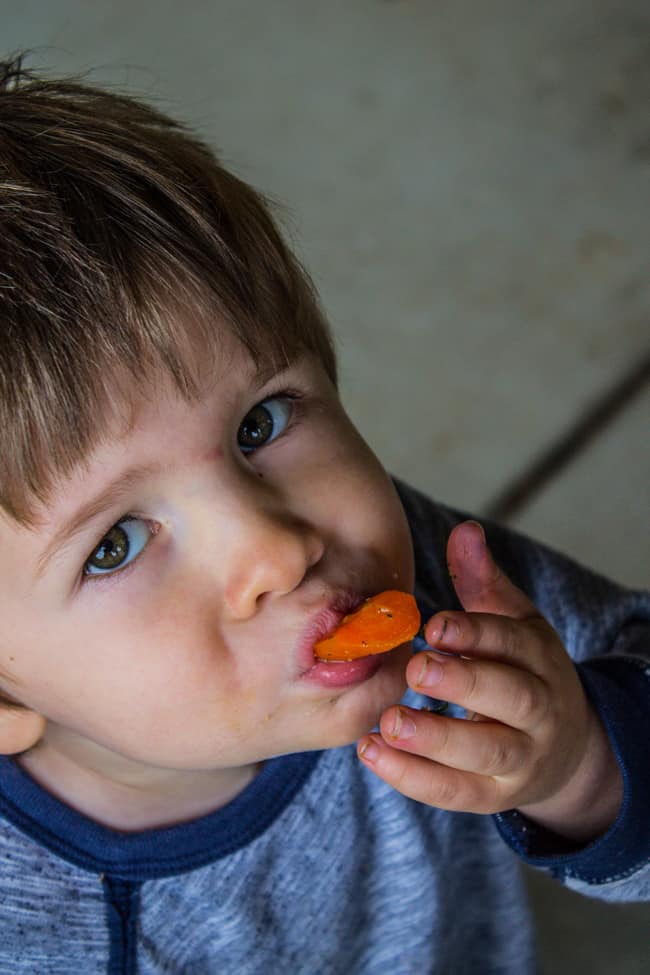 Here's one. My mom has had issues with her foot for the last 30 years. She just had surgery this morning! I'm excited for her. It will be a slow healing process for sure, but when it's over hopefully it will be over! I asked her if she was sad that they hadn't done the surgery 30 years ago when her foot problems started (it's actually her Achilles tendon) and she said no, because the doctor told her that they've improved this type of surgery a lot. She would have had a recurrence if she had done a long time ago. Hooray for modern medicine!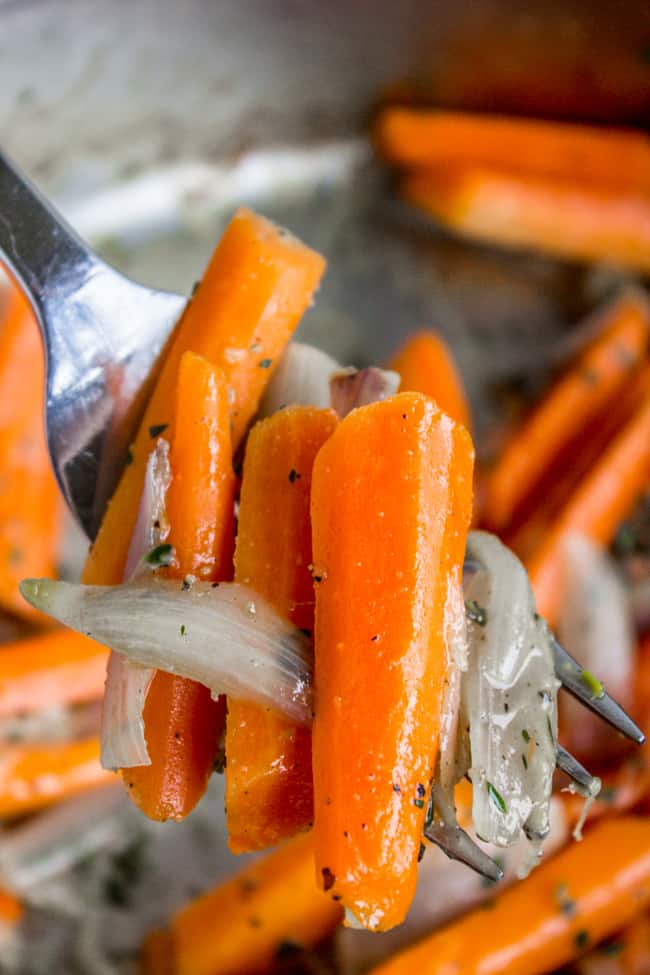 So in the meantime we are just kickin' back. The kids and I are at her house now (Eric is at home–she only lives an hour away) and I'll be dragging her up to my house later this week. She's always there waiting on me hand and foot when I have a new baby, it's nice to be able to return the favor.
News flash guys: Easter is in 12 DAYS. Have you started menu planning yet? I haven't! Unless by menu planning you count me making Sautéed Carrots and Shallots and eating them all in one sitting. Safe to say I will be making them Easter Sunday too.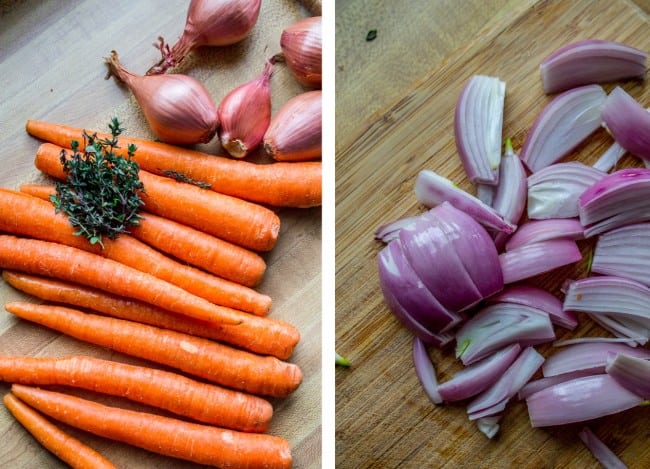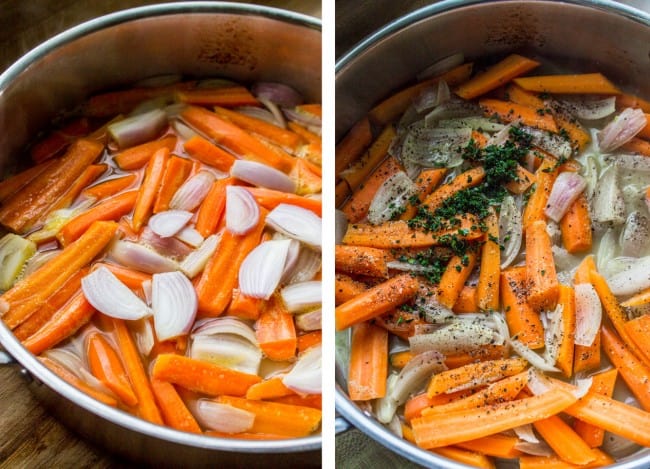 You will love this Sautéed Carrot Recipe
My sister-in-law Reesy has been making these carrots for years. They are a huge family favorite. Those shallots! And the thyme! So much flavor. And they only take about 20 minutes to put together. Here's the thing about side dishes (at least vegetables) at the holidays though: they always need to be done last minute, at the same exact time that you have 87 other things to do.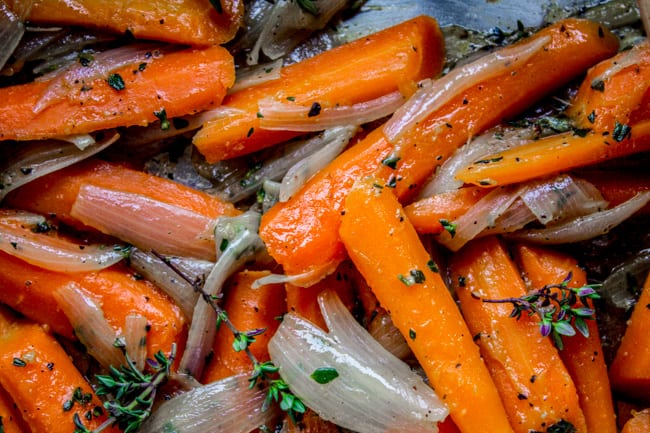 My solution is to make ahead. When you have to get 8 dishes on the table all at once like on Easter, you have to cut some corners. And in the case of these carrots, I think they taste great made 1 day ahead. Make the recipe, store covered in the fridge, then just before everyone sits down to eat, throw them in a pan on medium to heat them up, and they still taste great. I use a similar strategy with these Roasted Sweet Potatoes and Brussels Sprouts, which would be another great make-ahead side dish for Easter. Happy menu-planning! Definitely check out my Easter Flavors board on Pinterest for more ideas.
Other Easter side dishes to try!
Facebook | Pinterest | Instagram

Sauteed Carrots and Onions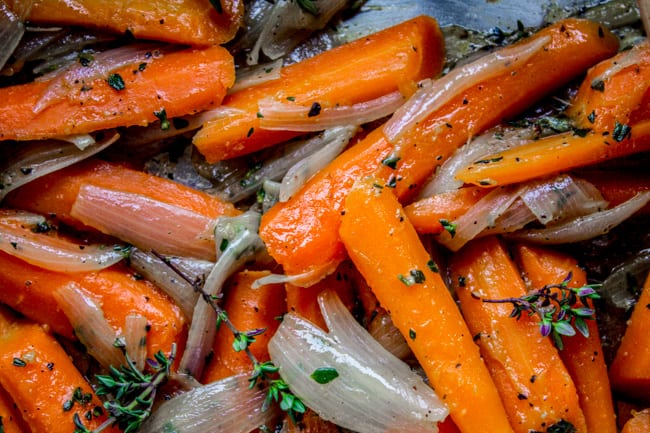 This is my sister-in-law's famous recipe for the BEST CARROTS! Sautéing them with shallots and fresh thyme makes them next-level. Perfect for Easter!
Ingredients
10-12

medium carrots

,

peeled

4-5

shallots

1

cup

chicken broth

,

*

2

tablespoons

salted butter

1-2

tablespoons

fresh thyme

,

chopped

1/2

teaspoon

salt

,

more to taste

pepper

,

to taste
Instructions
Slice off the ends of the peeled carrots. Slice each carrot at a sharp angle into 2-3 pieces. Slice each piece lengthwise. (photos above) Place carrots in a 12-inch high-sided skillet.

Chop off the ends of the shallots. Slice them lengthwise. (see photos)

Add the shallots to the pan.

Add 1 cup chicken broth. The liquid should go halfway up the vegetables. Add more broth if it doesn't.

Turn the heat up to high until the mixture reaches a boil, then reduce heat to medium. Cover but leave the lid askew so that steam can vent out. Cook for 8-10 minutes, or until the carrots are crisp-tender.

Remove the lid and continue cooking until all the liquid has cooked off.

Add 2 tablespoons butter and 1-2 tablespoons fresh thyme.

Season with 1/2 teaspoon salt and pepper to taste.

Cook until the butter is melted and brown spots appear on some of the shallots.

Add more salt and pepper to taste and serve hot!
Notes
*I used 1 cup water, 1 teaspoon chicken Better Than Bouillon, as usual.
If you want to make these ahead of time, make the recipe and usual and store covered in the fridge for 1 day. When you are ready to eat, add the carrots back to a pan and cook over medium heat until warmed through. I used a non-stick pan when I reheated so they didn't stick. I would imagine that there would be enough butter on the carrots that they wouldn't stick, but if you are nervous spray the pan first.
Nutrition
Serving:
1
cup
|
Calories:
135
kcal
|
Carbohydrates:
19
g
|
Protein:
2
g
|
Fat:
6
g
|
Saturated Fat:
4
g
|
Polyunsaturated Fat:
1
g
|
Monounsaturated Fat:
2
g
|
Trans Fat:
1
g
|
Cholesterol:
15
mg
|
Sodium:
664
mg
|
Potassium:
631
mg
|
Fiber:
5
g
|
Sugar:
9
g
|
Vitamin A:
25737
IU
|
Vitamin C:
18
mg
|
Calcium:
72
mg
|
Iron:
1
mg