Roast leg of lamb makes an unforgettable main dish for your Easter celebration! Roast lamb is so delicious, moist, and tender when it is done right. The secret is to crank up the oven to 500 degrees for a few minutes to get that blackened honey dijon crust, then lower the temperature to get the most tender, juicy roast lamb you've ever had.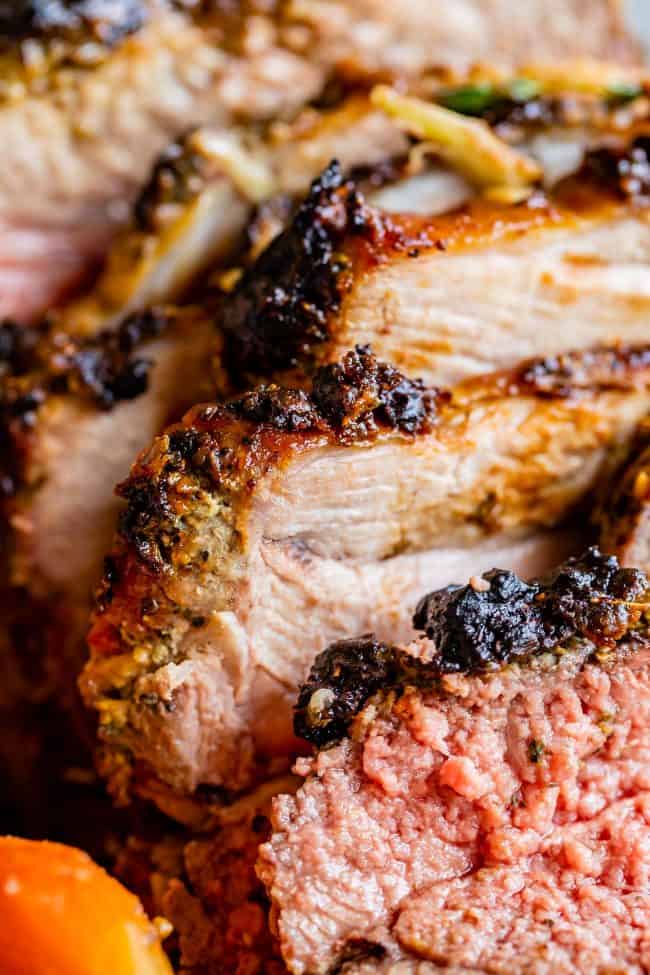 This post is sponsored by Mirum, but all opinions are my own of course! Thanks for supporting the amazing brands that keep The Food Charlatan chugging along. 
We just got back a couple weeks ago from a cruise with the whole family, which was so fun, but also required a 5-hour flight to Florida, which was less "fun" and more "endure to the end." People who travel with children and manage not to strangle anyone  or be strangled by fellow travelers deserve an honorary Olympic medal, I say.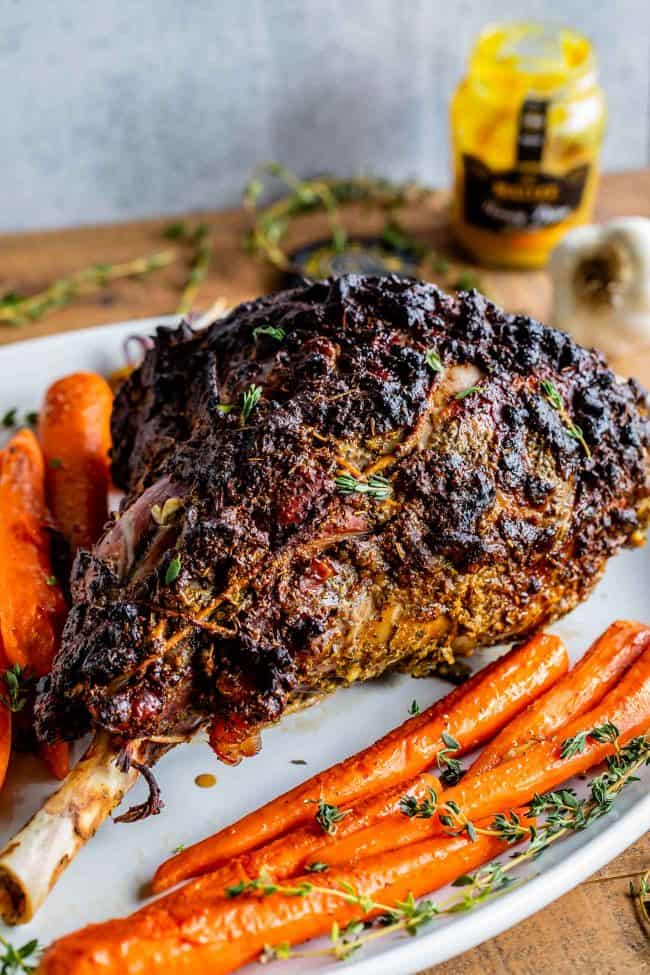 Honestly though, the kids were amazing. I was the problem. I just kept losing track of all our stuff. At our first TSA security check, I left one of our suitcases behind while shuffling passports. It's a good thing we had our name on it or I'm sure they would have taken it to a remote location and detonated it. Probably I forgot it because I was distracted by the TSA lady who INSISTED that all our kids hold their own passports and boarding passes, even the baby. She's like, "It makes it easier," and I'm sitting there literally sweating, carrying 5,000 items, and thinking, um, easier for WHO, lady?? Who gives a 2-year-old an irreplaceable document??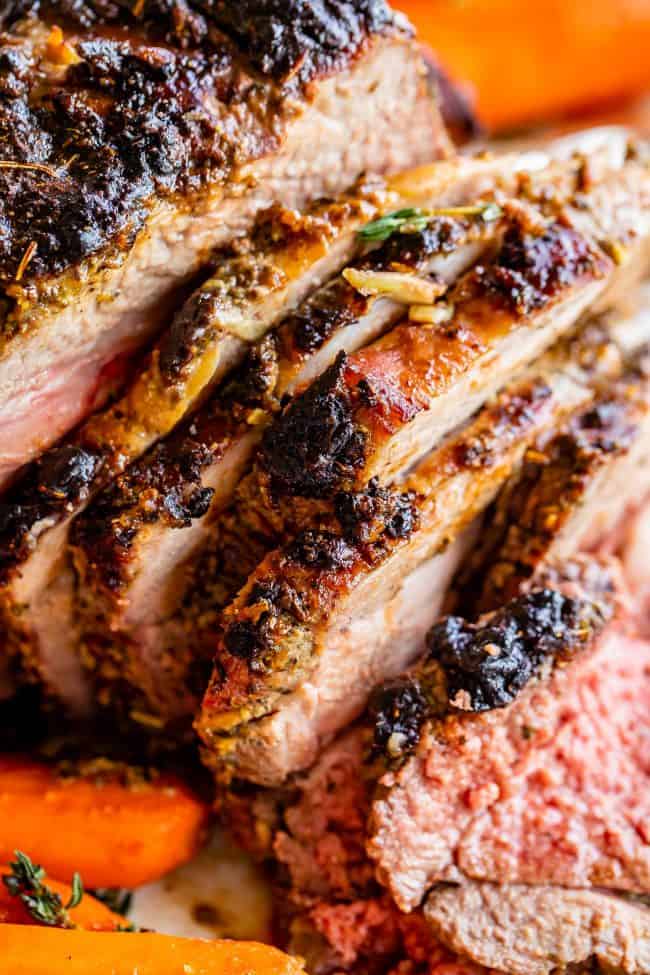 Then there was the fact that there just weren't enough hands to carry everything. Instead of carrying Valentine in our arms, we had her ride on our hard shell suitcase, seated right on top. This works great most of the time, except for the times when she randomly launches herself off of it, wailing loudly and glaring at us like it's our fault, while other people stare.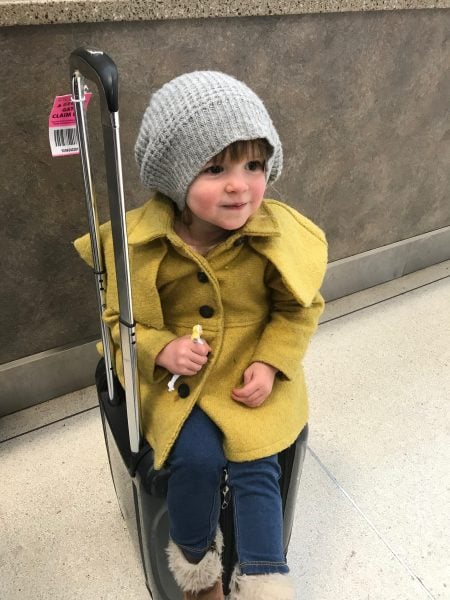 Don't let this innocent face fool you.
Then when we actually got on the plane, I left my suitcase again, just completely abandoned it in the center of the plane aisle while dealing with Valentine and trying to help Eric get our other bags up in the overhead bins. It blocked Charlotte and I turned around eventually to see her struggling to carry two suitcases while dozens of seated passengers looked on awkwardly. "Did you see that incredibly frazzled looking mom leave her kid to carry two suitcases?? Oh the humanity!" I'm sure that's what they were whispering.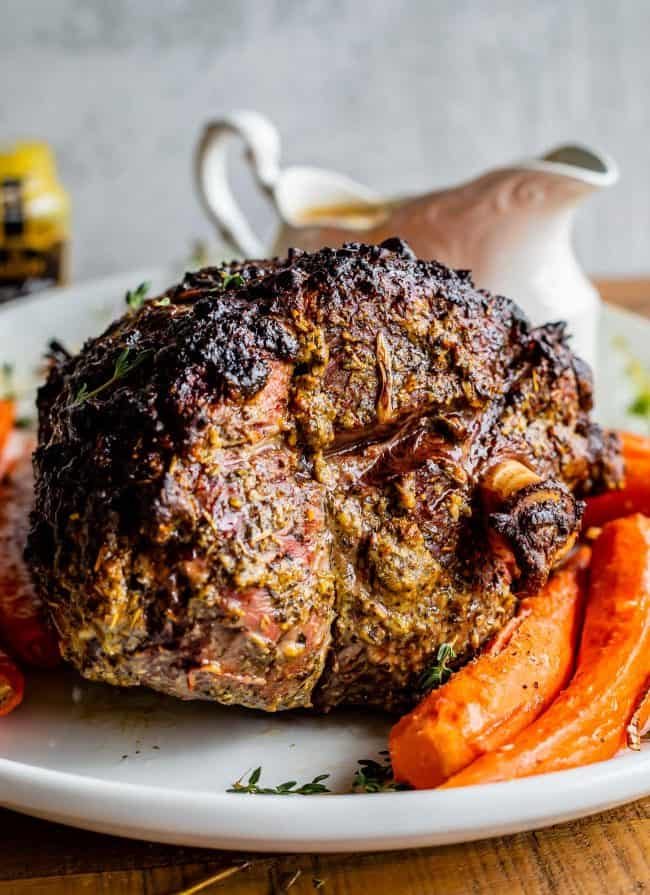 And finally, we made it to our room on the boat, and we're unpacking, and Eric's like, where's the other bag, and I'm panicking like, I don't know!! And he opened the door and I had just left it in the hallway.
Seriously I don't know what it is with me. I needed a nice long cruise just to meditate and prepare for the plane ride home.
How to make Roast Leg of Lamb
Who is ready for Easter?? I'm so excited. Have you ever had lamb for Easter? If you have never had roast leg of lamb, you have never liiiived! Lamb is just not that common in the United States, and it's honestly tragic. Lamb (when cooked properly) is juicy, tender, and has gorgeous flavor. I am here to teach you the right way to get it done!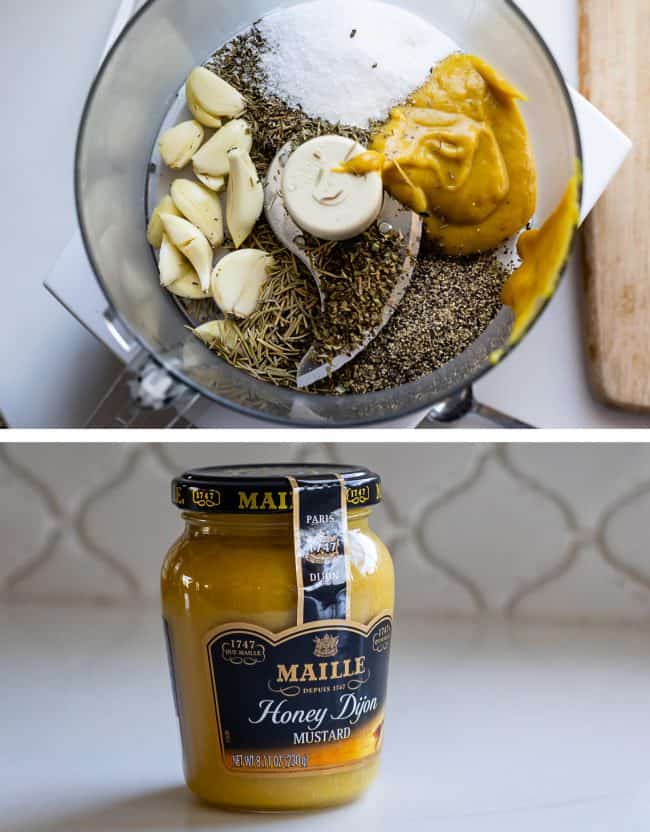 First we start out with an incredible rub. I used Maille Mustard (pronounced "MY" mustard) to bring you this amazing roast leg of lamb recipe, so our rub is starting out with their FANtastic Honey Dijon. Seriously guys, I could eat this stuff with a spoon, or douse a salad with it solo and be happy. It's the perfect balance of sharp and sweet.  We are combining it with a bunch of garlic and a few dried herbs (thyme, oregano, rosemary) and plenty of salt to pull out the lovely natural flavors found in lamb.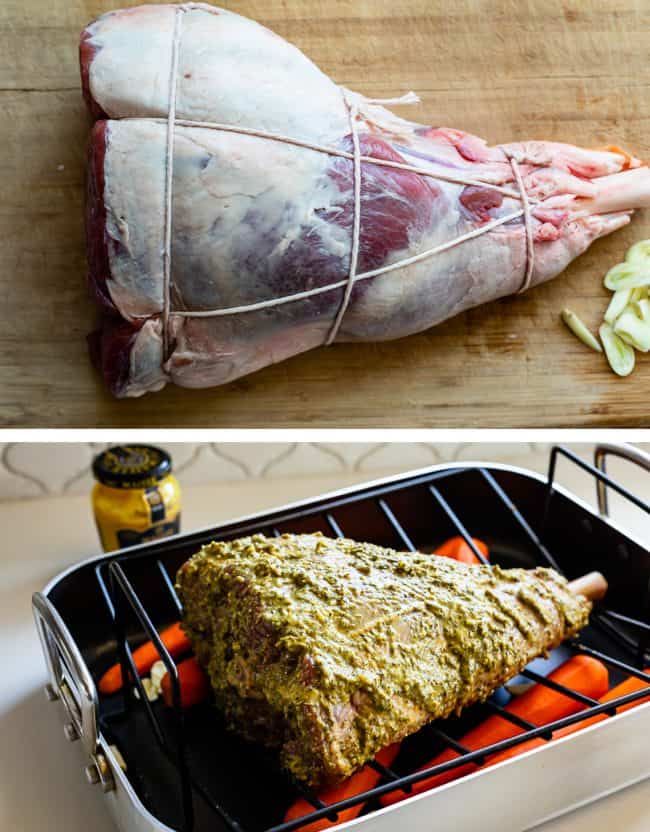 Maille® Honey Dijon is not hard to find, I picked it up at Walmart. I was pleasantly surprised to find such a wide selection of condiments there actually! They not only had the regular Maille Dijon, but they had the Honey Dijon too. I love it when I find exactly what I'm looking for at the store! It's the best!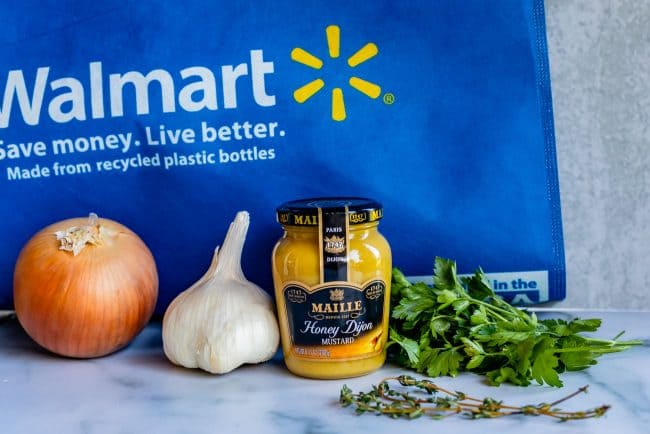 But back to the lamb. Lamb is best when it is not overcooked. Technically it is supposed to hit 145 F before you take it out of the oven, but if you do that you will end up with tough lamb. Walk on the wild side a little bit and take it out a few degrees before that. You will get the most flavorful, succulent lamb roast. In the notes I go over the precise temperature to aim for according to what doneness level you like (medium or medium rare, etc.)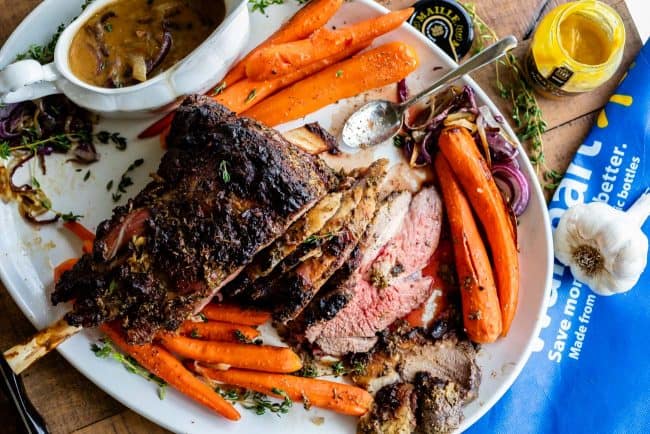 One thing that cannot be compromised on though is blasting the lamb with an incredible amount of heat in the first few minutes. This is how you achieve that gorgeous crusty exterior. (It's the same method used in my most popular recipe, Cuban Mojo Marinated Pork. To.die.for.) Crank up your oven to 500 degrees (yes, really, 500) for the first 10 minutes of cooking to sear the outside, then lower the temperature to roast the inside into juicy, tender submission.
(Word to the wise: if you live in a crappy one-bedroom apartment with questionable appliances, do not blast your oven to 500 degrees. You will smoke out the neighbors. At least that's what happened to me and Eric every time we tried to make homemade pizza at 450 back in our college days. Those apartment ovens were terrible! I had my oven up to 500 for at least an hour while prepping my lamb, making sure it was really hot, and the smoke alarm didn't even go off. It's the little things, guys.)

The other secret to really flavorful lamb is to use tons of GARLIC. Garlic and lamb pair so well together, and honestly I've never seen a roast lamb recipe that doesn't use it. It's basically essential! We are tossing some garlic in the roasting pan as an aromatic (it ends up in the gravy, yum), using several cloves in the rub itself, and there's one more: use a long sharp knife to make cuts in the lamb, and insert a sliver of garlic into each cut. This infuses the lamb with tons of flavor so there is no bite left behind! It's easy to do and takes your lamb from good to WOW.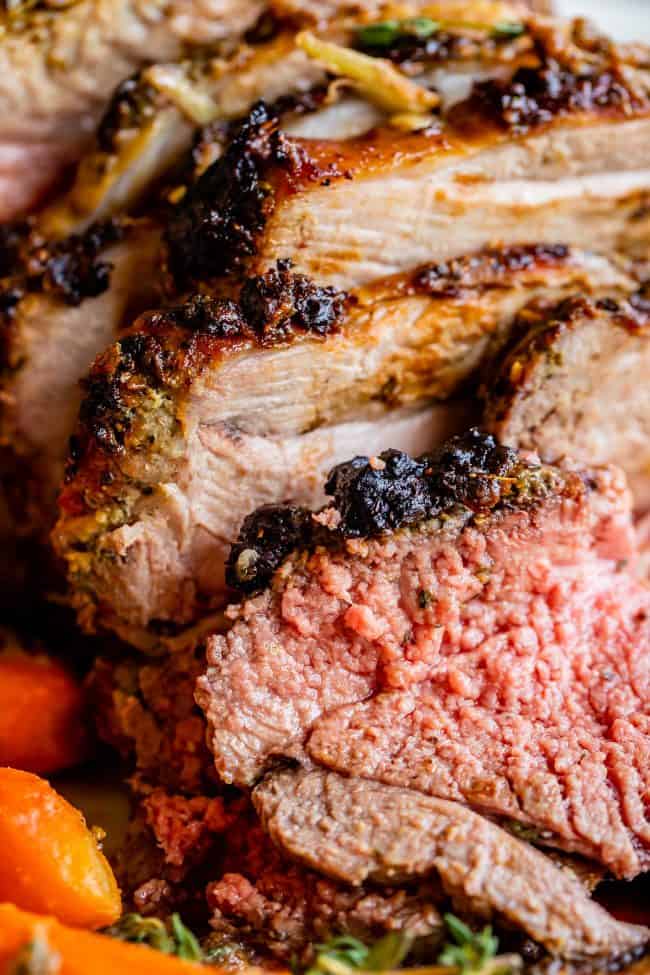 You will have to let me know if you try out this recipe! I am a total lamb convert!
More stunning main dishes you will love for a holiday meal!
How to Cook Tri Tip (Grilled or Oven Roasted) << huge favorite of mine!
Cuban Mojo Marinated Pork (Lechon Asado) << this is the number one recipe on my blog!
Honey Baked Ham Recipe (Copycat) << I've got the special technique you need!
Easy Sriracha Ham (Slow Cooker) << this one has 3 ingredients. Can't beat that!
How to Cook Ribeye Steak (Grilled or Pan-Seared) << Steak for a special occasion? Yes!
Sage Butter Roasted Turkey << The classic you never get tired of
Honey Dijon Chicken Recipe from Dinners, Dishes, and Dessert
Ribs with Honey Mustard Glaze from Taste and Tell
Slow Cooker Honey Mustard Drumsticks from Foolproof Living
Facebook | Pinterest | Instagram

Roast Leg of Lamb with Blackened Honey Dijon Crust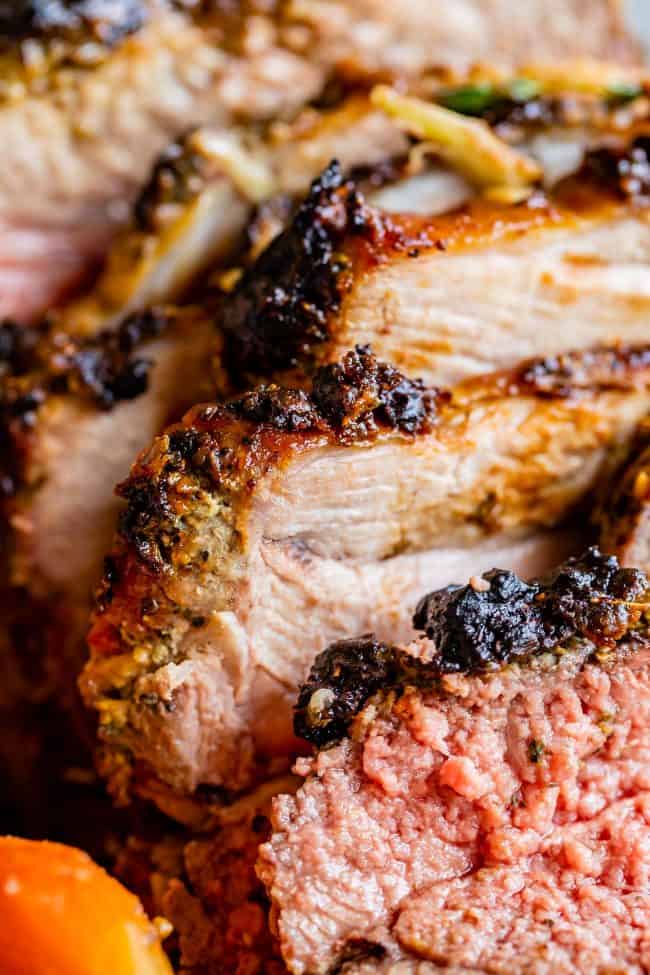 Roast leg of lamb makes an unforgettable main dish for your Easter celebration! Roast lamb is so delicious, moist, and tender when it is done right. The secret is to crank up the oven to 500 degrees for a few minutes to get that blackened honey dijon crust, then lower the temperature to get the most tender, juicy roast lamb you've ever had.

Ingredients
5

pound

leg of lamb

,

bone in

2

cloves

garlic

,

smashed and thinly sliced (to insert in lamb)
For the Honey Dijon Garlic Rub
10

cloves

garlic

1

tablespoon

dried oregano

1

tablespoons

dried thyme

1

teaspoon

dried rosemary

1 & 1/2

tablespoons

kosher salt

2

teaspoons

black pepper

1/4

cup

Maille® Honey Dijon Mustard

1

tablespoon

olive oil
For the roasting pan
4

cloves

garlic

,

smashed

2

medium

red onions

,

*thinly sliced

10-11

whole

carrots

,

peeled

2

tablespoons

olive oil

2

teaspoons

kosher salt

1/2

teaspoon

black pepper
For the onion gravy
1/4

cup

flour

2

tablespoons

Maille® Honey Dijon Mustard

1/2

cup

white cooking wine

,

or use chicken broth

3

cups

chicken broth

salt and pepper

,

to taste
Instructions
Get your lamb out of the fridge and let it sit on the counter while you make other preparations.

Prepare all the garlic that you will need for today's roast: use the side of a chef's knife to smash 2 cloves. Slice thinly and set aside (this is for inserting into the roast.) Smash and peel about 14 more cloves of garlic. Add 10 to a food processor or blender (for the rub), and 4 to the bottom of

your roasting pan

. (aromatic)

Place your lamb on a work surface, the more rounded side up. If it is tied, leave the kitchen twine in place. Use a long thin knife to make 1 inch cuts all over the lamb, one for each slice of garlic. Slide your knife vertically into the lamb. Insert a slice of garlic into each cut. See photo (in the photo I had already rubbed the lamb with the Honey Dijon mixture. It doesn't matter which one you do first).

Make the Honey Dijon Garlic Rub: to your food processor or blender that has 10 cloves of smashed garlic, add 1 tablespoon oregano, 1 tablespoon thyme, 1 teaspoon rosemary, 1 and 1/2 tablespoons kosher salt, 2 teaspoons black pepper, 1/4 cup Maille Honey Dijon Mustard, and 1 tablespoon olive oil. Blend or pulse until the garlic is well chopped and the mixture has come together. Scrape the sides and bottom if necessary.

Pour the Honey Dijon mixture over the lamb and use your hands to rub it all over. Set aside.

Prepare the other vegetables: thinly slice the red onions and add to the bottom of the roasting pan, where you should already have 4 smashed cloves of garlic. Peel a bunch of carrots and add to the bottom of the pan.

Drizzle the vegetables with about 2 tablespoons of olive oil, and sprinkle with 2 teaspoons salt and 1/2 teaspoon pepper. Toss to coat.

Place the leg of lamb on the rack, and place the rack on top of the vegetables.

Let the roast rest with the herb rub for at least 15 minutes, or up to an hour (at room temperature.)

Meanwhile, place your oven rack on the second to lowest level so that the lamb will sit in the center of the oven. Preheat your oven to 500 degrees F. Give it a good 30 minutes to heat up, even if it says it's at temperature earlier. You want that oven screaming hot when you put the lamb in, that's what creates that crispy blackened exterior.

Place the lamb in the oven, shutting the door as fast as you can to keep the heat in.

Set a timer for 10 minutes. After 10 minutes, do NOT open the oven door, lower the oven temperature to 400 degrees F.

Continue cooking at 400 F for about 1 hour and 10-25 minutes. This will depend on how well done you want your lamb. See notes for a temperature guide. Trust your meat thermometer more than the clock. Once you take your lamb out of the oven, it will continue cooking and the temperature will rise about another 5 degrees, so consider that in your calculations. Keep in mind that overly cooked lamb is not very tasty. I prefer it in the medium range. See notes for a guide on internal temperatures.

Once you have taken your lamb out of the oven, remove the rack to a cutting board. Cover the lamb loosely with tin foil. Let it rest for about 20 minutes. If you skip this step and slice it right away, all the juices will flow out and you will have sad dry lamb. Don't do it.

Meanwhile, remove the carrots to a serving platter and keep warm. Leave the onions in the pan.

Drain any excess fat from the roasting pan, leaving about 2 tablespoons. (If there is not enough fat, add a tablespoon or 2 of olive oil).

Place your roasting pan over two burners on your stove and turn both on to medium.

Add 1/4 cup flour to the onions and fat. Stir until coated and starting to sizzle. Add 2 tablespoons Maille Honey Dijon Mustard and stir to coat for about 1 minute.

Add 1/2 cup white cooking wine and stir for 2-3 minutes until it has evaporated.

Slowly stir in 3 cups of chicken broth, just a little bit at a time, stirring well as you go, and breaking up the flour from the onions. It will gradually thicken. If you add it too fast you might get chunky gravy, who wants that.

Continue cooking over medium heat until it has come to a boil. Continue cooking for about 3-5 minutes until it has thickened. Add salt and pepper to taste. (If the gravy doesn't seem very rich, add 2 tablespoons butter.)

Pour the gravy into a large gravy boat.

Slice the lamb. (remove any kitchen twine with scissors) Use a long, thin, and very sharp knife. Begin by slicing on the edge parallel to the bone, until you reach the bone. Turn the leg so that the flat part (that you just sliced) is on your work surface. Cut perpendicular from the end of the lamb, slicing all the way through until you reach the bone. Once you reach the bone, continue slicing in the same direction down to the bone. Once you have sliced all the way across the top of the bone, slide your knife against the bone to cut underneath all the slices you just made.
Notes
*The photos show one red onion and one white onion. It's just what I had on hand! Either will work. I slightly prefer the flavor of red in this recipe but they are both good.
Lamb internal temperature guide: remember that your lamb will continue cooking when you take it out of the oven. It will rise about 5 degrees.
Rare: 115 to 120°F
Medium-rare: 120 to 125°F
Medium: 130 to 135°F
Medium-well: 140 to 145°F
Well-done: 150 to 155°F
Nutrition
Serving:
1
g
|
Calories:
370
kcal
|
Carbohydrates:
20
g
|
Protein:
39
g
|
Fat:
14
g
|
Saturated Fat:
4
g
|
Polyunsaturated Fat:
1
g
|
Monounsaturated Fat:
7
g
|
Cholesterol:
114
mg
|
Sodium:
2494
mg
|
Potassium:
921
mg
|
Fiber:
3
g
|
Sugar:
7
g
|
Vitamin A:
12775
IU
|
Vitamin C:
15
mg
|
Calcium:
82
mg
|
Iron:
5
mg